Did you join us for Kit Day this week? Kit Day is the last Wednesday of each month. On that day, we reveal the contents of our latest mystery kit and introduce our newest one. This time, we entered an underwater kingdom for our latest themed mix of jewelry making supplies. Escape the blazing heat. Life is much better down where it's wetter! This week, we also had a big bead sale. If you would like to save a good chunk of change on gorgeous gemstones, visit our sale before Sunday - you might even win a Soft Flex Shopping Spree!

We had a Live Sale on Tuesday. Our Live Sales are typically a curated selection from Mike Sherman's personal beads or beads we have collected but never put up for sale on our site. They are always full of rare finds and exciting artisan beads. A normal sale runs from the live show on Tuesday and closes for bidding on Thursday night, at midnight. We wanted to shake things up and explore forgotten beads on our shelves. All of the beads on this sale are currently on our site (if they have not sold out). If you wanted to buy gemstones from us, make sure you check out the video and get your coupon code to save 30% OFF!
Sara unboxed our Under the Sea Design Kit on Wednesday. This kit contains a superb mix of water themed beads and supplies. Perfect for spring and summer jewelry. Celebrate the warmest time of the year with an aquatic flair! Join us for Kit Day. This company holiday is a celebration of creativity. We unbox our recent kit and make jewelry live. We introduce our newest themed kit. And our VIB community on Facebook posts their kit jewelry. It is pure inspiration and fun. We welcome all beading skill levels and share our love of jewelry!
Around the web, we watched Kay Goss at Star's Beads teach us how to wire wrap gemstones. Last week, she showed us how wire wrap a cabochon. This week, she us how to make every gemstone unique with a wire work finish. So fun! Nealay at SilverSilk and Sam from Sam's Bead Shop threw a little beading party and made jewelry. Nealay revealed essential tips for using SilverSilk Flat Mesh in a jewelry design. Jenifer Miller showed us her under the sea designs with a Mermaid Grotto Bead Mix from Jesse James Beads. Make sure you check out our Mermaid collaboration with JJB! Learn how to make a bracelet using beads from Beads to Live By and wire from Soft Flex with Beki Foster. And finally, Rosanna Brafford has a stunning Snake on a Rock Necklace tutorial. She used our Camp Out Design Kit (Sold Out).
Jewelry Making Videos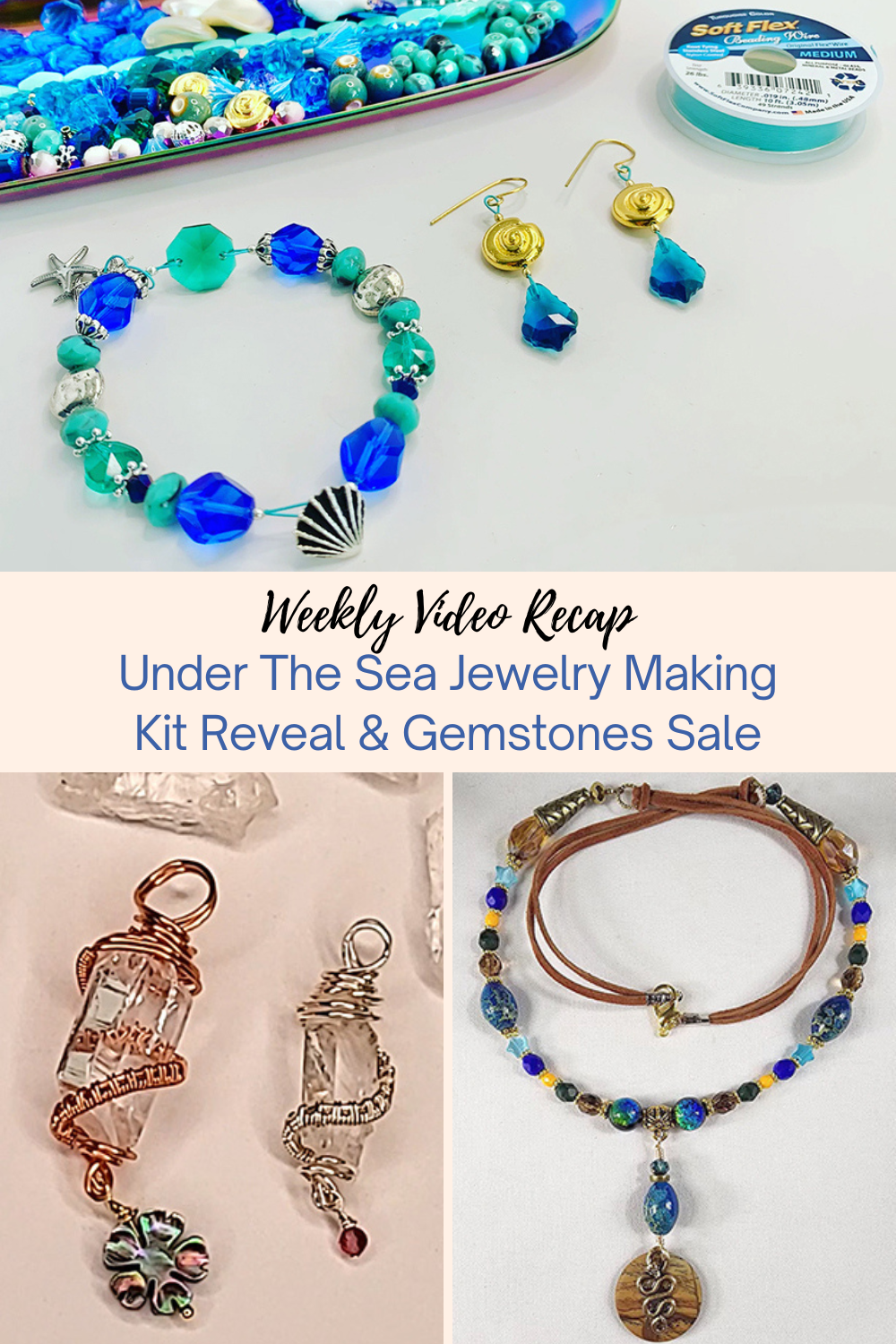 Our Social Media Sites Will Show You How To Make Jewelry In Just Minutes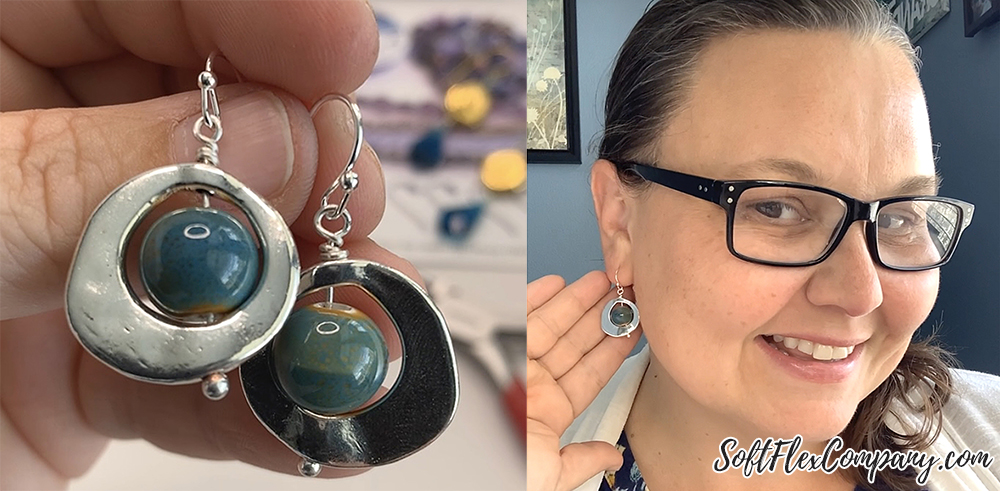 Got a minute? Check out our latest reels and TikTok videos. Soft Flex Company's Instagram Reels and our Soft Flex TikTok Page will teach you how to make jewelry in under a minute. These videos move quickly but are easy to follow. If you need more assistance, make sure you check out our YouTube catalog for deeper dives into jewelry making education. You will find in depth discussions on how to use your tools and finish your jewelry on that channel. Instagram Reels and TikTok are great tools for learning something new or finding quick inspiration. Check out our 1 Minute Videos and explore the wonderful pins on our Pinterest page. Learn from Soft Flex Company jewelry designer pros at the pace you choose! If your creativity needs a quick cup of coffee, make sure you visit us for a much needed jolt of crafting caffeine!
Gemstones Sale - Save Big On BEADS Until Sunday Night
Note: This sale requires a coupon code to take advantage of 30% OFF pricing. Use code BEADS to save big. Coupon expires on Sunday night.
Check out the video and save on gemstones, beads in our Antler category, and our stunning CZs.
Follow our events page for future sales.
If you love gemstones, make sure you watch our Live Sale video. We explored the beads in our online inventory this week. We will be back to our regular format for our upcoming Live Sales. Sara wanted to show off a variety of the beads we carry on our site. Some of the beads were added years ago and the photos are not always the best representatives of the actual product. Sara showed what you could expect if you saw our stunning inventory in person.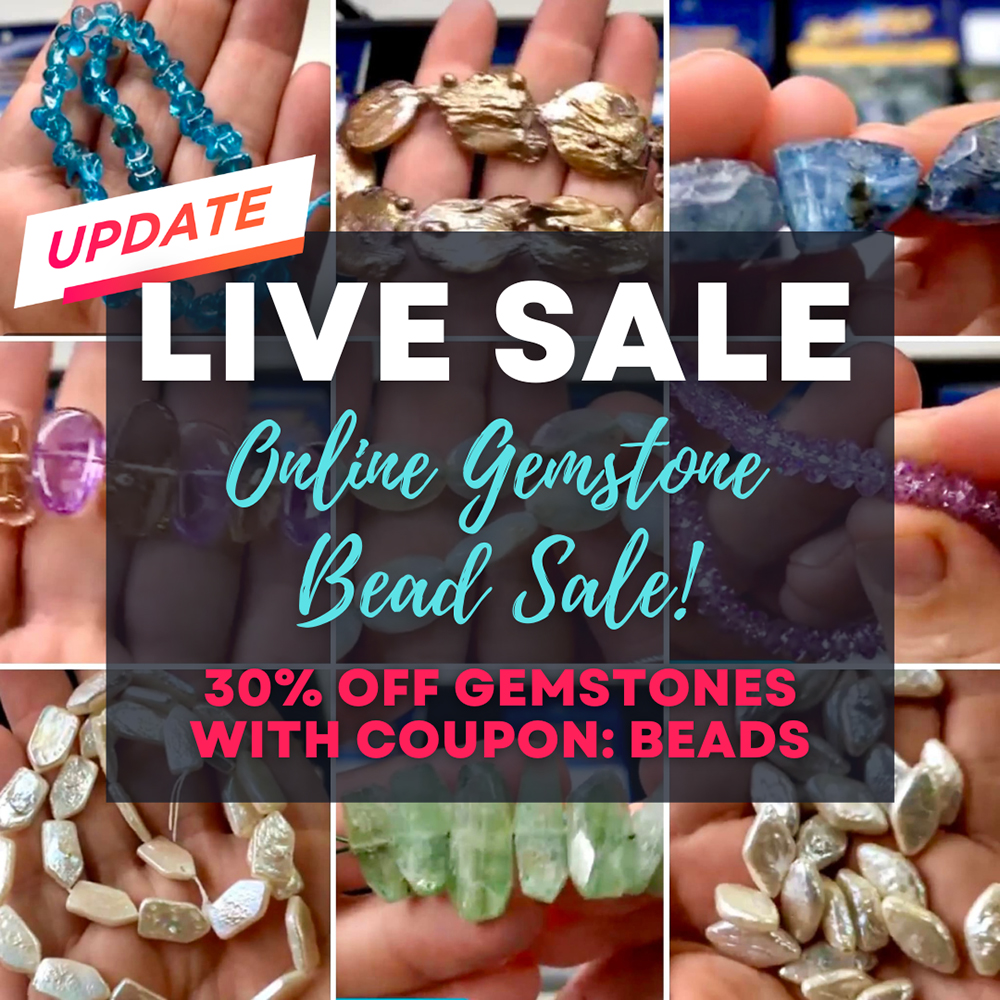 If you have never joined us for a Live Sale, you are missing out on something truly special. Each month we offer a Live Sale that features gemstones and findings from our offline inventory. This sale is comparable to visiting our gallery and seeing an intimate tour of all of the goodies we have acquired during our thirty plus years of business and travel.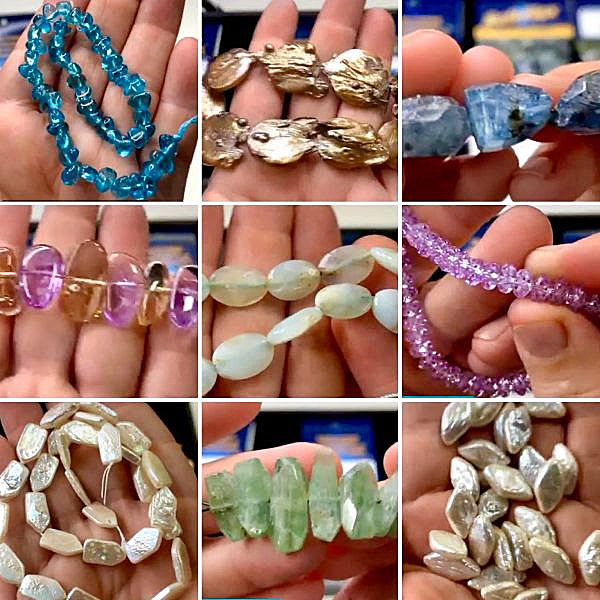 We also offer a Live Sale that is filled with rare stones and artisan beads from Mike Sherman's personal collection. Mike is a company co-founder and creative innovator. He is part of the reason Soft Flex Beading Wire is a stellar as it is.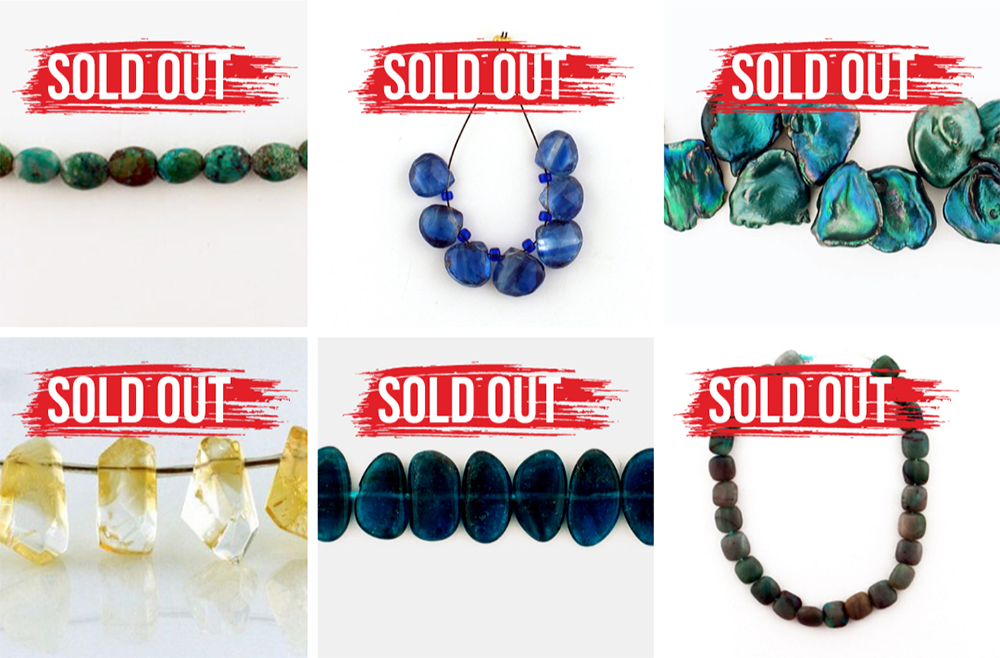 Hurry! As with our other Live Sales, these sale items can clear the shelves fast!
Under The Sea Jewelry Making Design Kit Reveal
The human world, it's a mess!
~ Sebastian, The Little Mermaid
Want to know a secret? We are headed for a kingdom of enchantment. We are packing our bags and leaving for the ocean! Let's forget our toils and strife. We are looking for a better life. Down where the fish are playing, that is where we'll be stayin'. Away from the sun, where life is fun - under the sea! Leave all your troubles. Let's float in the bubbles. The views are all sweet. Ain't life a treat? Under the sea!
Under the Sea Design Kit
2x2mm Soft Flex Crimp Tubes
Magical Crimping Pliers
Cutters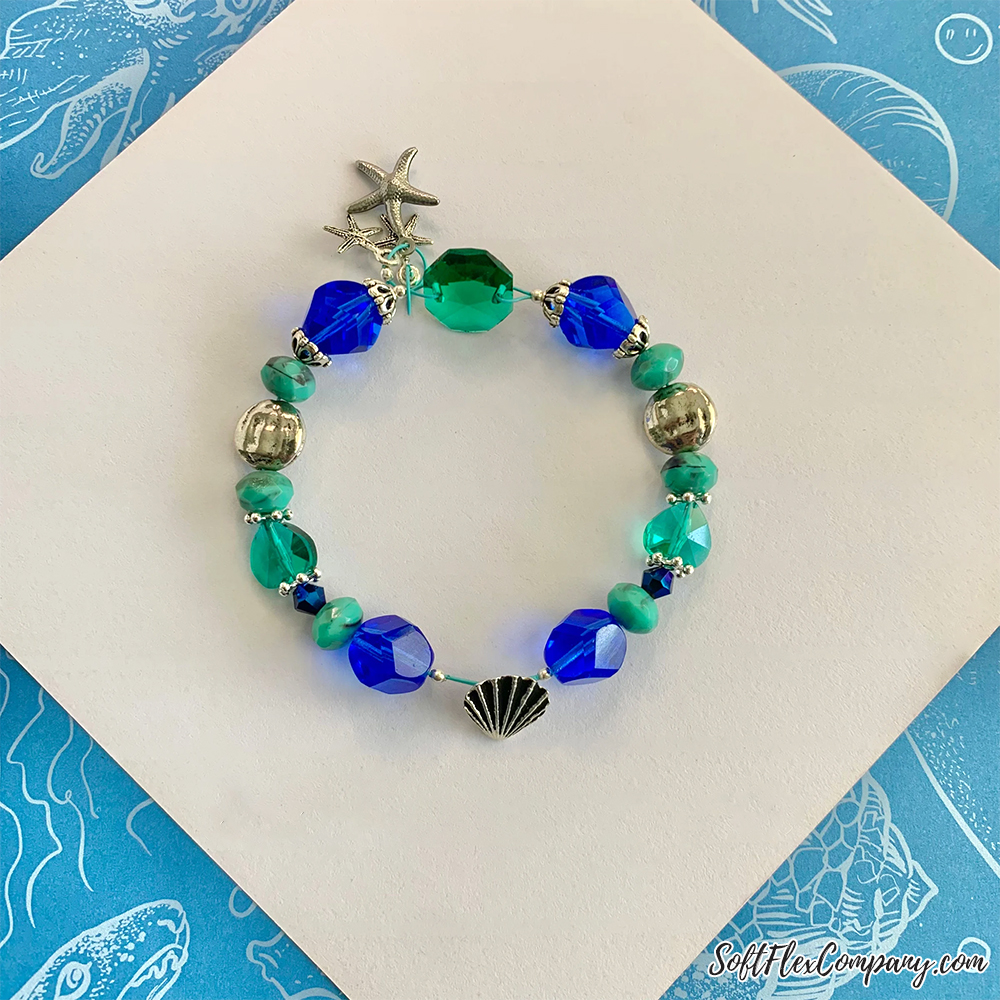 Star's Beads: Wire Wrapping Gemstones With Soft Flex Craft Wire
SilverSilk & More: 3 Essential Tips For Making Jewelry With SilverSilk
Jenifer Miller: Mermaid Jewelry With Supplies From Jesse James Beads And Soft Flex
Beki Foster: Make A Bracelet Using Beads To Live By Curated Collection And Soft Flex
Rosanna Brafford: How To Make A Necklace Using The Camp Out Kit
Join our Facebook group – VIB. Stay in the know. Stay up to date. From our bead shows to our video shows and sales, you can stay in touch with us. The community is full of artistic and helpful beaders and crafty people. Inspire and be inspired. Share your pictures and get the beading bug from others!
Visit the Soft Flex Company YouTube Channel!
---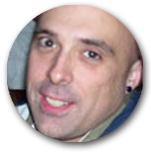 Blog contributor Thomas Soles loves Jazz Age writers and crunchy french fries. His favorite gemstones are Lapis and Pietersite. His favorite hobby is day dreaming. And his favorite mustache is Freddie Mercury's. As you can see, he has a healthy (or possibly unhealthy) sense of humor. You can write to him at Thomas@SoftFlexCompany.com