Good afternoon, lovely beaders and jewelry designers! Today feels like an amazing day for creating something special. If you need a muse, we have three great videos to binge on. These videos are easy to follow and fun to watch, get out your jewelry making kit and let's learn how to make some stunning earrings and bracelets!

Kristen showed us how to create a bracelet and earring set with her April Showers Bead Mix and a Tranquility Trios Beading Wire Pack. Nealay showed us how to merge leather, SilverSilk Hollow Mesh and Soft Flex Craft Wire into an absolutely gorgeous pair of earrings. James used a Lazee Daizee Viking Knit Wire Weaving Tool to create a bracelet that is perfect for Him or Her! Beginner beader or seasoned jewelry designer, you are sure to learn something new or get an idea for a fantastic design!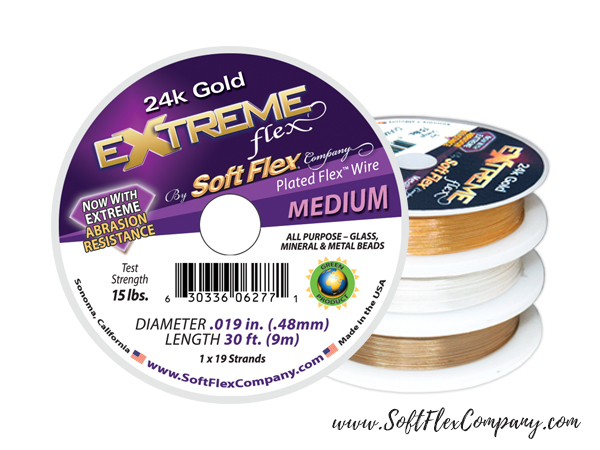 Design jewelry fit for the stars. Extreme Flex 24k Gold Beading Wire is a high quality, gold plated beading wire. It is the perfect choice for a stunning illusion necklace or any beaded jewelry where the wire will be exposed. This is a great color choice for high end gemstones or a demanding clientele.
Jewelry Making Videos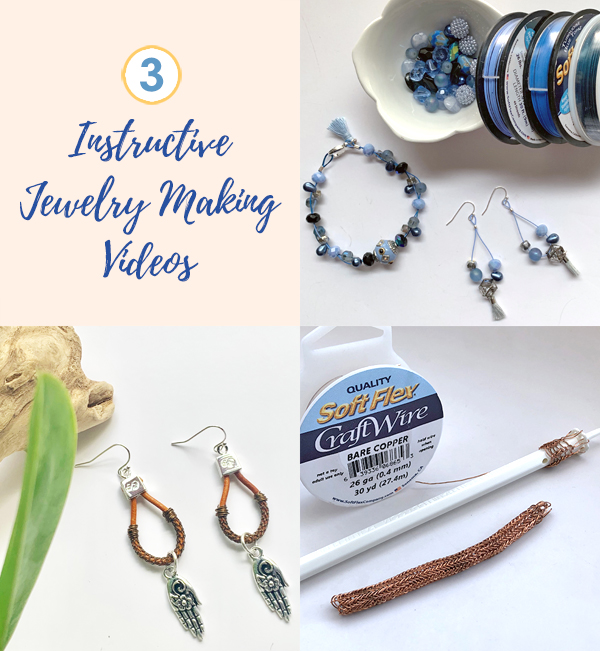 Make Beaded Jewelry With The April Showers Bead Mix
Kristen is back with another episode of Free Spirit Beading. Free Spirit Beading is a live beaded jewelry making series on YouTube. Free Spirit Beading airs on Mondays at 12:00pm PST. Kristen designed a beaded bracelet and earrings with our April Showers Bead Mix and our Tranquility Trios Beading Wire Pack. Our Bead Mixes are included with our mystery themed Design Kits. Both the Kits and Bead Mixes are very limited in availability, so make sure to grab them quick.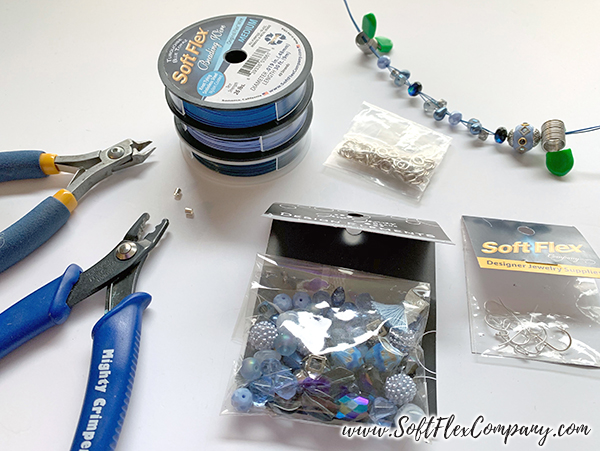 Mom Rocks is our latest Design Kit. Make sure you grab one while you can, they are almost sold out. Once they are gone, they are gone for good.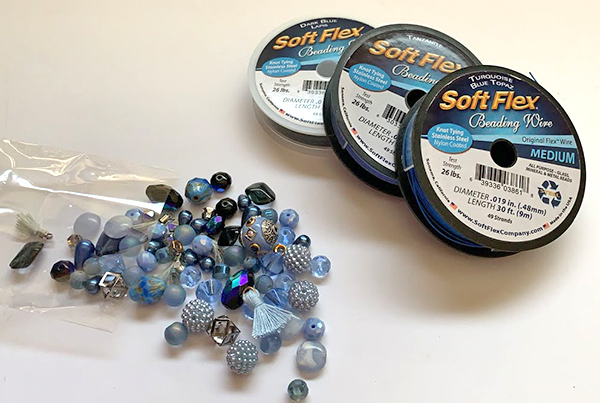 Supplies:
Tranquility Trios - 18" of each color
April Showers Bead Mix
2- 3x3mm Sterling Silver Crimp Tubes
2 - 2x2mm Sterling Silver Crimp Tubes
2 - Silver Filled Ear Wires
1 - 15mm Lobster Clasp
3 - Jump Rings
Mighty Crimper
Magical Crimping Pliers
Cutters
Chain Nose Pliers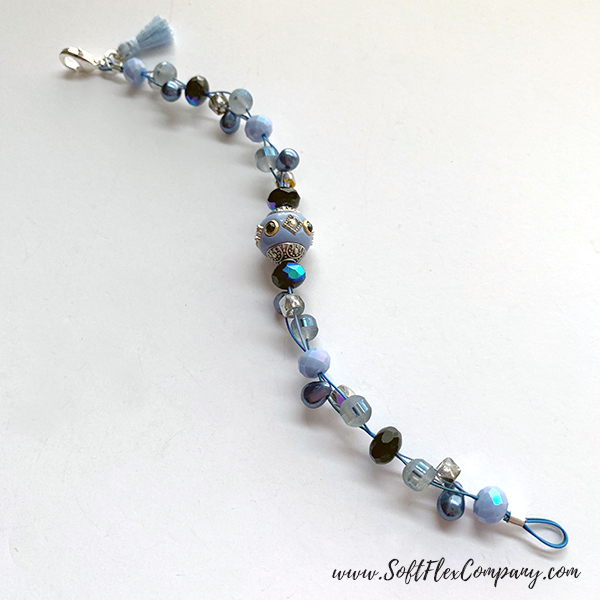 This design is luscious. You can see how a color beading wire can shape the look of your jewelry. If Kristen had opted for a bland gray wire, she probably would have concealed it beneath the beads. Instead, she showed the color of the wire in every way possible. Color is explosive. Color is wonderful. Make sure you express your color and don't keep it hidden!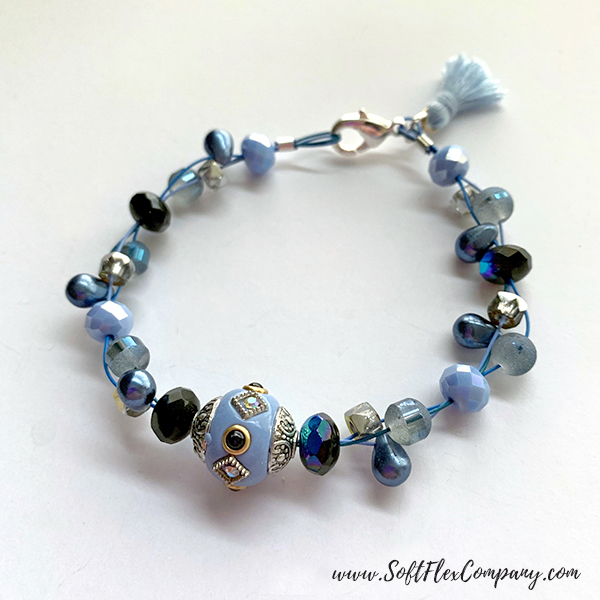 These earrings are wonderful. Perfect for any time of the year. They are expressive for summer showers or the chill of the Holiday Season. Absolutely lovely. And so easy to make.
This jewelry set is so decadent. If you have an April Showers Bead Mix and Tranquility Trios Beading Wire Pack, this is so simple to string. Show us your creations on our Facebook group - VIB!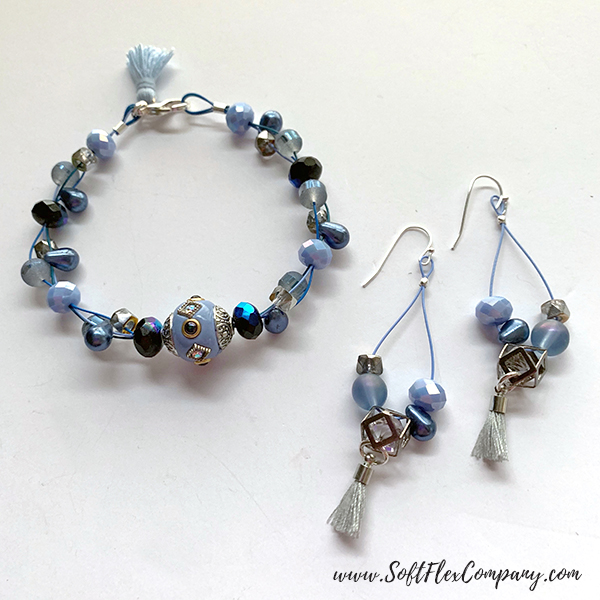 Kristen Fagan hosts Free Spirit Beading on Mondays at 12:00pm PST.

Be sure to tune in during her live segment if you have questions about beading. Kristen loves helping fellow jewelry designers and crafty folk. If you miss an episode, you can find it in our YouTube library.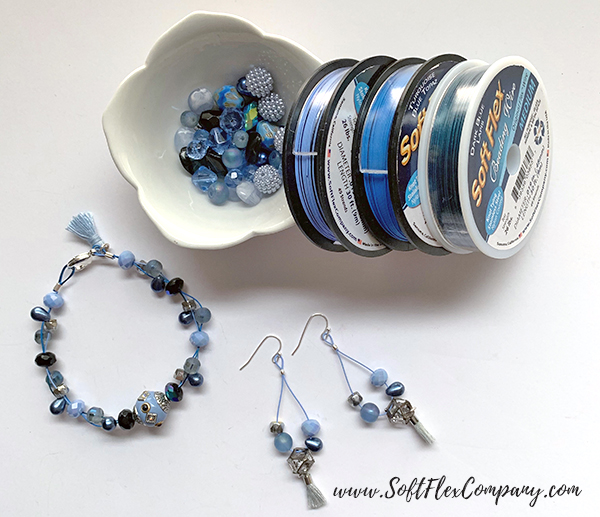 Leather Knitted Wire Earrings With Hollow Mesh And Soft Flex Craft Wire

Nealay Patel is a talented jewelry designer. We love to see the world through his eyes. He is a thoughtful artist that likes to sketch his jewelry out before committing to the design. He is always fun to watch and he makes it easy to learn his techniques.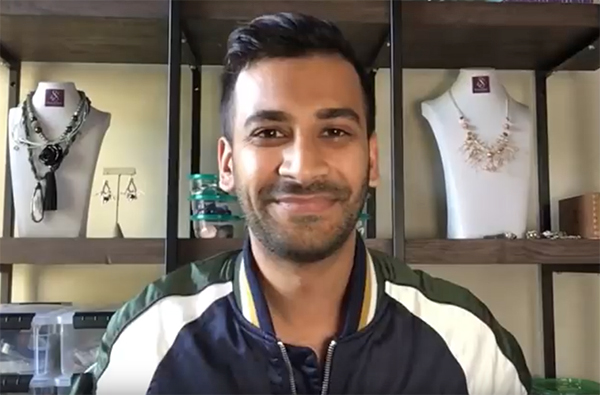 Nealay is the owner of SilverSilk and More. He is an incredible jewelry designer and a great friend. We love to follow his Tuesday Tuts series. Each Tuesday, he films an episode live on Facebook. If you miss him live, you can find his videos on YouTube and Facebook.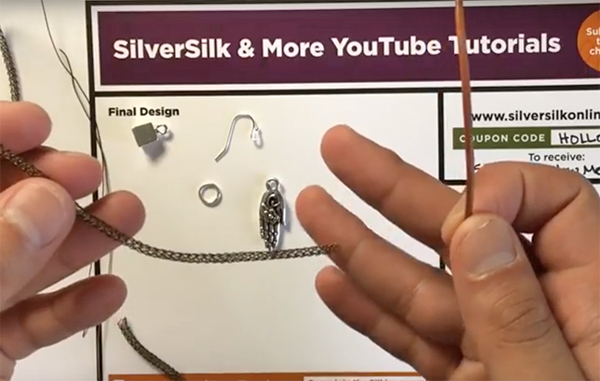 From Nealay:
I'm excited to show you how to make a creative pair of earrings using 2mm leather cord, hollow mesh and TierraCast charms. I'll show you how to stretch Hollow mesh to fit over the leather cord and some tips on how to use double strand end caps with leather cord. We're also going to use some special Tierra Cast charms to add an extra design element our earrings…I can't wait to show you!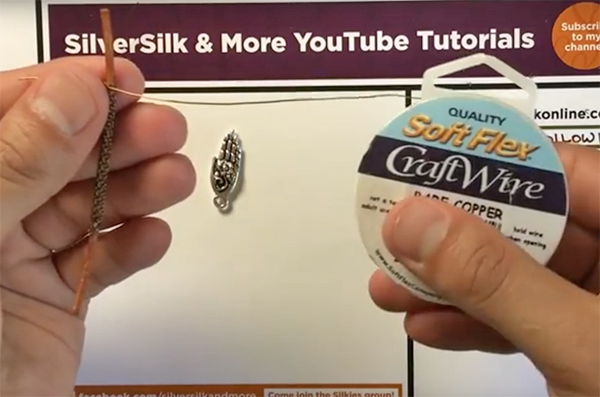 Supplies:
Hollow Mesh
Double-Strand End Caps
TierraCast Charms
Two Earring Wires
Soft Flex Craft Wire - 26ga
6mm Jump Rings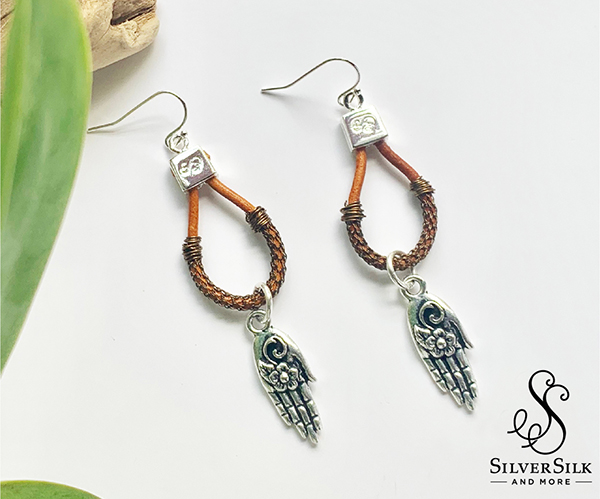 Viking Knit Double Stitch With The Lazee Daizee And Soft Flex Craft Wire
James is back for another YouTube episode of Conversations in Wire. James loves Soft Flex Craft Wire. He designs all sorts of jewelry with it. He loves to wrap beads, create focal beads, and create fun new designs. He loves to explore new uses of the wire. His series follows his passion. You can find new episodes of his series on our YouTube channel every other Thursday.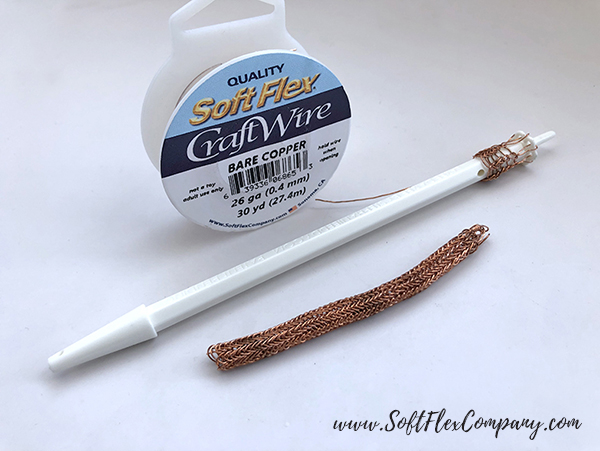 James is working with the Lazee Daizee Viking Knit Wire Weaving Tool. This tool makes an intense design so simple. Your finished bracelet will look amazing if you use this easy tool. Leave the complicated stuff to the pros. If you would like to watch the first video James filmed using a Lazee Daizee, click here.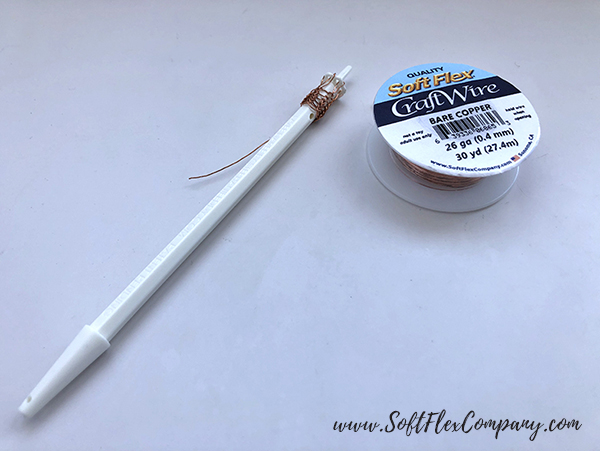 Supplies:
Soft Flex Craft Wire - 26ga
Lazee Daizee Viking Knit Wire Weaving Tool
Bead Nipper
Nylon Jaw Pliers
Draw Plate
Craft Wire Starter Kit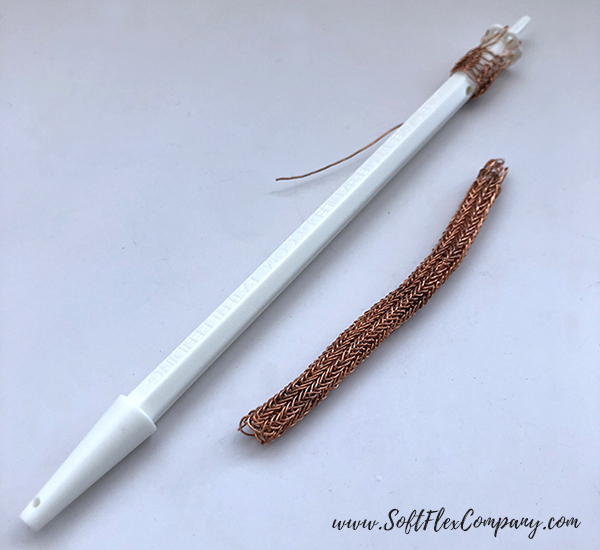 The Lazee Daizee has a petal design that helps make your looped wire consistent and simple to manage and work. The length of the rod of the tool is a great guide for the looped wire segments. The tool is soft enough that it will not scuff or damage the Soft Flex Craft Wire. The Lazee Daizee comes with an instruction sheet. So exciting! Viking Knit has never been faster or more accessible.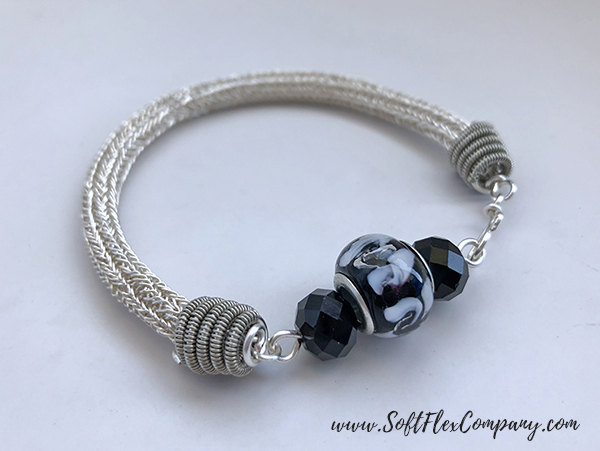 Join our Facebook group – VIB. Stay in the know. Stay up to date. From our bead shows to our video shows and sales, you can stay in touch with us. The community is full of artistic and helpful beaders and crafty people. Inspire and be inspired. Share your pictures and get the beading bug from others!
Visit the Soft Flex Company YouTube Channel!

---
Blog contributor Thomas Soles loves Jazz Age writers and crunchy french fries. His favorite gemstones are Lapis and Pietersite. His favorite hobby is day dreaming. And his favorite mustache is Freddie Mercury's. As you can see, he has a healthy (or possibly unhealthy) sense of humor. You can write to him at Thomas@SoftFlexCompany.com