We have a scary selection of Halloween jewelry making videos for you this week. Plus, Sara got a little anxious and filmed an early Christmas craft idea. Who can blame her? We love the holiday season! Do you love seasonal and holiday jewelry? We have some fantastic ideas for you. Follow along and you are going to be the most glamorous ghost in town. You are going to love the choker Kristen created. This amazing necklace is sure to make you the envy of the graveyard. Let's make some spooky jewelry!

This week. Sandy Huntress unboxed our Golden Gate Design Kit. She loved the contents of the kit and gushed about the quality of our crimp beads. Kristen designed an elegant choker for Halloween. Nealay created a stunning necklace with SilverSilk Galaxy Wire. Finally, Sara said, "Bah Humbug!" to spooky stuff and created some amazing snowflakes. It is never to early to start designing some thoughtful gifts for Christmas. Join us for some videos, won't you? We love your smiling face!
Jewelry Making Videos
Keepsake Crafts by Sandy Huntress
Sandy Huntress is a talented jewelry designer. She has a fantastic YouTube channel where she explores jewelry making techniques and provides tips and tricks on how to become a better crafter. You can learn how she works with stamps, polymer clay, paints, resin, and more. She has a wonderful collection of jewelry projects. Check out her library if you enjoy watching an artisan at work.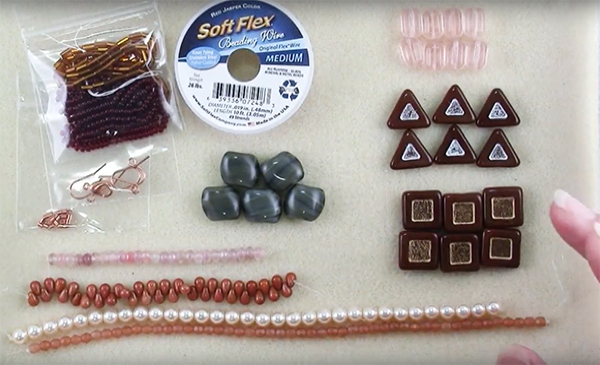 We sent Sandy our Golden Gate Design Kit. We knew she would create something spectacular. She unboxed the design kit and gave her audience her thoughts on the contents.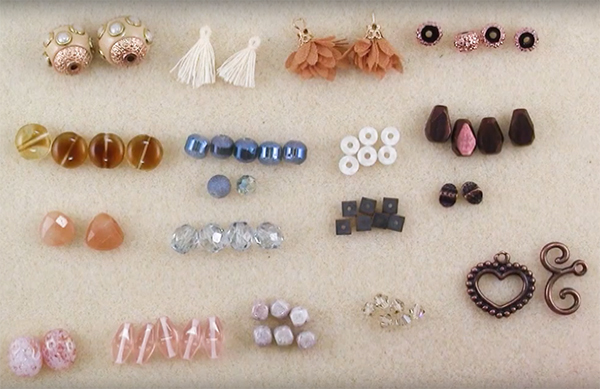 We love to load our design kits with lots of beads and findings. We include a spool of beading wire that fits the theme of the design kit. Everything you need to make a bunch of lovely jewelry is included inside. You just need to have the tools on hand to create your jewelry. A simple set of crimping pliers and cutters is usually enough to finish the jewelry.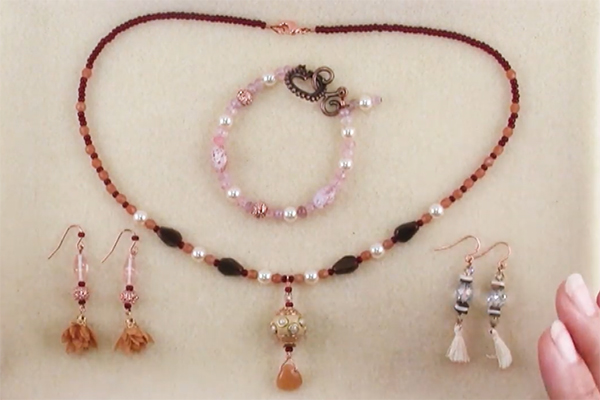 Sandy created a bracelet, a necklace, and two pairs of earrings. Everything she needed was inside the kit. But, she did use some eye pins, a head pin, and some wire to add a little personal flair.
If you would like to purchase our design kits, we announce each new kit at the end of the month. You have to hurry if you would like to grab one. Our kits are limited in inventory and they sell out quick. Check out our Facebook group – VIB. We have an awesome community of jewelry designers and crafty folk. Our group is very active and super helpful. Join us if you would like to learn some new techniques or just give some great advice to a newbie!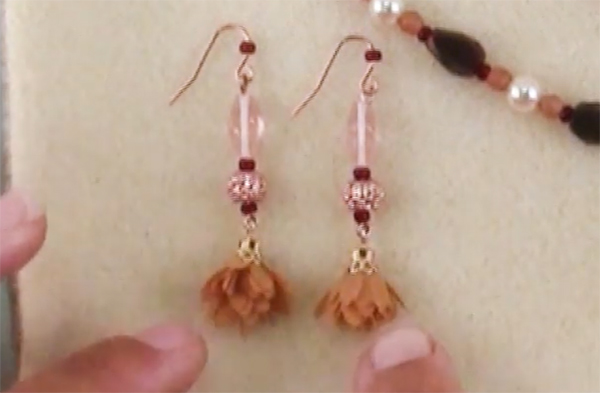 If you would like to keep up with Sandy, follow her on these links. Check out her YouTube channel, she is so creative!
YouTube
Blog
Facebook
Instagram
Pinterest
Before wrapping up her video, Sandy checked out the crimps we sent in our kit. She fell in love with the quality. Our crimps are seamless and thicker than most crimps you will find. This means, there is no seam to make the crimp brittle and the thickness is durable enough to last and last. Don't settle for cheap crimps that can break and fail on a great jewelry design.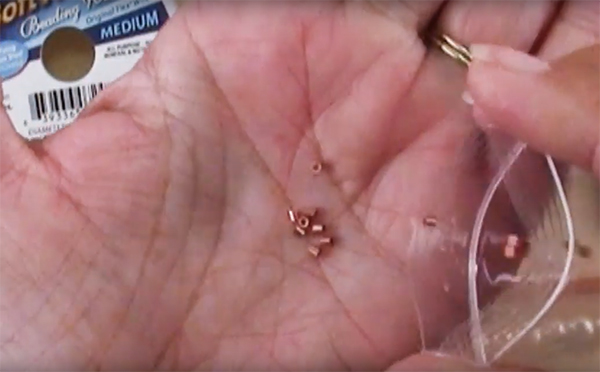 Make a Knotted Choker Using Halloween Trios Beading Wire
Kristen filmed another episode of Free Spirit Beading on Monday. She is live on Mondays at 12pm PST.
My goodness, Kristen has an amazing mind. Each week she really knocks it out of the park on her YouTube series - Free Spirit Beading. This week she decided to create a choker that would look lovely on any Halloween costume. To really get into the spirit of the spooky season, Kristen used our Halloween flavored Trios Beading Wire Packs: Black Magic and Trick or Treat.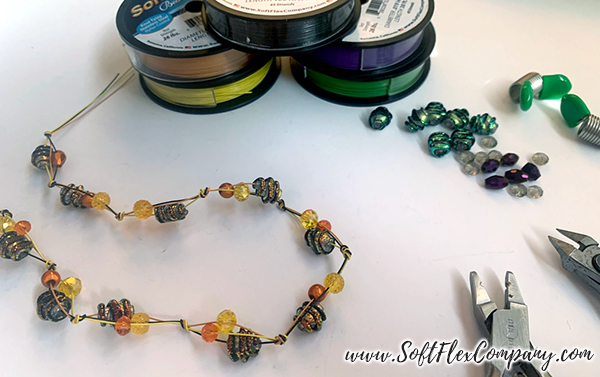 From Kristen:
Chokers are necklaces that sit tightly around the neck. The standard choker measurement is usually 14 to 16 inches in length. Measure your neck + 2 inches is a good rule of thumb for a comfortable choker necklace. You could finish off your choker with an adjustable chain - this usually offers about 2 inches of adjust-ability.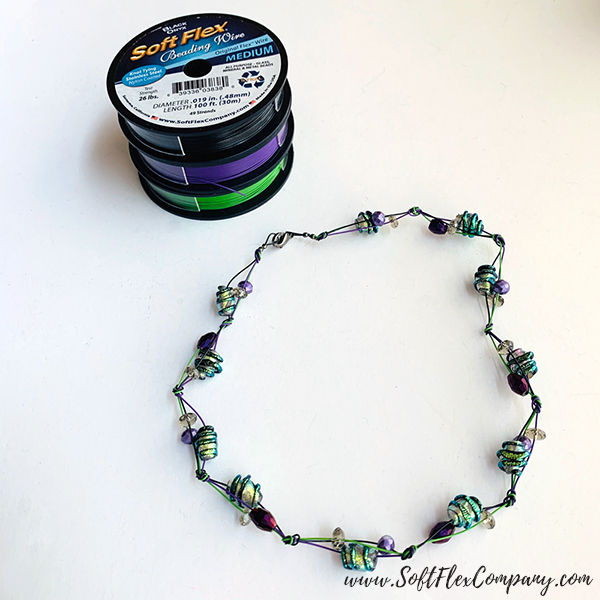 Supplies:
Halloween theme Trios Trick or Treat and Black Magic
2x2mm Black Oxidized Soft Flex Crimp Tubes
Assorted beads from JJB mini mixes
Dichroic beads in orange and green by Paula Radkae
4x6mm Faceted crystal black diamond rondelles
12mm Gun metal lobster claw clasp
Gunmetal or black jump rings
Cutters
Crimping pliers
Chain Nose pliers
Bead stoppers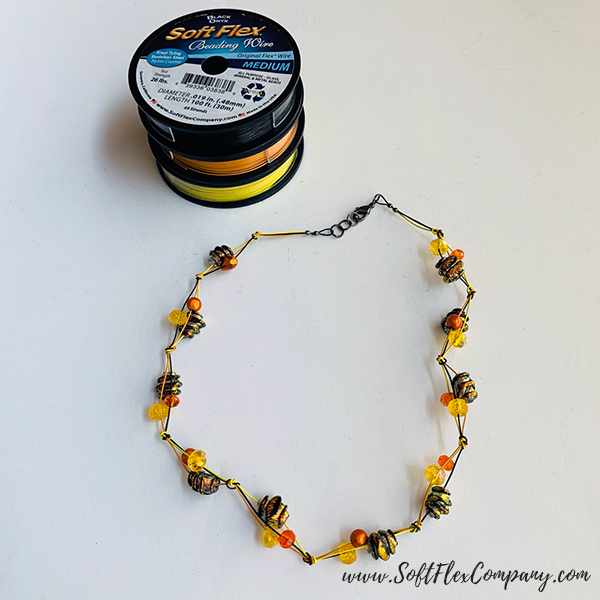 For each design, she used three strands of Soft Flex Beading Wire. She cut 32 inches off each spool. Bead Stoppers helped organize the wire and keep it secure while she worked on her designs. The choker pattern is so simple - string your bead, knot all three strands, string the next. When finishing, crimp two of the wires and cut those tails, leave one wire for the clasp.
Optional: Add jump rings, split rings or chain to make it adjustable.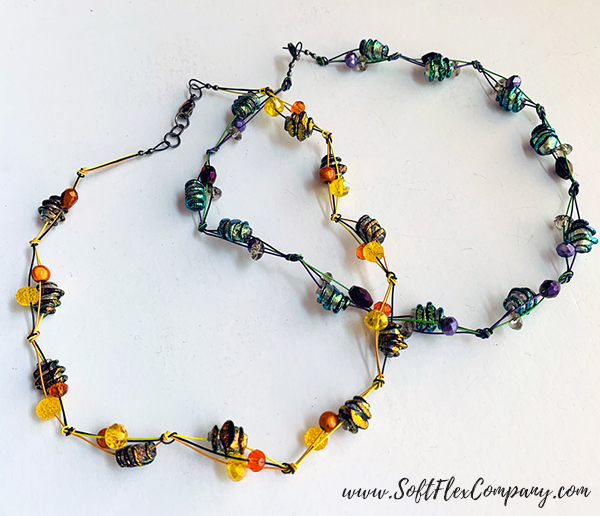 Halloween Necklace with Galaxy Wire
Our friend Nealay got into the Halloween spirit this week. But, he decided he did not want to go sinister and dark, but opted for spooky and glamorous this holiday. If you would like to add a little glitz and sparkle to your costume - or just impress your trick-or-treaters, this fantastic necklace will make you a star!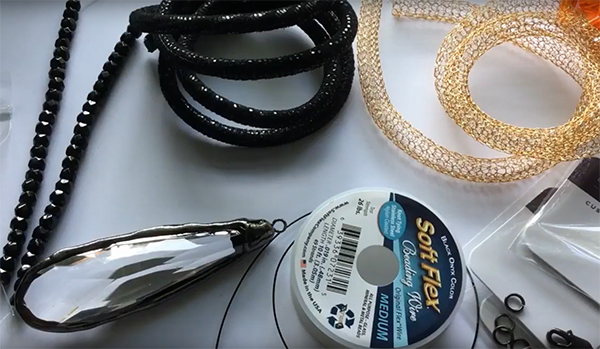 From Nealay:
Let's make a spooky, but glamour jewelry set using Galaxy wire and a large crystal pendant from Jesse James Beads. We'll be attaching cord ends, stringing beads and even doing some crimping to make a bail. You won't want to miss this demo!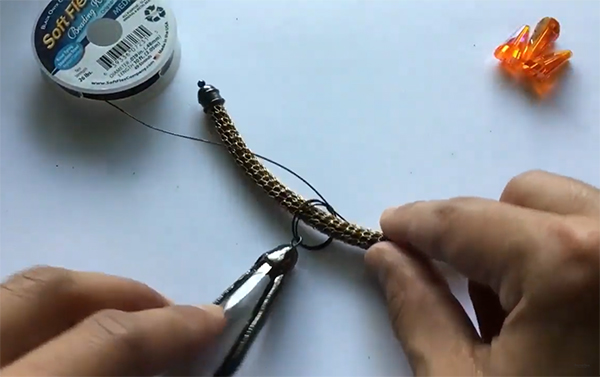 Supplies:
SilverSilk Galaxy Wire
SilverSilk End Caps
SilverSilk Jump Rings
SilverSilk Lobster Claw Clasp
Soft Flex Beading Wire, .019 Diameter in Black Onyx color
2x2mm Black Oxidized Soft Flex Crimp Tubes
Large Crystal Pendant from Jesse James Beads
Magical Crimping Pliers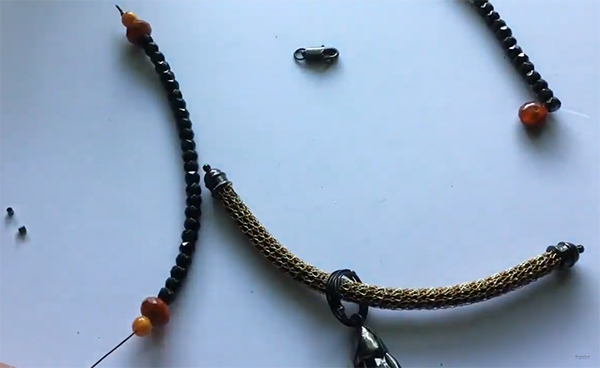 Make sure you visit SilverSilk and More for the materials you need. Nealay's fabulous Galaxy Wire is perfect for delicious and elegant jewelry. It is so easy to work with too!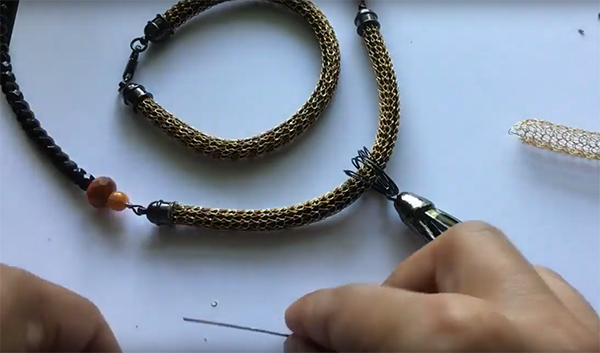 You can find Nealay on Facebook and YouTube. If you are a fan, make sure you join his active group on Facebook - The SilverSilk Silkies. He is very accessible and loves to answer questions. He is a great jewelry teacher and source of inspiration.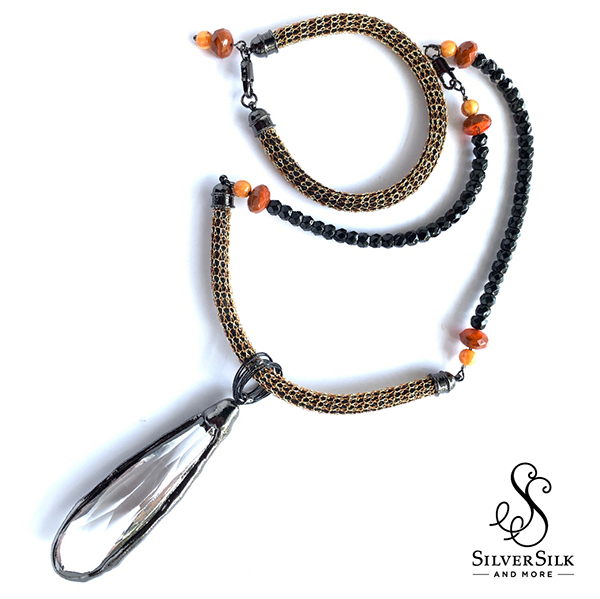 How To Make A Beautiful Snowflake Using Soft Touch Beading Wire
Sara is really getting anxious for the big holidays. She loves Halloween, but is eager to start creating Christmas jewelry and crafts. She decided she wanted to give us an updated video on an old Soft Flex favorite. Her snowflake has always been a hit. It is easy to make with our Soft Touch Beading Wire. Soft Touch is our premium beading wire. It is 50% softer and more flexible than our original Soft Flex Beading Wire. Soft Touch has the same strength and durability of Soft Flex, so it is the perfect choice if you need a beading wire that looks like thread.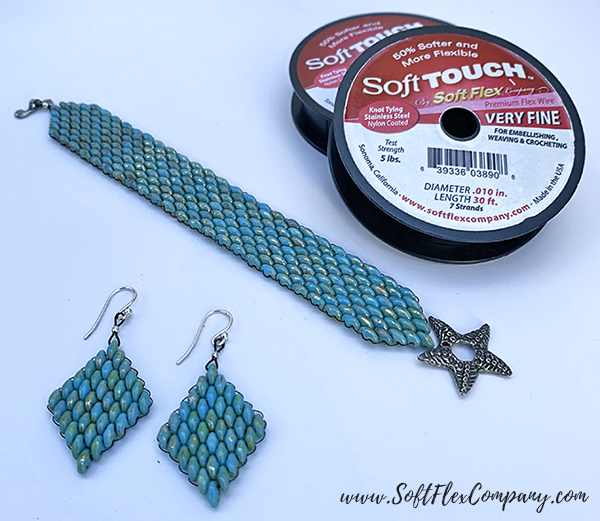 Sara discussed our .010 diameter. This Very Fine diameter is perfect for weaving, stitching, embellishing, and more - think of it as a stainless steel thread. If you want to create something that lasts for a very long time, Very Fine is your best choice!
This woven design - By The Sea Bracelet - was featured on Beads Baubles And Jewels. Sara used .010 Very Fine Soft Touch Beading Wire in black color to weave SuperDuo seed beads together for the bracelet.
As Seen On Beads Baubles And Jewels: "By the Sea", Episode 2701
Jill Wiseman also used our Very Fine Soft Touch Beading Wire for a design on the Beads Baubles And Jewels show. You can see her video in the link below.
As Seen On Beads Baubles And Jewels: "Peaceful Pursuit", Episode 2713 with Jill Wiseman
Supplies:
Soft Touch Beading Wire, VeryFine/.010 Diameter
Soft Flex Professional Flush Cutters
Special T Glue
Seed Beads
Super Duo Beads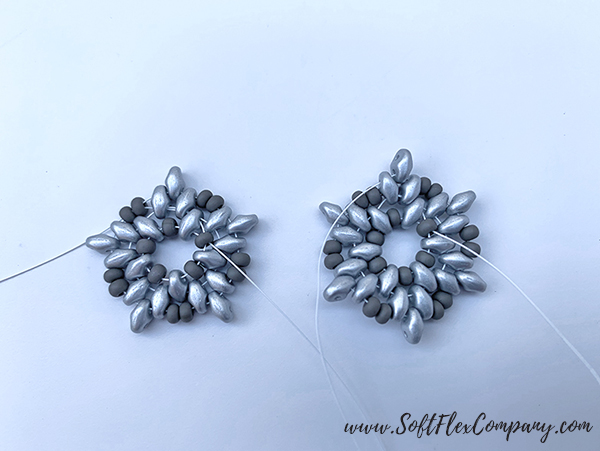 Star or snowflake? If you go for a five pointed design, it will looks like a luscious star. Go for six points and it is a beautiful snowflake. This design is great for earrings, pendants, ornaments and more!
Ho! Ho! Ho!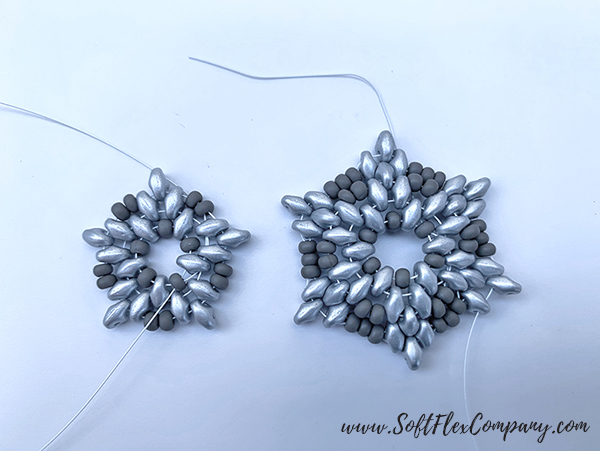 Join our Facebook group – VIB. Stay in the know. Stay up to date. From our bead shows to our video shows and sales, you can stay in touch with us. The community is full of artistic and helpful beaders and crafty people. Inspire and be inspired. Share your pictures and get the beading bug from others!

Visit the Soft Flex Company YouTube Channel!
---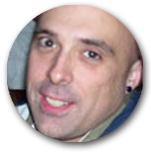 Blog contributor Thomas Soles loves Jazz Age writers and crunchy french fries. His favorite gemstones are Lapis and Pietersite. His favorite hobby is day dreaming. And his favorite mustache is Freddie Mercury's. As you can see, he has a healthy (or possibly unhealthy) sense of humor. You can write to him at [email protected]