How in the world is it Friday already? This week went so fast! We had a lively week of jewelry making and sales. We had fun learning how use two colors of Soft Flex Beading Wire on a knitting spool. We joined Nealay on the last stop of his Colors of India Bead Tour. James hosted a live sale on Facebook. Nealay made a gorgeous lariat that we wanted to revisit. If you love jewelry, you are going to love this video recap!

First up, we are looking at a lariat that Nealay made in March. It is absolutely stunning. Then, Kristen showed us how to work on a knitting spool with two different colors of Soft Flex Beading Wire. She shows us two Knit Styles and the finished look. It is amazing how sophisticated the finished work is and how easy it is to make. Finally, we visited Nealay as he wrapped up his Colors of India Bead Tour on Jesse James Facebook.
Soft Flex Live Sale!
Click on the image or the Shop Now button below if you want to visit our latest live sale on Facebook. Items include Soft Flex Craft Wire, rare books, jewelry findings, stone beads and so much more! Comment with item number, sold, and quantity desired. To enter our bead giveaway, public share + like this video. 3 live winners, 3 more announced next week! Sale open until late Sunday night, July 21st.

If you missed the live sale on Wednesday, you still have a chance to bid on items. Our live viewers don't always grab the goods the first time. Our live sales tend to get repeat views and new views throughout the weekend. There is still a chance to get some wonderful deals and discounts. Don't miss out! The sale is open until late Sunday night, July 21st.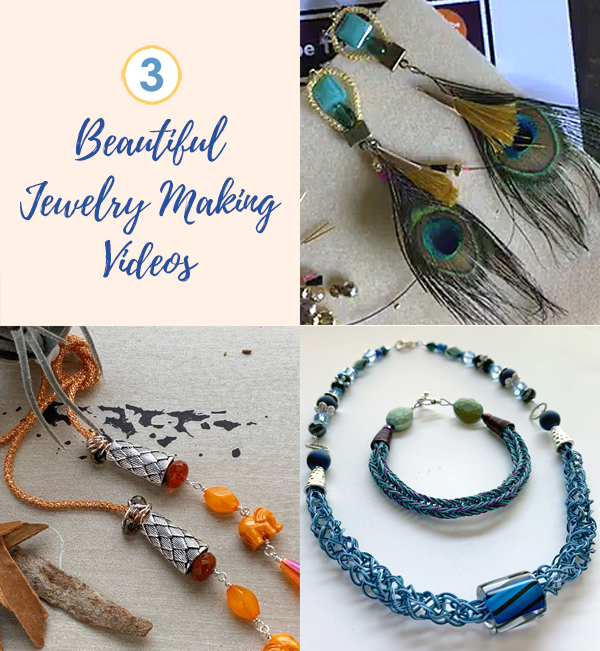 Lariat Necklace Design With Capture Chain And Soft Flex Craft Wire
First we have a throwback video from Nealay. Nealay is a talented jewelry designer. He is also the owner of the SilverSilk and More jewelry company. He is a thoughtful creator. He loves to sketch out his designs before he strings them. It is fun to watch his videos as you get an insight into his creative process.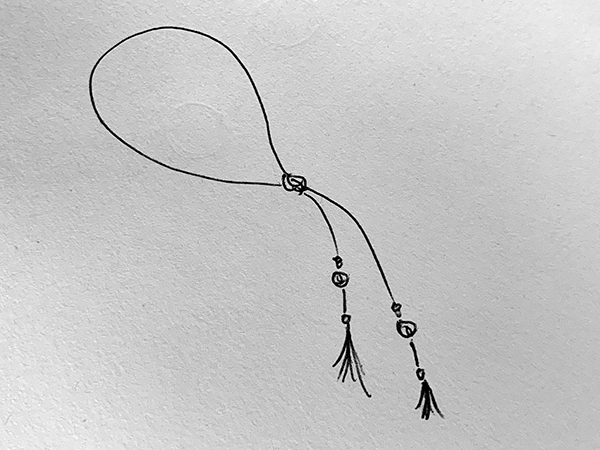 From Nealay:
Designing a necklace doesn't have to be complicated. Simple styles often work wonderfully. We'll take a quick sketch and apply a few easy techniques to turn capture chain into a fashionable necklace. I'll cover some basic jewelry making techniques, such as simple loops and how to attach Jesse James Beads and tassels to our design. You won't want to miss this class.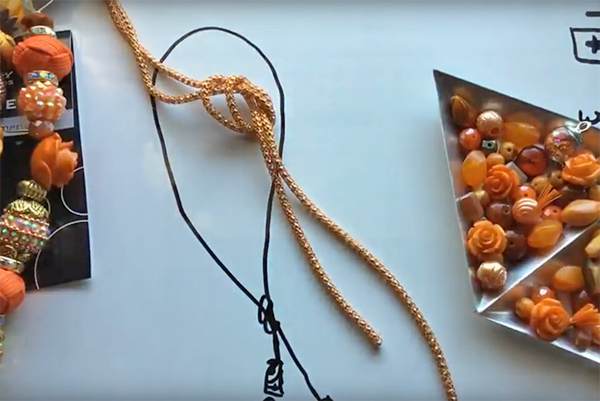 Supplies:
SilverSilk Capture Chain
Soft Flex Craft Wire
Decorative Beads from Jesse James Beads
Nealay used 22 gauge Soft Flex Craft Wire to attach a bead cap to his SilverSilk Capture Chain. He then added some dangled beads to his design.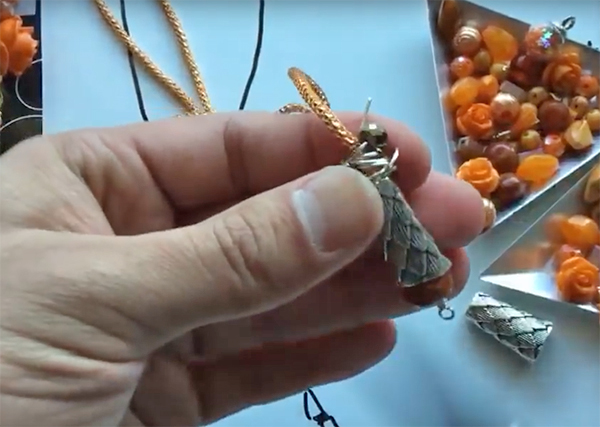 Don't be afraid to make a 'messy' wrap on your jewelry. A wrap without tools and precision can look organic and beautiful. Nealay's messy wrap looks so funky and artistic. It looks lovely and keeps the cone in place - win win!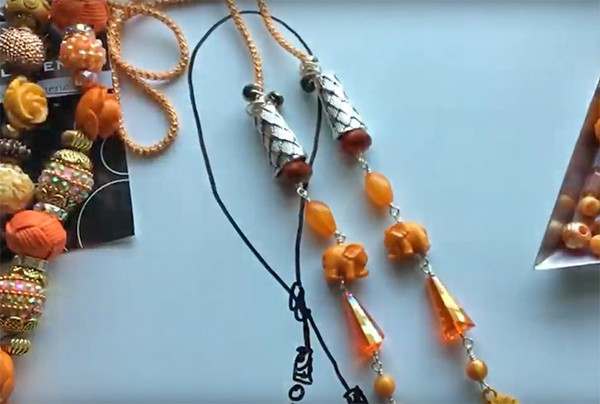 Lariats look so beautiful. They are great for any wardrobe. You can also create them for your workplace and hang your ID and information on them.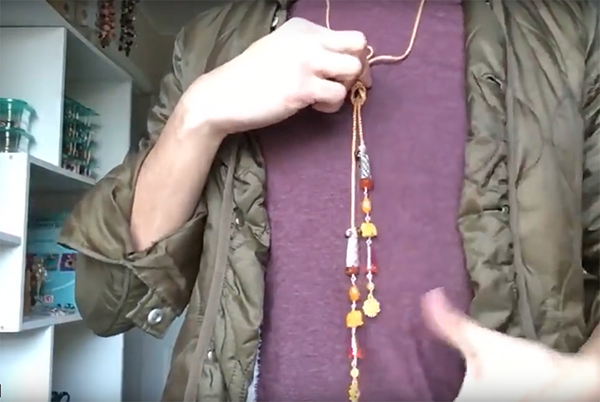 Join Nealay's exclusive Facebook group, The SilverSilk Silkies.
The SilverSilk Silkies are a dedicated group of makers that create and share their beautiful jewelry, made from SilverSilk and More. If you love SilverSilk, this is the hotspot to be and see what the world is creating and inventing with SilverSilk.
Posts and photos by members are encouraged, but only if they are appropriate and inspiring! You are welcome to share tips, ideas and musings but please keep it on topic to our page mission. I can't wait to see your creations!
YouTube created a new rule for live streaming and our friend Nealay Patel needs our help! Let's help him get to that magic 1,000 subscribers so he can once again stream live from YouTube and offer us his amazing Tuesday Tuts! Click here to subscribe to the SilverSilk and More YouTube Channel.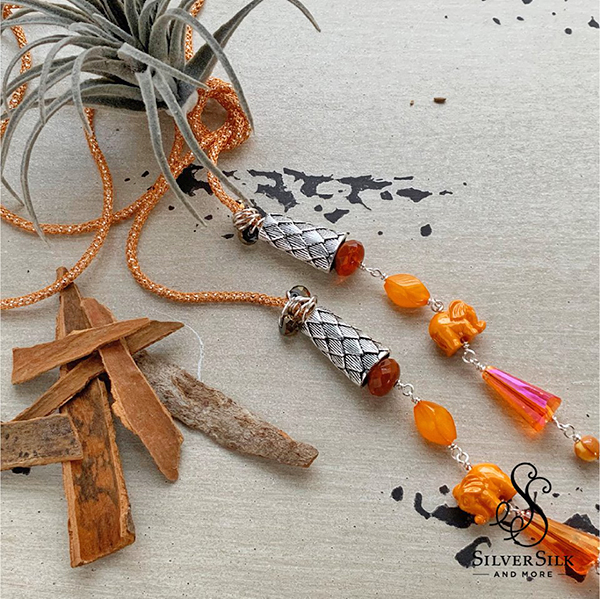 Knit With Two Colors of Beading Wire on a Knitting Spool

Kristen loves to use her knitting spools. In this video, she was inspired by a comment last week when a customer asked how to use two colors on a design. What a great project to tackle. Kristen compares and contrasts Knit Style 1 and Knit Style 3 with two beading wire colors on a 3-pin and 5-pin knitting spool.
In the images below, you can see how much wire is used on each knitting spool and the length of the finished design. Knit. a 5-pin will give you a much shorter design with the same amount of wire, but the look is much more wire intensive.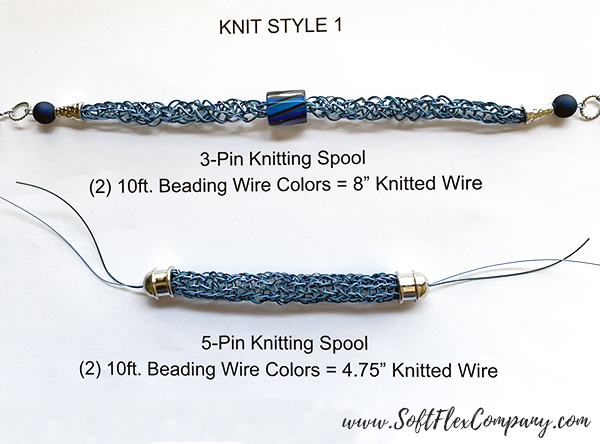 Knit Style 1 Necklace Supplies:
Tranquility Trios Beading Wire Pack (Dark Blue Lapis and Tanzanite Colors)
Blueberry Pie Bead Mix
Large Glass Cane Bead
2x2mm Sterling Silver Crimp Tubes
Hammered Cones in Silver Plated
Two Twisted Jump Rings
Lobster Clasp and Jump Ring
3-Pin Knitting Spool
Crimping Pliers
Cutters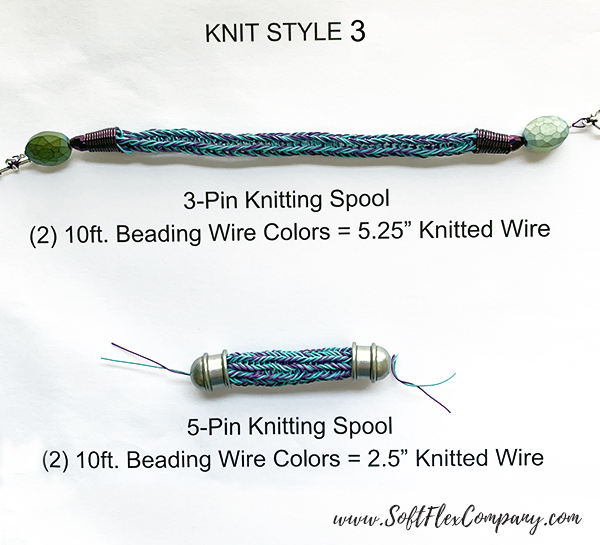 Knit Style 3 Bracelet Supplies:
Mom Rocks Trios Beading Wire Pack (Purple and Turquoise Colors)
Saraswati Bead Mix
Night Blooming Garden Inspiration Bead Mix
2x2mm Sterling Silver Crimp Tubes
Makers' Clasp in Silver Plated
20G Craft Wire in Purple Color
Lazee Daizee
3-Pin Knitting Spool
Magical Crimping Pliers
Cutters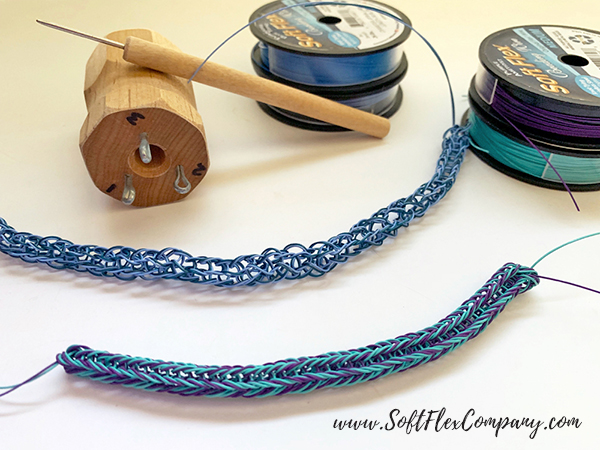 You can see how the two knitting spool designs look here. The 3-pin is an open design that is great for a loose look or adding beads. The 5-pin design is a wire intensive design. If you like the look of wire, the 5-pin is your best bet. If you like adding beads or like the look of the open design - go with a 3-pin.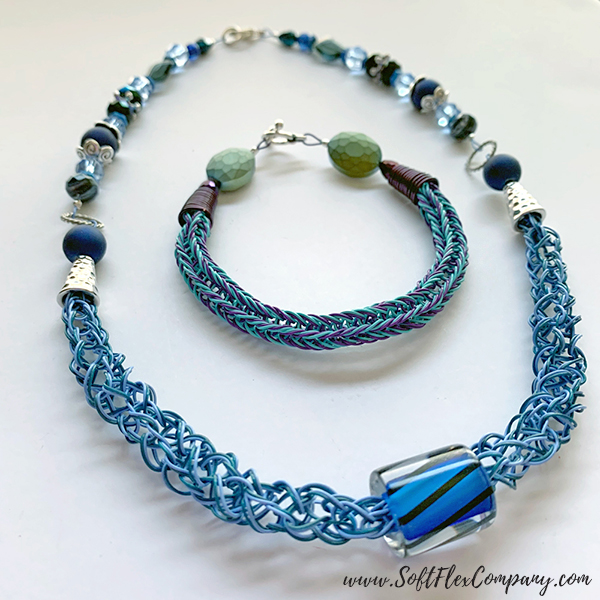 Both designs are beatiful. If you are a beginner, a 3-pin is a little easier to start with as it does not cost the same time and supplies as the 5-pin. Kristen likes to use the 3-pin as it is a little more forgiving. She says the 5-pin is a little tougher to work with as the wire is a little harder to manipulate and move around.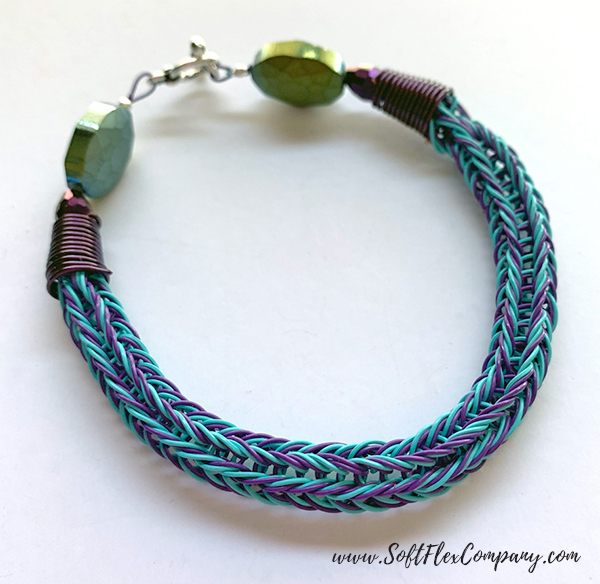 Whatever knitting spool you use, you can be assured your designs will look amazing. Adding beads and homemade cones can make every jewelry design a signature piece. How gorgeous is this bracelet?!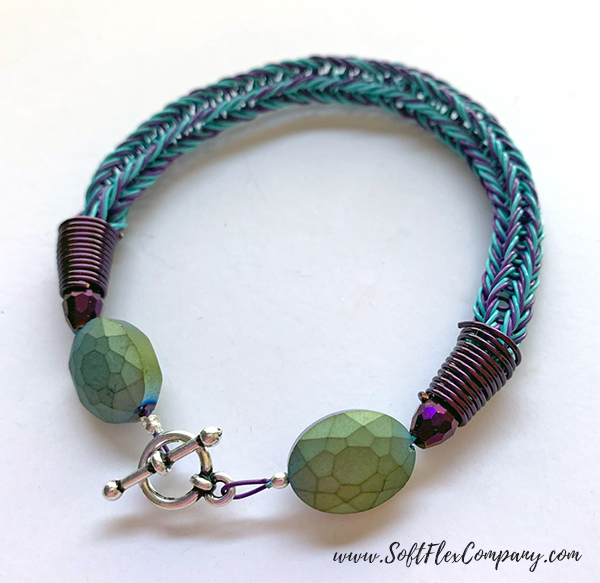 Color will change the aesthetic. A soft pastel or a dark blue, a color beading wire will make your design unique. These bracelets were created with Soft Flex Beading Wire, but Soft Flex Craft Wire is also an option. Craft Wire looks amazing when knitted.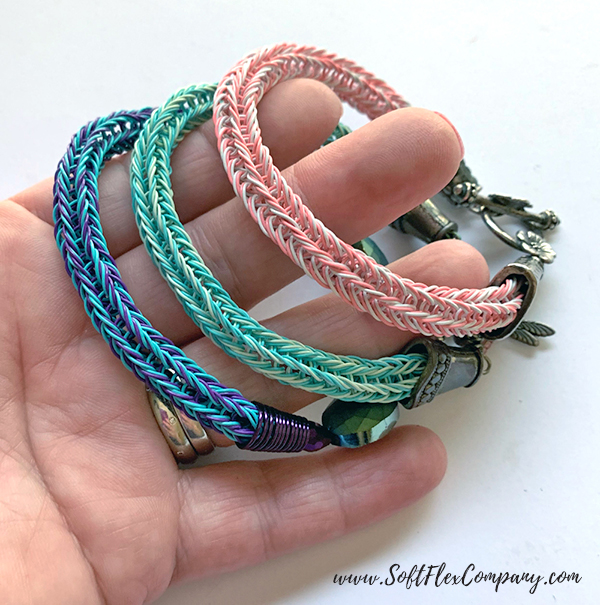 Explore color Soft Flex Beading Wire. We carry Trios Beading Wire Packs that have 3 ten foot spools. We have 30 foot spools and 100 foot spools. You can indulge in a large spool or stock up with the small spools. Color wire looks phenomenal on simple jewelry too. Don't be afraid to show your color!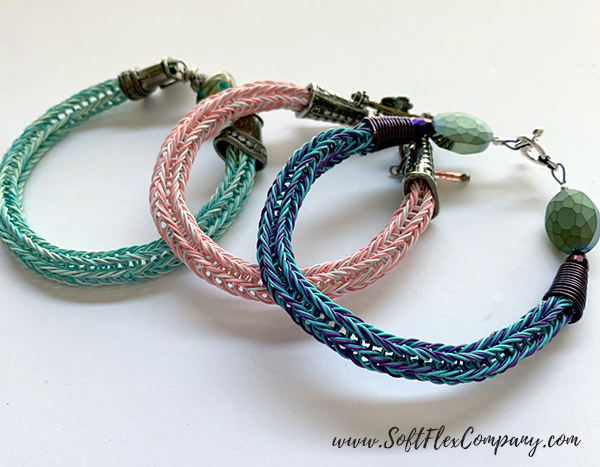 If you love knitting spools and have already purchased one. Check out our newest inventory of Lazee Daizee Viking Knit Wire Weaving Tools. The finish is similar but unique. Lazee Daizees are especially wonderful with Soft Flex Craft Wire. Check out this blog for more information.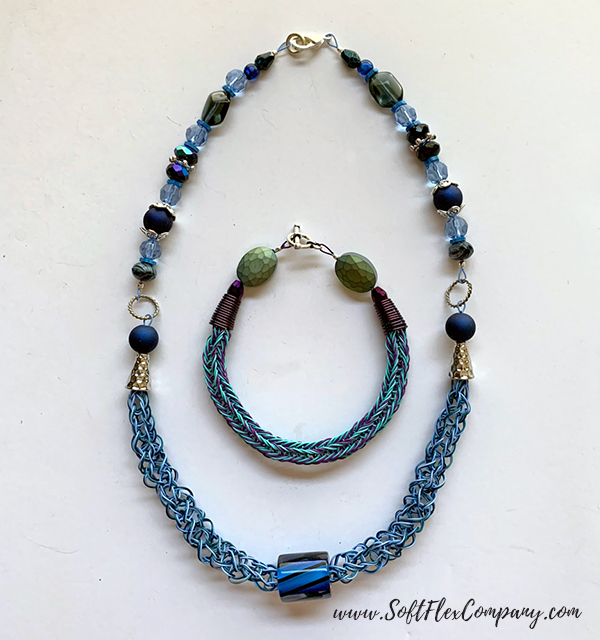 Check out our how-to pages on the three styles of knit we like to work with:
Knit with Beading Wire - Style 1
Knit with Beading Wire - Style 2
Knit with Beading Wire - Style 3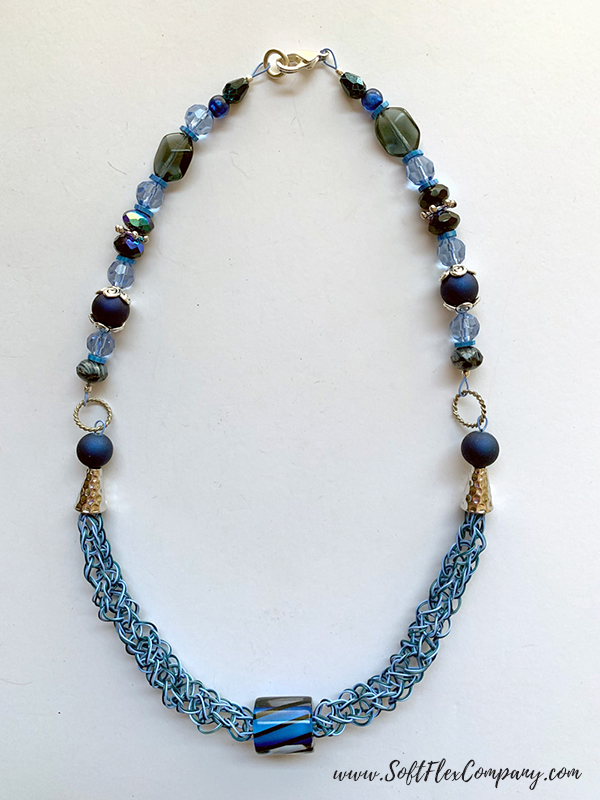 Don't miss Kristen's YouTube jewelry design series - Free Spirit Beading. She films a new episode every Monday at 12:00pm PST. The series takes it's name from her design philosophy. She does not fret about mistakes while creating her art or jewelry but chooses to incorporate the 'errors' into her designs. She believes that mistakes are part of the journey and flaws can be beautiful. Be a free spirit and follow her!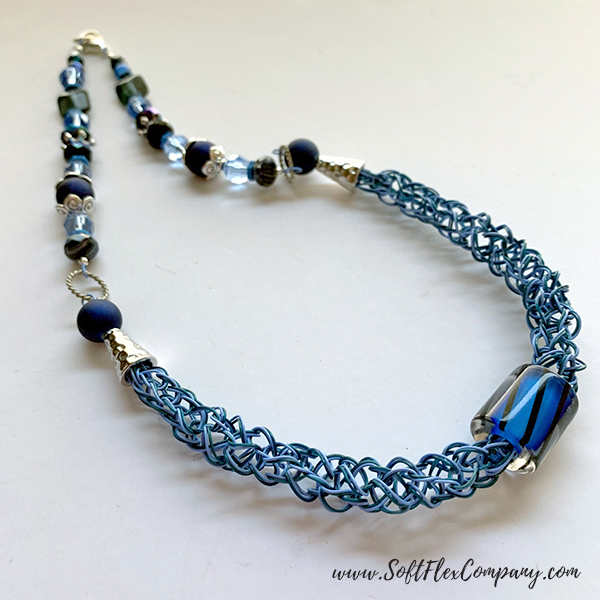 SilverSilk Colors of India Bead Tour with Nealay Patel Project 3
Nealay filmed his third and final project with his Colors of India Mystery Kit. What a fun opportunity to explore an exotic collection of color. This kit was far more popular than he expected and sold out in three days. We hope there are more SilverSilk kits in this future.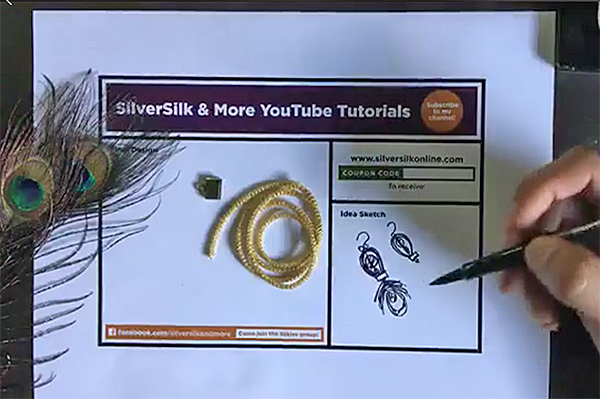 Nealay filmed this video on Jesse James Facebook page. Jesse James has some wonderful bead collections and kits. Make sure you check them out!
Supplies:
Colors of India Kit Components at SilverSilk and More
Colors of India Bead Mix
Dark Blue Lapis Soft Flex Beading Wire - .019 Diameter
Nylon Jaw Pliers
Magical Crimping Pliers
Cutters
These earrings are so luscious. You can make the most exotic pieces with this kit. The peacock feathers look so stunning.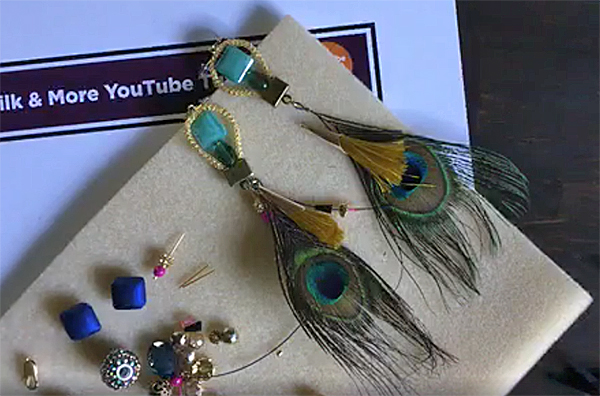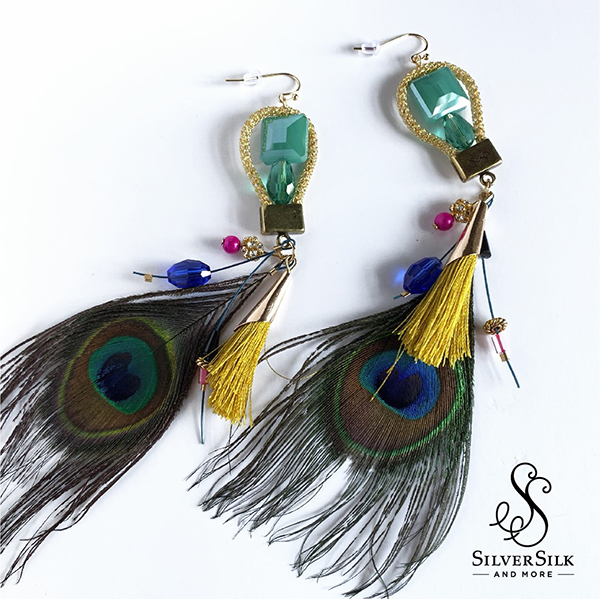 Join our Facebook group – VIB. Stay in the know. Stay up to date. From our bead shows to our video shows and sales, you can stay in touch with us. The community is full of artistic and helpful beaders and crafty people. Inspire and be inspired. Share your pictures and get the beading bug from others!
Visit the Soft Flex Company YouTube Channel!
---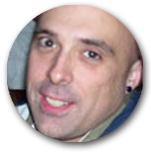 Blog contributor Thomas Soles loves Jazz Age writers and crunchy french fries. His favorite gemstones are Lapis and Pietersite. His favorite hobby is day dreaming. And his favorite mustache is Freddie Mercury's. As you can see, he has a healthy (or possibly unhealthy) sense of humor. You can write to him at Thomas@SoftFlexCompany.com