What a phenomenal week of jewelry making videos! We have some delightful jewelry project ideas for you. We designed bracelets that use jump rings in a clever way. We crafted gorgeous pendants and lariats. We made some stunning earrings. And we had fun opening mystery jewelry Design Kits. These videos are educational and fun. You are going to love them! They are almost like a free jewelry making class online. We try to infuse information with excitement. You will laugh a little and learn a lot.

This week, Kristen filmed another amazing jewelry design with jump rings. She is wonderfully creative and she absolutely shines when she thinks outside of the box. Her ways of incorporating jump rings into jewelry is so unique and innovative. You are going to want to recreate her design. Nealay wrapped up his social media expedition with the final stop on his Path to Patagonia Facebook tour. He crafted a graceful pendant with Soft Flex Beading Wire and SilverSilk Capture Chain. Finally, Sara celebrated our favorite company holiday - Kit Day! Kit Day is the unboxing of our latest mystery themed jewelry Design Kit. She then designed a lariat and some earrings. Let's watch some videos!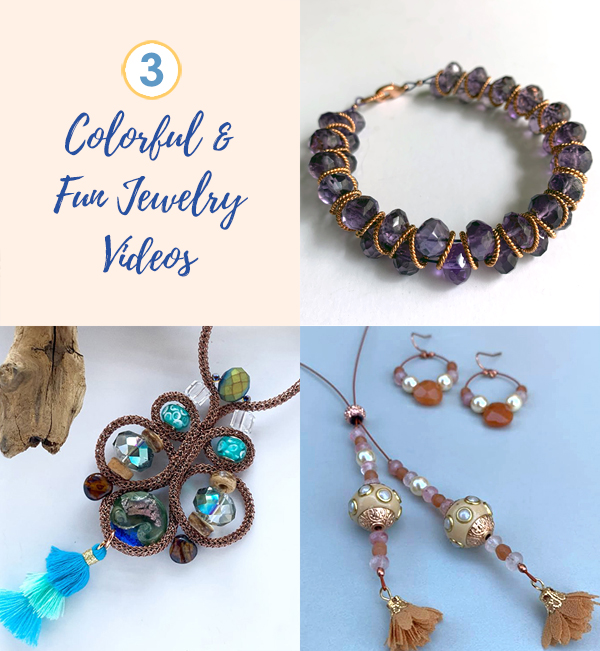 How To Make A ZigZag Bead Bracelet With Jump Rings
Kristen started the week with another episode of Free Spirit Beading. This time, she designed an absolutely amazing ZigZag Bracelet. Kristen has always loved jump rings and she has always found creative ways to use them. Most of us just think of jump rings as connectors or use them to add length to a jewelry design. Some of us use them to make wonderful chainmaille jewelry. Kristen sees them as a whole new jewelry component. In a previous episode of Free Spirit Beading, she used a bunch of jump rings, strung together, as spacer beads. This time, she used the jump rings to guide her beads in a unique and fun pattern.
Free Spirit Beading airs on Mondays at 12:00pm PST. Free Spirit Beading is a live beaded jewelry making series on YouTube. Kristen is a free spirited designer, author, artist – she loves to create. She does not worry about perfection. She believes that art is a journey and part of that journey is making mistakes and living with them. If you miss an episode, you can find it in our YouTube library.

Quick tip for bead sizing: Download our Bead Sizes Chart!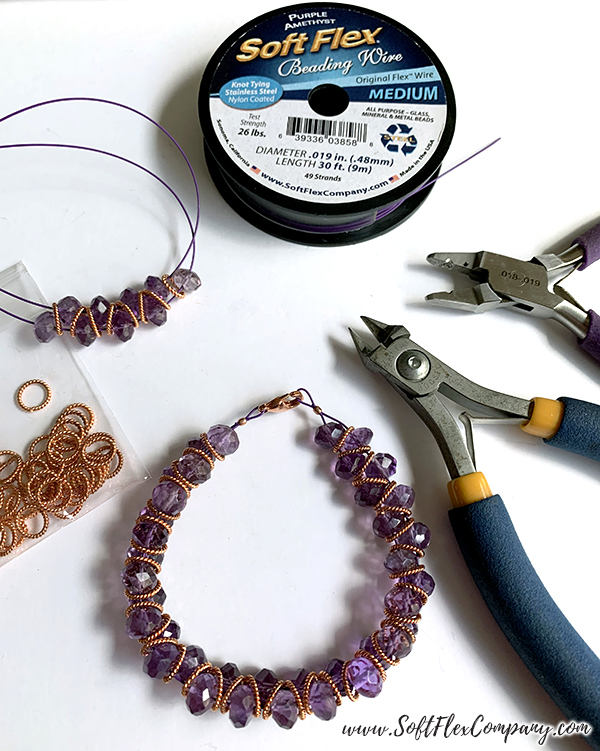 From Kristen:
This zigzag bead bracelet is a simple design, quick to do and overall has a big impact! The design is elevated with gorgeous amethyst gemstone beads and textured copper jump rings.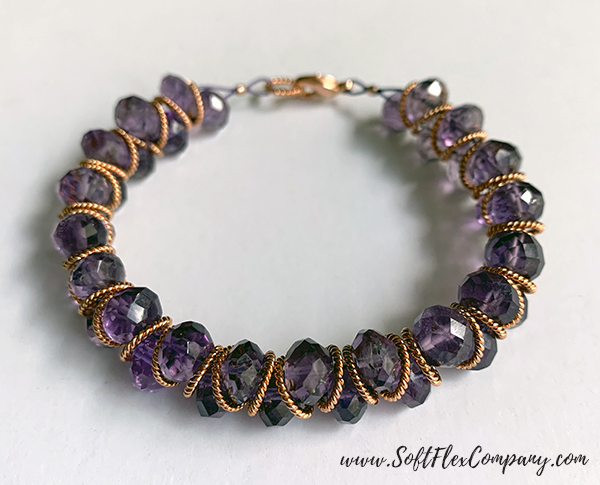 Supplies:
Soft Flex Medium Beading Wire in Purple Amethyst
8mm Amethyst Rondelle Beads
8mm Textured Copper Jump Rings
2x2mm Crimp Tubes
Lobster Claw Clasps
Magical Crimping Pliers
Soft Flex Pro Flush Cutter

Alternate Design 1:
Soft Flex Medium Beading Wire in Garnet
8mm Pink Round Beads
8mm Textured Silver Tone Jump Rings

Alternate Design 2:
Soft Flex Medium Beading Wire in Copper
Shades of Coral Bead Mix
8mm Textured Gold Tone Jump Rings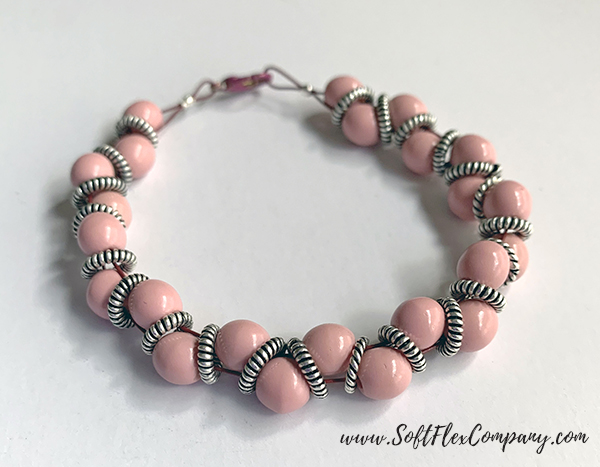 The bracelets are just sumptuous. The way the jump rings guide and accent the beads is just fantastic. It would be very easy to use this technique for some masculine designs as well. Don't forget to use a Soft Flex Beading Wire color that will complement your beads and jump rings. This design will allow for some exposed wire.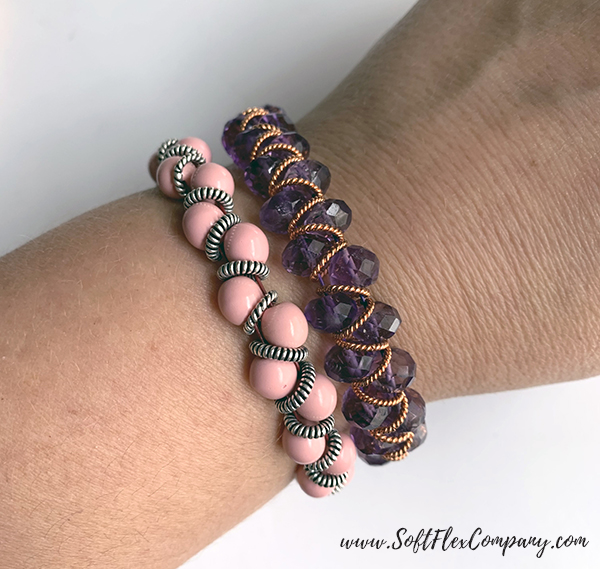 Make sure you check out our Bead Mixes if you need to restock your jewelry making supplies. Our mixes are themed and full of eclectic and interesting beads. Bead Mixes are limited in inventory, so if you find one you cannot live without, make sure you grab it quick!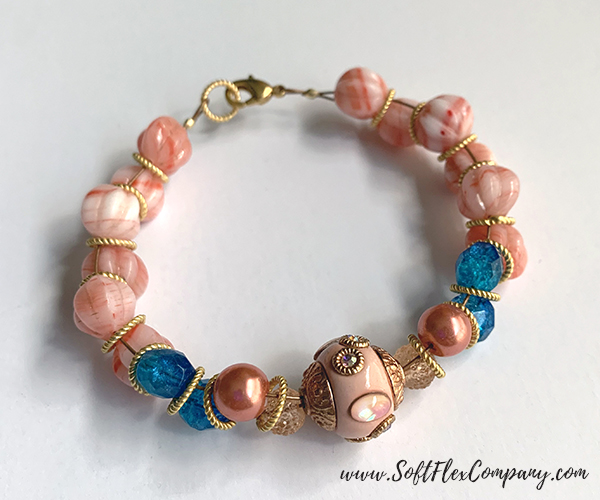 Make sure to tune in to Free Spirit Beading on Mondays at 12:00pm PST. Kristen loves to chat with other friendly beaders as she designs her jewelry. She will answer any questions you have about jewelry making and art in general. Sometimes, she even gets advice on future shows from her audience. Let her know your thoughts!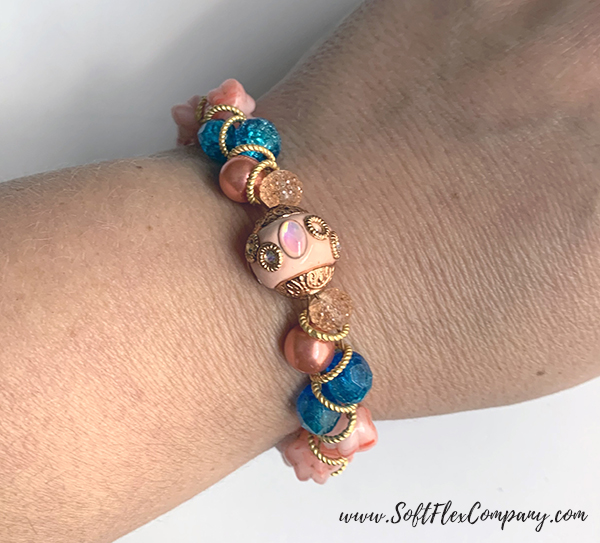 Nealay's Final Stop on the SilverSilk Path to Patagonia Facebook Bead Tour
Nealay's fourth and final stop on the Path to Patagonia Facebook Bead Tour landed on the Jesse James Beads Facebook Page. His latest mystery bead kit was inspired by the icy region of Patagonia. This area, claimed by Chile and Argentina, is a land of glaciers, high cliffs, volcanoes, and grassy plains. There is a lot of mystery in this sparsely populated part of the world. Perfect for a beading muse!
On the final stop of this tour, Nealay designed a beaded pendant with his SilverSilk Capture Chain and Soft Flex Craft Wire. Craft wire is a fantastic way to secure Capture Chain so it holds its shape or keeps a loop. You can conceal the Craft Wire in the design or weave around the chain so it becomes part of the aesthetic.
Nealay is a fun designer to watch. He plans his jewelry out with a sketch (most of the time) before he even starts designing the jewelry. This is a great way to get a foundation and then build on it, while still allowing for some creative embellishment.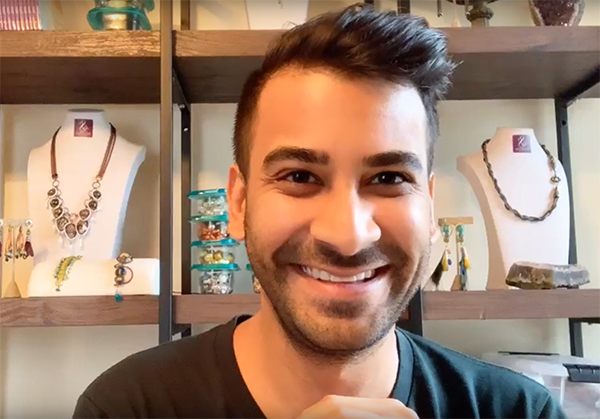 From Nealay:
Last stop for this Facebook Bead Tour was the Jesse James Beads Facebook Page and did we have a great time! Learn how to use Capture chain and twist and turn it into a show-stopping pendant using 26-gauge wire from Soft Flex. I spend the first part of the video unveiling the new kit and then we hop onto the project. Give it a watch and learn a new technique you can try at home.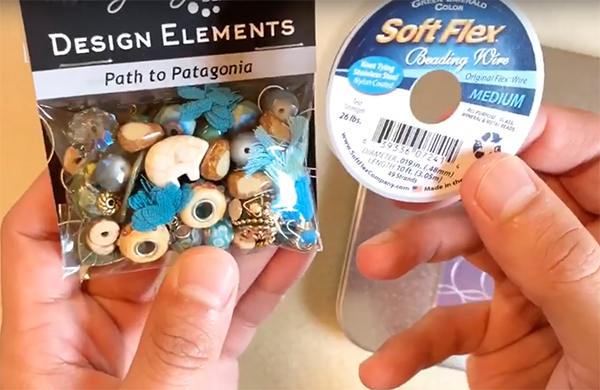 Supplies:
SilverSilk Path to Patagonia Kit
SilverSilk Path to Patagonia Extension Kit
Soft Flex Craft Wire - 26ga Non-Tarnish Antique Copper
SilverSilk Capture Chain with Gun Metal Ball Chain - Sea Shore Color
SilverSilk Hollow Mesh
SilverSilk Double-Strand End Caps
SilverSilk Triple-Strand End Caps
SilverSilk Terminators
SilverSilk Two-Hole Bead Sliders
Ear Wires
Magical Crimping Pliers
Chain Nose Pliers
Cutters
2x2mm Soft Flex Crimp Tubes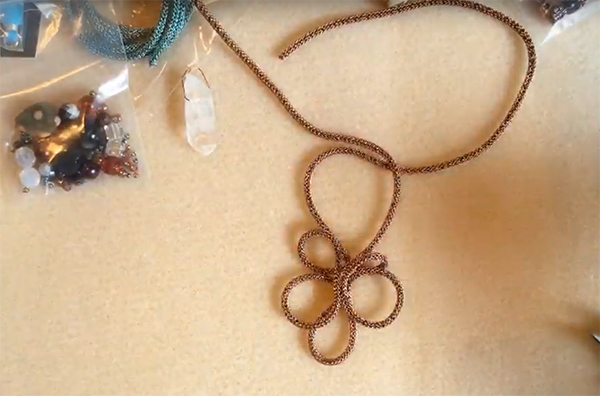 Capture Chain has a wonderfully organic look. It is not rigid, but moves and flows. It is great for sophisticated and intricate jewelry pieces. As easy as it is to work with and finish with a terminator, it will amaze appreciative eyes with how complicated the designs can seem. Keep it your design secret!
Capture Chain is a wonderful match for Soft Flex Beading Wire or Soft Flex Craft Wire. Get creative!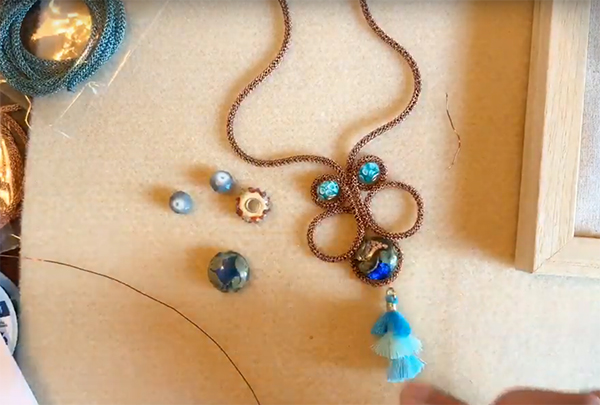 Almost all of the SilverSilk Path to Patagonia Mystery Kits are gone. Get one quick! If you design something with the kit and post it to the The SilverSilk Silkies Facebook Group, you will be eligible to win a fun prize.
The grand prize giveaway is on Tuesday, October 1st. Each photo counts as an entry. Make as many pieces of jewelry as you can and take pictures.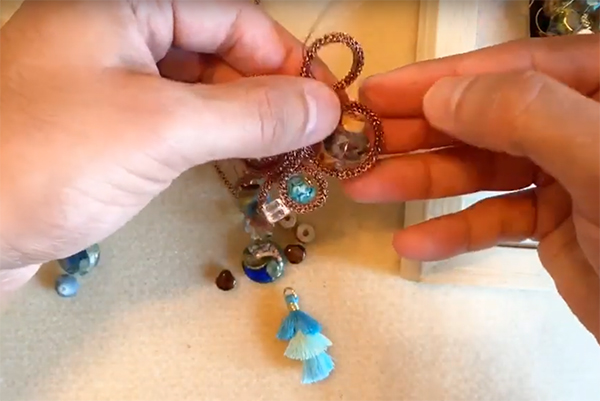 You can find Nealay on Facebook and YouTube. If you are a fan, make sure you join his active group on Facebook - The SilverSilk Silkies. He is very accessible and loves to answer questions. He is a great jewelry teacher and source of inspiration.
Make sure to look for Nealay on Tuesday, October 1st. He may design something new and exciting after he announces the Path to Patagonia design winner!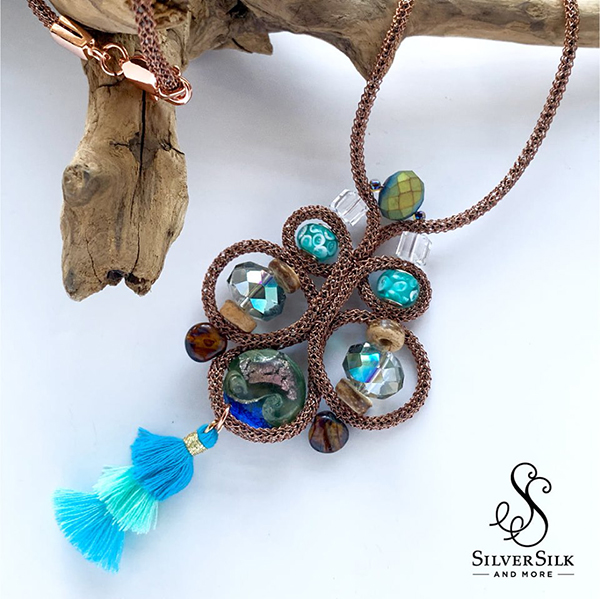 Kit Day! Sara Unboxes the Golden Gate Design Kit
Sara filmed her favorite segment this week – unboxing design kits. At the end of each month, Sara opens the kit we sold at the end of last month. The kits are very limited quantity and move quickly. In each kit is a mystery collection of beads, Soft Flex Beading Wire, and components. Everything is included in the kit to make a bunch of fun jewelry. You just need to supply the tools.
This time, Sara unboxed our latest kit, The Golden Gate Design Kit. The inspiration for this kit came from a photo of the bridge at dusk. The colors of the iconic bridge were subdued and lovely as the daylight left the Bay Area. We felt this romantic palette of color would make a wonderful kit theme.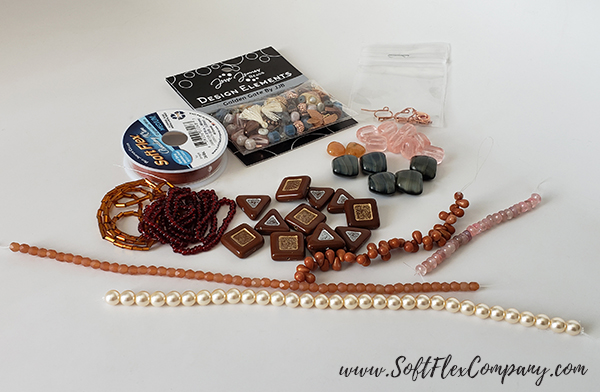 Design Kits are a fantastic way to improve your jewelry making skills. Each kit comes with everything you need to make a bunch of beautiful jewelry (you just need the tools). The challenge comes when you sort through the included beads and components and string jewelry that suits you. There are no right or wrong answers in the kit. Every design is something you choose. If you follow our Facebook group or watch our live videos, you can see how wildly different other creative minds interpret the same materials you are using.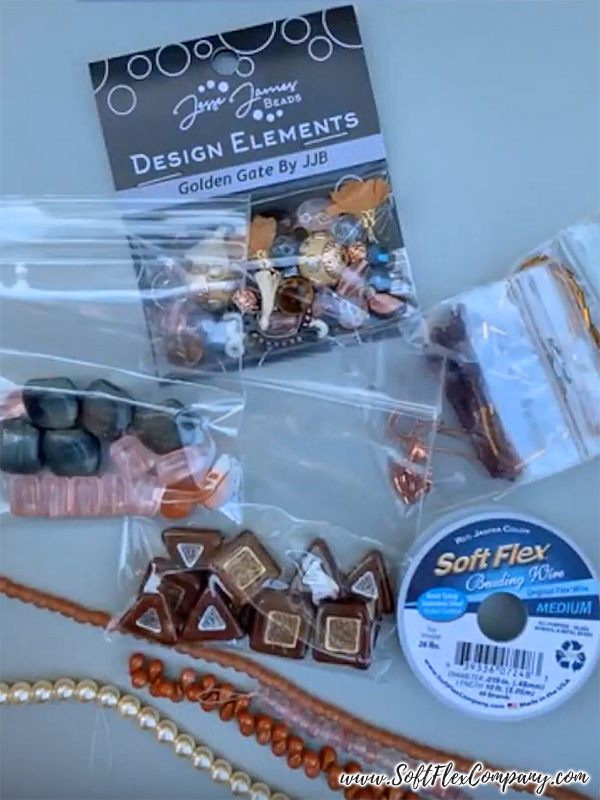 Supplies:
Golden Gate Design Kit
Red Jasper Soft Flex Beading Wire .019 (included in kit)
Golden Gate Bead Mix (included in kit)
2x2mm Soft Flex Crimp Tubes (included in kit)
Magical Crimping Pliers
Soft Flex Professional Flush Cutters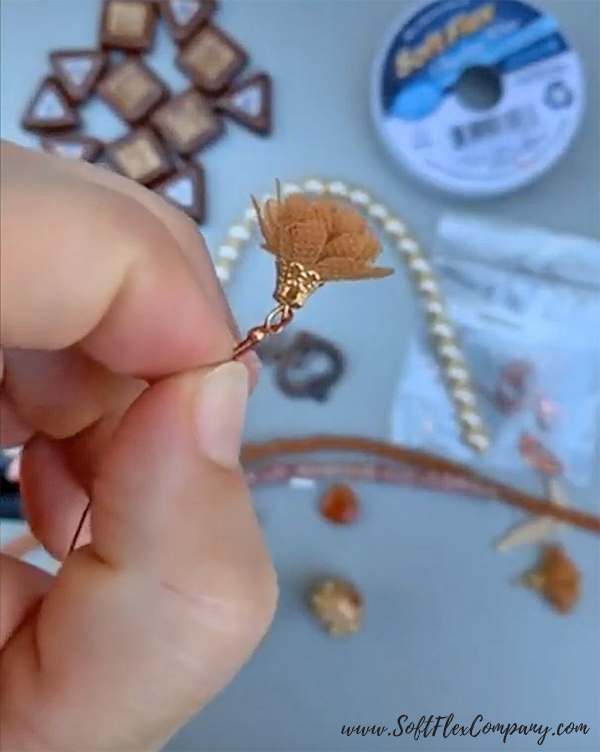 Once our Design Kits are in the hands of our happy beaders, the real moment of truth begins for Sara. At the end of each month, on a scheduled date, we open the Design Kit, live on Facebook, and create some lovely jewelry with it. The live design challenge is an test of Sara's skills. She must think fast on her feet and design something memorable with an audience watching her every move.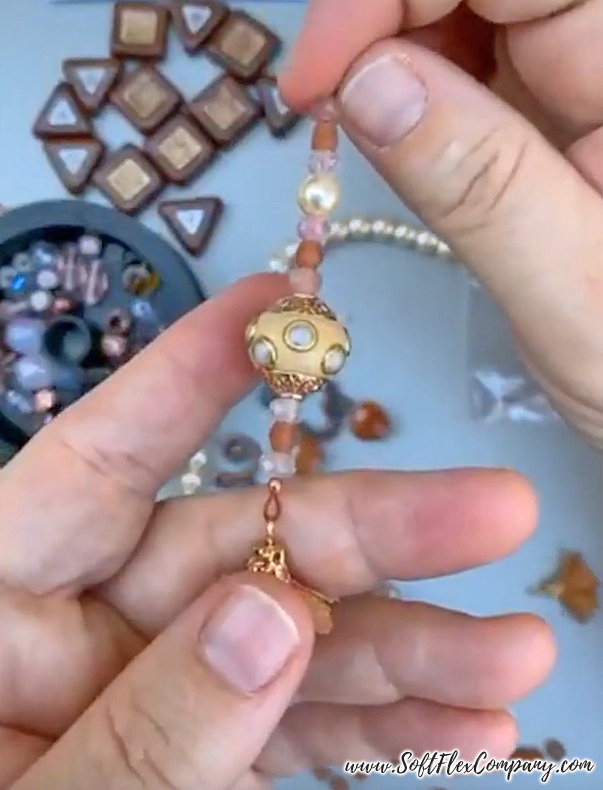 Once the Design Kit is revealed, our Facebook group – VIB, turns into a maelstrom of creative energy. Our group members post their creations. Every single piece of jewelry is an entry into our Design Kit Giveaway. At the end of the promotion, we collect the names of the jewelry designers and enter them into a spreadsheet. Each name becomes a number. We select a number using a random number generator online. We use this technique to find a winner since voting would be too hard. We love everybody's designs. This also means that everybody has a chance to win - equally. The winner receives the next kit for free. Participate, we would love to see your work!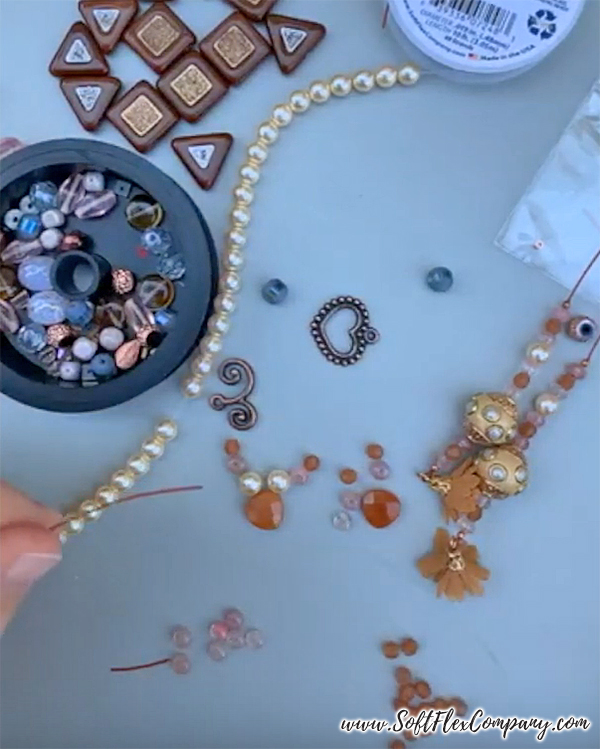 If you miss out on one our jewelry Design Kits, there is still hope. We often follow up with Trios Beading Wire Packs and Bead Mixes that share the theme of the Design Kits. This is a good way to grab some of the fun of the Design Kit or enhance the Design Kit you purchased.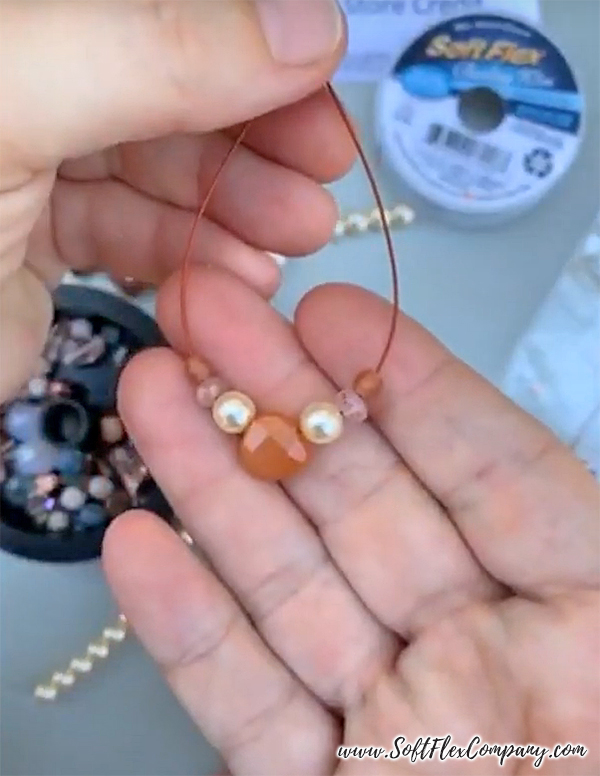 If you would like to see more Golden Gate jewelry designs, go to our VIB group. On the left hand side of the page, in the 'Search this group' field, type or paste this: #goldengate. This will search the Golden Gate jewelry designs we hash tagged.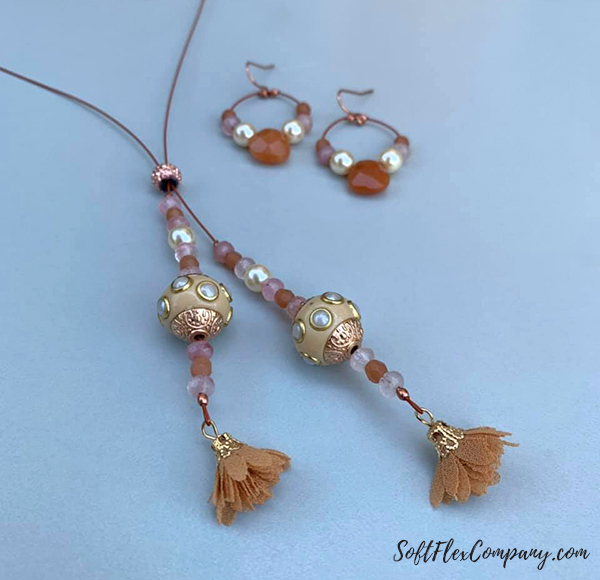 Join our Facebook group – VIB. Stay in the know. Stay up to date. From our bead shows to our video shows and sales, you can stay in touch with us. The community is full of artistic and helpful beaders and crafty people. Inspire and be inspired. Share your pictures and get the beading bug from others!

Visit the Soft Flex Company YouTube Channel!
---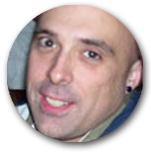 Blog contributor Thomas Soles loves Jazz Age writers and crunchy french fries. His favorite gemstones are Lapis and Pietersite. His favorite hobby is day dreaming. And his favorite mustache is Freddie Mercury's. As you can see, he has a healthy (or possibly unhealthy) sense of humor. You can write to him at Thomas@SoftFlexCompany.com