Good Friday everybody! We have some amazing videos for you this week. If you love Pantone color choices or just want a breezy summer necklace, you are in the right spot. We have some instructive and fun tutorials. Learn how to string Czech Glass Beads. Learn the basics of beginner bead weaving. And explore knotting and braiding. Make your next jewelry design adventurous! Let's make some jewelry!
Kristen kicked the week off with another fun episode of Free Spirit Beading. She showed us how to create a necklace using beginner bead weaving techniques. If you are tired of making single strand necklaces, this is a great way to dip your toes into an advanced technique. Sara explored our latest Czech Glass products. We have been stocking our shelves with some absolutely delicious Czech beads. Make sure you check out our inventory. Finally, Nealay showed us how to make some easy bracelets that really pop. There is a lot of fun and creativity in this selection of videos. Do you want to learn a new beading trick? Let's go!
2020 Pantone Classic Blue Quad of Beading Wire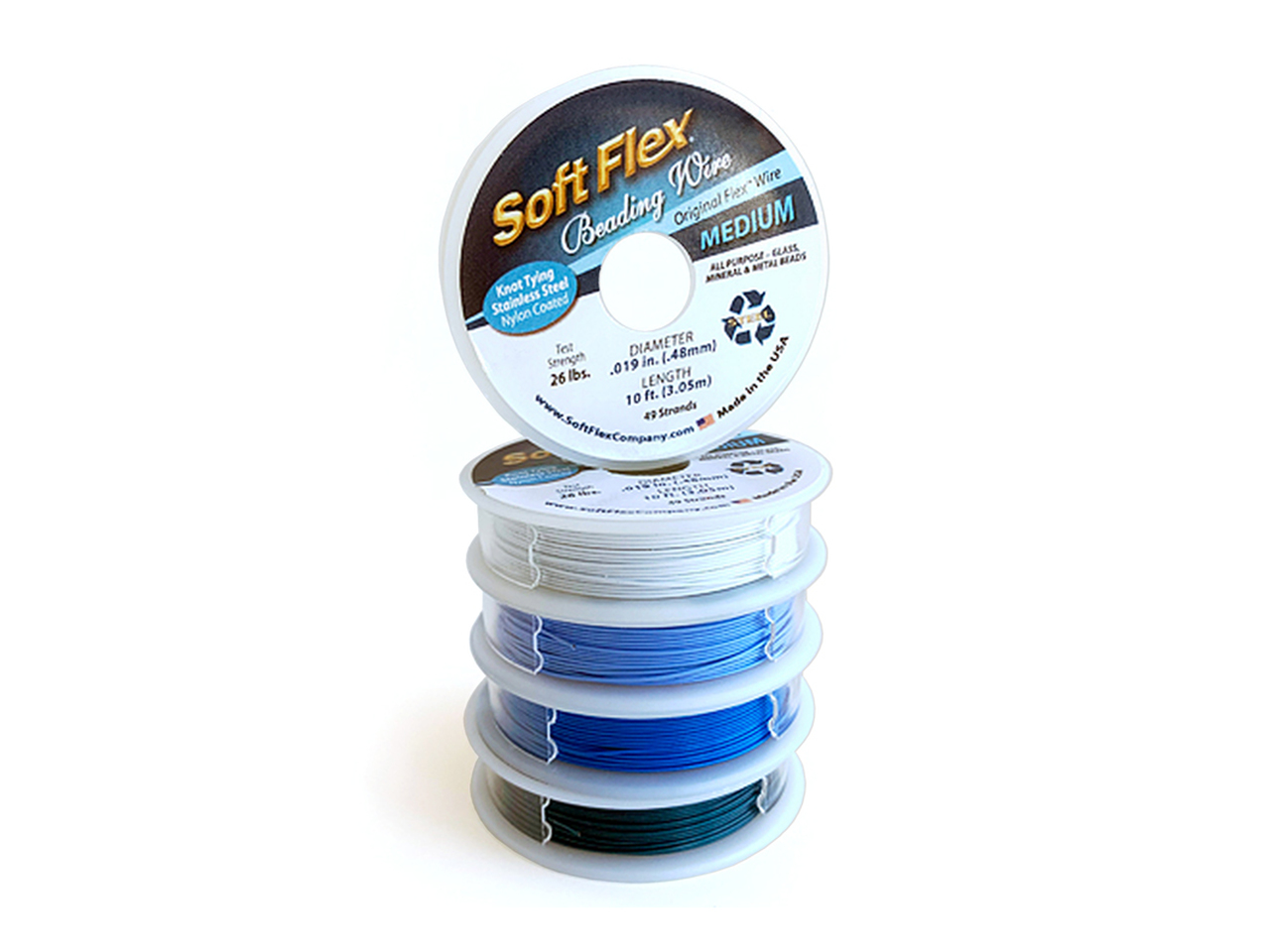 Explore the 2020 Pantone Color of the Year, Classic Blue. The 2020 Pantone Classic Blue Quad of Beading Wire is our color matching collection of beading wire. This Quad selection of colors was built to complement the tranquil serenity of Classic Blue. We color matched with these wires: Tanzanite color Soft Flex Beading Wire .019 (Medium), Dark Blue Lapis color Soft Flex Beading Wire .019 (Medium), Blue Topaz color Soft Flex Beading Wire .019 (Medium), and White Quartz color Soft Flex Beading Wire .019 (Medium). We think you will love this color collection as much as we do.
A special treat for blog readers - Sara's upcoming YouTube video!

Sara's newest jewelry video will be listed on YouTube on Saturday. As a blog reader, this is your chance to see it early. The video is not live on YouTube at the moment, but you can view it here. Sara may edit or tweak it before it goes public, but it is ready to watch now! In this instructive video, Sara shows you how to make a bracelet with Czech beads and connectors. This simple design can be finished in minutes and looks stunning. This is a wonderfully instructive jewelry making video. It is like a free beading class online!
Jewelry Making Videos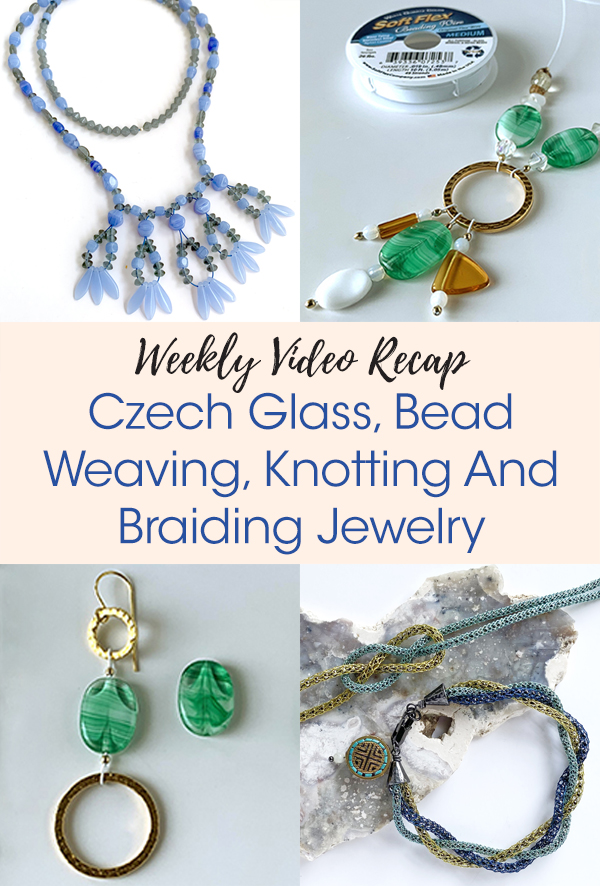 Beaded Necklace Dagger Pattern Tutorial, Beginner Bead Weaving
This week on Free Spirit Beading, Kristen shows us how to weave beads with Soft Flex wire. If you are a beginner beader, this is a great way to expand your skills. Most of us start this hobby by stringing single strand necklace designs. Kristen shows us how to make a lovely focal with woven bead drops. It is so much easier to create than it looks. Follow along, you can use your own selection of beads or you can buy the supplies you need on our website.
2020 Pantone Classic Blue Bead Mix
The 2020 Pantone Color of the Year is Classic Blue. This Classic Blue Bead Mix is the perfect complement to our 2020 Pantone Classic Blue Quad of Beading Wire.
This is the one of the biggest bead mixes we have ever offered! We have retained the same low price as our other mixes, but filled this selection with an overflowing abundance of high quality beads from the Czech Republic. This gorgeous mix is stuffed with beads to match our 2020 Pantone Classic Blue Quad of Beading Wire. This mix is a custom assortment of unique bead shapes and sizes in our Pantone Classic Blue color way. Due to the random selection, there may or may not be exact matches of bead shapes and colors, perfect for "bead soup" and multi strand mixed bead designs!
Pantone is the authority on color - and boy do we love color! This bead mix is the perfect fit to use with our latest Quad Beading Wire Collection. We color matched some of Pantone's hottest tones for Spring and Summer: Grape Compote, Faded Denim, Sunlight, and Biscay Green. If you follow trends, you are going to be right on point this season. Show your colors!
Supplies are very limited. Don't miss out!
From Kristen:
In this video, I share an easy bead weaving pattern. It's a bead weaving tutorial that is similar to simple stringing. This beading pattern is great for beginners. Then, I show how to make a matching pair of dagger dangle earrings.
Soft Flex .019/Medium Beading Wire
Bead Mix
Dagger Beads
Ear Wires
2x2mm Crimp Tubes
Magical Crimping Pliers
Cutters
One of the best things about the jewelry making videos we feature is that you can make any changes you want on the design you make. You can follow Kristen as she designs or you can modify your design as you see fit. You can use a finer diameter of wire if you want it to drape differently. You can use our Soft Touch Beading Wire if you want it to drape like thread. You can change the color up - don't like classic blue? Go for an earthier tone ot go glitzy with gold and silver. Bead stringing is a journey. Follow your own path!
If you are looking to recreate Kristen's design, she used four feet of beading wire. You can leave the wire on the spool as you design or you can cut it off the spool. Kristen opted to crimp the back. You can add a clasp if you feel like changing things up. Did you make this necklace or earrings? We would love to see your handiwork. Post your jewelry on our VIB group on Facebook.
Learn How To Make Jewelry With Czech Glass And Hammertone Connectors

Sara loves all of the new Czech Glass Beads we have stocked on our shelves. She wanted to show off our latest mix. We are selling Mystery Czech Glass Bead Strands at a low price of $4.99. It's a steal! Each of the Mystery Czech Glass Bead Strands is a random selection of beads. They are bead soup strands. You can simply string the strand as is for a fun asymmetrical look or you can add the strand to your beading supplies. Sara decided she wanted to use a mystery stand for her latest jewelry project. She made a necklace and a pair of earrings that you will love!
Shop our Czech Glass Beads

Some of the most unique and interesting beads come from the Czech Republic. These gorgeous beads are pressed glass. These strands are so fun. You can create an instant bracelet by just restringing the beads or get really inventive and make some asymmetrical illusion jewelry. Don't be a afraid to mix and match Czech Glass strands. Every jewelry design you string is going to be a one-of-a-kind piece of art.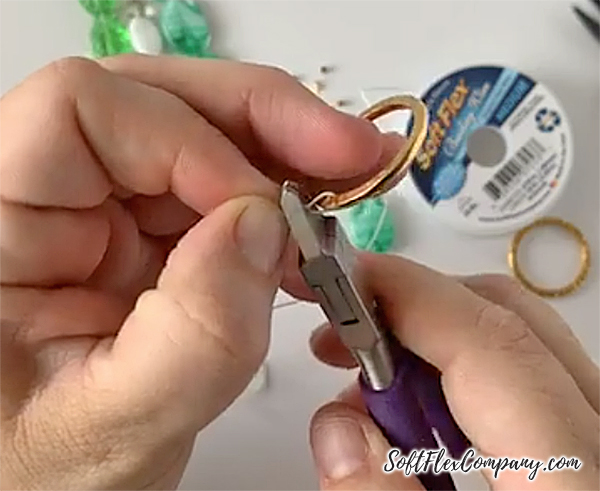 Soft Flex .019/Medium Beading Wire
Czech Glass Beads
Hammertone Ring Connectors
Ear Wires
2x2mm Crimp Tubes
Magical Crimping Pliers
Cutters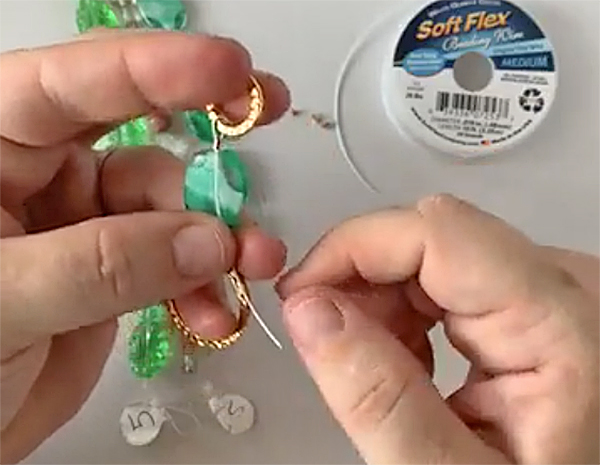 Sara loves our Hammertone Connectors, too. They look wonderful with the Czech Beads. The Hammertone Rings are part of our collection from TierraCast. The hammered finish on these findings is perfect for hand made designs.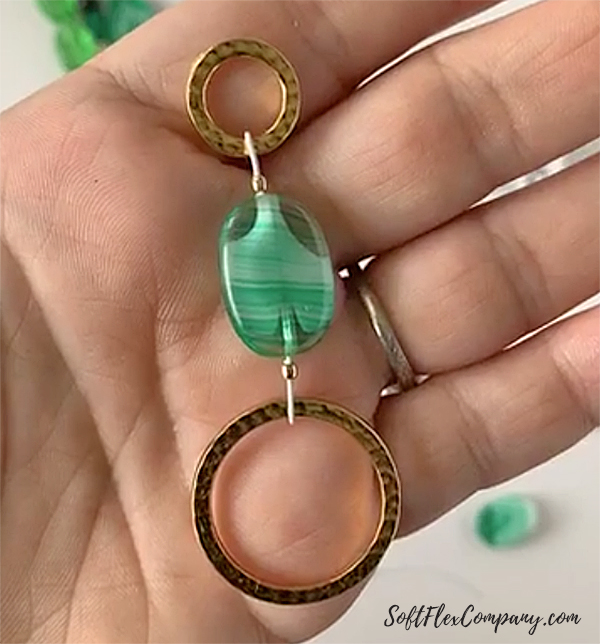 Czech Glass is light and lovely. Perfect for a summer project. Make a bouncy beach necklace or craft a stunning highlight for your favorite summer dress. Quarantine may have us hiding in doors this year. But you can still wear jewelry that reflects your mindset.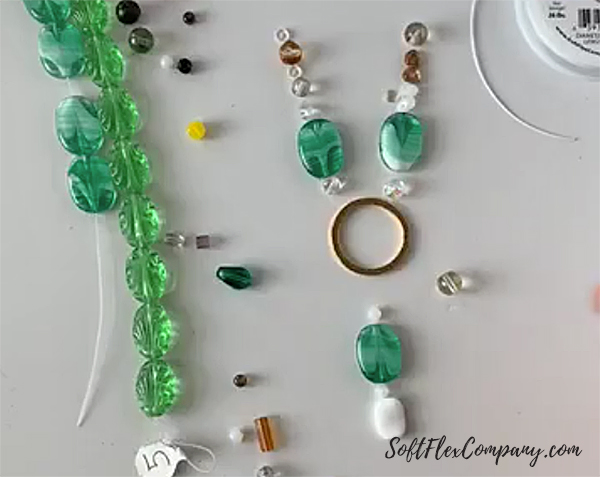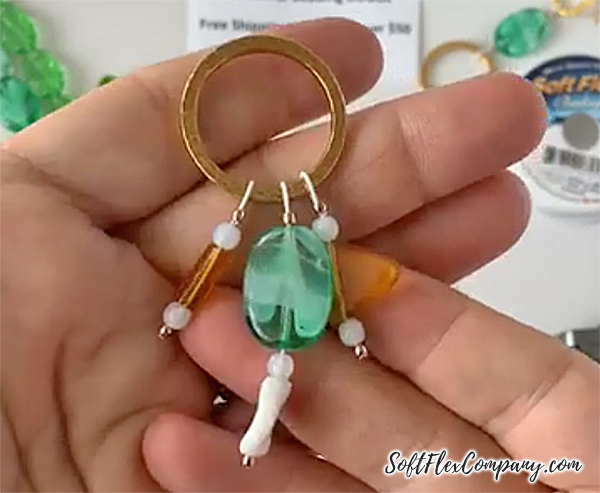 Visit our Czech beads section. You will find prices that are easy on the wallet and beads that glow in your jewelry.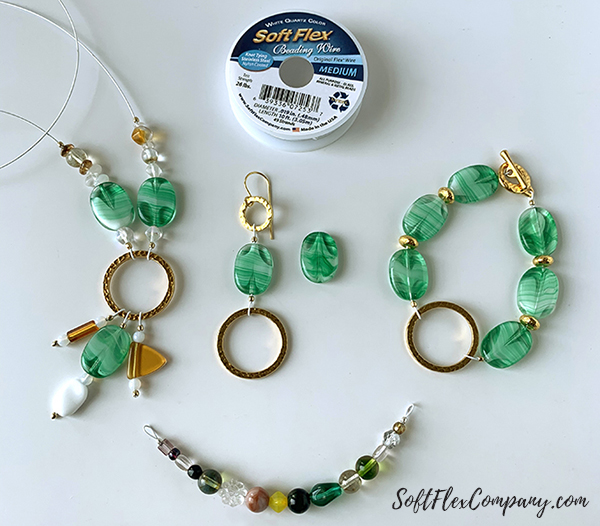 Make sure you check out the video at the top of the blog. It will premiere on YouTube tomorrow. Sara makes this wonderful bracelet to complete this lovely jewelry collection.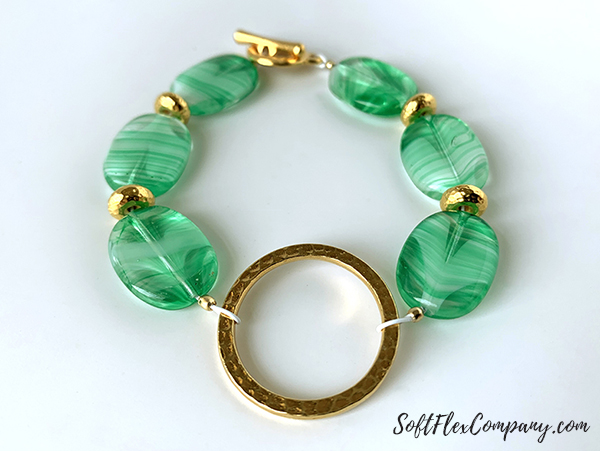 Live Beading Party! Learn How To Use A Square Kumihimo Plate With Soft Flex Beading Wire
Zoom party with Kristen and Sara! Zoom parties are so fun. You may have used Zoom with work or maybe just had some face time with family. We love how you can stage a jewelry making party without worrying about editing the film to see all of the designs. It is a great way to stage an event with multiple artists and get insight into their jewelry designing process. This party was all about Kumihimo.
If you have never worked with a Square Kumihimo Plate before, this is a great video to watch if you would like to learn. Sara had only really worked with round disks. So, she is still learning. Kristen was a helpful instructor and showed her how to move forward when she got stuck.
We love Kumihimo! Our selection of round and square Kumihimo plates are perfect for use with any Soft Flex wire. You can make a tiny design with color wire or add beads and make an intricate piece of jewelry. You won't believe how easy it is to learn. If you would like an in depth look at patterns and techniques, make sure you check out our blog - Everything You Need To Know About Kumihimo.
6 Inch Square Kumihimo Plate

This plate can be used with any Soft Flex Beading Wire. Great with .019 diameter for the color selection!
Kumihimo means 'gathered threads' in Japanese. It is a form of braiding. Kumihimo braids can be used to create decorative lace, cords, jewelry or clothing accessories.
Historically, Kumihimo braids have been used in Samurai armor and weaponry. The braids were used as a functional knit for their armor pieces. Decoratively, it adorned their horses armor and the handles of their swords.
Modern Kumihimo disks are great for the crafter on the go. We love using our ten foot Soft Flex Color Wire spools as bobbins.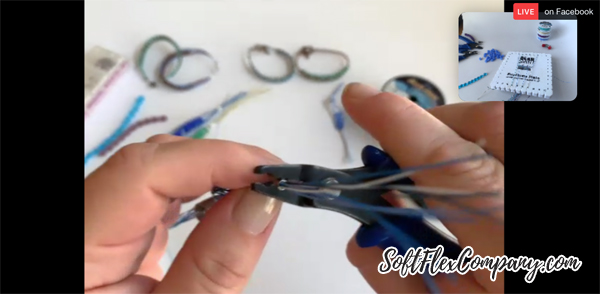 Square Kumihimo Plates are a great way to make a flat design. It is the perfect tool to make braided bracelets. With or without beads. If you add beads, you can focus on the beaded patterns. If you just work with color wire, the colors will create stunning patterns, depending how you set the board up. If you mix your wire diameters, you will create a fun texture on your design. Experiment! There are so many ways to make jewelry with a Kumihimo plate.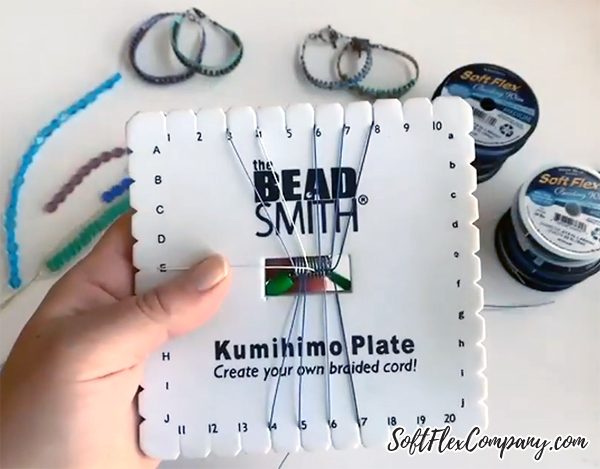 Once you have a pattern to work with, the process becomes a relaxing and almost meditative design experience. You get into a rhythm and watch as your braided wires dance and play across the board. You can add beads as you go if you are feeling adventurous. Keep tension on the wires clustered at the center and your design will be tight and orderly. Once you get comfortable, try something new. Soft Flex Craft Wire does not have the drape or a beading string, but our Craft Wire Guru, James, found that this plate was perfect for fun wire working projects, too!
Click this link for James' Craft Wire ideas:
How To Make Kumihimo Jewelry With Craft Wire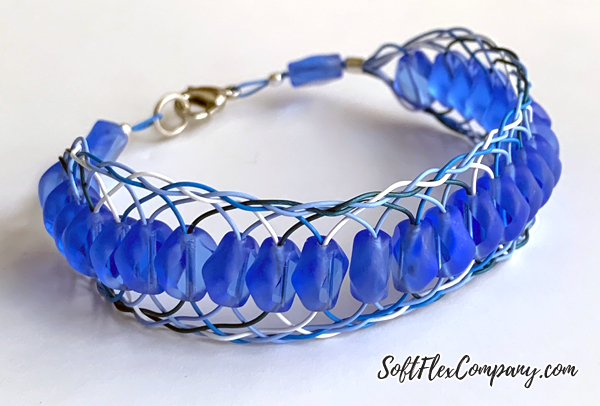 These handy plates are a great addition to any beading kit. Add some Bead Stoppers if you need help keeping your work area clean. Bead Stoppers are a good way to keep your wire from getting out of hand. They clutch and hold the wire so you do not end up with a big rats nest of tangled wire. You can also leave a project, mid-design, if you have Bead Stoppers on the wire without worrying about your jewelry project coming undone.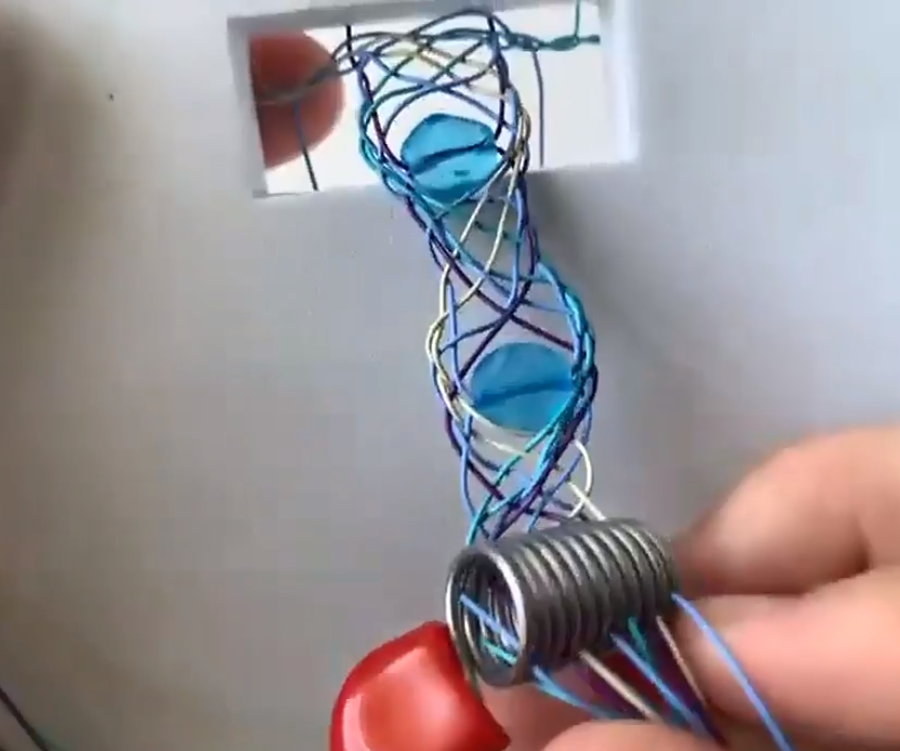 Look at some previous designs we created using the Square Kumihimo Plate. If you try one of these designs, make sure you post it on our VIB group. We would love to see what colors and beads you used.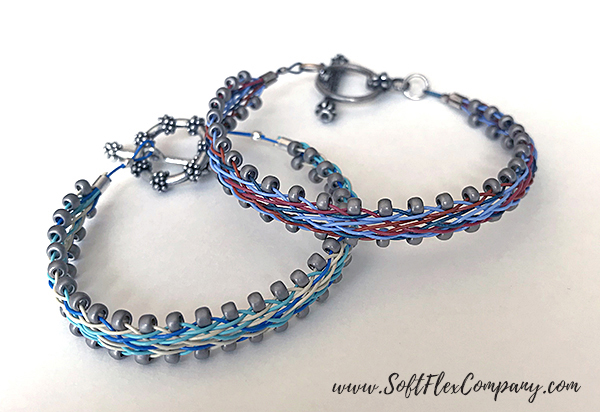 If you would like to create these lovely bracelets, visit the link below for detailed walkthroughs: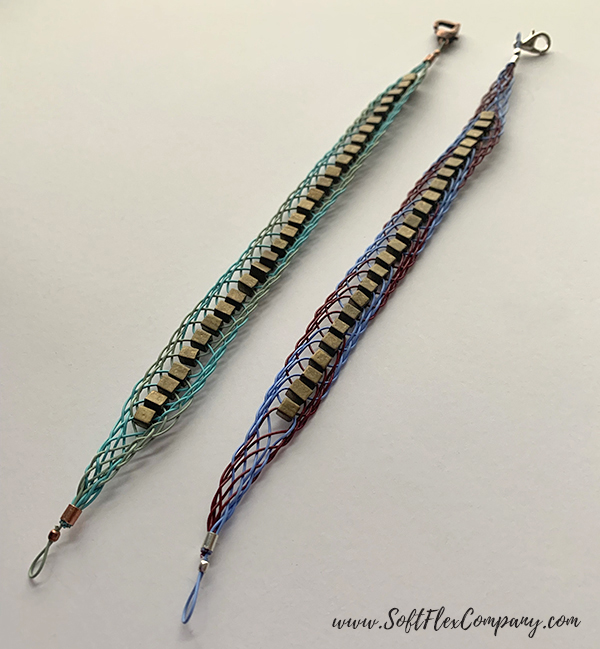 Braids & Knots To Make Fast And Colorful Bracelets With SilverSilk Capture Chain

Nealay showed us how to braid and knotting with his SilverSilk Capture Chain this week. Capture is a gorgeous design element. You can make a single or multi strand design. You can weave and knit Soft Flex Craft Wire and beading wire through it. You can wire wrap beads onto the chain. There are so many possibilities. The chain is fantastic for unisex designs too. If you want to design a masculine bracelet for a fella in your life - this is the perfect medium. If you want a delicate and feminine design, you can add a tassel or some stunning findings.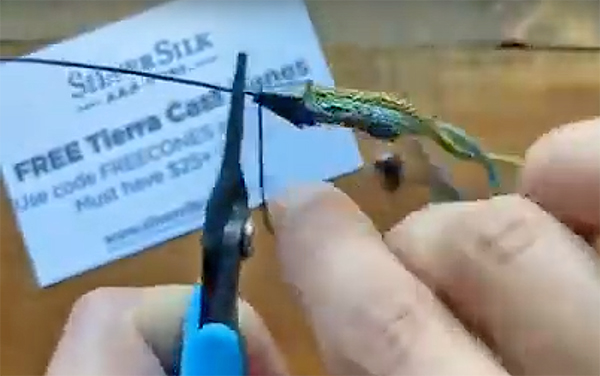 From Nealay:
Color can have a great influence on design. I wanted to take my new SilverSilk Capture Chain colors and combine them into a fabulous rope design that complimented each other. I used Tierra Cast cones to secure my braided chains then made a Celtic knot bracelet that is a perfect technique for those scrap pieces of chain. Watch the full episode and let me know what you think!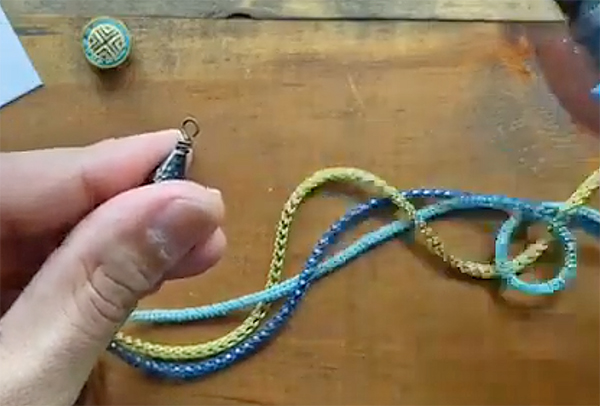 SilverSilk Capture Chain
22ga Soft Flex Craft Wire
Beads
Head Pins
TierraCast Cones
Cutters
Round Nose Pliers
Chain Nose Pliers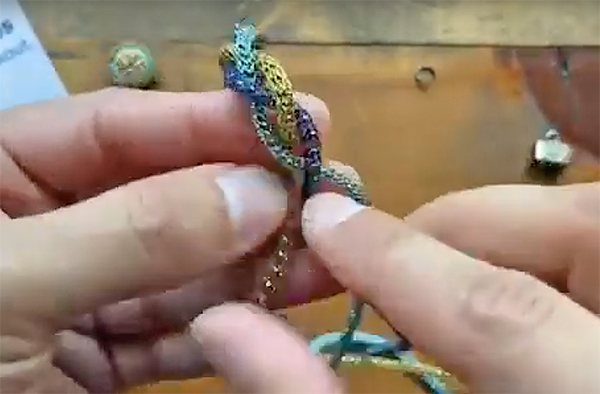 Capture Chain is wonderful. It is easy to work with, easy to crimp, and looks so decadent. This wire looks amazing as is. You can elevate the wire by pairing it with Craft Wire and beads.
Celtic knots and braids never go out of style. Make something truly timeless!
Nealay is a talented teacher. If you enjoyed this video, make sure you follow along on his social media and YouTube. You can find him on his YouTube channel and Facebook Page. Join his Silkies Facebook group.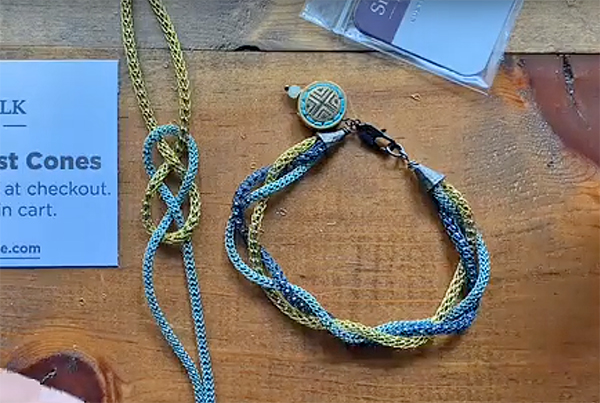 From Nealay:
My channel is dedicated to learning how to make high quality jewelry with SilverSilk with an emphasis on design. You can follow my journey here: www.instagram.com/silversilkandmore, www.facebook.com/silversilkandmore Or join our Silkies group and be a part of the conversation
Join our Facebook group – VIB. Stay in the know. Stay up to date. From our bead shows to our video shows and sales, you can stay in touch with us. The community is full of artistic and helpful beaders and crafty people. Inspire and be inspired. Share your pictures and get the beading bug from others!
Visit the Soft Flex Company YouTube Channel!
---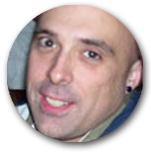 Blog contributor Thomas Soles loves Jazz Age writers and crunchy french fries. His favorite gemstones are Lapis and Pietersite. His favorite hobby is day dreaming. And his favorite mustache is Freddie Mercury's. As you can see, he has a healthy (or possibly unhealthy) sense of humor. You can write to him at Thomas@SoftFlexCompany.com