Would you like to keep your mind sharp during your time in coronavirus isolation? We think crafts and hobbies are the perfect remedy for COVID boredom. This week, we looked at crafts and jewelry making projects that the whole family can enjoy. We looked at bracelets for girls and boys. We explored wire working for the older children and adults. Finally, we unboxed a themed mystery kit and made some jewelry inspired by the lost city of Atlantis. Doesn't that sound exciting? Don't let isolation get the best of you. Stay connected during your social distancing and learn something new!

Kristen began the week exploring crafts for younger children. We offer a Kids Beading Activity Kit to help keep young minds sharp and entertained. Kristen shows what kind of designs you can make with this fun kit. Sara discussed our "Joyful Beading" challenges, this daily contest is a great way to feel connected with your peers. Sara also showed us how to make some lovely wire wrapped jewelry. Finally, we watched Nealay open a mystery jewelry kit. His latest kit - Neptune - is part of the Atlantis series. This kit offers different component arrangements and materials but explores the same theme. Let's make some handcrafted jewelry!
Join us for our Daily " Joyful Beading" Challenges. We wanted to foster the spirit of creative fire during this stressful time! Every design that you post in the Soft Flex VIB Studio Facebook Group before midnight PST, is an entry to win a $10 credit for your next order! Visit www.SoftFlexCompany.com for your beading supplies!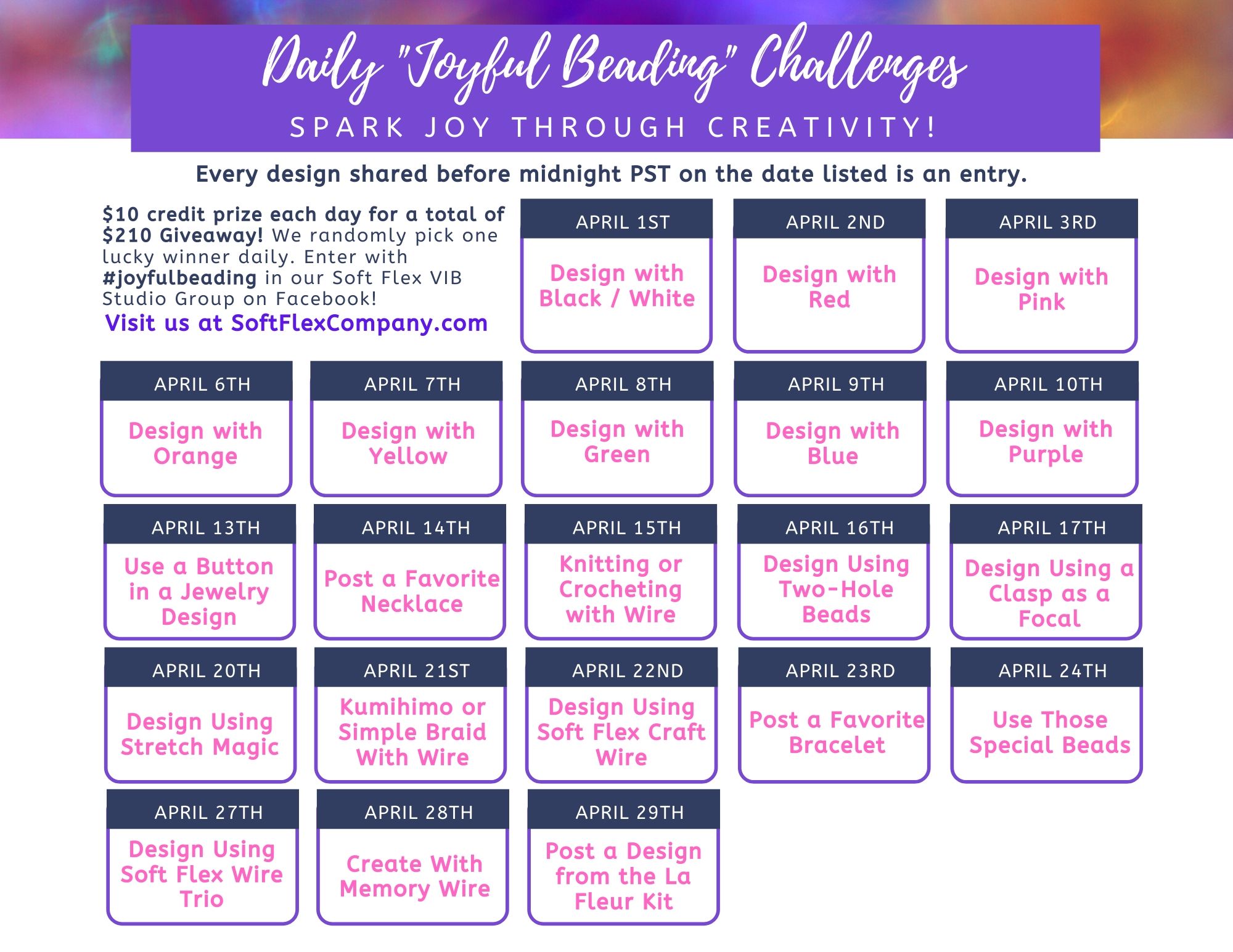 Download the Full Calendar for April - Click HERE.
Jewelry Making Videos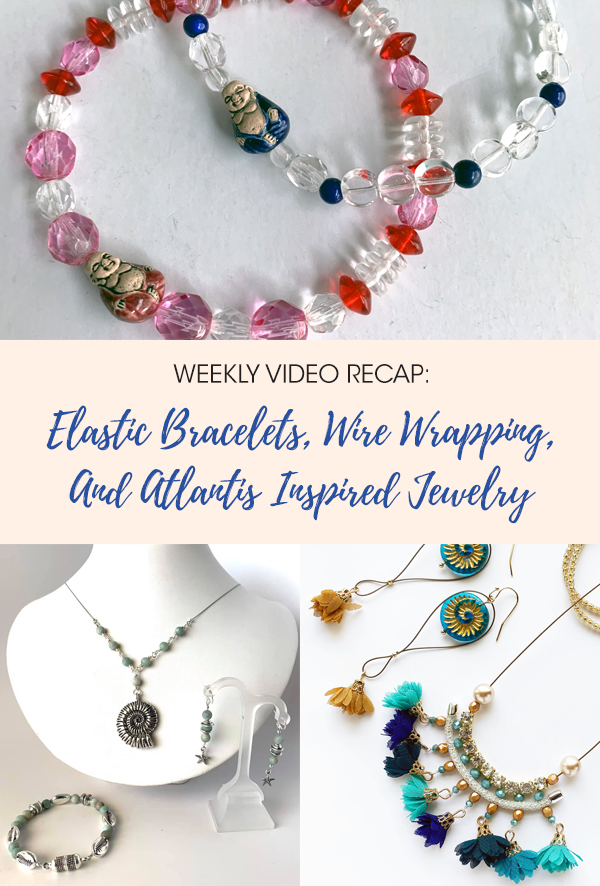 DIY Beaded Stretch Elastic Bracelet Tutorial for Kids
Kristen filmed another exciting episode of Free Spirit Beading on Monday. She is live on Mondays at 12pm PST.
Kristen began the week with a look at our Kids Beading Activity Kit. Social distance and isolation can dampen the creativity of young minds. We think it is important to keep our kiddos busy with creative exploration. This kit is perfect for little ones. While you are designing jewelry with your littles, you can teach them how to arrange and recognize colors. You can teach them how to count and create patterns. While they are making jewelry, they are learning. Make a magical moment and bond with your family!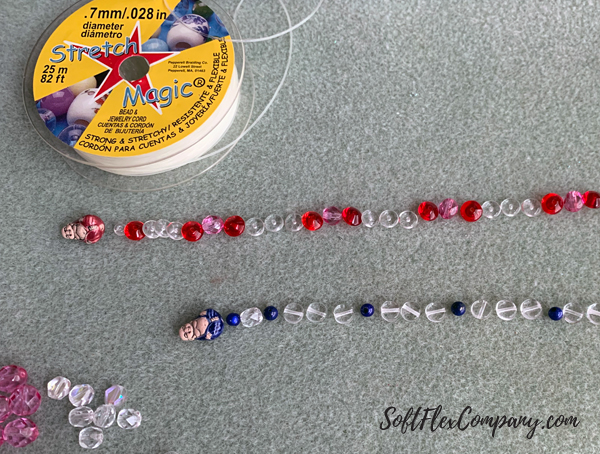 From Kristen:
In this video tutorial, I share how to make a single strand stretch bracelet finished off with a surgeons knot and no glue! We have a great Kids Beading Activity Kit available that comes with Stretch Magic, an assortment of Czech Glass beads and ceramic Teeny Tiny Beads so, that is what I chose to use in this tutorial. If you buy this kit as a gift or for your own kids, this is a great how-to video to share! This project will require adult supervision and assistance for most children under the age of 12.
Supplies:
Stretch Magic Elastic Cord
Assorted Czech Glass Beads
Ceramic Teeny Tiny Beads
Bead Nippers or Scissors
Special T Glue (optional)
Stretch Magic is so much fun to make jewelry with, it requires scissors to cut and little else. You can use Special T Glue for extra security, but a solid knot will suffice. Stretch Magic is a strong elastic-like cord. It is constructed of a mixture of polyester and polyurethane. Stretch Magic is solid and will not fray over time. Other stretchy cords can age and split into a frayed mess with fibers coming loose. Stretch Magic does not contain any latex, rayon, or elastic. It is a perfect beading string for all ages.
If you would like to learn everything about this amazing stretchy jewelry cord, check out our blog:
Everything You Need To Know About Stretch Bracelets And Stretchy Cord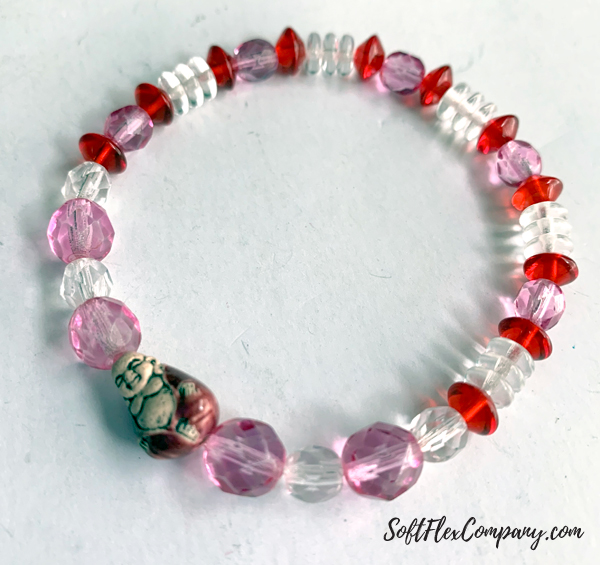 Our Kids Beading Activity Kit is perfect for keeping young minds engaged during quarantine. If you want your child to pursue STEAM learning activities (Science, Technology, Engineering, Art, Math), this is a great platform. This kit contains Stretch Magic and an assortment of beads. You just need scissors. Your children can learn how to arrange and design beautiful bracelets for girls and boys. If your child is in the Girl Scouts, this kit is an easy element to use to earn some skill building badges. Boys will love this kit too, if you have earthy beads, like wood, shell, or bone - this is a great way to make jewelry for your littlest beach bum.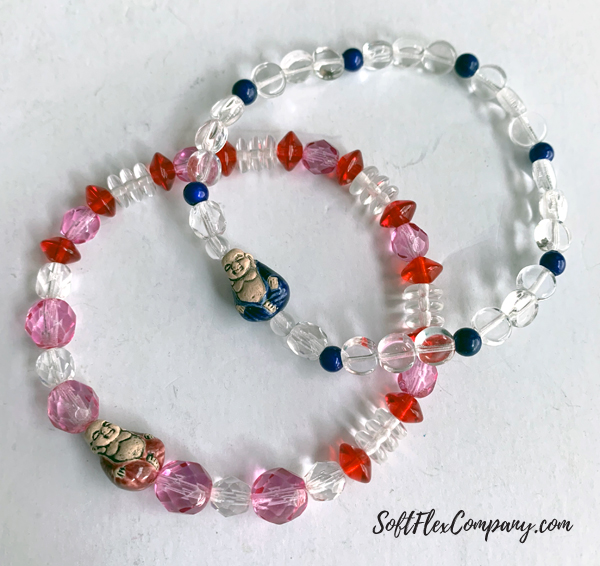 Watch Kristen's video to learn how to finish your Stretch Magic jewelry. She shows you how to measure, string and knot a stretchy bracelet. Glue is great for adults that want extra security, but not something we want our littlest kids to be playing with. Kristen shows us how to finish a secure bracelet without glue. She uses a 'Tricky Ricky' knot to finish her design.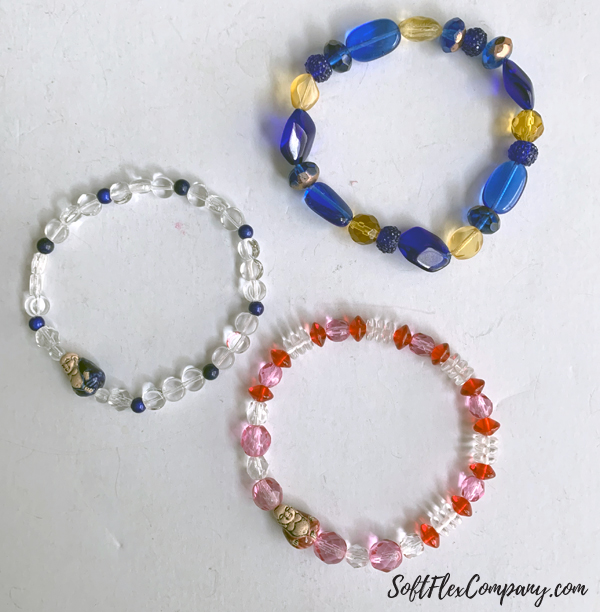 Quarantine does not have to be mind numbing. Create some instructive and fun moments with your kids. Learning how to make jewelry is a great craft that can stick with your family for the rest of their lives.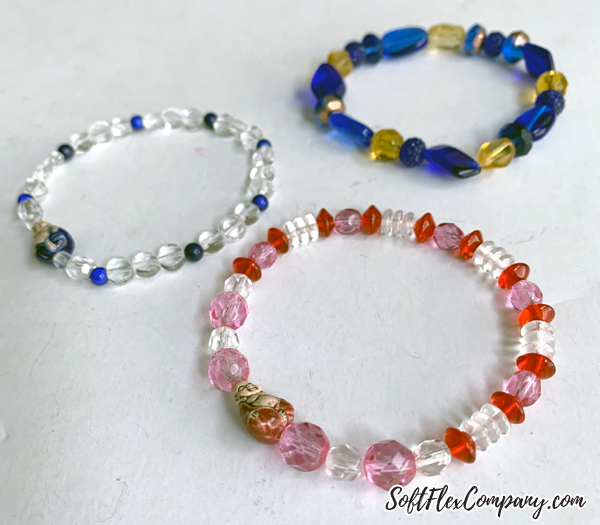 Learn How To Make A Wire Wrapped Bead Chain Necklace
Sara filmed a video on Facebook this week. She started the video off discussing how fun our daily challenges have been on our VIB Facebook group. She then filmed an easy to follow guide on how to make wire wrapped chain segments for a beaded jewelry. It looks difficult at first, but this jewelry is really easy to make and Sara's gentle instruction make it accessible to everybody - including beginners. If you want to kick off a wire wrapping hobby, this is a great video to use as your launching board. Consider this a free online jewelry making course.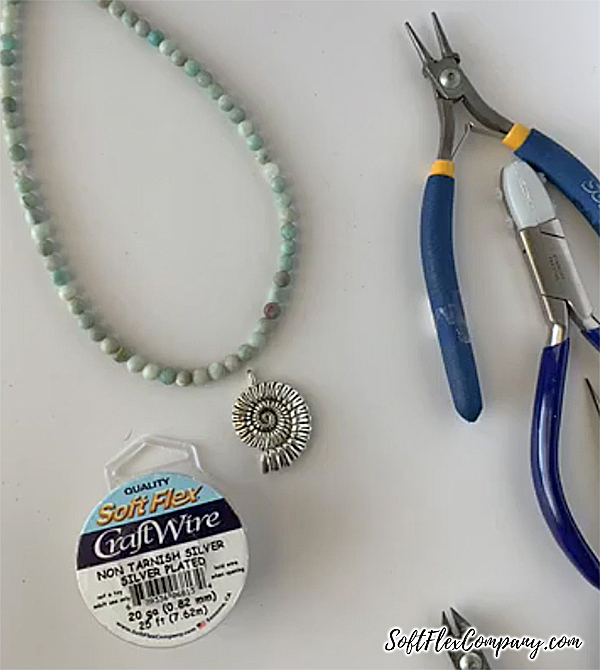 From Sara:
Today on Facebook Live, I demonstrated making wire wrap connectors to create a chain. I used Soft Flex Craft Wire in 20g, but 22g would work too. The matte Amazonite beads are from a previous live sale. If you want a strand, email Rosa. We have a few left in the gallery. I think that all of the metal pieces are from TierraCast This design is so beachy and fun! This week only, we have 20% off on all Soft Flex Craft Wire and Metal Stamping Tools at SoftFlexCompany.com.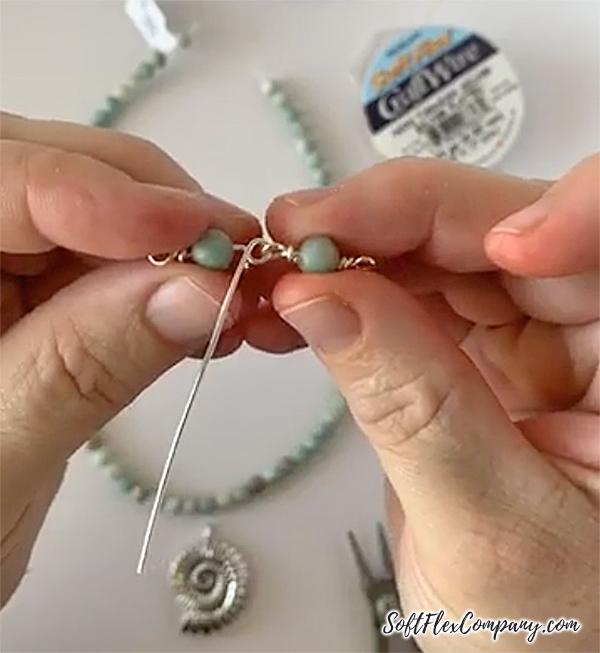 Supplies:
20ga Soft Flex Craft Wire in Silver Plated
20ga Soft Flex Craft Wire
Beads
Nylon Jaw Pliers
Bead Nipper (Cutters)
Round Nose Pliers
Chain Nose Pliers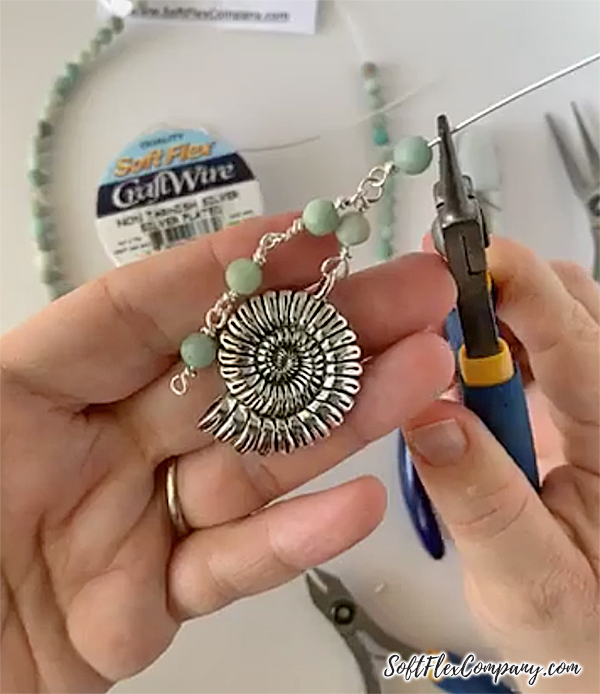 Sara stresses the importance of being a forgiving designer. Do not worry about making all of your loops perfect. Handcrafted jewelry looks amazing, especially with flaws. Any piece of homemade jewelry that is perfect is just bland and has no character. A flaw asks a question or makes a statement that challenges the people appreciating it. A flawless necklace exists, but it does not offer us anything or ask us questions. Don't be afraid to let your flaws show. Be a free spirited beader!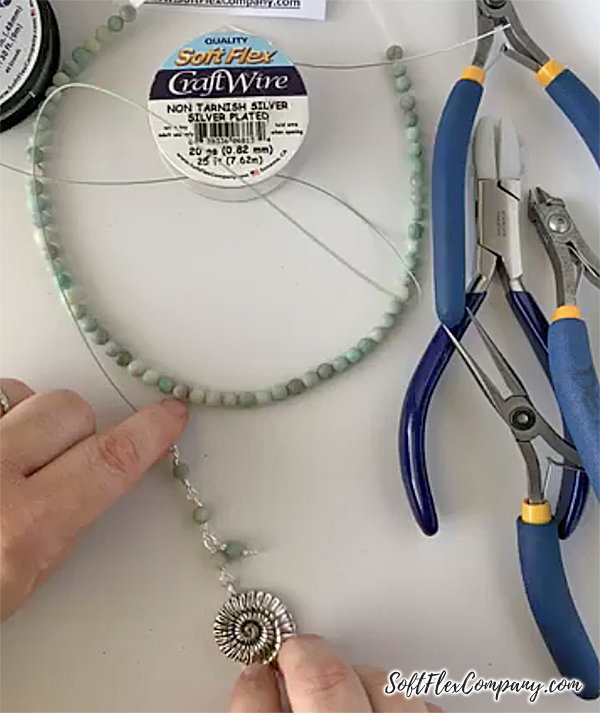 Don't you just love this? This jewelry set is a vision of summer during this dark spring. This set is a hopeful future on the beach, surrounded by friends and family. Let's use this moment to make inspirational jewelry that everybody will love when this crazy moment in history passes. Don't forget to follow our daily challenges and show us your amazing creations!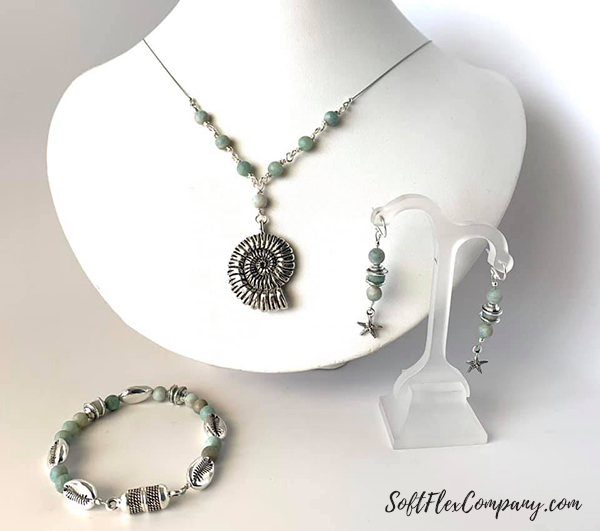 SilverSilk Neptune Mystery Kit Unveil & Make featuring Soft Flex Wire
Our friend Nealay Patel filmed an unboxing video this week. He is offering a fabulous mystery jewelry kit based on his sold out Atlantis kit. His Neptune kit is variation of the Atlantis. He mixes different components and elements for a unique and distinctive new look. This package is full of elegant color. Nealay included a stunning collection of beads, a pendant, beading wire from Soft Flex Company, tassels from Jesse James Beads, and SilverSilk Capture Chain.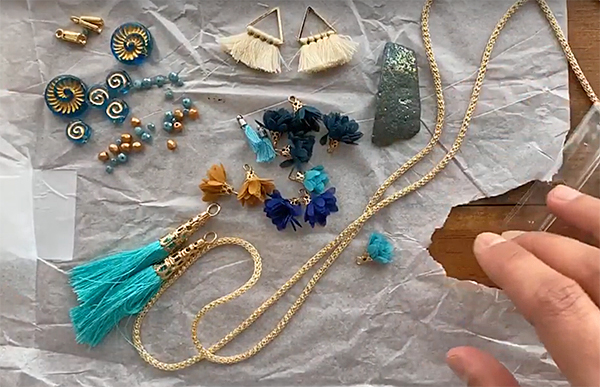 From Nealay:
Talk about a challenge! We made everything from an easy earring design to a complex necklace with cup chain. Get the download on ideas and techniques with the video link below and enjoy watching me design. I'll show you a clever trick to getting a clean finish on cup chain using Soft Flex wire and incorporating SilverSilk Pearlesque Chain into your design.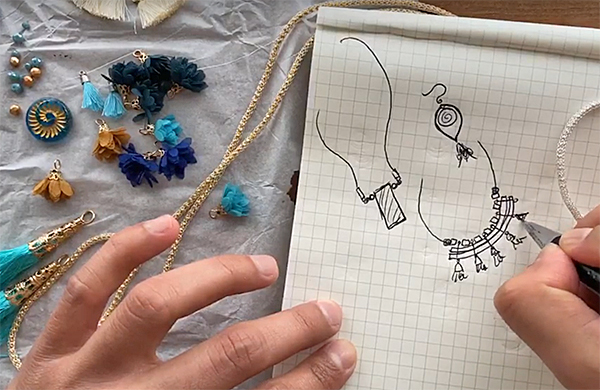 Supplies:
SilverSilk Capture Chain
Soft Flex .019/Medium Beading Wire in Antique Brass
22ga Soft Flex Craft Wire in Non-Tarnish Silver
Beads from the Neptune Mystery Kit
2x2mm Crimp Tubes
Crimping Pliers
End Caps
Cutters
Cup Chain
Magical Crimping Pliers
Chain Nose Pliers
Flat Nose Pliers
The pendant really makes this design memorable. Surely this jewelry was plucked from the very heart of Neptune's underwater kingdom. Nealay makes the most wonderful and mysterious jewelry. His videos are easy to follow and his work is, at the same time, intricate and detailed and easy and elegant.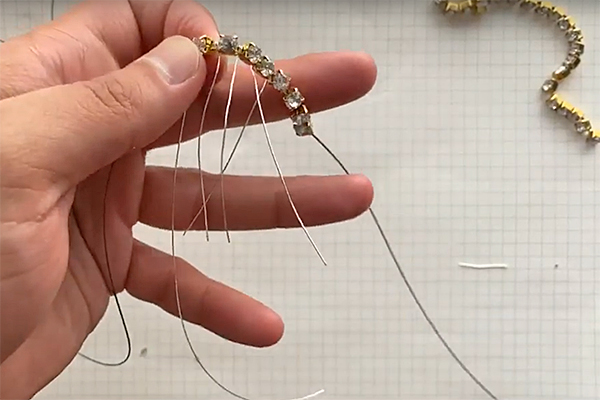 Make jewelry that is easy but looks wonderfully sophisticated. SilverSilk mesh is simple to work with and adds so much character. Pair it with Soft Flex Craft Wire or bead string for an amazing beaded jewelry design. And keep up with Nealay on his YouTube channel and Facebook Page. Join his Silkies Facebook group. He is a fabulous teacher and will show you how to master some incredible techniques.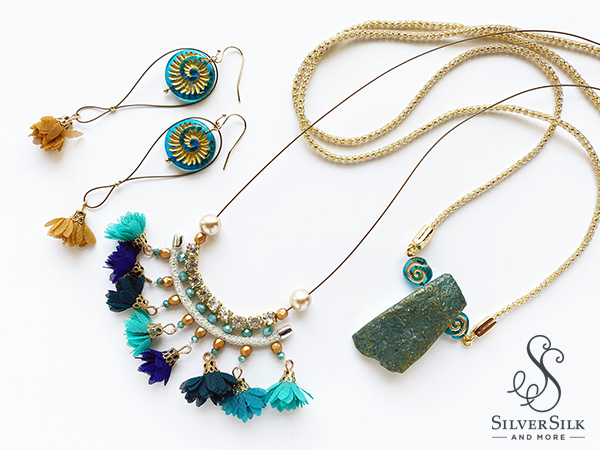 Join our Facebook group – VIB. Stay in the know. Stay up to date. From our bead shows to our video shows and sales, you can stay in touch with us. The community is full of artistic and helpful beaders and crafty people. Inspire and be inspired. Share your pictures and get the beading bug from others!
Visit the Soft Flex Company YouTube Channel!
---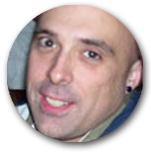 Blog contributor Thomas Soles loves Jazz Age writers and crunchy french fries. His favorite gemstones are Lapis and Pietersite. His favorite hobby is day dreaming. And his favorite mustache is Freddie Mercury's. As you can see, he has a healthy (or possibly unhealthy) sense of humor. You can write to him at Thomas@SoftFlexCompany.com