Wondering what jewelry to wear for Fall 2020? We revealed our Fall Masterpiece Design Kit (Sold Out) this week and showed you some color options. This kit was a celebration of autumn and an homage to the artwork of Georgia O'Keeffe. If you love the warmth of gentle fall colors, let us show you how to make your new favorite lariat necklace! We learned how to make a wire wrapped bracelet that is perfect for the holidays. Make your season merry and bright with this simple jewelry design. We also learned how to make a wire wrap bracelet that looks like a complicated woven design. But, it is actually so simple, a beginner can finish this stunning work with ease. Join us for some creative videos. You are sure to learn something new or get inspired to make something amazing.

Kristen started the week off with a wire wrapped bangle bracelet. This fun bracelet is simple to design and finish. You can select colors and stones that make these designs super festive. You can also go for subtlety and make a bracelet that is fashionable all year long. Sara unboxed our latest kit for another exciting edition of Kit Day! Kit Day is a Soft Flex holiday. It is a day of new products, fun blogs, searing creativity, and a community full of great design ideas. We love Kit Day! Gina from Orchid and Opal also unboxed our design kit and gave us her thoughts. Finally, Nealay showed us how to make a bracelet that looks rather complicated. Once you sit down with him and watch his techniques, you will realize this is a bracelet that you can make - regardless of your skill level! Join us for a fun recap of this weeks exciting videos!
The Great Bead Extravaganza!
If you have never been to a bead show before - this is the closest thing you will find to that lovely experience. And you do not even have to leave the house. A fantastic mix of jewelry suppliers and designers have gathered to give you a centerstage look at their designs and their inventory. Consider this a virtual reality bead show! This is your chance to watch your favorite designers - LIVE - and interact with them. This is a great time to learn a new beading technique or have your questions answered. Want to know how your favorite jewelry designers craft their magic? Now you can watch them, up close and personal. This is going to be a blast. This event is pretty much non-stop fun for three days.
Join us November 6-8, 2020 for an online bead event like no other. Some of your favorite jewelry making suppliers will be offering tons of video tutorials, giveaways and sale promotions that can only be found here: https://www.facebook.com/groups/thegreatbeadextravaganza/
Join us live for jewelry making tutorials on Soft Flex Company's YouTube channel!
White Christmas Design Kit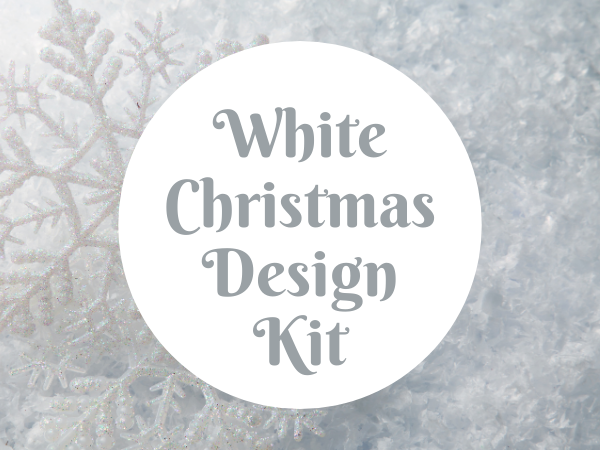 The White Christmas Design Kit is a dream of a snow filled holiday.
White Christmas is a quiet night. Snowflakes drift in unhurried journeys. Children gaze at the glistening tree tops from the warmth of their cozy bedrooms. Dreams of toys and presents dance in their little minds. The hushed ring of silver sleigh bells can be heard in the distance. Heavy beds of white snow blanket the house and make the night luminous and bright. If you love the elegance of a chilly December eve, this gorgeous design kit is going to evoke your favorite memories. Be a kid again and draw snow angels into steamed windows. Make your next handcrafted jewelry design merry and full of nostalgia.
Sara will be doing a live broadcast on the Soft Flex Facebook page, with the White Christmas Design Kit, on Wednesday, November 25th at 3pm (PST).
If you'd like to join us in the design challenge next month, buy this kit and challenge yourself to try something new and unexpected. If you are new to beading, this kit comes with findings, beads, wire, and surprises.
Our kits are great for skill building. We want our kits to feel challenging. We want them to be accessible for beginners and advanced designers alike, but we love to throw in elements that may seem difficult to test our beaders skills and make them think out of the box. We think jewelry is great when it is easy. But when you really have to engage your mind and process your materials and tools, we think that your jewelry has the potential to be life changing.
Supplies are very limited. Don't miss out!
Sara's new video premieres on YouTube on Saturday!

Sara unboxes a fun package from Dollar Bead Box on on YouTube this Saturday. Don't miss Sara's fun and instructive jewelry making videos!
From Dollar Bead Box:
The Dollar Bead Club is a Members-only club, offering the best value on top quality beads and beading products. The Dollar Bead Box and Dollar Bead Bag are our monthly subscriptions, offering unique selections of carefully curated beads and beading items. Our online Shop offers a wide variety of thousands of items: stones, pearls, Czech glass, findings, charms, buttons and much more. Best of all - everything in our Shop is only $1!
Jewelry Making Videos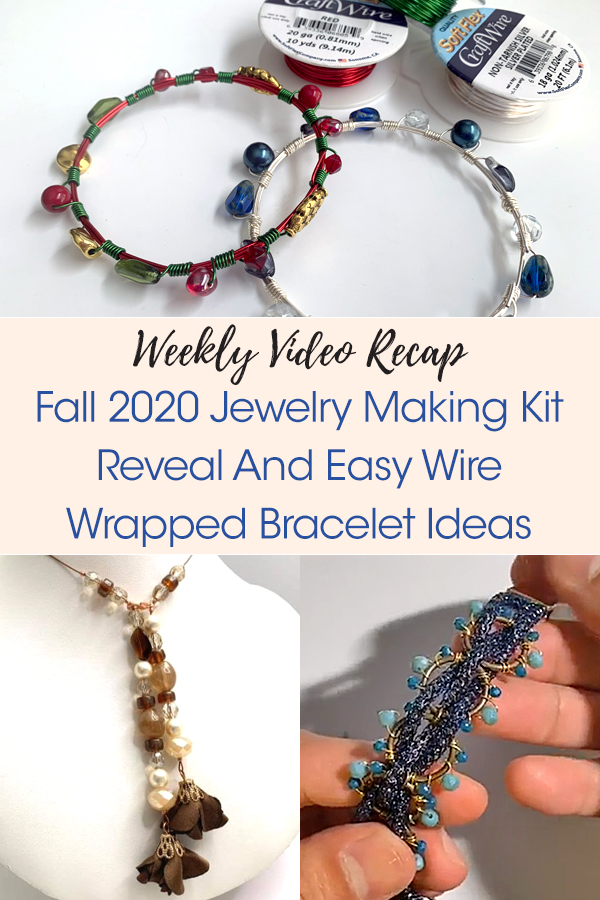 How To Make A Wire Wrapped Beaded Bangle Bracelet With Craft Wire
This week on Free Spirit Beading, Kristen showed us how to make the most festive bracelets. Her cute design is not something you would traditionally think of as a seasonal piece of jewelry, but the aesthetics really lend these bracelets a great holiday air. Add some orange, yellow or black and you have a spooky bracelet for Halloween. Blue and white or silver and you have a beautiful bracelet for Hanukkah. Green, red, and gold and you have a holly jolly design that is perfect for a Christmas bracelet.
Of course, there is no reason to focus on the holidays, you can work with a neutral palette or a theme and design for every occasion. These bracelets are so simple to make. You do not need a bunch of tools. You do not need a big assortment of beads. This is a design that can be finished and repeated fast. This is a perfect gift for your friends and loved ones that adore your handmade crafts. DIY jewelry has so much character and it looks so fun. Receiving a gift like this is knowing that the giver really put some heart and thought into your present. Designing a hand crafted gift is great because you can really custom tailor your jewelry to the style the recipient loves. Don't buy something boring and sterile, make something magical and stunning!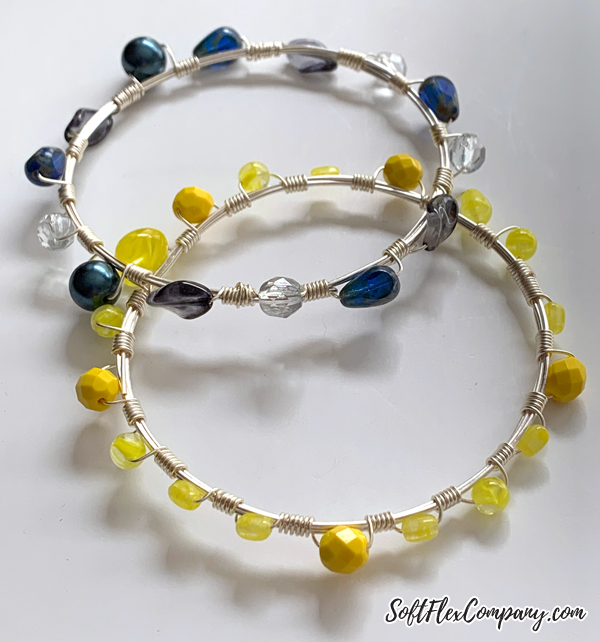 From Kristen:
I'm sharing how to make a wire wrapped bangle bracelet with Soft Flex Craft Wire and beads. I used Soft Flex Craft Wire in 18 gauge for the bangle base and 22 gauge for the wrapped beads. I mixed it up sharing two ideas with beads from our Pantone bead mix and then using the yellow Czech Glass beads from our Halloween Mini Design kit.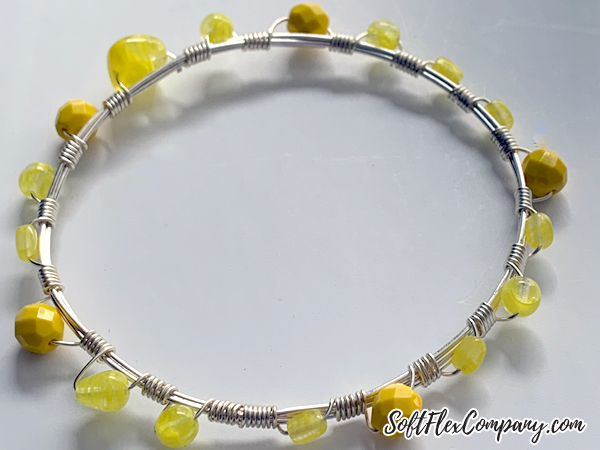 Soft Flex Craft Wire - 18 Gauge
Soft Flex Craft Wire Silver Plated - 18 Gauge
Soft Flex Craft Wire - 22 Gauge
Soft Flex Craft Wire Silver Plated - 22 Gauge
2020 Fall/Winter Pantone Bead Mix
Halloween Mini Design Kit
Nylon Jaw Pliers
Chain Nose Pliers
Cutters
These would also be great for ornaments! Instead of making the design large enough to fit over the wrist, work with a smaller base and add an ornament hook (you can even make the hook yourself). Hang them as ornaments on the tree or accents in the house. If you wire wrap ornaments, you could also suspend beads in the center. One great thing about being a Free Spirited Beader is not being afraid to try something new. If you make one of these bracelets, or if you create a lovely ornament - make sure you post your creation in our VIB Facebook group. Kristen loves to see what you do with her ideas. We have already had some members of our community post their bracelets. One VIB member suggested that Kristen try using a soda can as a way to shape the foundation of the necklace. Great idea!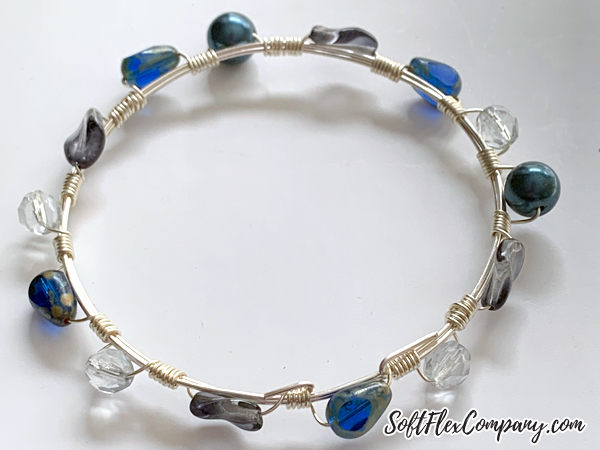 Get playful. Pick your favorite colors and shapes and make something that really speaks to you! Don't worry about the design looking perfect. One great thing about homemade jewelry and crafts is that they can look organic. They do not have to be perfect. Any perceived flaws only give them character and life. You can also experiment with asymmetry. Some of us have a difficult time trying to design something that is not paired and symmetrical. A design like this does not require that everything match up. You can really create a unique and pleasing look without having to be a perfectionist.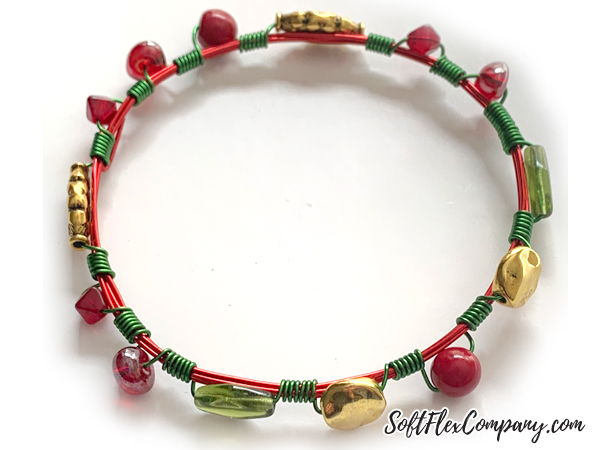 Sara Unboxes Our Fall Masterpiece Jewelry Making Design Kit
It's Kit Day! Did you buy our Fall Masterpiece Design Kit (Sold Out)? It was fun to release a new kit that was so vastly different than last month's Hocus Pocus Design Kit (Sold Out). Hocus Pocus was full of mystical purple, cemetery black, and chilly blue. Fall Masterpiece is warm and earthy, butterscotch topaz, creamy pearl, wonderful beige. The two design kits could not be any more dissimilar. It is fun to explore color. We think having such a varied and eclectic palette really makes a designer a better student of color and their jewelry will improve greatly for it! We hope you grabbed both kits. Don't settle for a couple of colors when you can paint with the whole spectrum!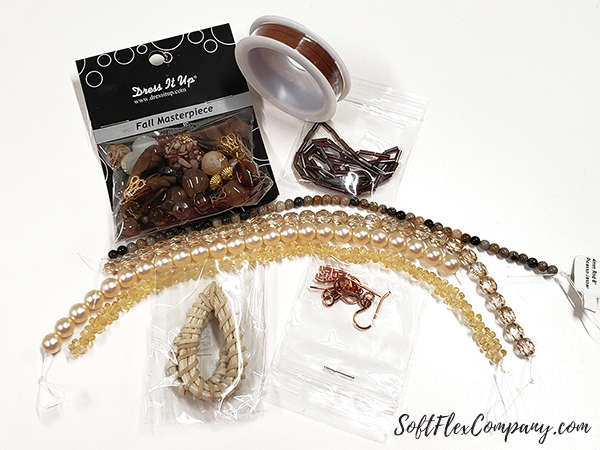 We think this theme really came together beautifully. We wanted a kit that would be amazing for fall. But why stop there? We felt the colors lent themselves to other themes too. We were stirred with visions of Georgia O'Keeffe's masterworks. The creamy bone of her ghostly southwestern skulls. The soft swirling petals of flowers that demanded focus. Design jewelry that is as bold and striking as O'Keeffe's paintings!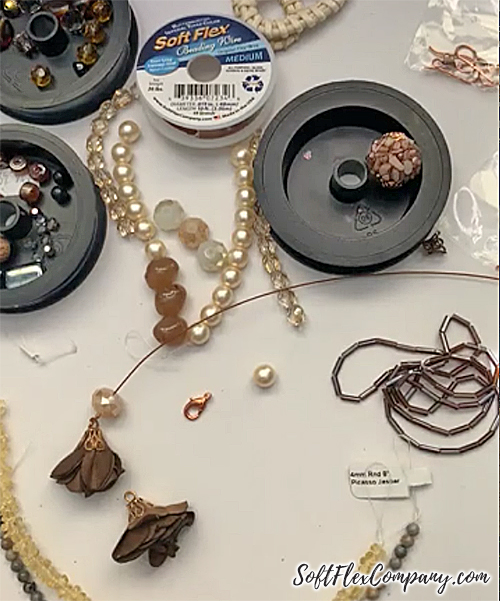 Fall Masterpiece Design Kit (Sold Out)
Soft Flex Beading Wire, .019 Diameter in Butterscotch Imperial Topaz
2x2mm Crimp Tubes
Magical Crimping Pliers
Cutters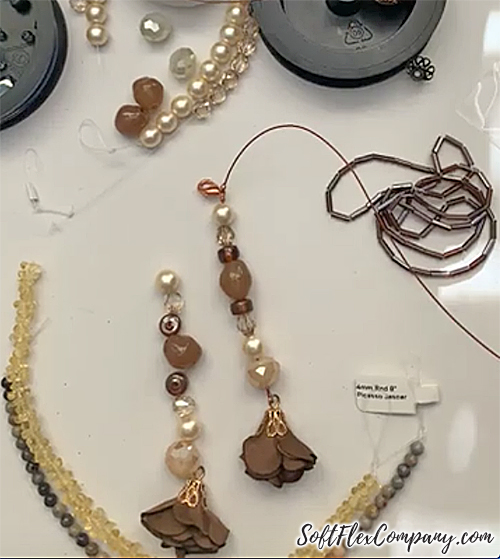 If you love our themes, make sure you grab our kits. All of our kits are full of rare and unique items. This means that you are getting a one of a kind product. But it also means that the inventory is going to be limited. We hand tailor each kit. From the brainstorming process to assembly. We want to give you a package of beading supplies that is self contained (you will typically just need crimping pliers and cutters to finish a bunch of designs). We also want to challenge you. We will often have a design element or color that requires a little thought. We think a little challenge can turn your jewelry into an amazing piece of art if you have to take some thoughtful moments before completing your work. If you are just designing the same old necklace every time, consider a kit that requires you to plot out a course. You will only grow as a beader if you have to work with a strategy.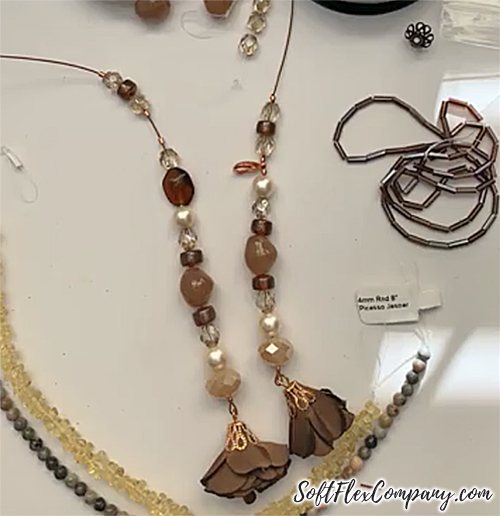 Our kits are accessible to all skill levels. You can make something fun if this is your first necklace or even if you are designing gallery quality jewelry. We do not have anything inside that a beginner cannot master. If you do not know how to crimp to finish a design, make sure you ask us for help. We want all of the wonderful people that buy our design kits to have the chance to make memorable jewelry. We are here for you. We also have a bunch of helpful videos on our YouTube channel and Facebook. You are sure to find the answers you need.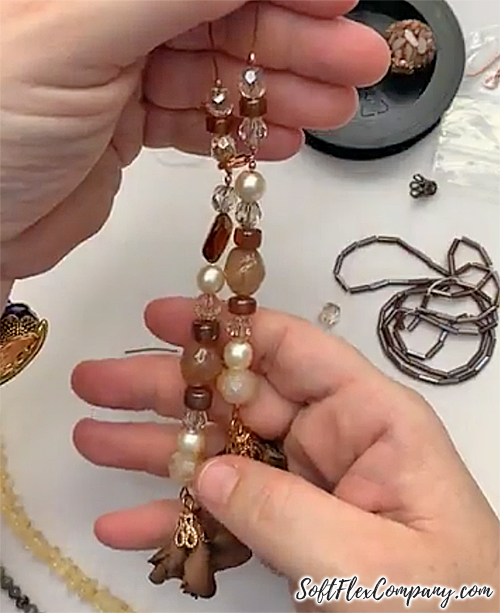 Make sure you join our VIB group on Facebook. Every month, we have a design challenge giveaway. If you have purchased a kit, you can post your finished jewelry designs on the group. Every design you post is an entry into our giveaway. You can post ten designs on one photo or post ten separate photos. We count each finished design as an entry. At the end of the month, we collect all of the entries and put the names in a spreadsheet. We do a random number draw online and the number that is selected is our winner. There is absolutely no skill involved. The giveaway is not juried. You have the same chance to win as somebody that makes jewelry for a living. Every entry is a better chance to win! What do you win? Well, for one, the kudos of everybody that enjoys your jewelry. Our community fosters an atmosphere of creative energy and respect. We all love jewelry and want to praise our favorite pieces. The giveaway winner also receives our next kit for free! We draw our winner and ship the next kit straight to them. No shipping. No handling. Just jewelry making fun!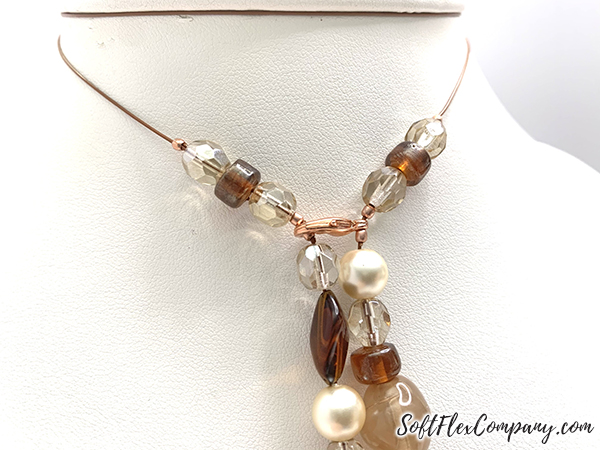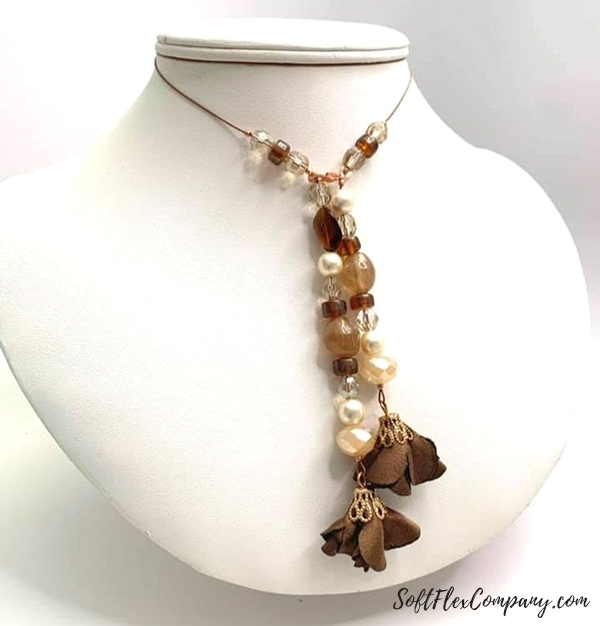 Fall Masterpiece Kit Unboxing At Orchid and Opal Jewelry and Beads
From Gina:
In today's video, I will be sharing the latest Soft Flex Monthly Mystery Design Kit. Contents include a specially curated package of beads and findings, which provide everything you need to make several pieces of coordinating beaded jewelry (except the tools, of course).
As I state in the video, these design kits are especially great for beaders who would like to build their skills with high quality materials, and have the support of a very active group of crafters on Facebook who contribute and share ideas and pictures of beaded jewelry, which has been made from kit contents. Thanks for watching!
Find Orchid and Opal Jewelry and Beads on:
YouTube
Website
Facebook
Instagram
Pinterest
Patreon
How To Make A Wire Wrap Bracelet With Craft Wire And SilverSilk
We caught up with Nealay this week. He showed us how to make a stunning bracelet using Craft Wire, Capture Chain, and jump rings. The design looks like bead weaving, but it is actually a simple bracelet that will not require a lot of skill or talent. Follow along with Nealay's gentle instructions and you can make this gorgeous bracelet at home.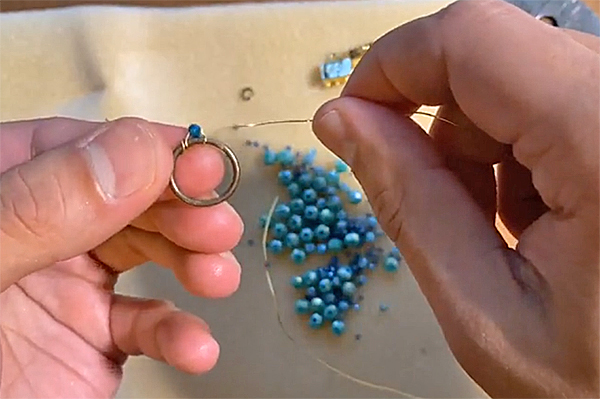 From Nealay:
Let me show you how to make an instant wire wrapped bracelet that looks like bead weaving! Follow my tutorial in this video and you can make your own version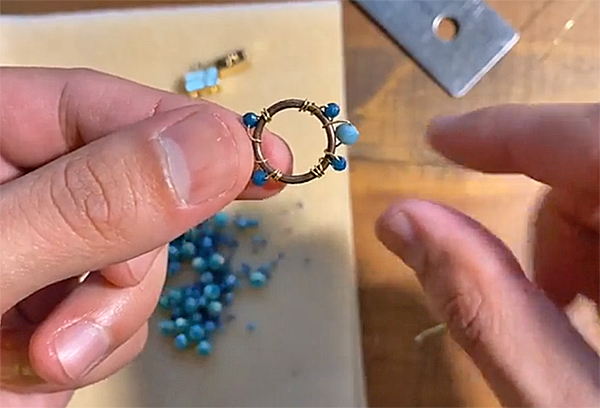 SilverSilk Capture Chain
Soft Flex Craft Wire - 26 Gauge
Soft Flex Craft Wire Silver Plated - 26 Gauge
Beads
SilverSilk End Caps
Lobster Clasps
Nylon Jaw Pliers
Cutters
Round Nose Pliers
Chain Nose Pliers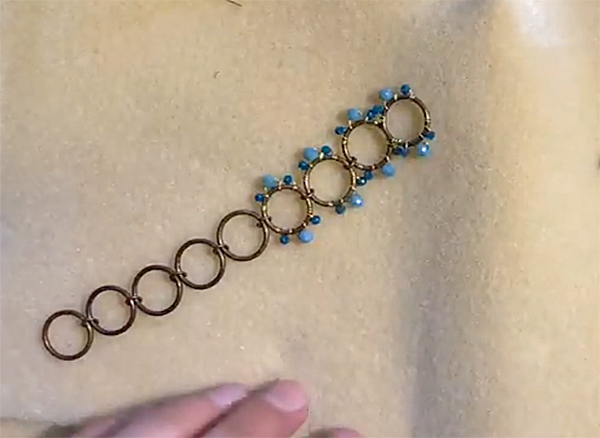 If you are not familiar with Soft Flex Craft Wire, it can be a little daunting to grasp. Craft Wire is a copper wire that can be wire worked and wrapped to create stunning sculptures, weaves, and jewelry. It can be hardened, once a design is finished, so it retains a shape. For a beginner, the wire might seem like a conversation with a stranger - you are not sure how to move forward and are limited in choices because you do not know the potential. Craft Wire can feel like a blank piece of paper - an artist knows how to make an elaborate work, but a beginner is just staring at a blank space, unaware of how to move forward. Videos, like the one Nealay filmed this week, are wonderful at showing you how to work with Craft Wire and incorporate it into a design with different mediums, like SilverSilk, jump rings, and connectors.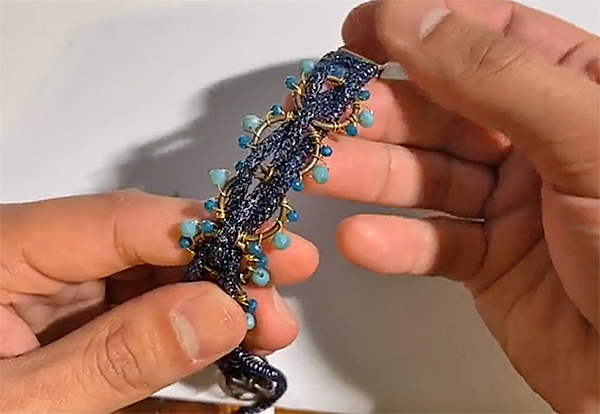 Be sure to mark your calendars for every Tuesday, 5:30pm CST and hop over to facebook.com/groups/silversilk to watch Nealay's videos live and ask questions.
Nealay's channel is dedicated to learning how to make high quality jewelry with SilverSilk with an emphasis on design. You can follow his journey here:
www.instagram.com/silversilkandmore
www.facebook.com/silversilkandmore
Or join his Silkies group and be a part of the conversation www.facebook.com/groups/silversilk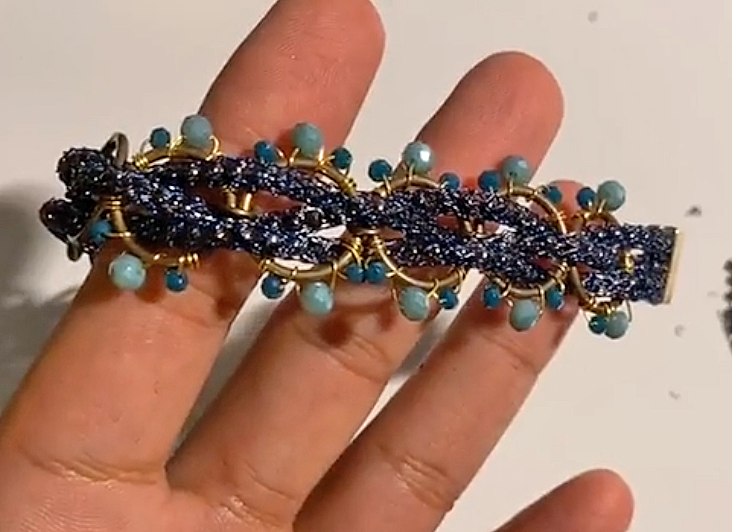 Join our Facebook group – VIB. Stay in the know. Stay up to date. From our bead shows to our video shows and sales, you can stay in touch with us. The community is full of artistic and helpful beaders and crafty people. Inspire and be inspired. Share your pictures and get the beading bug from others!
Visit the Soft Flex Company YouTube Channel!
---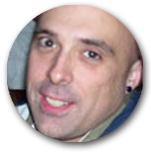 Blog contributor Thomas Soles loves Jazz Age writers and crunchy french fries. His favorite gemstones are Lapis and Pietersite. His favorite hobby is day dreaming. And his favorite mustache is Freddie Mercury's. As you can see, he has a healthy (or possibly unhealthy) sense of humor. You can write to him at Thomas@SoftFlexCompany.com