Why settle with store bought jewelry when you can make your own? Give the give of handcrafted necklaces this year. Handmade crafts and jewelry are created with love and make for instantly memorable moments. Money cannot buy the care and compassion DIY jewelry exudes. We have three timeless designs in this recap (and a teaser for a fourth). These instructive videos are great for beginners that need to learn a new technique and inspiration for designers that want to try something different. Let's make jewelry for our loved ones!
We were buzzing with frenetic activity this week. So much going on! We launched our biggest sale of the year on Monday. Our Cyber Monday sale was a massive live show on Facebook. We had huge discounts and exciting giveaways. If have never watched one of our live sales on Facebook, make sure you catch the next. You can win something amazing and buy something incredible. Sara filmed a fun video on Wednesday. She showed us how to make a necklace with our latest Czech Glass collection. If you love Czech Glass, you are going to love these beads. We took a look at an archived class from Just Bead It. Joyce taught us how to make a necklace she calls 'Adorn with Leaves'. This necklace is perfect for fall - or all year round with your chosen colorway. Finally, we learned how to wire wrap a pendant. Nealay made a stunning focal that looks organic and amazing. Add it to a SilverSilk or Soft Flex necklace and you have an eye catching piece of jewelry!
Christmas Mini Design Kit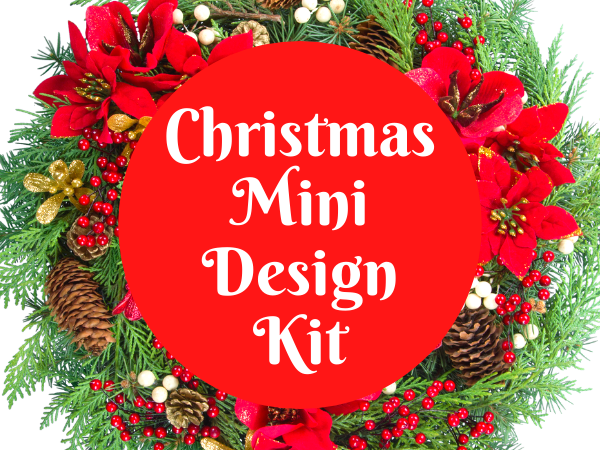 Do you love those holiday J-I-N-G-L-E bells?
This Christmas Mini Design Kit is power packed with the jolliest of jewelry potential. This kit is reminiscent of a thick green fir with red and white garlands. Unbox this merry bag of goodies and evoke memories of silver and garnet decorations in gramma's kitchen. This mix is a warm hearth in a cozy winter living room. Share some time with your favorite nostalgia as you make your holiday jewelry.
If you are new to beading, this kit comes with findings, beads, wire, and surprises. If you have crimping pliers and cutters, you have everything you need to make some fun jewelry.
Supplies are very limited. Don't miss out!
Sara's new video premieres on YouTube on Saturday!
Sara's Saturday video features her latest icicle design. Sara makes incredible icicles each year with Soft Flex Craft Wire and beads. These stunning little ornaments are great for the tree. You can also hang them around the house. If you love to give your gifts a personal touch, you can add an icicle to the gift wrapped bow on your presents. Your loved ones are going to cherish your cute little icicles.
Jewelry Making Videos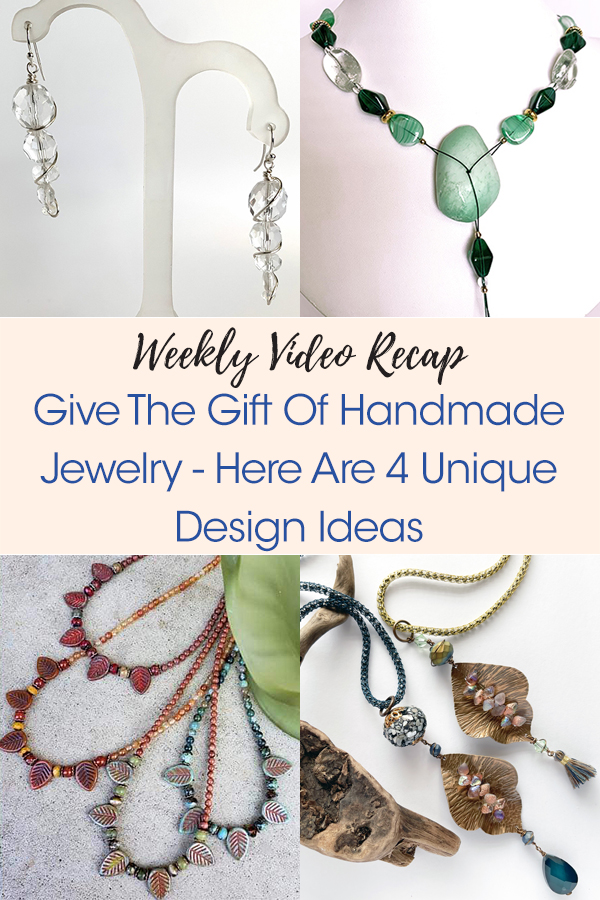 Learn How To Make A Necklace With Czech Glass Beads - Soft Flex Company
Sara wanted to take a moment to make a necklace. She has been busy with our Cyber Monday Live Sale and a heavy holiday workload. Managing a team of Soft Flex elves is a tiresome, but rewarding, job. She has also been volunteering her time at the school her children attend. So much activity! She needed some 'me time'. Fortunately, she invited us to watch her create her new necklace.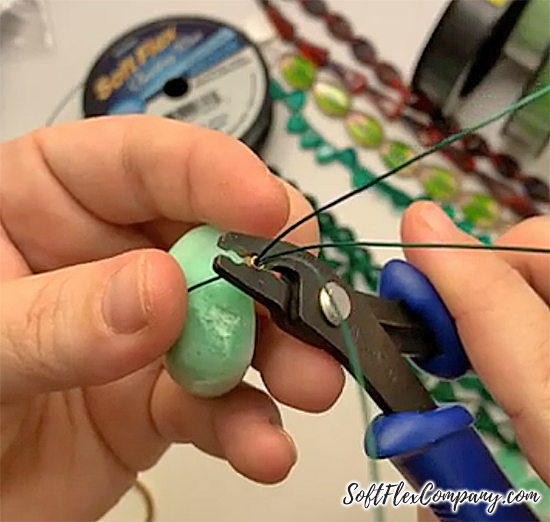 We have so many new goodies on our shelves. Lots of holiday themed kits and bead mixes. Sara showed off our Metallic Sparkles Design Kit (the package, the unboxing is later this month). She showed off the contents of our Mini Christmas Design Kit. This cute little kit is perfect for kids of all ages - just make sure you supervise the younger ones! We have new Czech Glass that looks very seasonal. And Sara had her eye on a Chrysoprase Nugget. She knew this glowing green stone would make a perfect focal for a necklace made of Czech Glass. Don't miss out! Our kits are great for themed jewelry or just adding to your toolkit to add to your beading supplies.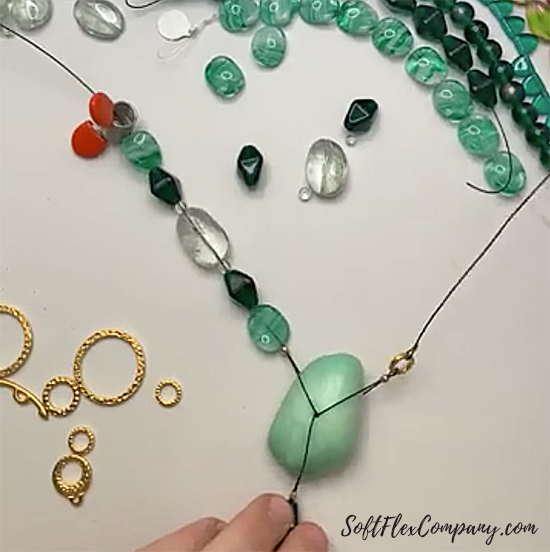 Soft Flex .019/Medium Beading Wire - Green Emerald
Czech Glass Beads
Chrysoprase Nugget Pendant
Hammertone Ellipse Clasp Set
Hammertone Ring Connector
3mm Crimp Covers
2x2mm Crimp Tubes
Crimping Pliers
Chain Nose Pliers
Cutters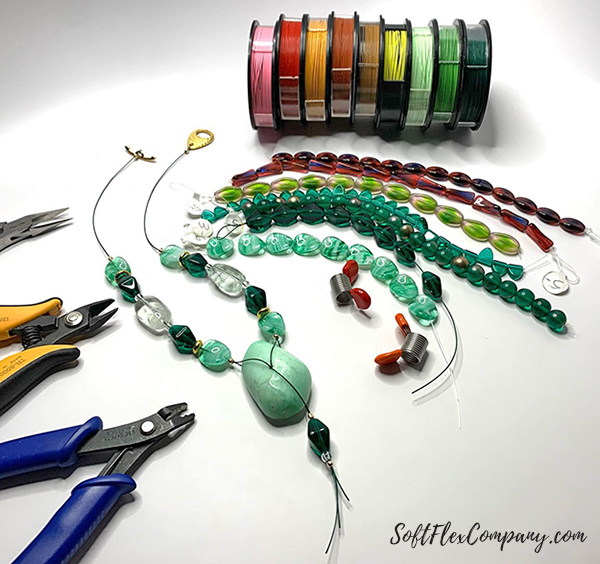 Look at this luscious rainbow of colors! Don't spend time and money shopping at a store for a factory made piece of jewelry. It is so easy to pour your heart into something you made by hand. Stringing beads is super easy and all you really need to master is crimping your design to secure it. If you need help crimping, we have tons and tons of helpful jewelry making videos to guide the process. We also have text instruction if that helps you figure out how to crimp easier. DIY jewelry let's your loved ones know that you wanted them to have a thoughtful gift and you spent time on it. And, let's be honest, this necklace is leagues more elegant than a cheap big box necklace.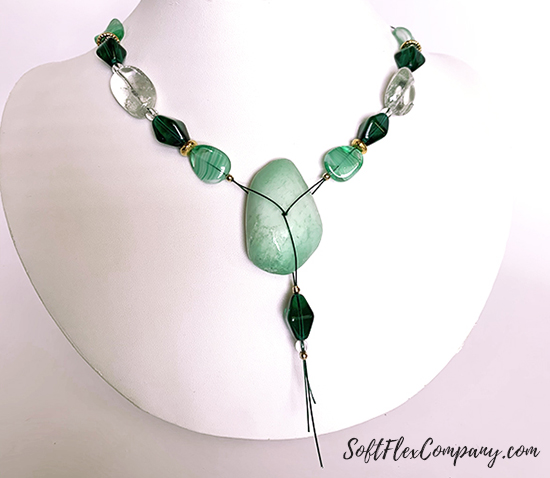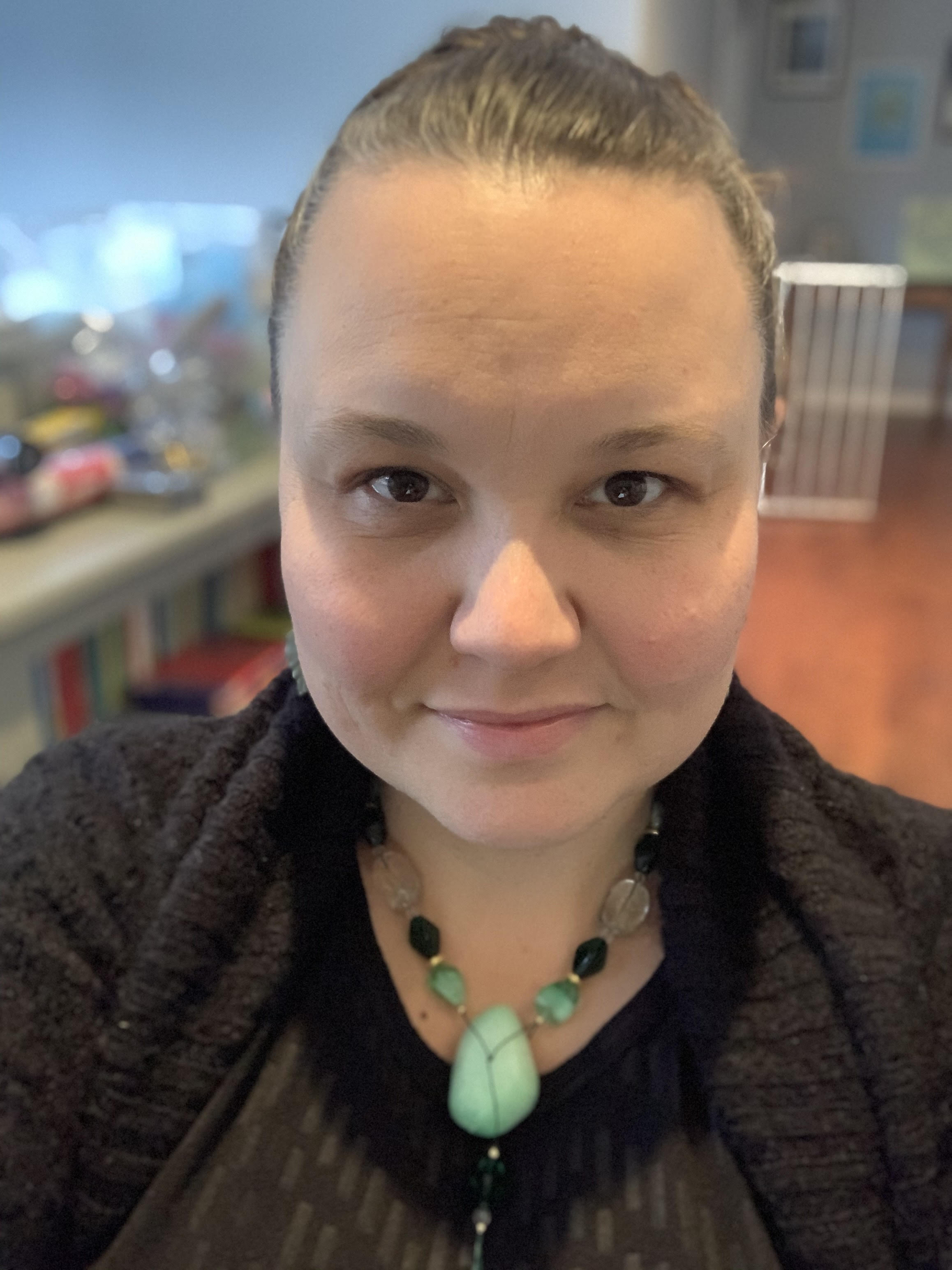 Adorn With Leaves Necklace - Just Bead It
Recently, we had a beading party with Joyce from Just Bead It. Just Bead It was a local bead store that operated in Concord, California. Joyce ran her bead store for seventeen wonderful years. Unfortunately, her business was one of millions that failed when hurricane COVID crashed into us. Joyce did not throw in the towel, though. Even if her brick and mortar store was gone, she knew she could maintain an active bead store, online. She is transitioning her catalog of jewelry supplies and beads to her website and Etsy store. She is also taking the classes that she offered in Northern California to a virtual space. You can attend her jewelry making courses on Facebook. You can purchase a kit and make jewelry with her. If you miss a class, you can download the PDF and make the design on your own time.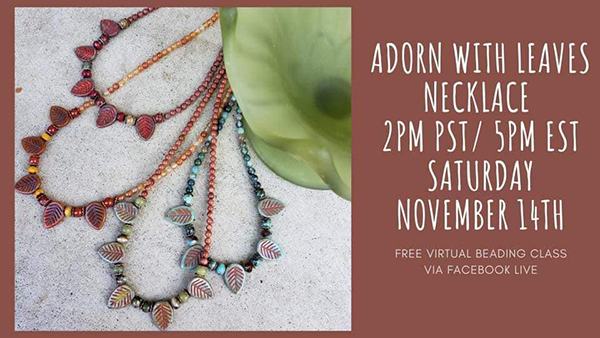 We thought this design was stunning. Follow the video and the PDFs below and make one of your own. If you would like to participate in a class, check the Just Bead It event calendar.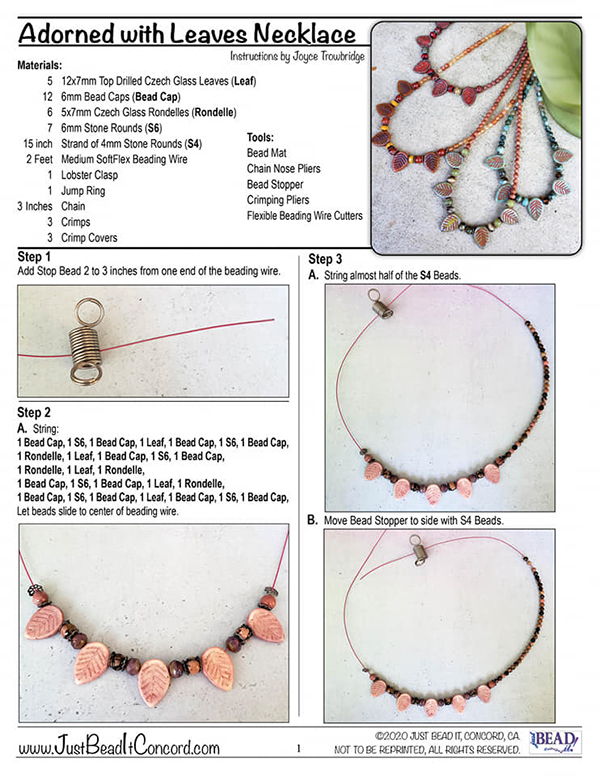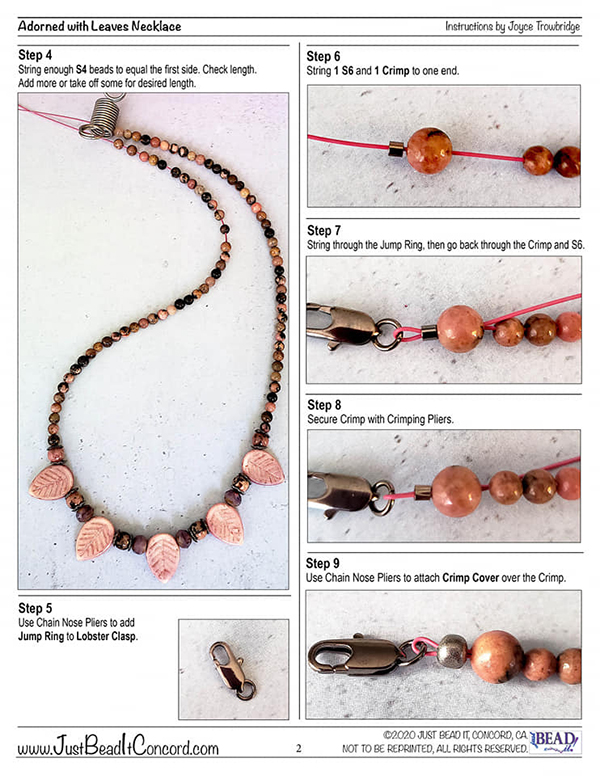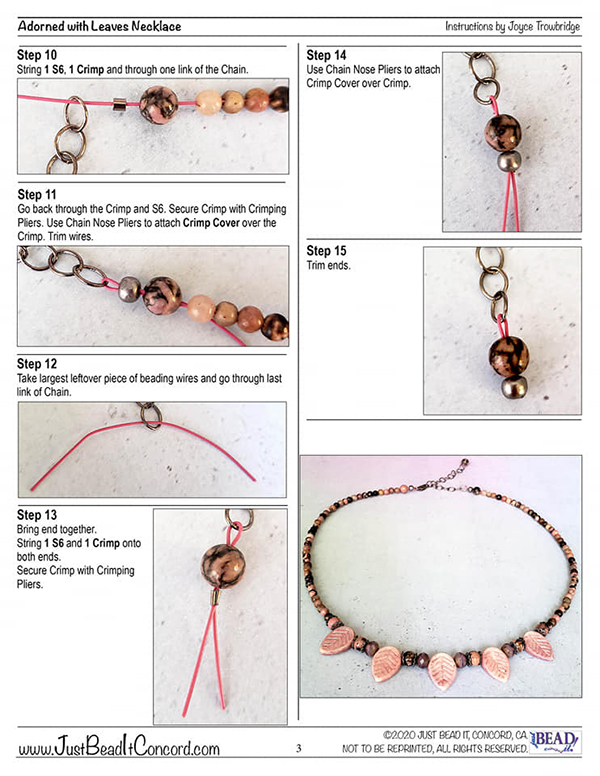 Visit Joyce's Links: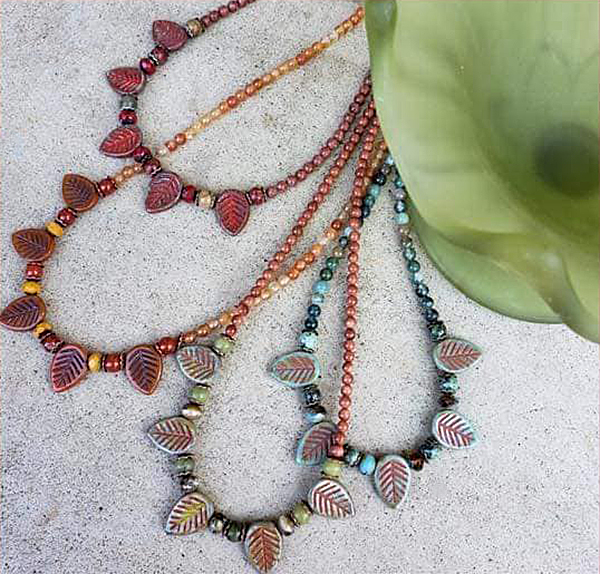 More than beads and supplies, Just Bead It is known for classes. They currently hold virtual beading classes most Saturdays at 2pm PST. Catch them on Facebook Live.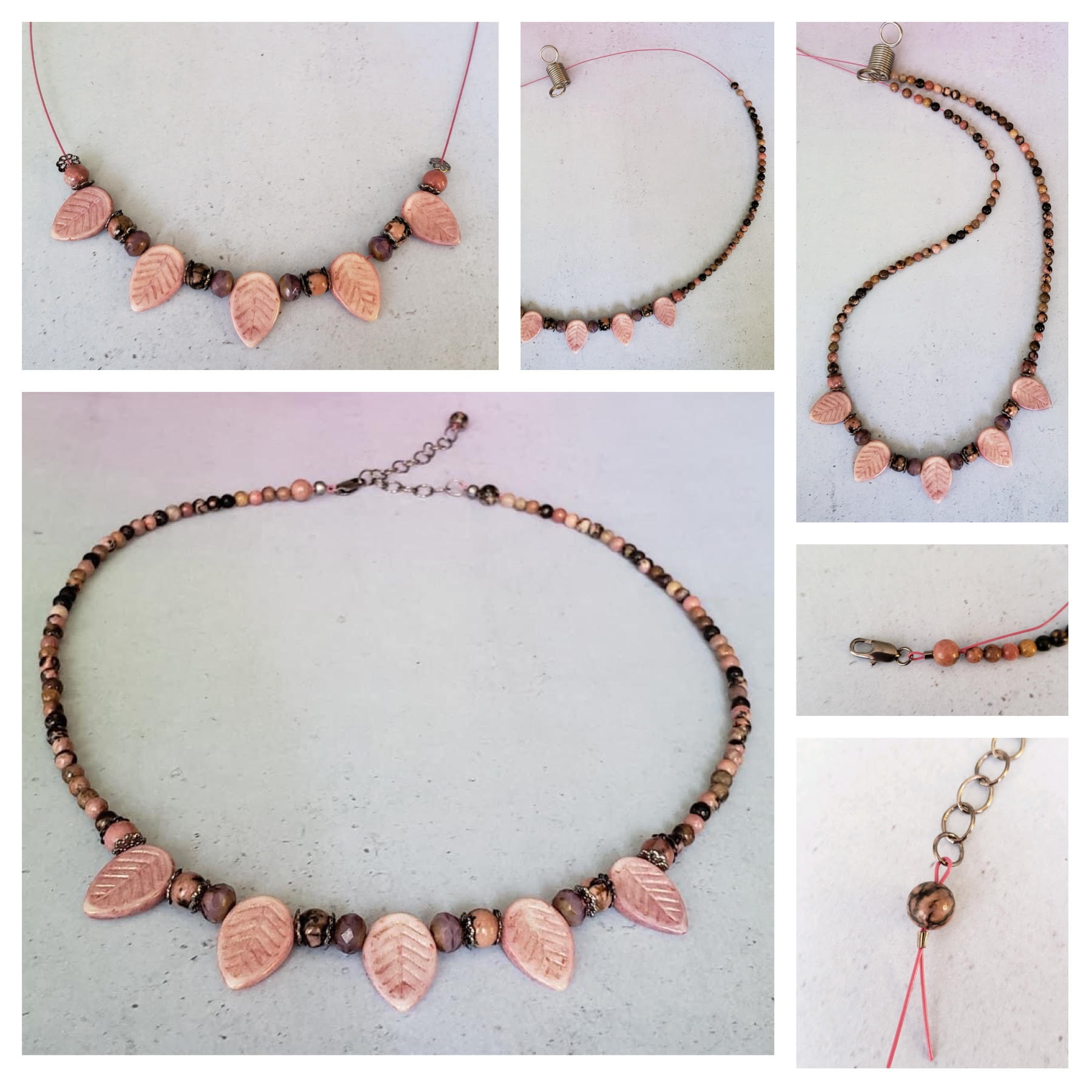 How To Hammer And Bead A Wire Wrapped Pendant - SilverSilk
Nealay collaborated with Brenda Schweder and filmed a fun metal stamping video. Brenda is the inventory of Now That's A Hammer. You can find her tool on FretzDesign. This elegant tool is a sophisticated and streamlined hammer. This is the hammer you would imagine James Bond would carry. Who knew metal stamping could be sexy?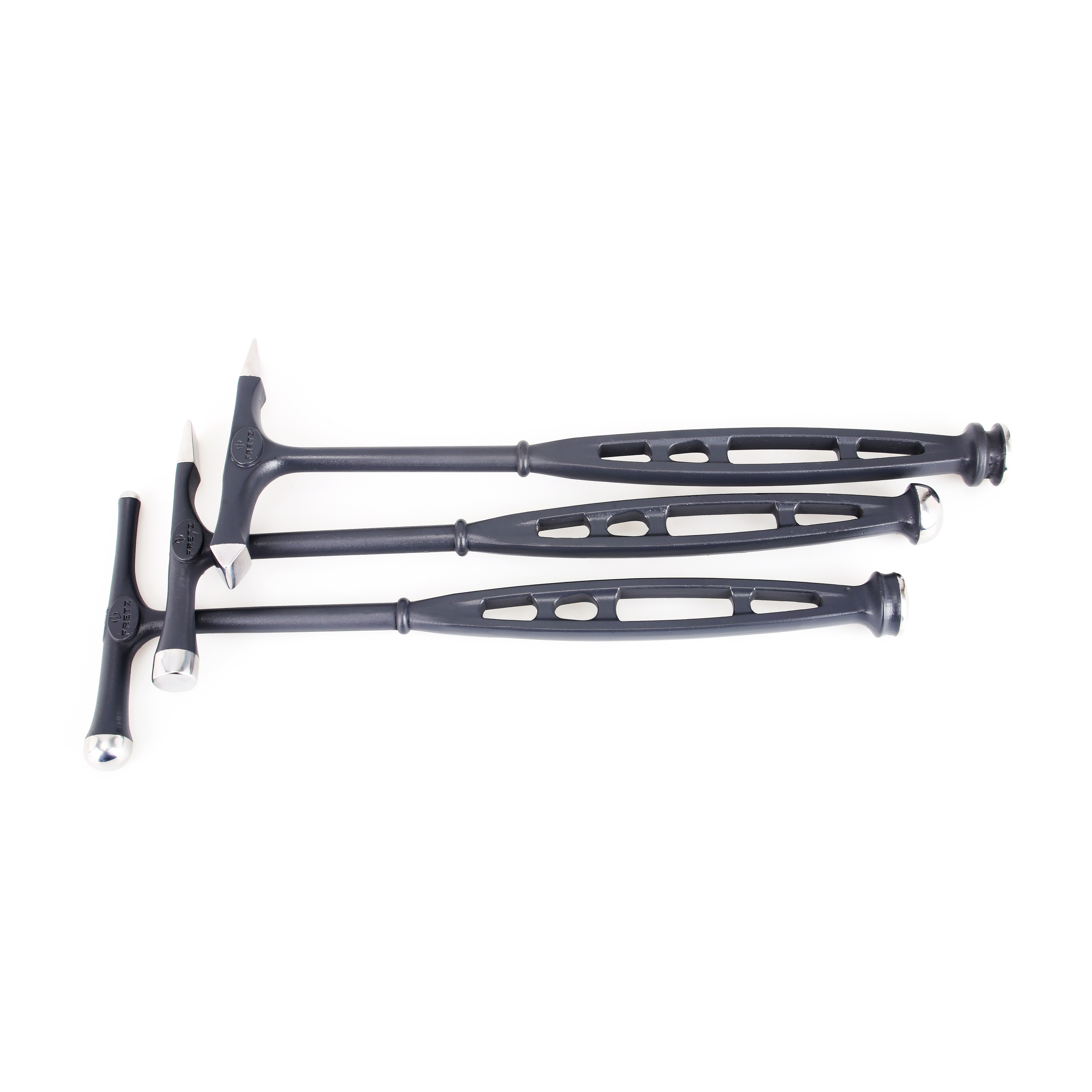 Nealay showed us how to make a fun pendant. He used Vintaj Blanks and wire wrapped beads onto his design to make a stirring leaf focal. This pendant would be perfect for an autumn wardrobe. Bright colors might even give it a spring look - if you are already looking ahead to a sunny next year. Nealay used Soft Flex Craft Wire to adorn his pendant with beads. It sounds like a daunting project for a beginner, but this project is actually really easy. Nealay is a great teacher - let's learn how to metal stamp!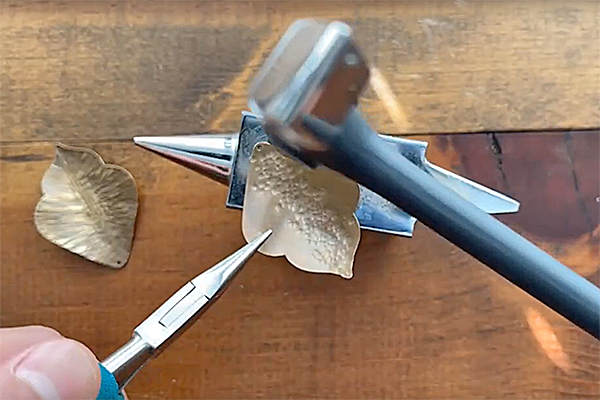 For this project, you are going to need a hammer. A hammer will weather and texture your blanks. You will also need a hard surface to strike the blanks on. A small jeweler's anvil is ideal. But an surface that is durable and can withstand multiple hammer strikes will work. One you start striking your blank, the design becomes your own. There will never be another weathered piece like it - it is truly a one of a kind jewelry design.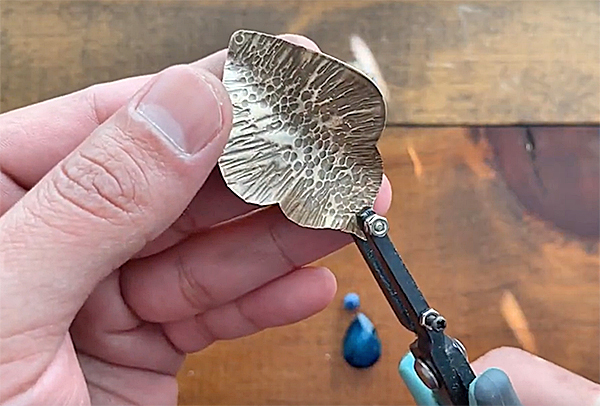 If you purchase Nealay's Metal Stamping Design Kit or shop Vintaj, you can find blanks that have a patina. Once you have weathered and hammered your blanks, you can use steel wool to remove some of the patina. The color will remain inside the hammer impacts. The finished effect will be an added depth and beautiful dimension.
Nealay used a hole punch to give him wire wrapping options on the finished blank. He punched four holes in this piece so it could be adorned and dangle from a necklace.
For this project he used Soft Flex Craft Wire in 20 gauge. He selected our Vintage Bronze to match the palette of the blanks and metals. To finish your necklace, string this pendant on your SilverSilk Capture Chain or Soft Flex Beading Wire.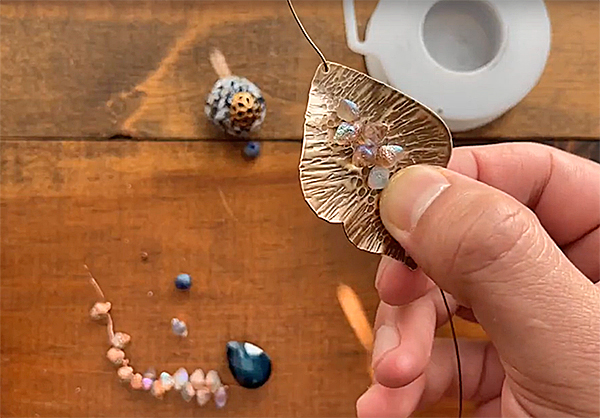 Visit SilverSilk and look for Nealay's Metal Stamping Designer Kit. This kit will get you started on your new stamping hobby! This kit includes: 8 Metal Stamps, 12in Custom Capture Chain, 3ft Forest Capture Chain, Single-strand End Caps, Double-strand End Caps, Earring Wires, and Four 6mm Jump rings.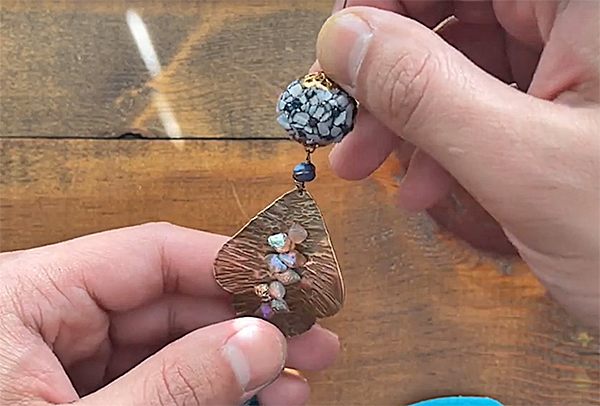 Next year, be sure to catch Nealay on Tuesdays on Facebook. He will be filming a live segment every Tuesday at 5:30pm CST at facebook.com/groups/silversilk. You can watch Nealay live and ask questions. He has been filming on Tuesdays for a long time, but needed a holiday break.
Nealay's channel is dedicated to learning how to make high quality jewelry with SilverSilk with an emphasis on design. You can follow his journey here:
www.instagram.com/silversilkandmore
www.facebook.com/silversilkandmore
Or join his Silkies group and be a part of the conversation www.facebook.com/groups/silversilk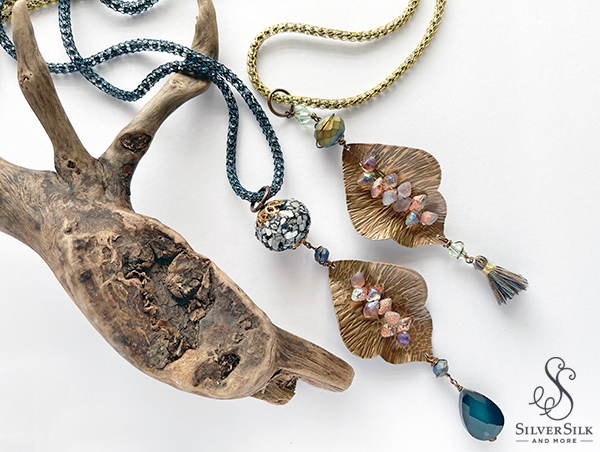 Join our Facebook group – VIB. Stay in the know. Stay up to date. From our bead shows to our video shows and sales, you can stay in touch with us. The community is full of artistic and helpful beaders and crafty people. Inspire and be inspired. Share your pictures and get the beading bug from others!
Visit the Soft Flex Company YouTube Channel!
---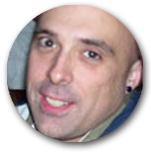 Blog contributor Thomas Soles loves Jazz Age writers and crunchy french fries. His favorite gemstones are Lapis and Pietersite. His favorite hobby is day dreaming. And his favorite mustache is Freddie Mercury's. As you can see, he has a healthy (or possibly unhealthy) sense of humor. You can write to him at Thomas@SoftFlexCompany.com