Do you love all things Halloween? It is fun to celebrate the darkest and spookiest day of the year. But this week, we wanted to look at the softer side of the horror holiday. We learned how to make Halloween jewelry and Halloween crafts for kids. We created Halloween bracelets and earrings with candy corn colors and adorable holiday charms. This jewelry is super cute! We think making jewelry is a great craft to share with family. This week, we involved our kids and let them string their own holiday bracelets. We hope you feel inspired to share these Halloween craft ideas with the little ones in your family. It is never to early to foster creativity!

The Halloween Mini Design Kit is a recent addition to our shelves. It is a delicious mix of candy corn flavored beads and sugary sweet beading wire. We think this tasty mix of beading supplies is perfect for DIY family crafts. Kristen started the week off with a playful jewelry set using this jewelry kit. She made a charming little bracelet and set of earrings. Sara followed her lead. But, Sara wanted to let her daughters design their Halloween jewelry. It was Sara's cutest video ever. Finally, Nealay made the happiest pair of rainbow earrings we have ever seen! You will love these chandelier earrings. They are funky and full of fun. Let's learn how to make handcrafter jewelry!
Halloween Mini Design Kit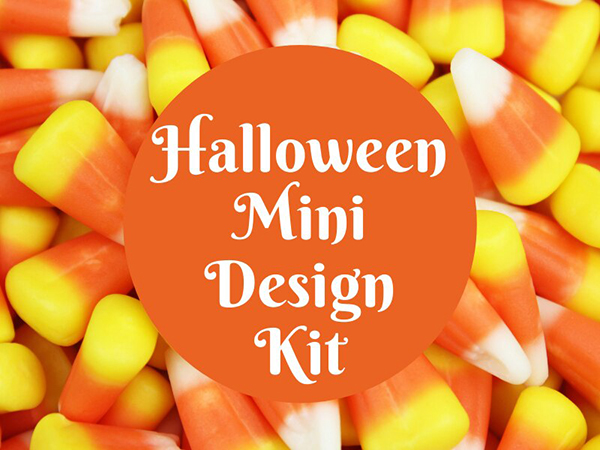 Halloween is here!
Halloween isn't just a celebration of the spooky. It is time for pumpkin spice and autumn palettes. If you do not want to bedeck your neck with the gloom of grinning ghosts, you will love this fanciful kit of candy corn colors. Warm fall tones and fun is the order of the day. Design jewelry that celebrates the softer side of October.
If you are new to beading, this kit comes with findings, beads, wire, and surprises. If you have crimping pliers and cutters, you have everything you need to make some fun jewelry.
Supplies are very limited. Don't miss out!
Sara's new video premieres on YouTube on Saturday!
Sara's newest jewelry making video will be available on YouTube this Saturday. This is a YouTube upload of the live video she filmed for Facebook, on Wednesday. We wanted to give the people that do not have Facebook accounts or - want - Facebook accounts a chance to watch this adorable video. Sara lets her daughters string their own Halloween bracelets and earrings. This is a great way to celebrate Halloween safely during the pandemic. If you are keeping distant and in quarantine, but do not want your children to miss out on one of the most fun nights of the year, this is a great way to keep their brains active and involved and not dwelling on what they might be missing out on.
Jewelry Making Videos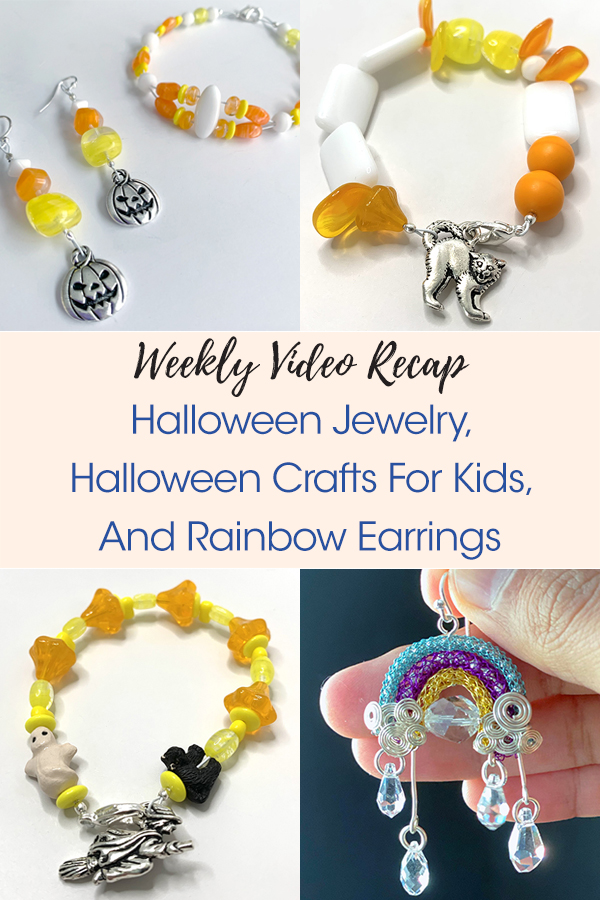 Make Your Own Candy Corn Bracelet & Earrings for Halloween
Kristen showed us how to make Halloween jewelry with our Halloween Mini Design Kit. This kit is chock full of happy nostalgia. The soft, cozy colors of the candy corn palette will remind you of great memories of being a kid or a proud parent of a grinning ghost. The tones are warm and perfect for autumn fashion. The delicious beads inside are sure to inspire some sugary sweet designs. This is a kid friendly kit. Supervising a child while they make jewelry is a great way to ignite their creative fire. Give your goblins the gift of imagination this Halloween with this adorable kit of beading supplies.
Our design kits are made to be self-contained jewelry making resources. We include beads, findings, and wire. You just need the most basic tools to make jewelry - crimping pliers and cutters. If you have those on hand, you can make your own unique pieces. If you are missing those tools, you can find them on our website.
Halloween Mini Design Kit
Crimping Pliers
Cutters
The Halloween Mini Design Kit is a limited time holiday exclusive. It is filled with candy corn colored Czech Glass beads, white Soft Flex .019 Diameter Medium Beading Wire, ear wires, crimps, a clasp, two orange mini bead stoppers and two fabulous jack-o-lantern charms by TierraCast! You just need cutters and crimping pliers and you have everything to get started making jewelry. This mini kit is wonderful idea for a Halloween craft along, possibly over video chat! Share the joy of creativity with beading friends, your grandkids, or introduce someone new to beading with this sweet Halloween treat.
Handmade holiday jewelry is perfect for customizing every design to fit your personal style. Don't like the dark look of gothic jewelry? Make a candy coated necklace that makes your mouth water. Don't like the festive reds and greens of Christmas? Make an elegant gold and black necklace that is a classic holiday look. DIY jewelry is easy to make and much more cost effective than spending money on finished jewelry. Plus, with just a little practice, you can make professional quality pieces. Imagine having the talent to design your own jewelry for every occasion and never having to spend on dime on somebody else's work! Be creative and wear your own signature jewelry!
Sara Shows Her Children How To String Jewelry With The Halloween Mini Design Kit
Sara loves giving the gift of beading and creativity. She wanted to share our new Halloween Mini Design Kit with her daughters. This kit is perfect for older children and supervised play with the youngsters. Keep a watchful eye with children that are still putting objects in their mouths. A little guidance is all that is needed when letting your kids or grandkids string their jewelry. Add some helpful input here and there and children will figure out their own way. Their finished design ideas can surprise even the most cynical designer. Watching little minds work is so fun!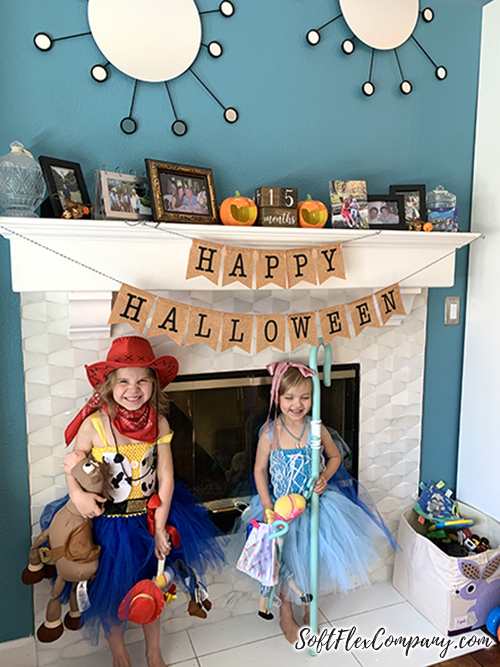 Do you have children? Or maybe a close grandchild? There is no greater gift than giving a child the opportunity to create and design their own masterpieces. Art demands a creative eye. It demands critical thought. It requires patience and the ability to coordinate a pleasant pattern. Imagine letting your child make their next necklace. Sharing this activity will make you the greatest Nana or sweetest Mama on the planet. Not only that, but watching an innocent mind create can also help a cynical adult rethink some of the design and art choices they make. Do you enjoy asymmetry? Do you know how to string an eye catching design that is not afraid to color outside the lines? You can bet your child or grandchild has some interesting crafting ideas that you have never considered. Unbridle that kiddo and see what kind of magic they make!
What is even more fun than playing with beads and making jewelry? Dressing up as your favorite heroes or movie characters and making jewelry! Sara's daughters made stringing fun by dressing up as Jessie and Bo Peep from Toy Story. How fun would it be to be a kid again? Wouldn't it be nice to enjoy your favorite hobby all decked out in your favorite character's gear?
The girls went about making a pattern they liked before Sara had them string their design. Pattern recognition is, of course, part of development. Encouraging pattern creation is a way to reinforce creativity and intelligent thought. Bead stringing is a part of STEAM education. Critical thinking skills are important for helping a child develop into a thoughtful and mindful adult. Bead stringing is great for collaboration, critical thought, problem solving, and hand-on learning. Bead stringing will help your kiddos learn to embrace and value art. I bet you just thought beading was fun - who knew it could be such an incredible tool?!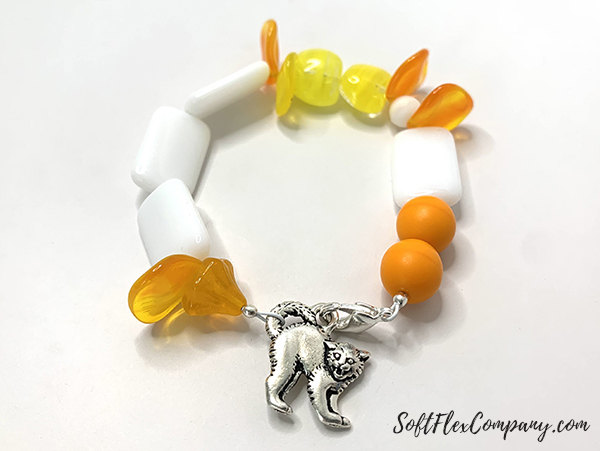 While her girls spent their time designing their patterns, Sara unveiled our newest items. These products hit our website the same day Sara filmed her video. We launched a new series of Pantone inspired bead mixes, bead strands, and a new Quad of beading wire. If you love Pantone color and fashion - we have some of the fall collection for you! We color matched our wire (taking some artistic liberty). Pantone knows color! Our Quad and beads will keep your jewelry topical and in style.
If you stringing beads and designing jewelry, make sure you involve your littles. They would probably love to help you finish your next necklace. If they are younger, make sure are vigilant that they do not put anything in their mouths. Beads, crimps, and other small items can be a choking hazard. And, let's be honest, some beads look delicious enough to eat!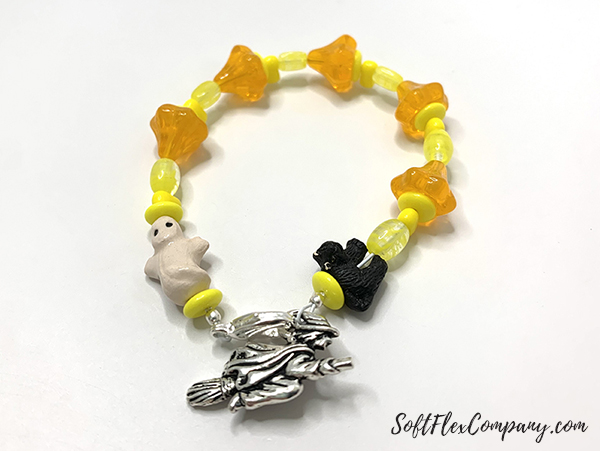 This was a fun video. Sara kept it short. It is not easy to trying to keep the little ones focused and do a video at the same time. But she managed to keep everybody on task. Sara is a great mommy! Include your children in your next creative endeavor. If you are a beginner beader, we have lots of resources on our website. You can find videos and how-to blogs on virtually all of our jewelry products. If you need beads and stringing options, we have beading kits and lots of colored wire.
If you think your children might have a hard time working with a beading wire, we have other options as well. Stretch Magic is perfect for children. Stretch Magic is an elastic like material that is very sturdy and very forgiving. Your kids can be rough with their jewelry and you can be assured they will not need to restring a broken design. Just make sure you learn how to finish the cord. Stretchy cord can be finished with a knot. You can also use a glue, like Special T Glue, to seal the knot so it never comes undone. Involve your family. Give the gift of beading and creativity!
How to make Rainbow Earrings with SilverSilk
What a year this has been. Bad news is always just around the corner, it seems. This week, Nealay felt less than cheerful. His spirit was a little low and he debated skipping his Tuesday Tutorial. Thankfully, he turned the frown upside down and made a brilliantly cheerful set of earrings. These happy little chandelier earrings are full of adorable details. The swirling clouds dancing across the bright rainbows look amazing. The drops of rain falling from the embrace of the colorful rainbow is so pretty and warming. If this set of earrings doesn't make you smile, nothing will! Nealay shows you how to make these perky earrings with a simple to follow instructional video.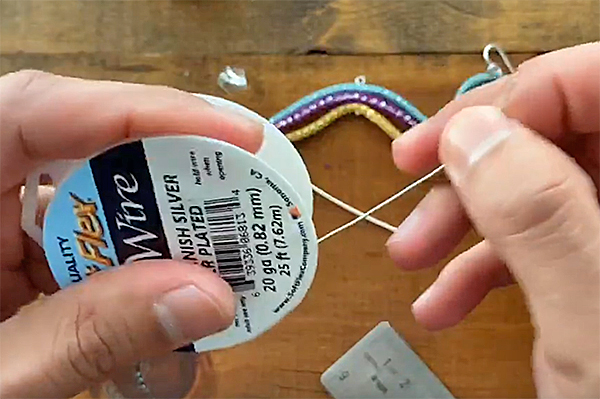 From Nealay:
When life has you feeling blue, add some more color until you get a rainbow! In this tutorial, I stack together SilverSilk chains and use 20- and 26-gauge wire to hold, coil and embellish my rainbow. Try it with different colors of Capture Chain or maybe you have scraps to play with! Either way, this project is sure to bring a smile to your face.
SilverSilk Capture Chain
Soft Flex Craft Wire - 20 Gauge
Soft Flex Craft Wire Silver Plated - 20 Gauge
Soft Flex Craft Wire - 26 Gauge
Soft Flex Craft Wire Silver Plated - 26 Gauge
Beads
Head Pins
Ear Wires
Cutters
Round Nose Pliers
Chain Nose Pliers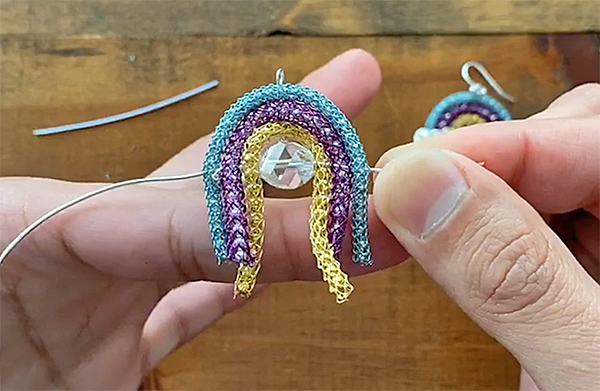 These earrings really turn up the fun. The rainbow itself is where some people would stop. The arcing bands of color look so happy and jubilantly joyous. Nealay adds more excitement with a whirling dervish of storm clouds. The spiraling puffs of precipitation gives such a pleasant accent to an already warm and fuzzy design.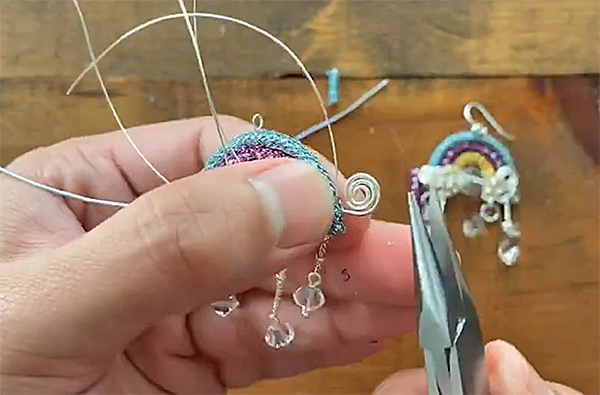 Don't let a bad day bring you down. Make something magical. These earrings are wonderful. And look how light catches the falling drops of rain. This cozy little design will brighten everybody's day. Make some of your own. Share your work with Nealay. He would love to see how his community interprets these fun earrings.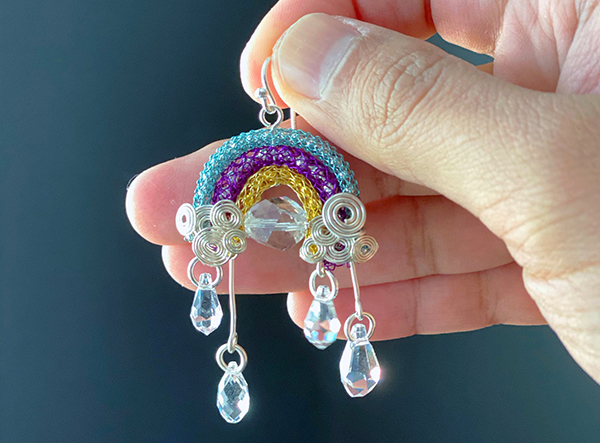 Be sure to mark your calendars for every Tuesday, 5:30pm CST and hop over to facebook.com/groups/silversilk to watch Nealay's videos live and ask questions.
Nealay's channel is dedicated to learning how to make high quality jewelry with SilverSilk with an emphasis on design. You can follow his journey here:
www.instagram.com/silversilkandmore
www.facebook.com/silversilkandmore
Or join his Silkies group and be a part of the conversation www.facebook.com/groups/silversilk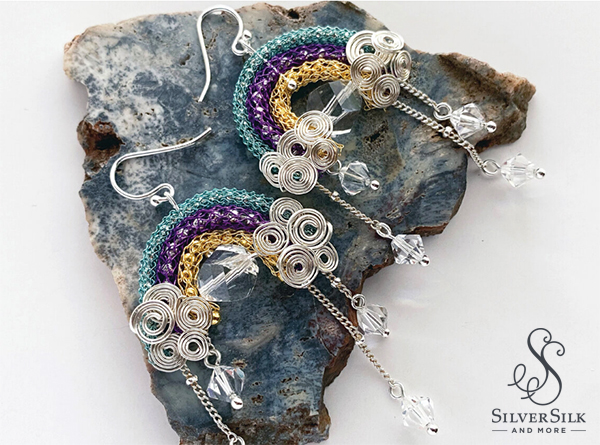 Join our Facebook group – VIB. Stay in the know. Stay up to date. From our bead shows to our video shows and sales, you can stay in touch with us. The community is full of artistic and helpful beaders and crafty people. Inspire and be inspired. Share your pictures and get the beading bug from others!
Visit the Soft Flex Company YouTube Channel!
---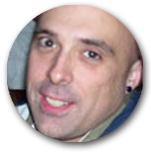 Blog contributor Thomas Soles loves Jazz Age writers and crunchy french fries. His favorite gemstones are Lapis and Pietersite. His favorite hobby is day dreaming. And his favorite mustache is Freddie Mercury's. As you can see, he has a healthy (or possibly unhealthy) sense of humor. You can write to him at Thomas@SoftFlexCompany.com