We had a great week! Kristen made a fantastic bracelet with her square Kumihimo plate. Sara designed a necklace and earrings with our Purple Rain Trios and Purple Rain Bead Mix. We introduced a new Trios Collection – Extreme Metallics Trios. And we launched a sale on our Econoflex and Pro Econoflex lines. Econoflex is an inexpensive craft and hobby wire that is perfect for DIY handmade projects or funky jewelry designs. We hope you made some wonderful jewelry and found a little inspiration too!

If you missed our live shows this week, don't worry, we will be back next week. Kristen films her series on Mondays at 12:00pm PST. Sara hosts a Soft Flex Live Sale on Facebook on Wednesday at 1:00pm PST. And James will be filming another episode of Conversations in Wire on Thursday. James will be working with a Lazee Daizee brand Viking Knit tool and Craft Wire. We are adding the Lazee Daizee tools to our inventory next week. I can't wait. I love knitting and braiding with wire, the Lazee Daizee looks so fun!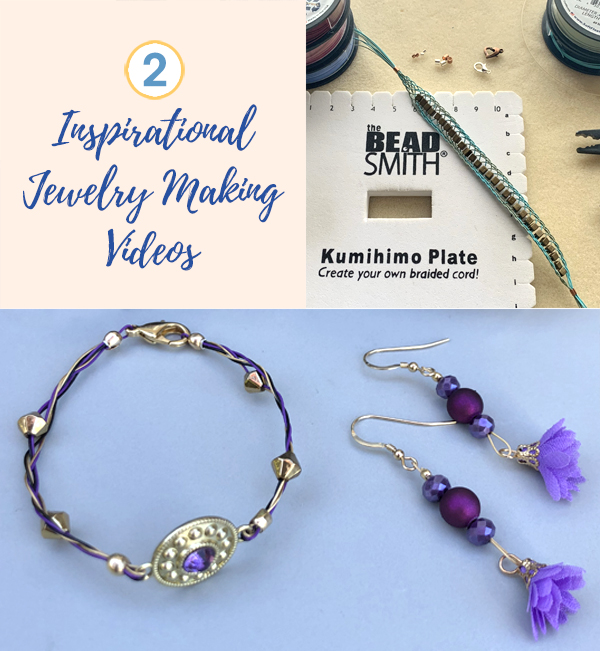 How To Make A Flat Braid Kumihimo Bracelet With Beads
Kristen Fagan hosts Free Spirit Beading on Mondays at 12:00pm PST. Free Spirit Beading is a beaded jewelry making series on YouTube. Kristen loves answering questions and helping fellow jewelry designers, if you catch her live, you can ask any questions about jewelry or art and she will give you some helpful tips. If you miss an episode, you can find it in our YouTube library.
This week, Kristen used a square Kumihimo plate to create a flat braid bracelet. She added beads as she worked. The finished jewelry looked great. Perfect for a delicate or masculine wrist, this design is striking. If you have a Kumihimo plate at home, you can follow along and create your own. Change up the colors and beads and you have your own signature bracelet.
Supplies:

18" strands of Soft Flex .019 medium beading wire in two colors - 10 strands (5 strands each color)
4mm Square/Cube Seed Beads - 25 pcs
3x3mm Crimp Tubes - 2 pcs
2x2mm Crimp Tubes - 2 pcs
Square Kumihimo Plate
Kumihimo Weight (Bead Stoppers will gather the wire if you do not own a weight)
Mighty Crimper
Magical Crimping Pliers
Lobster Claw Clasp
Tape Measure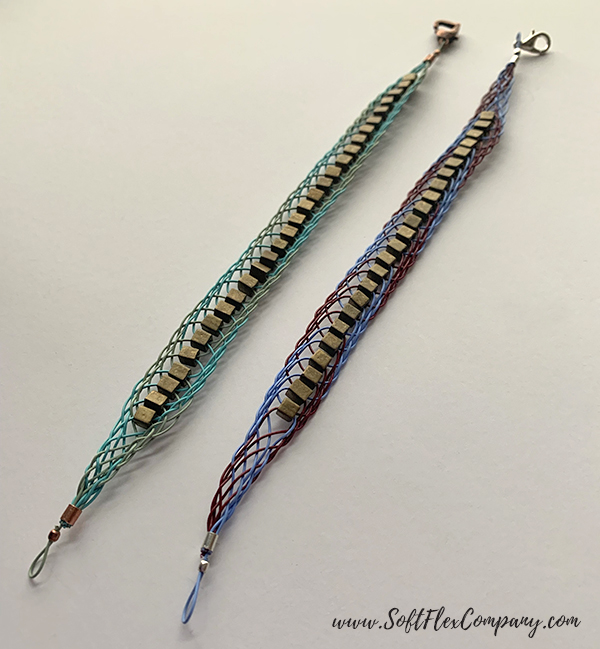 From Kristen:
I love the flat braid design the square Kumihimo makes and wanted to try something new; a channel of beads down the center! Using two colors from a Soft Flex Trios beading wire pack and cube seed beads, I share how to braid down the center for a new take on my previous Kumihimo patterns. I used Serenity Trios and Bloom Trios in the examples shown.

A similar design with beads along the outside can be found in the Free Spirit Beading video playlist and the Soft Flex Bracelet Projects Booklet. The design I was wearing using two-hole superduo beads was featured in Beadwork Feb/Mar 2017 issue on page 44.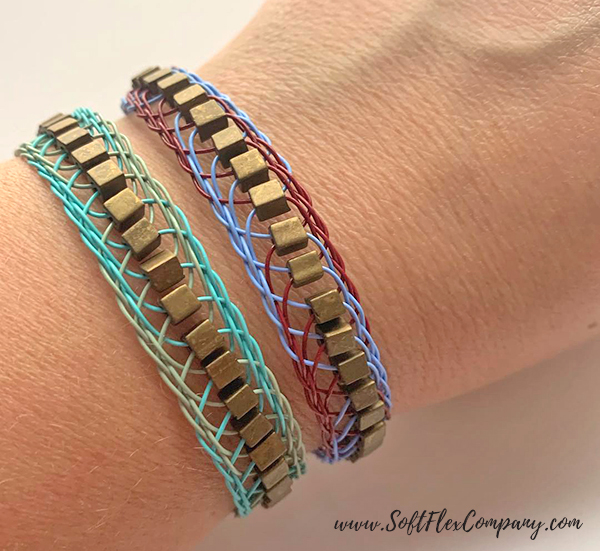 Kumihimo designs are easy to finish. A 3x3mm crimp will secure your wires. You can leave your crimps visible or hide them under a crimp cover. You can also use a cone to hide your crimps at the ends, before attaching your clasp.. Kristen has even designed a cone with Craft Wire for a very organic and 'messy' finish, as she calls it.
Kristen always has fun videos. She demonstrated her Kumihimo design and then she showed her trial and error pieces. That was interesting. The pieces she felt missed the mark had large or irregular beads. You could see the evolution of this bracelet. This bracelet really came together once she found her cube beads. Don't miss her next episode!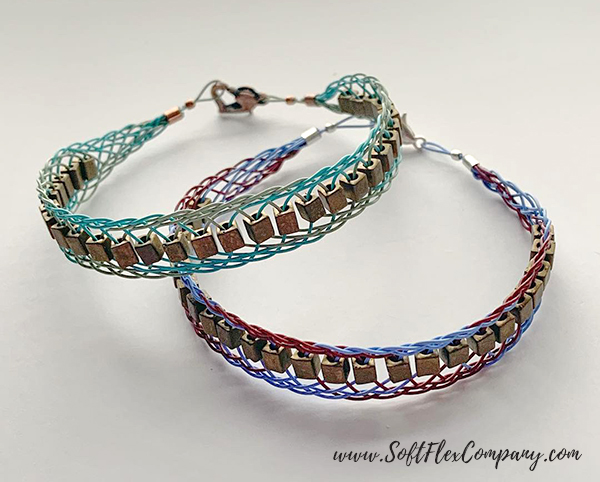 Designing A Purple Rain Bracelet And A Pair Of Earrings
Sara was so excited to film her live Facebook video on Wednesday. She loves making jewelry for her live audience. She loaded up her filming equipment and got to the office only to find that Facebook had dropped off the internet for the day. We had to reschedule and she returned the next day to film her video.
Sara discussed our Econoflex Wire. Econoflex is the perfect craft and hobby wire. It is sale priced so it will not dig into your wallet. You can use it to create handmade projects for the home like beaded throw pillows, beaded lamp shades, zipper pulls and more. It is wonderful as a practice wire and great for children.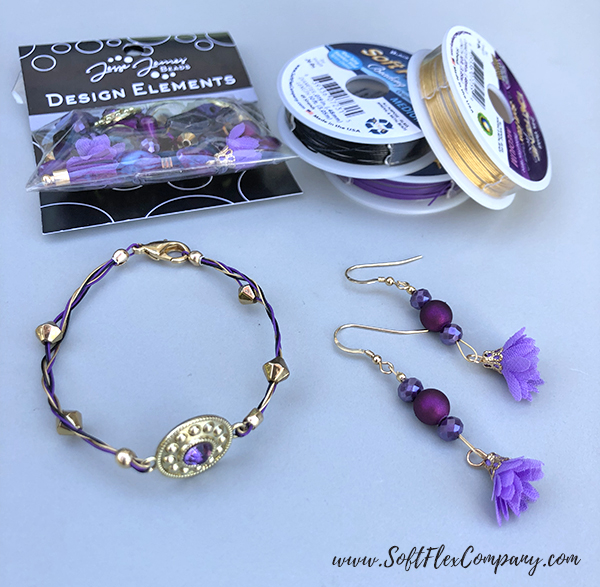 Sara discussed our latest Trios. The Trios Extreme Metallics Collection. We launched this product this week. It was inspired by our friend, Nealay Patel. Nealay used these colors to create his Branching Out Necklace on a recent episode of Beads Baubles and Jewels - "A Breath Of Fresh Air", episode 2709.
The Trios Extreme Metallics Collection consists of three ten foot spools of Soft Flex. The selected colors are Copper, 24K Gold, and Champagne. These colors are a perfect blend of sophistication and earthy wisdom. The 24K Gold really shines. It is perfect for an illusion necklace or any jewelry where you intend to show the wire, rather than conceal it.
Sara showed our Purple Rain Trios Collection and Purple Rain Bead Mix. These were inspired by our Purple Rain Design Kit. Our Design Kits are themed kits. Previous kits have had themes like: Flower Power, Cupid's Kiss, Winter Wonderland, and Neon Nights. The contents of the kit are a mystery until Sara unboxes the kit a month after we release it. The kit is a bargain, you get enough wire, beads, and fun stuff inside to create a lot of unique jewelry pieces. They sell out really fast though, if you would like a kit, make sure to grab one when we announce it.
Sara designed a braided bracelet with the Purple Rain Trios Collection. It is so simple and so lovely. She also created a stunning pair of earrings. The gold and purple looked wonderful together. Purple is such an amazing and mystical color. If you missed out on this Design Kit, make sure you grab the Trios or bead mix!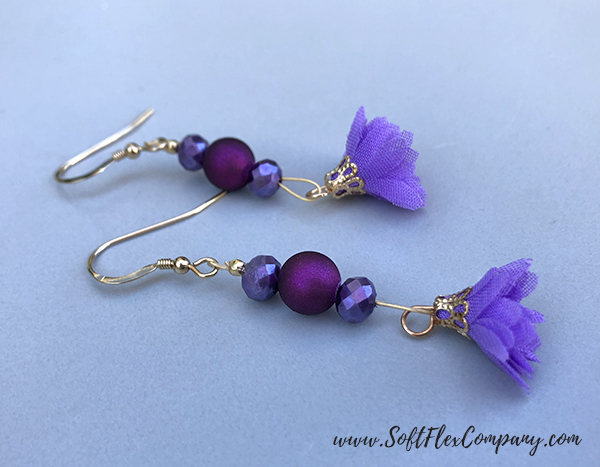 Join our Facebook group – VIB. Stay in the know. Stay up to date. From our bead shows to our video shows and sales, you can stay in touch with us. The community is full of artistic and helpful beaders and crafty people. Inspire and be inspired. Share your pictures and get the beading bug from others!
Visit the Soft Flex Company YouTube Channel!

---
Blog contributor Thomas Soles loves Jazz Age writers and crunchy french fries. His favorite gemstones are Lapis and Pietersite. His favorite hobby is day dreaming. And his favorite mustache is Freddie Mercury's. As you can see, he has a healthy (or possibly unhealthy) sense of humor. You can write to him at Thomas@SoftFlexCompany.com