Would you like to learn how to crimp? This week, we had some insightful videos showing different crimping techniques. You will learn how to design a necklace with Magical Crimping Pliers. You will learn how to finish multi-strand earrings with Mighty Crimping Pliers. You will learn tips and tricks that will make your crimped jewelry strong and durable. Lots of great info here, even if you are a crimping pro. We also made some cute little Christmas ornaments. We love the holidays and we are super excited to make some fun crafts. Join us for a recap of informative jewelry making videos.

What a wonderful week of color! We made jewelry featuring our newest wire collection, the 2019 Fall/Winter Pantone Quad of Beading Wire and our latest bead mix, the 2019 Pantone Fall/Winter Bead Mix. Kristen designed a necklace and earring set with the Pantone Quad. She opted to use our Golden Gate Bead Mix to give her jewelry some shimmer and class. Sara filmed a fun video with our new bead mix and wire quad, she made four lovely earrings. The techniques she used with the crimping pliers will give you an idea on how to finish every bead stringing jewelry design. Sara wrapped the week up with some lovely Christmas ornaments. Let's deck the halls!

Pantone knows color!
From their iconic Color of the Year to their color systems, they are the authority on color. Pantone leads the way in graphic design, fashion, and beauty. Their color choices are part of the tapestry of our lives. This stunning bead mix is a collection of 2019 Fall and Winter Pantone colors. We loved these delightful colors from Pantone: Biking Red, Sugar Almond, Blue Stone, and Creme de Peche. You can find a quad wire collection on our site that complements this selection. This bead mix is ready for your most elegant fall and holiday jewelry design ideas.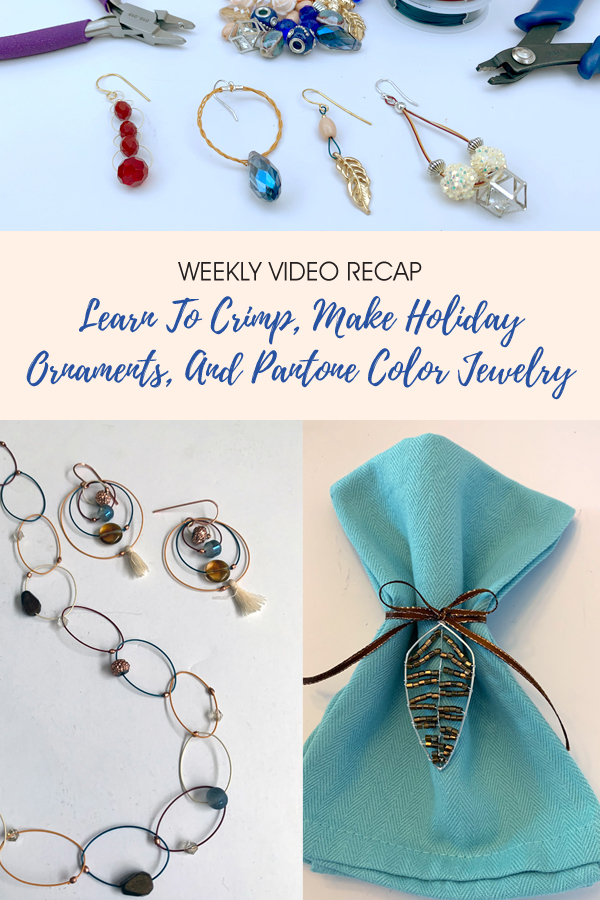 Delicate Multi Circle Necklace & Earrings Set
Kristen filmed another episode of Free Spirit Beading on Monday. She is live on Mondays at 12pm PST.
This week, Kristen designed a fun jewelry set. She used our 2019 Fall/Winter Pantone Quad of Beading Wire and our Golden Gate Bead Mix. This set is so fun. Make it your own by changing the elements. If you like big loops, you can make big loops. If you want a necklace full of interlocking teardrops, you can do that too. You can change up your colors and bead selection. There are so many ways to create this jewelry set. It is definitely free spirited!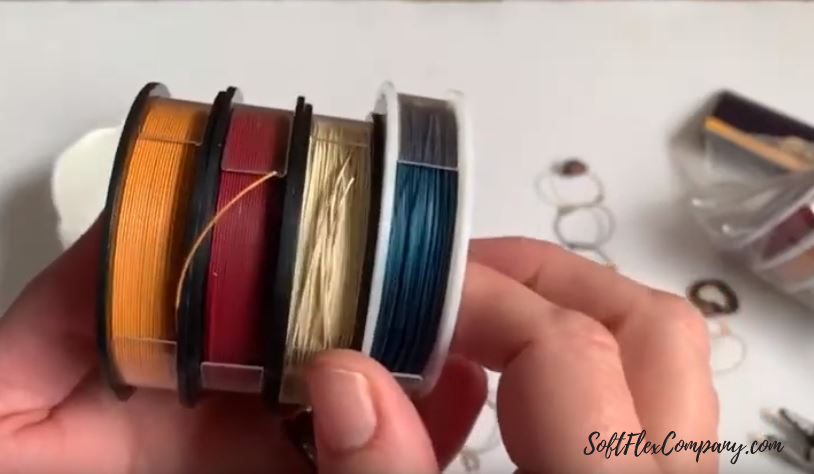 The 2019 Fall/Winter Pantone Quad of Beading Wire really pops. Look how amazing these colors are together. This wire collection includes: Garnet color Soft Flex Beading Wire .019 (Medium), Citrine color Soft Flex Beading Wire .019 (Medium), Bone color Soft Flex Beading Wire .019 (Medium), and Dark Blue Lapis color Soft Flex Beading Wire .019 (Medium).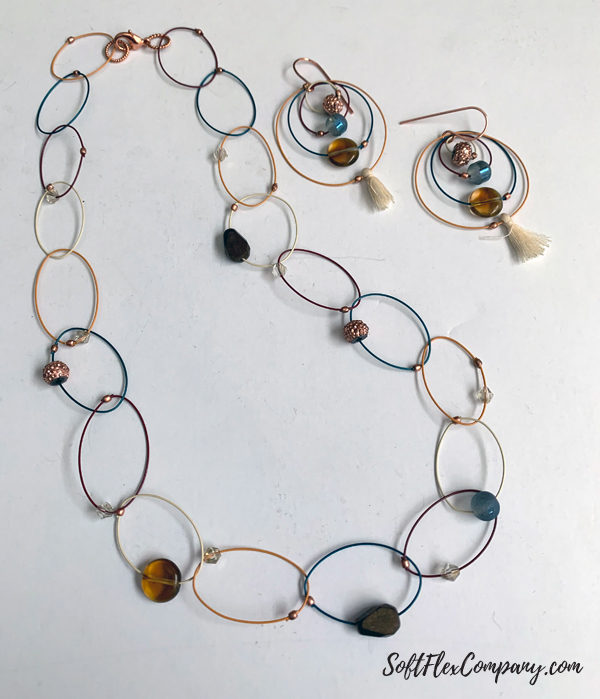 Supplies:
2019 Fall/Winter Pantone Quad of Beading Wire
Golden Gate Bead Mix - Limited Supply
Soft Flex 2x2mm Copper Crimp Tubes
Magical Crimping Pliers
Soft Flex Professional Flush Cutters
Ear Wires
Lobster Claw Clasp
Jump Rings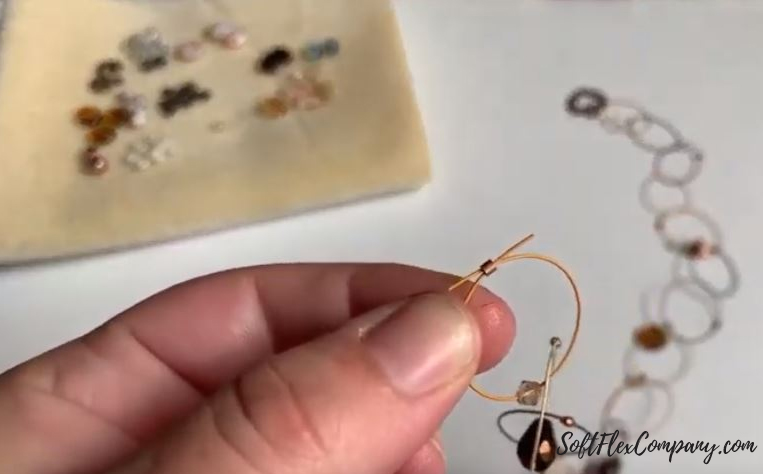 Let's take a look at how this necklace is made. Kristen takes a piece of wire (she cut three inch pieces of wire to create this design). She adds a bead (or not, up to you). She adds a crimp tube. Kristen then loops the wire through the previous loop and then through the crimp. Now she just needs to crimp the tube to finish this loop. It is super easy.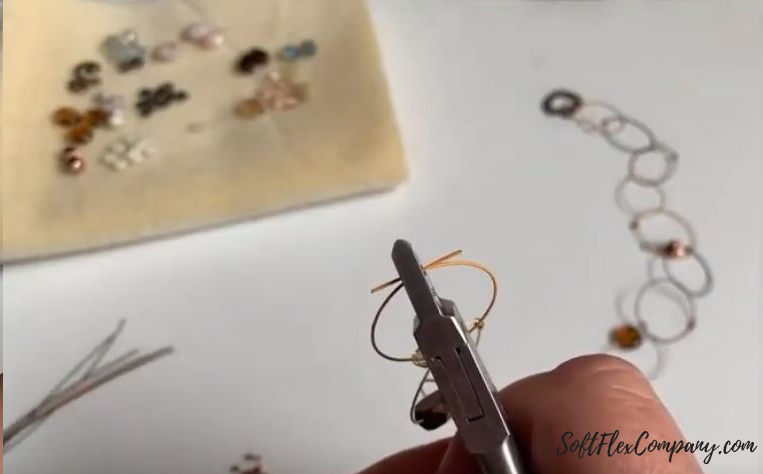 Kristen is using Magical Crimping Pliers to finish the crimps on this design. Magical Crimping Pliers turn a crimp tube into a rounded crimp bead. This eliminates the need to conceal the finished crimp with a crimp cover. You can use regular crimping pliers for this design, too. Some of us like the look of a finished crimp and are not worried about rounding it.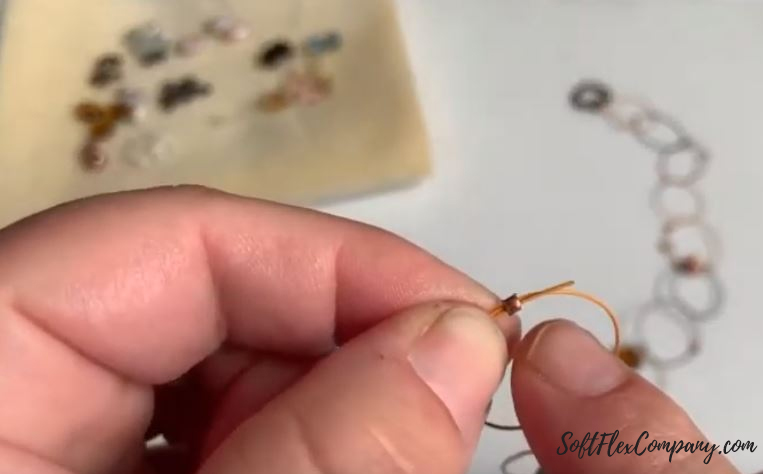 Crimping once with Magical Crimping Pliers turns a tube into a pillow shape. Simply rotate the crimp slightly and crimp again. Repeat this three or five times, turning the crimp slightly before crimping down.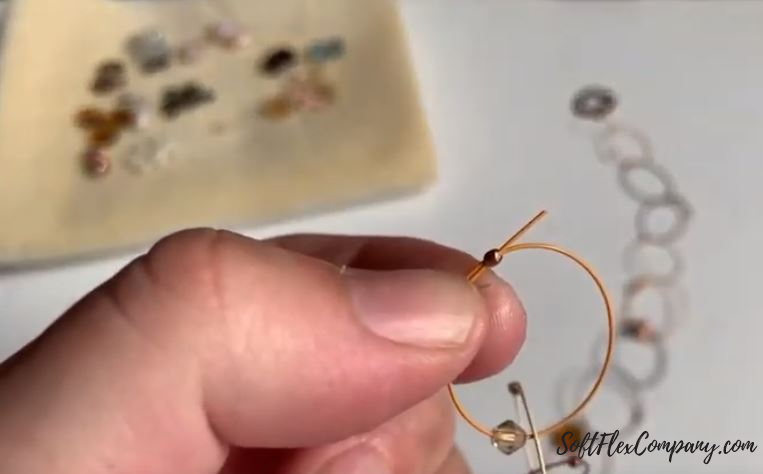 Your crimp should now look like a rounded bead. Magical Crimping Pliers are easy to work with, but you may need to practice a couple of times before you master the finish. It is easy once you get the hang of it.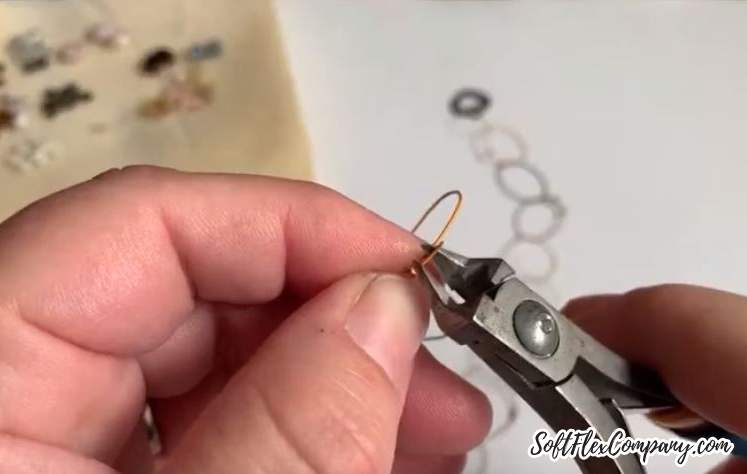 Now that you have a rounded crimp, take a pair of flush cutters and cut the excess wire close to the crimp. Getting the cut close means that the wire will not stick out and irritate the skin. If your crimps are secure, you can always cut your wire at the crimp. You do not need to double back through beads.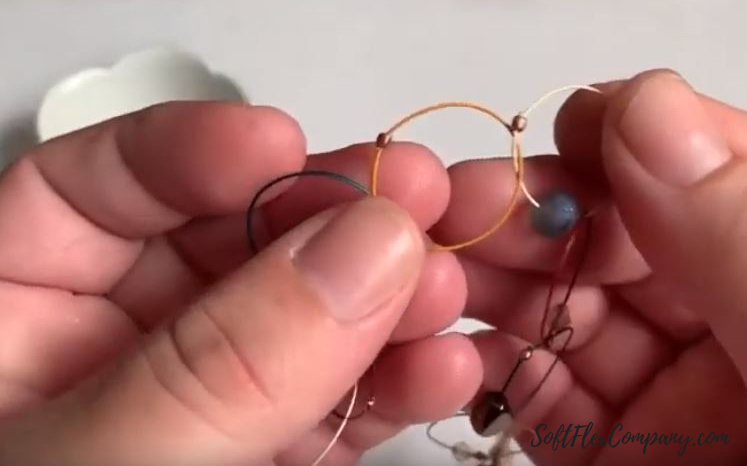 Doesn't that look amazing! Such a simple design, but it is so fun.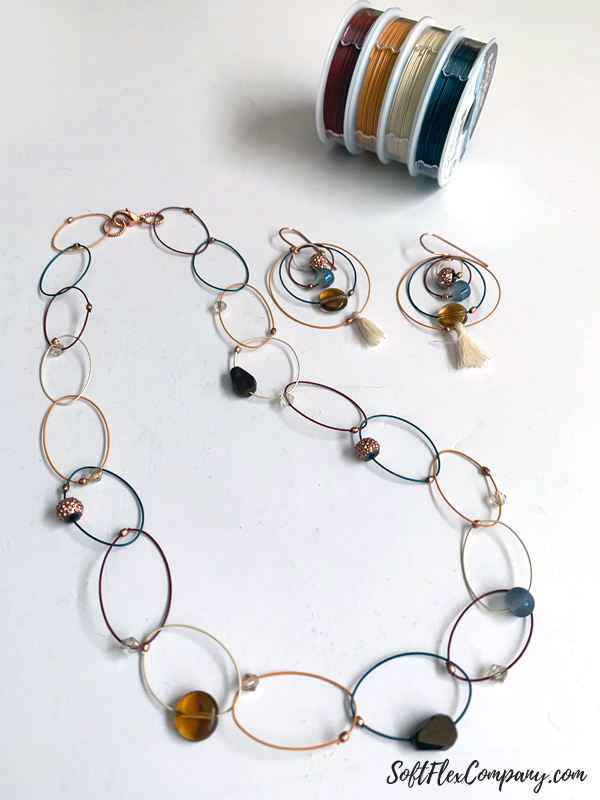 This jewelry set is also perfect for remnant wires. If you seem to cut your beading wire and have large remnant pieces that cannot make a necklace or bracelet by themselves, you can use that wire for earrings or necklaces like this - interlocking pieces of remnant wire. It is a great way to use all of your wire and not throw any away. The next time you find yourself with a chunk of wire you cannot string anything with - save it. You might have a use for it down the road.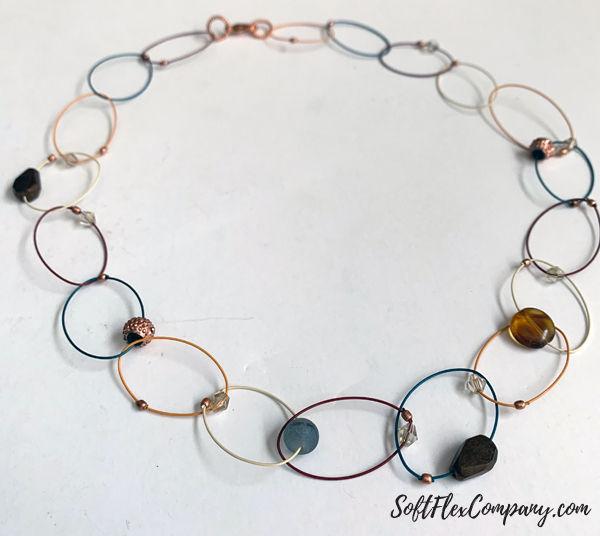 Do you need more crimping instructions? We have lots of videos on our YouTube channel. You can also check out our Tips And Tricks section for more detailed instructions. Check out our regular crimping instructions and our magical crimping instructions.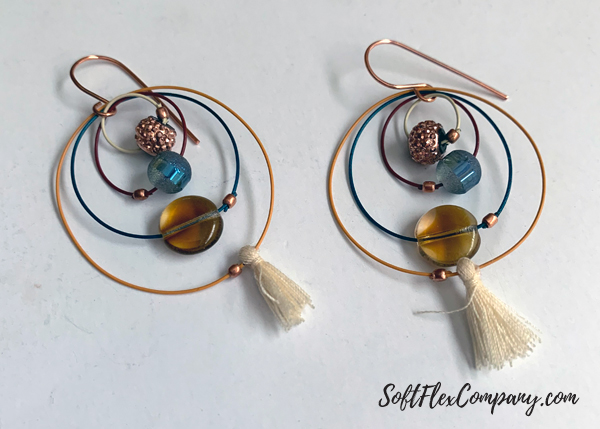 These earrings are gorgeous. Make sure you are double checking that the loops fit comfortably within each other as you go. Make sure your beads have room between the wires. You can add beads or just have the concentric circles. Choose a crimp color that enhances the design.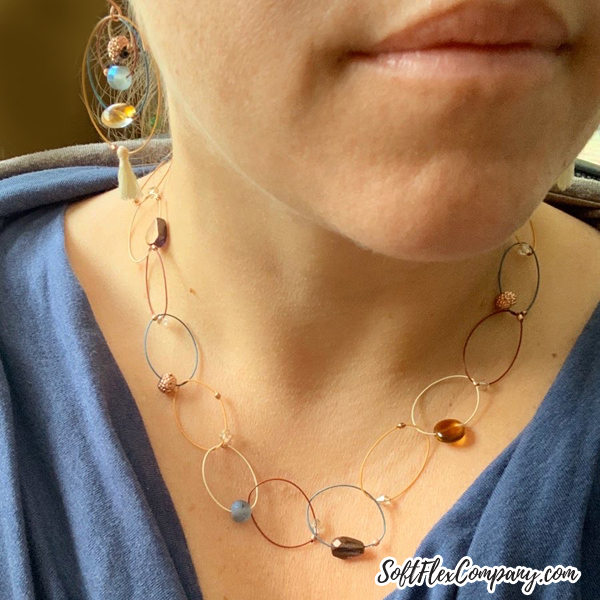 From Kristen:
After the video, I wore the designs for the day. I found that the toggle clasp I used kept coming undone. It's probably due to how light this necklace design is. For that reason, I decided to change the clasp and swapped the toggle out for a lobster claw clasp and jump rings for more security. You may decide to make this necklace design longer and forgo the need for a clasp at all!
Sara Makes 4 Earring Designs Using The 2019 Pantone Fall/ Winter Colors
We think our 2019 Fall/Winter Pantone Quad of Beading Wire and our 2019 Pantone Fall/Winter Bead Mix look simply delicious. Everybody here is excited at how well the colors complement each other. Sara was eager to design some jewelry using the fun colors.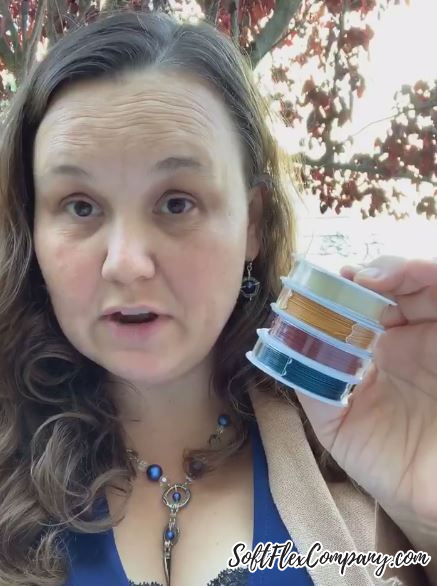 This delectable quad of beading wire is perfect for every occasion. These colors look jubilant and jolly enough for a winter wardrobe. They also look splashy and fun for a cute beach necklace. Adding a bead mix is a great way to really make a statement.
Supplies:
2019 Fall/Winter Pantone Quad of Beading Wire
2019 Fall/Winter Pantone Bead Mix
Soft Flex 2x2mm Crimp Tubes
Soft Flex 3x3mm Crimp Tubes
Magical Crimping Pliers
Mighty Crimping Pliers
Soft Flex Professional Flush Cutters
Bead Stoppers
Ear Wires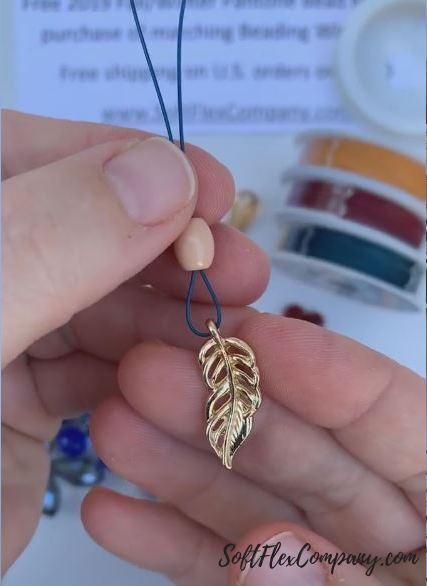 Like Kristen's project, these earrings are also great if you have remnant wires. Wire that is too short to string as a bracelet or necklace, but long enough that you feel guilty throwing it away. Don't toss them out! They can always be used for earrings and other designs.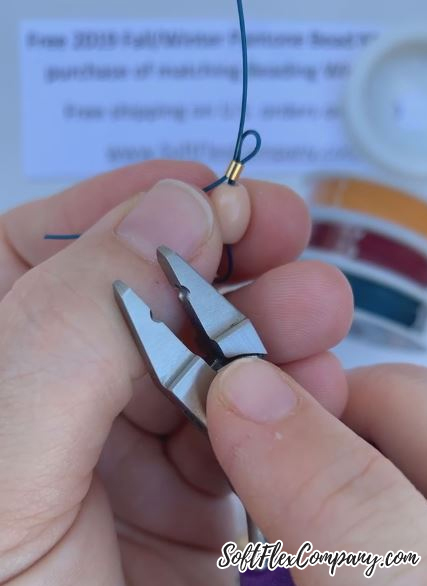 Sara has a great trick for crimping. If you ever need to crimp a single strand of wire with a Magical Crimper, you will find that the crimp can slip since it doesn't have a second strand of wire inside the crimp. You can simply add a very small wire into the crimp so there are two wires inside. Crimp the two wires so the crimp is secure. Then cut the ends of the smaller wire so they are not visible outside the crimp. Now it will look like the crimp is on a single strand, but hidden inside the crimp is the extra security. This is a great way to add crimps to a single strand illusion necklace or earrings.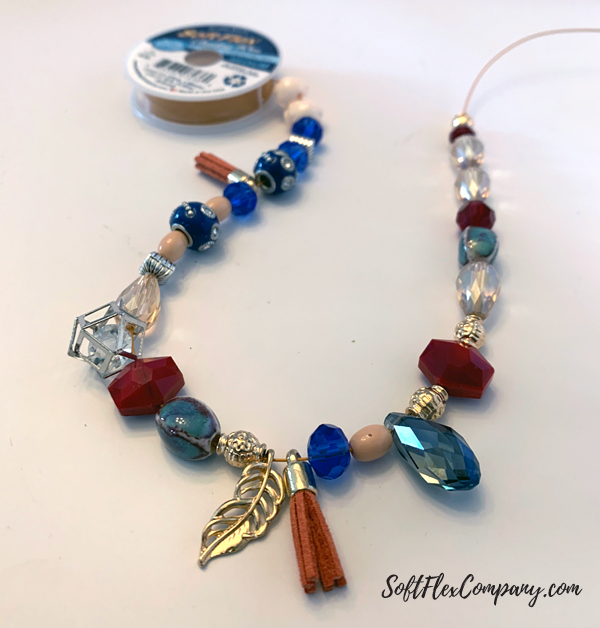 Aren't these colors fabulous? Delicious cream, rich reds, stellar blues, and a yummy almond. Pantone has an amazing eye for color. We think we color matched our wire well. The bead mix looks stunning when paired with the quad.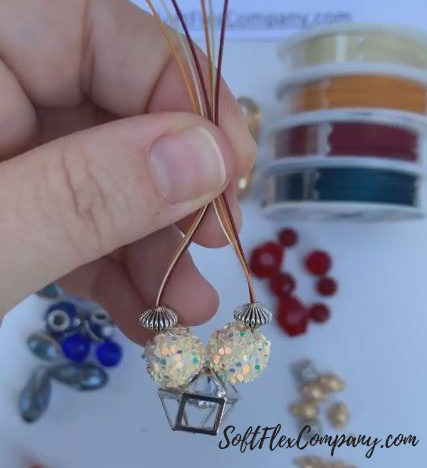 This multi-strand earring looks like it could be difficult to finish. Not if you have the right tools, though. You will need 3x3mm crimp tubes and Mighty Crimping Pliers. This tool will make short work of your closure. You just crimp the tube as you would any other. The larger crimping pliers makes it easy. If you are not a fan of finished crimps, you can add a 4mm crimp cover to conceal the crimp.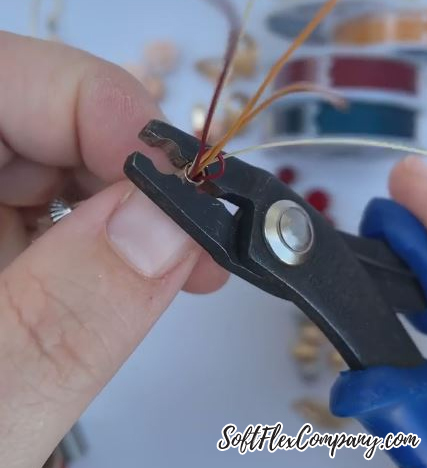 Mighty Crimping Pliers look identical to the more common Regular Crimping Pliers. The Mighty Crimper is just larger. Everything else works the same. If you know how to crimp with regular crimpers, you know how to crimp with a Mighty Crimper.

Shop our crimping pliers. They are a must have tool for compressing crimp tubes. Crimping Pliers allow for your design to be secure with a crimp bead that looks and feels smooth. Easy to follow instructions can be found in our Tips and Tricks section. Check out our Soft Flex Crimp Tubes. They are double the wall thickness of most on the market and are also seamless. You will feel ultimate security with our crimps and Crimping Pliers!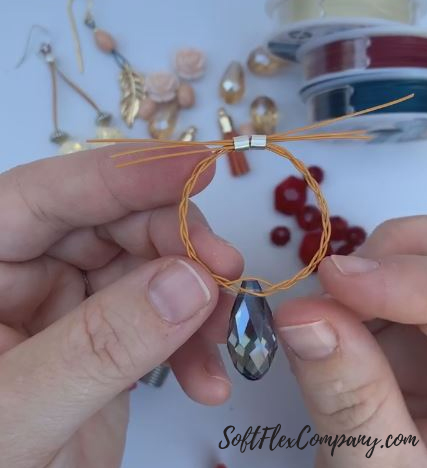 Braid your Soft Flex Beading Wire! It gives a design an interesting texture. Our beading wire is made with stainless steel. But it is incredibly flexible. You can braid, weave, macrame, kumihimo, and even knot our wires. Think out of the box and make some amazing jewelry!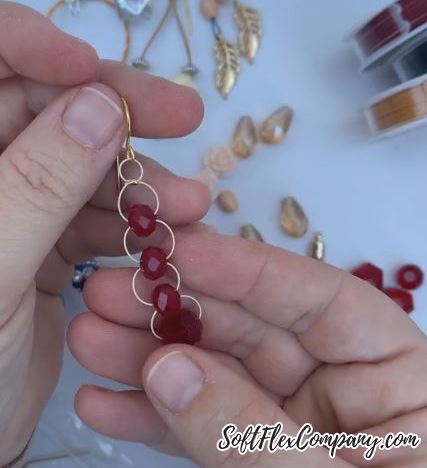 This ladder is fun. The bone color Soft Flex mixed with the luscious red looks so striking! This would also be a lovely pendant or an idea for a focal bead.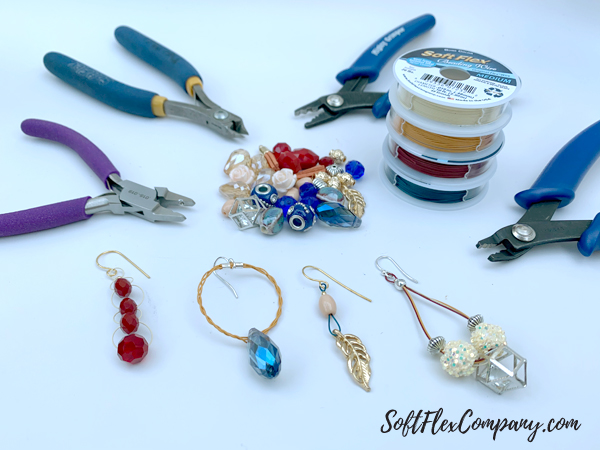 Look at these wonderful earrings. Soft Flex Beading Wire is perfect for creating jewelry on the fly. Need an accent for a holiday party? String some Soft Flex and beads into a pair of quick earrings and you are ready for a festive time. Earrings are so quick and easy that you can have a new pair for every occasion.
Holiday Crafts and Ornaments with Sara Oehler - Beaded Craft Wire Leaf or Pinecone Decoration

Sara is doing holiday crafts this season. She filmed her third episode in an eight part series of holiday craft and ornament videos. This time she made leaf ornaments. These wonderful designs can be hung on the tree, added to gifts and table placements or just hung to give a space a little Christmas magic.
Make sure you catch Sara's new YouTube live shows. She is filming every Friday morning (except Thanksgiving week) at 10:00am PST. She will be making holiday decorations throughout the season. Her videos will be a great way to find inspiration if you need decoration or jewelry ideas. Catch her live and she will answer your questions. Make sure you subscribe to our YouTube channel. We have new uploads three and sometimes five times a week.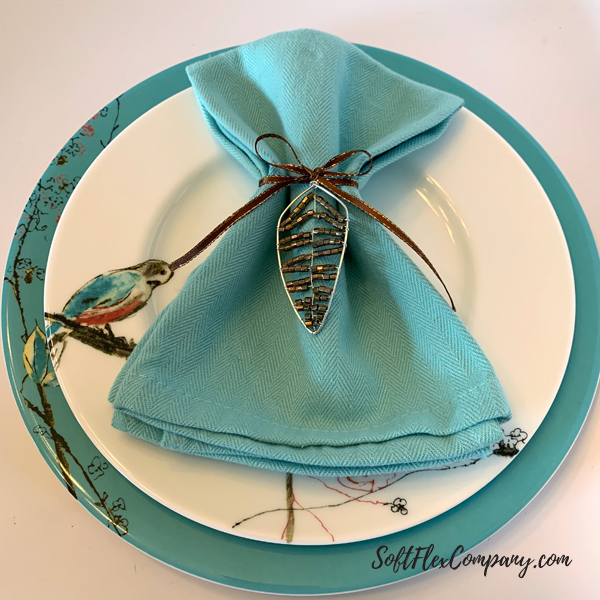 From Sara:
Make your own holiday ornaments using Soft Flex Craft Wire. These DIY wire pine cone or leaf ornaments are easy and fun! Using a WigJig to create this fun shape makes each one fairly consistent. You can use these as a traditional Fall ornament or decorate a table setting for a holiday meal for Thanksgiving, Christmas or New Year's Day. They make a gorgeous accent to a napkin ring holder. Multiples strung together would make a beautiful fireplace garland decoration. These wire leaves and pine cones can also be worn or gifted as a pendant or used in your next jewelry making project too.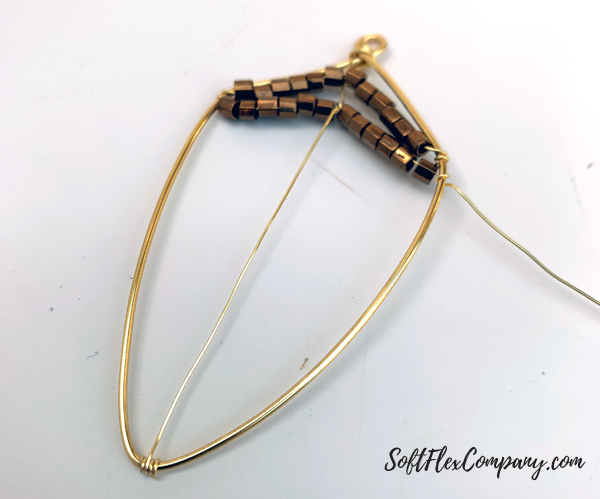 Supplies:
Soft Flex Craft Wire - Silver Plated 18ga
Soft Flex Craft Wire - Silver Plated 26ga
WigJig Olympus Lite
Beads (choose some fun ones)
Round Nose Pliers
Chain Nose Pliers
Wire Whacker
Bead Nipper (Cutters)
Nylon Jaw Pliers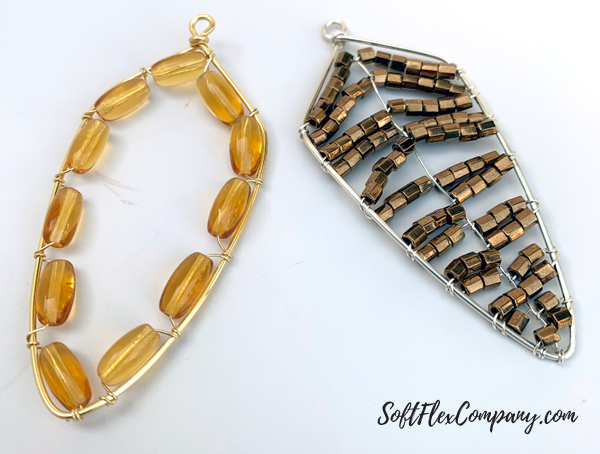 These tree leaf ornaments can be made freehand or with a WigJig jig board. If you decide to use a jig, you can make consistent shapes and sizes. This would be great for garlands or any perfectionist crafters out there.
Sara likes to use a messy wrap for projects like this. Homemade gifts look so good and comforting when they have a messy wrap. Sharp angles and over thinking this kind of project can give the finished ornament a sterile and store bought look. Messy wrap designs are also fun because every one of them is unique. They do not conform to a cookie cutter shape. They are organic and lovely.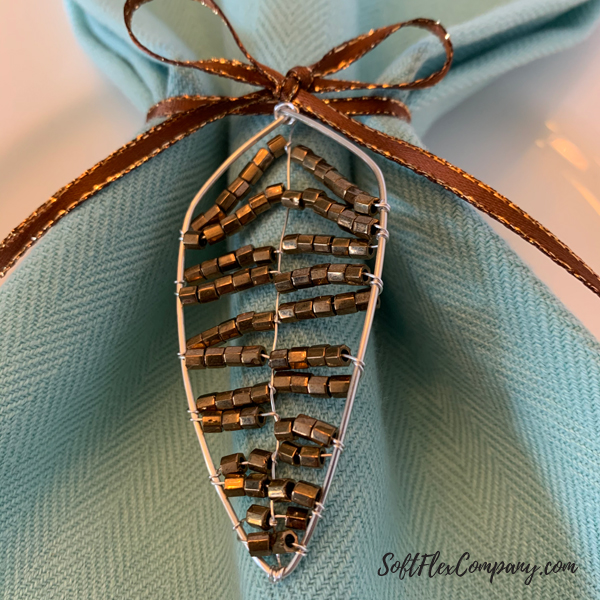 Sara initially planned to just make leaves. But she found that when she added a ribbon to finish the leaf, it looked like a pine cone. How fun!. Choose some earthy beads and make a pine cone. Choose some green or fall colors and you have a leaf. Or get creative and go with red, green, and silver and make a holiday specific decoration. You decide. Projects like this are so liberating. You get the inspiration, but you can create whatever your heart desires.
These decorations are fun for Thanksgiving too. Give your meal a little holiday magic. These can be added to napkin rings or just given to your guests. Isn't that lovely? How fun would it be to get a cute keepsake when you go to Thanksgiving dinner? Your guests will not forget your kindness or your spirited gift.
We would love to see your handiwork. If you make one of these leafs or any Christmas crafts with Soft Flex Craft Wire or Beading Wire, make sure you post it to our Facebook group so we can all appreciate your artistry!
Join our Facebook group – VIB. Stay in the know. Stay up to date. From our bead shows to our video shows and sales, you can stay in touch with us. The community is full of artistic and helpful beaders and crafty people. Inspire and be inspired. Share your pictures and get the beading bug from others!

Visit the Soft Flex Company YouTube Channel!
---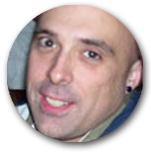 Blog contributor Thomas Soles loves Jazz Age writers and crunchy french fries. His favorite gemstones are Lapis and Pietersite. His favorite hobby is day dreaming. And his favorite mustache is Freddie Mercury's. As you can see, he has a healthy (or possibly unhealthy) sense of humor. You can write to him at Thomas@SoftFlexCompany.com