Can you believe it is already Easter weekend? This week, we spent our time in coronavirus quarantine, pursuing our favorite crafts and hobbies. We learned how to make chainmail and other exciting jewelry making techniques. We kept our minds busy on the things that mattered and did not dwell on the negativity. If you have a first responder or somebody working in an essential industry in your family, it would be a great time to thank them with a stunning piece of handcrafted jewelry. Let's learn a new craft!

Kristen started the week with a fabulous knot bracelet. You are going to want to make one of these stunning designs. A Mini Macrame Board makes it so easy. Sara filmed a live Facebook video showing how to create beautiful illusion jewelry. An illusion necklace, for instance, is a single strand design with beads crimped in place. From a distance, the beads appear to float around the neck. You can use a color wire to augment your design and make it really pop! James showed us how to make chainmail. The European 4 in 1 chainmail pattern is an iconic and amazing look. Finally, Nealay unboxed his Atlantis jewelry design kit. Explore the mysteries of this sunken city through homemade jewelry!
Join us for our Daily "Joyful Beading" Challenges. We wanted to foster the spirit of creative fire during this stressful time! Every design that you post in the Soft Flex VIB Studio Facebook Group before midnight PST, is an entry to win a $10 credit for your next order! Visit www.SoftFlexCompany.com for your beading supplies!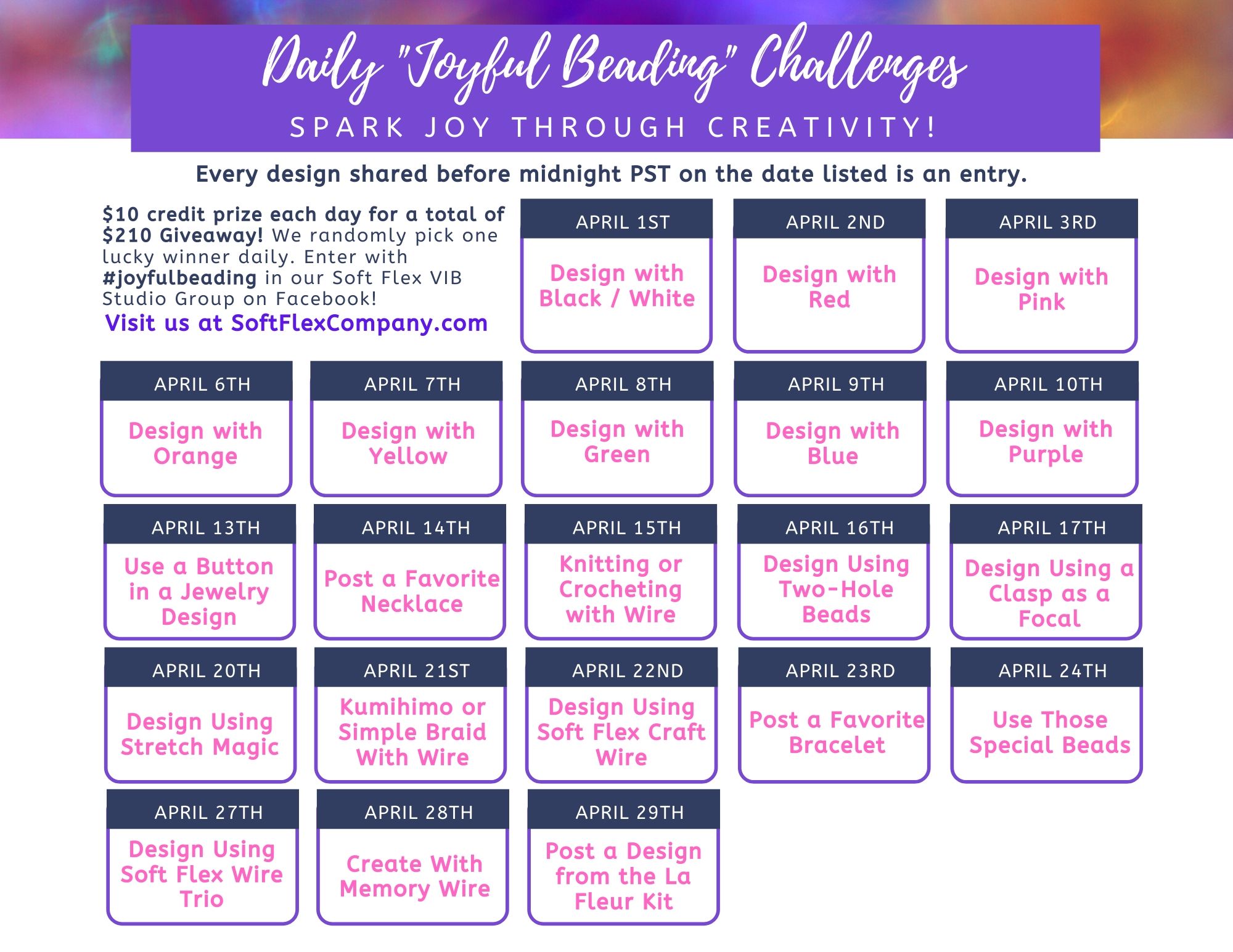 Download the Full Calendar for April -Click HERE.
Jewelry Making Videos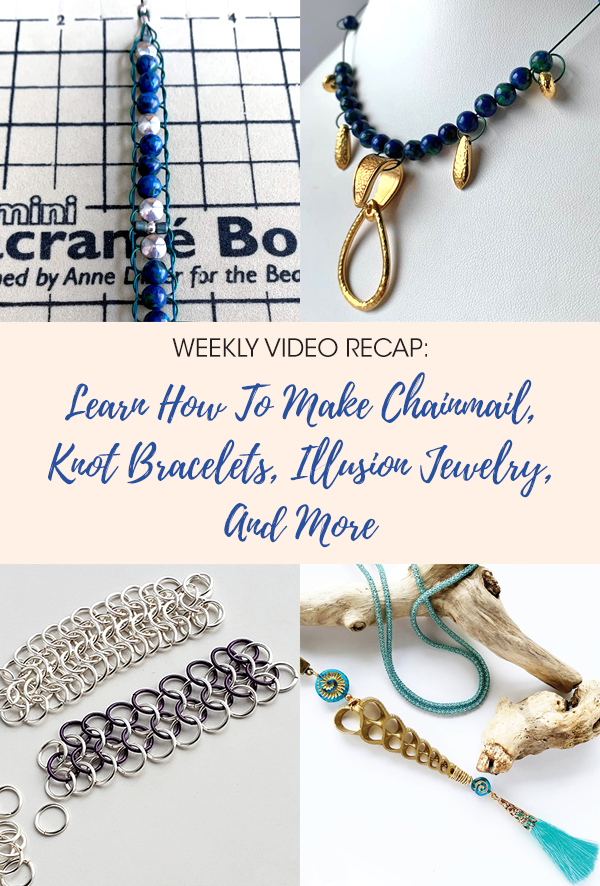 Wrap Around Knot Bracelet Tutorial with 6mm Round Beads
Kristen filmed another exciting episode of Free Spirit Beading on Monday. She is live on Mondays at 12pm PST.
This week, Kristen filmed a fun knot bracelet tutorial. She used some of our newest beads, a strand of Lapis and Malachite, and a couple of different colors of beading wire to create a neat little bracelet. This design looks so wonderful and it is super easy to make. If you own a Mini Macrame Board, the board will do all of the hard work while you weave your beads. But the board is optional, if you have a place to anchor one side of your wire while you work, this is a snap.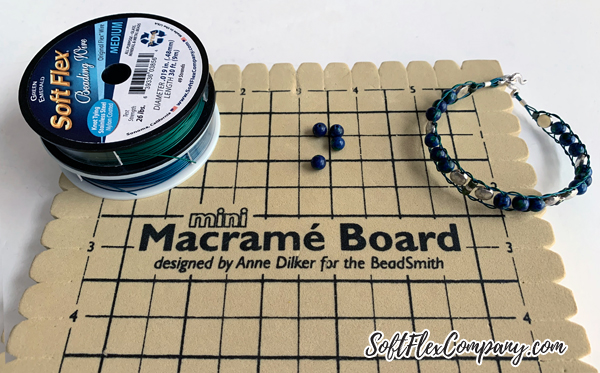 From Kristen,
In this video tutorial, I share wrap around knot woven bracelet technique using .019 Medium Soft Flex Beading Wire and 6mm Lapis and Malachite round beads.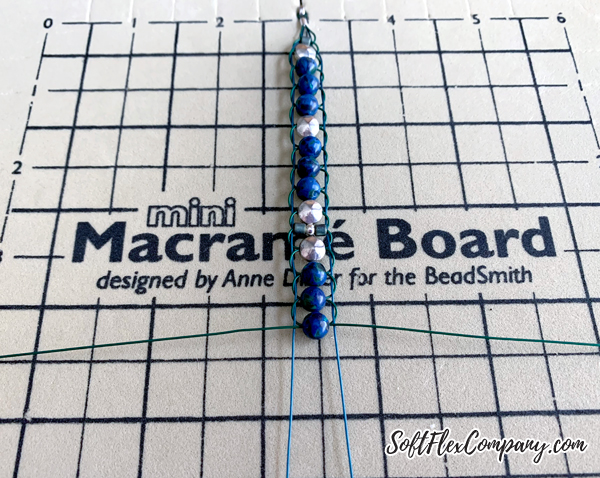 Supplies:
Soft Touch .019/Medium Diameter
Mini Macrame Board (Optional)
Size 6/0 Seed Beads or Delica Beads
6mm Round Beads
Hook and Eye or Lobster Claw Clasp
3x3mm Crimps Tubes
Cutters
Mighty Crimping Pliers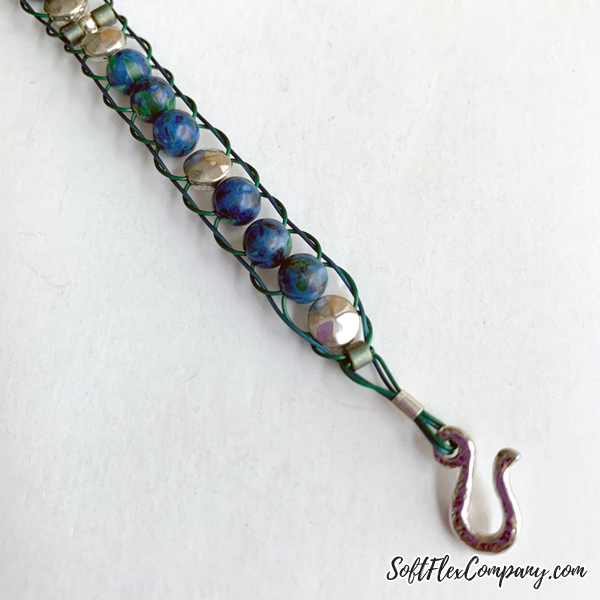 Check out our Mini Macrame Boards. These boards are great for clutching your wire or beading thread while you string and knot your designs. It is not solely for macrame, you can use them for any design that is woven or knitted. It gives you a little extra control when two hands just doesn't seem like enough for a given job. The notches on these boards can widen after accommodating larger wire or beading string, but this fun tool is 'self healing' and the notches will close up after resting. Great for any bead stringer that likes to braid and weave their wire.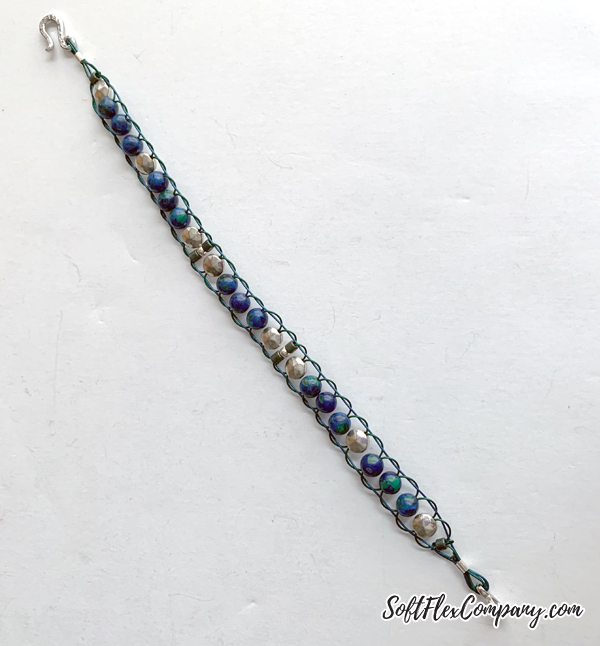 What colors are you planning to use when you create one of these cute bracelets? Do you have some 6mm beads that would look amazing on this design? Visit our Facebook group – VIB and show us your handiwork! Kristen would love to see what you did. Make sure you catch her, live on Mondays, she will answer your jewelry questions. You can even put in a request.
Learn how to make an illusion style necklace two ways using Soft Flex Beading Wire!
Sara joined us on Facebook, live. She talked about how we are trying to make the best of these trying times. She discussed our Daily "Joyful Beading" Challenges. These challenges have kept a lot of us busy on our Facebook group. Rather than sitting at home, wishing we could return to normalcy, we have focused on bettering our jewelry skills and making jewelry with a community of friends. We cannot group together right now, but we can have a fellowship of like minded creative people within the safety and security of our healthy homes.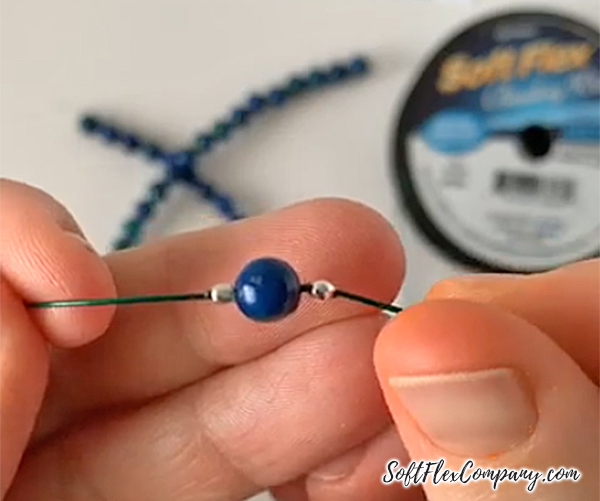 This week, Sara showed us how to make illusion jewelry. Illusion jewelry is amazing and really easy to master. This is one technique where our wire color really turns a simple necklace into a breathtaking piece of jewelry. You can use the many colors of our medium diameter beading wire to frame your beads. Or you can use our finest diameters in a subtle Satin Silver color and make your beads appear to levitate around your neck. There is a lot of room for personal creative touches.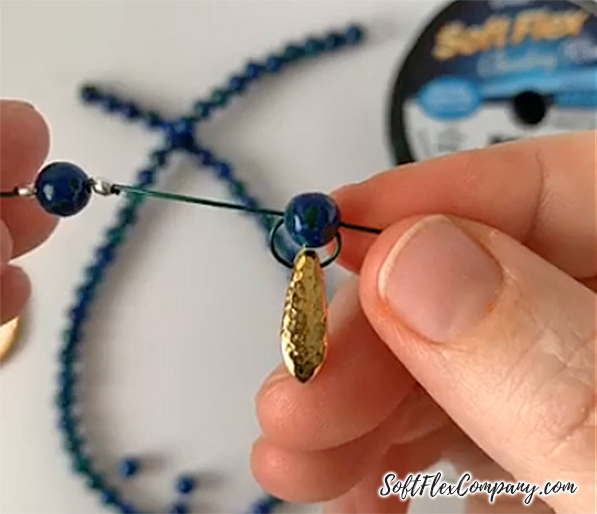 Supplies:
Color Soft Flex Beading Wire, .019 Diameter
Beads
2x2mm Crimp Tubes
Hammertone Findings by TierraCast
Magical Crimping Pliers
2x2mm Crimp Tubes
Cutters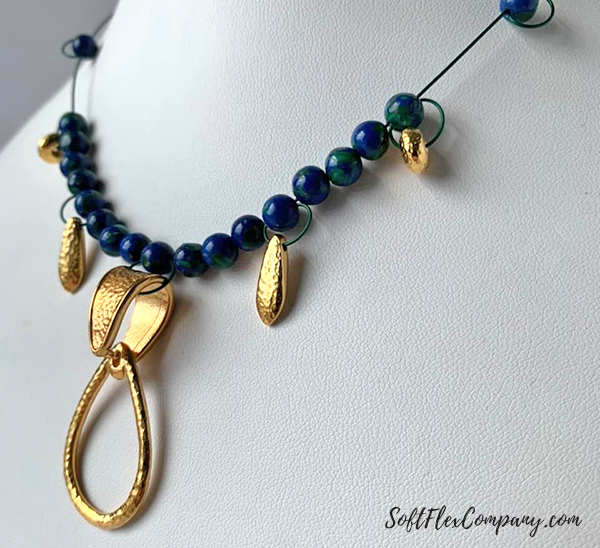 Illusion necklaces are fun to make. There is a lot of room for personal expression. You can cluster your beads as a focal or float them with crimps. You can use a beading wire color that is synergistic or you can use a color that is subtle and hides in the shadows. Illusion jewelry is elegant and versatile. Illusion jewelry is great for a bridal necklace or a quick project. This is a great jewelry project to beat boredom during quarantine.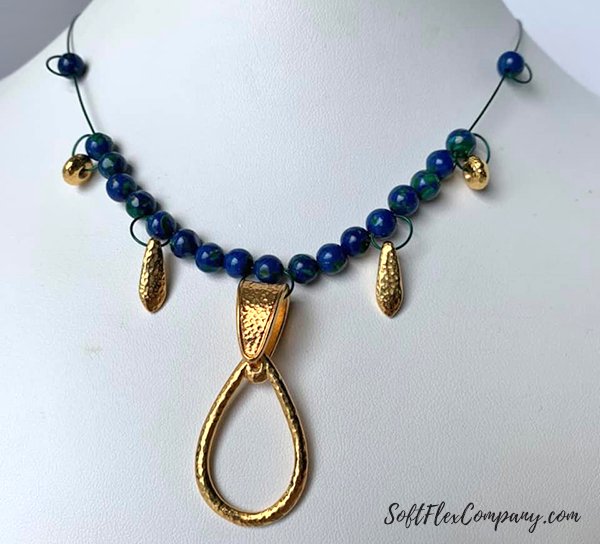 If you would like to make an illusion necklace, consider picking up a pair of Magical Crimping Pliers. Magical Crimpers turn a crimp tube into a rounded bead. The finished crimps are perfect for a design where they are exposed. There is one issue when crimping a single strand, though. This tool is designed to work with two parallel strands. A crimped single strand will slip. Sara has a genius work around to fix this problem. She uses a tiny piece of wire and slides it in the crimp tube - so there are two pieces of wire to crimp, just like a normal design. She crimps as normal and then cuts the tiny wire at the crimp, so there is no visible part sticking out. Her finished crimps are secure and remain in place.
Earrings are so easy. For this pair, Sara used an ear wire and attached a Hammertone dangle. It looks so elegant and simple. You probably have some great ideas for earrings and illusion jewelry now. You should take a moment to make something magical. Isolation can be productive when you have a fun craft.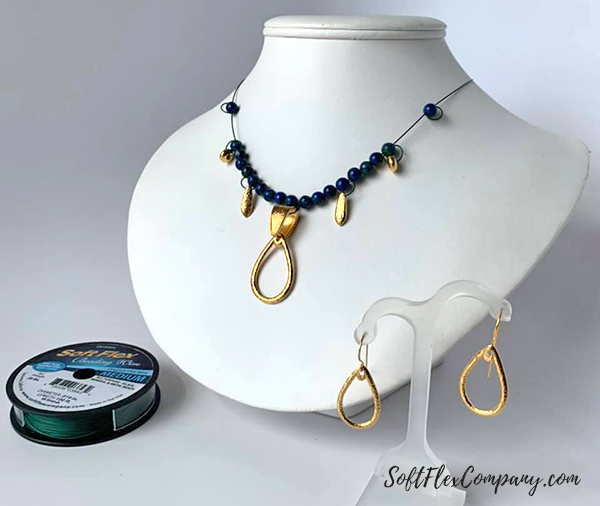 Learn How To Make Chainmail With Soft Flex Craft Wire
James Browning is Soft Flex Company's wizardly Craft Wire guru. He is an incredible teacher His videos are easy to follow and clear. Even if you have never used Soft Flex Craft Wire, you can create the designs he makes with ease.
This week, James showed us how to make a European 4 in 1 weave pattern for chainmail. This pattern is iconic. This pattern is what we think of when we envision a knight suiting up in protective armor. Mail was used as decorative dress and defensive gear. A knife thrust or slung arrow can be deflected by the linked gate of mail. It looks amazing and you can create some stunning jewelry with the pattern. James has made a bunch of chainmail bracelets with exciting colorways. Let's learn how to make chainmail!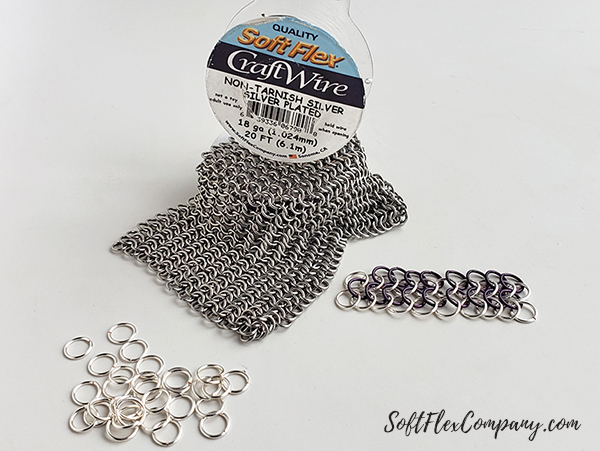 This is a fun project. Not only will you learn how to link and make chainmail, but you will quickly grasp how to create your own jump rings. Mail is, basically, just a series of linked jump rings. The name 4 in 1 is taken from the way the jump rings are linked, every jump ring is connected to four other rings.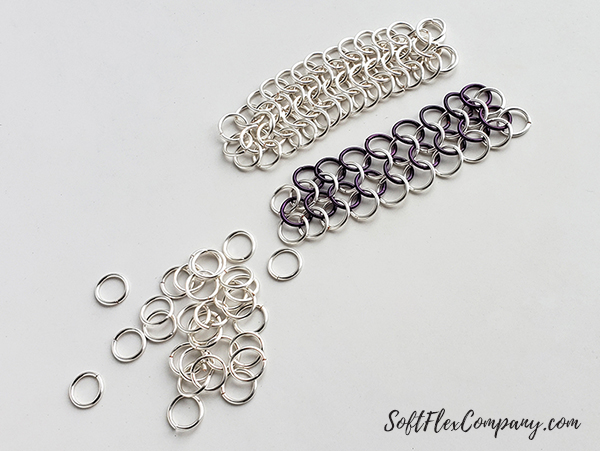 Supplies:
18ga Soft Flex Craft Wire
18ga Soft Flex Craft Wire - Silver Plated
1/4" Round Wood Dowel
Italian Ultra Flush Cutter
Chain Nose Pliers
Bead Mat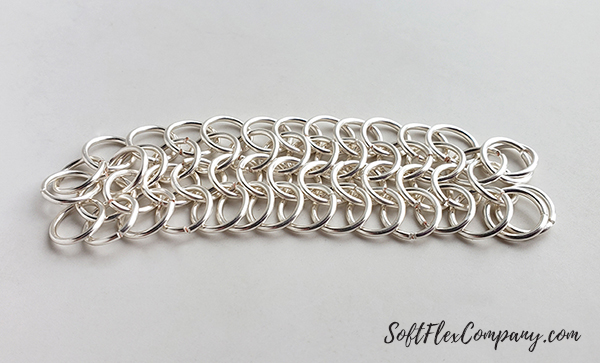 Make sure you find a dowel. This will make the process a lot easier to manage and you can create your jump rings much faster than trying to create individual rings. With a dowel, you just spiral your craft wire around into a tight coil. You then cut each ring. You can cut the rings with a saw, if you want to be quick about it. Or you can take your time and use flush cutters to do each ring thoughtfully.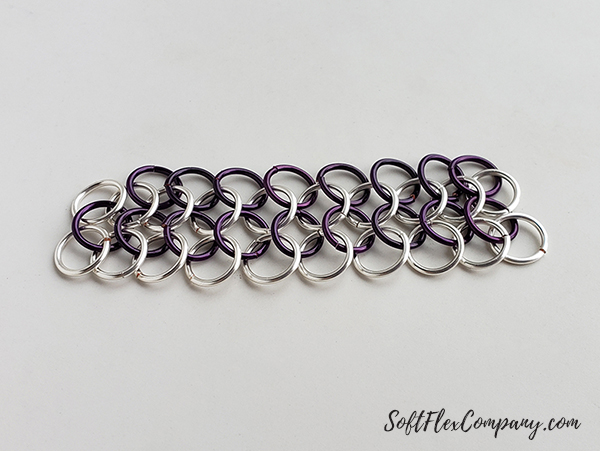 SilverSilk Atlantis Deluxe Mystery Kit Unveil and Make
Nealay filmed an unboxing video this week. He is offering a fabulous mystery jewelry kit on his website and took a moment to show us the contents. His Atlantis Mystery Kit is an homage to the sunken city of lore. This package is full of blissful watery blues. Nealay included a stunning collection of beads, beading wire from Soft Flex Company, tassels from Jesse James Beads, and SilverSilk Capture Chain.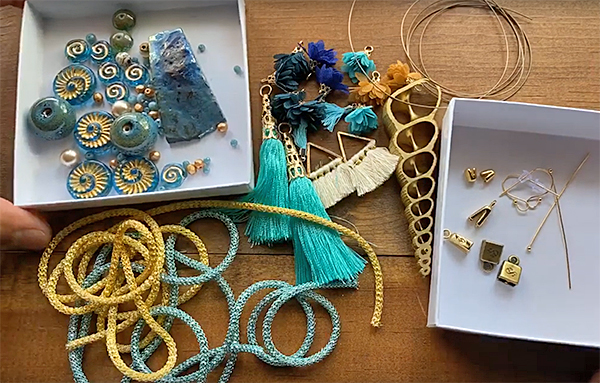 From Nealay:
We're diving deep into ancient waters to discover the mysterious and magical land of Atlantis. Atlantis is a mythological empire was surrounded by the bluest of water. Just imagine a city abundant with resources, culture, art and advanced technology. Giant fountains were on every street corner, bridges and canals moves water throughout the city and a large golden temple dedicated to Poseidon sits at the center of this civilization. This rich city that once thrived now sits still beneath the sea. We'll uncover some lost treasures and rediscover these mysteries through jewelry making. Explore the kits and find fun relics and beads with matching SilverSilk chains and custom findings.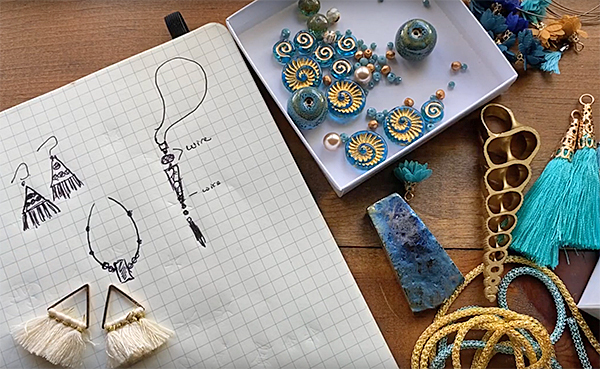 Supplies:
SilverSilk Capture Chain
Soft Flex .019/Medium Beading Wire in Antique Brass
22ga Soft Flex Craft Wire in Non-Tarnish Silver
Beads from the Atlantis Mystery Kit
2x2mm Crimp Tubes
Crimping Pliers
End Caps
Cutters
Magical Crimping Pliers
Chain Nose Pliers
Flat Nose Pliers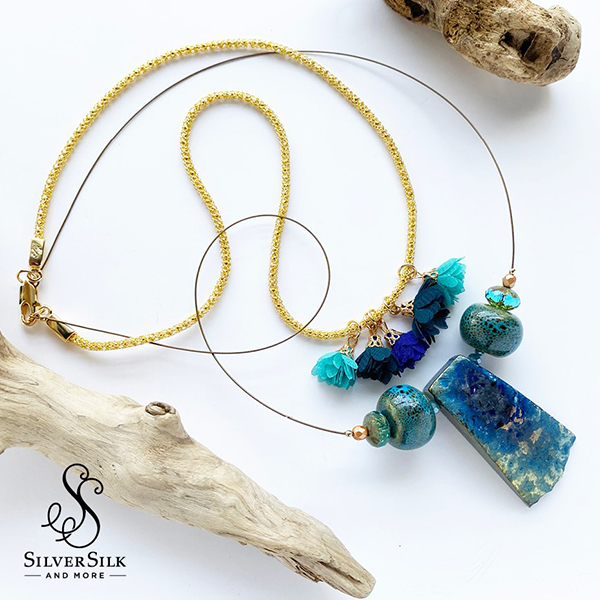 SilverSilk chain and Soft Flex wire looks amazing together. They are a dance of color. Make your next necklace a masterpiece with these two amazing jewelry cords. You can string your Soft Flex alongside your SilverSilk or you can weave the beading wire through the Capture Chain. There are lots of playful ways to think out of the box and design something unique.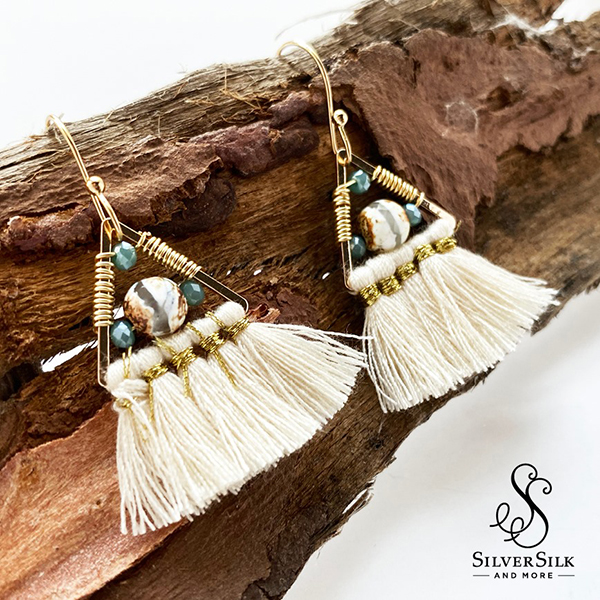 Don't miss the Atlantis Mystery Kit. There are some delicious beads inside. A great gift for anybody that loves the mysteries of the ocean and the look of watery blue. If you enjoyed this demonstration, give Nealay some love on his social media. You can find him on his YouTube channel and Facebook Page or join his Silkies Facebook group.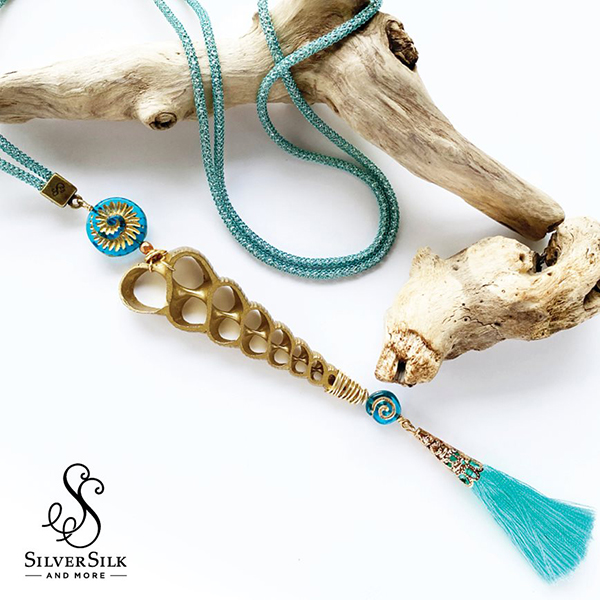 Join our Facebook group – VIB. Stay in the know. Stay up to date. From our bead shows to our video shows and sales, you can stay in touch with us. The community is full of artistic and helpful beaders and crafty people. Inspire and be inspired. Share your pictures and get the beading bug from others!

Visit the Soft Flex Company YouTube Channel!
---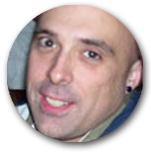 Blog contributor Thomas Soles loves Jazz Age writers and crunchy french fries. His favorite gemstones are Lapis and Pietersite. His favorite hobby is day dreaming. And his favorite mustache is Freddie Mercury's. As you can see, he has a healthy (or possibly unhealthy) sense of humor. You can write to him at Thomas@SoftFlexCompany.com