What an amazing end to an amazing year! We hope your New Years celebration was as glorious and exciting as ours. At Soft Flex Company, we are all invigorated and ready to make some magical jewelry. Are you ready to rev your creativity? This week we have been designing some majestic earrings and necklaces with beads from our Snow Queen Design Kit and bead mix. Let's watch some instructive bead stringing videos and get inspired!

Sara kicked off the new decade at Soft Flex Company. She filmed a Snow Queen Design Kit reveal on New Year's Day. The holidays interrupted our normal Kit Day schedule so this was moved from December to January. We are resuming our normal Kit Day reveals for the rest of the year. Kristen filmed her first episode of Free Spirit Beading on Monday. She made some yummy earrings with our Snow Queen Bead Mix and Snow Queen Trios. Sara filmed a quick tutorial on how to use Soft Flex Beading Wire and our crimp tubes. She also made a lovely necklace to match her Snow Queen bracelet. To follow up, you can find out how she took that single strand necklace and made it into a multi-strand necklace in a YouTube premiere on Saturday 1/11 at 8am PST. It was a regal week. Binge with us and learn an epic new technique!
Don't miss Sara's Snow Queen Necklace video premiering Saturday, January 11 at 8am, PST.
Sara is transforming a single strand design she made this week into a gorgeous multi-strand necklace. You are not going to want to miss the fun! Get comfy and join us for the premiere.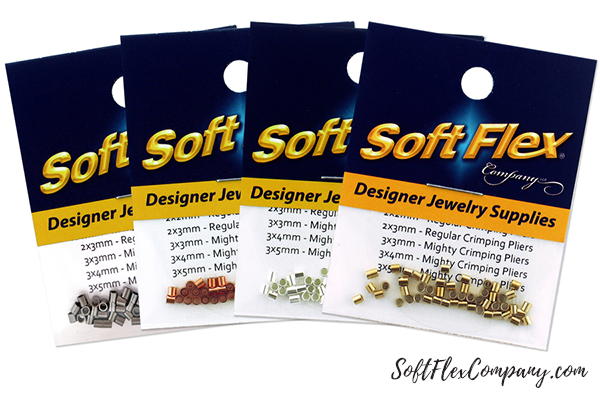 Soft Flex Crimp Tubes are crafted with the professional in mind. We have constructed a crimp tube that is almost twice as thick as others on the market. The sturdier build of the crimp is enhanced by the fact that they are also seamless. Finish your next piece securely with our designer crimps.
Available in Sterling Silver, Gold Filled, Sterling Silver Black Oxidized or Copper.
Jewelry Making Videos
Elegant Jewelry with the Snow Queen Bead Kit

Sara kicked things off with the first Soft Flex video of the new year. She revealed our Snow Queen Design Kit. We typically reveal our design kits at the end of the month, but since the holidays fell on the dates we typically celebrate Kit Day, we had to push the reveal back. Our schedule will return to normal this month when we reveal our Dark Heart Design Kit on Wednesday, January 29th.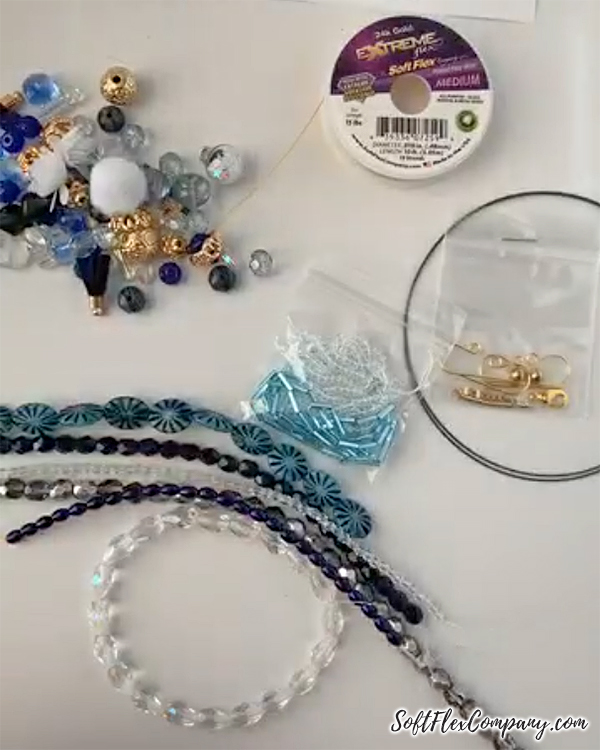 Kit Day! We love this company holiday. We offer design kits each month. They are mystery themed kits full of beads and components. If you have beading tools (Crimping Pliers and Cutters), you are going to be able to create a lot of jewelry with one kit. Our themes are eclectic and fun. Some kits are inspired by holidays, some kits are inspired by travel or culture, and others are an homage to fantasy. Every theme is fun and unique. The beads inside are not bound to the theme, you can use the wonderful beads from our Christmas design kit for jewelry all year round.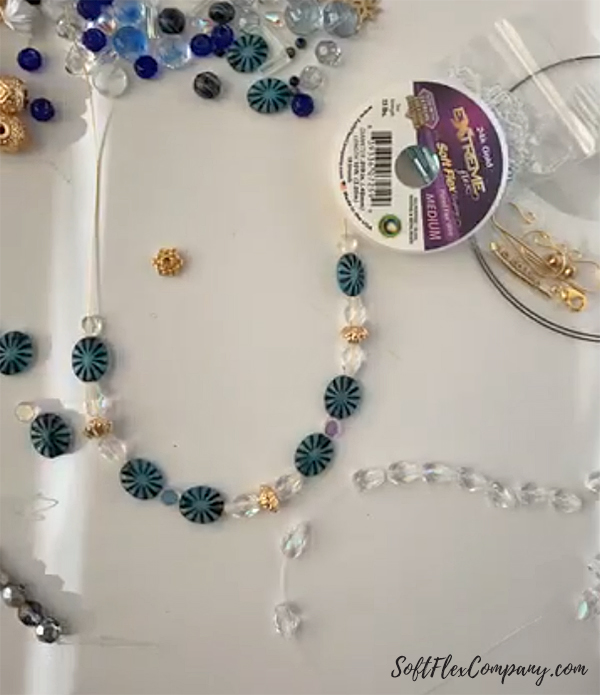 Supplies:
Snow Queen Design Kit
Extreme Beading Wire, .019 Diameter in 24k Gold Plated
Snow Queen Bead Mix
2x2mm Crimp Tubes
Regular Crimping Pliers
3mm Crimp Covers
Clasp
Ear Wires
Cutters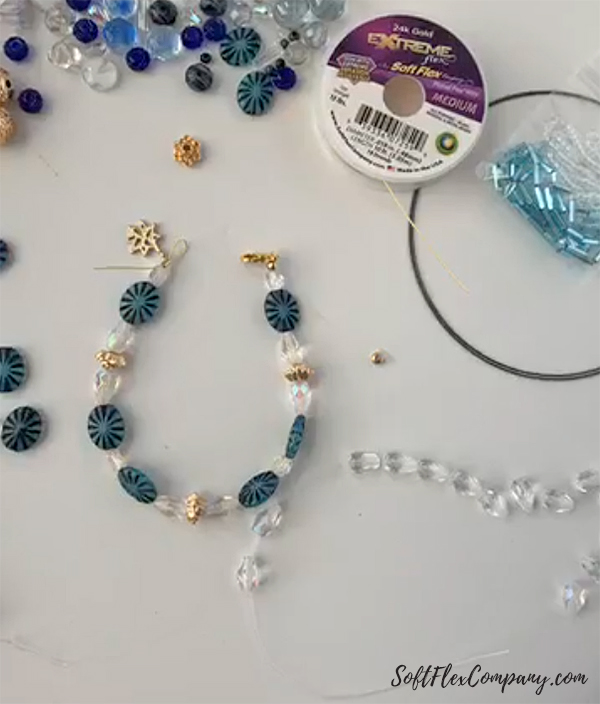 If you love a challenge, you will love our design kits. We offer our limited inventory kits and then reveal the contents after a month. Once the kit is revealed, our Facebook group – VIB, goes about creating their own unique jewelry with the kit. You can challenge yourself to make something new with the contents of the kit or you can take inspiration from the designs that others have posted. It is a lot of fun seeing how wildly different the jewelry designs can be, especially since everybody is working with the same materials.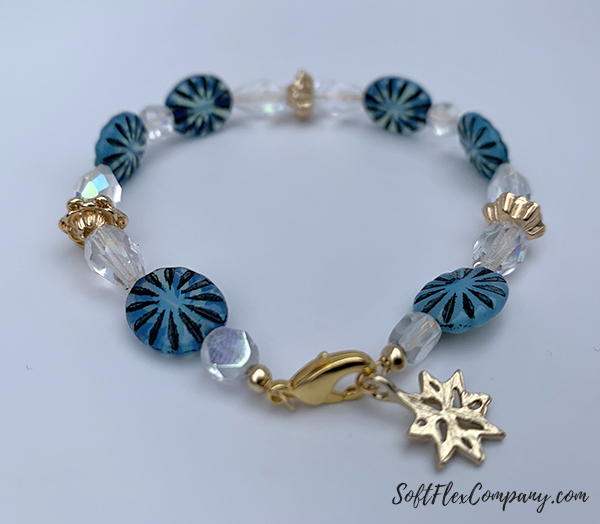 If you would like to be part of a design kit challenge, join our VIB group and purchase a design kit. Post photos of the finished jewelry you have made with your kit to the VIB group. Every photo you post is an entry for our design challenge giveaway. Include the hashtag we specify with the challenge on each post so we know you are participating. At the end of that month, we randomly draw a winner. The winner receives the newest kit for free. You do not have to be a jewelry designer to win, the draw is completely random.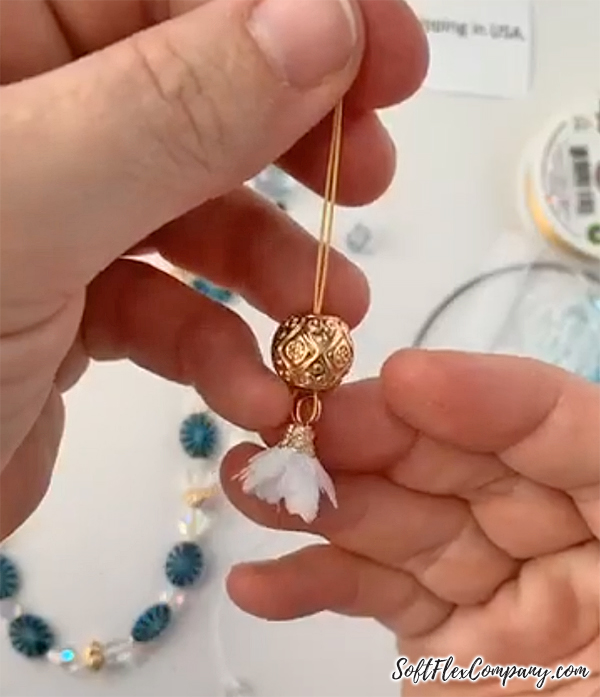 The Snow Queen Design Kit is an enchanting kit full of winter colors. This kit was pretty special. We included our 24k Gold Extreme Flex Beading Wire. This wire is one of our premium lines. Extreme includes 24k Gold plated, 925 Sterling Silver plated, and Champagne colors. This stunning wire is meant to be exposed and shown. It is great for illusion jewelry or showing in translucent beads.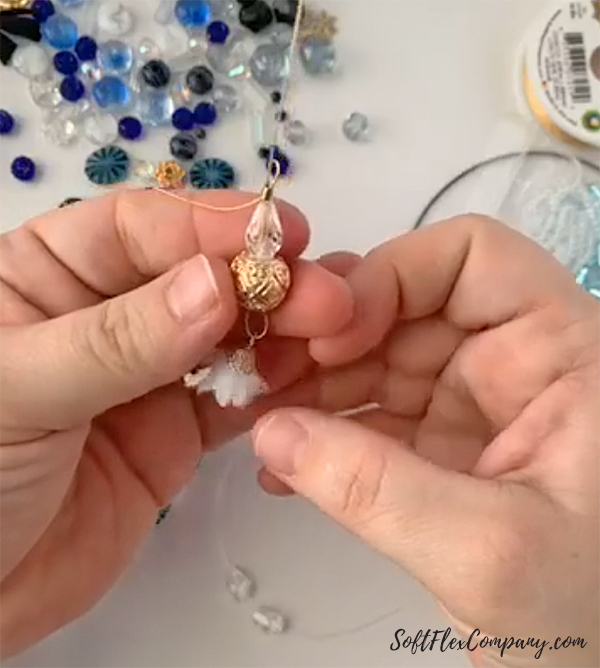 The Snow Queen Design Kit is a celebration of the majesty of winter. Cold and enchanting, the air clutches the skin and raises hair on the arms. The world is a kingdom of ethereal chill. Winter begins when the reigning Snow Queen, graces her counsel. Her golden crown rests on the blustery blue of her frosty hair. Her dress is the spectrum of the frozen tundra - deep blue, aquamarine, and glacial ice. Long live the Snow Queen!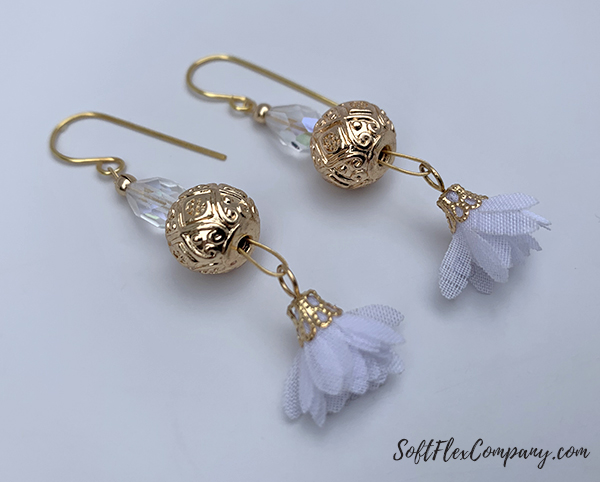 Don't miss out on our design kits. Look how amazing Sara's jewelry turned out. Make this and many more designs with a kit.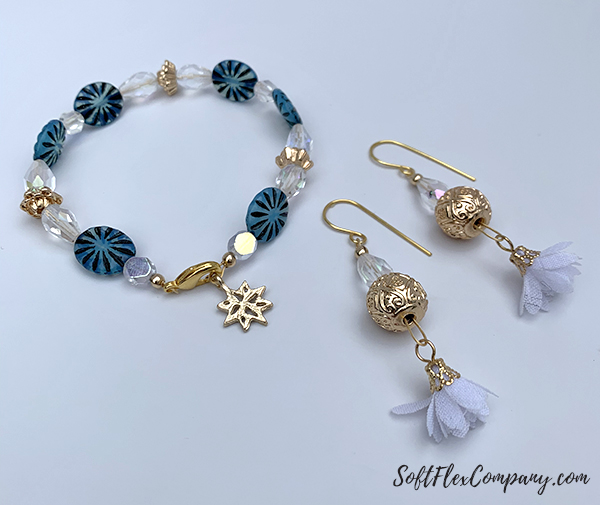 Make Simple Dangle Earrings with the Snow Queen Bead Mix
Kristen filmed another episode of Free Spirit Beading on Monday. She is live on Mondays at 12pm PST.
Kristen touched base with all of her viewers after returning to her show after the holidays. She shared some of her paintings and discussed her New Year's tradition, she does not make resolutions, but chooses a word of the year. She lets the word of the year guide and embody her. She has not decided her word for this year, nourish and abundance were previous words. That sounds like a fun thought experiment!
Kristen opted to make some earrings with our Snow Queen Bead Mix and our Snow Queen Trios. She really wanted to play with the blue colors in the Snow Queen collection. Pantone has selected Classic Blue as the color of the year and Kristen thought that would be a lovely color to use in her designs. The red earrings she has are from our O Tannenbaum Bead Mix. This bead mix has, unfortunately, sold out.
Earrings are so fun to make with Soft Flex Beading Wire. Simply add beads to a small length of wire and decide the shape you want – a drop, a straight dangle or loop – crimp to an ear wire to finish and you are done. It is that easy. You can make a stunning assortment of styles with all of our colors and beads in your collection. Kristen used some gorgeous jump rings from our outlet store, as a connector, to add character to her earrings. If you have Soft Flex Craft Wire on hand and a WigJig or pliers, you can even create your own ear wires. One of a kind jewelry is awesome!
Supplies:
Snow Queen Bead Mix
Snow Queen Trios Beading Wire Pack
8mm Jump Rings - Closed
Ear Wires
2x2mm Crimp Tubes
3x3mm Crimp Tubes
Magical Crimping Pliers
Mighty Crimper
Cutters
Mini Macrame Board
Bead Stoppers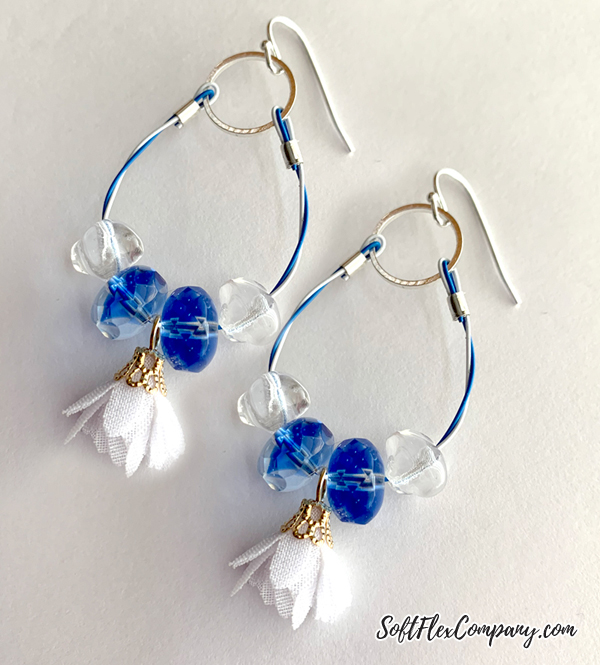 Kristen could not decide whether she wanted to use Blue Topaz or White Quartz color Soft Flex Beading Wire. Viewers of her live audience requested she use both. Kristen thought using two wires sounded like a fantastic idea. She grabbed her Mini Macrame Board to help hold the twist while she added beads. Soft Flex is great for playful designs. It is flexible enough to knot, braid, twist, and even macrame. You can really add some flair and make every design stand out!
Don't miss Kristen's live show on Mondays. She would love to hear your ideas or answer your questions.
Live Facebook Video with Sara: Crimping Demo and Snow Queen Necklace

Sara hopped on to Facebook to film a live video. She wanted to show a creative way to use Soft Flex Beading Wire and crimp tubes. She created a sculpted wire necklace with crimps and shapes. After she showed that fun technique, she moved on to making a necklace to complement her Snow Queen Bracelet.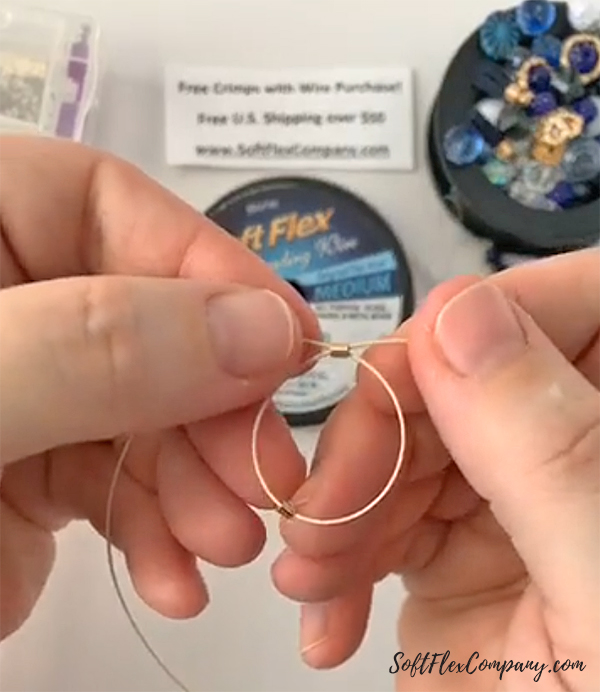 Sara selected Bone color Soft Flex Beading Wire for this project. She used 2x2mm crimps. You can choose any color you would like to personalize your design, if you wish to recreate this project. You can also add beads. If you want to get even more detailed, you can consider adding a pendant, too. Get creative!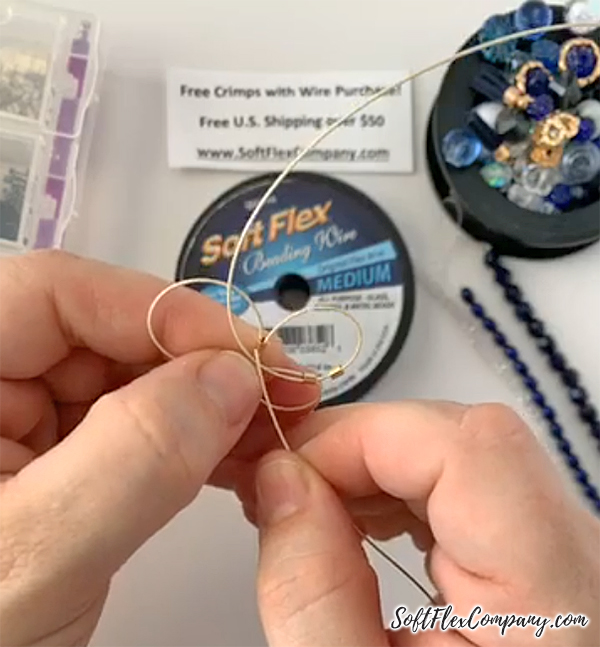 Supplies:
Snow Queen Design Kit
Snow Queen Bead Mix
Soft Flex Beading Wire, .019 Diameter in Bone
Magical Crimping Pliers
2x2mm Crimp Tubes
Clasp
Cutters
Bead Stoppers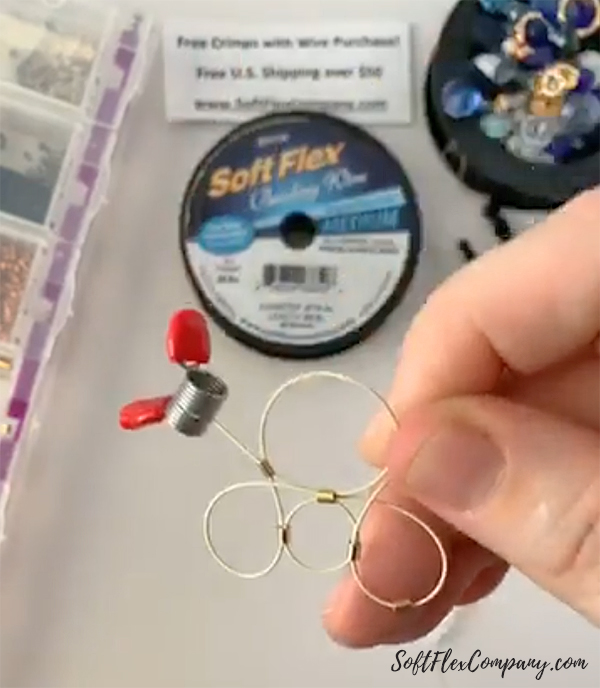 Doesn't this look gorgeous? This is so fun. You can create any shapes you want with your Soft Flex and crimps. You can be orderly and measured or explore asymmetry and get wild! This is a great free hand expression. Where would your journey take you if you made this necklace?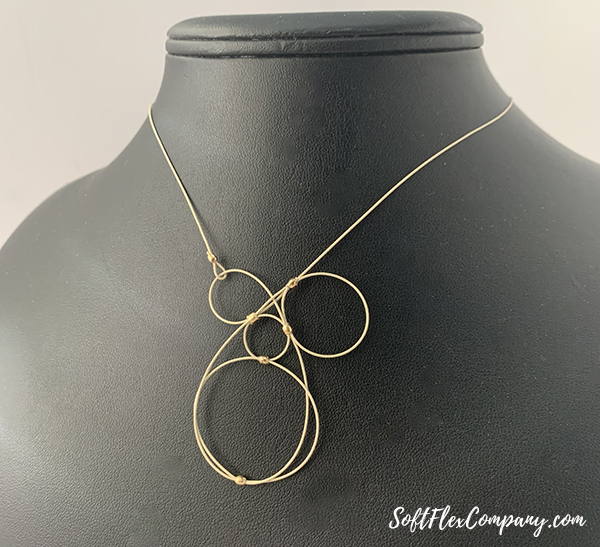 Next up, Sara wanted to play with her Snow Queen Bead Mix. She had made a bracelet that matched a new dress she bought and wanted to complement it with a necklace. The Snow Queen Bead Mix is full of elegant colors. It is perfect for winter. You can also break the beads out of their theme and add them to your jewelry toolkit if you just want add to your collection. Outside of their theme, they can be used in any design, all year round.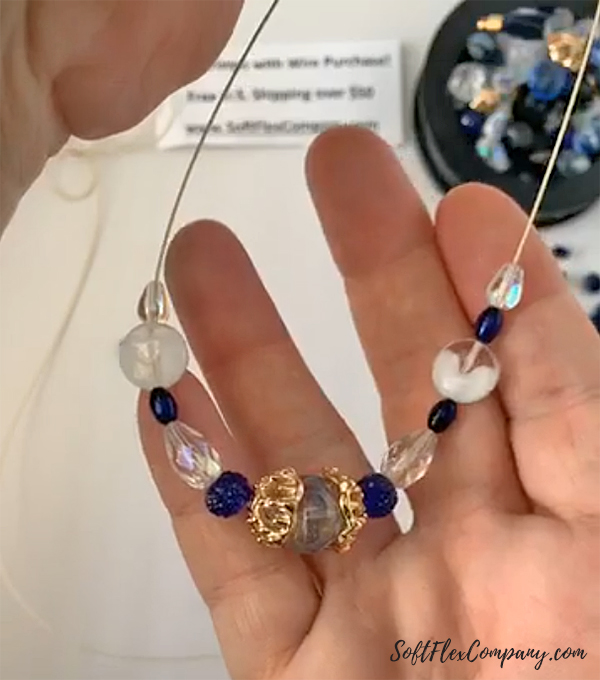 Part of the fun of beading is the ability to change and evolve your designs as you go. Sara started stringing one design with her beads and realized she wanted to change things up. Since she had not crimped her necklace yet, everything was still fluid and changeable. She restrung the design in the image above and was happy with the final design, below. Don't be afraid to restart. If you have not crimped your design, you can always make changes. If you have crimped your work, you will have to start over – but that is part of the fun. Making jewelry is a journey. We educate ourselves with every design we make. Be fierce! Be a dynamic designer!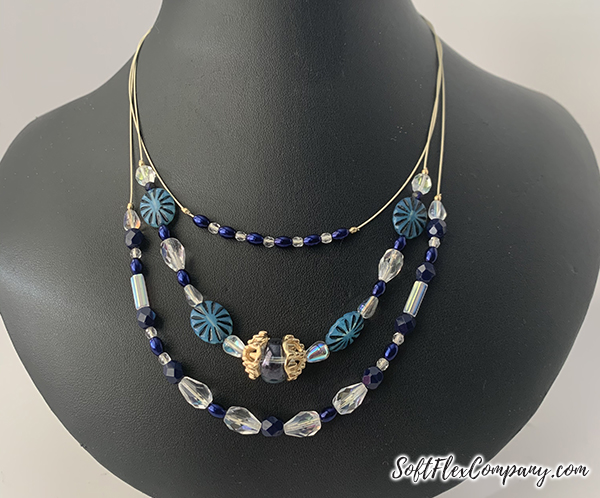 As a fun bonus, Sara decided to elaborate even further on this design. She wanted to turn this single strand design into a multi-strand necklace. She opted to make a second video showing this process. If you would like to see her transform this stunning necklace even further – make sure you catch her on Saturday morning for the premiere.
Don't miss Sara's Snow Queen Necklace video premiering Saturday, January 11 at 8am, PST.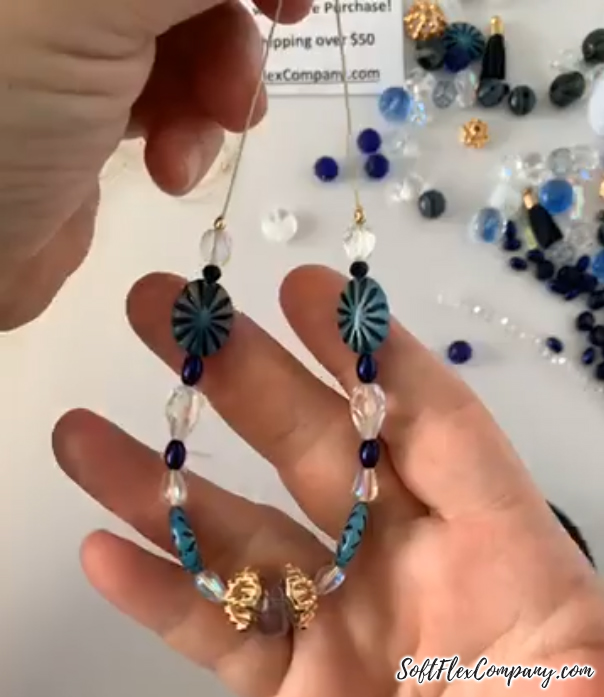 Look how amazing this design ended up! Never settle. Design with a playful mind and make magical jewelry. We hope you enjoy our Snow Queen celebration. We would love to see your regal jewelry. If you purchased a Snow Queen Design Kit or bead mix and finished some enchanting pieces, make sure you post them on our VIB group so we can all appreciate your talent!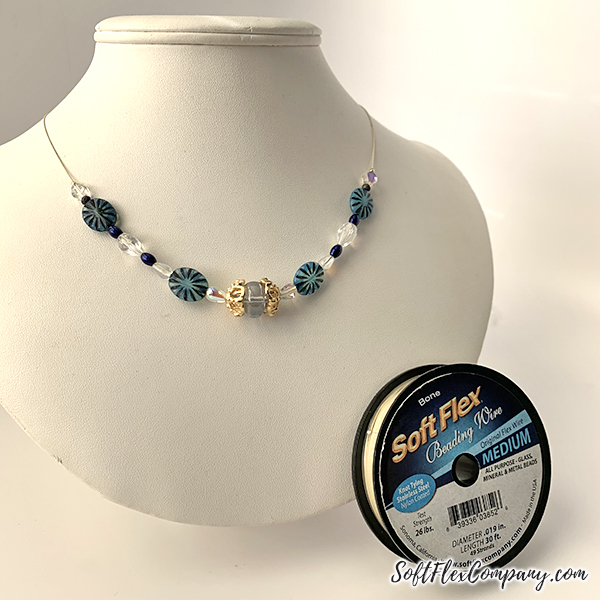 Join our Facebook group – VIB. Stay in the know. Stay up to date. From our bead shows to our video shows and sales, you can stay in touch with us. The community is full of artistic and helpful beaders and crafty people. Inspire and be inspired. Share your pictures and get the beading bug from others!
Visit the Soft Flex Company YouTube Channel!
---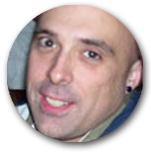 Blog contributor Thomas Soles loves Jazz Age writers and crunchy french fries. His favorite gemstones are Lapis and Pietersite. His favorite hobby is day dreaming. And his favorite mustache is Freddie Mercury's. As you can see, he has a healthy (or possibly unhealthy) sense of humor. You can write to him at Thomas@SoftFlexCompany.com