We have had some absolutely stunning jewelry videos for you this week. Kristen created a lovely switch knot macramé bracelet during her trip to Tucson. Nealay Patel sketched out a wonderful necklace full of interesting colors and visual elements. And Sara discussed family, Valentine's Day, and created some stunning earrings for the holiday.

If you missed our Weekly Video Recap from last week, make sure you check it out. We had a bunch of great videos from the To Bead True Blue show in Tucson. We walked the show and made some creative jewelry designs. If you have never attended a bead show - it is a nice little look into the energy and fun.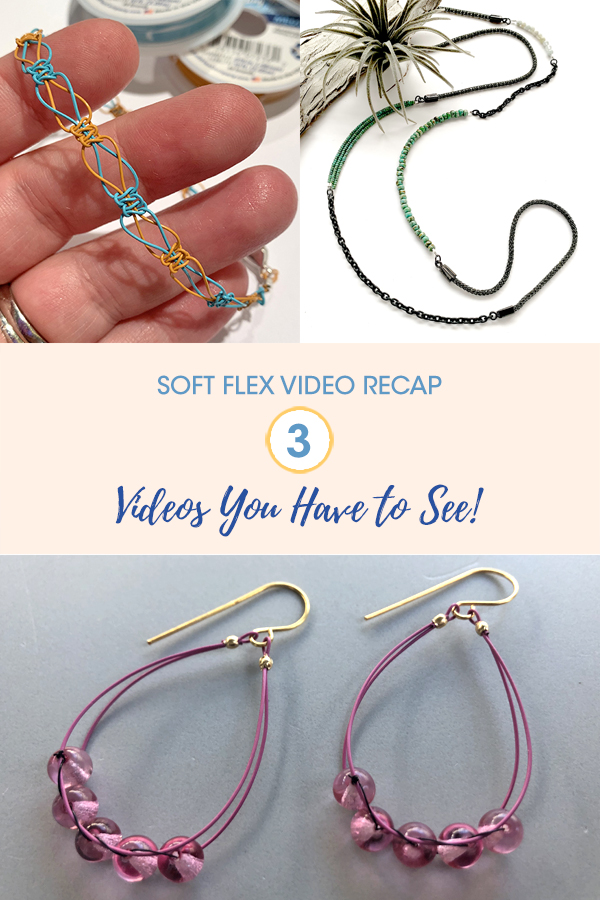 How To Make A Switch Knot Macramé Bracelet
Kristen filmed a live video from Tucson. We had a lot of fun there. Soft Flex had a booth at the To Bead True Blue bead show. The show was at a great venue – Casino del Sol. There were so many exciting people and awesome vendors at the show. And since it was a casino – lots of parking and a yummy buffet!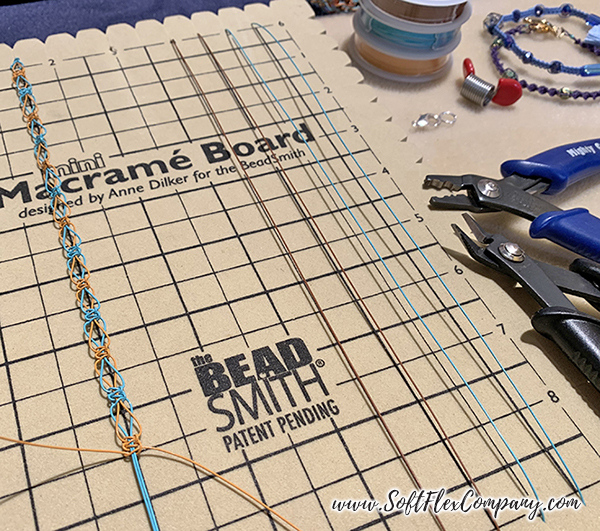 Each day, before the show opened, we filmed a live video featuring the tools and wire we love. If you missed any of the videos, make sure you check out our YouTube page.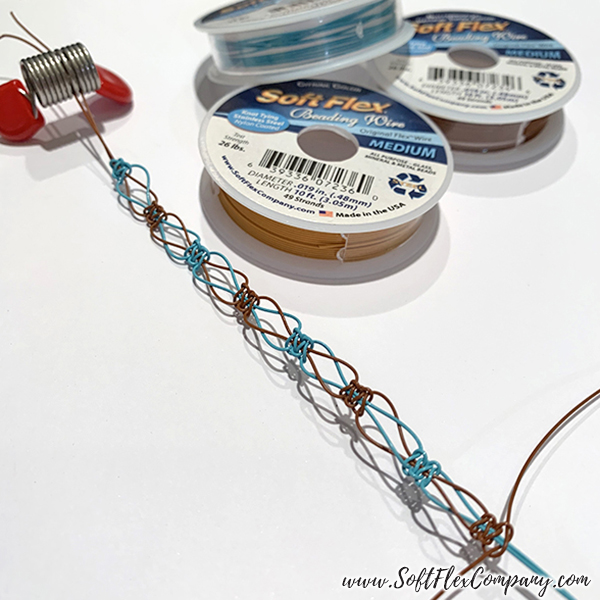 Kristen decided to create a macramé bracelet before the show opened. Kristen wanted to use our newest Trios – the Southwest Design Collection. It was a fantastic choice since she was in Tucson. This Trios package features three ten foot spools. The selected colors are Green Turquoise, Red Jasper, and Citrine. Great colors to inspire you to make vivid Southwestern flavored jewelry.
Kristen's switch knot macramé design is stunning. It is a variation of a square knot macramé bracelet she had made before. It looks intimidating to create, but if you follow along on her video, she makes it easy.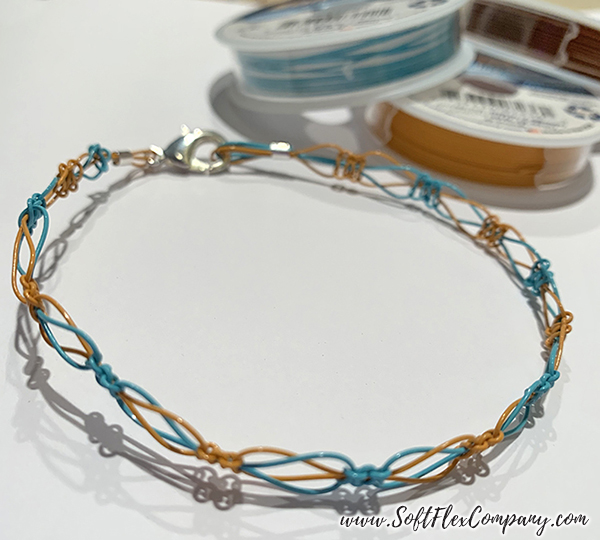 If you enjoyed this video, make sure you watch other episodes in her Free Spirit Beading series on YouTube!

Mixing It Up with Capture Chain featuring Soft Flex Wire

Up next, we watched Nealay Patel create a necklace with Soft Flex beading wire, Jesse James beads and jewelry chain, and SilverSilk capture chain.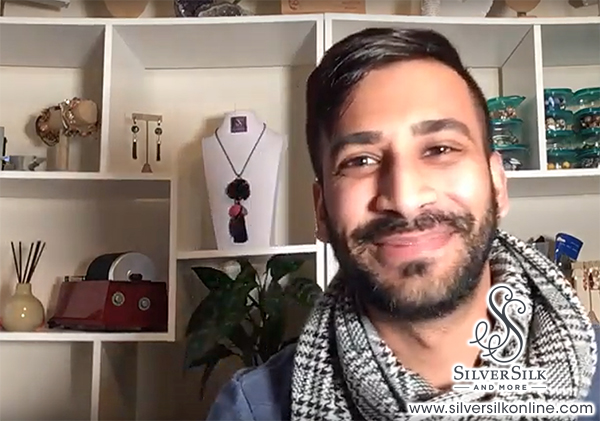 Nealay is a talented jewelry designer. He is also the owner of the SilverSilk and More jewelry company. He is a thoughtful creator. He loves to sketch out his designs before he strings them. It is fun to watch his videos as you get an insight into his creative process.
From Nealay:
"Sometimes no plan is the best plan. In this lesson, I'll sketch out a fun necklace design that will combine all those remnant chains, beads and SilverSilk. I'll show you how to combine each of those materials into a beautifully cohesive design. You can expect to learn how to do some bead stringing and crimping along with learning how to attach end caps on SilverSilk Capture Chain. This is a class that will be enjoyable for both of us! Let's get started."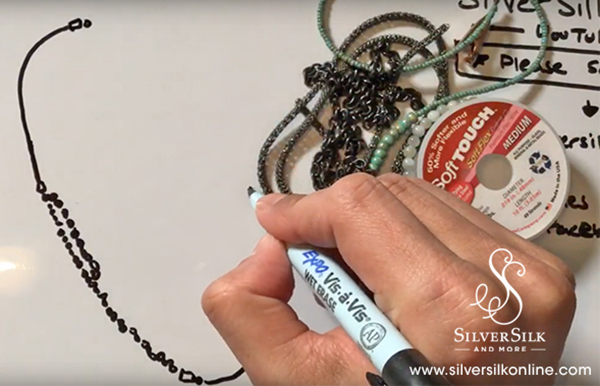 His finished necklace is wonderful. Lots of interesting color and texture.
Make sure to follow along on his Facebook page and watch his live Tuesday Tut tutorial videos.
Special Valentine's Day Design Edition
Sara rounded the week out with a video she filmed at home. She could not go to the Soft Flex office as the rain has been constant and actually flooded the roads out near our workplace. She opted to stay safe and dry and make some jewelry in a comfortable spot.
Before designing some jewelry, Sara showed us the Valentine's cards from her little ones. How can you not be moved to make some Valentine's jewelry when your loved ones are thoughtful and giving you fun cards?
Sara showed off some designs she made with White Soft Touch and Pink Tourmaline Soft Flex. The colors were warm and wonderful and perfect for the holiday.
Sara decided to make some earrings. She admitted that she had never made these earrings before, but she was going to attempt it. Part of the fun of Sara's live videos is watching her design new things on the fly. She is creating jewelry in front of a live audience and doing her best to make something unique and wonderful.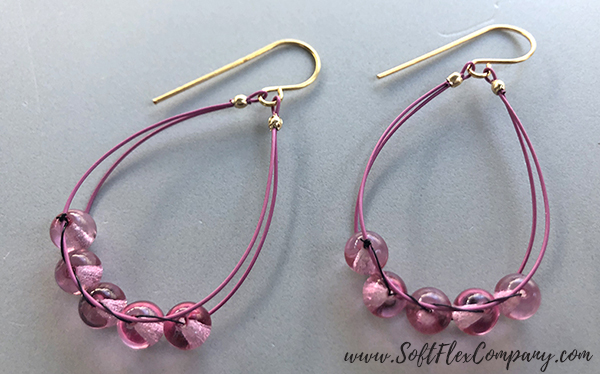 Check out Sara's video. She has so many great ideas for earrings. Earrings are fun if you have a lot of remnant wire, wire that is too short for typical designs. They are also fun if you have a lot of color wire and would like to explore the option of exposing color wire on your designs.
If you are interested in creating more earrings with Sara, follow along on our YouTube channel. You can also purchase Sara's Soft Flex Earring Projects Booklet.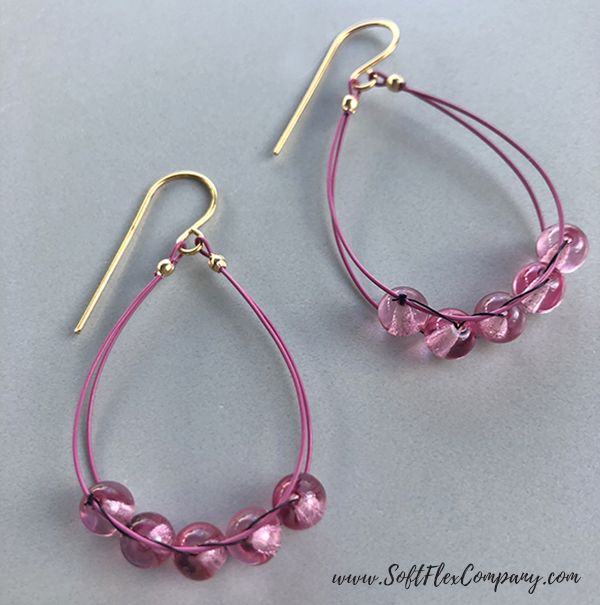 We hope you enjoyed the videos this week. We hope you had a lovely Valentine's Day and shared it with somebody special. If you would like to watch our adventures in Tucson, check out our blog for last week's Weekly Video Recap.

Join our Facebook group – VIB. Stay in the know. Stay up to date. From our bead shows to our video shows and sales, you can stay in touch with us. The community is full of artistic and helpful beaders and crafty people. Inspire and be inspired. Share your pictures and get the beading bug from others!
Visit the Soft Flex Company YouTube Channel!
---
Blog contributor Thomas Soles is the Trade Show Coordinator for Soft Flex Company. His favorite stones are Lapis and Pietersite. His favorite hobby is day dreaming. And his favorite mustache is Tom Selleck's. As you can see, he has a healthy (or possibly unhealthy) sense of humor. You can write to him at [email protected]