Good Friday to you lovely people. We hope you are staying safe and the news is not getting you down. We spent the week making some magic with our Whimsical Beadtastical Design Kit (Sold Out). If you love Dr. Seuss, this kit is right up your alley! We watched our friends make some delightful jewelry and we learned how to wire wrap a ring with a captured bead. Doesn't that sound like an amazing week? Catch up with our weekly video recap and see what you missed or just enjoy a second serving of the videos you have already watched. Let's learn some new jewelry making techniques!

We are still in love with Dr. Seuss inspired jewelry. March 2nd was the birth date of the amazing gent that breathed life into so many wonderful and surreal characters. We were excited to put together a kit that felt like it would be a hit in Whoville. Kristen kicked off the week with a Whimsical necklace. The centerpiece was a focal that was included in the design kit. Sara challenged Kristen to paint the matte onyx pendant with a Seuss image. Kristen obliged with a cute Cat in the Hat. James showed us how to make a stunning wire wrapped ring with a captured bead. Nealay went for a cool summer bracelet - it is never too early for a fun beachy vibe! And we caught up with Aleshia from Beadifulnights. We sent her a design kit. She unboxed her kit last week and this week showed us the amazing designs she created. You are going to love this eclectic mix of unique jewelry designers!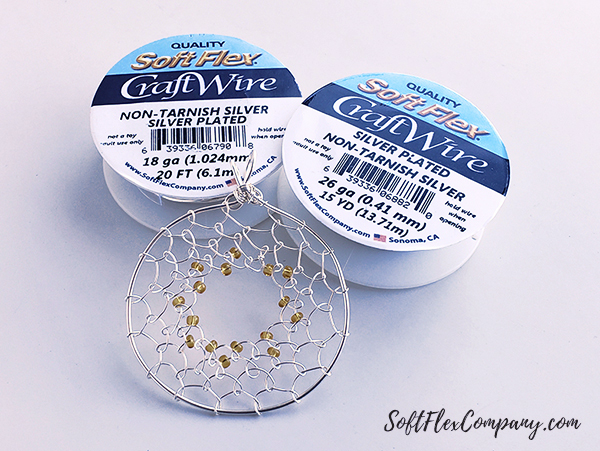 Soft Flex Craft Wire is a high quality, permanently colored copper wire. It is resistant to scratching, peeling and marring. This is due to the special enameling process used to coat the wire to produce the wide spectrum of colors we offer. After the enamel is applied, the wire is then clear coated to prevent tarnishing. Bare Copper is the only wire in the line that is not treated. If antiques and old findings are your medium, Bare Copper will patina - perfect for making that new project look like an heirloom.
Quality Soft Flex Craft Wire is 100% lead and nickel free. There are no other metals used in the wire production other than copper and fine silver. The temper of the wire is soft. It is firmer than similar wire products offered on the market, which are typically only available in dead soft and can't be tempered to half hard. We currently offer six of the most commonly used gauges in the jewelry industry and more are on the horizon. An exceptional design idea deserves a professional craft wire.
Jewelry Making Videos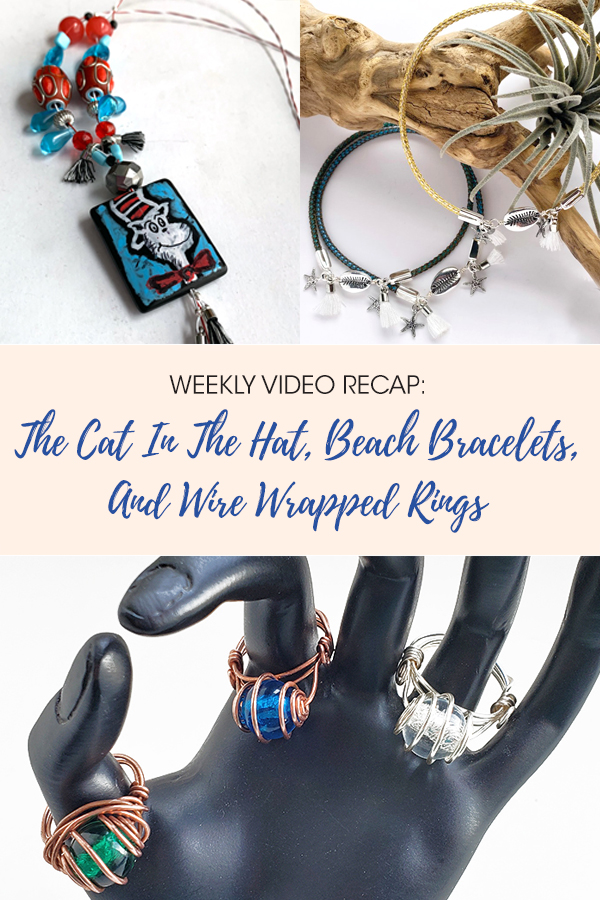 Paint a Cat in the Hat Pendant & Make a Beaded Necklace
Kristen filmed another exciting episode of Free Spirit Beading on Monday. She is live on Mondays at 12pm PST.
Kristen accepted a design challenge from Sara recently. Sara was filming a live jewelry demonstration and she thought Kristen could make something unique with the matte onyx pendants included in the Whimsical Beadtastical Design Kit (Sold Out). Kristen agreed and put her painting skills to the test. Kristen is a talented painter, but this was a new medium. Luckily, the matte beads took paint really well.
Kristen tested the water before filming her video. She painted two stones. After finishing, she let them dry. She varnished one with Mod Podge to seal it. She let the other just air dry. Afterwards, she wet both, just a little, she was able to rub some of the paint off of the unvarnished one. So, consider sealing your design with a varnish if you want your painted design to last.
Kristen thinks it is possible to paint the stones with regular acrylic paints, but she opted for paint pens. She used Posca paint pens, Sharpie also carries some pens that would work. Kristen used ultra fine point markers for her detail work. If you need a white gel pen that is smaller tipped than the Posca pens, Kristen suggests a Signo gel pen from Uni-Ball.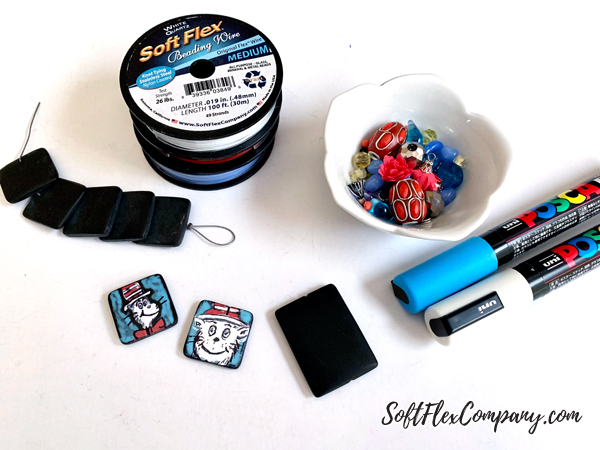 Supplies:
Soft Flex Whimsical Beadtastical Trios Beading Wire Pack
Soft Flex Exclusive Whimsical Beadtastical Bead Mix
Matte Onyx Gemstone Beads
2x2mm Crimp Tubes in Sterling Silver
Lobster Claw Clasp
Cutters
Crimping Pliers
Mini Bead Stoppers
Posca Paint Pens
Fine Point Permanent Marker
Mod Podge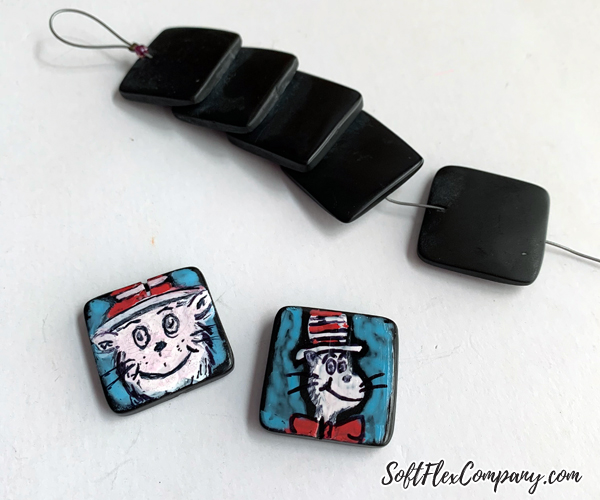 Twisting two strands of wire really elevated this design. Don't be afraid to try new techniques when you are stringing your beads. The braided look makes everything pop. Color beading wire is fantastic if you want to include the wire as a design element. Don't settle for bland wire when you can make your jewelry sing with color.
This was an amazing kit. The colors are so fun. There is a lot of room for creative exploration and adventure. Kristen painted her onyx. Below, you will see what Aleshia, from Beadifulnights, did with hers. It is pretty fun to watch the diverse designs our kits inspire. Some people turn their kits into minimal and simple jewelry. Others turn each kit into a cinematic experience. Check out our Facebook group – VIB to see what members of our group have made with their kits.
Did you buy our Whimsical Kit? What did you do with your onyx pendant? Share it with us on our group. We have a great community of artists and novices. There are a lot of fantastic tips to be found, gentle critiques, and warm praise over handcrafted jewelry. It is a great place to find inspiration and motivate yourself to push your jewelry making talents.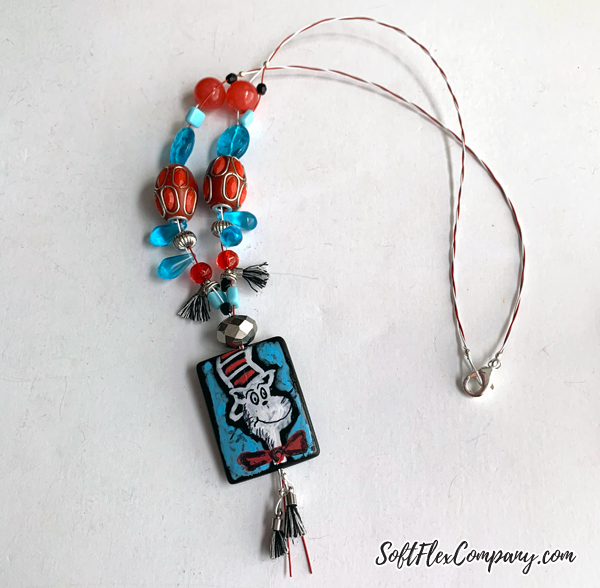 Painting this likeness is fun. But make sure you do not resell your painted stones if they have a image with a copyright. Fair use law permits the use of copyright protected works under specific circumstances. We have shown it here as an inspirational and teaching idea (how to paint on onyx stone). We do not intend to resell the stones or offer them for profit. Make sure you follow fair use law if you paint this image on your stones. You may read more here: Fair Use.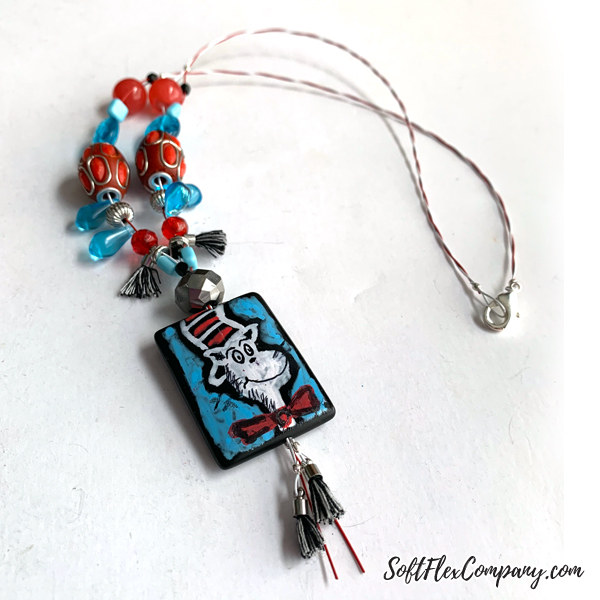 Make A Captured Bead Ring Using Soft Flex Craft Wire
James Browning is Soft Flex Company's wizardly Craft Wire guru. He is an incredible teacher His videos are easy to follow and clear. Even if you have never used Soft Flex Craft Wire, you can create the designs he makes with ease.
James made an incredible wire wrapped ring this week. These rings are minimal but full of drama. A captured bead is the centerpiece of the ring and spirals add fun details. These rings are really amazing and quick to make. Watch James in action. He gives easy to follow instructions. You will have your own ring in no time.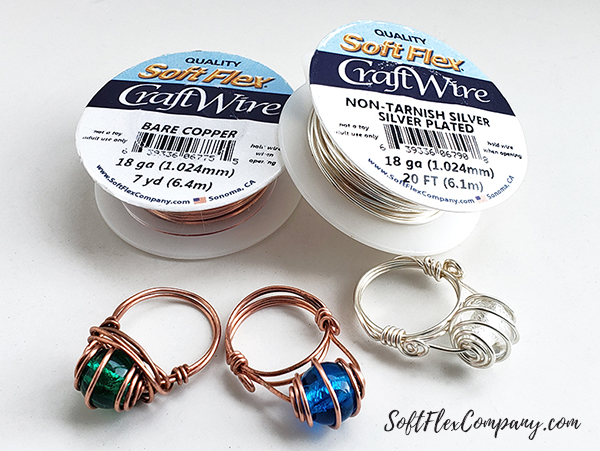 If you crave variety, these rings are perfect additions to your jewelry box. Simple changes turn each ring into a unique piece of jewelry. Change the wire color and you have a new look. Change the size, shape or color of the bead and you have a new focal. Get playful and you can turn your ring into something James had not even considered.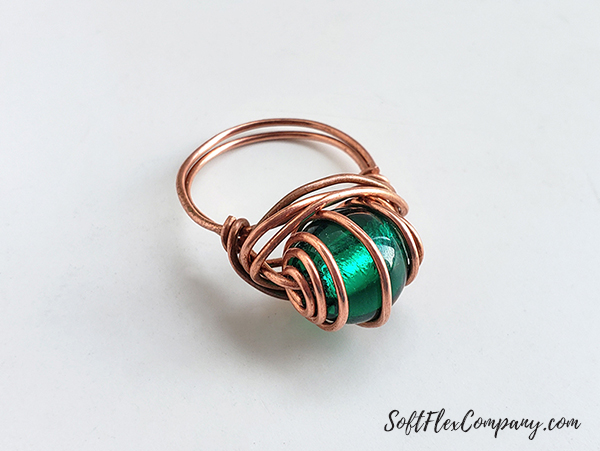 Supplies:
18ga Soft Flex Craft Wire in Bare Copper
Round Bead
Ring Mandrel or Dowel
Nylon Jaw Pliers
Bead Nipper (Cutters)
Round Nose Pliers
Chain Nose Pliers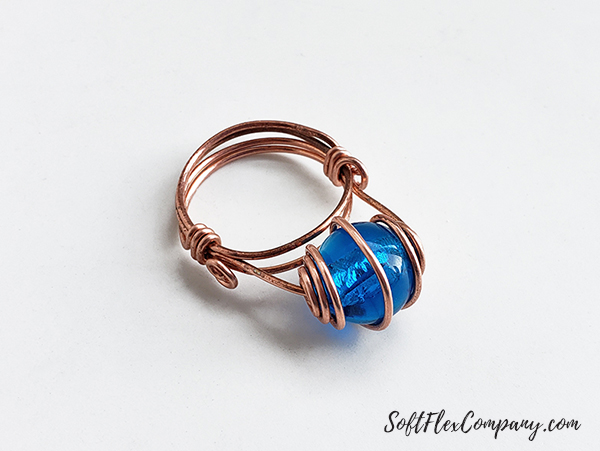 If you enjoyed this video, make sure you visit James library of wire working instructions. He has free project ideas using Soft Flex Craft Wire that you will love. You can find lots of jewelry in his YouTube playlist. You can also find wire wrapped stones. You can see how he shapes wire into words and names. You can find Craft Wire spiders for the holidays and so much more.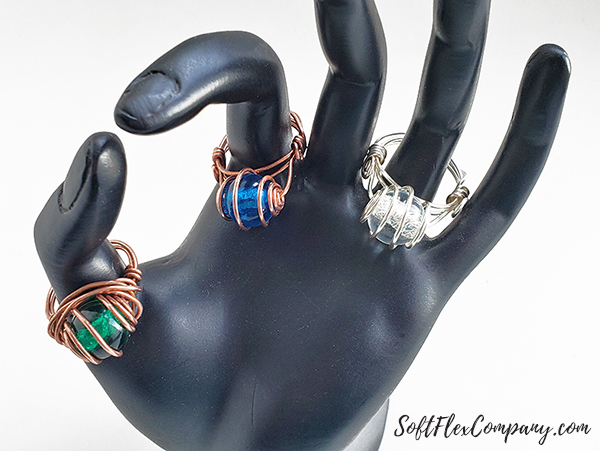 Learn How To Make Beachy Bracelets
Our friend Nealay Patel filmed a fun video on Tuesday with a summer theme. This week, he opted to create a beach bracelet for summer. This is a fun watch if you are sick of winter and ready for some hot summer sun. Let's learn how to make Beachy Bangles with SilverSilk Hollow Mesh using TierraCast cowrie shell beads, Soft Flex Company beading wire and Jesse James Beads tassels. These are fast, fun, and customizable. Let's get creative!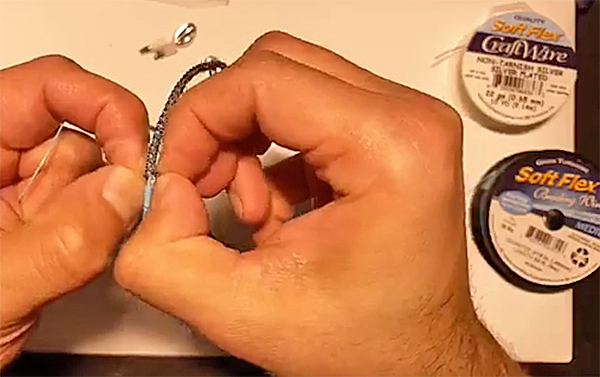 From Nealay:
With the weather warming up, my head is focused on beach inspired jewelry. Using Soft Flex beading wire and crimps, I'll show you how to string colorful seed beads inside hollow mesh and embellish the band with TierraCast cowrie shells to make a textural bangle. I'll show you a second option using 14-gauge craft wire to make the same bangle. These bracelets are easy to wear and best of all, don't require a clasp. You'll want to tune in to this video to learn a new design idea that you probably haven't tried before.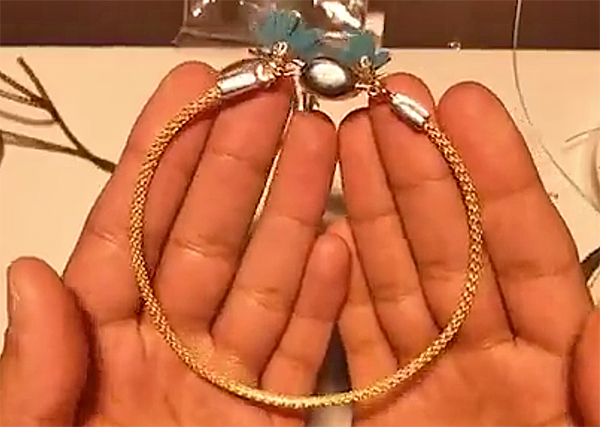 Supplies:
SilverSilk Hollow Mesh
Soft Flex .019/Medium Beading Wire in Green Turquoise
22ga Soft Flex Craft Wire in Non-Tarnish Silver
TierraCast Cowrie Beads
2x2mm Crimp Tubes
Crimping Pliers
End Caps
Nylon Jaw Pliers
Bead Nipper (Cutters)
Round Nose Pliers
Chain Nose Pliers
Flat Nose Pliers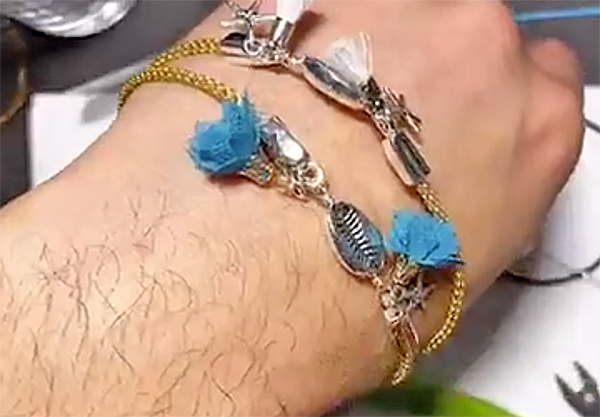 Hollow mesh is a great way to make jewelry that looks incredibly complicated but takes only minutes to make. You can give your designs flair and vibrance by intertwining Soft Flex Craft Wire or beading wire. You can add dangles and beads. There are so many options. You finished pieces will look amazing.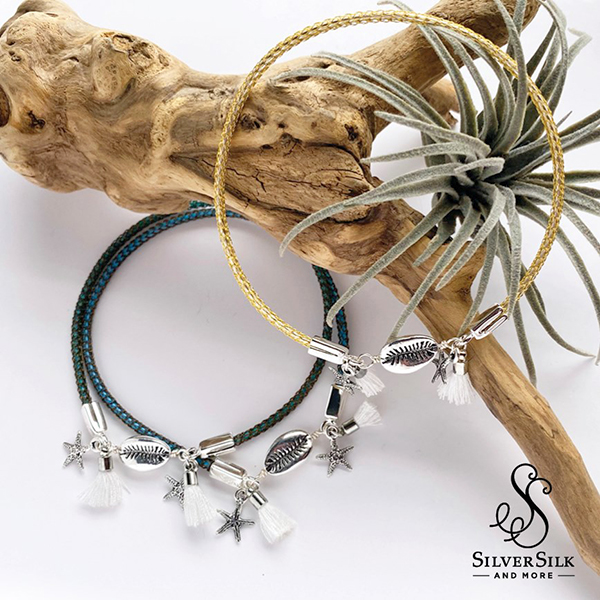 Easy Wire Wrapped Rectangle Beads Pendant Tutorial
From Aleshia:
Hello everyone, I am Aleshia, welcome to my Beadifulnights channel. In my last video I opened up the Soft Flex monthly mystery design kit with you guys and there was some really gorgeous beads in that kit and I told you that I would work on doing a tutorial for you and we would make a piece together. I've been working on a necklace with the subscription and it turned out really gorgeous, but as I was working on the necklace I came up with a wire wrapping technique to do to this awesome rectangle bead that came in the kit.
Whimsical Beadtastical Soft Flex Beaded Necklace Tutorial
From Aleshia:
Hello everyone, I am Aleshia, welcome to my Beadifulnights channel For this video I am designing with Soft Flex's monthly mystery design kit. The name of the kit is called Whimsical Beadtastical and this theme is Dr. Seuss. And so, when I read that, I felt like I should do something over the top because Dr. Seuss is over the top. I am a 90's kid, I read a ton of the books, I just always remember Dr. Seuss books being very bizarre and there were no other books like them. So, this necklace has to be over the top!
Find Beadifulnights on:
Pinterest
YouTube
Facebook
Twitter
Instagram

Join our Facebook group – VIB. Stay in the know. Stay up to date. From our bead shows to our video shows and sales, you can stay in touch with us. The community is full of artistic and helpful beaders and crafty people. Inspire and be inspired. Share your pictures and get the beading bug from others!

Visit the Soft Flex Company YouTube Channel!
---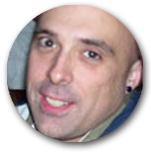 Blog contributor Thomas Soles loves Jazz Age writers and crunchy french fries. His favorite gemstones are Lapis and Pietersite. His favorite hobby is day dreaming. And his favorite mustache is Freddie Mercury's. As you can see, he has a healthy (or possibly unhealthy) sense of humor. You can write to him at Thomas@SoftFlexCompany.com