This is a great day to learn a new jewelry making technique! Binge this week's jewelry videos and pick up a trick or two. If you need some St. Patrick's fashion, we have a fun mini kit that is full of lucky green. Celebrate the goddess within with a bracelet that is loaded with symbols and style. Join us for Joyful Beading and share your finished jewelry designs with others in our VIB community. Watch a 30 second Instagram Reel that is instructive and fun. Finally, learn how to make a woven beaded pendant. You do not want to miss this week's jewelry and craft videos!
Don't miss Joyful Beading! Join the fun on our VIB community. Each day is a new jewelry making prompt. Learn a new craft in under a minute! Sara and Kristen have been uploading 30 second Instagram Reels showing easy to follow jewelry making techniques and craft/hobby ideas. This week on Free Spirit Beading, Kristen showed us how to make a divine three strand bracelet. This celestial design is fit for a goddess. Sara debuted her new Lucky Mini Design Kit and made jewelry. This little kit is full of treasure and it will not cost you a pot of gold to afford. Nealay wrapped up with a stunning bead woven pendant. If you like elegant eye candy, you are going to love this focal piece.
Sara's Lucky Mini Design Kit
Sara custom curated this lucky collection of items for making jewelry. Look for her video on 3/10 on our YouTube channel for some ideas of what you can make with this kit. This jewelry making kit includes 3 highly faceted CZ Beads that have exceptional sparkle, a small Czech Glass bead mix (mixed personally by Sara), ear wires, a lobster clasp, crimps, head pins, clover bead caps and .014 Fine Black Soft Flex Beading Wire. Since this kit was created by Sara, there is a very limited quantity of items available. Don't miss out!
Note: There will be slight variations in the Czech Bead mixes in each kit.
Jewelry Making Videos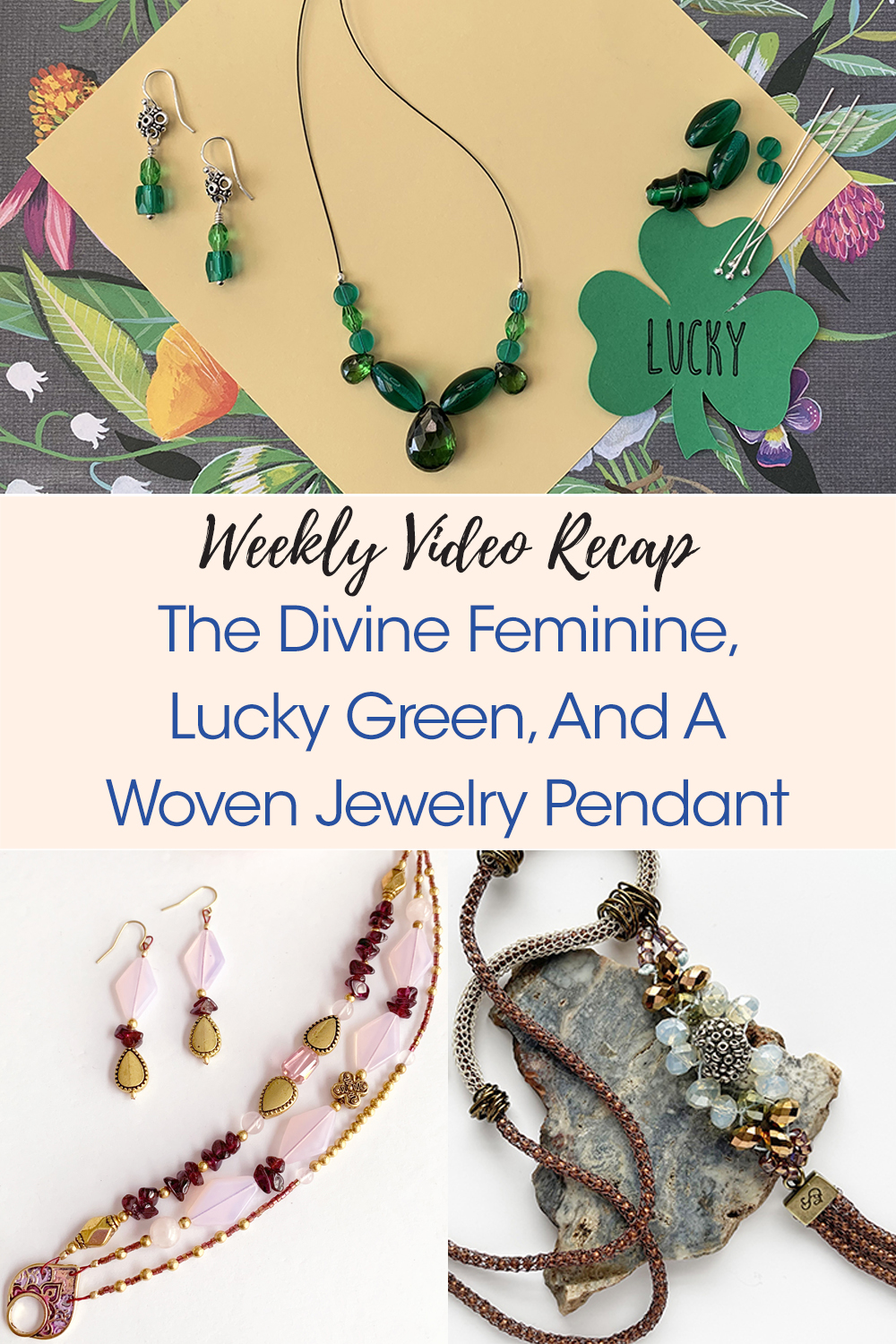 Learn How To Make Jewelry In 30 Seconds
Learn a new jewelry making technique in record time!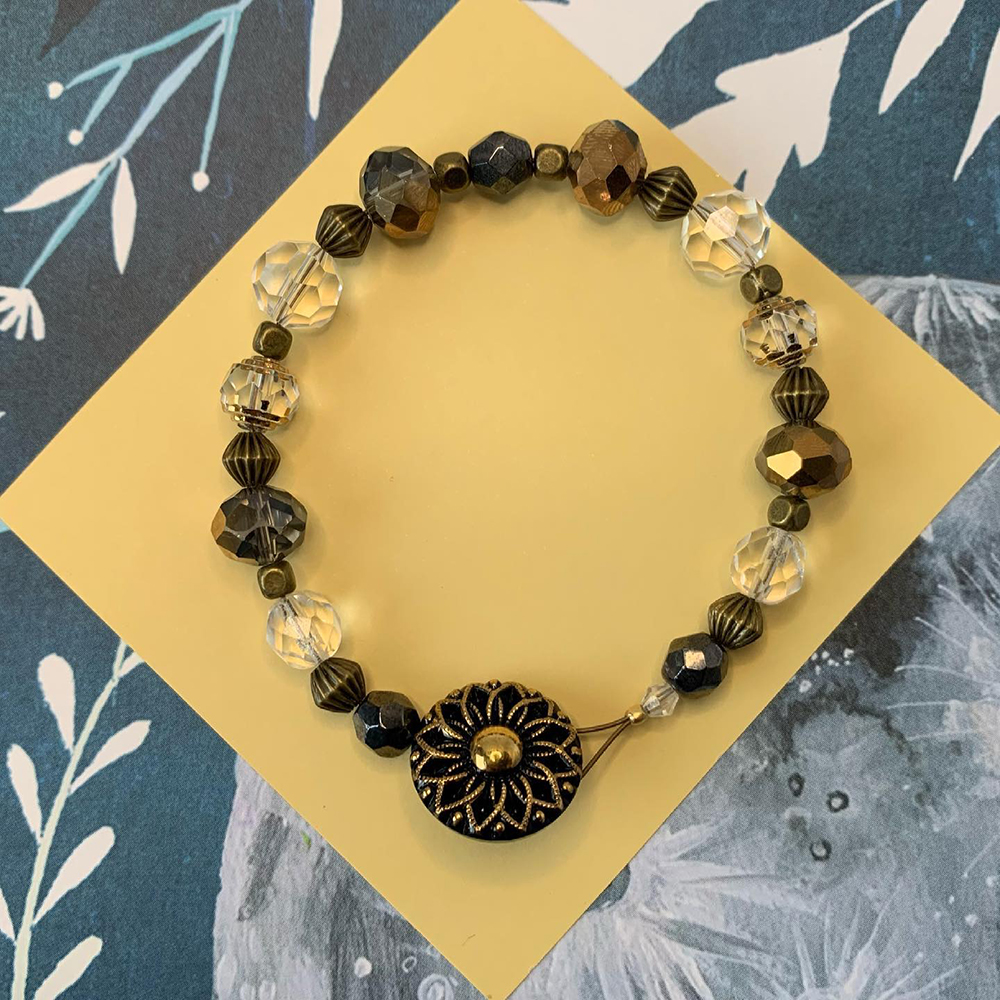 Check out this 30 second jewelry tutorial on Soft Flex Company's Instagram Reels! Sara wanted to celebrate National Craft Month and Joyful Beading. She used the Joyful prompt: Use a Button in a Jewelry Design. Learn how to make a bracelet with a gorgeous Czech Glass button and Soft Flex Beading Wire. Buttons make great clasps! Follow our page to see all of our fun designs!
Joyful Beading Returns! Join Us For Joyful Beading On Our VIB Facebook Group
Download the Full Calendar for March - Click HERE.
Join the fun on our VIB community on Facebook. Every day of Joyful Beading is a chance to share your finished jewelry designs with artists and peers that cannot wait to see your work. Click the image above to visit our blog about Joyful Beading. Every design you post with the hashtag #joyfulbeading is an entry to win our daily giveaway. You can post a single image with ten designs or ten images with single designs. Make sure they are hashtagged and follow the road map and you are in the contest.
Follow along on our Joyful Beading road map. Each day, we begin a new jewelry project. For instance, March 17th is 'Share a St. Patrick's Day Design'. On that day, every project that is St. Patrick's holiday themed, will be entered to win a $10 credit. Projects must be posted before midnight PST, on that date. If you post a kit project on a different date and it is not applicable to that date's project, you will not be entered to win. Make sure every project you post has this hashtag - #joyfulbeading. If you do not include the hashtag, we may overlook your entry.
There is no skill needed to win. Beginners have the same opportunity to win as professional jewelry designers. We take each name down. If you entered multiple designs, we put your name down multiple times on a spreadsheet. Once all of the names are collected, we randomize the names so the sheet is mixed and there are no clusters of a single name. We then use a random number draw. If your name is on that numbered line, you win! Pure chance - we are not biased by skill. Win a credit for your next purchase.
Make A 3 Strand Bracelet Celebrating The Goddess Within
This week on Free Spirit Beading, we learned how to make a bracelet that exalts the Divine Feminine. Kristen has some wonderful jewelry design ideas. For this project, she is not only concerning herself with the aesthetic and beauty of the jewelry, but she also spends a good deal of time plotting out colors and numbers that empower her design. If you would you like to start using numerology or gemstone color properties, this is a great watch. Learn how to add a deeper context to your crafted jewelry. Embrace the divine!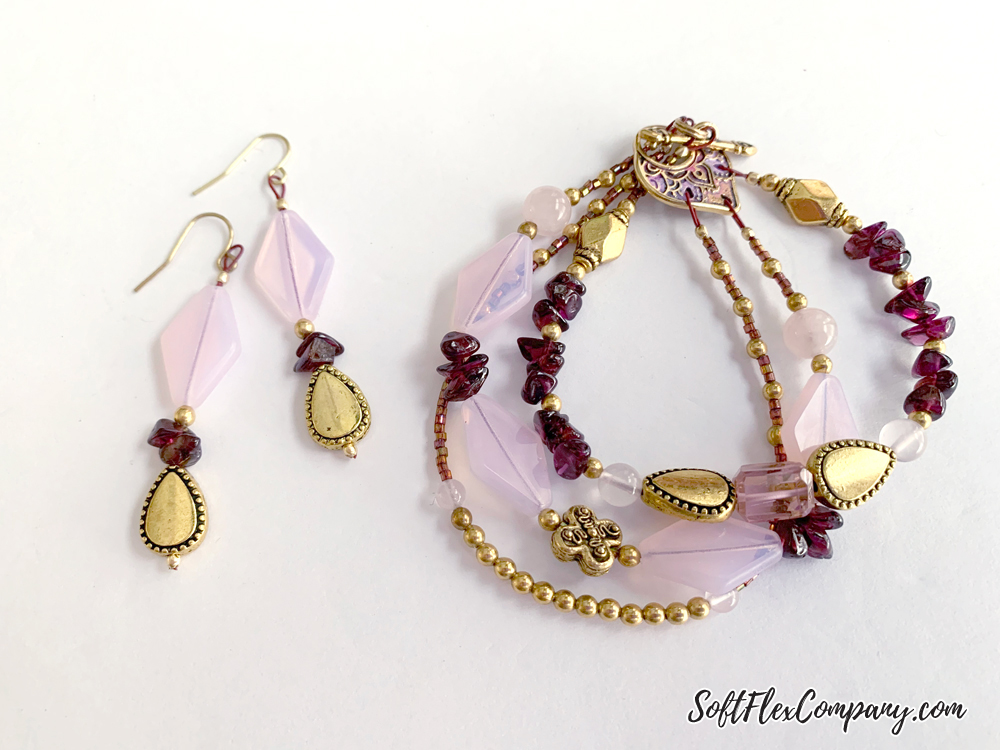 From Kristen:
Let's take a look at how you can design jewelry with Divine Feminine symbolism in mind. Using symbolism is a great way to inspire your design when feeling stuck and infuses a bit of magic into your jewelry!
Power of 3: As a Goddess, we naturally imbue the power of three within us. We experience three phases in our lives, 'maiden, mother and matriarch (crone)'. Whether we are male or female, we have the ability to work with the feminine creative power of the number three within us to transform our lives by aligning the three aspects of our being – our mind, body & soul. (source: Simone Matthews)
Power of 13: The number 13 has a unique association with the Divine Feminine. 13 is said to have been revered in prehistoric goddess-worshiping cultures because it corresponded to the number of lunar (menstrual) cycles in a year 13 x 28 = 364 days. (source: witchlike)
Soft Flex .019/Medium Beading Wire - Garnet
Czech Glass table Cut Flat Diamond Beads - Pink Rhodochrosite Opal
Rose Quartz & Garnet Gemstone Beads
Assortment of Metal Beads
Pink Gold Lined Delica Beads
Temple Toggle Clasp Set - Antique Gold
2x2mm Crimp Tubes - Gold Filled
Crimping Pliers
Cutters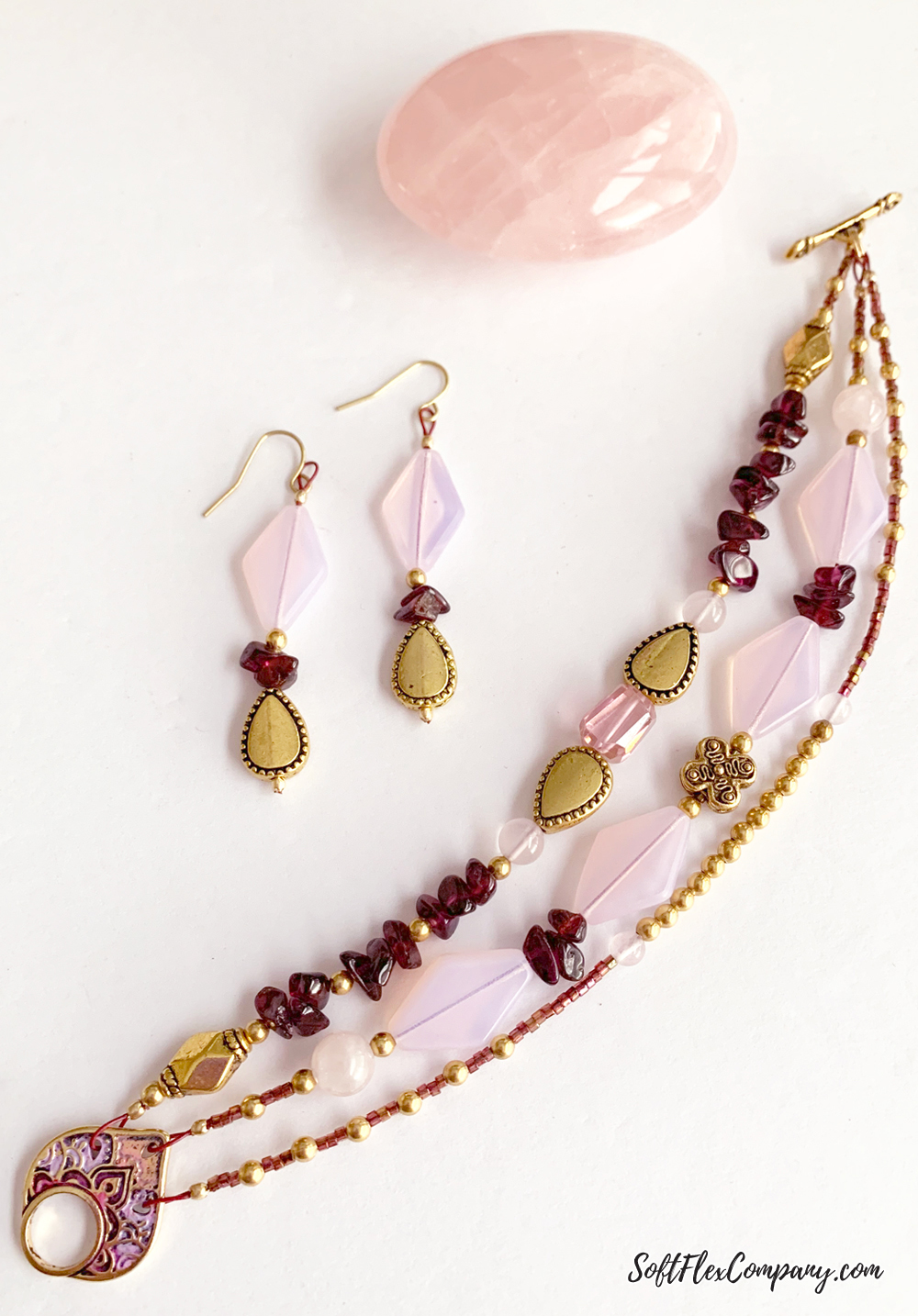 Jewelry Making With Sara's Lucky Mini Design Kit
A lucky shamrock will greet you if you purchase our latest mini kit. Sara crafted this cute little talisman specifically for this lil treasure chest. This is a perfect mix of verdant green Czech Glass and CZs. If you want to be a fashionable leprechaun for St. Patrick's Day, this kit will kick things off right. This kit is also great for restocking your beading supplies. Break it down and add the beads to your spring themed collections! Green is so earthy and wonderful. Celebrate life with the beauty of green.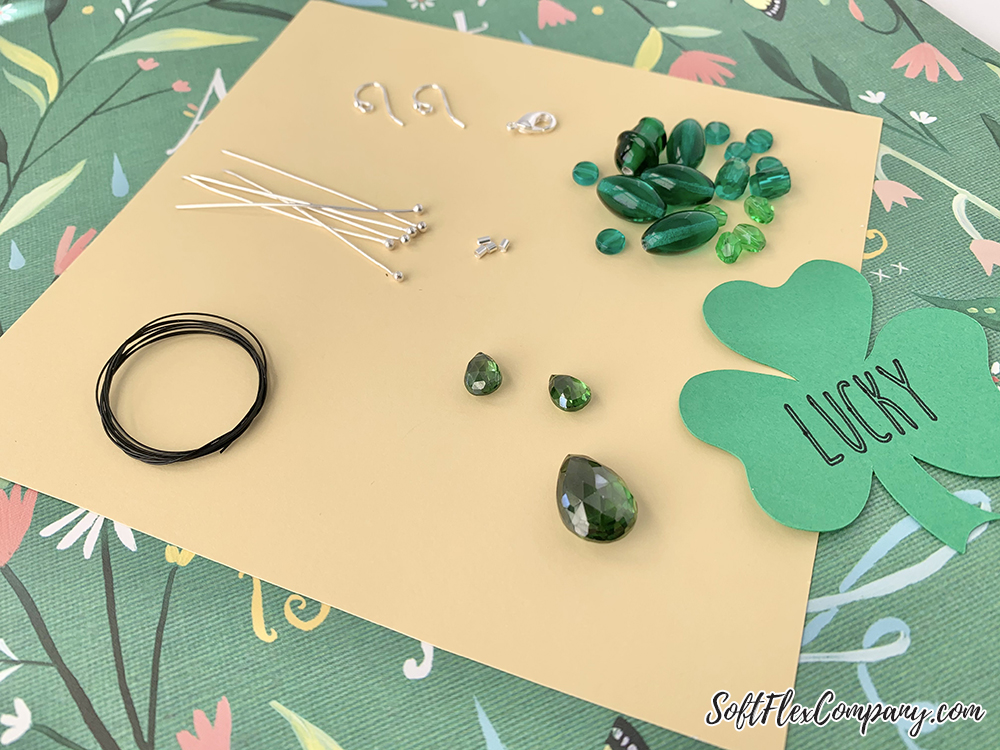 Our mini kits are basic boutique kits. We like to offer these smaller kits for people that want to create a themed jewelry piece and not spend a lot of money. This kit, in particular, has some stunning CZ beads in it. The biggest CZ in the kit is almost worth the kit purchase alone. This collection will not hurt your wallet, but will offer you enough wire, components, and beads to make some fun jewelry. You will not need a lot of tools to finish the pieces either. Design kits are a great way to share the fun with loved ones. Give the gift of beads to your birthday boy or girl!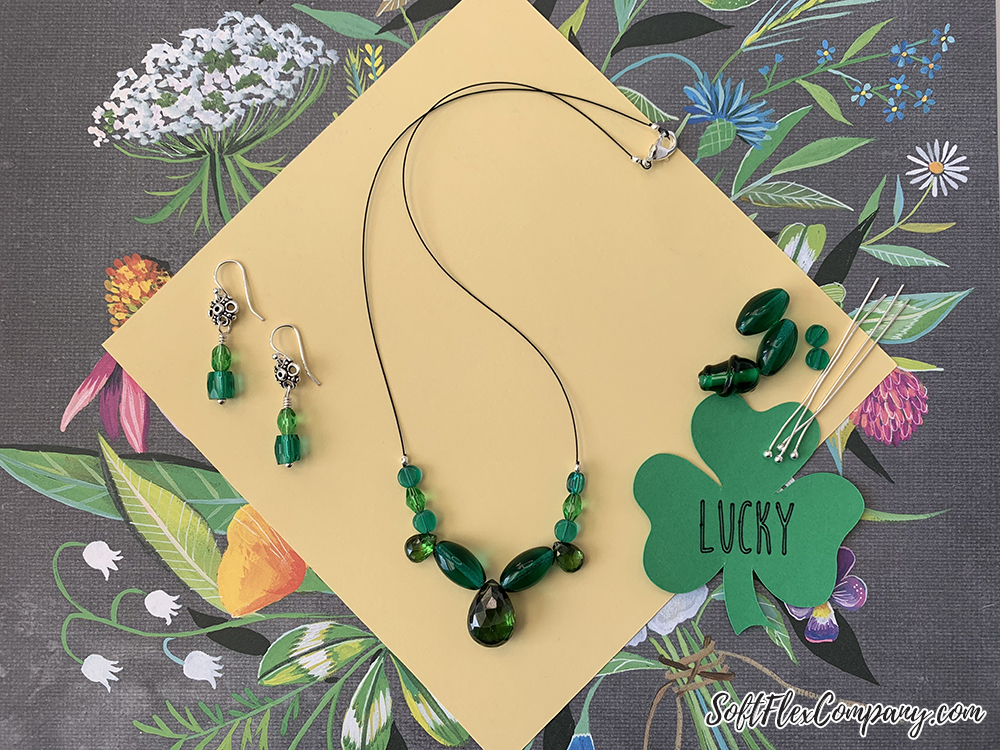 Sara's Lucky Mini Design Kit
Soft Flex Beading Wire, .014 Diameter in Black Onyx
Ear Wires
2x2mm Crimp Tubes
Magical Crimping Pliers
Cutters
Round Nose Pliers
Multi-Size Looping Pliers
How to Make a Bead Woven Pendant
Every Nealay video is a masterclass in working with unique and dissimilar mediums. He always manages to make a unified piece from all of his separate beading supplies. If you want to learn how to make challenging and beautiful jewelry, check out his videos and find him on Facebook. This week, Nealay taught us how to make a tassel, using SilverSilk and Soft Flex Craft Wire. He then showed us how to weave a beaded pendant using beading cord. He finished up the design with delightful messy wrap, using Craft Wire. The necklace he designed turned out to be a gorgeous rustic design. Learn how to use jewelry components in ways you never thought possible!
From Nealay:
Bead weaving doesn't necessarily mean just using seed beads. I was inspired by my bag of left over beads for this project. I found a ton on 8mm Czech glass rondelles and decided to make an easy bead woven pendant with just using what I had on-hand. Learn how to weave together 8mm glass rondelles in minutes to make a stunning pendant and also learn another clever way to fill Hollow Mesh. with my tutorial. Capture Chain and Hollow Mesh can be found on http://www.silversilkonline.com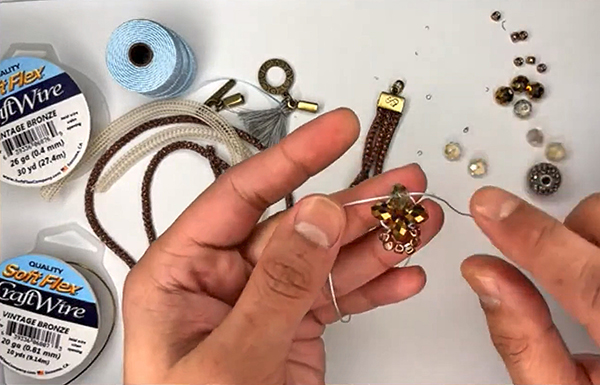 SilverSilk Hollow Mesh
SilverSilk Capture Chain
Soft Flex Craft Wire - 26 Gauge
Soft Flex Craft Wire Silver Plated - 26 Gauge
Soft Flex Craft Wire - 20 Gauge
Soft Flex Craft Wire Silver Plated - 20 Gauge
Soft Flex Beading Wire or Beading Cord
SilverSilk End Caps
SilverSilk Terminators
Beads
Draw Plate
Cutters
Nylon Jaw Pliers
Round Nose Pliers
Chain Nose Pliers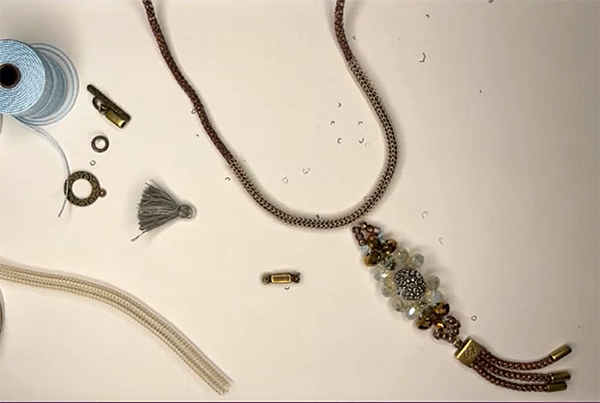 Be sure to mark your calendars for every Tuesday, 5:30pm CST and hop over to facebook.com/groups/silversilk to watch Nealay's videos live and ask questions.
Nealay's channel is dedicated to learning how to make high quality jewelry with SilverSilk with an emphasis on design. You can follow his journey here:
www.instagram.com/silversilkandmore
www.facebook.com/silversilkandmore
Or join his Silkies group and be a part of the conversation www.facebook.com/groups/silversilk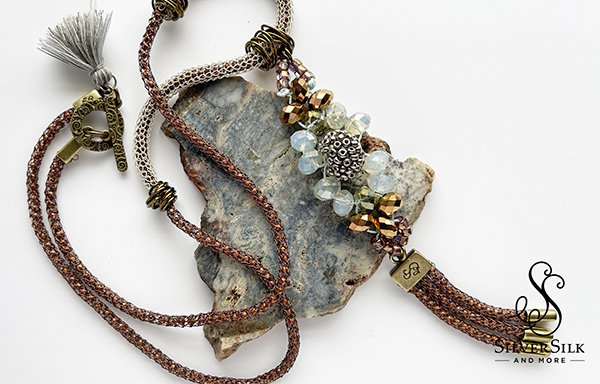 Join our Facebook group – VIB. Stay in the know. Stay up to date. From our bead shows to our video shows and sales, you can stay in touch with us. The community is full of artistic and helpful beaders and crafty people. Inspire and be inspired. Share your pictures and get the beading bug from others!
Visit the Soft Flex Company YouTube Channel!
---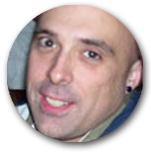 Blog contributor Thomas Soles loves Jazz Age writers and crunchy french fries. His favorite gemstones are Lapis and Pietersite. His favorite hobby is day dreaming. And his favorite mustache is Freddie Mercury's. As you can see, he has a healthy (or possibly unhealthy) sense of humor. You can write to him at [email protected]