It's Friday! We have a magical jewelry making video recap for you. This week, we spent some time learning how to make a necklace with autumn colors. We will help you stay current with your fall fashion. We threw a beading party with our friends at TierraCast. And we visited the House of the Wise Badger. If you like a little wizardry in your beading supplies, you will not want to miss this exciting Hufflepuff collection of color! Let's wiggle our wands and make some spellbinding jewelry!
Kristen showed us how to make an amazing necklace. Your autumn fashion is going to be on point if you follow her fun instructional video. Sara and Kristen visited Tracy at TierraCast, via Zoom, and talked about the business end of jewelry making. They followed with a fun beading party. Finally, we caught up with Nealay. Nealay unboxed a kit from Jesse James Beads. If you love HP magic, JJB has a color collection for your favorite house. Are you a Cunning Snake, Wise Raven, Loyal Badger, or Brave Lion? Show everybody the colors of your crest! You are going to have a blast catching up with our exciting week!
TierraCast Jewelry Components
You are going to love these weathered TierraCast jewelry components. TierraCast's distressed metal collection adds an organic and fun detail to any jewelry piece. These findings would look great on a vintage piece, they would look amazing on a beach necklace - experiment and make jewelry making fun!
If you love the look of weathered metal, make sure you check out all of the TierraCast items we carry!
Since 1978, TierraCast has been making high-quality, lead-free cast beads, findings and components in Santa Rosa, California, USA.
Sara's new video premieres on YouTube on Saturday!
Sara's newest jewelry video will be available on YouTube this Saturday. This is a rerelease of the live beading party that we held on Wednesday. If you do not like Facebook or do not have a Facebook account, we have made this video available on YouTube. Add this fun video to your YouTube bookmarks. You will have fun watching this lively beading party and leaning more about TierraCast. Join us as we talk shop and make jewelry!
Jewelry Making Videos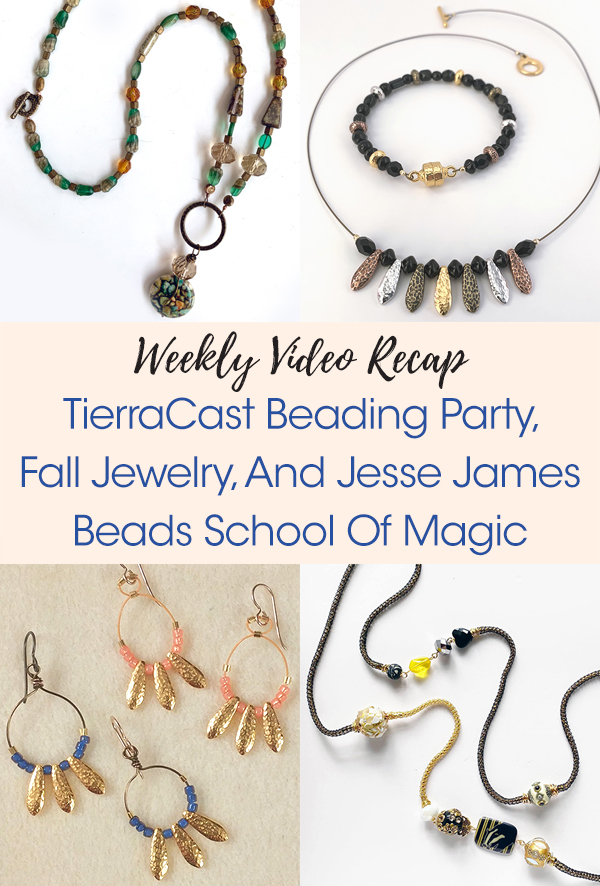 How to Make a Beaded Necklace for Fall with Antique Color Wire & Components
This week on Free Spirit Beading, Kristen wanted to create a fun autumn necklace to celebrate the end of summer. It is finally time for the weather to start cooling and our favorite holidays to start brightening our days. Living in Phoenix, summer is a difficult season at times, to put it mildly. Kristen is probably happy to get a respite from the intensity of the desert heat. This episode, she showed us lots of jewelry making tips and tricks. If you are a beginner beader, you are sure to learn a lot of fun new ways to finish your necklace or add a focal. If you are a schooled beader, you might find a little inspiration. Kristen is a patient and free spirited soul. She is a great teacher and can show you how to quiet that perfectionist part of you that stops you from finishing a new design. She shows how to embrace flaws and enjoy the journey. This video is a fun watch for beaders of all skill levels.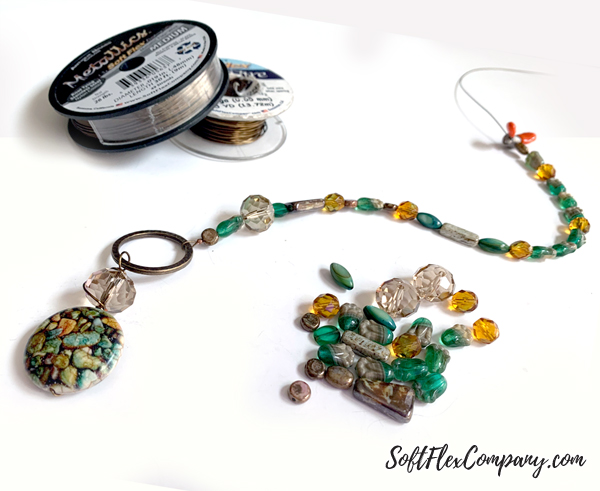 From Kristen:
I share how to wire wrap a beaded pendant and string a beaded necklace using antique color beading and craft wire. Soft Flex Beading Wire in Antique Brass color is one of my favorites! It pairs seamlessly with Soft Flex Craft Wire in Vintage Bronze and antique brass and natural brass jewelry making components. I combined my favorite vintage colors with our new Surprise Color Czech Glass Tulip Bead Strands with an assortment of Czech Glass beads and cube seed beads.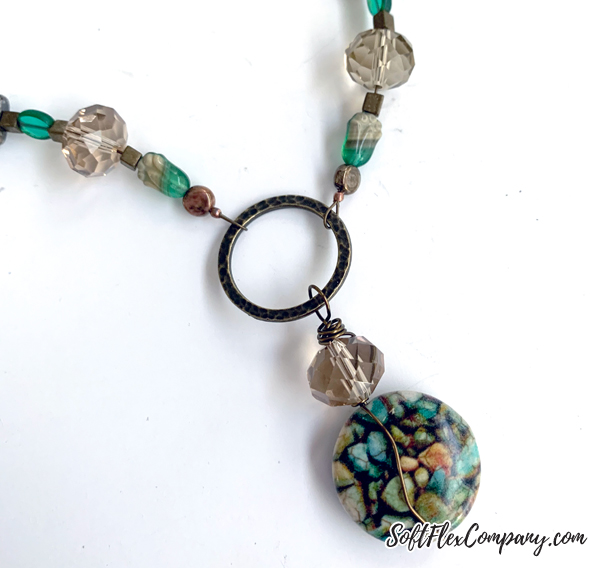 Soft Flex .019/Medium Beading Wire - Antique Brass Color
Soft Flex Craft Wire 22 Gauge - Vintage Bronze
Tulip Czech Glass Beads
Assortment of Czech Glass Beads
3mm Cube Seed Beads
Hammertone Ring Connector - Antique Brass
Maker's Clasp - Antique Brass
Multi Size Wire Looping Pliers
Bead Stoppers
2x2mm Crimp Tubes - Copper
Crimping Pliers
Cutters
This necklace is earthy and wonderful. It is a fun fall jewelry project. Do you need some new autumn fashion in your jewelry box? This necklace is easy to make and full of exciting techniques. Learn how to wire wrap a bead and make a unique focal. Learn how to use Magical Crimping Pliers. This necklace is as fun to make as it is to look at!
Make sure you check out our TierraCast show, below, if you like the connector used in this necklace. TierraCast has a Hammertone collection that we absolutely adore. The Hammertone collection features exciting weathered metal findings. The distressed pieces give so much character to a piece of jewelry. Don't settle for boring findings! Incorporate findings that have character and detail. They do not need to hide in the shadows. Give them the spotlight and let them shine!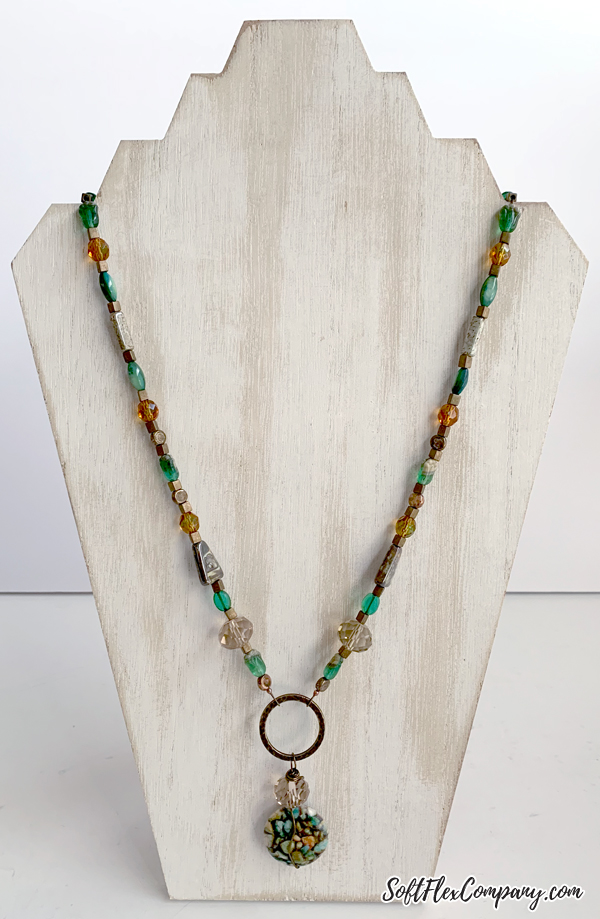 Live Beading Party With TierraCast
Do you love parties? Do you love beads? Well, then you certainly need to check out our latest beading party. This time, we visited Tracy Proctor, from TierraCast. TierraCast is a jewelry component manufacturer based in Sonoma. Right next to Soft Flex Company! They are only a thirty minute drive away. It blows our mind that such a legendary company is so close by.

Tracy is a jewelry designer and product educator at TierraCast. You can find her tutorials on sites like ArtBeads.com and you can find lots of videos on YouTube. Tracy started at TierraCast in 2006. She did not have a background in jewelry making when she began, her talents lie in fine arts and graphic design. She found her experience valuable and it lent itself into jewelry design. Tracy handles marketing and creative work at TierraCast. If something from TierraCast caught your eye, she is probably the reason!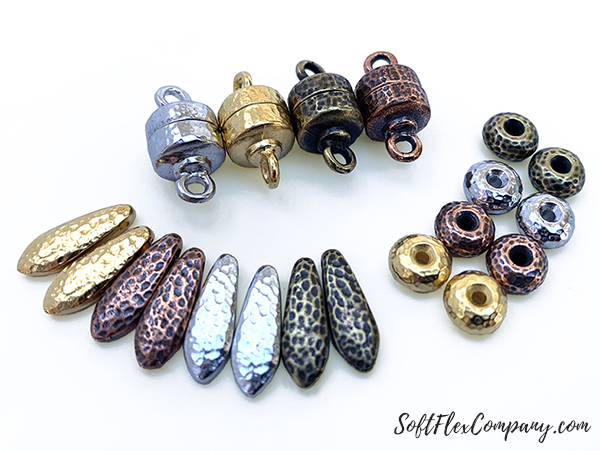 Join our beading party. We discuss the state of the industry. We talk about the products we love and the products you should be adding to your beading supplies. We discuss how COVID has affected us, when California shut down, a lot of us had to figure out how to keep our businesses open and thriving. We follow all of the conversation up with some fun jewelry making. If you want to sit in with three talented jewelry designers and learn about the beading industry, you won't want to miss this video!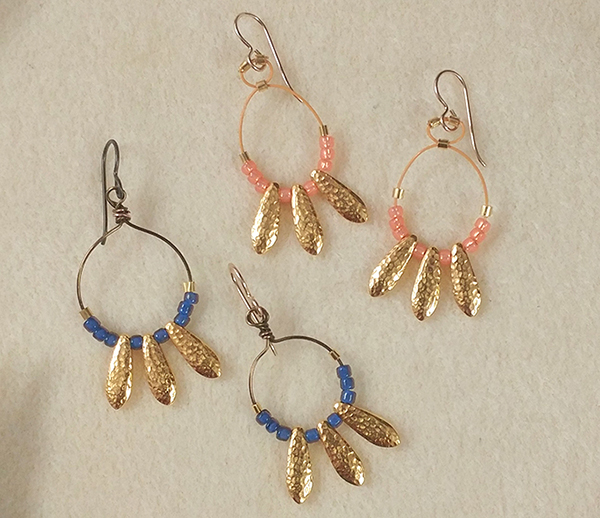 TierraCast began in the '70s. Founder Steven Tierra started casting jewelry for his friends out of his garage. The work was lucrative enough that he was able to expand his business. In 1978, Steven moved his company into a commercial building. In a serendipitous twist, one of Steven's first customers, Alan Joseph, became his business partner and a co-owner of the company. Alan was so impressed the Steven's manufacturing process that he offered to work for free so he could learn these techniques. They became quick friends and the company was stronger for it.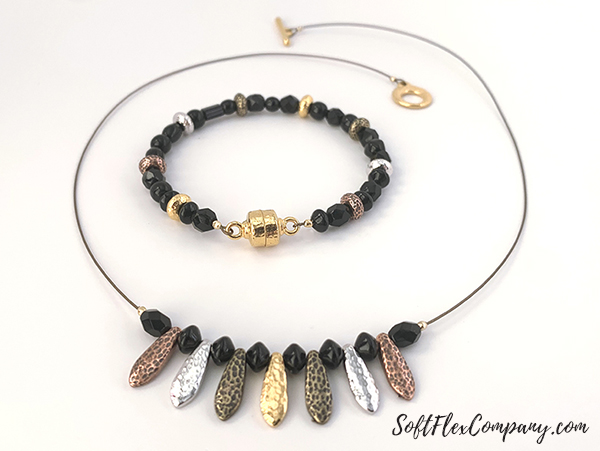 TierraCast enjoyed a strong run throughout the '80s. They took in hundreds of new clients and expanded their manufacturing techniques. They were able to add a wide range of eclectic products to their inventory. The commercial building that Steven originally purchased was just the beginning. He was able to acquire all of the buildings located on the property. 13,000 square feet of manufacturing space and offices became a part of the TierraCast company.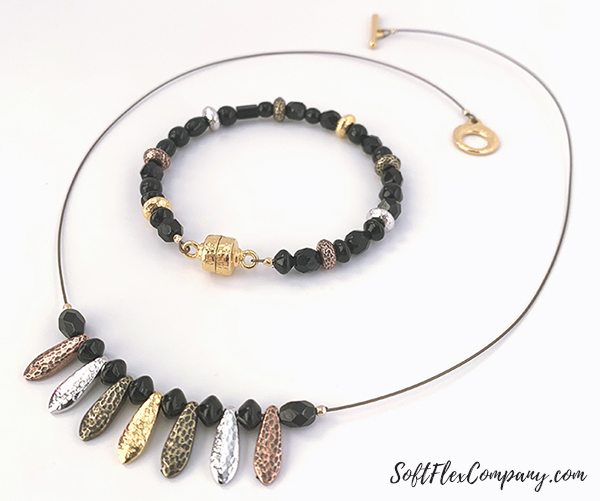 TierraCast has a vast catalog of metal jewelry components. If you are creating gallery quality jewelry, these components will give your next design another level of beauty. If you are creating jewelry for yourself, you should spoil yourself and add some TierraCast findings to your beading supplies - you deserve it!
You can find TierraCast products in brick and mortar bead stores. You can also find them on many jewelry making websites. If you are outside the United States, you can find sites that carry these lovely findings internationally.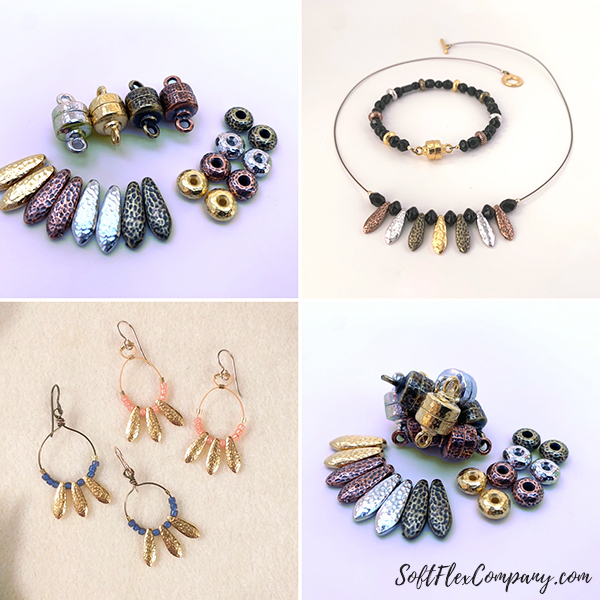 How To Make A Fabulous Jewelry Design With Jesse James Bead's School Of Magic Collection
We shared some time with Sarah James of Jesse James Beads last week. We gathered our crystal balls and cast ourselves into a rousing beading party. No incantations or illusions. We just made powerful jewelry. This week, Nealay filmed his collaborative video with Jesse James Beads. He unboxed a magical design kit - the School of Magic Loyal Badger kit. There are four separate kits. Each kit represents a house. The Sorting Hat will tell you the house you belong to. You can be a Wise Raven, Brave Lion, Cunning Snake, or a Loyal Badger. Whatever house you belong to, these kits will help you design jewelry with the colors of your crest! Doesn't that sound magical?
If you visit Jesse James Beads, you can pair your kits with Soft Flex Beading Wire Duos and SilverSilk Capture Chain. Find a color match for your beads and create some spellbinding jewelry!
School Of Magic Bead Bundle In Loyal Badger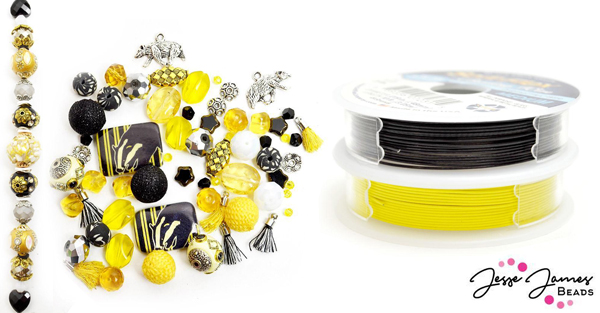 You are kind, a lover of animals and plants, practice hard work and loyalty. The Sorting Hat knows best... you must be HUFFFFFLEPUFF!
This School of Magic BADGER bead bundle features both the bead mix and strand in Loyal Badger as well as a special gift box featuring your house crest and collectable card.
Pair this bundle with Soft Flex Magical Duo In Loyal Badger. Each duo includes two 10 foot spools of wire. Flexible and versatile, Soft Flex Beading Wire is a favorite of beaders everywhere! Use this neutral color for nearly any project.
SilverSilk School Of Magic Chain
A colorful School of Magic needs a brilliant sparkle! SilverSilk Capture Chain is made by knitting six 36-gauge, permanently enameled, non-tarnish wires over a 2mm ball chain to create a 3mm knitted wire cord. The ball chain provides structure, while the knitted wire adds beauty and intricacy. Our single-, double- or triple-strand custom-designed end caps, located in the Findings section, provide a polished finish to the ends of this knitted wire.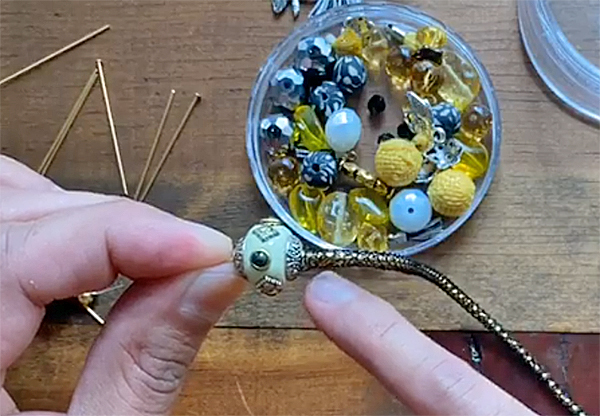 School of Magic Bead Bundle
SilverSilk School Of Magic Chain In Loyal Badger
Soft Flex Craft Wire - 20 Gauge
Soft Flex Craft Wire Silver Plated - 20 Gauge
SilverSilk End Caps
Head Pins
Cutters
Round Nose Pliers
Chain Nose Pliers
From Nealay:
Let's make a fabulous design with the NEW School of Magic Collection. I'll be using beads from the Hufflepuff set, as I am loyal, hard working and and somewhat patient.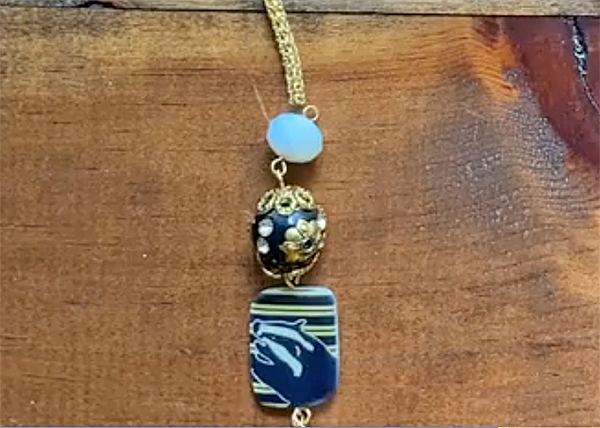 What house do you belong to? JJB School of Magic is a great way to show your colors. They are also great if you want to make gifts for the young wizards in your family. The lovely badger in this kit is mother of pearl. Elegant and mystical. Pair your kit with Soft Flex or SilverSilk for a complete color effect.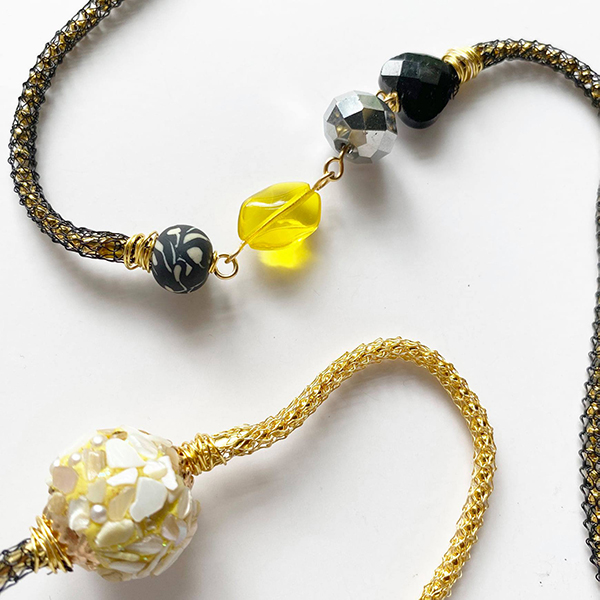 SilverSilk is stunning. This necklace is incredibly easy to make. Simply follow Nealay's gentle instructions. Add more beads or less beads. Change up your colors. You can make every spellcaster in your house a mystical and gorgeous piece of jewelry!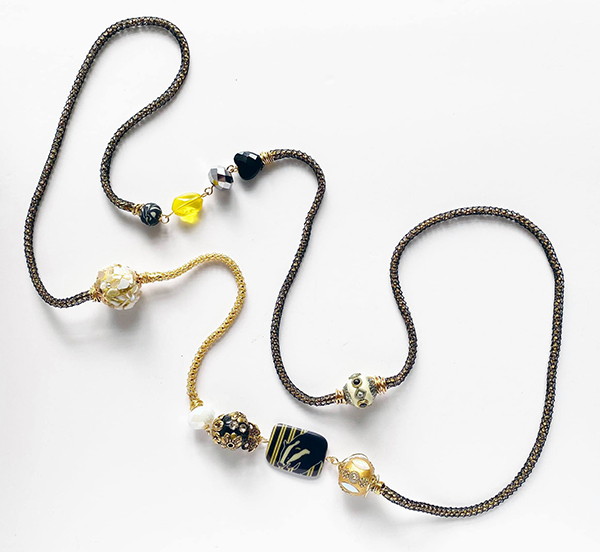 Be sure to mark your calendars for every Tuesday, 5:30pm CST and hop over to facebook.com/groups/silversilk to watch Nealay's videos live and ask questions.
Nealay's channel is dedicated to learning how to make high quality jewelry with SilverSilk with an emphasis on design. You can follow his journey here:
www.instagram.com/silversilkandmore
www.facebook.com/silversilkandmore
Or join his Silkies group and be a part of the conversation www.facebook.com/groups/silversilk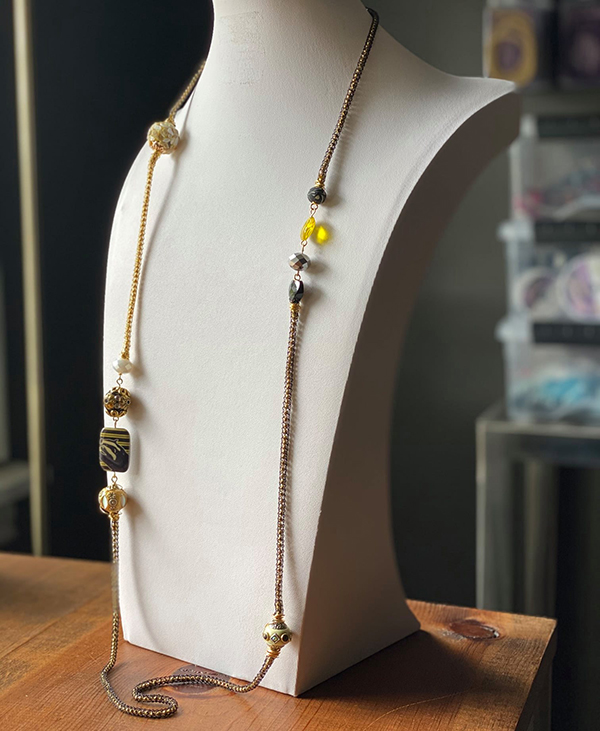 Join our Facebook group – VIB. Stay in the know. Stay up to date. From our bead shows to our video shows and sales, you can stay in touch with us. The community is full of artistic and helpful beaders and crafty people. Inspire and be inspired. Share your pictures and get the beading bug from others!
Visit the Soft Flex Company YouTube Channel!
---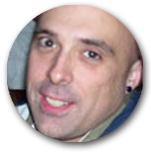 Blog contributor Thomas Soles loves Jazz Age writers and crunchy french fries. His favorite gemstones are Lapis and Pietersite. His favorite hobby is day dreaming. And his favorite mustache is Freddie Mercury's. As you can see, he has a healthy (or possibly unhealthy) sense of humor. You can write to him at Thomas@SoftFlexCompany.com