Need some jewelry making ideas? We have a bunch of amazing videos for you! Enhance your spring wardrobe with fashionable floral jewelry. Learn how to make adjustments on a necklace. Learn how to make a wire wrapped beaded bracelet. Celebrate Star Wars with earrings that would make a Jedi dance. Join a beading party with us and get inspired. You definitely don't want to miss the fun!

Have you ever made a necklace that looked amazing but just did not work? On Monday, Kristen showed us how to make adjustments to a design and give it new life. On Wednesday, we enjoyed a beading party with our good friend Cassandra Spicer, of Beads To Live By. She showed us how to make a bracelet with Soft Flex Craft Wire, Beading Wire, and beads from her Curated Collections.
Don't miss our Live Sales! Subscribe to our emails to be notified of our latest Live Sale. This week, we had a blast selling stunning beads on Facebook. The items sold during these shows are rarely available on our website. They are special buys with exceptional discounts. Plus, we ship every purchase with a surprise gift of beads. And if you are a live viewer, you may win one of our amazing giveaways. Don't miss out on the fun!
Around the web, we had a fun time watching videos from our friends. Brittany Chavers showed us how to make a gemstone statement necklace. She used a Bargain Bead Box and her favorite wire - Copper Color Soft Flex Beading Wire. Learn more about Brittany in our Spotlight blog. We watched Rosanna Brafford show us how to make falling stars earrings with our Camp Out Design Kit (Sold Out). Marcie Creates showed us how to make a beaded focal using Soft Flex Craft Wire. Jenifer Miller showed us three bead stringing techniques for making bracelets. And finally, we watched Beki Foster make Star Wars earrings. Celebrate the next May the 4th (or every day) with jewelry that shows your Jedi alignment - are you a dark side or light side Force user? Let's make jewelry!
Jewelry Making Videos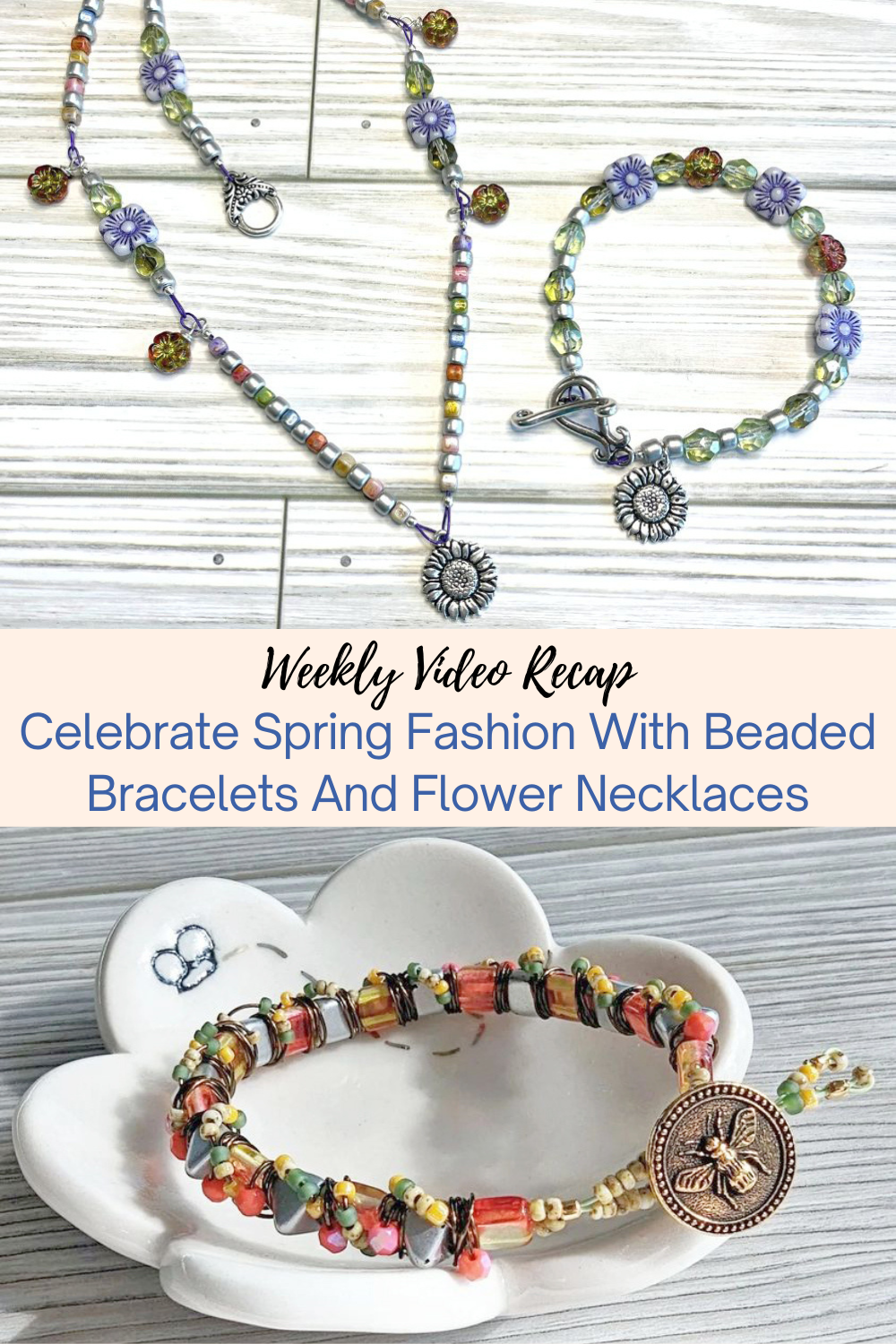 Our Social Media Sites Will Show You How To Make Jewelry In Just Minutes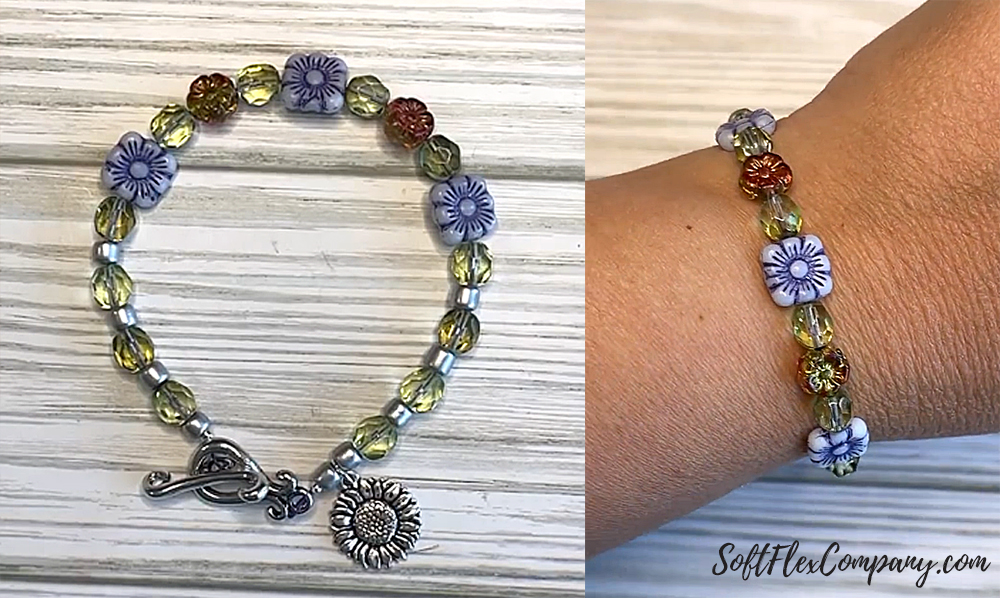 Got a minute? Check out our latest reels and TikTok videos. Soft Flex Company's Instagram Reels and our Soft Flex TikTok Page will teach you how to make jewelry in under a minute. These videos move quickly but are easy to follow. If you need more assistance, make sure you check out our YouTube catalog for deeper dives into jewelry making education. You will find in depth discussions on how to use your tools and finish your jewelry on that channel. Instagram Reels and TikTok are great tools for learning something new or finding quick inspiration. Check out our 1 Minute Videos and explore the wonderful pins on our Pinterest page. Learn from Soft Flex Company jewelry designer pros at the pace you choose! If your creativity needs a quick cup of coffee, make sure you visit us for a much needed jolt of crafting caffeine!
Jewelry Adjustment: How To Shorten A Necklace & Add Dangles
This week on Free Spirit Beading, Kristen showed us how to make adjustments on a necklace she made. One great thing about stringing your own beaded jewelry is that you can always make changes to a design that just is not fitting quite the way you envisioned. Kristen loves to test drive her latest jewelry and she felt this necklace could be improved. She ended up making the necklace shorter and adding dangles. It looks amazing!
Art is never finished, only abandoned.
~Leonardo da Vinci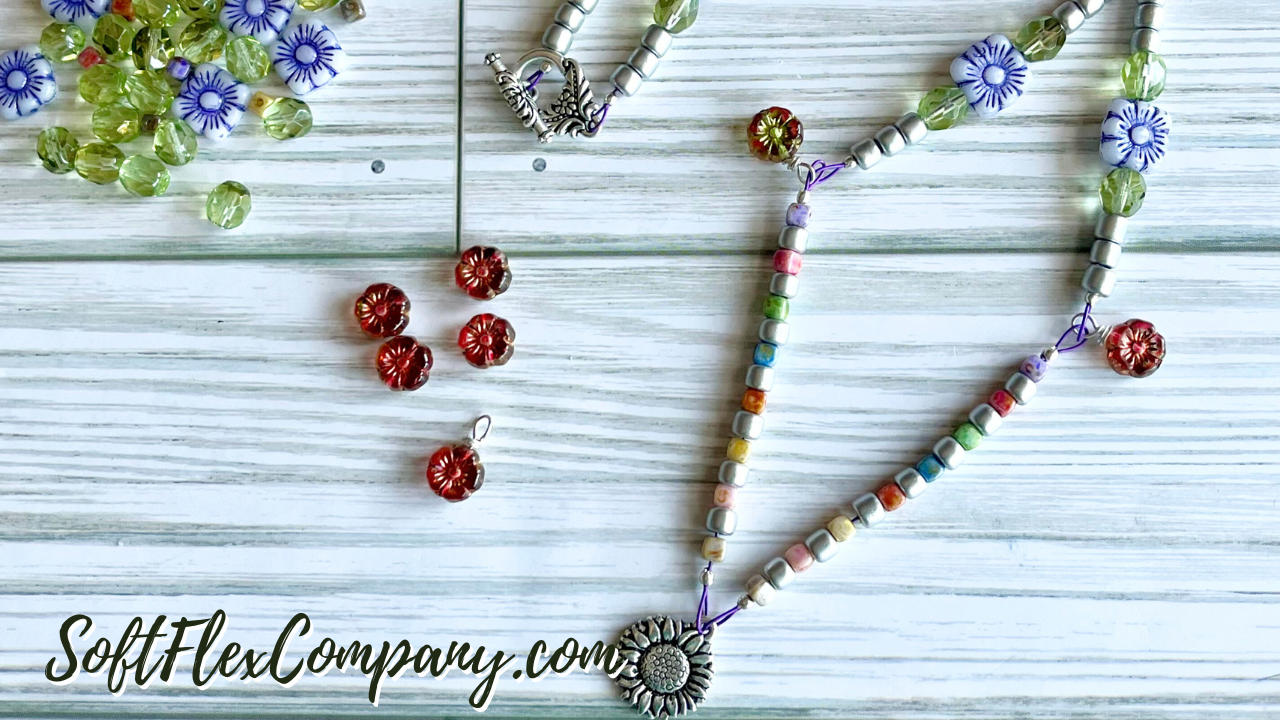 Spring Blossoms Design Kit
Spring Blossoms Bead Mix
Soft Flex Beading Wire, .019 diameter
Czech Glass Beads
Rola Seed Beads
2x2mm Soft Flex Crimp Tubes
Magical Crimping Pliers
Cutters
Live Beading Party With Cassandra Spicer Of Beads To Live By - Wire Wrapped Beaded Bracelet
Cassandra Spicer, from Beads to Live By, joined Sara for another fun beading party. Cassandra had an amazing beaded bracelet design she wanted to share with us. Cassandra strung her bracelet on medium diameter Soft Flex Beading Wire. She then wire wrapped the bracelet with Soft Flex Craft Wire. The bold wire work gives the bracelet a stunning texture and look. This is a perfect playful piece of jewelry for spring!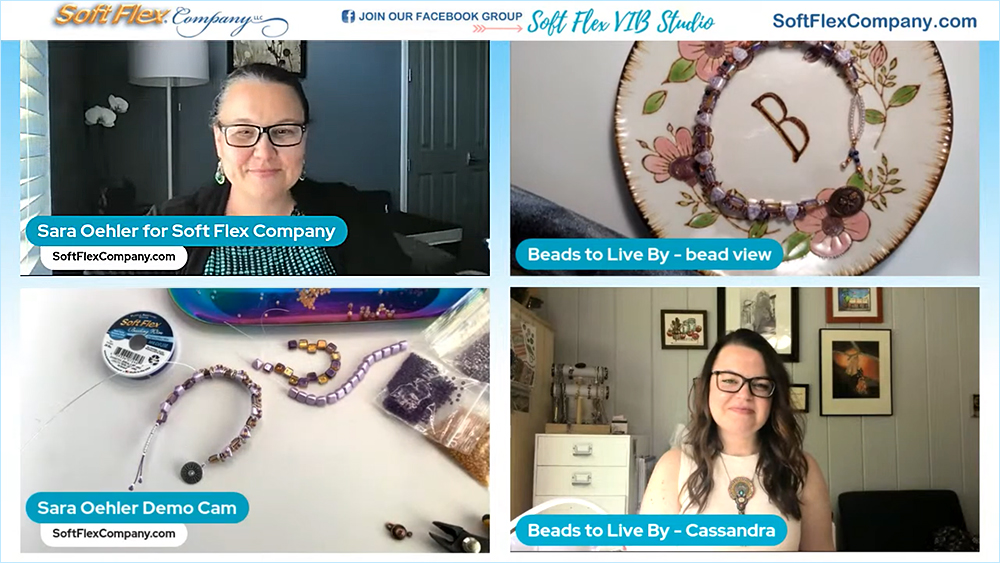 This is a great project for Craft Wire beginners. The wire wrapping is 'messy wrapped' to give it an organic look. Wire working pliers are optional, but would be helpful when finishing and concealing the tips of the Craft Wire. But fingers are perfectly fine tools for designing the wrapped segment of your bracelet. And since this is a messy wrap - every single bracelet you make will be one-of-a-kind!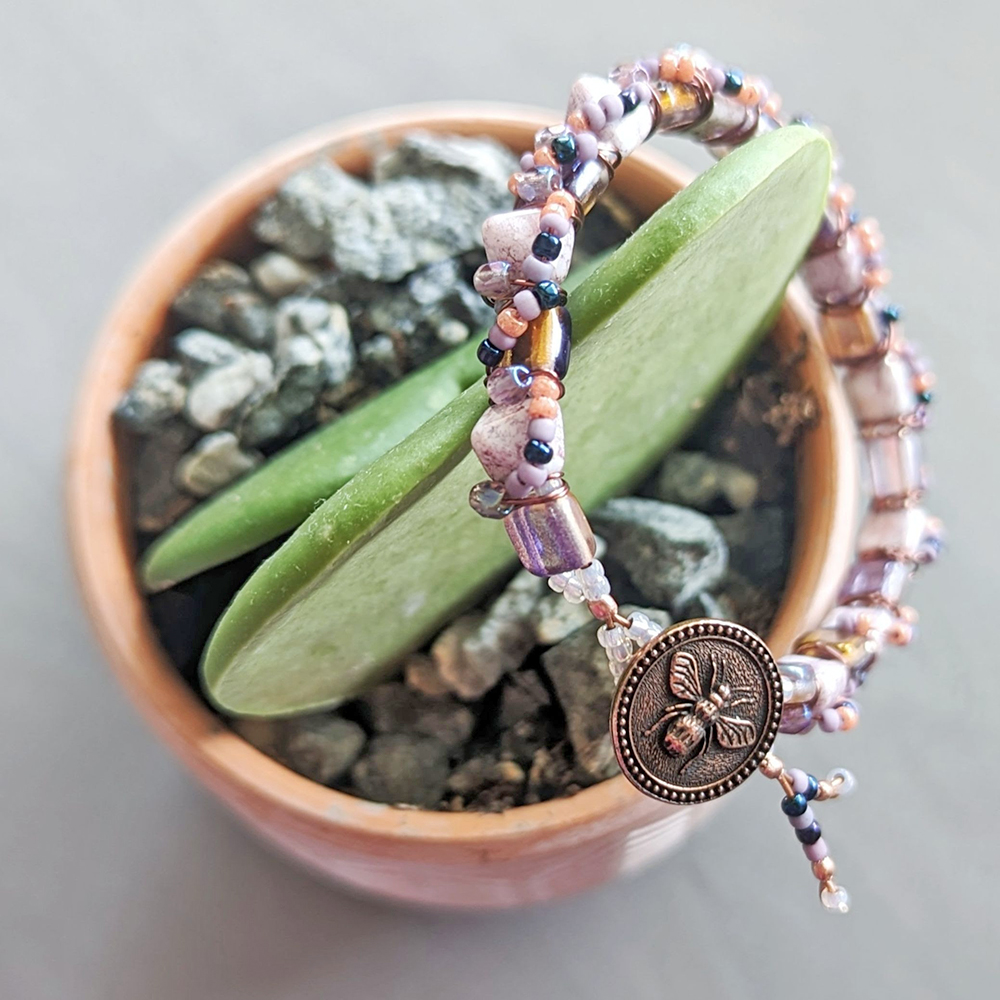 Seed Beads from Beads to Live By Curated Collections
Czech Glass Beads
Soft Flex Beading Wire
2x2mm Soft Flex Crimp Tubes
Button
Soft Flex Craft Wire
Crimping Pliers
Round Nose Pliers
Chain Nose Pliers
Cutters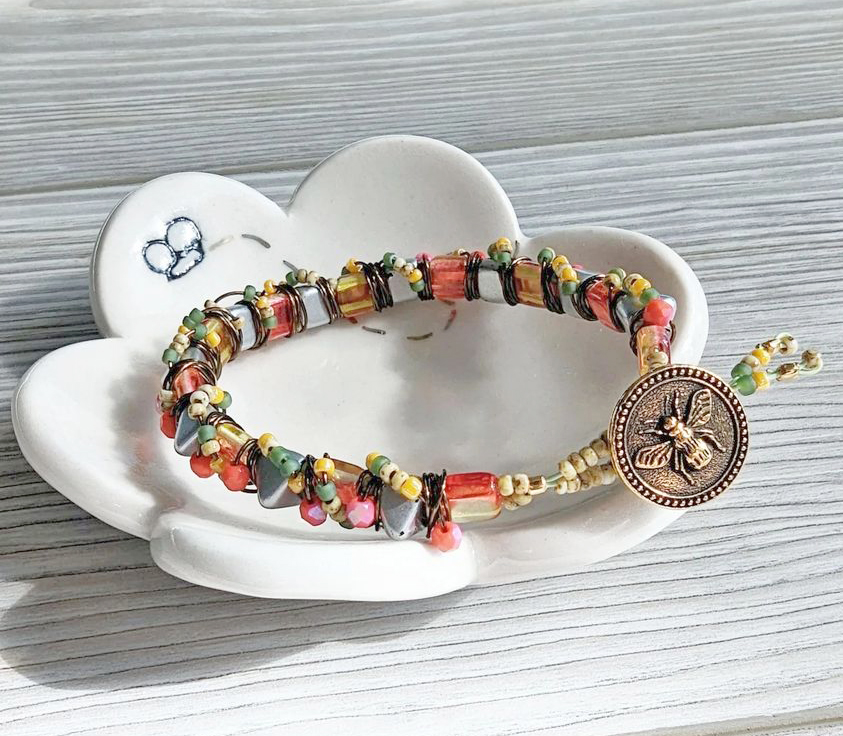 Turquoise.Street: DIY Gemstone Statement Necklace Tutorial
Rosanna Brafford: How To Make Falling Stars Earrings Using The Camp Out Jewelry Kit
Marcie Creates: How To Make A Beaded Focal Using Craft Wire
Jenifer Miller: Three Beaded Bracelet Stringing Techniques
Beki Foster: How To Make Star Wars Earrings For May The 4th
Join our Facebook group – VIB. Stay in the know. Stay up to date. From our bead shows to our video shows and sales, you can stay in touch with us. The community is full of artistic and helpful beaders and crafty people. Inspire and be inspired. Share your pictures and get the beading bug from others!
Visit the Soft Flex Company YouTube Channel!
---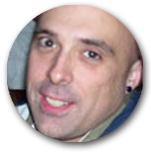 Blog contributor Thomas Soles loves Jazz Age writers and crunchy french fries. His favorite gemstones are Lapis and Pietersite. His favorite hobby is day dreaming. And his favorite mustache is Freddie Mercury's. As you can see, he has a healthy (or possibly unhealthy) sense of humor. You can write to him at Thomas@SoftFlexCompany.com