It's almost Christmas. You still have time to make some handmade jewelry for friends and family. If you need gift giving ideas but are short on money, giving beaded jewelry is an easy way to make sure everybody gets a gift that looks elegant and expensive. Nobody needs to know your secret - it only costs a couple of dollars to make gallery quality jewelry! You could also give your favorite crafter a jewelry making kit. Or, you can also splurge on beading supplies for yourself! Check out our latest batch of videos for some great gift ideas!

We hope you are having a wonderful holiday season. At Soft Flex Company, we have had a blast throwing beading parties and making Christmas crafts and Christmas jewelry. We have designed so many fun ornaments and Christmas earrings this year. Make sure you check out our holiday blogs for some festive handmade gift ideas. This week was no different. We had a holly jolly beading party and made some Christmas jewelry. Kristen showed us how to make candy cane earrings. Sam, from Sam's Bead Shop, joined us for a beading party. You definitely do not want to miss this one! Learn an amazing way to make a handmade clasp! We joined our friends at the Great Bead Extravaganza and discussed gift ideas and holiday savings. We watched Wendy Whitman design a necklace with Soft Flex Beading Wire and Jesse James Beads. Marcie Creates unboxed our Retro Christmas Design Kit (Sold Out). Finally, Janet Boyer showed of her DIY Christmas jewelry collection. What a merry week we had! Join us for some jewelry making ideas!
Trios Retro Christmas Beading Wire Pack - Red Coral, Peridot, Green Turquoise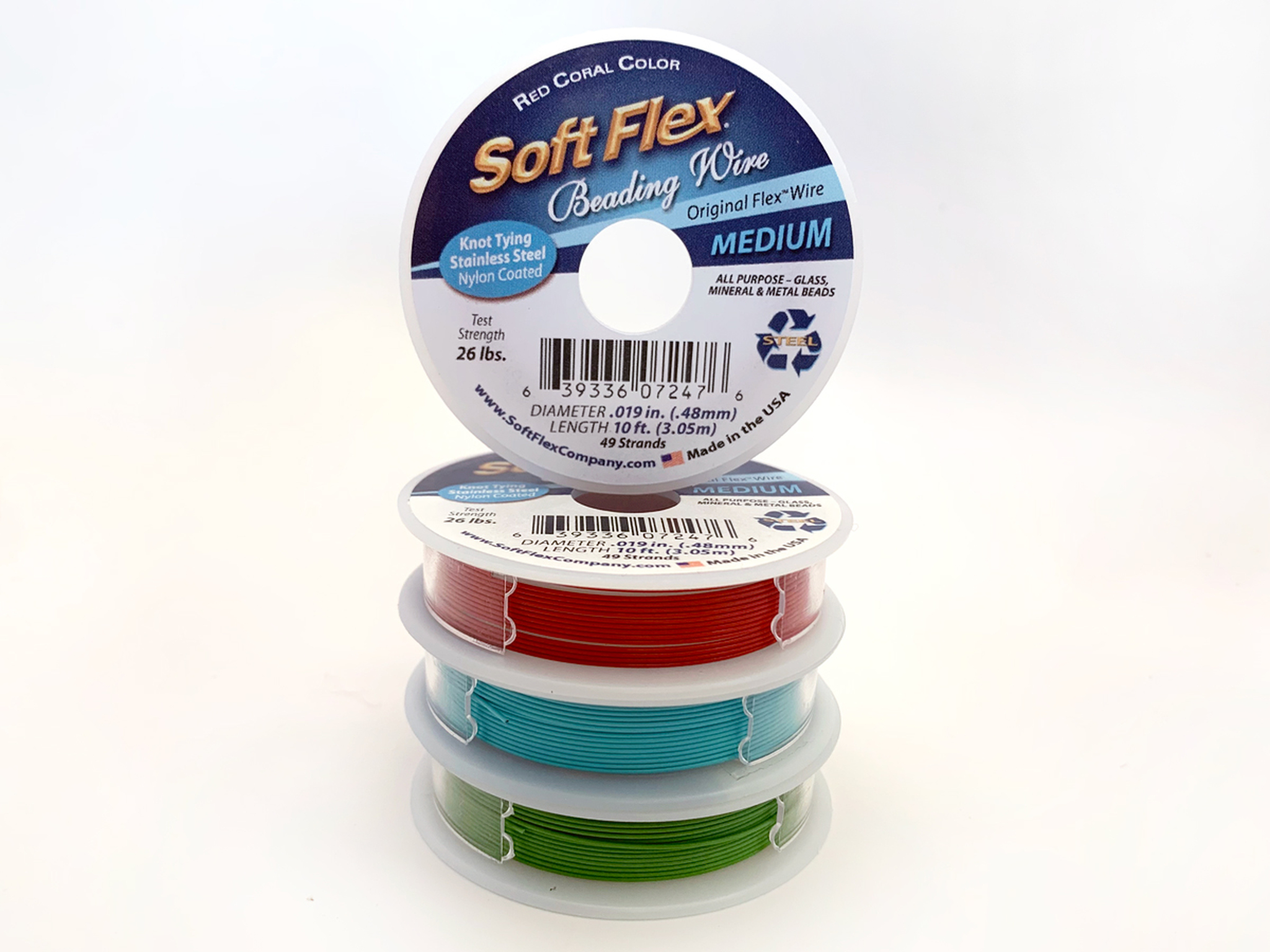 Retro Christmas is a special beading wire collection inspired by our Retro Christmas Design Kit (Sold Out).
The holidays are here! The sweet scent of pine in the living room is stirring the senses and filling our brains full of nostalgia. We remember the times we bundled up against the bone numbing cold. We loaded into the station wagon and headed downtown to see the holiday displays in store windows. Ol' Blue Eyes and our favorite crooners serenaded us with big brassy jingles on the radio. The glitter of festive lights illuminated the falling snow and the wet streets were a glossy canvas of Christmas color. We waited to impart our secrets to Santa in hopes that he would bring us our favorite toys. Our faces were joyful and radiant. Our homes were warm and full of cheer. Let's celebrate the good times with a great kit full of retro vibes!
Trios Color Wire Sets let you apply color theory to your next design.
Trios Color Wire is a lead-free beading wire for designers that want to create jewelry with color mixing in mind. Trios Color Wire Sets encapsulate the vivid palette of nature and the glamour of the fashion world. Trios Color Wire Sets are comprised of three 10 foot spools of Soft Flex .019 (Medium), the wire is constructed of 49 micro woven stainless steel wires. We recommend Trios Color Wire Sets for designers that want to design with a motif or gemstone in mind.
Jewelry Making Videos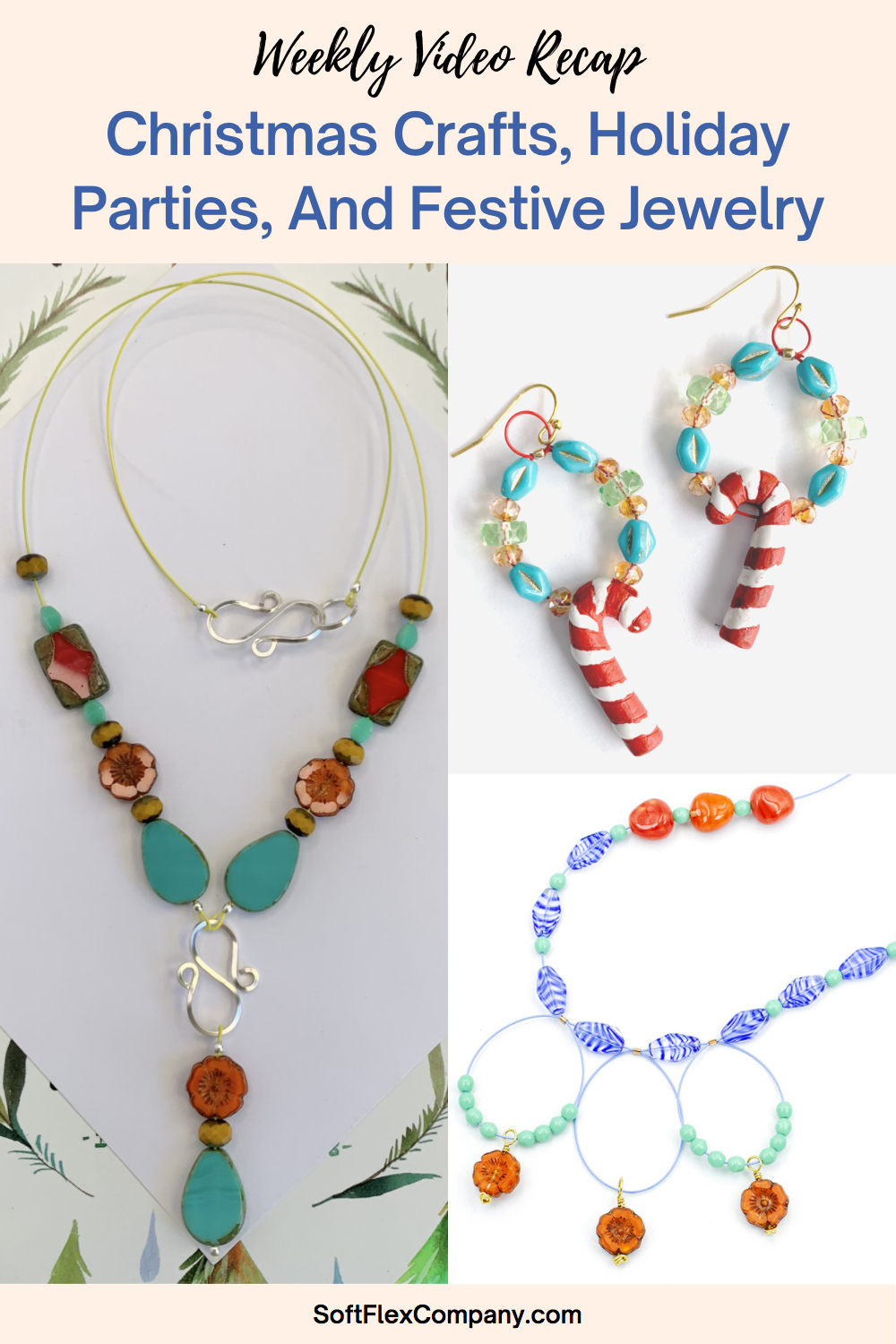 Follow Us On TikTok And Instagram - Learn How To Craft and Make Jewelry In Just Minutes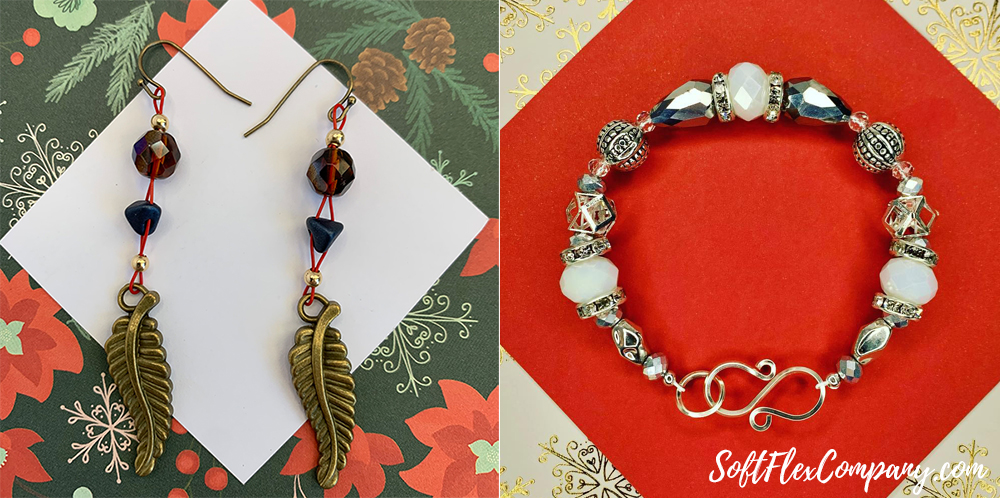 Follow us on the web! Our social media sites are loaded with instructional jewelry making videos YouTube and Facebook have a ton of long form videos that will teach you how to make jewelry. You will find in depth discussions on how to use your tools and finish your jewelry on those channels. Our Instagram page and [email protected] will teach you how to make jewelry in under a minute. Smash that learning curve and learn a new technique at lightning speed. Instagram Reels and TikTok are great tools for learning something new or finding quick inspiration. If your creativity needs a quick cup of coffee, make sure you visit us for a much needed jolt of crafting caffeine!
Check out our 30 second jewelry tutorials on Soft Flex Company's Instagram Reels! Master a new technique in minutes. These videos move quick but are easy to follow. You will get a sense of how to use your tools and finish your crimps securely. If you need more assistance, make sure you check out our YouTube catalog for deeper dives into jewelry making education. Stand on the shoulders of giants and enhance your jewelry making knowledge in a flash!
Got a minute? Follow us on the Soft Flex TikTok Page! Learn how to make jewelry with a fun soundtrack. Sara is here to show you how to make something amazing in just a minute. This is a great quickie if you need the basics. You can always follow up with more in depth videos on our YouTube channel if you need extra help. Sara has ideas for bead stringing, wire wrapping, and so much more. Learn from a jewelry designer pro at the pace you choose!
Retro Christmas Earrings Tutorial
Candy canes and silver lanes aglow! This week, our Free Spirited beader showed us how to make Candy cane earrings. Kristen unboxed our Retro Christmas Design Kit (Sold Out) and made some sweet Christmas jewelry. This kit was full of retro Christmas energy. If you remember going growing up with a television that had rabbit ears, this kit is an avalanche of nostalgia. The colors inside are perfect for vintage holiday jewelry. Kristen showed us the content of the kits and made a pair of earrings that is easy to make and playfully stunning. If you like this technique, you can adapt it for a pair of earrings that will be in style all year round.
Retro Christmas Design Kit (Sold Out)
Soft Flex Beading Wire, .019 Diameter in Red Coral
2x2mm Crimp Tubes
Magical Crimping Pliers
Cutters
Live Beading Party Featuring Sam Siegel from Sam's Bead Shop
We think Sam Siegel is a talented entrepreneur. He is also an amazing jewelry designer. In January, we connected with him and threw a beading party on our social media. He is just a short drive away from where the Soft Flex headquarters are located. But, in the age of COVID, that distance can seem immeasurable. Getting together on camera and sharing the event, live, with our friends and community, was a great alternative.
If you have never visited Sam's Bead Shop, make sure you check it out! He has a gorgeous collection of beads. You will find a striking collection of gemstones and a delicious mix of Czech Glass. If you need to restock your beading supplies, you can do that too! It is a fun little one stop shop. If you would like to subscribe to his Monthly Bead Box, that is an easy way to save money on a bundle of beads and goodies.
If you missed the first party we had with him, make sure you visit our blog and read about it. You can also learn a lot about this young business owner. We think he is going to be a creative force in this industry for decades to come! Catch this rising star early.
From Sam:
We have a limited number of November Bead Boxes available on the website. I think lots of soft colors will go with our November Sedona Sunrise Box. Especially the turquoise color Soft Flex. Maybe also an orange? We also have new subscription slots available (with the deadline for the December box quickly approaching).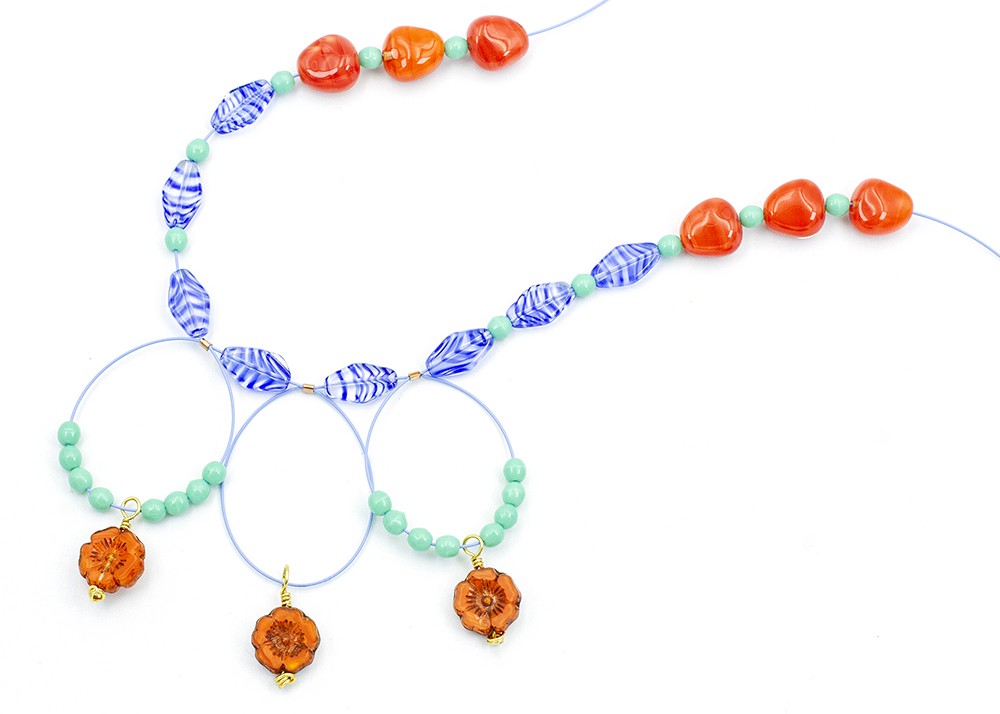 Sam's links:
Sam's Bead Shop
Mailing List
Facebook Group
Gem Chat Group
YouTube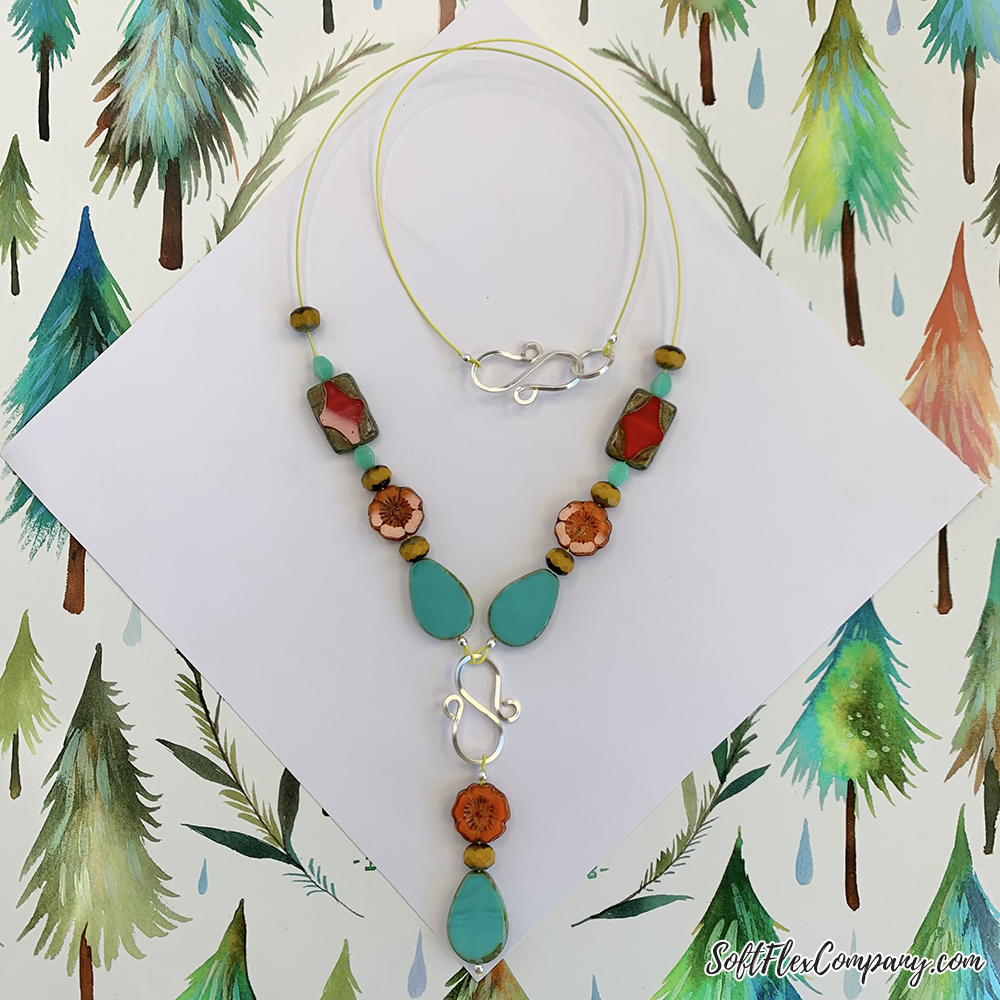 This beading party is a must see if you love simple but elegant findings. Sam showed us how to make knotted head pins and Sara showed us how to make a clasp that is amazing. All you need for both is a little bit of Soft Flex Craft Wire and some looping pliers. The clasp also looks great as a connector. If you want to save money on components, both of these fabulous design ideas can be made with an inexpensive spool of Craft Wire. Making your own findings is a great way to make every jewelry piece you design a true signature piece of art. Don't rely on store bought head pins when you can make a lovely one in minutes!
Wire Working Tools Needed For These Projects:
Craft Wire
Cutters
Wire Looping Pliers
Chain Nose Pliers
Nylon Jaw Pliers
Wire Whacker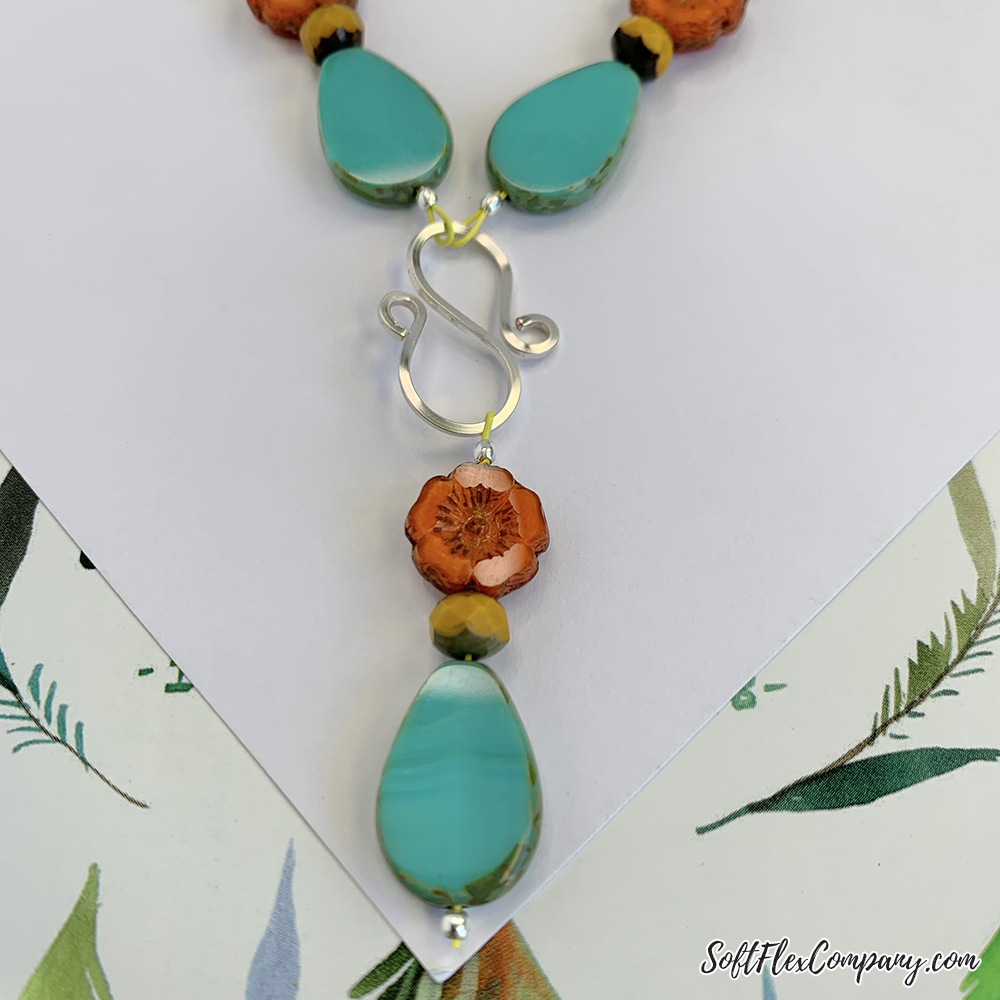 Gift Giving Guide From Your Friends At The Great Bead Extravaganza
Join some of the Great Bead Extravaganza presenters for an hour of fun. This video is absolutely chock full of great jewelry making techniques and craft ideas. Learn some amazing ways to create handmade gifts worth giving this holiday season. Whether it is a homemade ornament or a classic bracelet, you will take something away from this fun video. Learn how to make a bracelet with stretchy stainless steel and charms. Learn how to make a pendant with a connector and charms. Learn how to make an 'ICEE Bear' snowflake with a kit. And finally, Learn how to use polymer clay to make a cute candy cane. These projects are super easy but look stunning.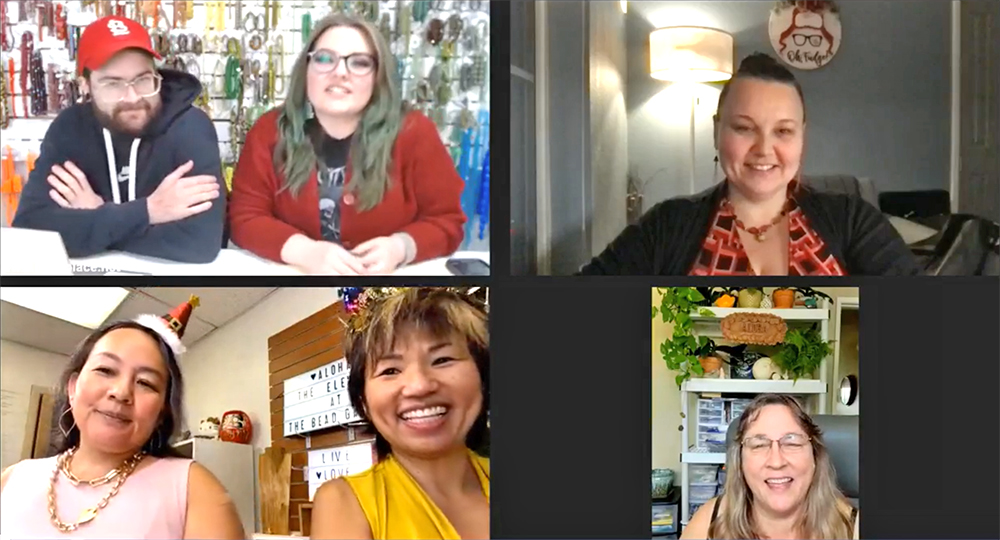 The Great Bead Extravaganza is comprised of small business owners and artisan jewelry designers. All of the exhibitors truly appreciate their customers and community. If you love watching these creative folks make inventive jewelry, make sure you support their small businesses. When you shop their sales, you are keeping their business alive and they can keep sharing new and wonderful techniques with you! Please "like" and share this video with friends if you enjoyed it!
If you have not joined the Great Bead Extravaganza Facebook group, please check it out. The Great Bead Extravaganza is a Facebook page full of inspiration. You can find a live bead show every couple months that is free to attend and participate in. The page is always updating with great ideas and inspirational jewelry pieces. There is never a dull moment with these fun folks!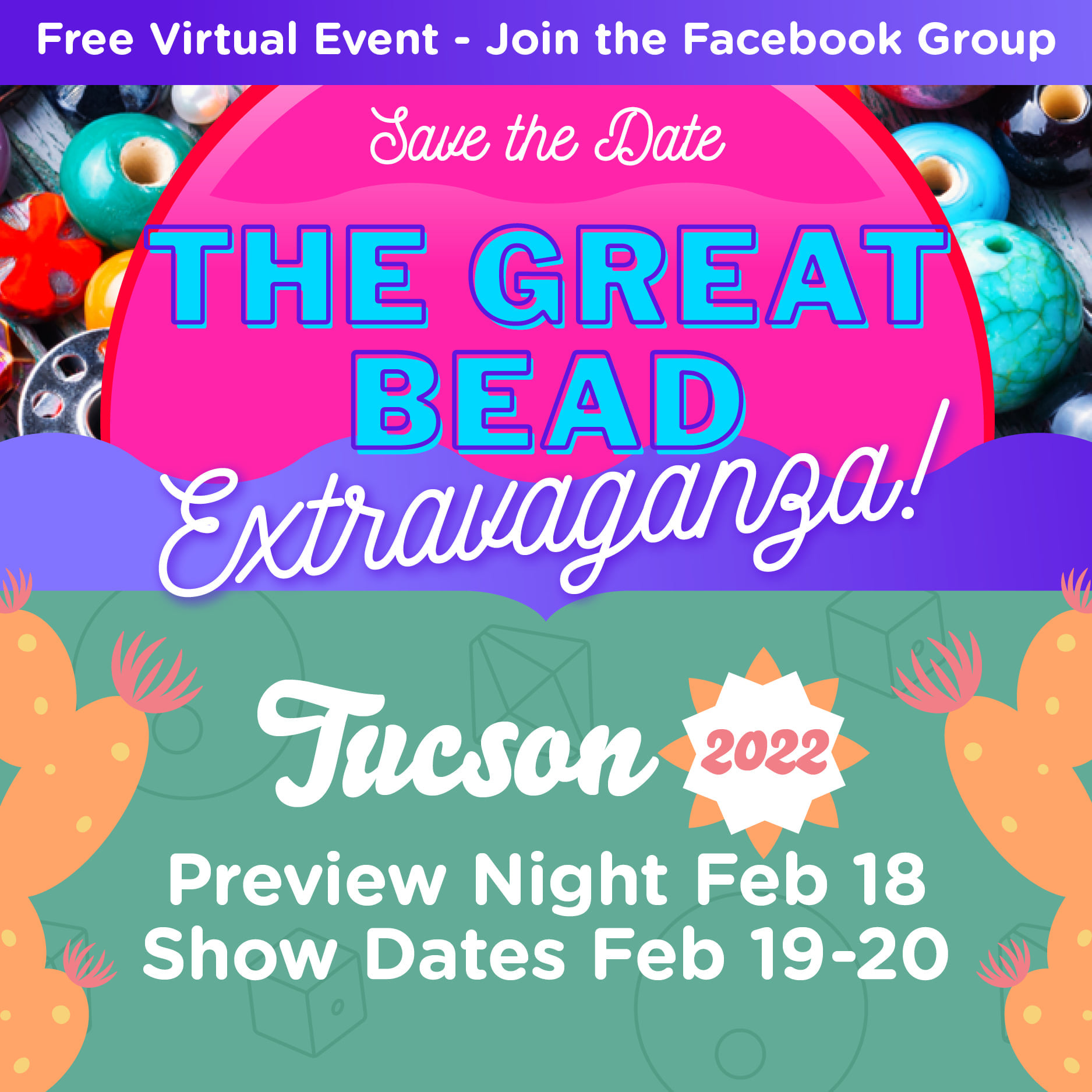 Wendy Whitman's Christmas Necklace With Soft Flex Wire And Jesse James Beads
Wendy Whitman showed us how to make some holly jolly jewelry with attitude this week. Using the 'I Don't Sled, I Sleigh' Jesse James Beads holiday mix and some White Quartz color Soft Flex Beading Wire, she made a gorgeous multi-strand necklace. I Don't Sled, I Sleigh is available on the JJB website. Slay with your own jewelry style! Make a cute little necklace of your own with this Christmas punk kit. Add a little kick to your decorations or jewelry!
If you enjoyed watching Wendy make this necklace, make sure you check out our blog. We have featured her jewelry designs before. She has also unboxed our mystery themed jewelry kits and gave us her thoughts on them. We think she is fabulous!
If you enjoyed Wendy's video, make sure you join her Facebook group, ABeadOnAWire Sales, it is a buying and selling group for HANDMADE jewelry items and jewelry making supplies.
Visit Wendy's links:
YouTube
Website
Facebook Group
Instagram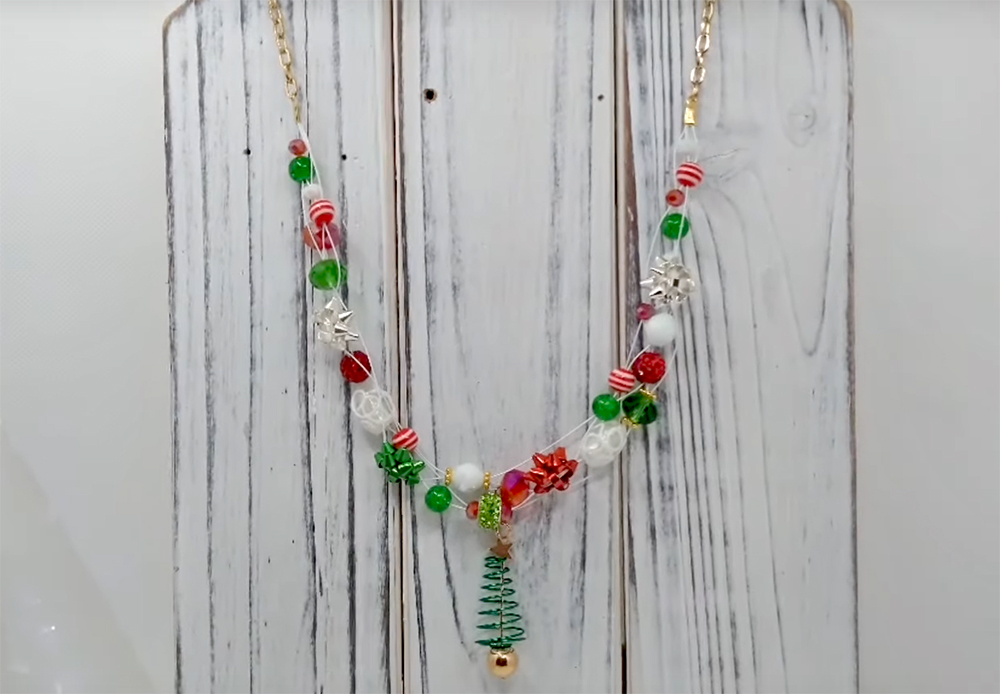 Marcie Creates Shows Her Finished Jewelry From Our Woodland Walk Kit
We featured Marcie Creates unboxing video in our Woodland Walk Finished Designs blog. She opened our Woodland Walk kit and gave us her thoughts on the contents. She blew us away with this incredible collection of jewelry she made from the kit. If you think her designs are as stunning as we do, make sure you subscribe to her YouTube channel, you will find jewelry tutorials, unboxing videos, and more.
From Marcie Creates:
My name is Marcie Hall and I live in North Texas. I am a mixed media artist, jewelry maker, recipe creator and an avid Dachshund Lover (I have two rescues- Ginger and Cha Cha). I have been an artist my whole life. In my early art days, I would create prints, sculpture, ink drawings and oil paintings. About 25 years ago, I started making jewelry after a friend invited me to take an intro class at my local bead shop - I was hooked! I loved everything about jewelry making- the colors, textures and shapes really spoke to me. Soon I was making jewelry for family and friends and then everyone said, "you should sell your jewelry" and Marcie Hall Designs was born.
I recently started a YouTube channel called Marcie Creates to share my passion for beads, jewelry making, mixed media art and cooking. YouTube is a new venture - I am really enjoying it and would love for you to join me!
Visit Marcie's links:
Marcie Creates YouTube Channel
Instagram
Facebook
Facebook Marcie Hall Designs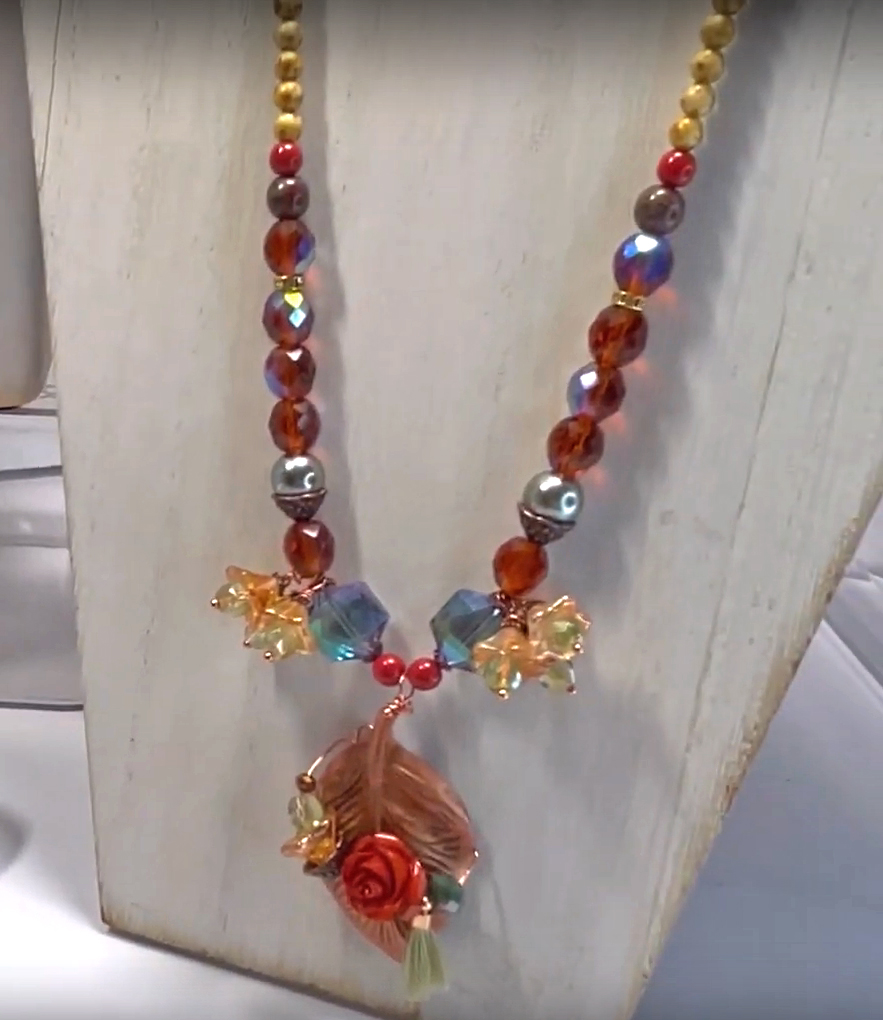 Christmas Jewelry Show and Tell With Janet Boyer
Janet Boyer is an incredible jewelry designer. She has posted some magical designs on our Facebook group – VIB. You can also find some of her amazing pieces on our Finished Jewelry Designs blogs. She has a great eye for color and her designs are always playful and fun. If you would like to see more of her work, search for her name in our VIB group. We were excited to share this video of her Christmas jewelry. If you need a little holiday inspiration, this video is sure to make your mind race with new ideas.
Check out her YouTube Channel and shop her Etsy store - Chez Boyer Etsy Shop
Join our Facebook group – VIB. Stay in the know. Stay up to date. From our bead shows to our video shows and sales, you can stay in touch with us. The community is full of artistic and helpful beaders and crafty people. Inspire and be inspired. Share your pictures and get the beading bug from others!
Visit the Soft Flex Company YouTube Channel!
---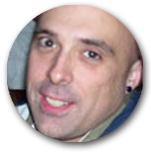 Blog contributor Thomas Soles loves Jazz Age writers and crunchy french fries. His favorite gemstones are Lapis and Pietersite. His favorite hobby is day dreaming. And his favorite mustache is Freddie Mercury's. As you can see, he has a healthy (or possibly unhealthy) sense of humor. You can write to him at [email protected]