Do you love flowers? This week, we celebrated Kit Day and made some gorgeous flower jewelry. Kit Day is a Soft Flex Company holiday. It is a day full of vibrant creative energy. Let the seeds of inspiration germinate! We unboxed our Purple Petals Design Kit. This colorful kit is sure to put you in a floral summer spirit. If you love pendants, we have a jewelry demonstration that shows you how to make a lovely flower pendant with Czech Glass beads. Flower power! Let the possibilities blossom and let's make some jewelry!

Kristen is all about flowers lately. A couple of weeks ago, she made an amazing macrame bracelet with dagger beads that she turned into flowers. This week, she showed us how to make a flower pendant with Czech Glass leaves. If you love flower jewelry, than you won't want to miss her fun video. Kristen is also a part of an upcoming online wellness retreat. September 2 - 5. Full Bloom Into Wellness: learn how to connect to self, spirit, and community through creativity. Join Kristen for this FREE Event. Kristen shares some of her story and a beading craft project to inspire you to live in your JOY! Nealay joined Sara for our latest design kit unboxing - they opened our Purple Petals Design Kit. If you love lavender, this is a kit that is made for you! Finally, we caught up with Kate Richbourg. She showed us how to string a multi-strand necklace in a random pattern and then secure it with a handmade clasp. Let's get creative and celebrate flowers!
Trios Purple Petals Beading Wire Pack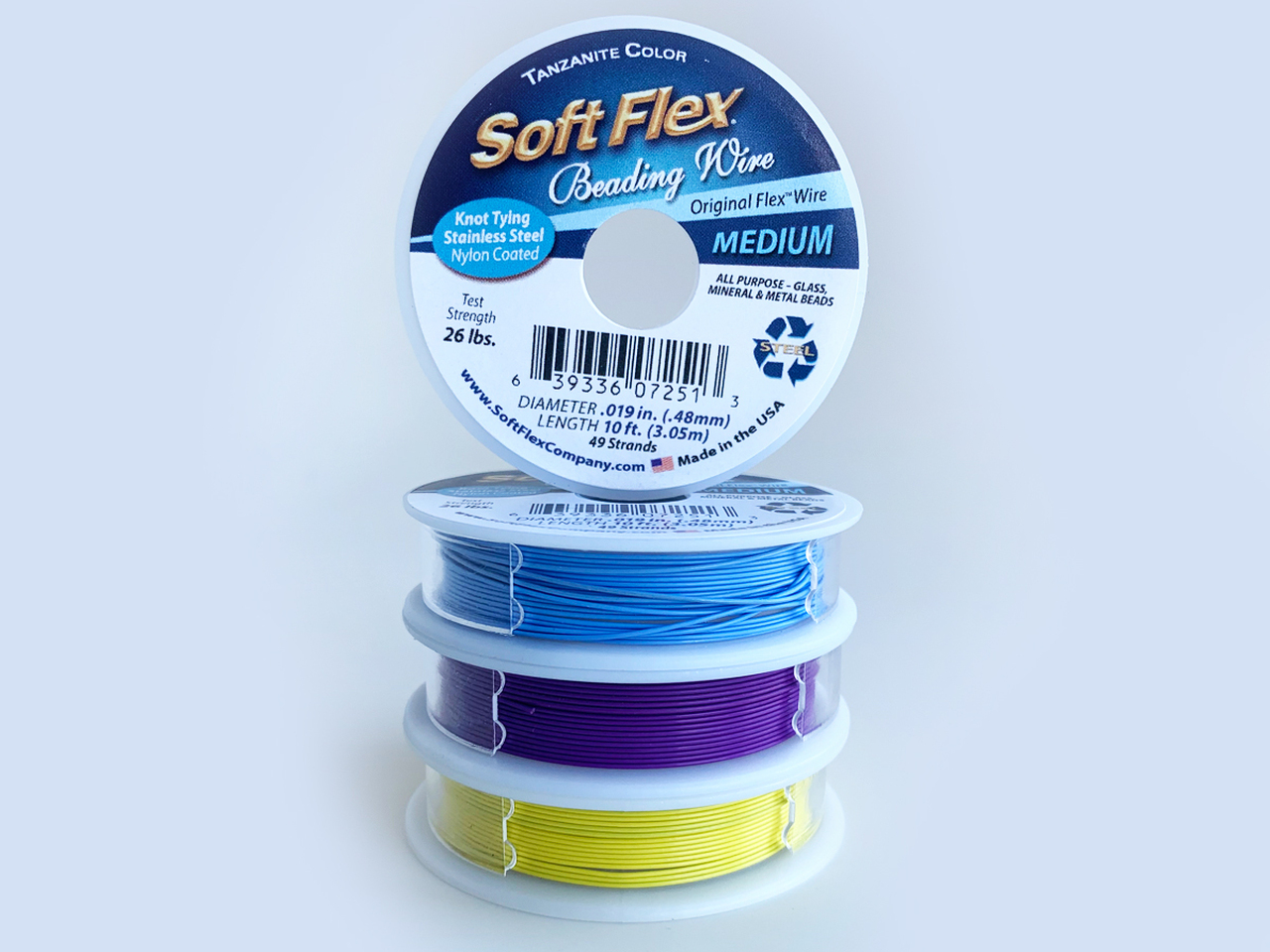 A cool summer breeze tickles the stems and ruffles the petals. The field of lavender begins a swaying waltz with the gentle wind. The dance begins slow and orchestrated. Each blossom moving to an unheard symphony of nature. The meadow shimmers with the enthusiastic hustle of the purple perennials. The exuberant swing ends as the breeze quiets. The field of flowers waits silent and still for the next lively shuffle.
Trios Color Wire Sets let you apply color theory to your next design.
Trios Color Wire is a lead-free beading wire for designers that want to create jewelry with color mixing in mind. Trios Color Wire Sets encapsulate the vivid palette of nature and the glamour of the fashion world. Trios Color Wire Sets are comprised of three 10 foot spools of Soft Flex .019 (Medium), the wire is constructed of 49 micro woven stainless steel wires. We recommend Trios Color Wire Sets for designers that want to design with a motif or gemstone in mind.
Soft Flex Wire is a lead-free beading wire for designers that demand strength and durability. Soft Flex Wire is a superior beading wire, created by beaders for beaders. Soft Flex Wire is constructed of either 21 or 49 micro woven stainless steel wires. It is supple enough that it can be knotted and comes in a wide variety of colors. It is available in 3 diameters: .014, .019, and .024. We recommend Soft Flex Wire for designers that want their pieces to last and eliminate the frustration of restringing. Soft Flex Wire is also available in 30, 100 and 1000 foot spools.
Basic Usage: Ideal all purpose wire. Great with glass, mineral, and metal beads. We suggest finishing with 2x2mm crimps.
Jewelry Making Videos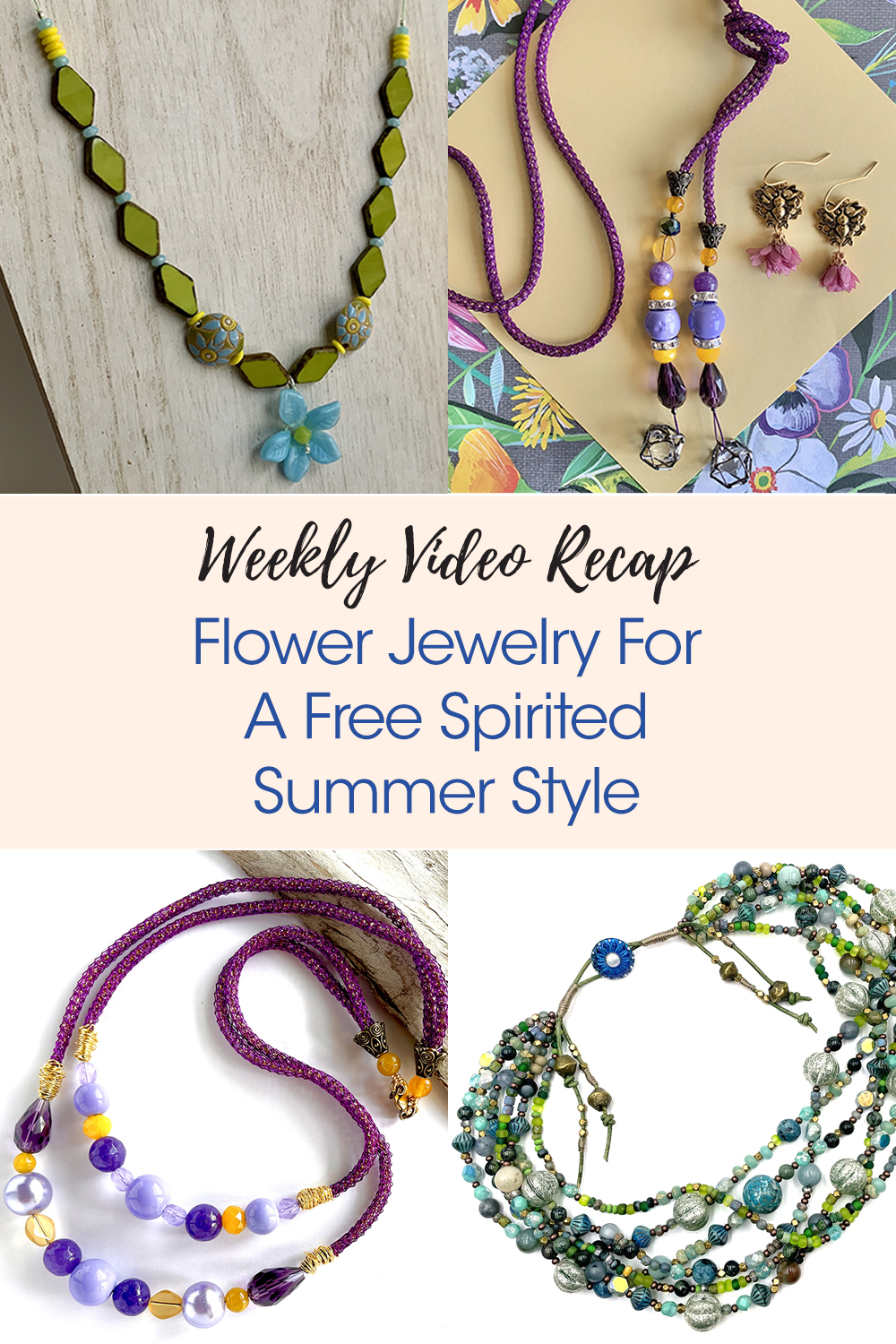 Learn How To Make Jewelry In 30 Seconds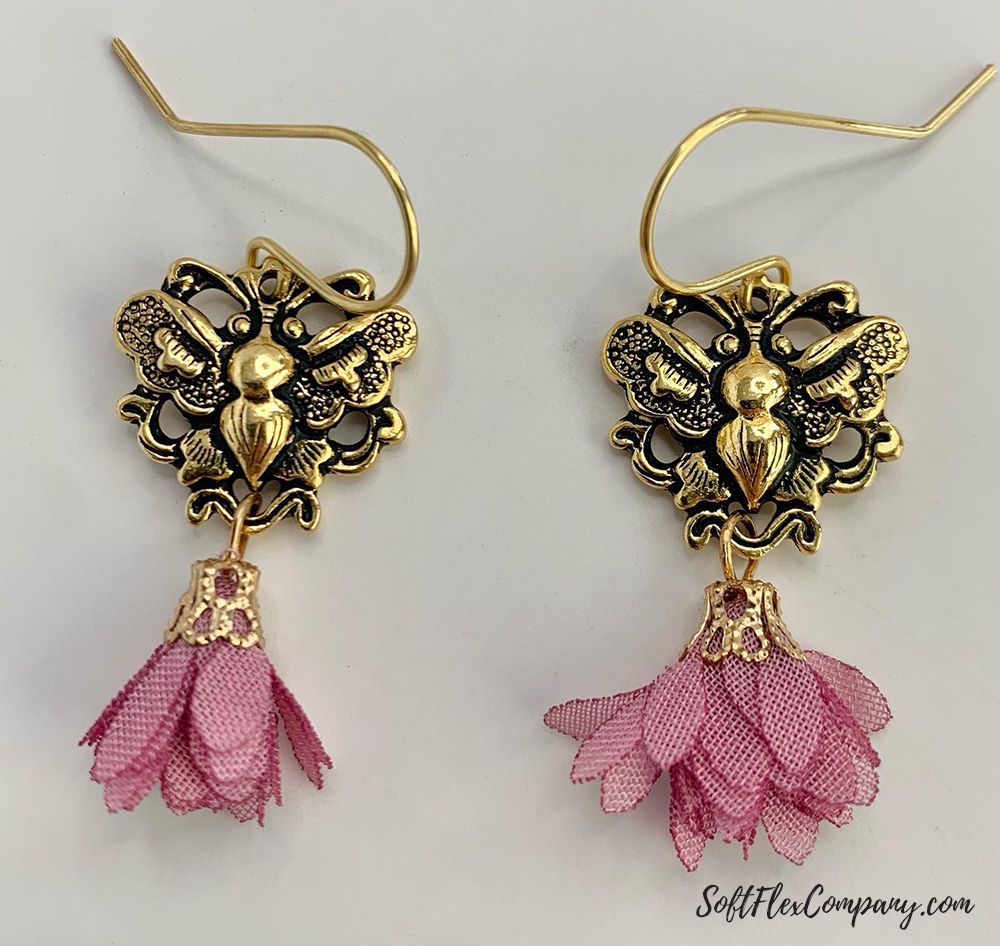 Check out our 30 second jewelry tutorials on Soft Flex Company's Instagram Reels! Master a new technique in minutes. These videos move quick but are easy to follow. You will get a sense of how to use your tools and finish your crimps securely. If you need more assistance, make sure you check out our YouTube catalog for deeper dives into jewelry making education. Stand on the shoulders of giants and enhance your jewelry making knowledge in a flash!
Czech Glass Flower Pendant Necklace
Our free spirited beader is back with some flower jewelry ideas for you! Kristen showed us how to make a flower themed necklace with a cute little pendant. You can join in on the fun. You can find the Lakeside Czech Glass Satin Blue Leaves Kristen used for this flower on our website. Her video is easy to follow and the instructions are simple. Make your own flower pendant! She has also used these leaves in other fun designs, which she shows prior to the demonstration. Czech Glass is so fun and colorful - perfect for a flower design!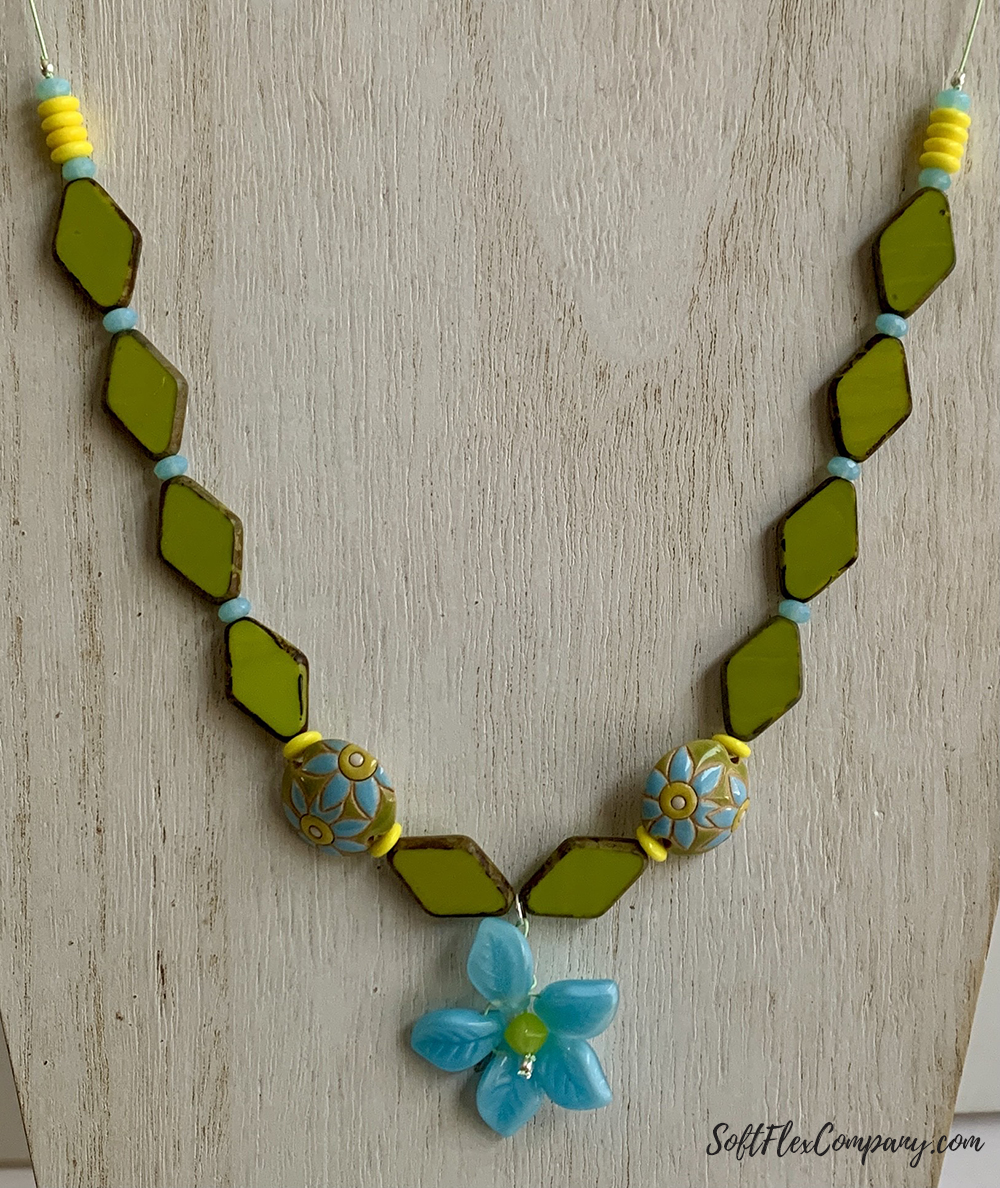 Kristen loves to inspire. If she was a muse and you made this flower pendant, make sure you post your work on our Facebook group - VIB. She would love to see your creations. Did you use the same colors? Did you use different beads for the petals? Kristen would love to see what you made! If you are not a part of our VIB community, make sure you join us. The group is a community of artists and beaders. We have professional jewelry designers and we have beginner beaders. If you love making jewelry, you will fit right in! Get gentle critiques and tips on how to make jewelry or just show off you work. We foster an atmosphere of creative joy. All are welcome to our active group!
Soft Flex .019 Medium Beading Wire - Chrysoprase
Lakeside Czech Glass Satin Blue Leaves
Czech Glass Table Cut Flat Diamonds
2x2mm Crimp Tubes
Clasp
Chain Nose Pliers
Crimping Pliers
Cutters
Purple Petals Design Kit Day & Beading Party With Nealay Patel
Kit Day! We love this special day. Kit Day lands on a Wednesday at the end of each month. We unbox our most recent kit, announce a new kit, and post a blog of finished designs from a previous kit. It is a day full of energy. Sara shows us how to make jewelry live. Members of our VIB community post their wonderful designs on our group. You are sure to feel the buzz. If you love jewelry this is a day full of easy instruction and creativity. This Kit Day, Nealay joined Sara. Sara normally unboxes our kits by herself, but a beading party is always better! Both Nealay and Sara opened their individual kits and created an impromptu piece of jewelry. Join the fun!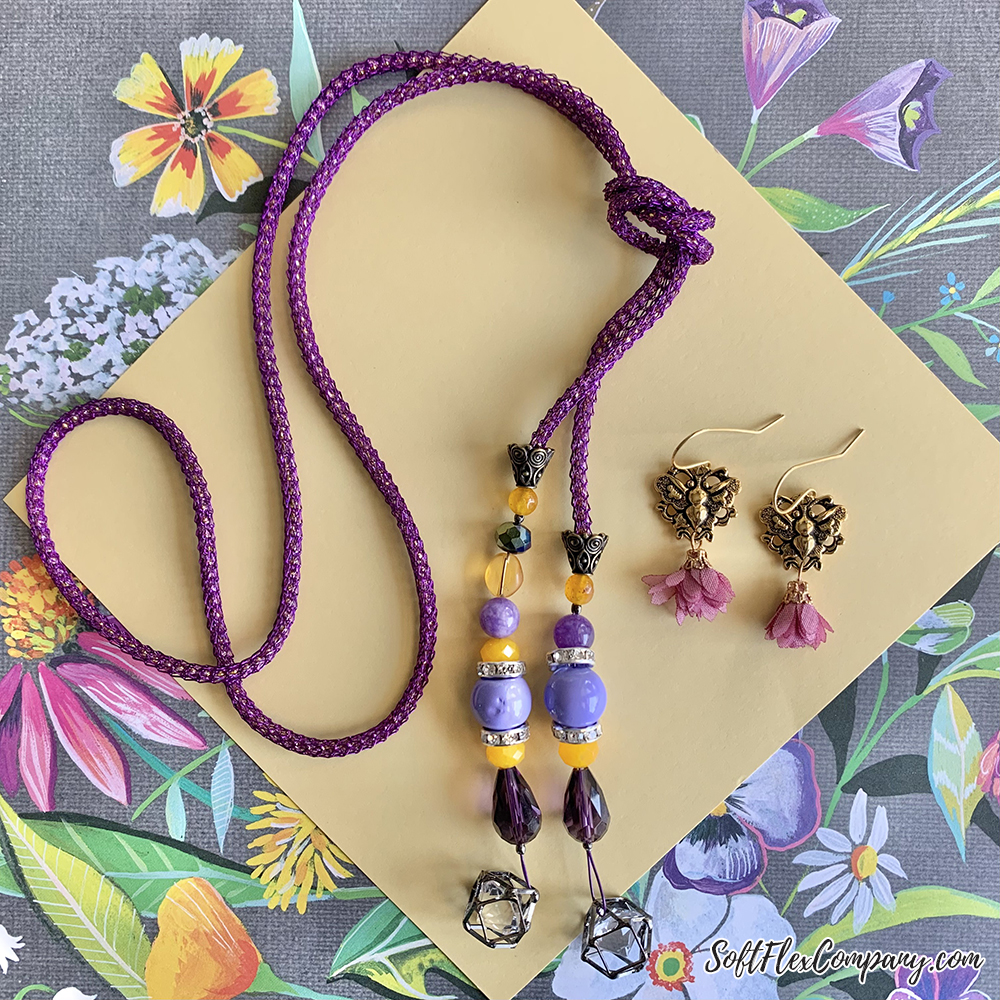 If you love the colorful flower theme of our Purple Petals Design Kit, make sure you grab one quick. There are still kits available, all of our kits feature special items and are limited in inventory, so you need to hurry if you want one. All of our kits are loaded with goodies and are an amazing savings. The contents included a SilverSilk color that Nealay created for this kit, an exclusive collection of beads from Jesse James Beads, Soft Flex Beading Wire, and findings. A steal at the price! You can make a bunch of jewelry with a single kit. Everything you need is inside, except basic tools - crimping pliers and cutters are all you need to finish your jewelry.
The real fun of kits is seeing how different designers interpret the contents. Since every kit contains the same contents, you can see how one designer will make their jewelry and how another will make completely different necklaces and bracelets. If you are a part of our VIB community, it is really astounding to see how varied the finished jewelry is. There are so many fun designs. Look how Sara chose to finished a necklace on-the-spot, above, compared to Nealay's design below. What did you make with your Purple Petals Design Kit?
Purple Petals Design Kit
Soft Flex Beading Wire, .019 Diameter in Purple Amethyst
SilverSilk Ultra Violet Pearlesque Chain
2x2mm Crimp Tubes
Magical Crimping Pliers
Cutters
Kate Richbourg Demonstrates Creative Closures For Multi-Strand Necklaces
Check out this video from Kate Richbourg. This is her latest project. She uses a silk wrap technique to close a multi strand necklace that is strung on Soft Flex. We love Kate's imaginative designs. She teaches metalsmithing, soldering, jewelry making, and more! If you want to learn a diverse skill set, her videos are definitely worth a watch! Kate is a part of our Great Bead Extravaganza events. If you enjoy this video, check out her appearances during this big online beading show.
The curated bead collection she used for this design has sold out, but you can find more at BeadShop.Com
From Kate Richbourg's site:
Simply put, Kate Richbourg loves jewelry. She loves to teach it. She loves to make it. She loves to wear it. Teaching and designing jewelry since 1992, she teaches at national shows, bead societies, bead shops and in her studio in Redwood City, CA. She is published in a variety of jewelry magazines and is the author of the popular blog "We Can Make That at Home." She has also appeared on several episodes of the DIY and HGTV network shows "DIY Jewelry" and "Craft Lab." Kate is the author of two bestselling books, Simple Soldering: A Beginner's Guide to Jewelry Making and Metalsmithing Made Easy. Wanna make your own jewelry? Learn more about Kate's classes at her studio and nationally at www.katerichbourg.com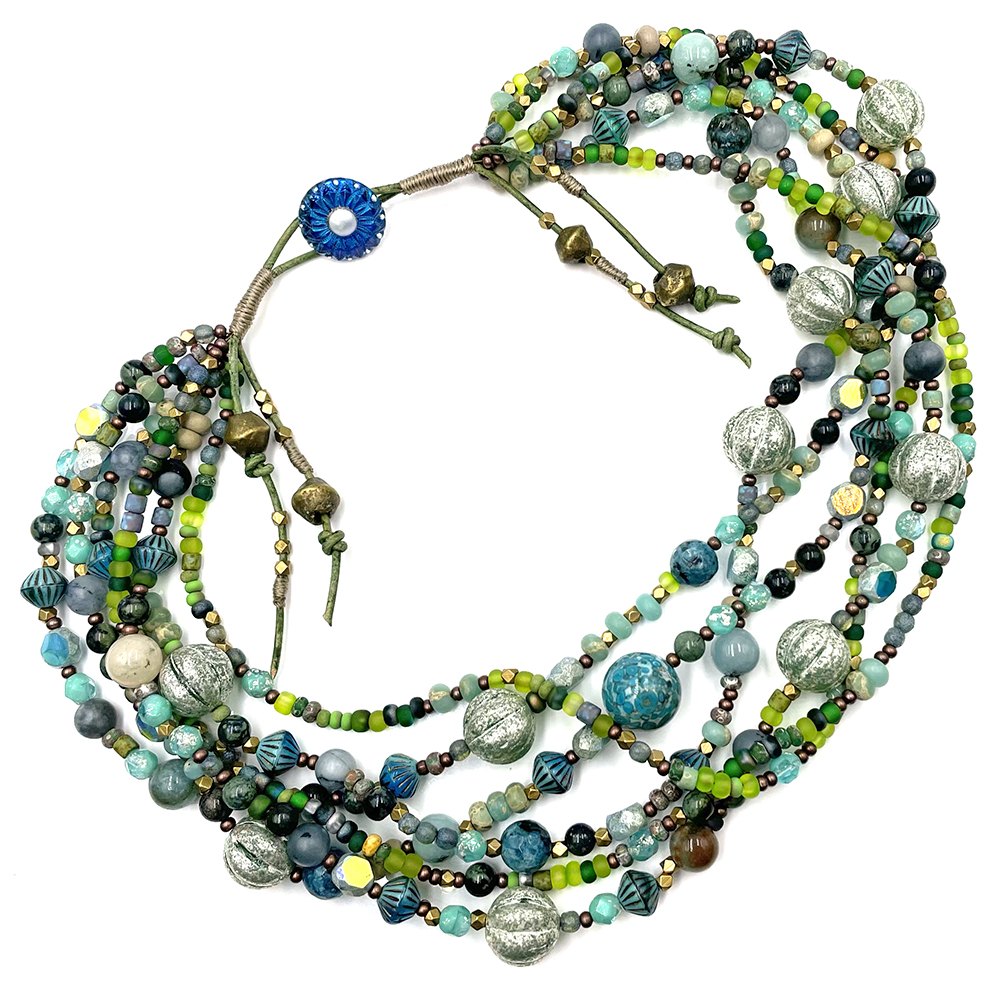 Join our Facebook group – VIB. Stay in the know. Stay up to date. From our bead shows to our video shows and sales, you can stay in touch with us. The community is full of artistic and helpful beaders and crafty people. Inspire and be inspired. Share your pictures and get the beading bug from others!
Visit the Soft Flex Company YouTube Channel!
---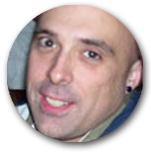 Blog contributor Thomas Soles loves Jazz Age writers and crunchy french fries. His favorite gemstones are Lapis and Pietersite. His favorite hobby is day dreaming. And his favorite mustache is Freddie Mercury's. As you can see, he has a healthy (or possibly unhealthy) sense of humor. You can write to him at Thomas@SoftFlexCompany.com