Don't wait until the last minute to grab your gifts. This year, make the holiday season a celebration of creativity. We have DIY projects that are perfect for all of your friends and family. Learn how to make a bracelet for him or a vintage Christmas necklace for her. Learn how to add a little mistletoe to your jewelry box. You can make gallery quality jewelry at home that is affordable and gorgeous. Be the most wonderful Santa in your circle, everybody is going to want a gift from you!

Ho! Ho! Ho! Our elves have been making something wonderful and we want to share their ideas with you! This week, Kristen showed us how to create a pair of unique mistletoe earrings with Colourful Soul Pop-Outs and Ultimate Paints. These cute earrings are one of a kind and look amazing! Sara joined Sam Siegel for a holiday themed beading party. These two creative crafters used Sam's Christmas Bead Box and items from our Holidays Category to make some holly jolly jewelry!
Need a jewelry project for your favorite fellow? Nealay Patel has a classy bracelet idea that would look great under an expensive cuff or on the wrist of a happy teen. Kay Goss unboxed a package full of decoupage beads and made jewelry with Craft Wire. Marcie Creates showed us how to make a vintage Christmas necklace. We watched our friends design jewelry with our Pink Warrior Support Squad Design Kit - Rosanna Brafford made a necklace and Deb Houck made some dainty earrings.
We have big sales on our site and lots of affordable beading supplies. Make this Christmas memorable for everybody you are gifting!
Jewelry Making Videos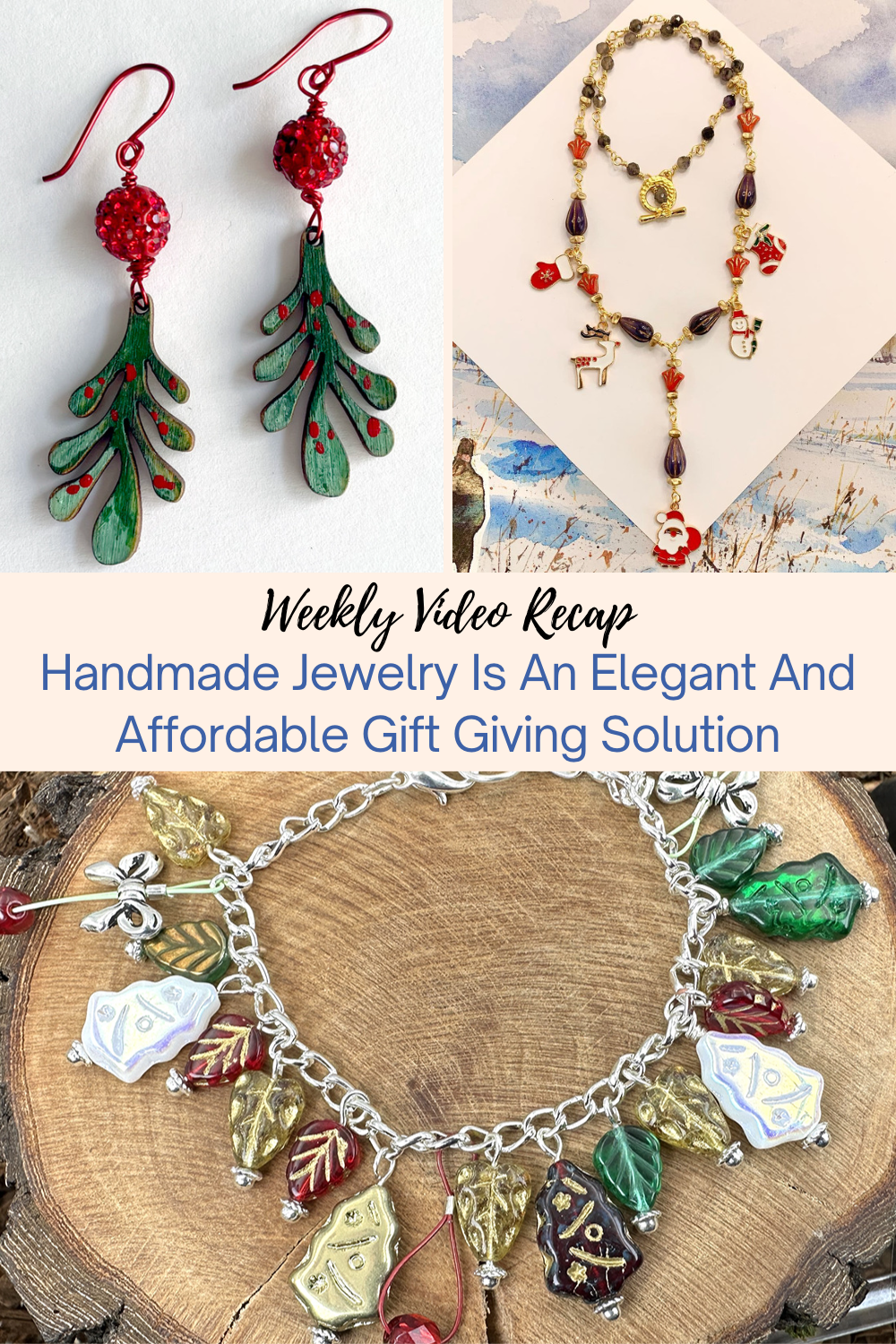 The Great Bead Extravaganza Quick Gift Guide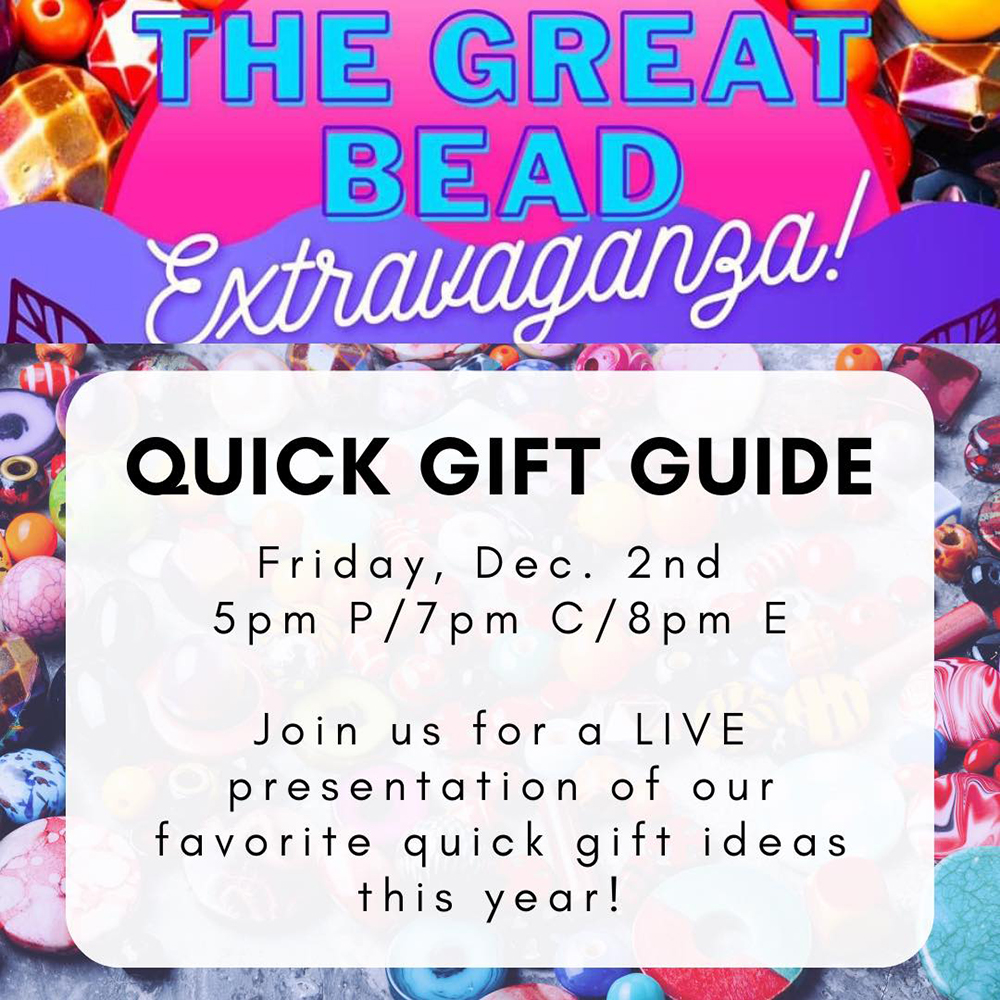 We hope you'll join us for this year's TGBE Quick Gift Guide! Participating TGBE presenters will be showing off cool new products and demonstrating quick projects perfect for those last minute holiday gift creations! Join us Friday, December 2nd at 7pm Central! Visit the Great Bead Extravaganza Facebook page for more information. Join the TGBE Facebook Group to stay informed!
Our Social Media Sites Will Show You How To Make Jewelry In Just Minutes
Got a minute? Check out our latest reels and TikTok videos. Soft Flex Company's Instagram Reels and our Soft Flex TikTok Page will teach you how to make jewelry in under a minute. These videos move quickly but are easy to follow. If you need more assistance, make sure you check out our YouTube catalog for deeper dives into jewelry making education. You will find in depth discussions on how to use your tools and finish your jewelry on that channel. Instagram Reels and TikTok are great tools for learning something new or finding quick inspiration. Check out our 1 Minute Videos and explore the wonderful pins on our Pinterest page. Learn from Soft Flex Company jewelry designer pros at the pace you choose! If your creativity needs a quick cup of coffee, make sure you visit us for a much needed jolt of crafting caffeine!
How To Make Easy Painted Mistletoe Earrings With Colourful Soul
On Monday's episode of Free Spirit Beading, we got to see Kristen do two things she loves - make jewelry and paint. Kristen is an incredible artist as well as a jewelry designer. She is also our graphic designer and a published author. If you ever need a heaping helping of crafty inspiration, she is definitely a person to watch. She sees the world differently and it shows!
Kristen wanted to make a seasonal set of earrings. She opted to grab her Colourful Soul Pop-Outs and Ultimate Paints and make a unique pair of mistletoe earrings. Painting on Pop-Outs is easy. The wood is forgiving. If you make a mess, you can wipe it up or even turn your mistake into part of the fun. You can color outside the lines if you want. Feel like a kid again with these colorful paints!
Kristen also gives a tutorial on how to make ear wire with Soft Flex Craft Wire. Learning how to make your own ear wire means that you can customize the look of the wire. Another way to get creative and make your jewelry one-of-a-kind.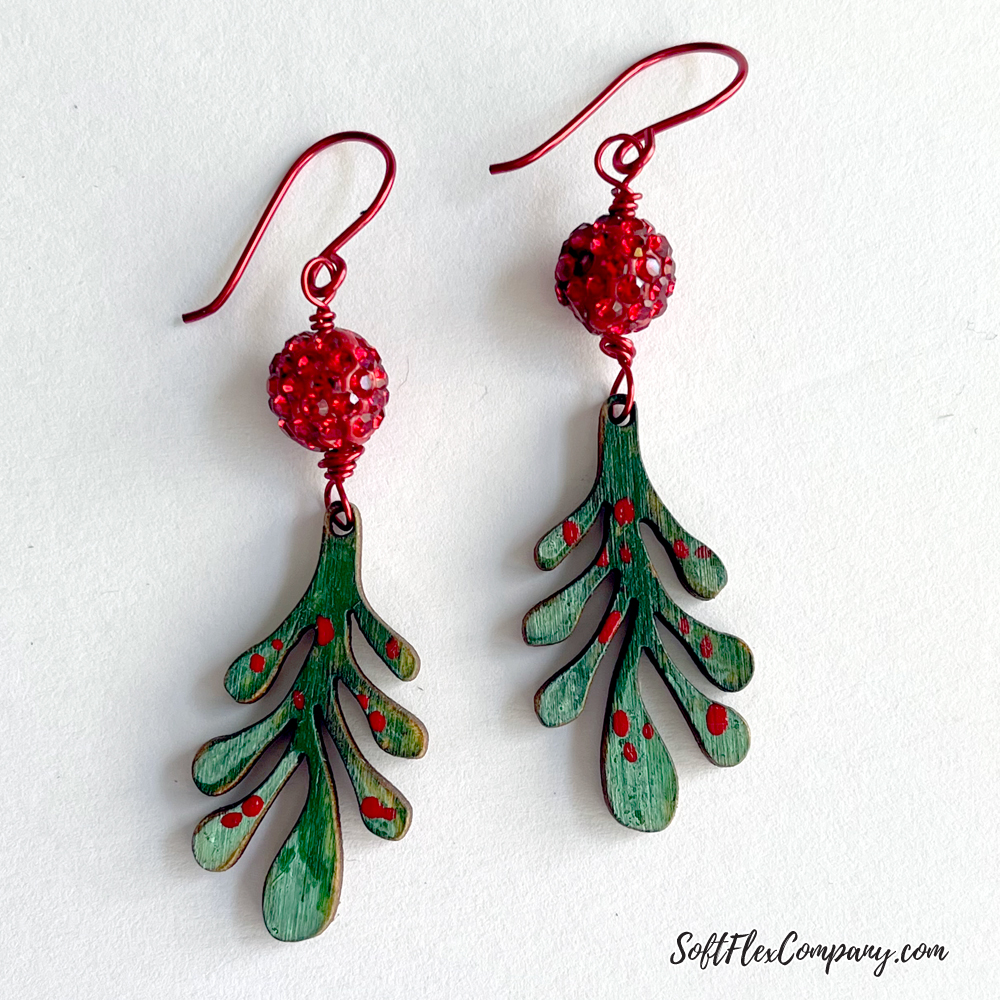 Colourful Soul Wooden Jewelry Pop Outs
Colourful Soul Ultimate Paints
Silicone Brushes or Paint Brushes
24ga Soft Flex Craft Wire
Nylon Jaw Pliers
Chain Nose Pliers
Round Nose Pliers
Cutters
Multi-Size Wire Looping Tool
Ear Wires or make-your-own with 20ga Craft Wire
Burr Cup or metal file
Live Beading Party With Sara Oehler Of Soft Flex Company And Sam Of Sam's Bead Shop
We love beading with Sam Siegel. Every time he has joined us for a beading party we have had a blast. If you are in the mood to learn a jewelry technique and have a good laugh, join Sara and Sam for some fun! This time we celebrated the holidays. Sam made a bracelet that is loaded with Christmas spirit and Sara made a cute necklace filled with our fun new charms. Sara also gives an ear wire demonstration. Learn how to make ear wires how she makes them.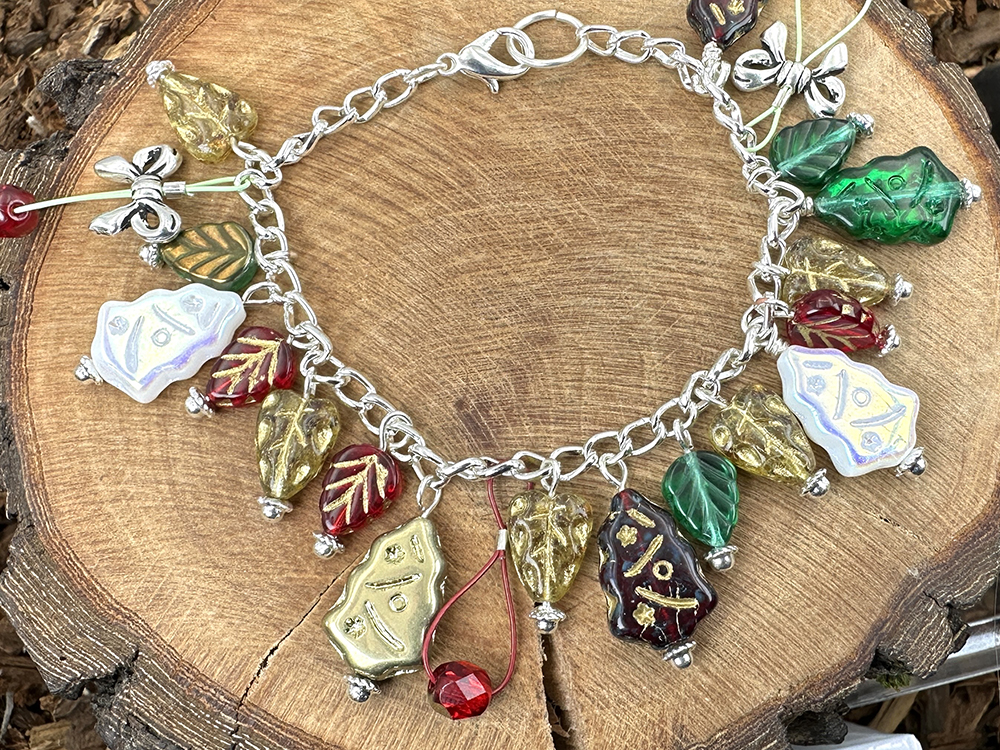 Soft Flex Beading Wire
Soft Flex Craft Wire
Sam's Christmas Box
Sweet and Petite Holiday Charms
Wire Wrapping and Wire Looping Pliers
Nylon Jaw Pliers
Chain Nose Pliers
2x2mm Crimp Tubes
Crimping Pliers
Cutters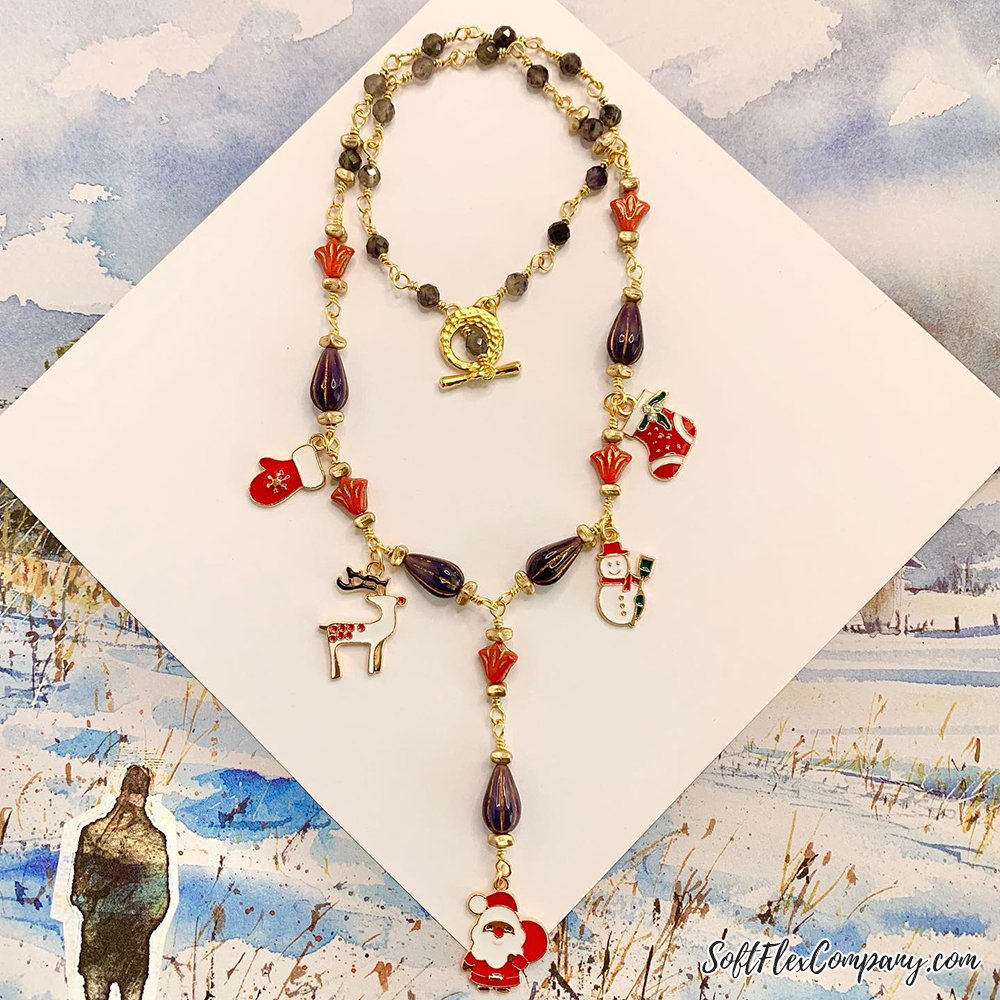 SilverSilk & More: How To Make A Men's Bracelet Using Pipe Chain
Star's Beads: Decoupage Jewelry With Craft Wire
Marcie Creates: How To Make A Vintage Christmas Necklace
In Rose's Garden: Making A Pink Warrior Support Squad Necklace
Dahlia Designs: Dainty Earrings Tutorial Using Pink Warrior Support Squad Kit
Join our Facebook group – VIB. Stay in the know. Stay up to date. From our bead shows to our video shows and sales, you can stay in touch with us. The community is full of artistic and helpful beaders and crafty people. Inspire and be inspired. Share your pictures and get the beading bug from others!
Visit the Soft Flex Company YouTube Channel!
---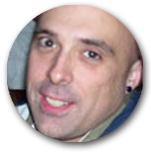 Blog contributor Thomas Soles loves Jazz Age writers and crunchy french fries. His favorite gemstones are Lapis and Pietersite. His favorite hobby is day dreaming. And his favorite mustache is Freddie Mercury's. As you can see, he has a healthy (or possibly unhealthy) sense of humor. You can write to him at Thomas@SoftFlexCompany.com