How was your holiday season? Was it full of magic and shared moments with kindred spirits? Did you take quality time to be creative and enjoy the simple things? We are energized and ready to learn new crafts. We are looking ahead to a year full of jewelry making and mastering new tools and techniques. Want to walk the journey with us and find inspiration each week? Join us and let's make this year amazing!

Did you catch Kit Day? Sara and Kristen revealed our Make-A-Wish Design Kit. This kit was an elegant mix of winter colors and stunning beads. Proceeds from the kit were donated to a wonderful charity. If you would like to help a critically ill child realize there is magic in this world, follow this link and make a donation: Make-A-Wish Foundation of America.
On Monday, Kristen showed us how to make fun geometric statement earrings. You are going to love these organic and modern designs! On Wednesday, Sarah James, at Jesse James Beads, unboxed her Magical Mystery Bead Box with Kristen and Sara. They took turns making fabulous jewelry and discussing our upcoming Galentine's Day 5 Hour Bead Around the World event. After that, Sara showed off our Fall/Winter Pantone collection and made a lariat necklace. On Thursday, we enjoyed a Spotlight Day at the Great Bead Extravaganza. We took over the Facebook group and shared a Craft Wire jewelry demonstration and some of our favorite videos with our friends at TGBE.
We also saw that Christi Friesen is making more wonderful creations with polymer clay. If you love her Merlings and Ghoulies, you are going to want to grab her latest adorable Weirdo!
Finally, we wrap things up with a look at Rosanna Brafford's Make-A-Wish unboxing. Get her unbiased opinion of the contents of this kit. There are still some left in our inventory if you want to make a little magic at home!
Galentine's Day 5 Hour Bead Around the World Event Supply Kit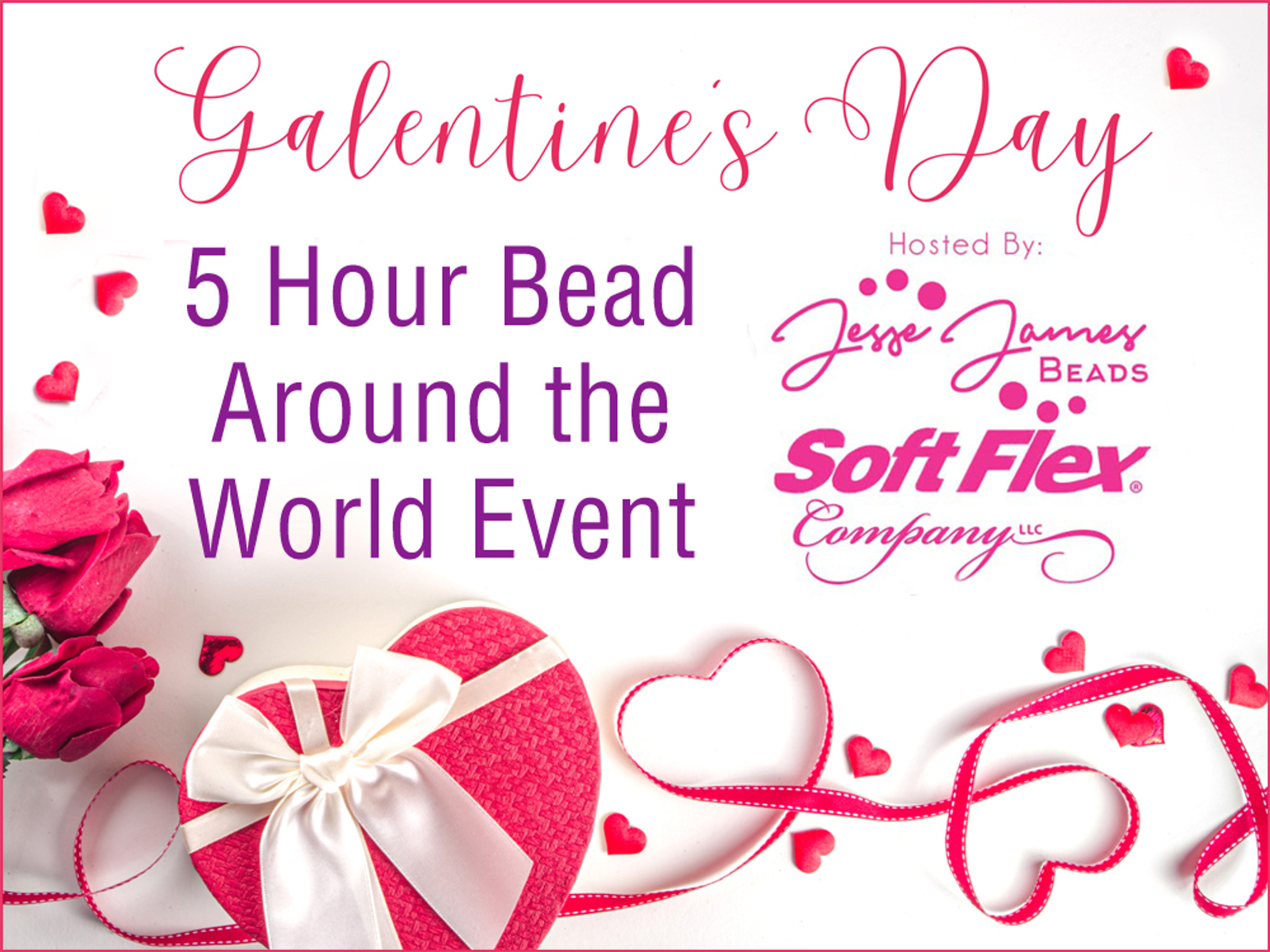 Grab this kit before January 10th and save 20%
Join Jesse James Beads and Soft Flex as we kick off our Annual Galentine's Day event. This year, we're beading around the world with designers from Hawaii to the UK!
Join as we spread the love one bead at a time. Pack your bags for a global beading party! We are going to travel the world featuring a full 5 hour party with 5 amazing designers representing JJB and Soft Flex! Grab the supply kit here and get the bead kit from Jesse James Beads.
Soft Flex Company and Jesse James Beads are collaborating to host a fun fueled day of creativity. On Friday, February 10th, designers from around the world are spreading the love of creativity with five hours of exciting beading demonstrations. Presenters from the UK, Hawaii, and both coasts of the United States are going to inspire you to make jewelry. Creativity has no borders! Learn how to make a new design and celebrate Galentine's Day with us!
When: February 10th
What Time: 1pm - 6pm PT / 4pm ET - 9pm ET
Where: This event will be hosted LIVE on the JJB Facebook page and on Soft Flex's YouTube and Facebook pages. Classes are available to watch live and will be available to replay.
Our Guests of Honor here to teach you wire-wrapping, bead stringing and more include:
Jem Hawkes 1pm PT / 4pm ET
Kay Goss - 2pm PT / 5pm ET
Kristen Fagan - 3pm PT / 6pm ET
Brittany Chavers - 4pm PT / 7pm ET
Christi Friesen - 5pm PT / 8pm ET
February 13th is Galentine's Day. A day for ladies to celebrate ladies. Leave the boys at home! Gather your girlfriends and celebrate the joys of sisterhood. If you feel left out on Valentine's Day, celebrate a day that is about being a friend and bonding with people that share your likes.
Note: This is a supply kit for a special event. This kit does not contain everything you need. Please be sure to purchase the matching bead kit from Jesse James Beads to play along! Get the Jesse James Beads Kit Here.
Supplies are very limited. Don't miss out!
Jewelry Making Videos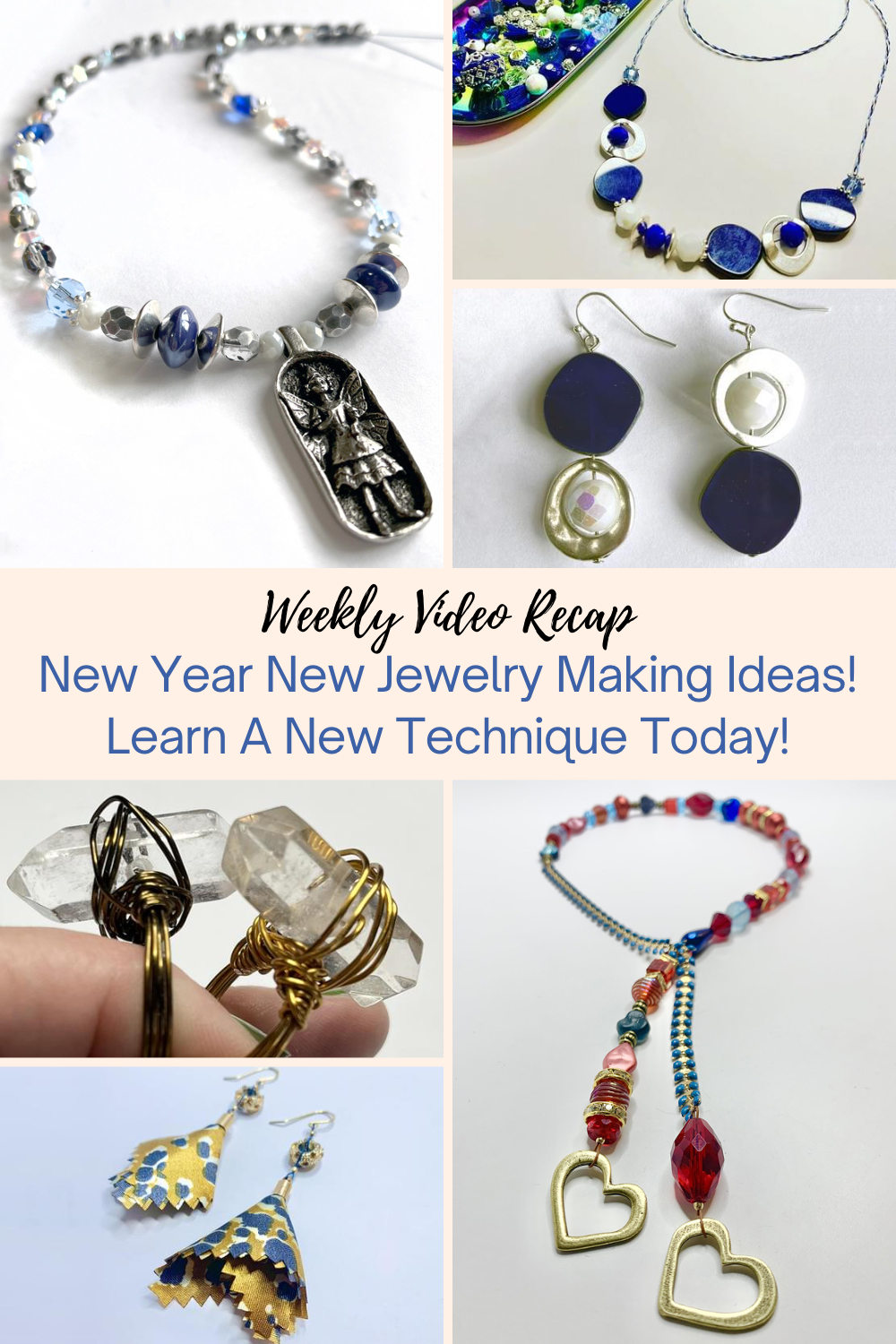 Our Social Media Sites Will Show You How To Make Jewelry In Just Minutes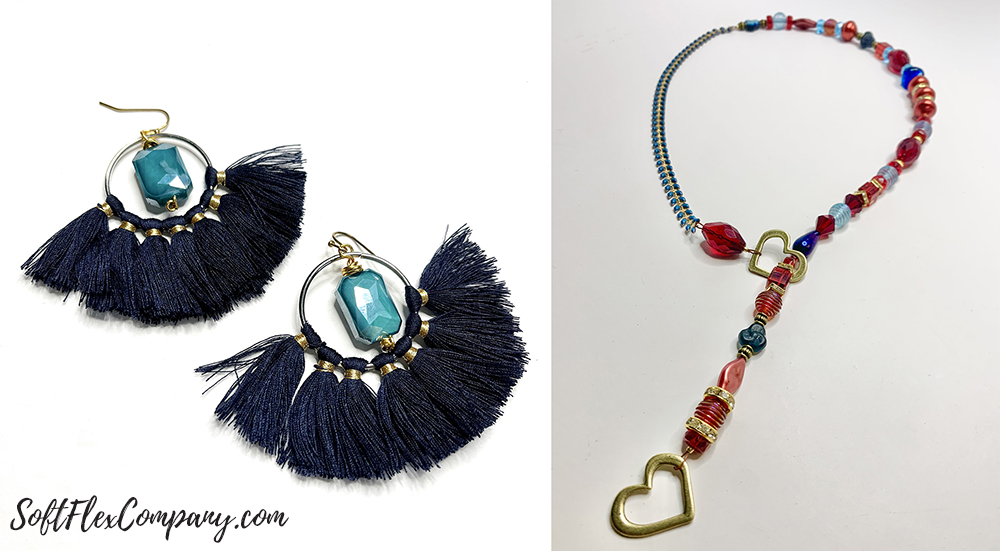 Got a minute? Check out our latest reels and TikTok videos. Soft Flex Company's Instagram Reels and our Soft Flex TikTok Page will teach you how to make jewelry in under a minute. These videos move quickly but are easy to follow. If you need more assistance, make sure you check out our YouTube catalog for deeper dives into jewelry making education. You will find in depth discussions on how to use your tools and finish your jewelry on that channel. Instagram Reels and TikTok are great tools for learning something new or finding quick inspiration. Check out our 1 Minute Videos and explore the wonderful pins on our Pinterest page. Learn from Soft Flex Company jewelry designer pros at the pace you choose! If your creativity needs a quick cup of coffee, make sure you visit us for a much needed jolt of crafting caffeine!
Make-A-Wish Beading Design Challenge Kit Reveal
Make-A-Wish began with a child's dream. Chris Greicius, a seven year old boy with leukemia, wished that he would one day be a police officer. He was a superhero that wanted to nab the bad guys. As Chris was losing his battle with his grave disease, officers in the Arizona Department of Public Safety took it upon themselves to help this child realize his dream. Chris was sworn in as an Arizona DPS officer. He was then given a chance to ride along in helicopters and police cars. His beautiful wish was granted and Chris lost his fight, just two days later.
We wanted to dedicate our latest kit to a foundation that gives critically ill children a chance to live their dreams. This foundation grants an impactful wish to a deserving little one. We wanted to support this wonderful organization! Proceeds from this kit were donated to the Make-A-Wish Foundation of America. You can consider volunteering or donating on their site if you would like to further extend your goodwill to children in need of a little light in the darkness.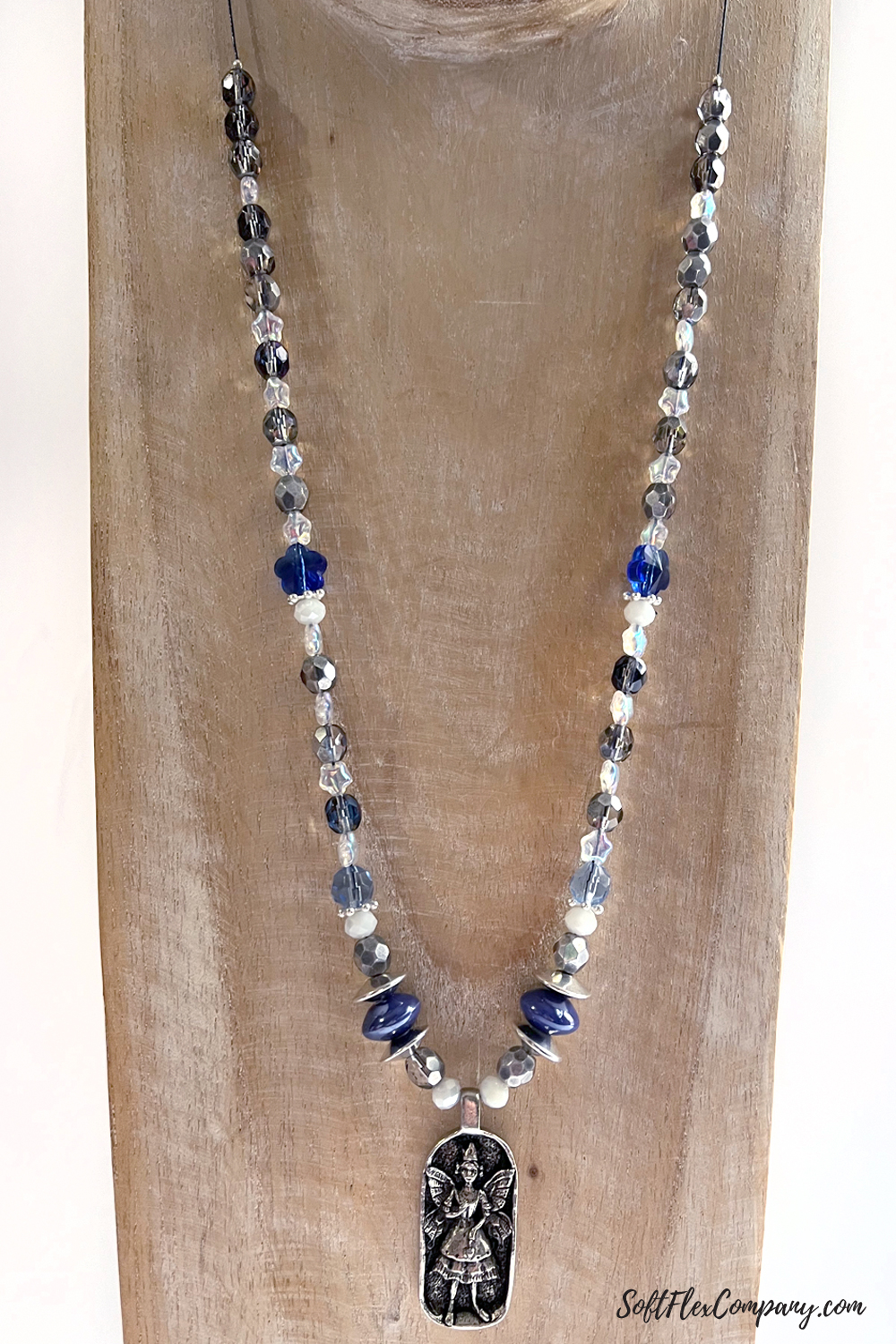 Here is the necklace design that Kristen made using the Green Girl Studios pendant included in the kit. She also started working on an earring design using 22ga Soft Flex Craft Wire. She'll finish those earrings on her upcoming Monday video.
Make-A-Wish Beading Design Challenge Kit
Make-A-Wish Bead Mix
22mm Dark Blue Table Cut Czech Glass Discs
Soft Flex Beading Wire, Medium Diameter
22ga Soft Flex Craft Wire
2x2mm Soft Flex Crimp Tubes
Magical Crimping Pliers
Cutters
Chain Nose Pliers
Round Nose Pliers
Bead Stoppers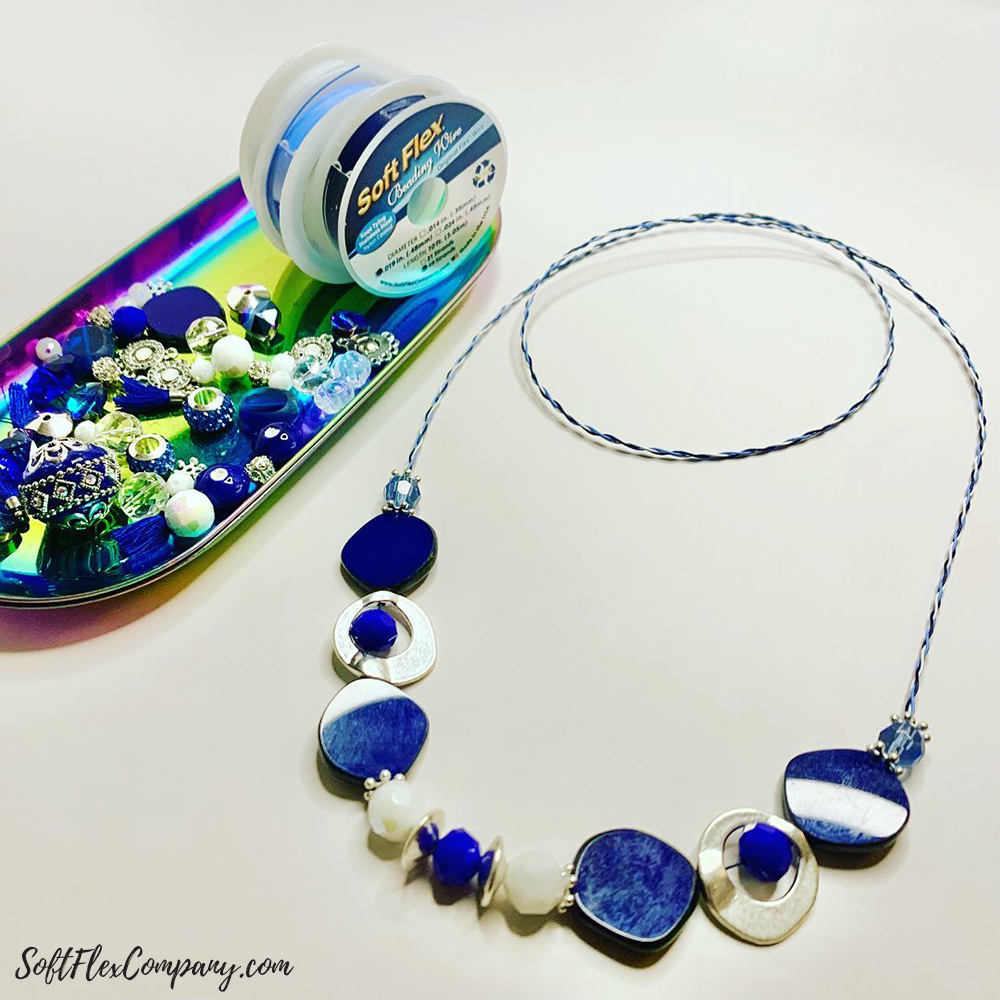 Even though Sara didn't have the Make-A-Wish Design Kit at her home, she did have the Make-A-Wish Bead Mix and was able to make this beaded necklace. She finished the necklace off by braiding three colors of Soft Flex Beading Wire.
How To Make Handmade Earrings In 3 Geometric Statement Styles
This week on Free Spirit Beading, Kristen shared some earring inspiration. She used our Make-A-Wish Design Kit to make these elegant earrings. Learn how to make earrings with Soft Flex Beading Wire. Since the length of wire used in these designs is so short, one spool can turn into a ton of jewelry! Make an earring for every day of the new year!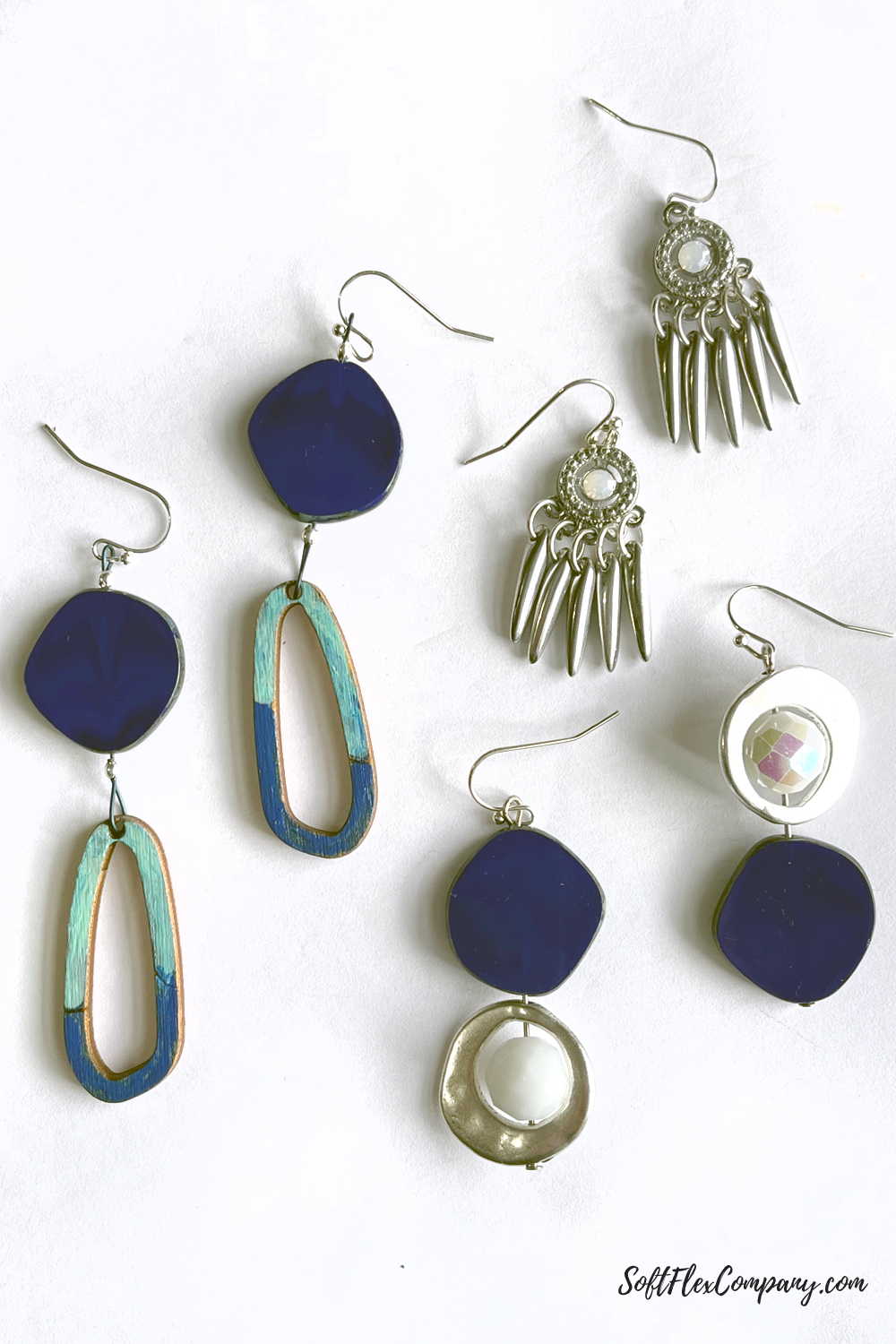 Make-A-Wish Design Kit
Make-A-Wish Bead Mix
22mm Dark Blue Table Cut Czech Glass Discs
Connectors
Soft Flex Beading Wire, .019 diameter, Dark Blue Lapis Color
2x2mm Soft Flex Crimp Tubes
Jump Rings
Head Pins
Ear Wires
Colourful Soul Wooden Pop Outs
Bent Nose Pliers
Chain Nose Pliers
Cutters
Magical Crimping Pliers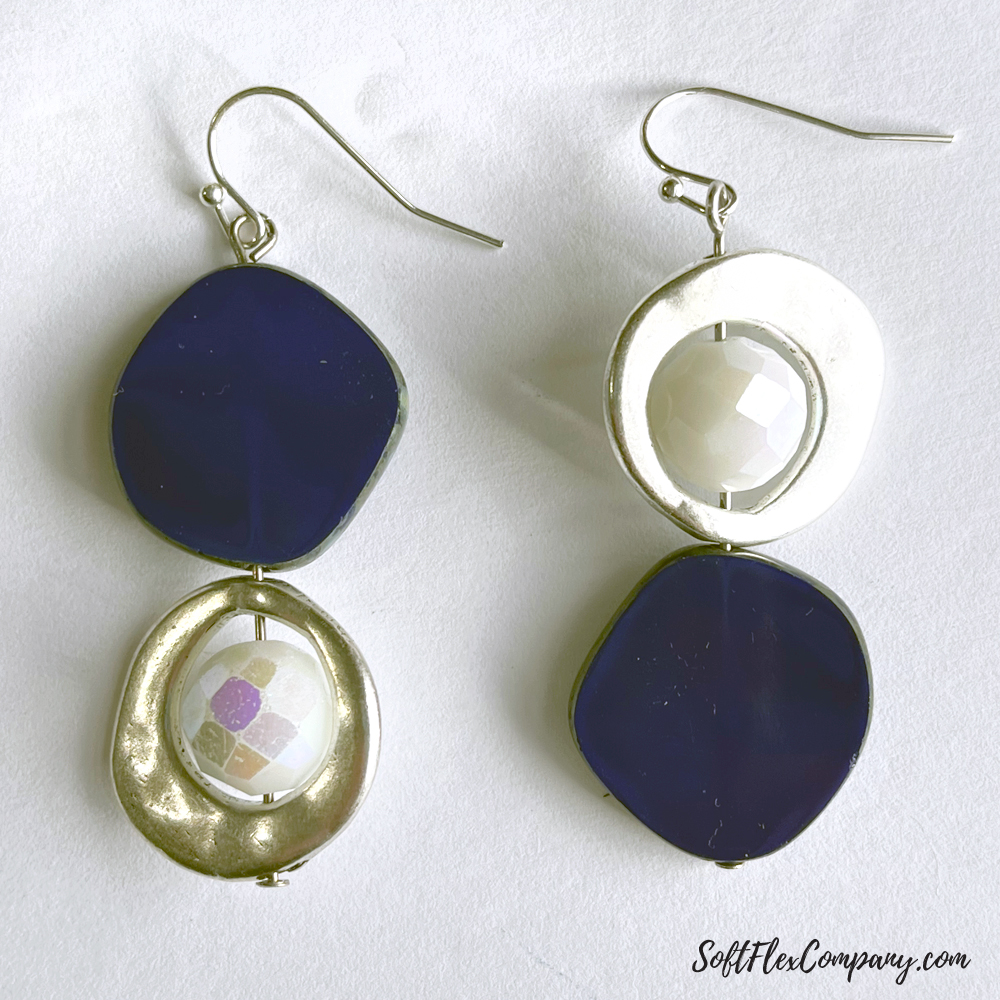 Mystery Bead Box Create-A-Thon with Jesse James Beads & Soft Flex
The Magical Mystery Bead Box is a subscription service from our friends at Jesse James Beads. You can also pay as you go if you do not want to commit to a monthly fee. Sarah sent Kristen and Sara a bead box. We got to look at the contents of the December kit and see how the gals at Soft Flex used the beads from the kit to make a ring and a pair of tassel earrings.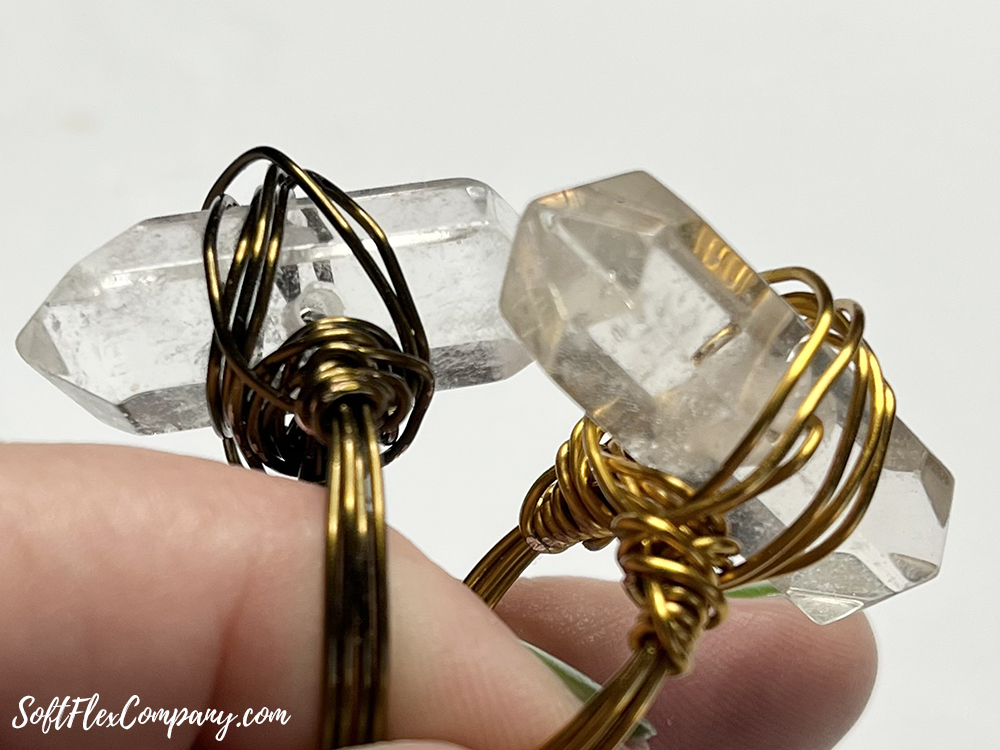 Kristen made these lovely rings with Craft Wire and a ring mandrel. Once fun thing about working with Craft Wire is that you can create an intricate and detailed work or you can be a free spirit and go loose and have an organic and messy wrapped look. Your style truly shines through your craft!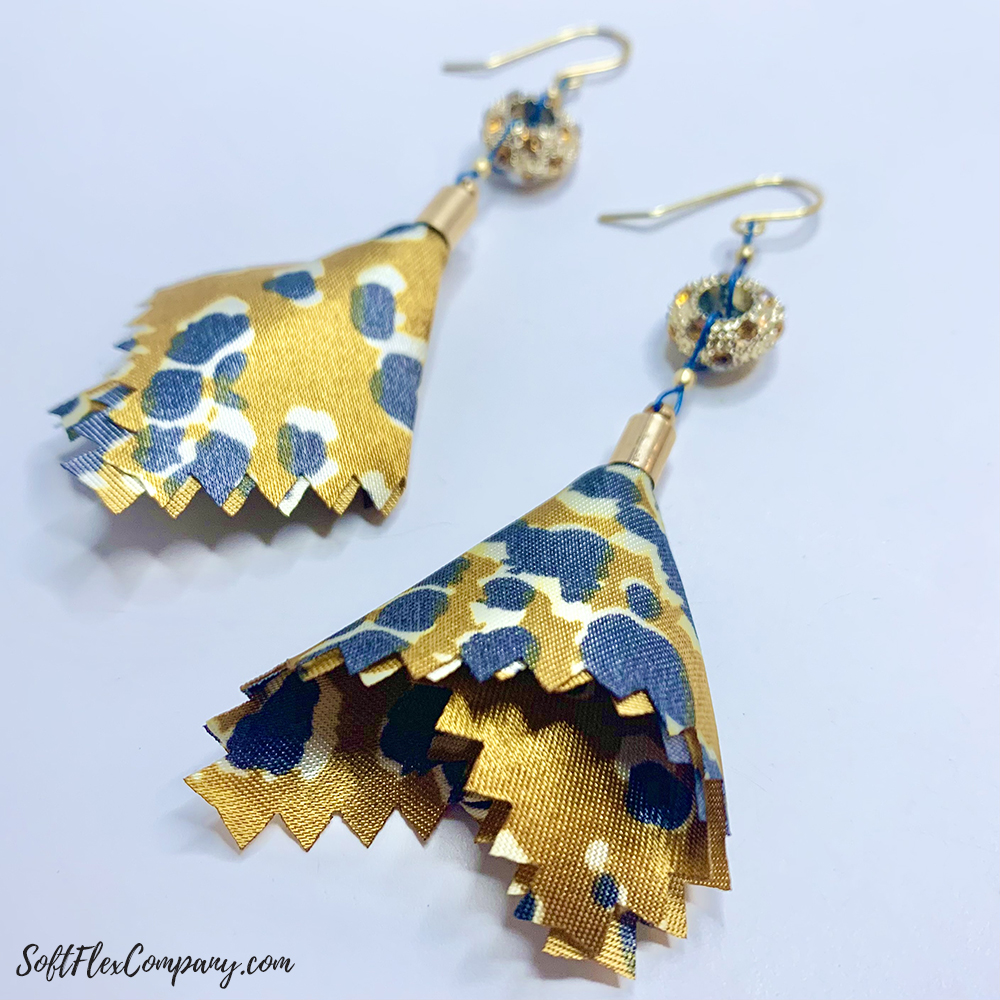 Sara made these lovely earrings. A little classic blue and a lot of illuminating yellow - these tassels are on point! Paired with a cute bead and a color matched Soft Flex wire - these gorgeous earrings are going to be fashionable for years!
How To Make A Lariat Necklace With Pantone Colors And A Heart Pendant
No rest for Sara on Wednesday! Right after wrapping up her video with Sarah James and Kristen, Sara was back in front of the camera for another jewelry demonstration. This time it was meditative, though. Despite the fact that Sara is making spontaneous jewelry in front of an audience, she always enjoys the quiet. This is a moment for this busy mom to pamper herself with crafts while her family watches the kiddos. Make sure you are taking some 'me time' for yourself this year! Making jewelry is a great way to refocus and think about the important things.
Make the most of the moment. Create a daring design! Symmetry is a safety net. Break the rules and string with different shapes and colors. Skip the clasp and make a scarf style necklace or a lariat that doesn't need a clasp. Don't be afraid to innovate or go a little crazy! You can always restring a jewelry design if you don't like it!
2022 Pantone Fall/Winter Bead Mixes
2022 Pantone Fall/Winter Pantone Quad of Beading Wire
Antique Brass Plated Asymmetrical Heart Connectors
Bead Stopper
2x2mm Crimp Tubes
Magical Crimping Pliers
Cutters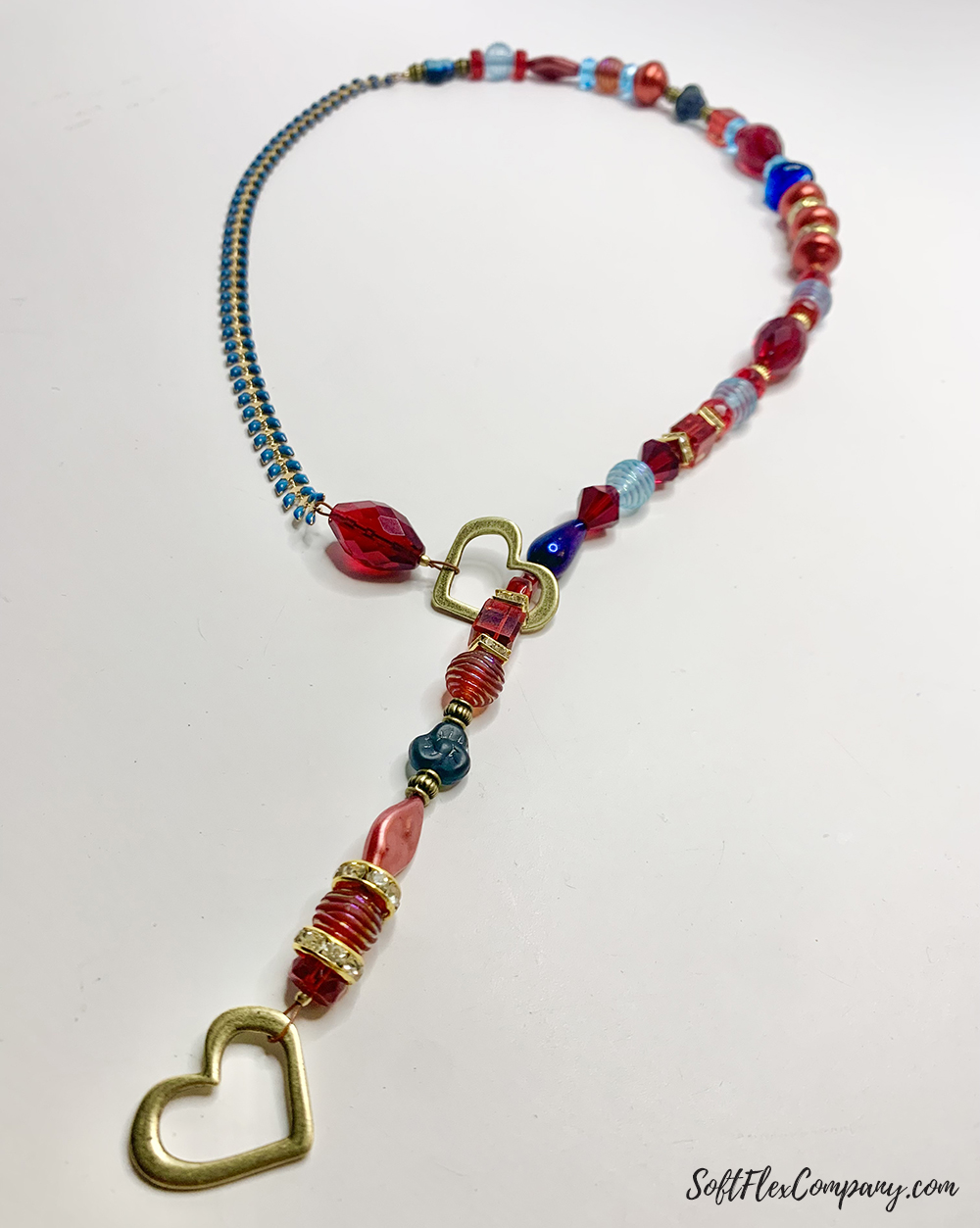 Spotlight Day! How To Use A WigJig Wire Jig And Wire Wrapped Stones
Previous Great Bead Extravaganza events were preceded by 'Takeover Days'. Takeovers were days on the calendar in the lead up to the show where exhibitors would take command of the official Facebook group and share demos, links, and sales all day. This time, our friends at TGBE have opted to have Thursdays become Spotlight Days before the big show begins. We had our Spotlight Day this week. Sara and Kristen took the opportunity to create with Soft Flex Craft Wire and enjoy a warm cup of java. Have some fun with us and learn how to use a Wigjig wire jig!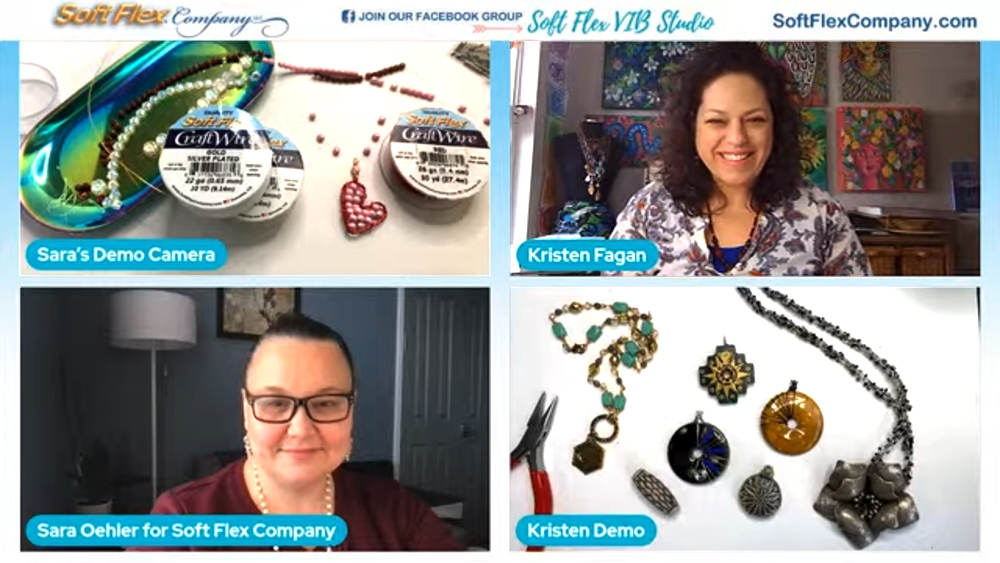 Soft Flex Craft Wire
38mm Assorted Colors Ceramic Donuts
Delphi WigJig
Nylon Jaw Pliers
Multi-Size Mandrel Wire Wrapping Tool
Cutters
Pliers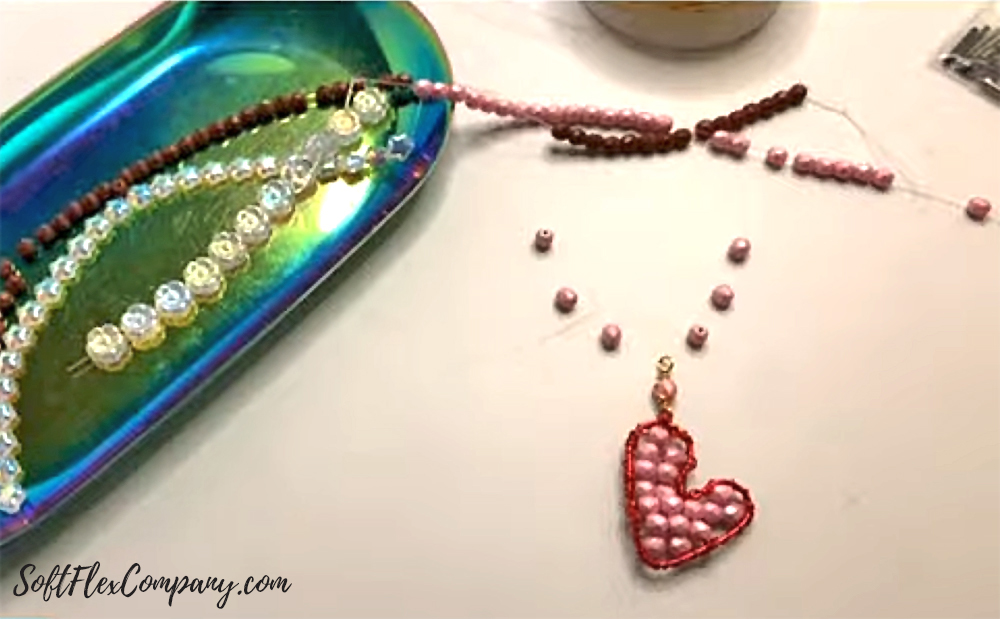 Sara showed us how easy it is to us a Delphi WigJig with Craft Wire. WigJig jig boards are made of strong acrylic, the same material that is used in aircraft windows. They will not warp and the holes on the boards will not widen over time. Cheaper jig can have holes that widen with use and this means the pegs will slip and not remain steady. You can use these wire jigs to create freestyle designs or use a pattern.
WigJig jig boards are clear, this allows you to place the board over a pattern or drawing to help with peg placement. The Delphi and Olympus Lite can use interchangeable patterns meaning anything you can do on one you can do on the other. The difference will be the size created. Delphi has smaller holes spaced closer together offering more petite finished piece than the Olympus Lite, which has larger holes that are spaced farther apart.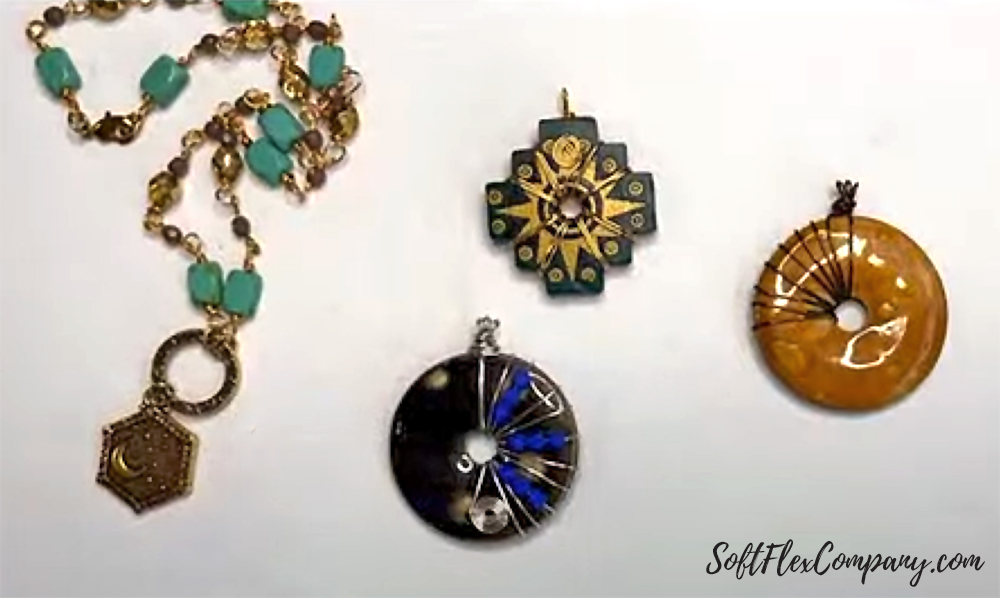 Kristen gave us a wire wrapping demonstration. She wrapped our 38mm Ceramic Donuts. Craft Wire is a great tool for giving character to a stone or bead. It can also turn a stone with no drilled holes into a perfect pendant. If you have not taken the opportunity to try using Craft Wire, make a resolution this year to explore this exciting jewelry making medium!
Christi Friesen: Fun With Polymer Clay - Making A Hairdo Weirdo
Rosanna Brafford: Unboxing The Make-A-Wish Beading Kit
Join our Facebook group – VIB. Stay in the know. Stay up to date. From our bead shows to our video shows and sales, you can stay in touch with us. The community is full of artistic and helpful beaders and crafty people. Inspire and be inspired. Share your pictures and get the beading bug from others!
Visit the Soft Flex Company YouTube Channel!
---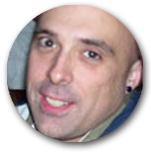 Blog contributor Thomas Soles loves Jazz Age writers and crunchy french fries. His favorite gemstones are Lapis and Pietersite. His favorite hobby is day dreaming. And his favorite mustache is Freddie Mercury's. As you can see, he has a healthy (or possibly unhealthy) sense of humor. You can write to him at Thomas@SoftFlexCompany.com