Can you believe it is already September? 2020 felt like it lasted a decade. This year is racing by! We are spending the final weeks of summer making jewelry with our Purple Petals Design Kit (Sold Out). We wanted to make jewelry that is lively and colorful before the darker days of fall. Let's make the most of the hottest season as it draws to a close. Let's celebrate with floral beaded necklaces that pop. Czech Glass, SilverSilk, floral Purple Petal Power - design something for me!

If you are captivated by the enchanting allure of mystical purple, you are going to love our Purple Petals jewelry demonstrations. If purple isn't your thing, don't worry, we have lots of other lovely ideas for you too! Kristen showed us how to make a necklace with her Purple Petals Design Kit (Sold Out). This kit came with SilverSilk and a delicious selection of colorful beads. Sara taught us how to make earrings with Czech Glass and wire wrapped connectors. YouTube designer, Thunderhorse Descendant (Randee Brown) gave us her thoughts when she unboxed her Purple Petals kit. She then made jewelry with the fun contents. Finally, Nealay, from SilverSilk, showed us how to make a DIY bracelet and how to wire wrap a palm tree design for a stunning set of earrings. Let's make jewelry!
Shop our lovely Czech Glass beads
Do you love vibrant colors and upbeat jewelry? Czech Glass Beads are a delight. Czech Glass Bead Strands are beautiful and come in the most wonderful shapes and sizes. Add a unique bead to your next DIY necklace as a pendant. A strand of Czech Glass can be turned into a beautiful bracelet without any extra additions. You can make a cute pair of earrings with Soft Flex Beading Wire and a single bead or three. You can mix and match with other Czech Glass colors and make jewelry that celebrates a holiday or moment in time. Czech Glass is playful, inexpensive, and slightly exotic - give your jewelry an accent of your personality!
Some of the most amazing glass beads come from the Czech Republic. An entire strand of our Czech Glass Beads will produce at least a bracelet. Don't be scared to mix and match a few different styles to make a design that is a one-of-a-kind piece.
Jewelry Making Videos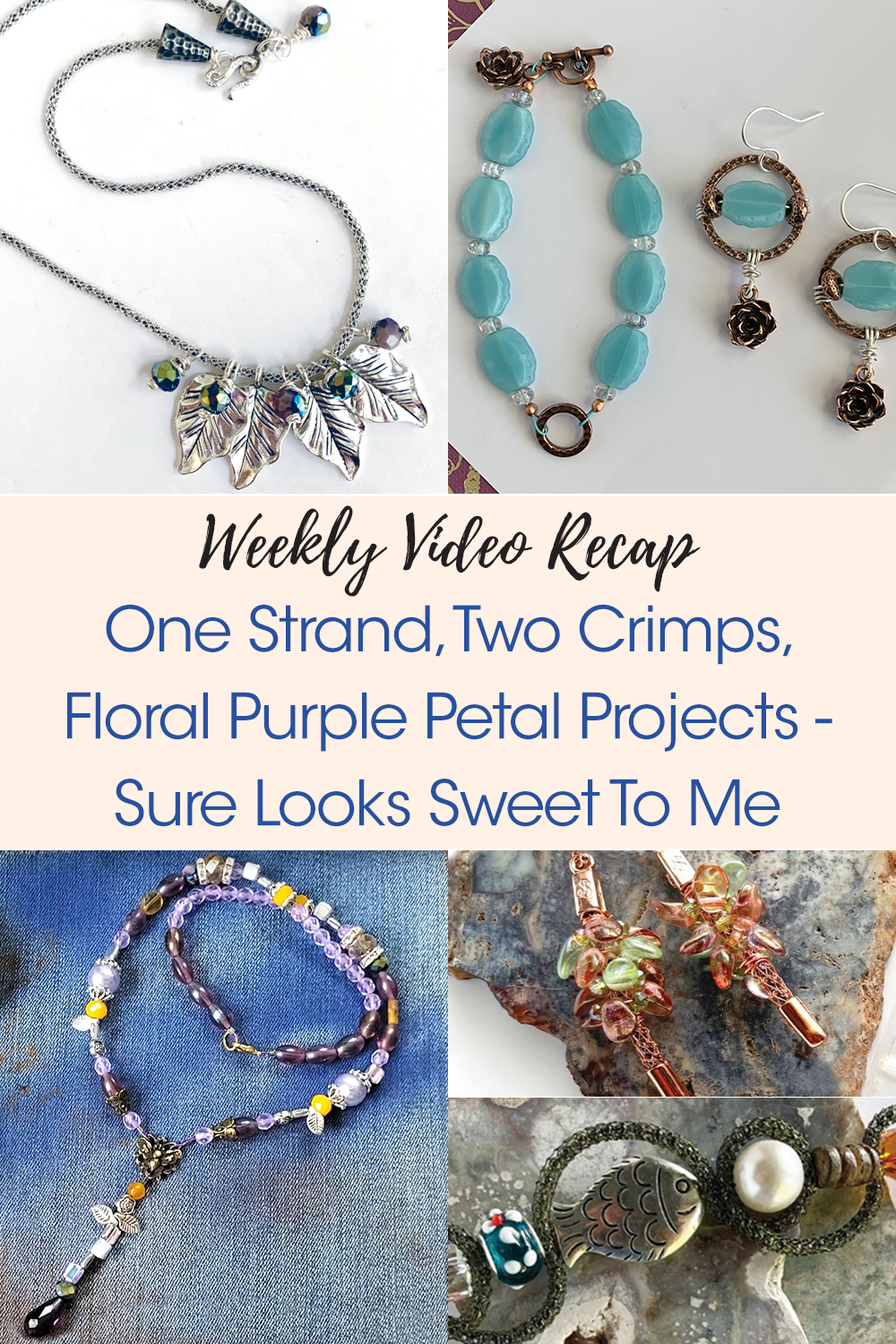 Daily Joyful Beading Challenges - Join Us!
Download the Full Calendar for September - Click HERE.
Follow along on our Joyful Beading road map. Each day, we begin a new jewelry project. For instance, September 23rd is 'Make Halloween Jewelry'. On that day, every project that is Halloween holiday themed, will be entered to win a $10 credit. Projects must be posted to our VIB group before midnight PST, on that date. If you post a kit project on a different date and it is not applicable to that date's project, you will not be entered to win. Make sure every project you post has this hashtag - #joyfulbeading. If you do not include the hashtag, we may overlook your entry.
Learn How To Make Jewelry In 30 Seconds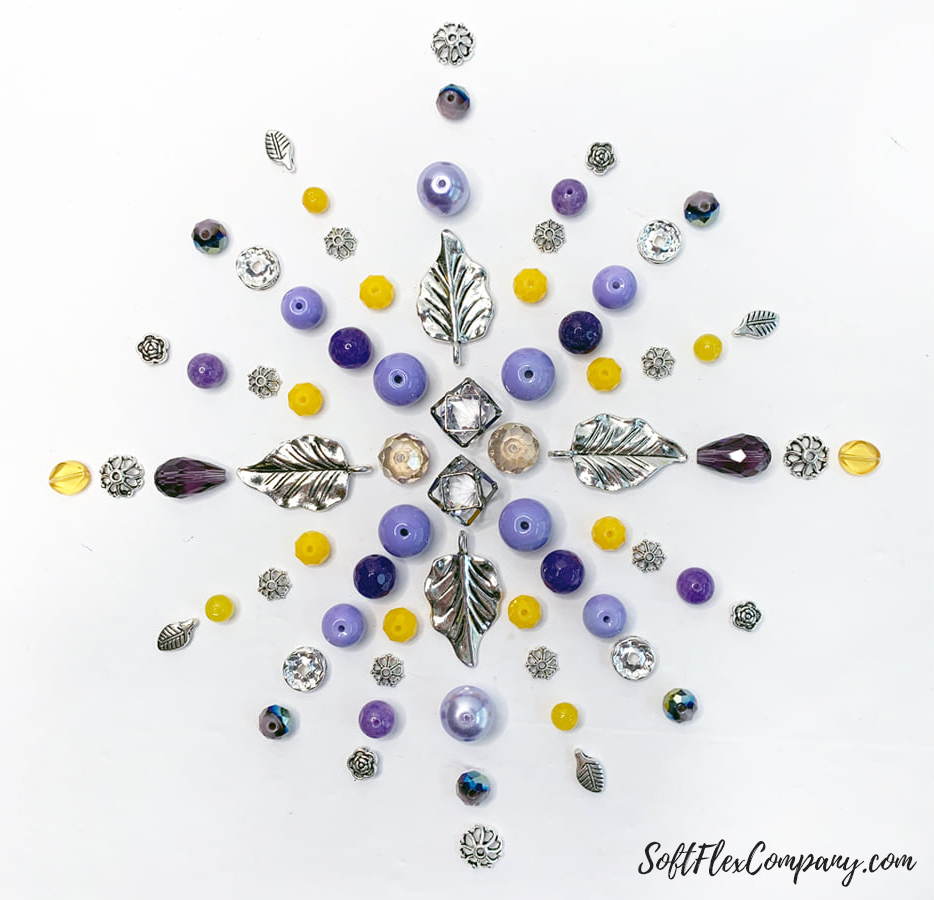 Check out our 30 second jewelry tutorials on Soft Flex Company's Instagram Reels! Master a new technique in minutes. These videos move quick but are easy to follow. You will get a sense of how to use your tools and finish your crimps securely. If you need more assistance, make sure you check out our YouTube catalog for deeper dives into jewelry making education. Stand on the shoulders of giants and enhance your jewelry making knowledge in a flash!
Beaded Necklaces For Fall! You Will Love This SilverSilk And Purple Petals Jewelry Design
Summer may be ending, but this gorgeous necklace is perfect for the drift into fall. Kristen filmed this episode of Free Spirit Beading and used her Purple Petals Design Kit (Sold Out) to make a necklace that is great for either season. This kit included a generous length of SilverSilk chain. Kristen decided she would use SilverSilk and Craft Wire to complete a stunning necklace. Did you grab our Purple Petals kit? If you did, you can follow along and make the same design! Our kits are perfect for creating your own unique designs. You can also follow our lead and make a recreation of our jewelry. It is a great way for a beginner to learn how to string beads. It is also a great way for a pro to get inspired.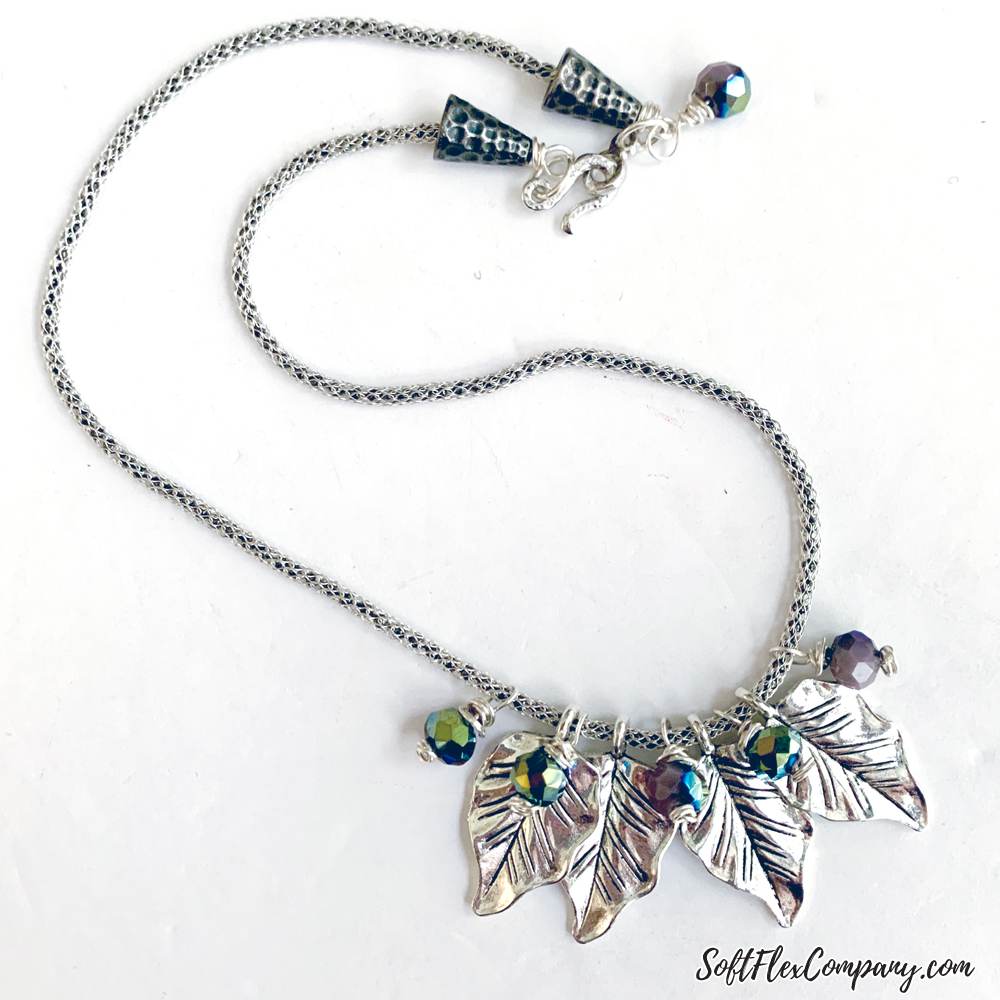 SilverSilk looks amazing when combined with Soft Flex Craft Wire or beading wire. Make sure you check out Nealay's video library if you would like to trying mixing beading mediums. He has lots of instructive videos, you are sure to learn a new technique or three. SilverSilk has such a unique look and feel. Try something new! If you would like to see other finished designs from this kit, visit our VIB group on Facebook. Our community is showing finished necklaces and bracelets from their kits. See how other beaders - beginners and pros - used their SilverSilk in their designs.
Purple Petals Design Kit (Sold Out)
SilverSilk Capture Chain
Soft Flex Craft Wire - 22 Gauge
Soft Flex Craft Wire Silver Plated - 22 Gauge
Clasp
Chain Nose Pliers
Multi-Size Mandrel Wire Wrapping and Wire Looping Jewelry Tool
Nylon Jaw Pliers
Tool Magic
Cutters
How To Make Earrings With Craft Wire And Czech Glass Beads
Labor Day is on the way (if you live in the States). To celebrate the holiday, we had a sale on all items Made in the USA. Sara discussed the sale and how to save on our products. She also discussed the return of our favorite beading event - Joyful Beading! During the earliest moments of COVID and quarantine, we all felt a little uncertain and blue. To keep our minds elevated, we started Joyful Beading. During Joyful Beading, we have a calendar. Each day we present a new beading challenge to our VIB Facebook group. For instance, one day might be 'Animal Jewelry for National Wildlife Day' and another 'Encourage a Kid to Bead'. Once our VIB members make the jewelry for the challenge, they post it on our group page with the hashtag #joyfulbeading. The next day, we put all of the entrant's names in a spreadsheet. We then use a random number generator to select the winner. There is no skill required. Our winner gets a ten dollar credit on the website. Is COVID bringing your mood down? Come get joyful with us! Share the joy with community members that love jewelry!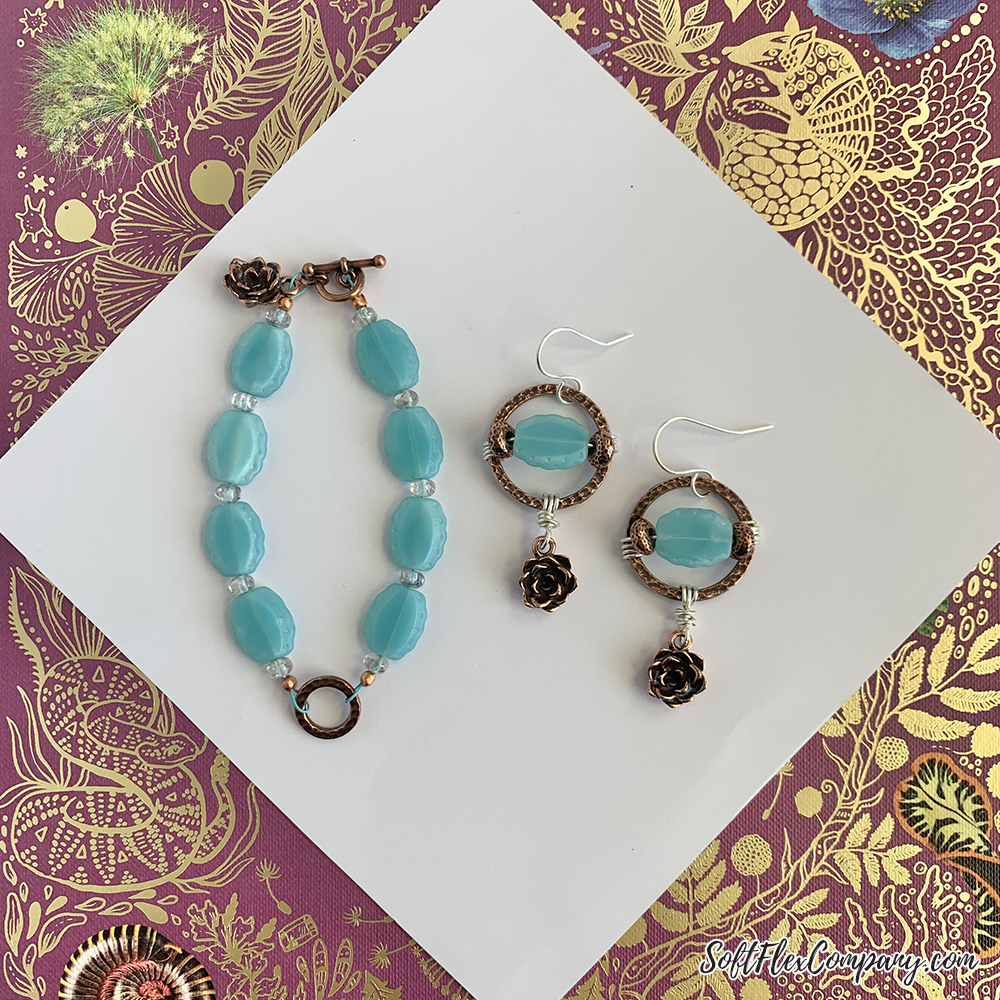 Learn how to make earrings with Sara. She showed us how to wire wrap a connector so it holds our favorite beads. The connector then becomes a beautiful pendant. You can use it for earrings or a focal on a necklace. You can find the connectors and the Succulent Charm on our site. They are part of our TierraCast collection. They were all Made in the USA. The beads are Czech Glass, but you can use whatever beads strike your fancy! Post your earrings on our VIB group. We would love to see your creations. And make sure you join us for Joyful Beading!
Spiral Ring Connector
Succulent Charm
Czech Glass Beads
Soft Flex Craft Wire - 20 Gauge
Soft Flex Craft Wire Silver Plated - 20 Gauge
Chain Nose Pliers
Multi-Size Mandrel Wire Wrapping and Wire Looping Jewelry Tool
Cutters
Nylon Jaw Pliers
Thunderhorse Descendant Unboxes Our Purple Petals Jewelry Kit And Makes A Beaded Necklace
We featured Randee Brown on a video recap blog a couple of weeks ago. She made a necklace with a fun layered look. The necklace used Nightmare Before Christmas beads and was perfect for a Halloween design. We wanted to see what Randee would make with one of our themed jewelry making kits. We sent her our Purple Petals Design Kit (Sold Out). She unboxed the kit and gave us her thoughts on the contents. She then made a lovely necklace with the goodies. Do you have a YouTube channel? We would love to see what you are making!
From Randee:
Hello Party People!! I couldn't wait to get this open. Also wanted to test out if you can actually make a project by just adding tools!! Turns out that is true. This package is from Soft Flex. Thank you Soft Flex for sending this over!! Lets Get this party started.
My name is Randee Brown and I am the sole proprietor of Thunderhorse Descendant. I am originally from North Dakota and currently reside in Minnesota with my Significant Other Jeff and my employee of the month Jake (my hound dog) and my Supervisor Mr. Bunson (my Cat). I love to bead, be creative, share online, try new things but for the most part just have fun with things I make. NO Rules Beading! I sell beads on my etsy shop and website along with handmade jewelry. You may have seen me on Jesse James Beads doing tutorials or on Dress it up Buttons. Maybe you have seen me on YouTube or one of Thunderhorse Descendants Facebook Lives, I just love to be creative and share my designs with everyone. I hope you have a wonderful, spectacular, amazing beady day!
Check out the Thunderhorse Descendant links:
Coffee Club - LIVE on YouTube at 9 am Monday -Friday. The start time will be posted daily in the THD group page on Facebook :) Everyone is welcome. We have coffee and chat about beads, events, sales, all things crafty.
Please join me on my Thunderhorse Descendant business page I do live videos every Tuesday and Friday at 8 pm Central Time
Join the Facebook group: Thunderhorse Descendant Group page
Order finished handmade jewelry and beading components from my website:
www.Thunderhorse-Descendant.com
Visit my Etsy Store.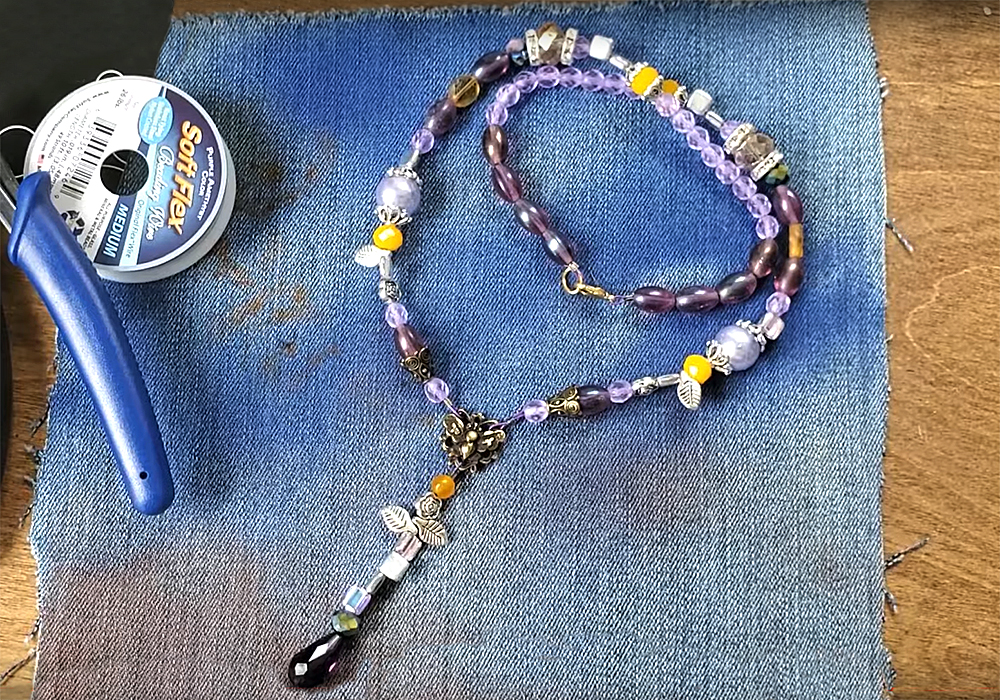 Wire-Wrapped Palm Tree Earrings With Tulip Beads and SilverSilk
Nealay Patel is the owner of SilverSilk & More. SilverSilk is a knitted wire jewelry chain. But, it is like no other jewelry chain out in the craft market. SilverSilk is made by many tiny latch-hook needles that spin around with wire, intricately machine-stitching the wire into an elegant yet strong and supple knitted wire chain. This knitted wire stitchwork offers the crafter new and unusual ways to use it. You can string large-hole beads on it, sew through it, wire-wrap it, glue it, put it in resin or just leave it as a draped jewelry chain. We love SilverSilk chain, it is the perfect complement to Soft Flex Craft Wire or beading wire. These beading elements can be interwoven and wire wrapped into exciting new jewelry. Design something elegant and rich today with these two stringing options. Your finished jewelry will look like you bought it from a high end gallery!
From Nealay:
I've taught how to sew beads onto SilverSilk Capture Chain many times, but did you know you can easily wire wrap beads onto it too? I'll teach you step-by-step how to strings and coil tulip beads around metallic copper Capture Chain and attach all the end findings to make some beach inspired earrings.
SilverSilk Capture Chain
Soft Flex Craft Wire - 26 Gauge
Soft Flex Craft Wire Silver Plated - 26 Gauge
Beads
Single-strand End Caps
4mm Terminators
Ear Wires
SilverSilk Capture and Pearlesque Chain Book Kit
Bead Stoppers
Chain Nose Pliers
Flat Nose Pliers
Cutters
Tool Magic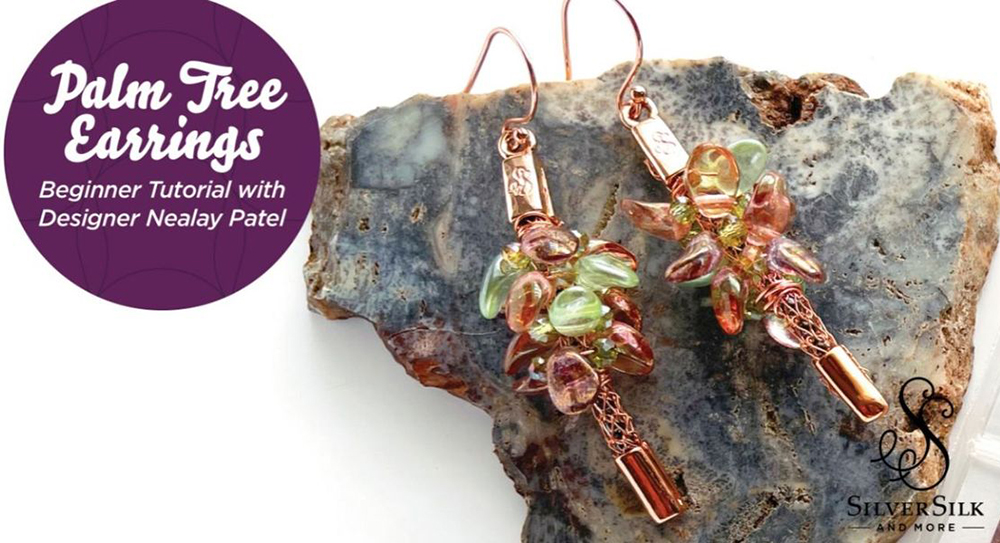 DIY Bracelet: How To Weave Capture Chain Between Beads
From Nealay:
Free form jewelry making can be fun and liberating. In this tutorial, I'll show you how easy it is to combine your favorite beads, whether leftover or from a bead soup, and some SilverSilk Capture Chain into a stunning bracelet that you made with free form styling.
SilverSilk Capture or Pearlesque Chain
Soft Flex Beading Wire, Medium .019 Diameter
4mm Terminators
Beads
2x2mm Soft Flex Crimp Tubes
Jump Rings
Clasp
Magical Crimping Pliers
Cutters
Chain Nose Pliers
Flat Nose Pliers
Tool Magic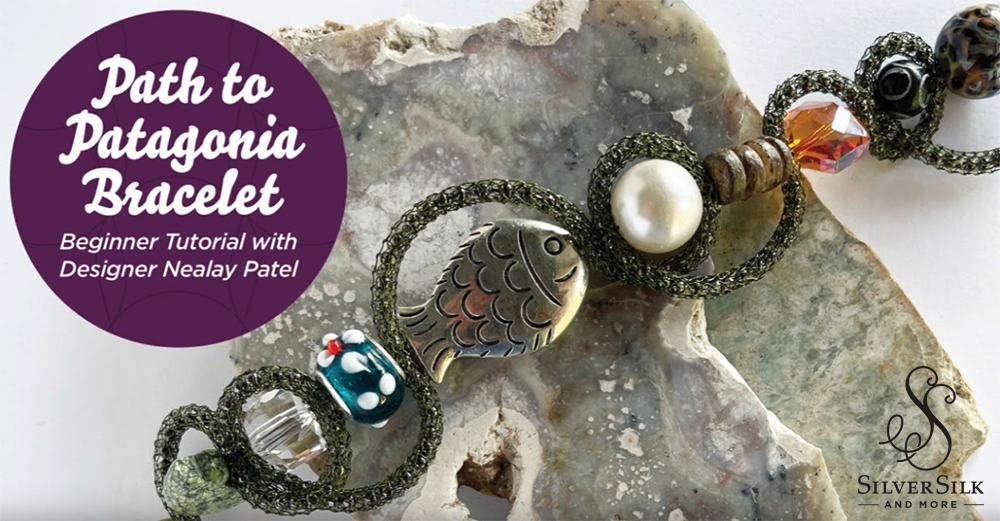 Be sure to mark your calendars for every Tuesday, 5:30pm CST and hop over to facebook.com/groups/silversilk to watch Nealay's videos live and ask questions.
Nealay's channel is dedicated to learning how to make high quality jewelry with SilverSilk with an emphasis on design. You can follow his journey here:
www.instagram.com/silversilkandmore
www.facebook.com/silversilkandmore
Or join his Silkies group and be a part of the conversation www.facebook.com/groups/silversilk
Join our Facebook group – VIB. Stay in the know. Stay up to date. From our bead shows to our video shows and sales, you can stay in touch with us. The community is full of artistic and helpful beaders and crafty people. Inspire and be inspired. Share your pictures and get the beading bug from others!
Visit the Soft Flex Company YouTube Channel!
---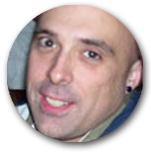 Blog contributor Thomas Soles loves Jazz Age writers and crunchy french fries. His favorite gemstones are Lapis and Pietersite. His favorite hobby is day dreaming. And his favorite mustache is Freddie Mercury's. As you can see, he has a healthy (or possibly unhealthy) sense of humor. You can write to him at Thomas@SoftFlexCompany.com