Using Craft Wire - How To Wire Wrap Seed Beads Onto A Form To Make Earrings Or A Necklace
Last week, I recorded two fun videos for you! On Facebook Live (shown above), I revisited my Holiday Crafts and Ornaments series from last year as many of the projects used Soft Flex Craft Wire. I then, took the leaf concept from my table cloth holder and created an earring shape using the WigJig Olympus-Lite. After, I wire wrapped beads to it. Let's take a look at this episode together.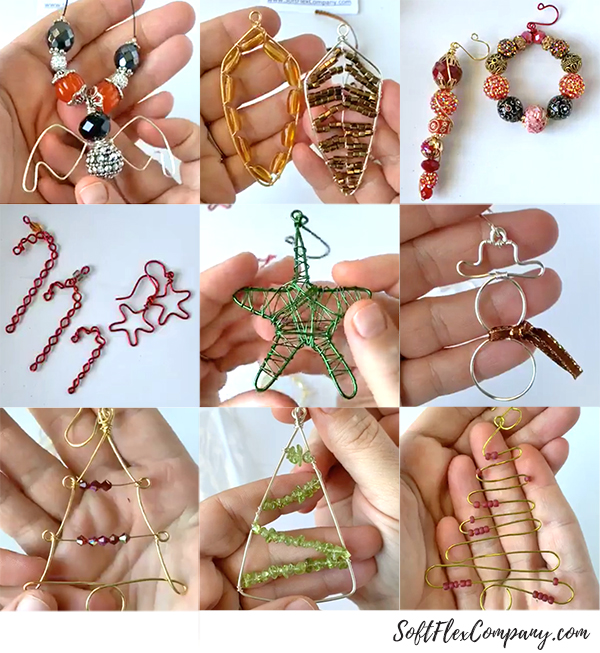 Last Fall/Winter I did an 8 part series on YouTube with a new holiday craft and ornament each day. It was so fun that I think I may do something similar this year too! I love holidays and it is fun to really get into the spirit of things!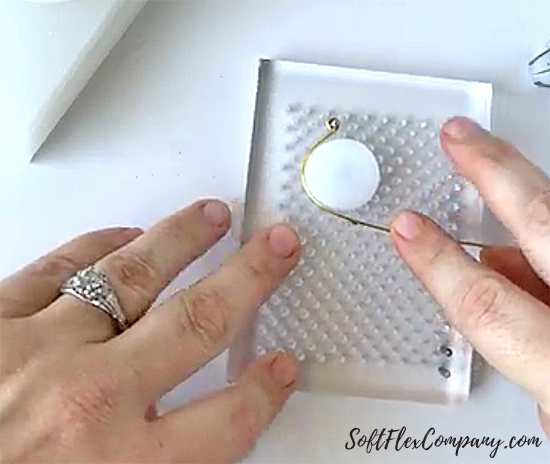 However, in this episode, I used the WigJig Olympus-Lite to make a round earring shape that I could wire wrap. First, I put the pegs into position in the jig. These jigs are amazing. They are made out of the same material as an airplane window. They are so strong and clear so you can save and revisit patterns. In this case, I used a large Super Peg also, which is sold separately from the WigJig in a package of 3 sizes.
About the WigJig Olympus-Lite:
You are going to love the WigJig Olympus Lite!
The Olympus Lite is a great all purpose jig board. The Olympus Lite is the ideal jig board for larger designs. If you are creating interlocking bracelet components or necklace pieces, this jig board is super handy! The pegs are slightly larger and spaced further apart than the smaller Delphi jig board. This means your designs will have larger loops and allow for bigger patterns. You can reference any pattern for the Delphi and replicate it with your Olympus Lite, it will just make your pattern larger.
The transparent Olympus Lite is the perfect jig for beginning wire designers. Just place the transparent jig on a pattern, trace with the pegs, and wrap the wire to form the design. It's simple to design with wire instantly to make jewelry, home decor, and paper arts projects. Includes jig with 238 holes and 10 metal pegs. Buy Super Pegs to enhance your collection (sold separately). WigJig Olympus Lite is 3" x 3".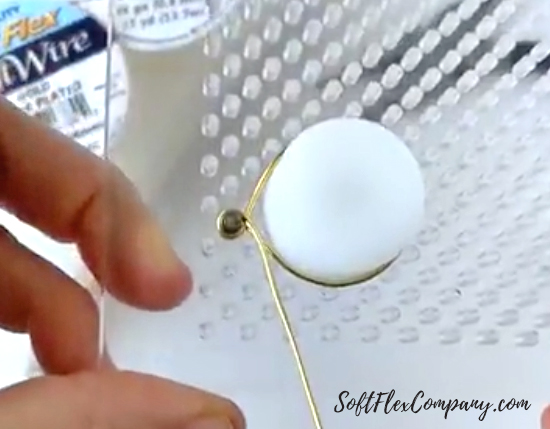 I used 18g Soft Flex Craft Wire in silver plated gold color. When you use a jig, it makes it quick and easy to make the same shape over and over again (perfect for earrings). It also makes it very easy to work with a thick gauge of wire. Simply turn the jig and guide the wire with your fingers.
About Soft Flex Craft Wire:
Soft Flex Craft Wire is a high quality, permanently colored copper wire. It is resistant to scratching, peeling and marring. This is due to the special enameling process used to coat the wire to produce the wide spectrum of colors we offer. After the enamel is applied, the wire is then clear coated to prevent tarnishing. Bare Copper is the only wire in the line that is not treated. If antiques and old findings are your medium, Bare Copper will patina - perfect for making that new project look like an heirloom.
Quality Soft Flex Craft Wire is 100% lead and nickel free. There are no other metals used in the wire production other than copper and fine silver. The temper of the wire is soft. It is firmer than similar wire products offered on the market, which are typically only available in dead soft and can't be tempered to half hard. We currently offer six of the most commonly used gauges in the jewelry industry and more are on the horizon. An exceptional design idea deserves a professional craft wire.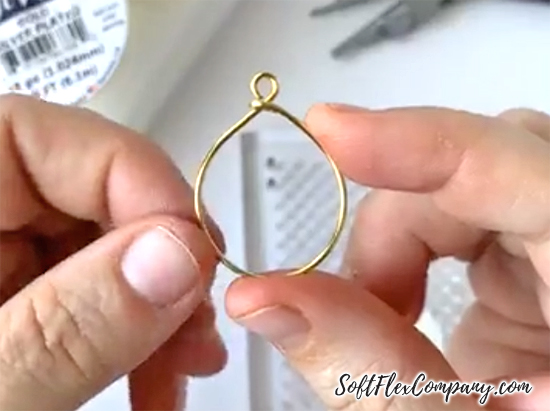 To connect the two sides, I used my chain nose pliers to turn one of the loops. This makes it easy to connect and complete the loop.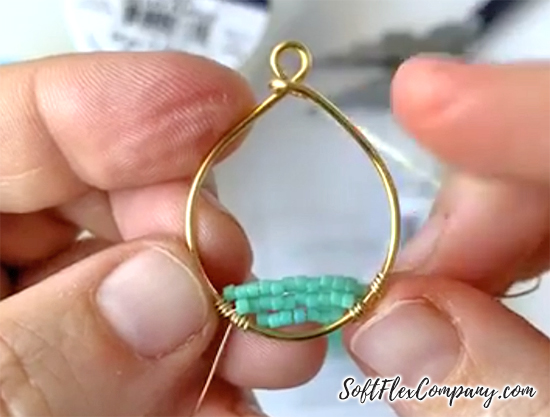 Next, I took a 26g Soft Flex Craft Wire to wire wrap turquoise delicas to the form. You can use any color that you want or even create a color mix. Take a cue from peyote, and you can even create shapes or patterns. Weave back and forth with the wire to add rows of seed beads.
One thing that I learned was that the smallest size on our new multi-looping pliers is about the same size as the Olympus-Lite WigJig metal pegs! So handy! So, I used it to create my loops for the form.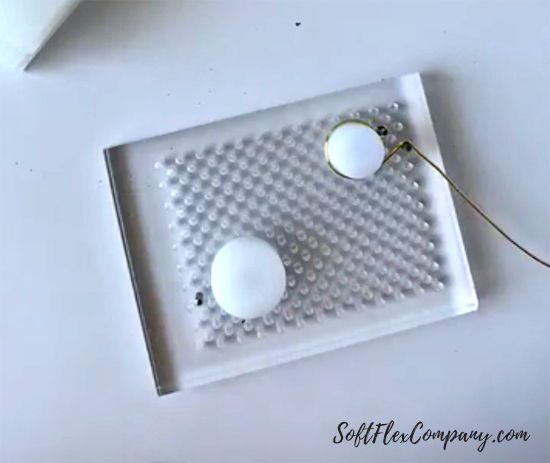 And, I also used both the pliers and WigJig Olympus-Lite to make matching ear wires using the same 18g Soft Flex Craft Wire. I love creating my own ear wires in a variety of shapes on the WigJigs.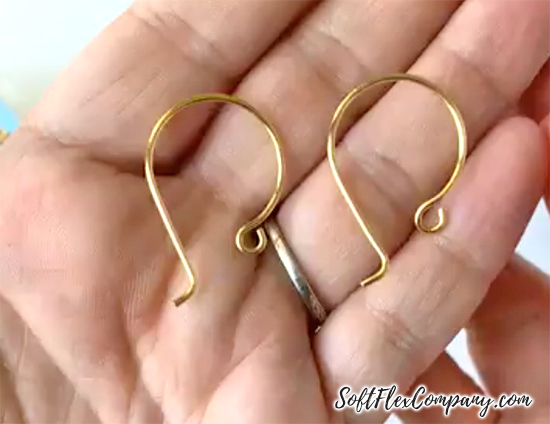 You want to make sure that you work harden them using a tool like the Wire Whacker.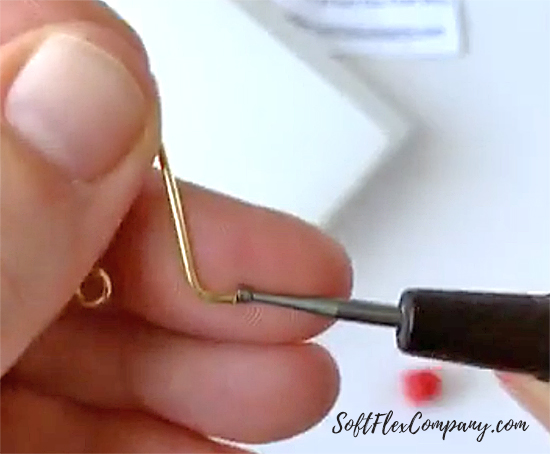 And you can buff the end of the wire to smooth it using a Burr Cup tool.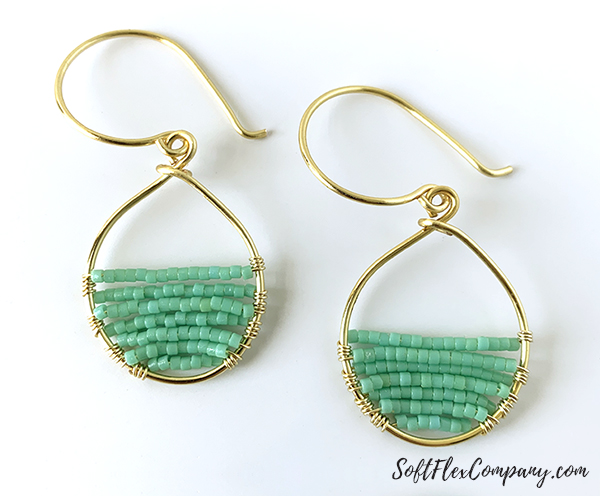 I LOVE how these turned out. I'd love to make them in a few different colors.
To follow up, I created a matching necklace using the same techniques with a Hammertone Ring from TierraCast.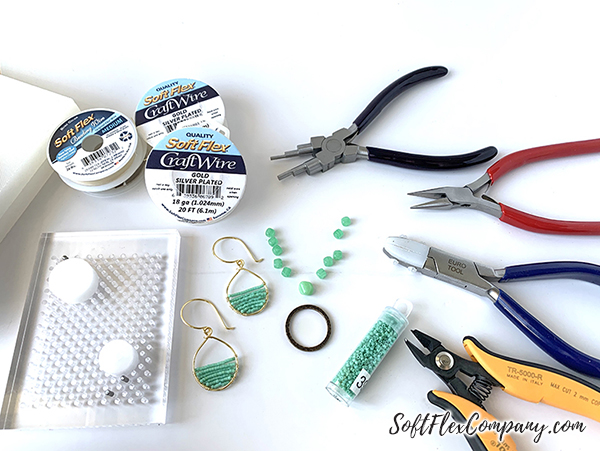 I always love a jewelry set. So I wanted to complete this set with another jewelry piece to wear with the earrings. I wanted to take the same technique used earlier in the week on Facebook and see how it translated to the premade shape.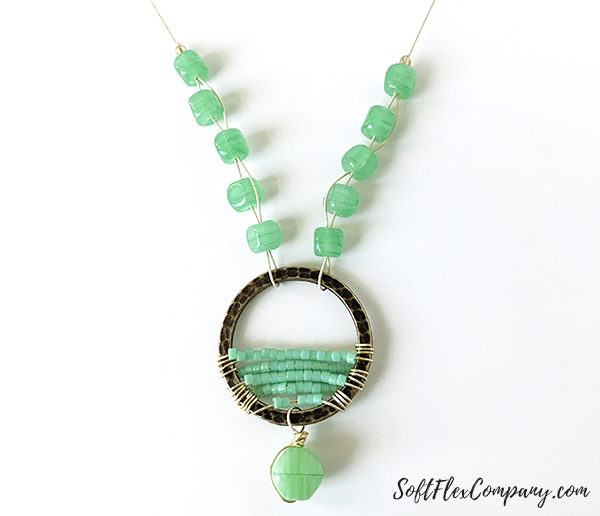 I used 26g Soft Flex Craft Wire again, but this time, I chose a color that didn't perfectly match the ring. It was fun to see how having the wire and form be two different metal tones would look. I also showed viewers how to make a little dangle and attach it to the bottom of the ring.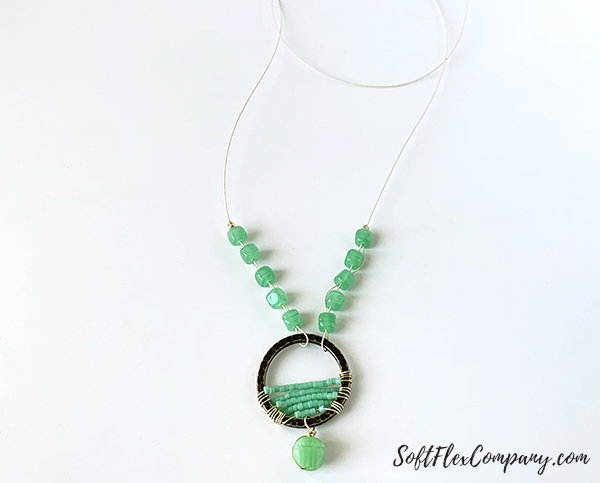 And of course, I needed to take the pendant and string it to create a necklace. So I did a little weaving with Soft Flex Beading Wire in .014 diameter in bone color. I crimped on each side just above the beads using 2x2mm Crimp Tubes and Magical Crimpers. Make sure to put extra wire in the crimp to get it to hold well. .014 has such a thin nylon coating! Use a scrap of .019 wire in the same color, crimp and then cut the scrap off on both sides.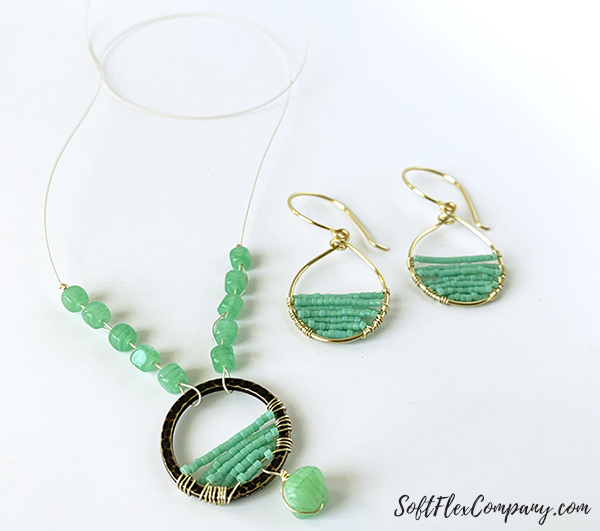 I love how this set turned out. So pretty! So beachy and so perfect for Summer. I hope that you enjoyed both jewelry making tutorials last week and would love to see your version in our Facebook group! Please post pictures or join to see what others are posting.
Join our Facebook group – VIB. Stay in the know. Stay up to date. From our bead shows to our video shows and sales, you can stay in touch with us. The community is full of artistic and helpful beaders and crafty people. Inspire and be inspired. Share your pictures and get the beading bug from others!
Visit the Soft Flex Company YouTube Channel!
---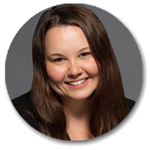 Sara Oehler (pronounced Ay-ler) is a well-known jewelry designer living in the Bay Area. Sara is the author of several beading books, including her latest title, written with Kristen Fagan, Seed Bead Revolution. She has designed and written for numerous publications including: BeadStyle, Bead&Button, Bead Trends, Stringing, Jewelry in Fashion Trends, Simply Beads, The Flow and Today's Creative Home Arts. Currently, Sara is the Sales and Marketing Manager for Soft Flex Company.Ask Sara Bead Expert
Blog: softflexcompany.com/beading-blog
Email: Sara@SoftFlexCompany.com