It has been an amazing week at Soft Flex Company. Sara, our beading and jewelry making guru, delivered her first boy on Thursday! Baby boys are wonderful. We are so excited for the Oehler family. You can wish her well on our Facebook group – VIB. We also managed to make some fun instructional videos this week. You can learn how to make earrings, a necklace, and a bracelet with a knitting spool.

With Sara on maternity leave, our free spirited beader, Kristen, stepped up to film some extra videos this week. The first video was from her trip to Milwaukee for the Bead&Button Show. The second video was from her series, Free Spirit Beading, which airs Mondays at 12:00pm PST on YouTube. Finally, Kristen took Sara's spot for the monthly unboxing of our mystery kit.
If you have not purchased a design kit yet, you are missing out! Our design kits are mystery themed kits that we put together in our gallery. They are offered on a very limited basis and once they sell out they are gone for good. Sometimes we follow up with a themed Trios Beading Wire Pack or Bead Mix - those are great if you miss out on a kit and would still like to explore the theme. They are also fantastic for augmenting your kit. Our design kits contain everything you need to create a bunch of jewelry - if you have the basic tools on hand (crimping pliers, cutters, etc).
Our Shades of Coral design kit has sold out, but you can shop our Design Kits for our next month's mystery design kit challenge!

Don't miss out on our latest themed kit - the Tucson Sunset Design Kit celebrates the color of the Southwestern sky. There is a reason the Painted Desert is located in Arizona. The Southwest is radiant with color. Tucson is the epicenter of this intense spectrum. The setting sun fills the clouds with banded purples, rich reds, and luscious copper. The glory of the dying light is serenaded by the nocturnal animals in their howls and song. Design with the ghosts of the Southwest. Design with the Tucson Sunset!
Supplies are limited, so hurry!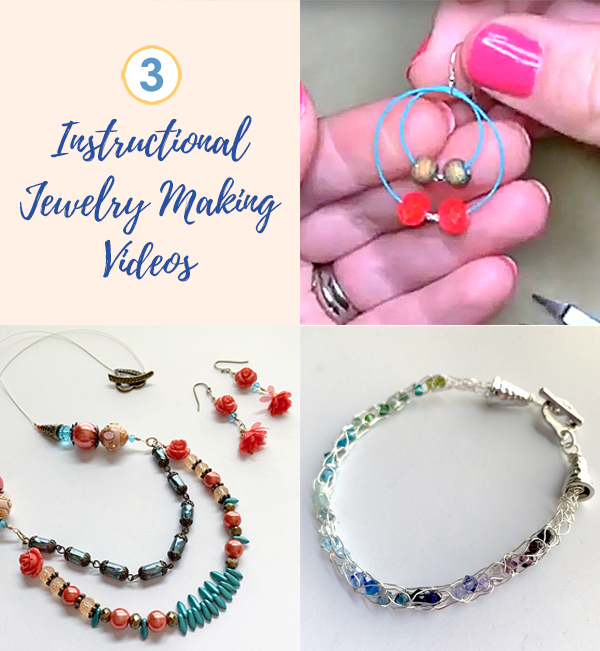 How To Make A Pair Of Soft Flex Double Hoop Earrings
Our first video is one that Kristen filmed during the Bead&Button Show in Milwaukee. Kristen attended the show as a Soft Flex representative. She taught free demos during the show and several earring classes. Kristen loved being in Milwaukee, at the show. She was able to meet and connect with friends from our Facebook group. This video was her way of sharing the earring tips with people that could not attend the show and see her demos.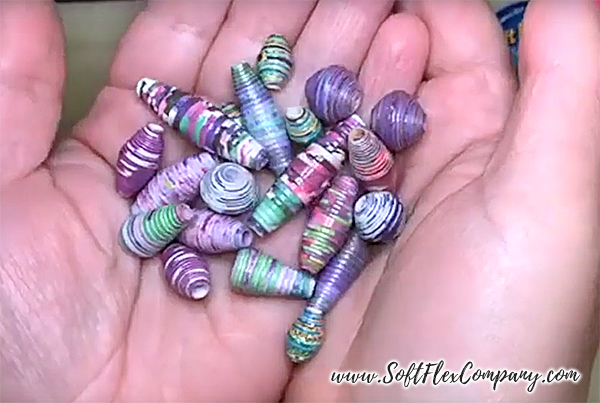 Creating earrings with Soft Flex Beading Wire is so fun and easy. A small cut of wire and a couple of beads is all you need. This means that you can use wire that you might normally discard - strands too short to create a bracelet or necklace. Or you can just cut it straight from the spool. Same with the beads. If you only have a couple of beads that you really love but just do not have enough for a larger piece of jewelry, you can use them for earrings.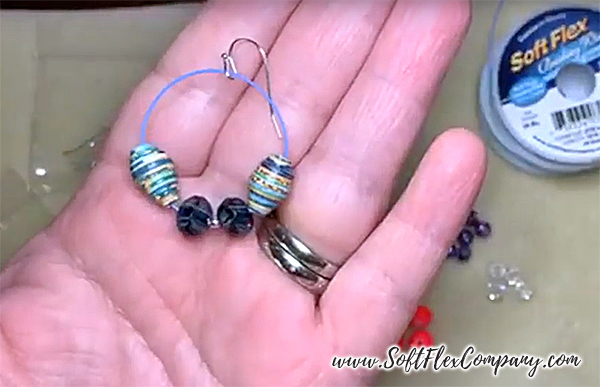 Supplies:
Soft Flex Beading Wire - .019 Diameter
Soft Flex Professional Flush Cutters
Soft Flex 2x2mm Crimp Tubes
Magical Crimping Pliers
Ear Wires
Bead Mixes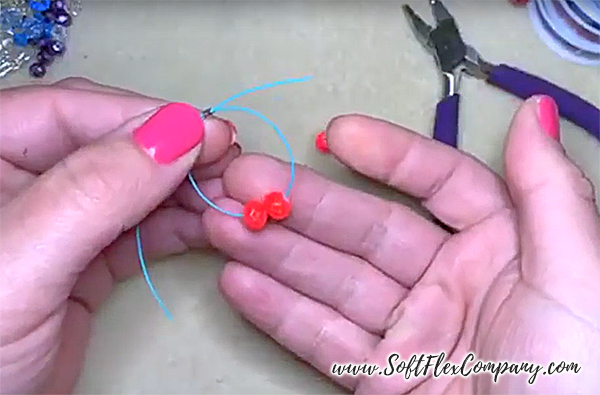 Since earrings made with Soft Flex Beading Wire are so easy to make, the possibilities are limitless. You could create a unique pair of earrings for every day of the year. If you are impulsive, you could create a set for whatever you happened to be wearing on a given day.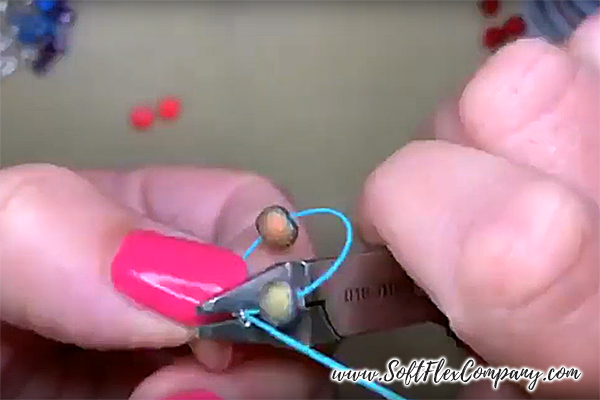 Change the color of the wire and you have a dramatically different look. You can also add as many or as few beads as you would like to create a stunning set of earrings.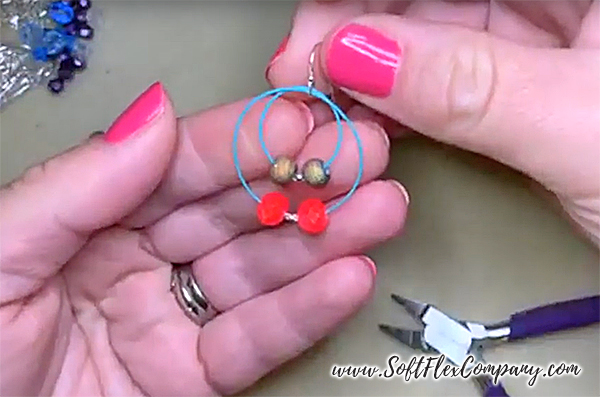 Hold on to your wire scraps. You never know when they might be useful. Kristen has a bag of wire scraps that are perfect for earrings. Sara uses remnant wire for a trick with her Magical Crimping Pliers. Sara found that the pliers were not ideal when crimping on a single strand of wire - for illusion necklaces and such - so, she puts a small scrap under the crimp bead and finishes the crimp with two strands. She then cuts the visible ends of the scrap so it looks like it was crimped on a single strand. So creative!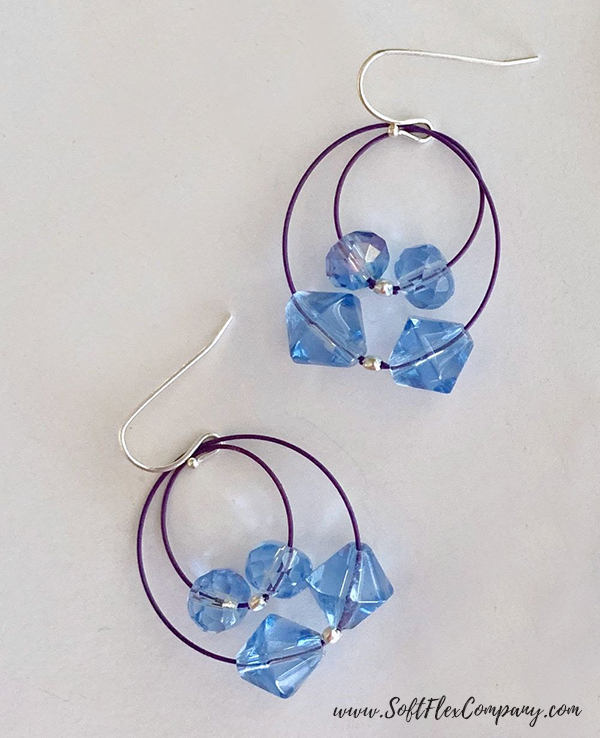 How To Knit With Soft Flex Craft Wire And Crystal Beads
Kristen has a YouTube series called Free Spirit Beading. It airs on Mondays at 12:00pm PST. Free Spirit Beading is a live beaded jewelry making series on YouTube. Kristen is a free spirited designer, author, artist – she loves to create. She does not worry about perfection. She believes that art is a journey and part of that journey is making mistakes and living with them. If you miss an episode, you can find it in our YouTube library.
This week Kristen used a knitting spool and Soft Flex Craft Wire to create a stunning bracelet. She has a wonderful eye for color. This bracelet is elegant, but would also look great as a masculine design too.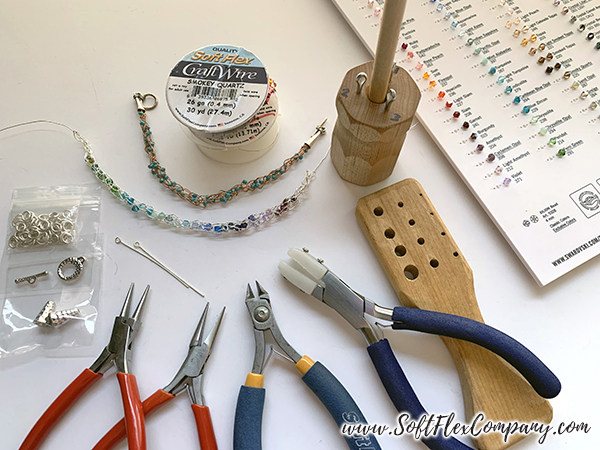 From Kristen:

Create a knitted wire bracelet with the 3-pin knitting spool, craft wire and 4mm crystal bicone beads. Knitting on a spool with craft wire is similar technique to knitting beading wire, but it has some different qualities. It's a lot more rigid so, instead of soft looping knits with some stretch, the design will look a bit more structured with jagged loops and will not stretch. A Draw Plate is needed after you are done knitting to smooth out and condense the wire into a uniform shape. I love how perplexing it is to wrap your head around how it was made. It doesn't look as easy to make as it actually is!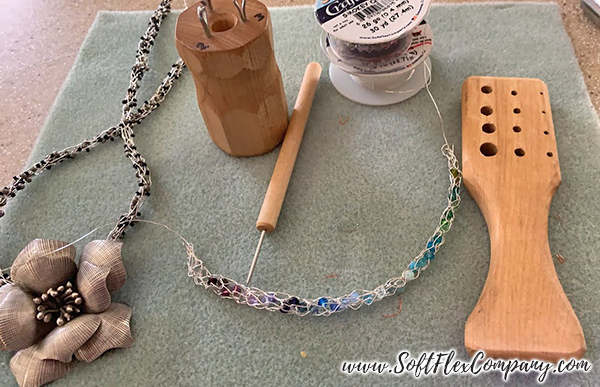 Supplies:
Soft Flex Craft Wire 26G - Non Tarnish Silver Plated
Approx 30 4mm Crystal Bicone Beads
3-Pin Knitting Spool
Draw Plate
Eye Pins
Cones
Toggle Clasp
Jump Rings
Cutters
Chain Nose Pliers
Round Nose Pliers

Technique:
Knitting Style 1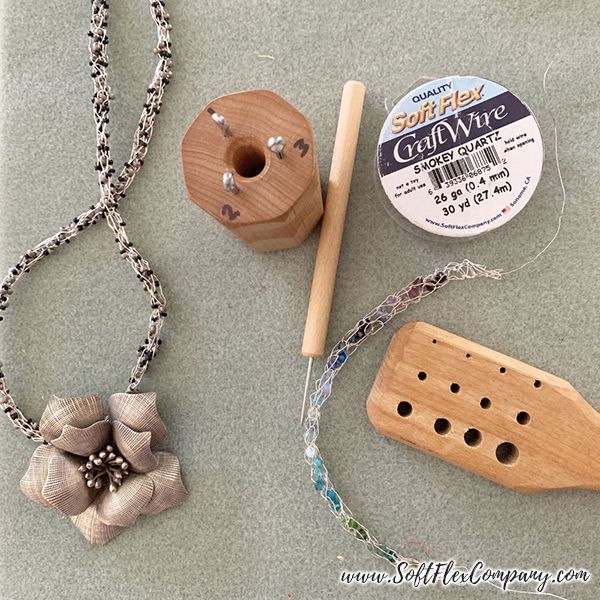 From Kristen:
Note on sizing: If you want a 7.5" bracelet - allow 2" for the cones and toggle clasp therefore, you would need 5.5" of knitted wire.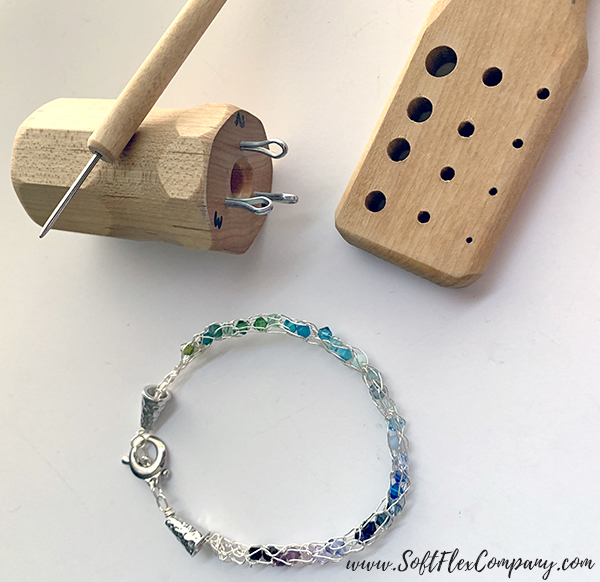 Soft Flex Craft Wire is a fantastic wire for knitting. The designs are firm and wonderful on the wrist. Soft Flex Beading Wire is great if you want your knitted design to be springy and less sturdy. Craft Wire is surprisingly easy to manipulate on a knitting spool. Check out our Lazee Daizee Viking Knit tools if you would like another easy option for knitting with Craft Wire.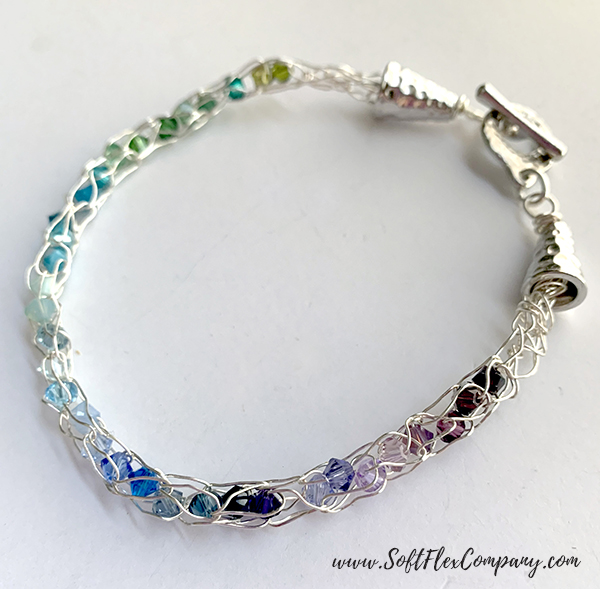 Live Beading Show with our Mystery Guest: Creating Jewelry With The Shades Of Coral Design Kit
Sara is our design challenge superstar. She unboxes mystery design kits and creates wonderful jewelry on the fly. This week was different with Sara on maternity leave. We had to find a mystery guest to host the show. Kristen stepped up for the challenge and took on the difficult task. As Sara will be away for a couple of months, we will roll out videos with fun mystery guests.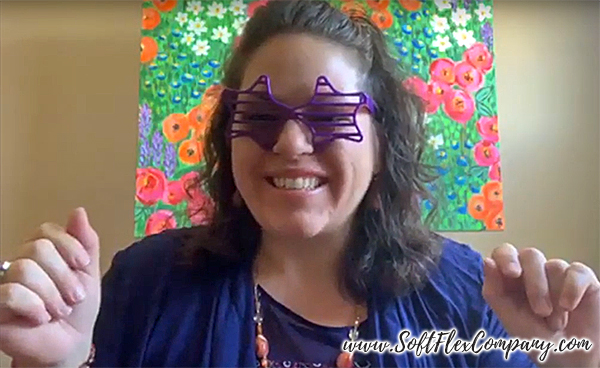 Opening a mystery design kit for a live video is not an easy task. Kristen had to open our Shades of Coral design kit and create some jewelry. Kristen does not work in the gallery so she did not have a clue what was inside. This means, she needs to open the kit, survey the contents, and create something amazing. All of this with a live audience. Definitely not a job for those of us with stagefright.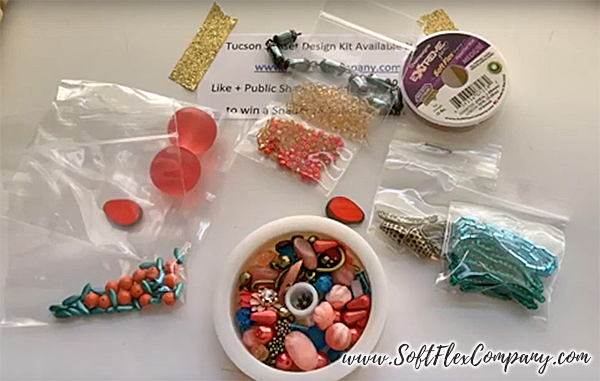 Our Shades of Coral Design Kit was offered last month. The kit is no longer available, unfortunately. The quantities on our mystery design kits are very limited, so if you do not act fast, you will not be able to get one. However, we offer a new kit each month with a brand new theme. If you hurry, you can get our latest kit - the Tucson Sunset Design Kit
Shades of Coral is a celebration of Pantone's Color of the Year for 2019 - Living Coral. This warm color evokes so much. There is life and optimistic hope. Coral is playful and bouncy. It is inviting. Inspired by the colors under the sea, this palette will give you those beachy vibes - perfect for summer style jewelry designs!
If you missed out on the Shades of Coral Design Kit and you would like to design with the colors from the kit, make sure you grab our Shades of Coral Bead Mix or Shades of Coral Bead Strand. The bead mix was actually a part of the kit. We offer an overflow of bead mixes for those that would like to add to their kits or for those that missed out on a great kit. These bead mixes are not available anywhere else.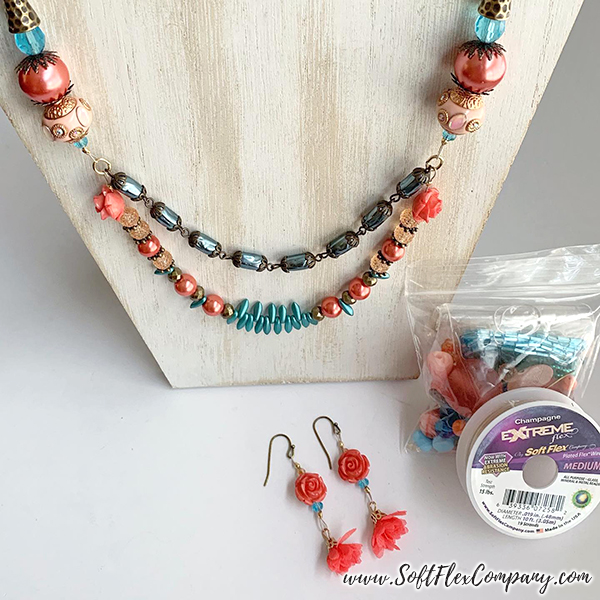 The Shades of Coral Design Kit was an amazing kit. We offered Extreme Flex Champagne Color Wire in the kit - so exotic! This wire is great for designs where the wire is exposed. It is meant to be shown and will make your jewelry shine.
Don't miss the unboxing of our Tucson Sunset Design Kit next month. You are going to love the mystery guest lined up for that one. It is sure to be a great show with amazing jewelry!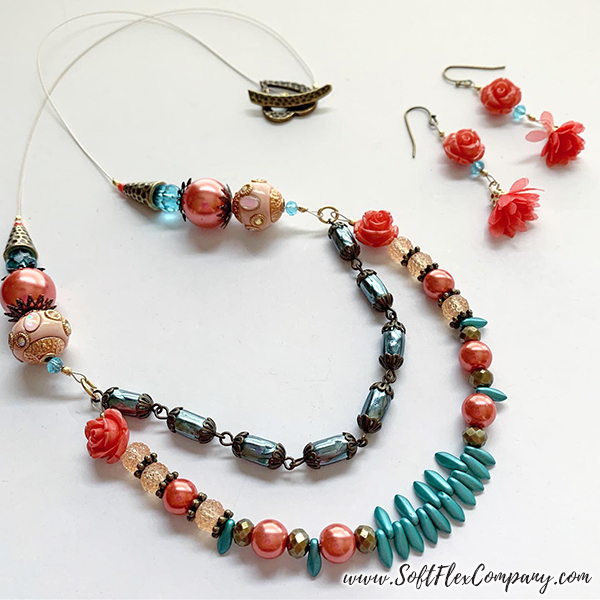 Nealay Patel's Colors Of India Bead Tour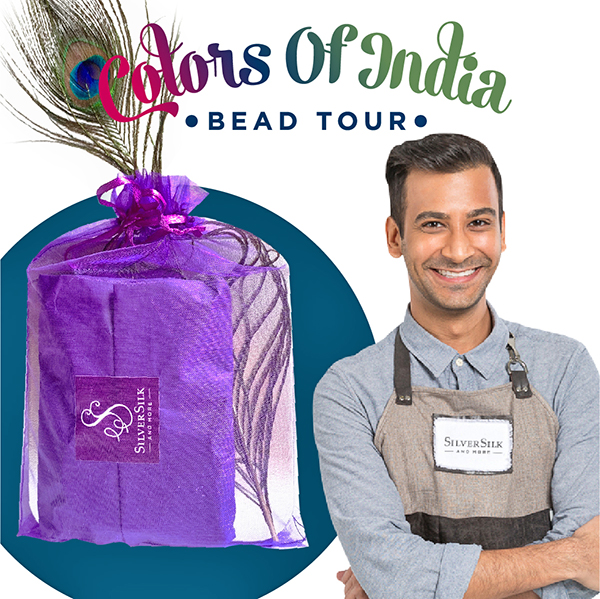 Nealay Patel is excited to announce his first Social Media Bead Tour for the month of July! He'll be creating a series of jewelry designs from the latest SilverSilk & More Mystery Kit on Facebook.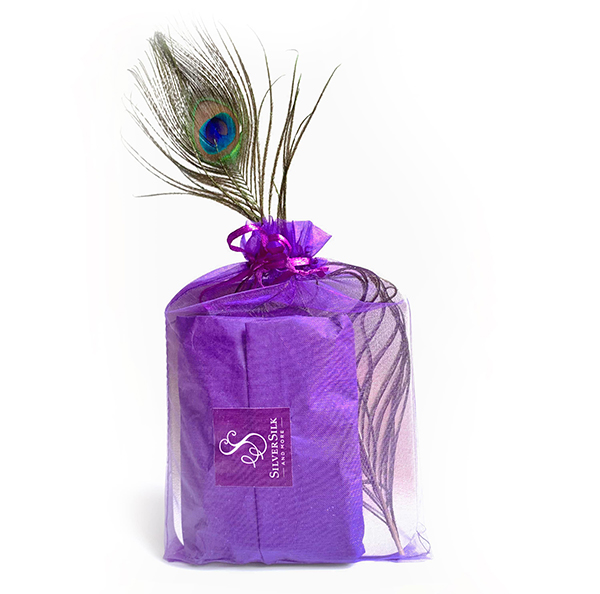 Here is how it works:

1) Grab the mystery kit from www.silversilkonline.com (Don't forget to use code MYSTERY during checkout to get a good discount)

2) Join Nealay on Facebook *LIVE* for the following dates and locations:

- Tuesday, July 2 at 5:30pm CT • SilverSilk & More Facebook Page
(win a giveaway courtesy of SilverSilk & More)

- Tuesday, July 9 at 5:30pm CT • Soft Flex Company Facebook Page
(win a giveaway courtesy of Soft Flex Company)

- Tuesday, July 16 at 5:30pm CT • Jesse James Beads Facebook Page
(win a giveaway courtesy of JJB)

3) Create your very own design and post to the SilverSilk Silkies Facebook group with #silversilkcolorsofindia before Monday, July 22. I'll pick a winner on Tuesday, July 23 at 5:30CT during a Facebook Live tutorial.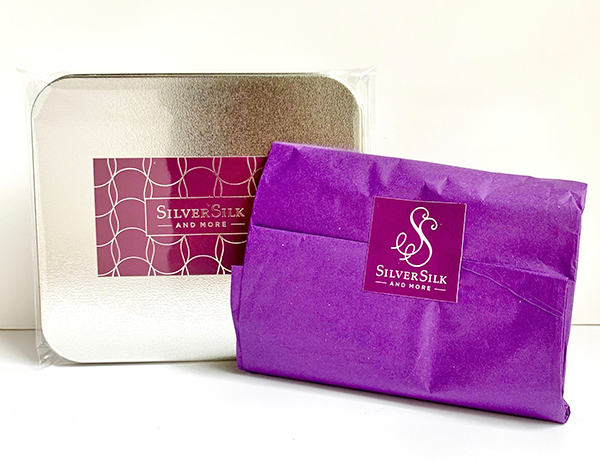 Join our Facebook group – VIB. Stay in the know. Stay up to date. From our bead shows to our video shows and sales, you can stay in touch with us. The community is full of artistic and helpful beaders and crafty people. Inspire and be inspired. Share your pictures and get the beading bug from others!

Visit the Soft Flex Company YouTube Channel!
---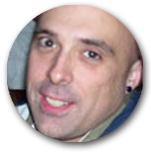 Blog contributor Thomas Soles loves Jazz Age writers and crunchy french fries. His favorite gemstones are Lapis and Pietersite. His favorite hobby is day dreaming. And his favorite mustache is Freddie Mercury's. As you can see, he has a healthy (or possibly unhealthy) sense of humor. You can write to him at Thomas@SoftFlexCompany.com