Happy Friday, happy people! We had a huge week of instructive and exciting jewelry making videos. We touched on so many different crafts. You don't want to miss this wrap up! There is something here for everybody. And, shhhh, we started looking at Christmas craft ideas early. This has been such a strange roller coaster ride of a year, we decided to look forward. 2021 can't come soon enough! Let's forget the problems and chaos outside. Let's make some jewelry and work on some holiday projects! Ho, Ho, Happy beading!

This week started strong. Kristen showed us how to use a square Kumihimo plate. She showed us how to make a bracelet with Soft Flex Beading Wire and Czech Glass Beads. Sara explored Craft Wire. We are having a big sale and she wanted to show off some of her favorite Christmas project ideas. It is never too early to start making your hand crafted ornaments. James showed us how to make chain mail earrings. This is a great way to learn how to make chain mail. Quick, easy, and not a huge time investment - perfect as an introduction to the craft. Don't throw your beading supplies away - Nealay shows us how you can give new life to shorter length pieces of Capture Chain. And finally, Kristen and Sara had a wild beading party, live on Zoom. What a fun week it was! Don't miss out. Let's make some jewelry!
Multi-Size Mandrel Wire Wrapping and Wire Looping Jewelry Tool

This amazing tool is a must have for anybody that works with Craft Wire. The multi-level loops on the head allow for a variety of projects. Whether you are making jump rings, connectors, s hooks, interlocking chain, ear wires, and more - this single tool has you covered. The variety of mandrel sizes on the head means you can have loops of varying sizes. Every loop you finish with this tool will be consistent and professional. If you are designing a piece of jewelry with repeating loops, this tool is going to be your new best friend.
Sara's new video premieres on YouTube on Saturday!
Sara's newest jewelry video will be available on YouTube on Saturday. In this instructive video, Sara shows you how to make a necklace with Craft Wire and connectors, this necklace complements the earrings she made this week. This simple design can be finished in minutes and looks stunning. This is a wonderfully instructive jewelry making video. It is like a free beading class online!
Jewelry Making Videos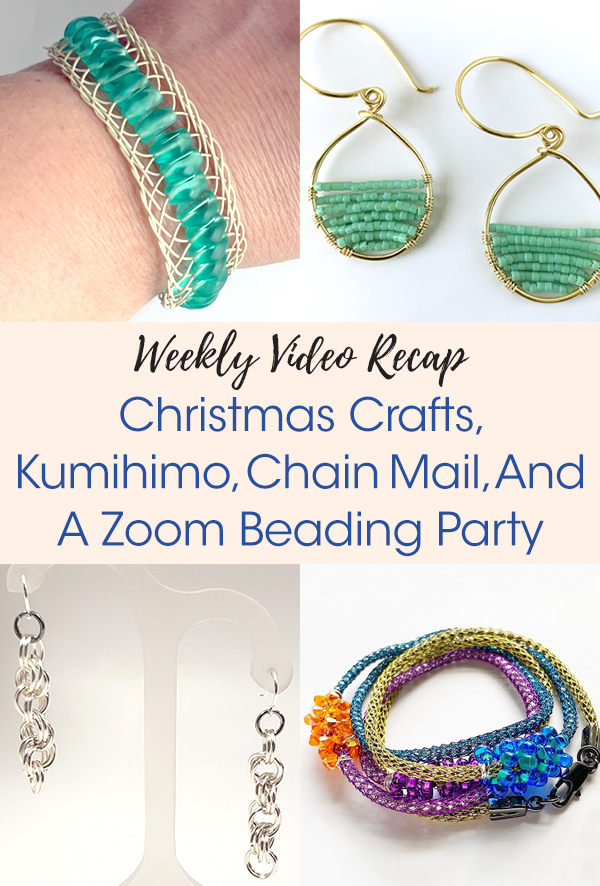 Flat Braid Kumihimo Bracelet Tutorial With Beads & Soft Flex Wire
This week on Free Spirit Beading, Kristen shared a bracelet project idea. She had made a bracelet using a kumihimo plate and our 2020 Pantone Classic Blue Quad of Beading Wire. She used all four wire colors in the quad to create the design. She selected our Czech Glass Table Cut Beads for her design. The finished jewelry is buoyantly bright and fun. It is a great summer bracelet.
This video is easy to follow and you will learn a lot. This is a great watch if you have never used a kumhimo braiding tool before. Kumihimo is a simple braiding art, it looks complicated, but you basically follow an easy pattern until you get a desired length. The hardest part of working with these braids is starting and finishing your design. Kristen showed us how to do both.
From Kristen:
A note about beading wire lengths discussed in this video tutorial. I created this bone beading wire bracelet with just 1 spool of 10ft wire as a test to see if you could. I cut ten 12" strands, left 1" tail at the start and then braided my pattern. This resulted in a 5" braided length when crimped. It's a little short of a full bracelet on it's own but, it can be used as a portion of the design, I ended up using beads on one end in an asymmetrical pattern to fill in. You could also use that 5" portion for a choker necklace design perhaps? So, while my test of using just 1 spool of 10ft wire is possible, it gets a little tough to maneuver the braiding towards the end and you will likely need to fill in the design.
My preference is to use 14" of each strand and leave a 2" tail at the start. It will create a braid closer to 5.5-6" and allow for symmetrical finishing with a bead on each end with crimps and clasp. That is what I used in the this example from the beading party below.
Soft Flex .019/Medium Beading Wire or Quad of Beading Wire
Czech Glass Beads
Other Assorted Beads
Square Kumihimo Plate
Lobster Claw Clasp
3x3mm Crimp Tubes
Mighty Crimping Pliers
2x2mm Crimp Tubes
Magical Crimping Pliers
Cutters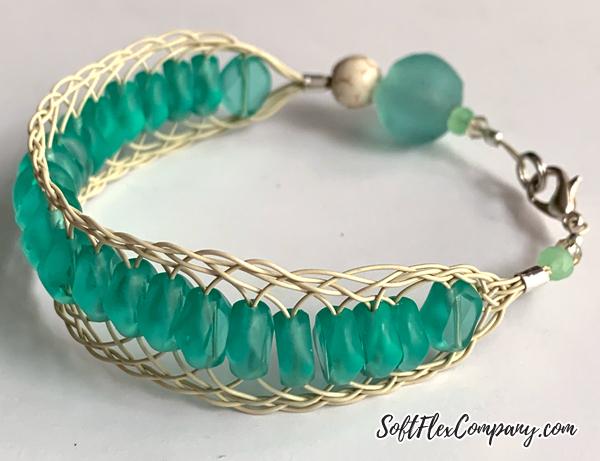 Kristen used a Square Kumihimo Plate for this video. The plate gives your jewelry a flat finish. If you work with a Round Kumihimo Disk, your designs will finish in rounded tube shape. Each option is fun. A round design is great for necklaces and big bracelets. Square designs are wonderful for a bracelet that sits low on the wrist. You can customize your work by changing the colors of wire or thread you use. If you use different diameters of wire on the plate, your finished work will have a textured appearance. You can add beads or leave them off. The sky is the limit with your options. Let your creativity blossom!
Learn more about kumihimo here:
Everything You Need To Know About Kumihimo.
If you have only used a Round Kumihimo Disk, you are going to love the challenge of a square plate. The are essentially the same, you just need to work with different patterns. Don't be afraid to pick one up, they are extremely affordable.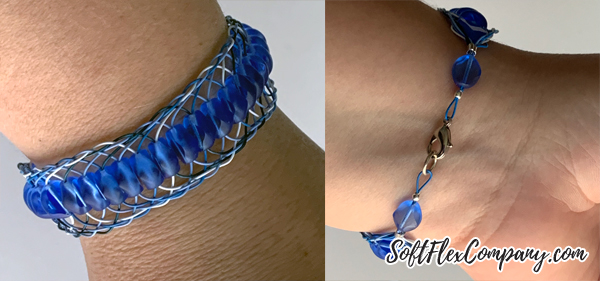 We would love to see your work if you love Kumihimo braiding as much as we do. Post your jewelry on our VIB group on Facebook.! If you just finished your first design or even just need to tips - post on our group and you are sure to find a helpful beading buddy that can walk you through a tricky part of your design.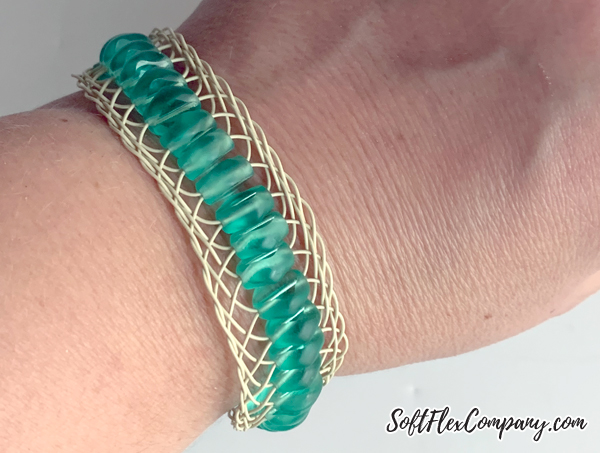 Christmas Craft Ideas And Learn How To Make Earrings With Craft Wire
Boy are we tired of the whirlwind that has been 2020. We cannot wait for the new year to arrive and for some of the drama to ease. We hope you are all staying safe and healthy and looking ahead for greener pastures, too. Let's not dwell on the tempest outside. Let's make plans to celebrate a joyous holiday season and start thinking about Christmas ornaments. We think Craft Wire Christmas projects are a great way to celebrate with hand crafted art. Craft Wire is so flexible and can be used with a wide variety of design choices. Let's look at some of our fabulous handmade ornament ideas.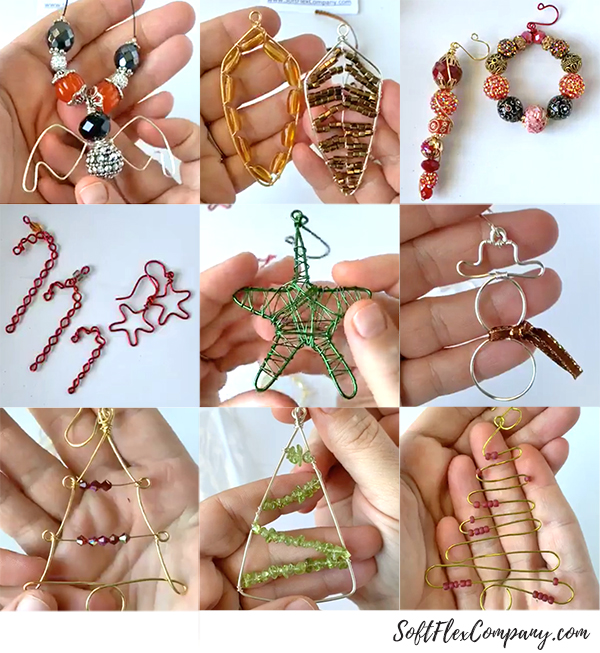 It is not too early to start a Christmas craft. We have some great ideas for you in our blog and in our free jewelry project ideas. Make sure you check them out. We have jewelry, ornaments, even a yummy cookie recipe!
Find out more information here: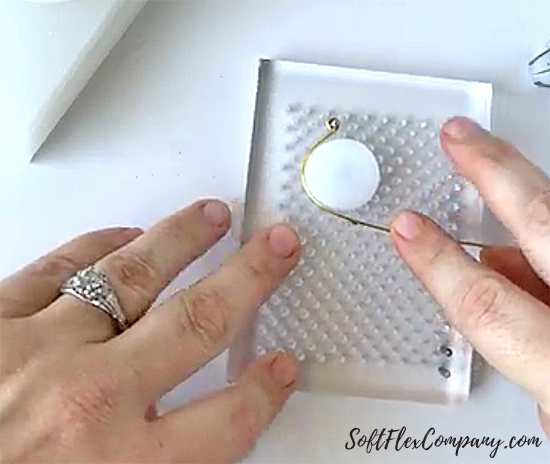 Soft Flex Craft Wire - Silver Plated 18ga
Soft Flex Craft Wire - Silver Plated 26ga
WigJig Olympus Lite
WigJig Large Super Pegs For Olympus Lite
Multi-Size Mandrel Wire Wrapping and Wire Looping Jewelry Tool
Wire Whacker
Beads
Burr Cup
Chain Nose Pliers
Bead Nipper (Cutters)
Nylon Jaw Pliers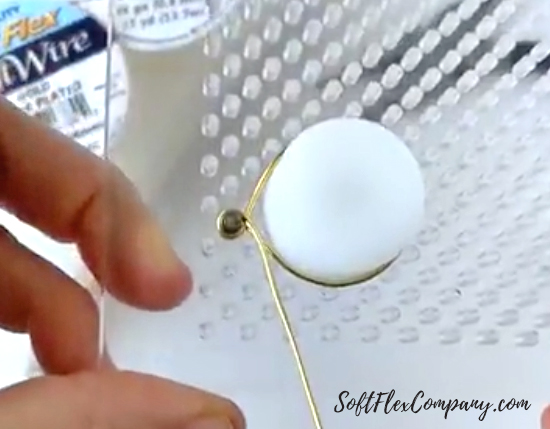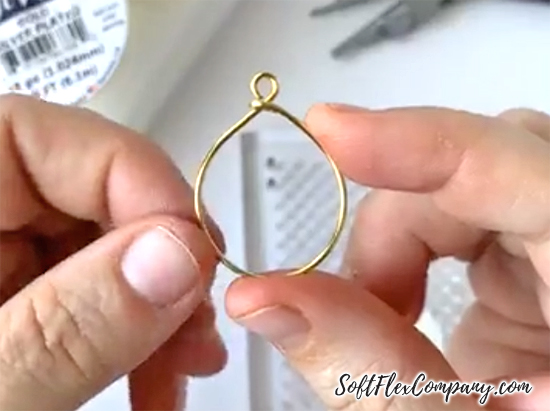 Shapes are easy to make on a WigJig jig board. You can create a loop using a super peg or just make any shape you like. The boards are see through, this means you can place the board over a pattern and go from there. If you like a particular shape, say for ear wires or pendants, just take note of the peg placements. You can replicate the same shape as many times as you like. This makes the jig boards exceptionally good if you need consistency. Your ear wires will have have a uniform look if you follow the same pattern.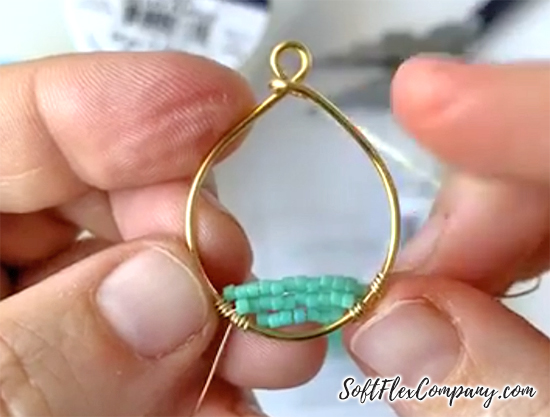 Sara found a shape she liked for her earring. At this point, you can add any kind of beads you like or you can just leave the wire bare. You decide. Sara opted to weave a couple of rows of seed beads on the base of her earring. She used a smaller gauge of Craft Wire to string her beads to the drop.
We love our new Multi-Size Wire Looping Jewelry Tool. The mandrel sizes on the head of the pliers allows for six sizes of loops. This is the only pair of looping pliers you need for most of the wire working you do. Don't clutter up your desk with a bunch of tools when you can reach for a single handy pair of pliers.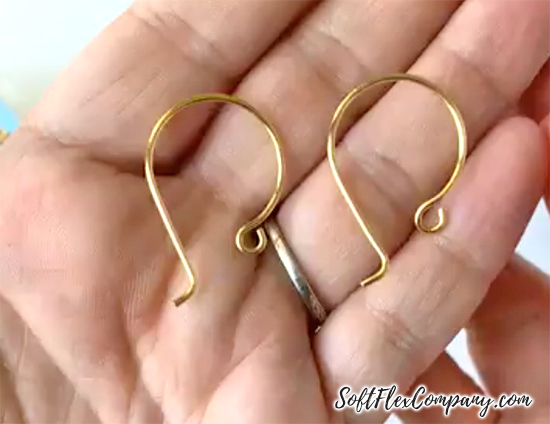 Look how amazing these ear wires are. Homemade findings are easy on the wallet. They also mean that you are the artist of every inch of your jewelry designs. Why string a stunning piece of jewelry, only to add an element that you could have made at home? WigJig boards will make every ear wire uniform and amazing.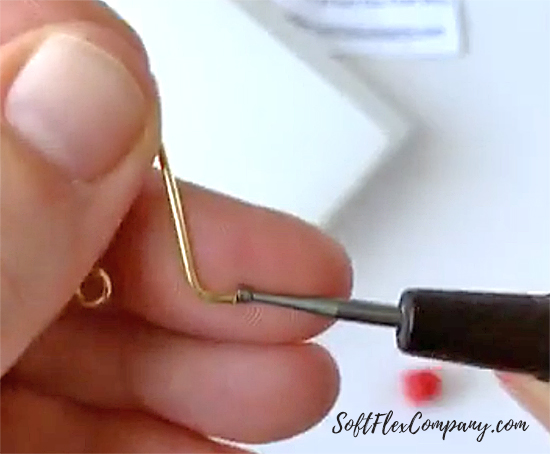 If you cut a lot of Craft Wire at home and find that the cut ends are sharp and tend to poke, make sure you grab a Burr Cup. A Burr Cup grinds the sharp bits down so your wire will be smooth and less menacing.
Check out Sara's video on Saturday, or you can even watch it now. The link is at the top of the blog. She complements her new earrings with a matching necklace. If you want to make this jewelry set, both videos will show you the way!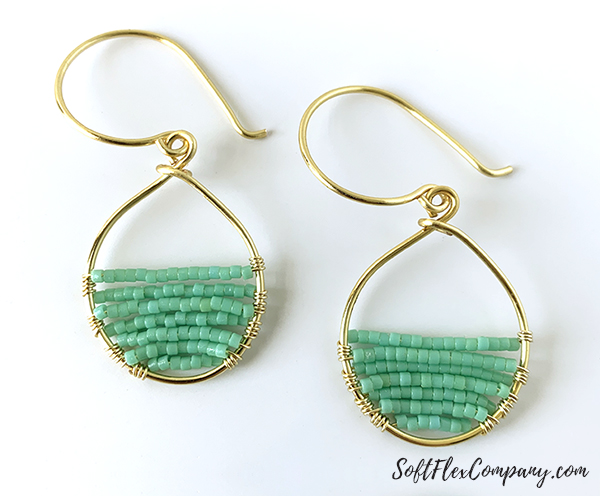 Making Double Spiral Link Earrings Using Soft Flex Craft Wire
James Browning is Soft Flex Company's wizardly Craft Wire guru. He is an incredible teacher His videos are easy to follow and clear. Even if you have never used Soft Flex Craft Wire, you can create the designs he makes with ease.
James showed us how to make a beautiful pair of chainmail earrings this week. These double spiral earrings are really easy to make and look amazing. This easy to follow video features James as he uses 18 gauge Soft Flex Craft Wire jump rings to make a quick mail pattern.
Craft Wire is an exceptional low cost solution for jump rings. You can cut a length of wire and coil it. Once coiled, you just need to cut each ring. You can improvise at home with a wooden dowel to make your coils or shop for a professional mandrel that is made for making jump rings. If you are going the route of professional tools, you can use a jeweler's saw to cut your rings. If you are improvising, you can slowly cut your rings with a beading wire cutter. If you are using home made tools for the job, just make sure whatever you use has a consistent width and is straight, so your rings don't warp as you work.
18ga Soft Flex Craft Wire
18ga Soft Flex Craft Wire - Silver Plated
Bead Nipper (Cutters)
Chain Nose Pliers
Bead Mat
This is such an easy design. All you need are jump rings and two pairs of pliers. James prefers a pair of Chain Nose Pliers and a pair of bent nose pliers. But you can work with any that you feel comfortable using. To finish this design, you just need to add an ear wire. Super easy. If you would like to watch more Craft Wire videos, check James out in our blog.
More Craft Wire project ideas here:
James Browning Craft Wire Blogs
Live Beading Party! Learn How To Use Our New Wire Looping Pliers
Zoom party with Kristen and Sara! Zoom parties are so fun. You may have used Zoom with work or maybe just had some face time with family. We love how you can stage a jewelry making party without worrying about editing the film to see all of the designs. It is a great way to stage an event with multiple artists and get insight into their jewelry designing process. This party was all about Craft Wire, making earrings, and using our new looping tool - Multi-Size Wire Looping Jewelry Tool.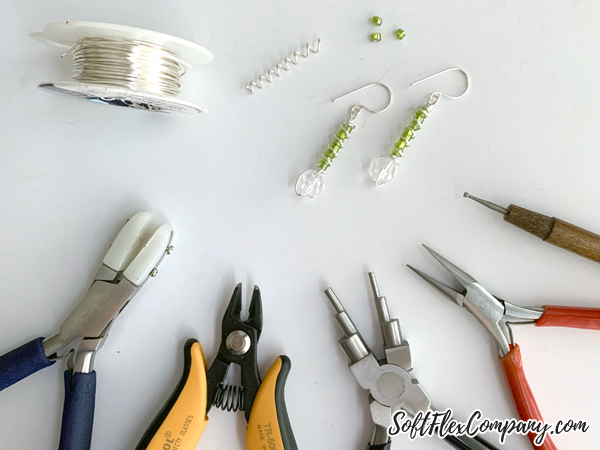 If you like earrings, you will love this fun video showing how easy it is to use Craft Wire to make hand crafted earrings. Craft Wire comes in a wide variety of colors and is really easy to work with. You just need some basic pliers and a pair of cutters on hand if you are going to wire work with your hands. If you want more consistent and professional loops and shapes, we suggest using a WigJig board to shape your designs.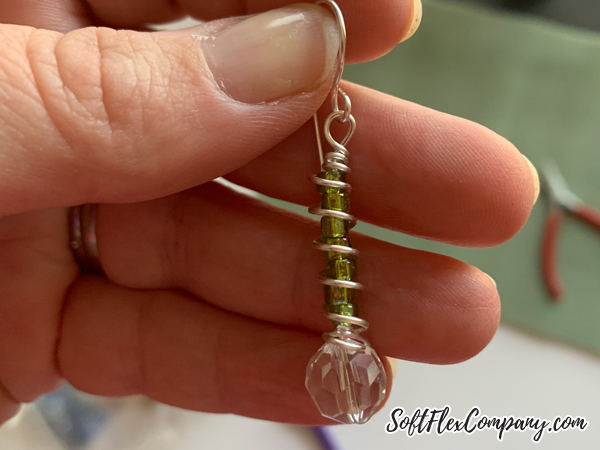 Craft Wire is enameled or silver plated, depending on the color you buy. The colors will always be vivid and retain the same sheen you purchased. They will not tarnish, even years later. The only color that does patina is Bare Copper. This will age like normal copper - great for findings and antique designs.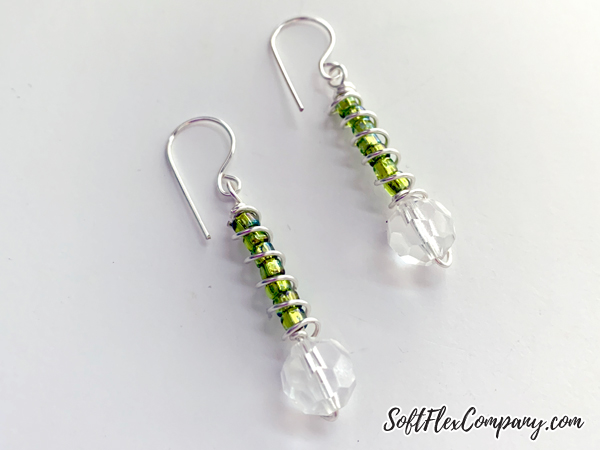 Make sure you join our live shows if you like making jewelry. You can talk to our hosts as they design their necklaces and earrings. They will answer any questions you have and sometimes even field suggestions. Kristen has, sometimes, filmed episodes of her series based on ideas her viewers have given her. Our shows are full of fun and laughs. We love to connect and interact with you. It does not matter if you have been designing jewelry for decades or have just picked up your first spool of beading wire. Your opinions and thoughts matter!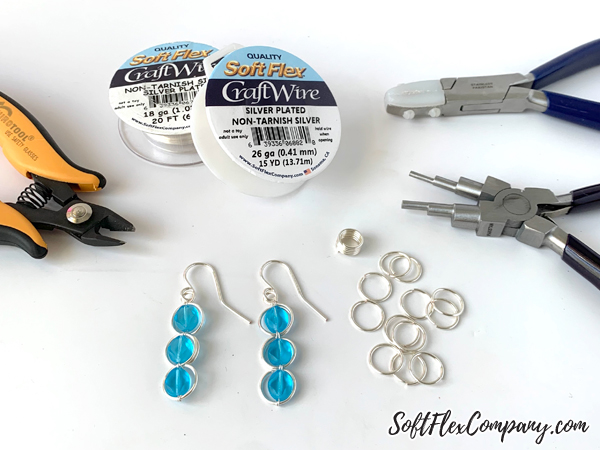 The Multi-Size Wire Looping Jewelry Tool is amazing. This was the first time Sara and Kristen really got a chance to sit down with it and play with it. They loved how easy it was to use.Kristen showed us how to make homemade jump rings using one of the mandrels on the pliers. Since there are six different sizes, you can make different sized jump rings - so efficient and easy! Sara showed us how quick and masterful she could make a pair of earrings. She created loops to highlight some beautiful beads and then she wire wrapped those beads into the loops. Gorgeous stuff!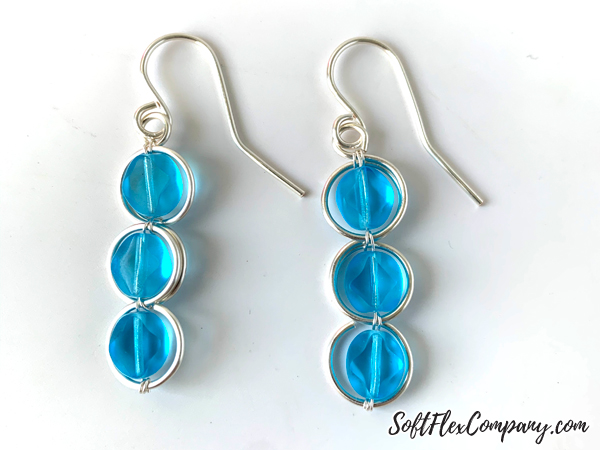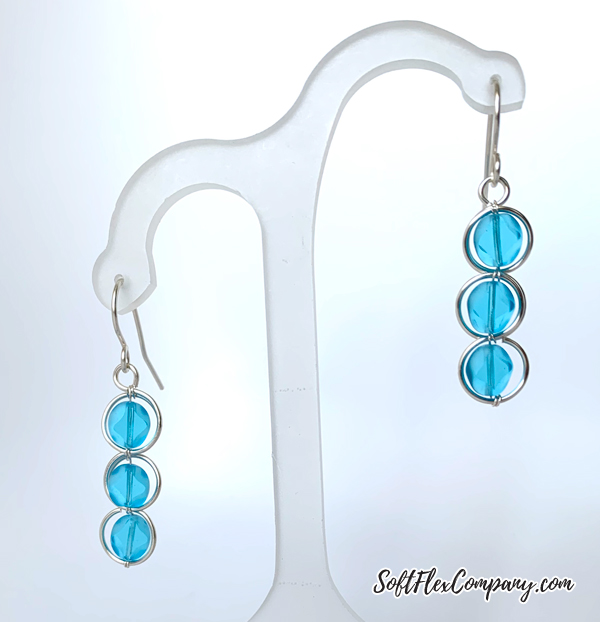 SilverSilk Color Connections Necklace and Bracelet
Nealay showed us how to use ball chain connectors with his SilverSilk Capture Chain. This is a great way to blend colors in a design or use cut Capture Chain that was too short for a different design. Nealay then uses 26 gauge Soft Flex Craft Wire and seed beads to conceal the connectors on his Capture Chain. He makes some amazing jewelry on this episode. Luscious colors and decadent bead choices. You are going to love Nealay's work.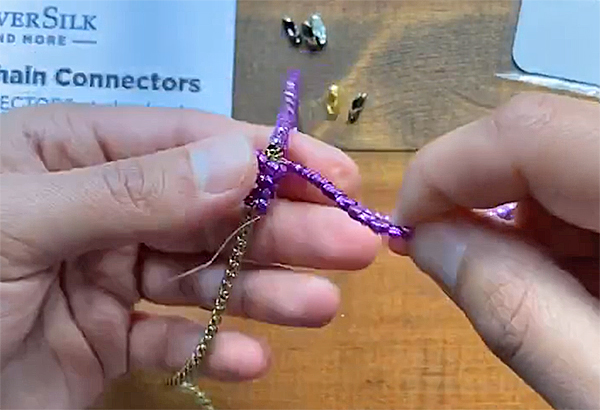 From Nealay:
As crafters and jewelry makers, it's not unusual for us to hoard our precious supplies. I know I do and hang on to each scrap of SilverSilk I can get my hands on. In this video, I teach you a clever way to combine those scraps into a cohesive design using ball chain connectors. You'll be able to cheat bead weaving using a wire wrapping technique that takes minutes to execute. Have a watch with this video and add to your lexicon of techniques.
SilverSilk Capture Chain
26ga Soft Flex Craft Wire
Beads
Cutters
Round Nose Pliers
Chain Nose Pliers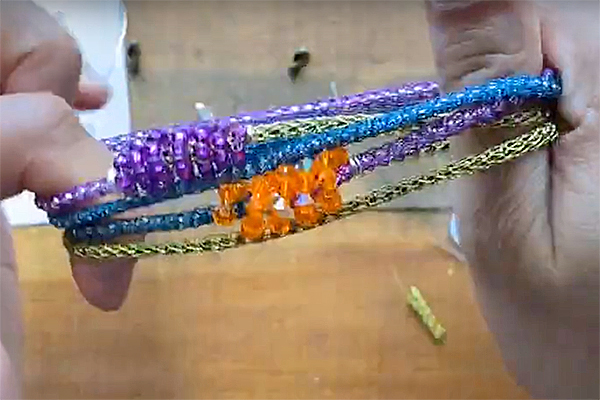 One thing that troubles a lot of jewelry designers is how much of your supplies is potentially wasteful. If you do a lot of stringing and work with any cord, thread, or wire that you need to cut, there is always going to be lengths of your material that is too short to use. At Soft Flex Company, we call this material remnant wire. It is remnants that you cannot use because the length is too short. We save all of our remnants for projects like earrings and tassels. Nealay's ball chain connectors is a great solution for remnant Capture Chain. Don't throw away your materials. You can always use them later!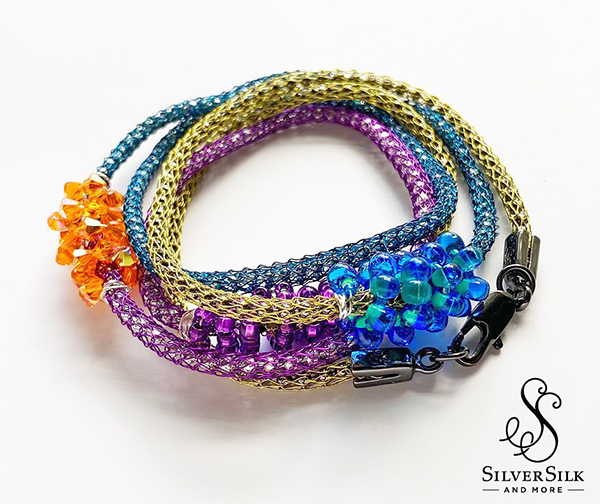 This week's jewelry was so lovely. Minimalist and eye catching, it is very easy to recreate at home. Let Nealay know how much you love his work. You can find his social media links below. Visit his site. He has fantastic jewelry components and chain. He has intriguing jewelry kits that you will love!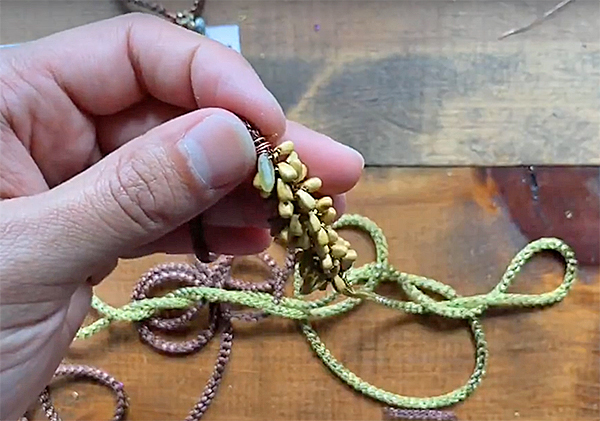 From Nealay:
My channel is dedicated to learning how to make high quality jewelry with SilverSilk with an emphasis on design. You can follow my journey here: www.instagram.com/silversilkandmore, www.facebook.com/silversilkandmore Or join our Silkies group and be a part of the conversation

Join our Facebook group – VIB. Stay in the know. Stay up to date. From our bead shows to our video shows and sales, you can stay in touch with us. The community is full of artistic and helpful beaders and crafty people. Inspire and be inspired. Share your pictures and get the beading bug from others!
Visit the Soft Flex Company YouTube Channel!
---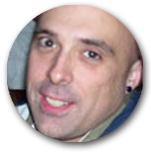 Blog contributor Thomas Soles loves Jazz Age writers and crunchy french fries. His favorite gemstones are Lapis and Pietersite. His favorite hobby is day dreaming. And his favorite mustache is Freddie Mercury's. As you can see, he has a healthy (or possibly unhealthy) sense of humor. You can write to him at [email protected]