What an absolutely amazing week. If you enjoy bead stringing videos, we have some creative designs to show you. We have Soft Flex Craft Wire instructions for all of our wire wrappers. We have seasonal jewelry making videos. We have holiday craft ideas. It was also a week to visit earrings. We have earrings that are simple and funky and a unique set that looks like they were unearthed from Tutankhamun's tomb. You are going to love this eclectic mix of jewelry design videos. What are you waiting for, let's binge some fun shows!

Kristen kicked the week off with spiral earrings that were created with a WigJig jig board. These earrings are super easy to make and wonderfully customizable. Sara showed off some fall fashion ideas and a little pumpkin spice with a Halloween necklace. Nealay designed an amazing pair of timeless earrings, they look like they would be a good fit in Cleopatra's collection. Finally, Sara wrapped up a fantastic week with a holiday ornament video. If you caught us live, we hope you had a laugh and learned some new jewelry making tips and tricks. If you were not able to view our videos when we aired them, make sure you check them out now. We bet you will find some inspiration!
Jewelry Making Videos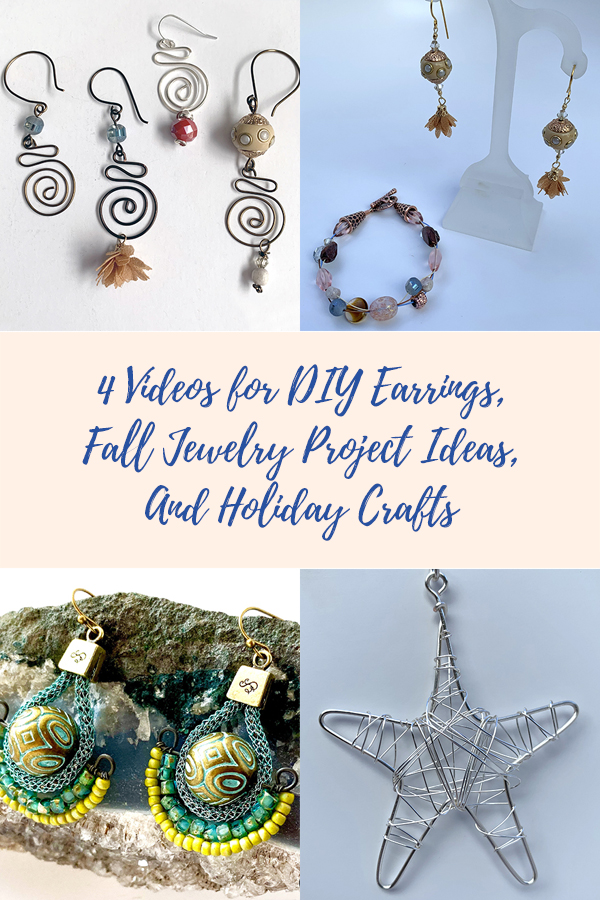 DIY Spiral Earrings Using Craft Wire And WigJig Jewelry Jig
Kristen filmed another episode of Free Spirit Beading on Monday. She is live on Mondays at 12pm PST.
This week, Kristen created some funky spiral earrings. These are so fun. They look organic and free spirited. Add some beads to accent your earrings and you have a fun piece of jewelry for any occasion. The look is simple and brings many symbols to mind, it looks a little like topography. It looks a little Southwestern, almost like a stylized Kokopelli. It also looks like a mandala. What do you see?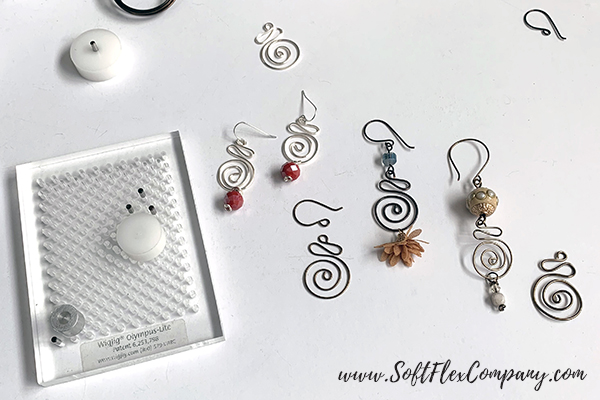 From Kristen:
The Spiral is a sacred symbol that represents the journey of life as it unfolds. Some say the meaning of the Taino spiral symbol represents cosmic energy. Spirals are a part of our history and is a symbol loved by many, including me! The wire jig and super pegs make the spiral earring component and ear wires easy to create and re-create.
Supplies:
18-20 Gauge Soft Flex Craft Wire
Golden Gate Bead Mix
Ear Wires (or make your own!)
Bead Nipper (Cutters)
Round Nose Pliers
Chain Nose Pliers
WigJig Olympus Lite or Delphi Wire Jig
Large and Small Super Pegs
Wire Whacker
Burr Cup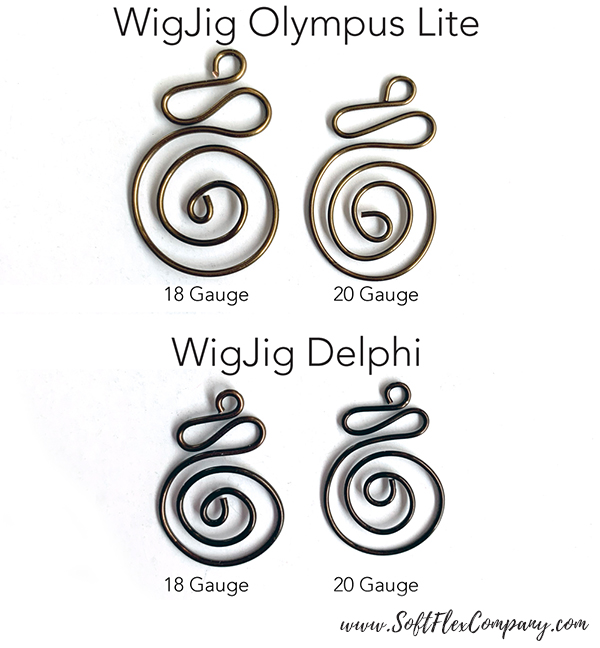 WigJig jig boards are made of strong acrylic, the same material that is used in aircraft windows. They will not warp and the holes on the boards will not widen over time. Cheaper jig can have holes that widen with use and this means the pegs will slip and not remain steady.
WigJig jig boards are clear, this allows you to place the board over a pattern or drawing to help with peg placement. The Delphi and Olympus Lite can use interchangeable patterns meaning anything you can do on one you can do on the other. The difference will be the size created. Delphi has smaller holes spaced closer together offering more petite finished piece than the Olympus Lite, which has larger holes that are spaced farther apart.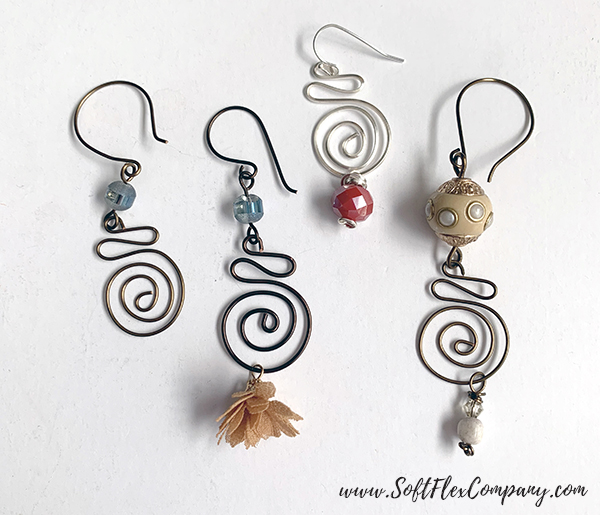 Quality Soft Flex Craft Wire is a great choice for your wire working jewelry designs. It is 100% lead and nickel free. There are no other metals used in the wire production other than copper and fine silver. The temper of the wire is soft. It is firmer than similar wire products offered on the market, which are typically only available in dead soft and can't be tempered to half hard. Your wire will be flexible and soft until you work harden it and then it will retain its shape.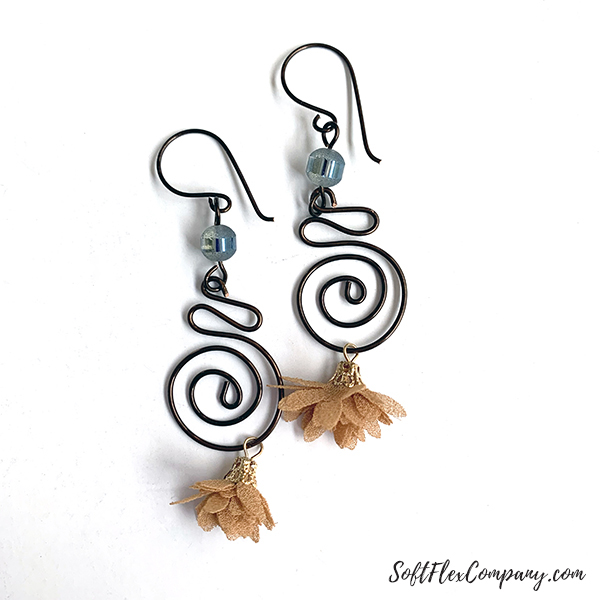 There is a lot of room to get creative with this design. Flow with your Craft Wire and see where it takes you. Add a bead or two or just let the wire shine by itself.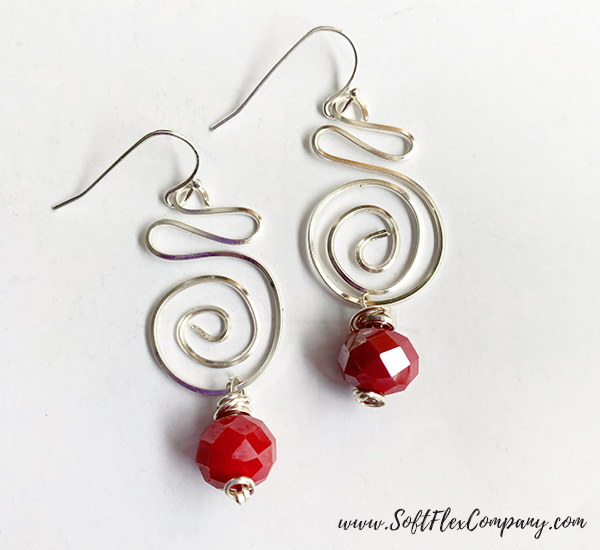 WigJig jig boards are also great for making your own ear wires. Why settle for generic store bought ear wires when you can personalize your jewelry with your own creations? Jig boards make it easy. Simple pick out a pattern for your ear wire designs and go. Every ear wire you create will be uniform if you follow a pattern or use the same peg placement.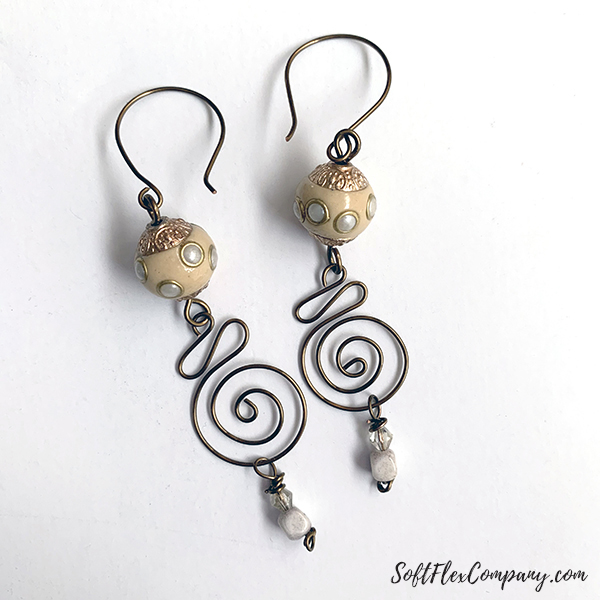 3 Fun Fall Jewelry Making Projects with Sara
Sara filmed a fun video featuring three bead stringing projects for Fall. She made a delectable set of earrings, a multi-strand bracelet, and a simple Halloween necklace. The earrings she designed use our Golden Gate Bead Mix. The bracelet features our Golden Gate Trios beading wire collection. The necklace uses our Great Pumpkin Bead Strand. All of these supplies are available on our website, but you need to hurry, supplies are limited!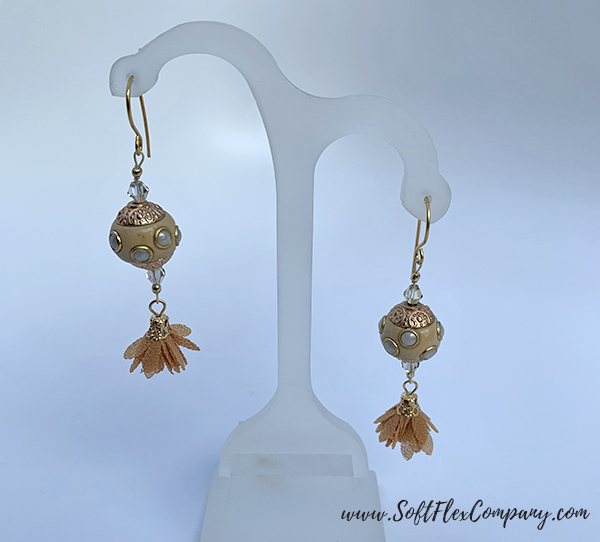 Earrings are so easy to make. String some beads on a short strand of Soft Flex Beading Wire, crimp your wire to an ear wire and presto - instant earrings. If you are comfortable crimping your wire, this project can be completed in a couple of minutes. They are easy to customize too, every bead and wire color choice will create a unique design. Since earrings require a very small amount of Soft Flex, you can use remnant wire for them. Remnant wire is wire that you have cut from other projects but did not throw away. Save your small pieces of wire and re-purpose it later!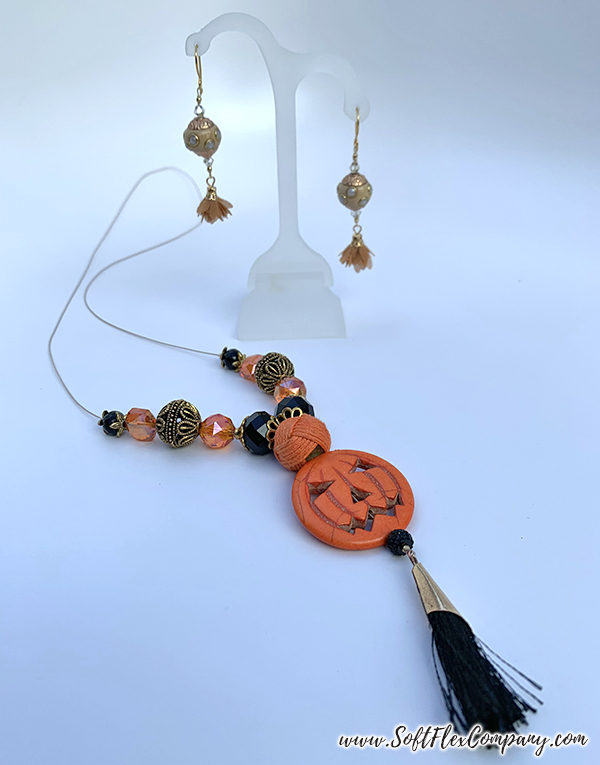 Supplies:
Golden Gate Bead Mix
Great Pumpkin Bead Strand
Soft Flex Golden Gate Trios Beading Wire Pack
Soft Flex 2x2mm Crimp Tubes
Magical Crimping Pliers
Soft Flex Professional Flush Cutters
Ear Wires
Hammered Cones from TierraCast
Maker's Clasps from TierraCast
Great Pumpkin Bead Strand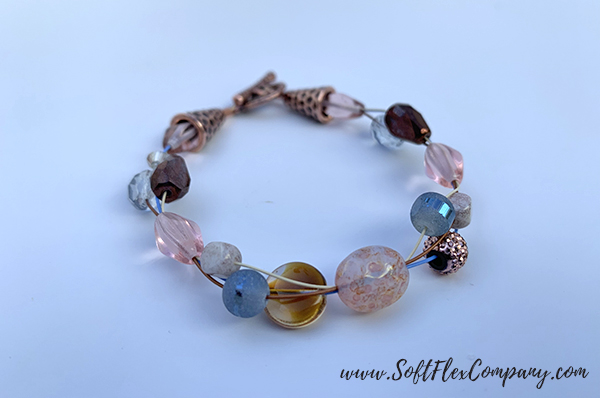 This bracelet is straight from our Golden Gate collection. It is strung on beading wire from our Golden Gate Trios and the beads are from our Golden Gate Bead Mix. As a business that is located near the Bay Area, we wanted to showcase the colors we think of when we imagine the romantic bridge. We selected tones that borrowed from the sky, the rolling fog, and the banded sunsets. It is our love letter to the mighty span.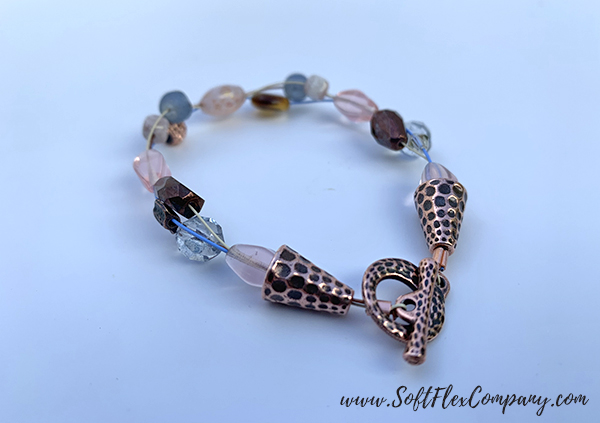 The Golden Gate Bead Mix celebrates a landmark that is an iconic mix of color and mystery. The rich red span is often hugged in pearlescent fog and is a striking figure against blue skies and soft pink color banded sunsets. Celebrate the mystery of this Art Deco masterpiece with this stunning bead mix.
Golden Gate Trios is dusky summer sky over an enigmatic and mysterious span. We imagined a dense fog crawling across the beautiful bay. We think this collection of beading wire is as enchanting as the engineering marvel that put San Francisco on the map.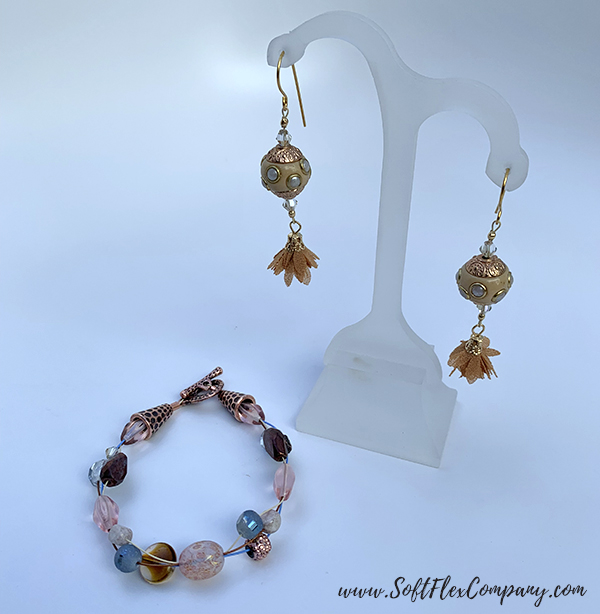 Now for a little pumpkin spice. Sara wanted a necklace to showcase her bat pendant. The necklace and pendant were both designed using our Great Pumpkin Bead Strand. This strand of beads is an elegant look at Halloween jewelry. Spooky black beads brood next to shimmering silver and orange pumpkins. This striking collection of beads is supernatural and luxurious. You will be a graveyard smash!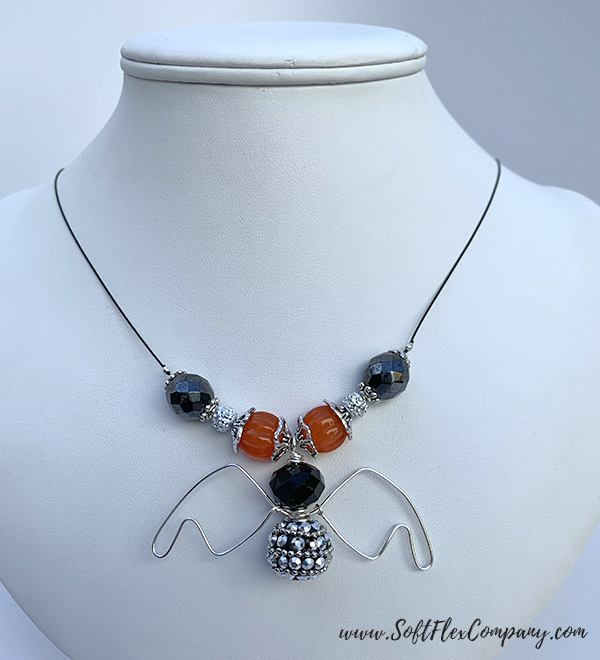 Did you miss Sara's video where she taught us how to make this cute bat? You can catch that video by clicking the link below. This adorable little bat can easily be changed into a sweet little Christmas angel by swapping the beads for more festive colors and softening the shape of the wings.
Halloween Bat or Christmas Angel Wire Pendant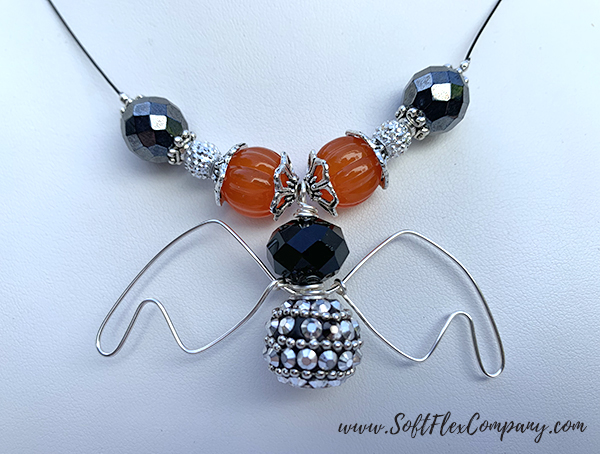 Holiday Crafts and Ornaments with Sara Oehler: DIY Soft Flex Craft Wire Star Ornament Tutorial
Sara is back for more holiday fun. This week she showed us how to make ornaments for the holidays. Whether you celebrate Christmas or Hanukkah, you can create a pendant, ornament, or decoration that sings your beliefs. Sara has designed blue and silver stars in the past. She has crafted trees and angels. Today, she is wire wrapping a star. This star can be put on a tree by itself, added to a string of lights or a garland. It is versatile and fun. You can finish your star with a 'messy wrap' like Sara does in the video or you can use straight lines or leave the ornament as is. You can also add beads. Whatever you choose, it will be a fun personalized decoration for the holidays!
Make sure you catch Sara's new YouTube live shows. She is filming every Friday morning (except Halloween and Thanksgiving weeks) at 10:00am PST. She will be making holiday decorations throughout the season. Her videos will be a great way to find inspiration if you need decoration or jewelry ideas. Catch her live and she will answer your questions. Make sure you subscribe to our YouTube channel. We have new uploads three and sometimes five times a week.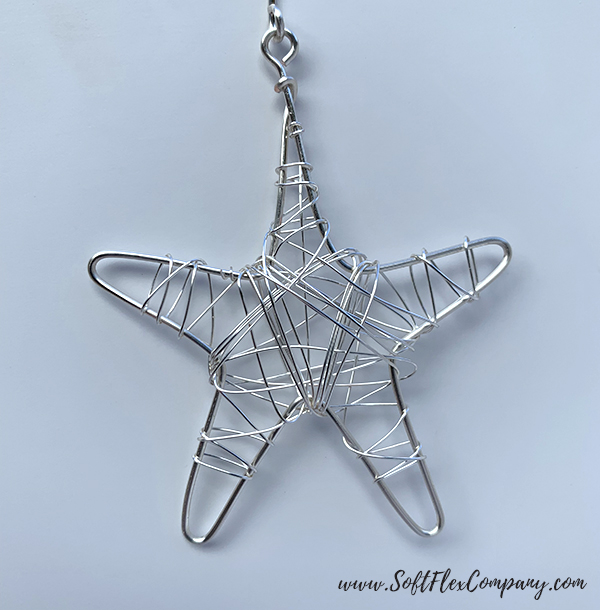 Supplies:
Soft Flex Craft Wire - Silver Plated 18ga
Soft Flex Craft Wire - Silver Plated 26ga
WigJig Olympus Lite
WigJig Large Super Pegs For Olympus Lite
Wire Whacker
Bead Nipper (Cutters)
Nylon Jaw Pliers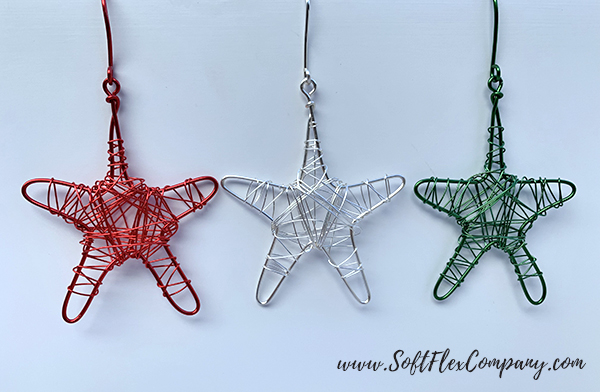 Ho! Ho! Ho! Make sure you show us your ornaments on our Facebook group – VIB. Our group is a wonderful gathering of beaders and crafty folk. We foster a spirit of creativity and acceptance. You can post your work and get a soft critique or find inspiration from the art of others. We would be thrilled to see your pictures in our community!
Egyptian Earrings with SilverSilk Capture Chain
Nealay is a talented jewelry designer and the owner of SilverSilk and More.
Nealay created a gorgeous set of earrings this week. You are going to love them if you love Egyptian inspired jewelry. You only need a few materials to make them and they are utterly spellbinding. Make jewelry fit for a queen. This short video will show you how to make earrings that would make Cleopatra envious.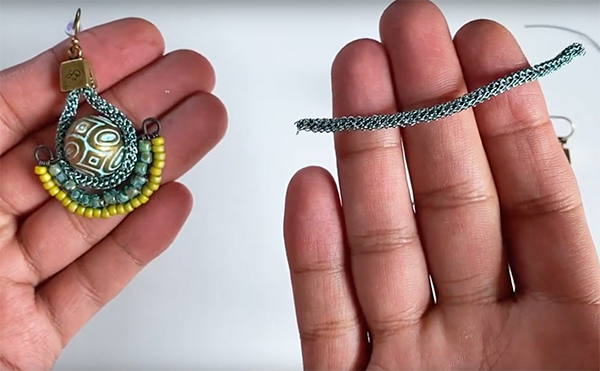 From Nealay:
Ready to transform some beads and SilverSilk Shoreline Capture Chain into a stunning and special pair of earrings? I've taken inspiration from Egyptian art and have reinterpreted it into a pair of earrings that can be made in minutes using some simple techniques. We will be using SilverSilk's custom end caps and some seed beads for making colorful wire-wraps around a gorgeous Jesse James Bead. Come watch and this video will teach you everything you need to know to make your own earrings.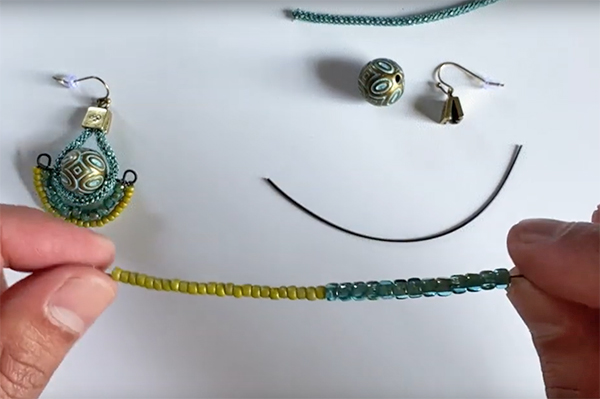 Supplies:
SilverSilk Shoreline Capture Chain
SilverSilk Antique Gold Double Strand End Caps
SilverSilk Antique Gold Earring Wires
Decorative Beads from Jesse James Beads
26 gauge Soft Flex Craft Wire
20 gauge Soft Flex Craft Wire
Nylon Jaw Pliers
Chain Nose Pliers
Round Nose Pliers
Cutters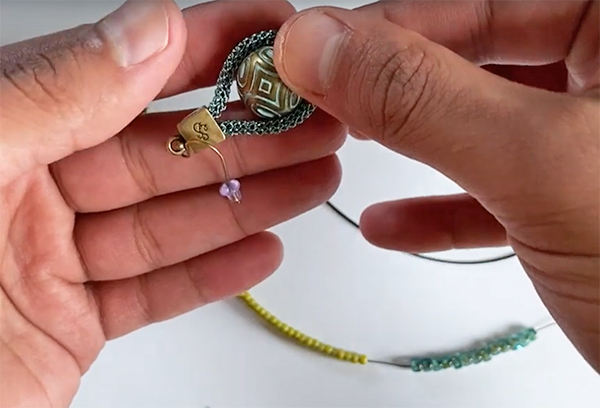 These earrings are amazing. The look like they could have been recovered from a dusty archaeological dig. They are simple to put together and require very little materials to finish. Add some Lapis for a real Egyptian feel. You can even get creative and go with some turquoise for a Mayan feel.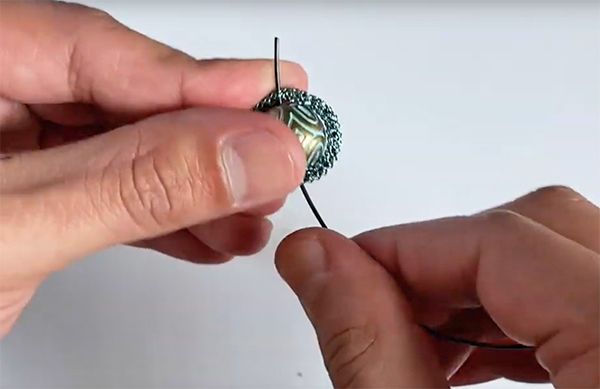 Shop SilverSilk and More. The Capture Chain featured on the site is elegant and complex. It is a fantastic way to add texture and detail to a piece. It pairs wonderfully with Soft Flex Craft Wire and Beading Wire.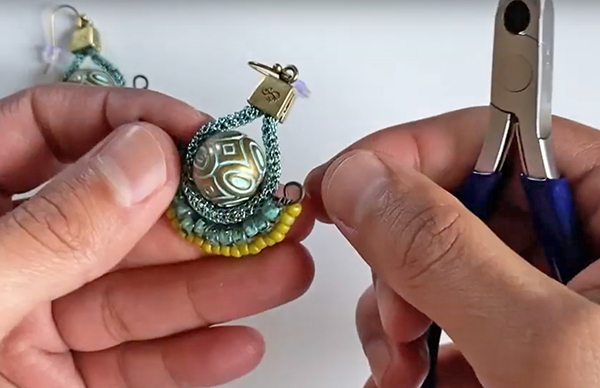 You can find Nealay on Facebook and YouTube. If you are a fan, make sure you join his active group on Facebook - The SilverSilk Silkies. He is very accessible and loves to answer questions. He is a great jewelry teacher and source of inspiration.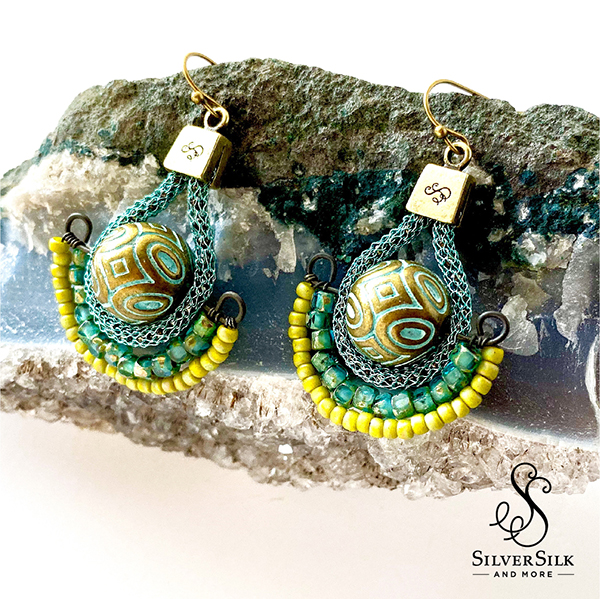 Join our Facebook group – VIB. Stay in the know. Stay up to date. From our bead shows to our video shows and sales, you can stay in touch with us. The community is full of artistic and helpful beaders and crafty people. Inspire and be inspired. Share your pictures and get the beading bug from others!

Visit the Soft Flex Company YouTube Channel!
---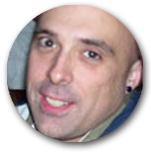 Blog contributor Thomas Soles loves Jazz Age writers and crunchy french fries. His favorite gemstones are Lapis and Pietersite. His favorite hobby is day dreaming. And his favorite mustache is Freddie Mercury's. As you can see, he has a healthy (or possibly unhealthy) sense of humor. You can write to him at Thomas@SoftFlexCompany.com