We have had a super fantastic fun week of jewelry making frights. If you need some Halloween ideas, boy do we have some incredible ones! We have a spooky spider that can be used for nearly any costume. We have earrings and bracelets that are as elegant as they are seasonal. And we even have a delicious SilverSilk necklace.You are going to love this week in review if you like Halloween! Let's get creative and watch some amazing videos!

This week, Kristen kicked things off with a Halloween bracelet using Stretch Magic. This wonderful piece of jewelry is as sophisticated as it is spooky. Nealay announced the winner of his Path to Patagonia Facebook Bead Tour and graced us with a gorgeous necklace. Sara showed us how to make a necklace and earrings that would make even the most dreary mummies look fabulous. Finally, James wrapped a cute little spider with Soft Flex Craft Wire. So fun!
Jewelry Making Videos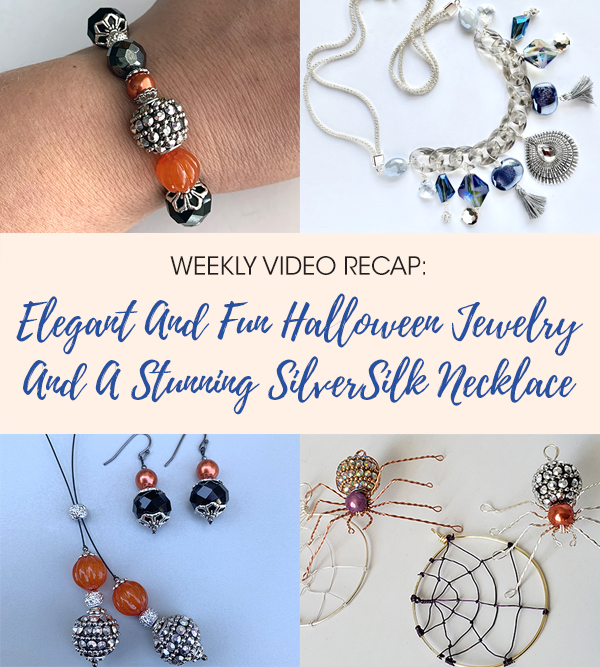 How To Make A Halloween Themed Stretch Bracelet
Kristen filmed another episode of Free Spirit Beading on Monday. She is live on Mondays at 12pm PST. This time, she wanted to create a Halloween bracelet using Stretch Magic.
If you have not worked with Stretch Magic before, here is what you need to know. Stretch Magic is a strong elastic-like cord. It is constructed of a mixture of polyester and polyurethane. Unlike some elastic cords, Stretch Magic will not fray over time. Stretch Magic does not contain any latex, rayon, or elastic. At Soft Flex, we carry Stretch Magic in Clear or Black and in .5mm, .7mm, and 1mm sizes.
This video was a lot of fun. It is a crash course about how to use the Stretch Magic. Plus, we even have some helpful tips and steps below.
Let's learn about Stretch Magic!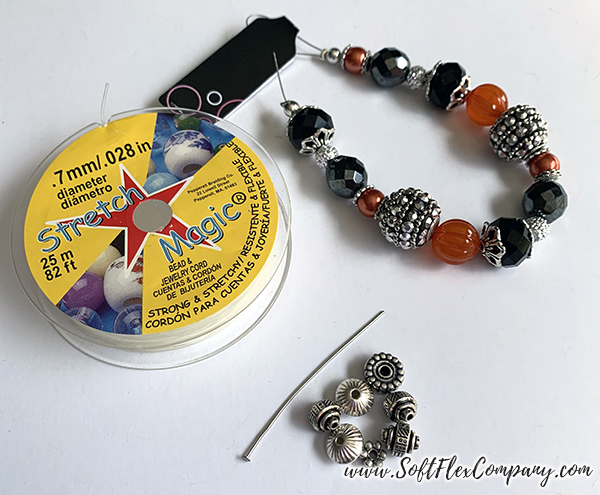 From Kristen:
I learned the "Tricky Ricky Knot" from Ricky of Dakota Stones while at the Tucson bead show and fell in love with this technique!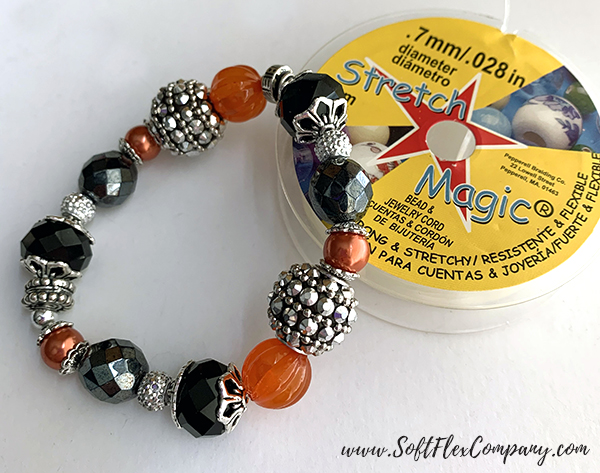 Supplies:
Halloween themed beads of course! Great Pumpkin Bead Strand
Extra Silver Beads if Needed
Stretch Magic .7mm in Clear or Black
28ga Soft Flex Craft Wire or Big Eye Needle
Cutters
Special T Glue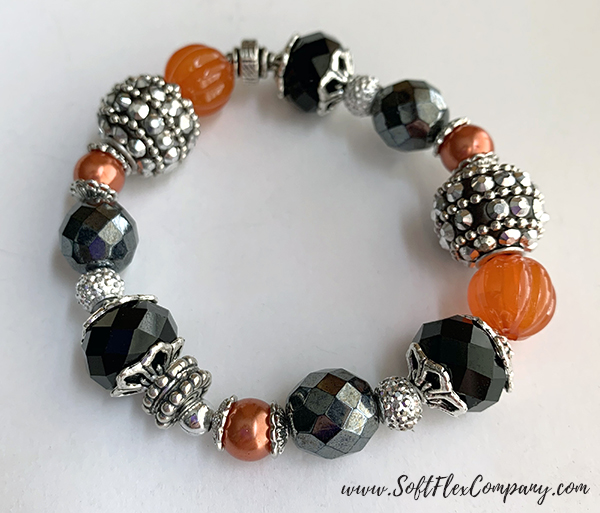 Quick Steps:

Start with 2' Stretch Magic.

Pre-stretch your Stretch Magic before stringing to condense, strength and lengthen.

Create a needle with 28 gauge Soft Flex Craft Wire (or use a big eye needle and cut one end)

Take tails through loop and tighten. Take tails in between beads in each direction. Tie a Square knot - right over left and then left over right. Tighten your knot from all sides.

Add a drop of glue to add strength and reinforce knot.
Special T Glue is non-acidic and dries clear and pliable. You may use this for gluing glass to metal, wood, and on other threads and cords.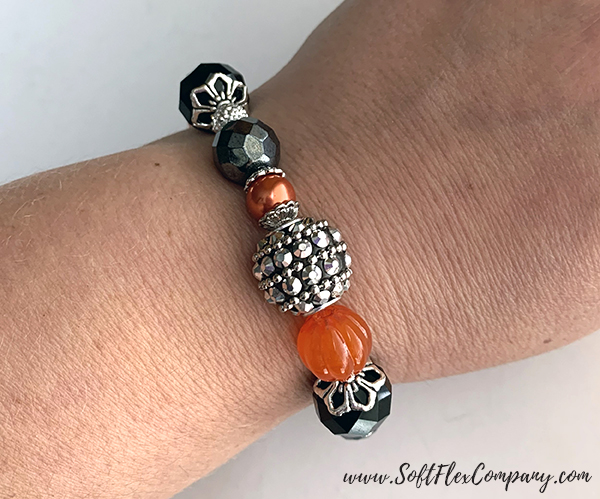 Tips:

Use a large hole bead to cover your knot. This makes your bracelet look more finished, but it also protects the knot from wear caused by rubbing between two beads.

Instead of using the applicator on the bottle of glue, I unscrew the cap and use a toothpick or head pin to pick up a drop of glue and apply it to my surface. A little goes a long way with this glue. It dries in less than a minute.

Always put your elastic bracelet on by rolling it over your hand without pulling. Never put on your bracelet by stretching it over your hand. This is one of the main factors in bracelets that don't last.

Keep the bracelet away from soap, perfumes, skin products, etc. They can degrade the quality of the elastic over time.
How To Make An Elegant Halloween Necklace And Earrings
Sara made an elegant jewelry set fit for the matriarch of the Addams Family. This wonderfully gloomy and stylish set features our Great Pumpkin Bead Strand and basic beading tools and supplies. It is super simple to make and frightfully sophisticated. Look your loveliest at the most morbid events!
This Bead Mix is absolutely wicked. You are going to love making jewelry with this fiendish collection of beads. So wonderful for fall and a sure hit in the mausoleum!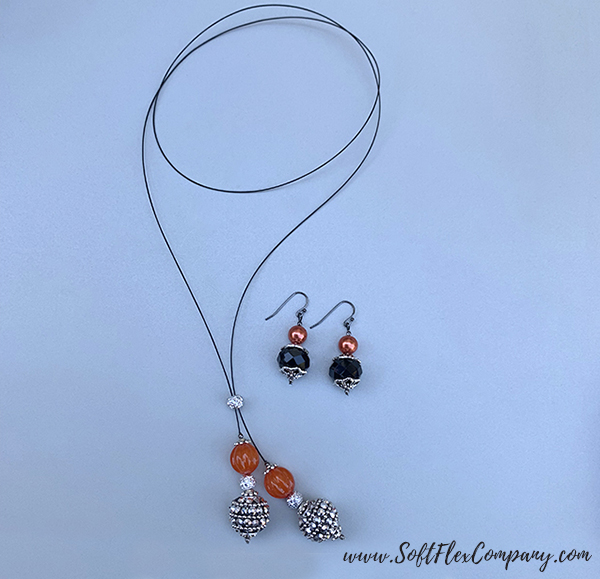 Supplies:
Soft Flex Beading Wire, .019 Diameter in Black Onyx color
Great Pumpkin Bead Strand
Soft Flex 2x2mm Black Oxidized Crimp Tubes
Magical Crimping Pliers
Soft Flex Professional Flush Cutters
Ear Wires
Soft Flex Beading Wire is wonderful for making jewelry on the spot. This set took less than thirty minutes. Just add beads. Make sure you check out our Halloween flavored Trios Beading Wire Packs if you want a collection of wire that is suited for Halloween jewelry!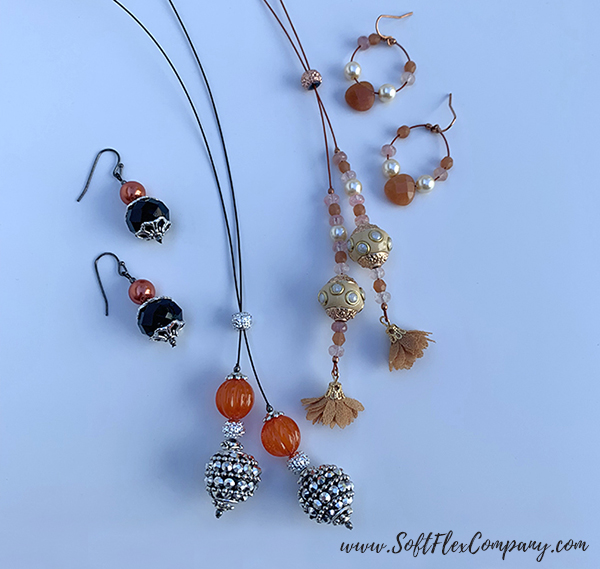 How To Create A Spider Using Beads And Soft Flex Craft Wire
James returned with another episode of Conversations in Wire. He uploads a new episode every other Thursday. His episodes are not live, but if you catch him when the episode is uploaded, he is on chat and ready to answer any questions about Soft Flex Craft Wire and wire wrapping - or in this case, a cute little spider.
James showed us how to create a fun little spider with just two beads and Soft Flex Craft Wire. He then showed us how to design an accompanying web. It was a fun watch. James made some mistakes in this video - his wire length was too short for his little spider legs, but rather than get frustrated - which most of us would probably be guilty of, James powered through his oopsie and made a delightful piece of art.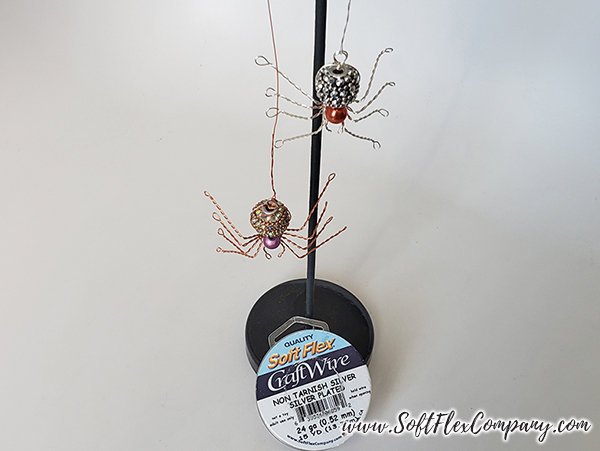 Supplies:
Soft Flex Craft Wire - Silver Plated 24ga
Soft Flex Craft Wire - 24ga
Great Pumpkin Bead Strand
Beads
Chain Nose Pliers
Bent Nose Pliers
Round Nose Pliers
LoopRite Looping Pliers
Nylon Jaw Pliers
Bead Nipper (Cutters)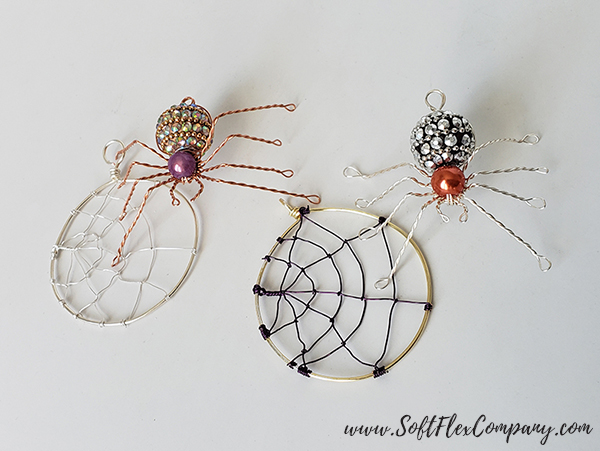 Nealay's SilverSilk Path to Patagonia Winner And Necklace Design
Nealay concluded his Path to Patagonia Facebook Bead Tour last week. This week he announced the winner of his Path to Patagonia giveaway. To be eligible, entrants had to create a design with this kit and post their photos to the The SilverSilk Silkies Facebook Group. The Path to Patagonia was his latest mystery bead kit was inspired by the icy region of Patagonia. This area, claimed by Chile and Argentina, is a land of glaciers, high cliffs, volcanoes, and grassy plains. There is a lot of mystery in this sparsely populated part of the world. Perfect for a beading muse!
Before announcing the winner, Nealay designed a beautiful necklace with his SilverSilk Capture Chain and Soft Flex Craft Wire. Craft wire is a fantastic way to secure Capture Chain so it holds its shape or keeps a loop. You can conceal the Craft Wire in the design or weave around the chain so it becomes part of the aesthetic.
Nealay is a fun designer to watch. He plans his jewelry out with a sketch (most of the time) before he even starts designing the jewelry. This is a great way to get a foundation and then build on it, while still allowing for some creative embellishment.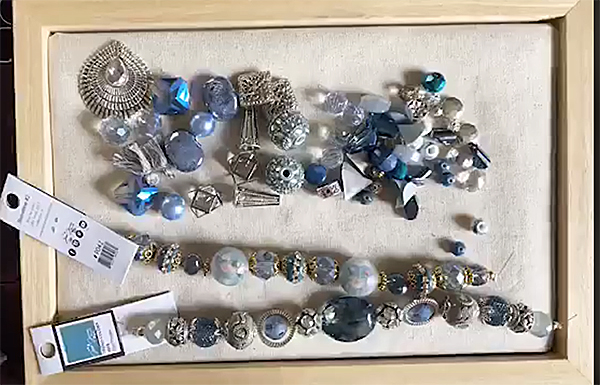 From Nealay:
The winner of Path to Patagonia is announced. Plus a new necklace design with acrylic chain and Capture Chain. Ask me what my favorite color is today.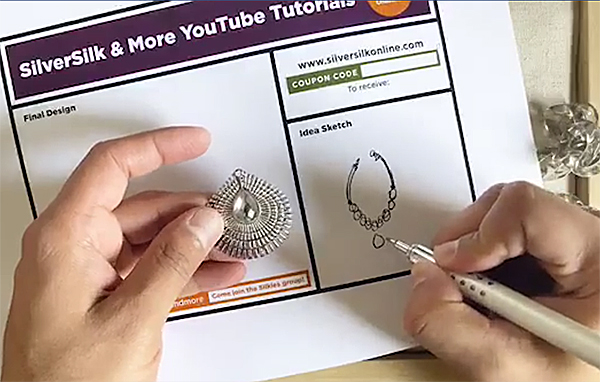 Supplies:
SilverSilk Path to Patagonia Kit
SilverSilk Path to Patagonia Extension Kit
Soft Flex Craft Wire - 22ga Non-Tarnish Silver
SilverSilk Capture Chain with Gun Metal Ball Chain - Sea Shore Color
SilverSilk Hollow Mesh
SilverSilk Double-Strand End Caps
SilverSilk Triple-Strand End Caps
SilverSilk Terminators
SilverSilk Two-Hole Bead Sliders
Ear Wires
Magical Crimping Pliers
Chain Nose Pliers
Cutters
2x2mm Soft Flex Crimp Tubes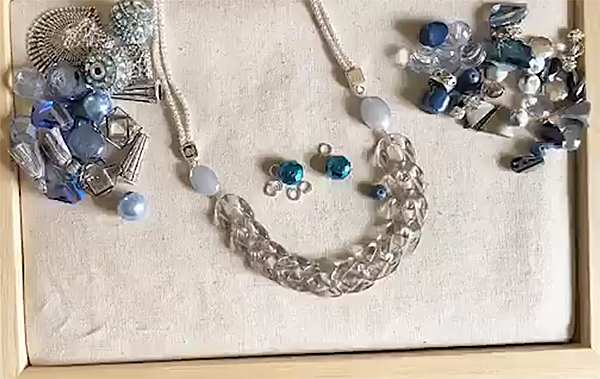 This necklace is icy and wonderful. This would be great for a seasonal party at the end of the year. Stay frosty with this chilly collection of stunning beads!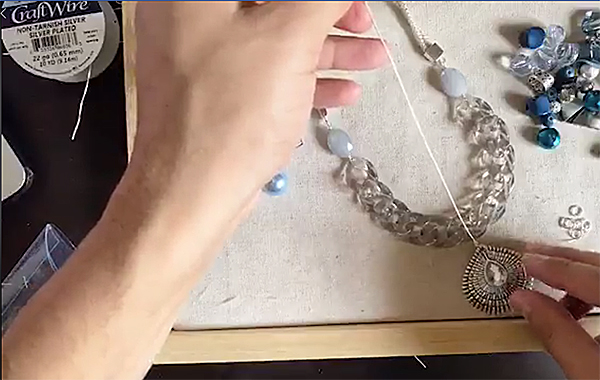 We can't wait to see what Nealay dreams up next. The Path to Patagonia was so lovely. Everything looks wonderful when complemented with SilverSilk chain. Make your next necklace dense with beautiful chain and beads. The mesh looks organic and lively, even when paired with the coldest colors.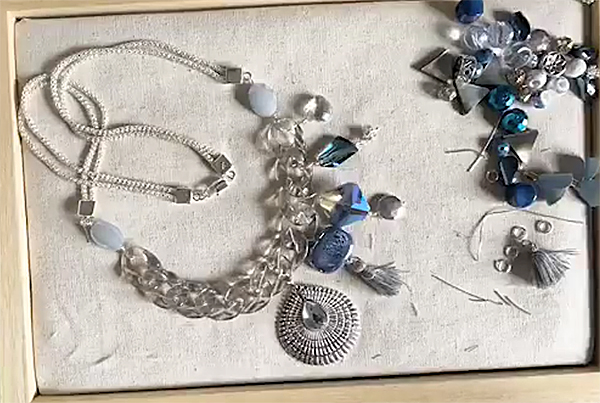 You can find Nealay on Facebook and YouTube. If you are a fan, make sure you join his active group on Facebook - The SilverSilk Silkies. He is very accessible and loves to answer questions. He is a great jewelry teacher and source of inspiration.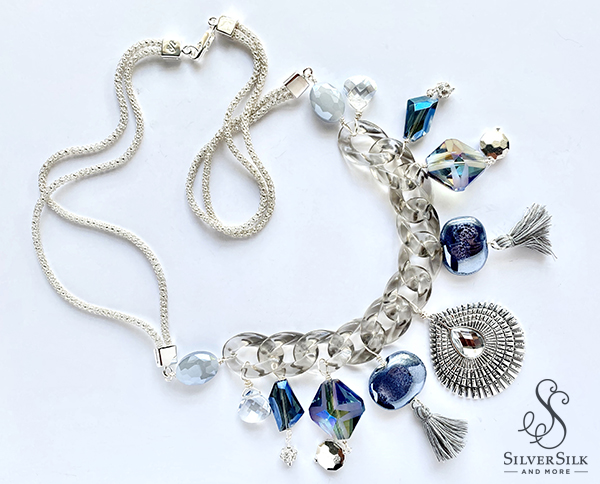 Join our Facebook group – VIB. Stay in the know. Stay up to date. From our bead shows to our video shows and sales, you can stay in touch with us. The community is full of artistic and helpful beaders and crafty people. Inspire and be inspired. Share your pictures and get the beading bug from others!

Visit the Soft Flex Company YouTube Channel!
---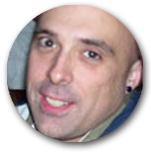 Blog contributor Thomas Soles loves Jazz Age writers and crunchy french fries. His favorite gemstones are Lapis and Pietersite. His favorite hobby is day dreaming. And his favorite mustache is Freddie Mercury's. As you can see, he has a healthy (or possibly unhealthy) sense of humor. You can write to him at [email protected]