We had another exciting week of jewelry making videos. We hope you were able to join us live. But if you were not, don't fret, you can catch up! We made some holiday crafts that would look great for Christmas or Halloween. We showed how to make jewelry components with WigJig wire jig boards. And we checked out a lovely lariat from SilverSilk. So many great tips and suggestions. If you love Soft Flex Craft Wire, you will learn a lot. Don't miss out!

Kristen was absent on Monday. She got to spend some time with her children before fall break ended at school. She will return this Monday with more exciting jewelry ideas. Sara had lots of fun ideas this week. We just restocked our shelves with WigJig Olympus Lites. She was eager to show how to use the board and give helpful suggestions. James designed an amazing bezel. If you work with undrilled cabochons, you need to see his video. Nealay created a lariat using trending fall colors. Join us for the fun!
Jewelry Making Videos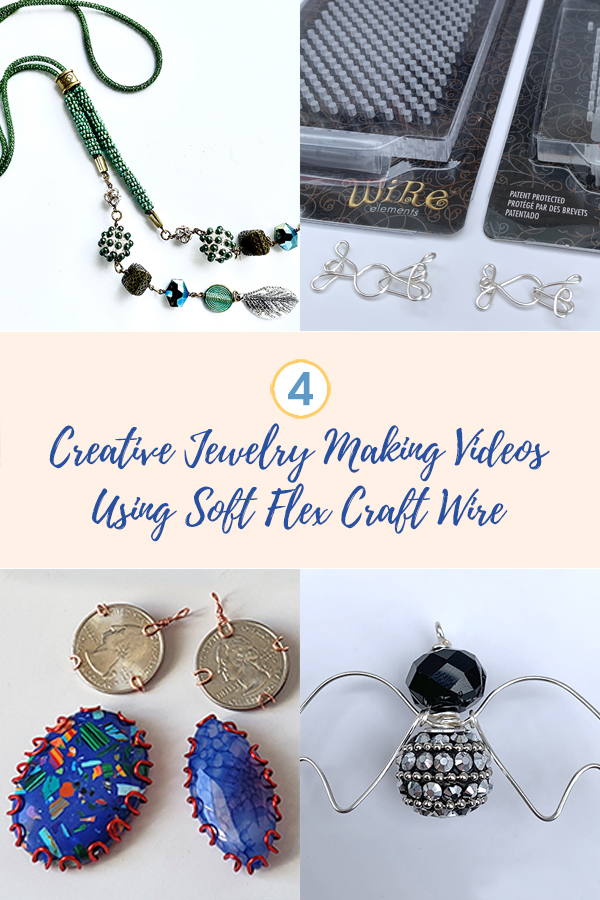 Learn how to make a hook and eye clasp using Soft Flex Craft Wire!
Sara filmed a fun video on Wednesday. Did you know you can make personalized clasps with a WigJig wire jig board? WigJig boards are fantastic for creating unique jewelry components. They are also amazing for crafts, like ornaments, earrings, pendants, and so much more. Sara chose a Three Strand Hook and Catch clasp pattern from Designing With Wire Booklet, which is available on our website.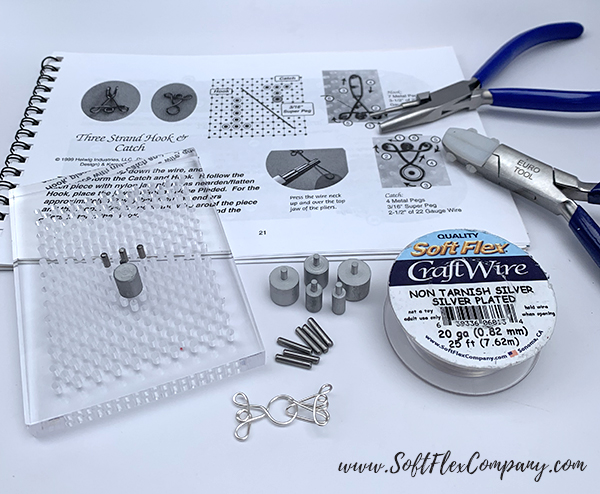 If you purchase a WigJig Delphi or WigJig Olympus Lite from us before October 22nd, you will receive the booklet Designing With Wire Booklet free! Make sure to take advantage of this awesome sale. WigJigs are invaluable if you enjoy working with Soft Flex Craft Wire. We are also offering 20% off on all Soft Flex Craft Wire (including already discounted closeouts).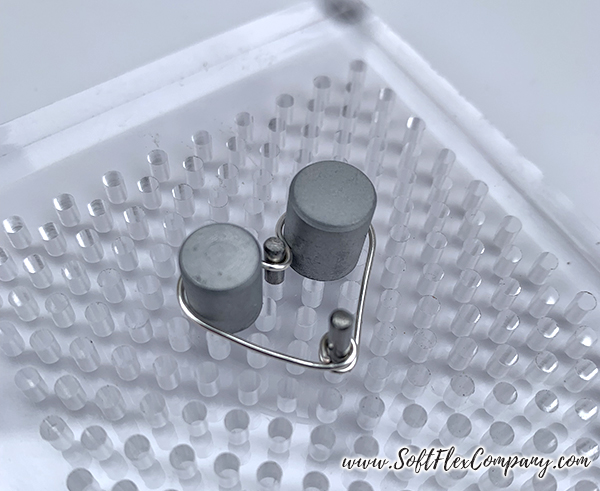 Supplies:
Soft Flex Craft Wire - 20ga
Soft Flex Craft Wire - Silver Plated 20ga
Designing With Wire Booklet
WigJig Olympus Lite
Bead Nipper (Cutters)
Nylon Jaw Pliers
Fine Step Jaw Pliers
Let's talk about WigJig boards. We love this product. We had them in stock for many, many years. The company head would go to shows with us to demo these lovely boards. Gary Helwig was a blast to have in our booth. Great sense of humor and a creative mind. Gary sold the patent rights to BeadSmith. Recently, we were able to restock our shelves. All of us that love working with Soft Flex Craft Wire are super excited to have these wonderful tools back in our inventory.
WigJig boards are made from a very strong acrylic. Other jig boards tend to be made with a cheaper plastic. Cheap plastic means that the holes on the boards widen over time and the pegs can slip and fall out while you are working on a project. WigJigs are super durable and can withstand much more abuse. WigJig peg holes do not widen and no matter how rough you are with your board, you can be sure that all of your projects will look amazing.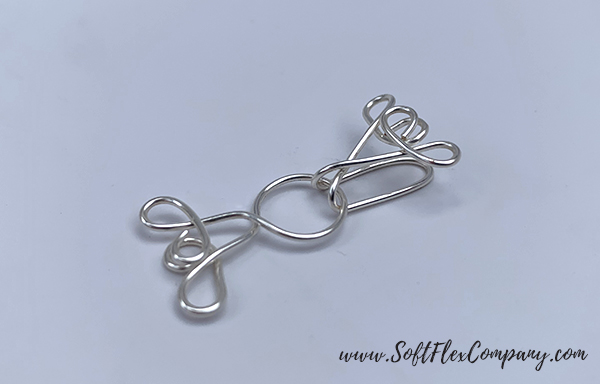 This clasp is so fun. You can create this design easily. Simply place your WigJig over the pattern in the booklet and follow the directions. One great thing about using a WigJig to create a clasp like this is that it will always be consistent if you follow the pattern. You can create one hundred (or more) identical clasps. You can also vary it up with different colors of Soft Flex Craft Wire.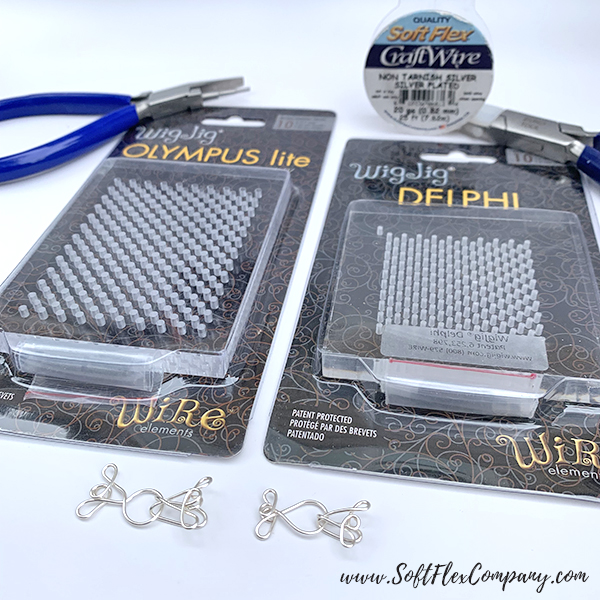 Making A Prong Setting Using Craft Wire On A WigJig
James returned with another episode of Conversations in Wire. He uploads a new episode every other Thursday. His episodes are not live, but if you catch him when the episode is uploaded, he is on chat and ready to answer any questions about Soft Flex Craft Wire and wire wrapping. His videos premiere at 2:00pm PST.
This week, James created a prong setting to hold a coin or a cabochon. This is a fun way to design a bezel to hold an undrilled bead. This will give some pizzazz to your pendants!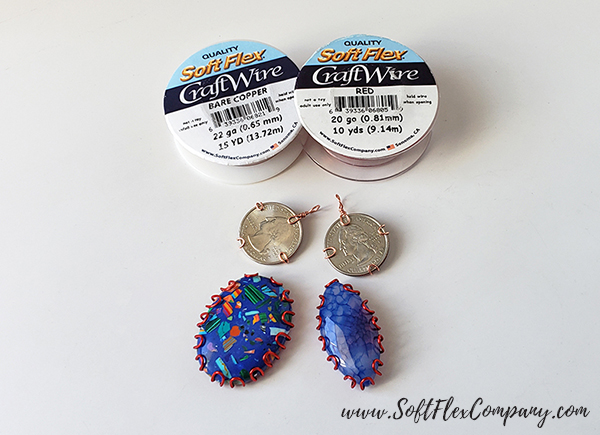 James used a WigJig Olympus Lite to make this wonderful bezel. He created the loops for the component on the board. He removed the finished loop design and then used the angled sides of the jig board to fold the wire. If you find folding this design difficult using the board, you can find a hard edge on a table or surface to finish the fold in the wire.
To finish the setting, James crimped the Soft Flex Craft Wire. That was a fun twist. Many of us at Soft Flex Company had never thought of attempting that. What an interesting way to connect Craft Wire!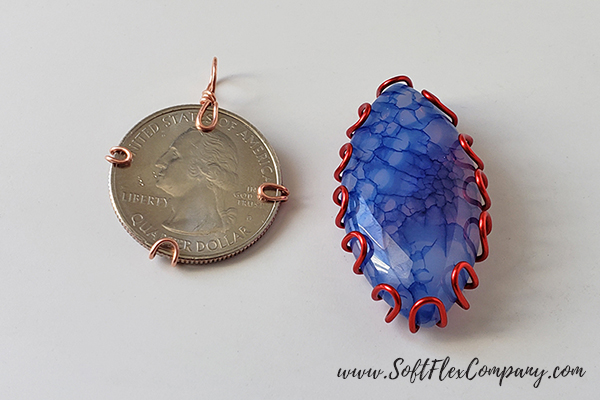 Supplies:
Soft Flex Craft Wire - 20ga
Soft Flex Craft Wire - Silver Plated 20ga
Soft Flex Craft Wire - 22ga
Soft Flex Craft Wire - Silver Plated 22ga
WigJig Olympus Lite
Bead Nipper (Cutters)
Round Nose Pliers
Soft Flex 3x3mm Crimp Tubes
Mighty Crimping Pliers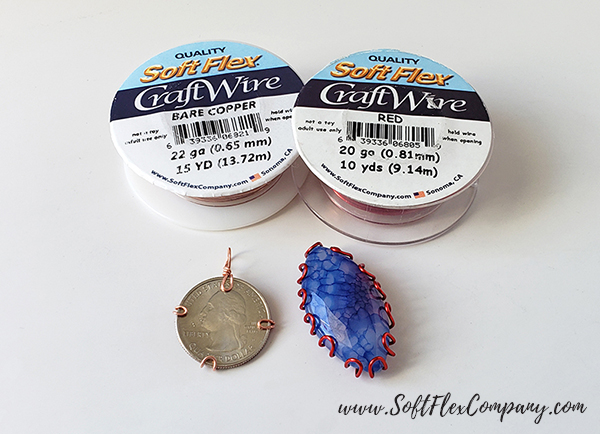 Stock up on Soft Flex Craft Wire. This wire is perfect for your holiday craft and jewelry projects. Make sure you follow James on our YouTube channel. He will show you how to master the art of wire wrapping.
Easy Holiday Crafts and Ornaments with Sara Oehler
We love the holidays. The end of the year is always so fun. So many wonderful holidays to celebrate. It is a great time for jewelry making and crafts. Whether you love the frightening spectacle of Halloween or the comfort of Christmas, you can be sure there will be plenty of opportunities to flex your creative side.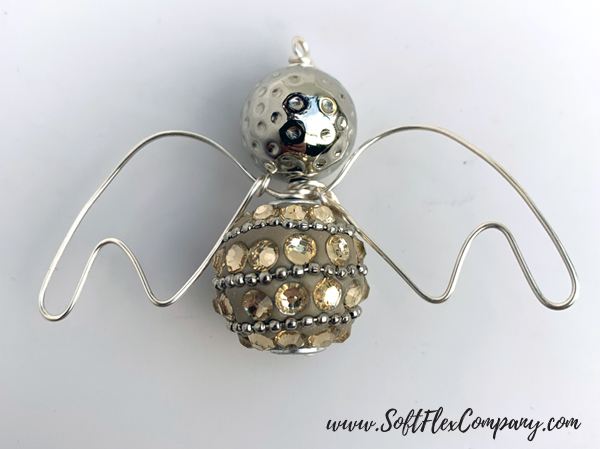 Sara has a fun Craft Wire ornament (or pendant) this week. This one can be a bat or a dark angel for Halloween or a blessed little angel for Christmas. Simply change the colors up on the beads and wire. You can also texture your wings so they are cute or menacing.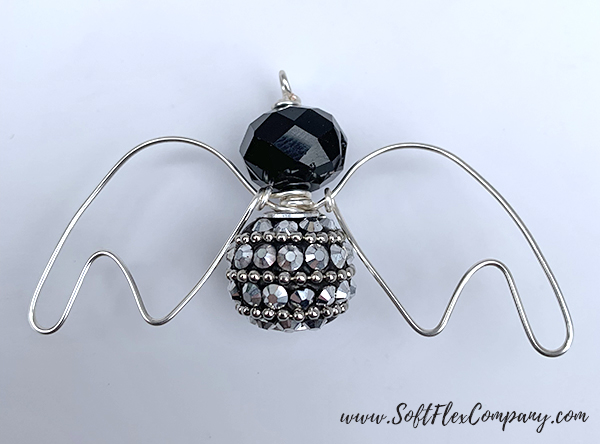 Supplies:
Soft Flex Craft Wire - 20ga
Soft Flex Craft Wire - Silver Plated 20ga
WigJig Olympus Lite
WigJig Large Super Pegs For Olympus Lite
Wire Whacker
Fine Step Jaw Pliers
Chain Nose Pliers
Round Nose Pliers
Great Pumpkin Bead Strand
Bead Nipper (Cutters)
Nylon Jaw Pliers

Shop our Bead Mixes. The Great Pumpkin Bead Strand is an elegant look at Halloween fright. Darkness and sophistication are the gift of the vampire this season. Spooky black beads brood next to shimmering silver and orange pumpkins. Invite this mysterious visitor into your house and indulge. Make your most frightful jewelry look exquisite this October!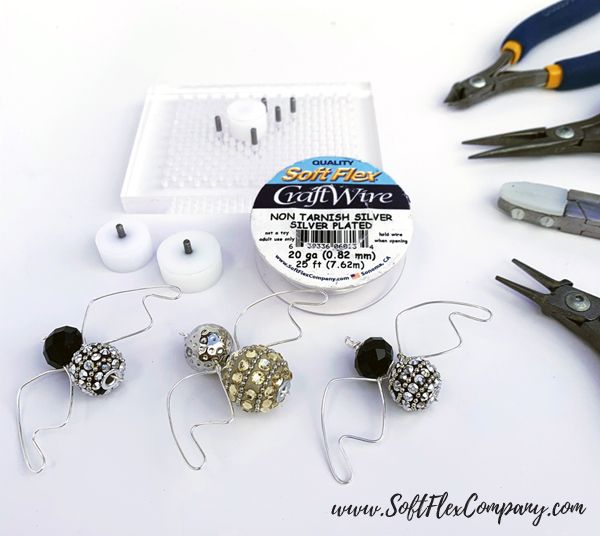 Make sure you catch Sara's new YouTube live shows. She is filming every Friday morning (except Halloween and Thanksgiving weeks) at 10:00am PST. She will be making holiday decorations throughout the season. Her videos will be a great way to find inspiration if you need decoration or jewelry ideas. Catch her live and she will answer your questions. Make sure you subscribe to our YouTube channel. We have new uploads three or five times a week.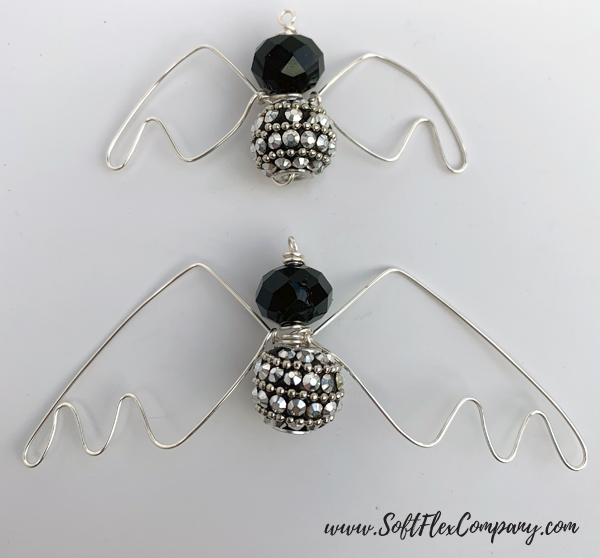 Is your bat petite and cute? Or a sinister omen with large wings?
Eden Green Garden Lariat Necklace with Capture Chain
Nealay dazzled us with a lovely fall jewelry idea, he calls this piece the Eden Green Garden Lariat with Capture Chain. The beads he used are from Jesse James Beads. They are a fall Pantone color trend collection. They look sumptuous, green but muted. Just like the transition into fall.
Nealay is a talented jewelry designer and the owner of SilverSilk and More. He has written books, appeared on television and is a terrific teacher. His videos are instructive and paced so it is easy to follow and you can even string along with him, if you feel the inspiration hit. He prefers to sketch his designs and let them speak to him before stringing them. He is a fascinating artist. Make sure you watch him live!
Follow him on Facebook and check out his store here - SilverSilk and More.
From Nealay:
Time to pop open your favorite color of seed beads and get stringing on craft wire! Take a look at this tutorial to make a stylish lariat necklace using Capture Chain, adorned with sparkly beads and baubles. We'll learn how gather up the capture chain with a two-hole slider and string up seed beads to add a bubbly texture to our design. Lastly, we'll also break into a fabulous Jesse James Bead mixes to find complimentary beads and figure out a good arrangement to finish out our design. This tutorial is jam-packed with new ideas to fuel your creativity and you won't want to miss it!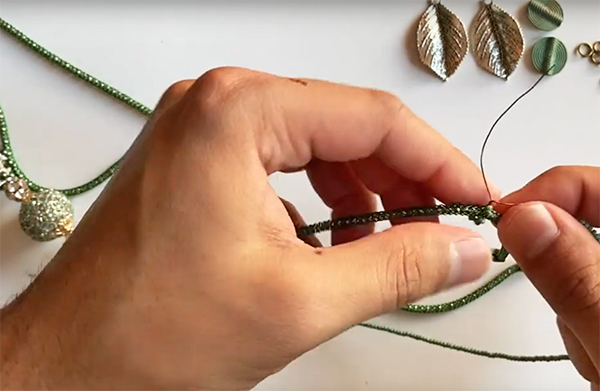 Supplies:
SilverSilk Green Capture Chain
SilverSilk Antique Brass Two-Hole Slider
SilverSilk Antique Brass Single-Strand End Caps
SilverSilk Antique Brass Jump Rings
Decorative Beads from Jesse James Beads
Bronze 22 gauge Soft Flex Craft Wire
Bronze 26 gauge Soft Flex Craft Wire
Nylon Jaw Pliers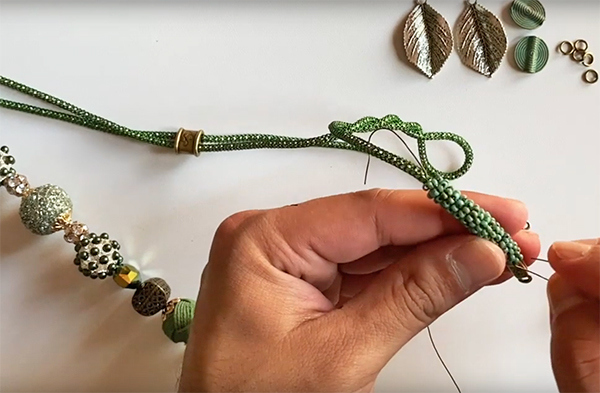 You can find Nealay on Facebook and YouTube. If you are a fan, make sure you join his active group on Facebook - The SilverSilk Silkies. He is very accessible and loves to answer questions. He is a great jewelry teacher and source of inspiration.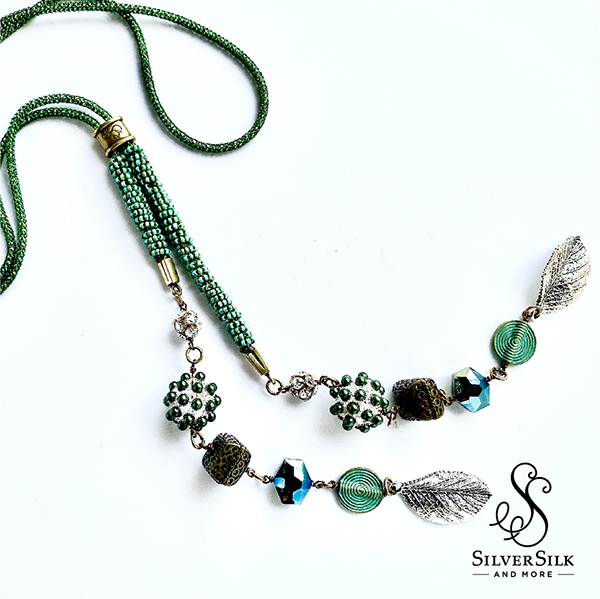 Join our Facebook group – VIB. Stay in the know. Stay up to date. From our bead shows to our video shows and sales, you can stay in touch with us. The community is full of artistic and helpful beaders and crafty people. Inspire and be inspired. Share your pictures and get the beading bug from others!

Visit the Soft Flex Company YouTube Channel!
---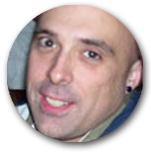 Blog contributor Thomas Soles loves Jazz Age writers and crunchy french fries. His favorite gemstones are Lapis and Pietersite. His favorite hobby is day dreaming. And his favorite mustache is Freddie Mercury's. As you can see, he has a healthy (or possibly unhealthy) sense of humor. You can write to him at [email protected]