Good Friday, beautiful beaders! We spent the week staying busy with handcrafted jewelry. If you are Isolated or in a shelter-in-place area, we have some cures for your COVID-19 boredom. This week was full of quarantine crafts. We want to keep our minds and our families active. It is important to stay creative and healthy. This week we offered a new mini beading kit. We got inspired by YouTube jewelry designers. And we continued our daily Joyful Beading Challenges for another month of fun! Check in on our video recap and see how you can win $10 dollar credits!

Kristen knocked our socks off this week with a magical infinite knot bracelet. She found it on an Instagram page - @BeadWorldInc. Bead World has a fun jewelry tutorial there. She loved their design and gave it a shot. So fun and amazing. The design is simple, but a real eye catcher. Sara sparked joy with an exciting Facebook announcement that you are not going to want to miss. She also created a wonderful bracelet that you will adore. Luisa at Misty Moon Designs showed us what she created with our Painted Sunflowers Jewelry Design Kit (Sold Out). If you love the color palette of Van Gogh, you are going to love the art she makes! Finally, Nealay designed a colorful seed bead necklace that is just gorgeous. There is a lot of fun in one place. Let's forget about the troubles in the world and make some beautiful jewelry!
Join us for our Daily "Joyful Beading" Challenges. We wanted to foster the spirit of creative fire during this stressful time! Every design that you post in the Soft Flex VIB Studio Facebook Group before midnight PST, is an entry to win a $10 credit for your next order! Visit www.SoftFlexCompany.com for your beading supplies!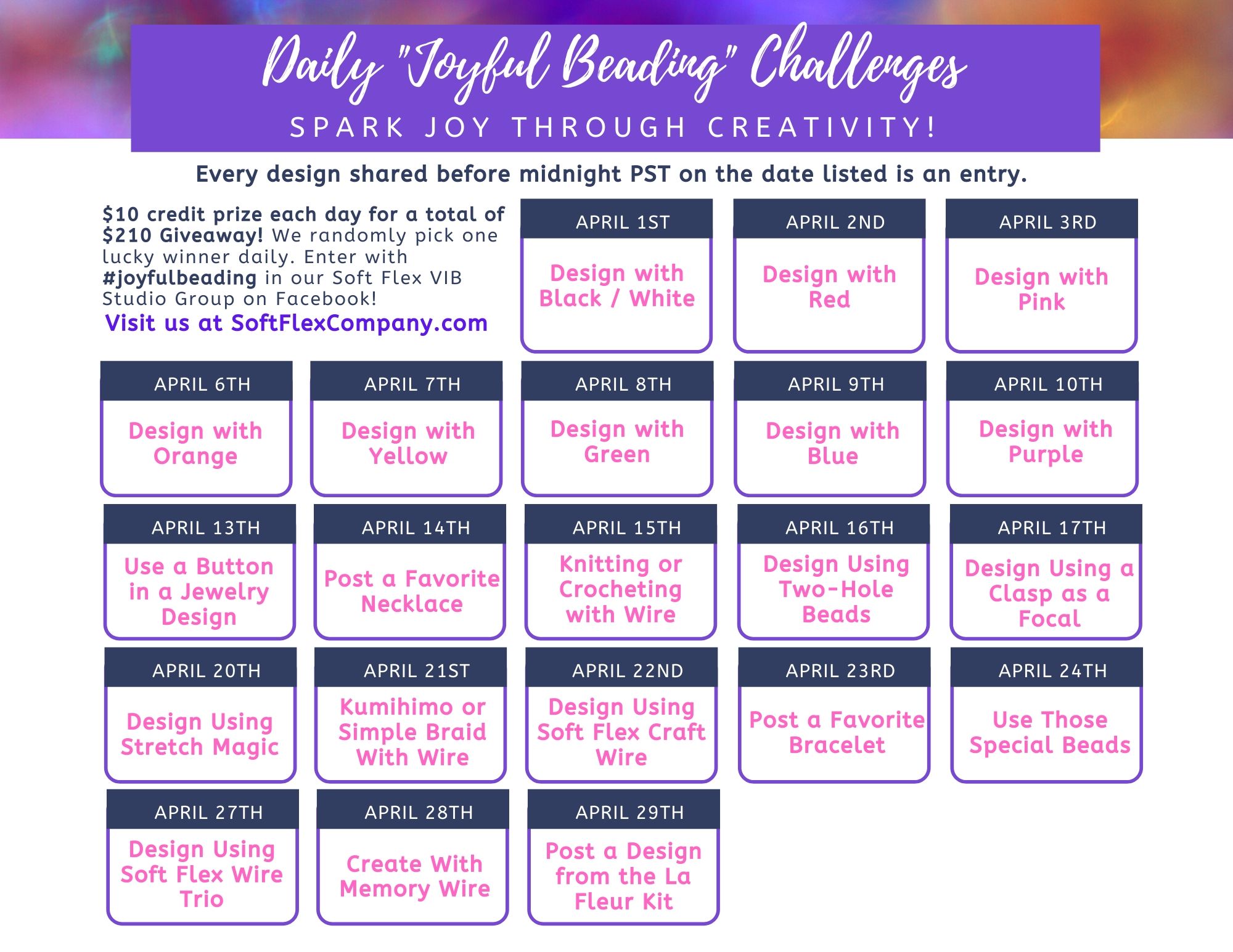 Download the Full Calendar for April -Click HERE.
Jewelry Making Videos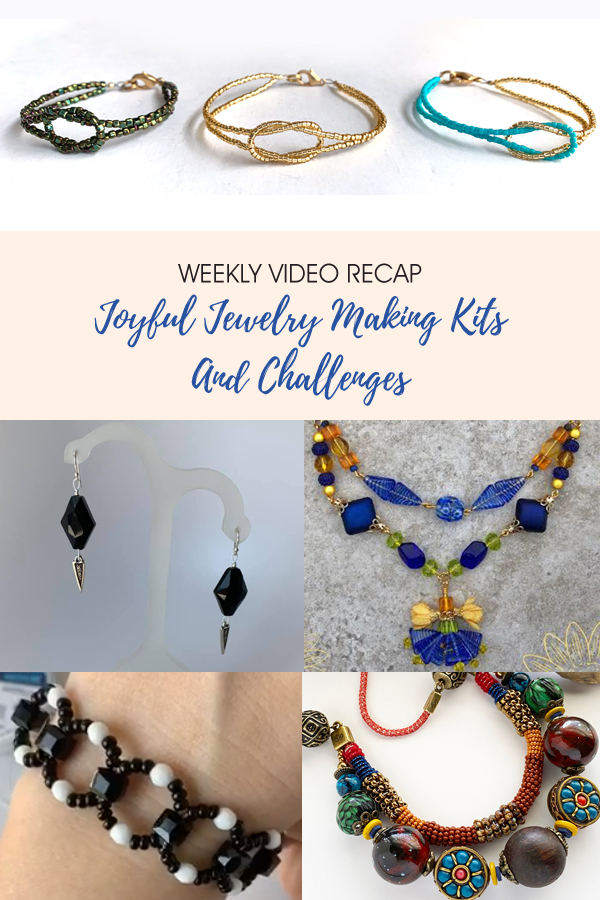 How to Make an Infinity Love Knot Beaded Bracelet
Kristen filmed another exciting episode of Free Spirit Beading on Monday. She is live on Mondays at 12pm PST.
This week, Kristen found inspiration from Instagram. She saw a gorgeous infinity knot (or love knot) bracelet demonstration posted by Bead World. Bead World used Soft Flex Beading Wire to create two separate strands of beaded wire. Each strand was finished with part of a clasp. Once the strands are knotted together, the two parts of the clasp can lock and create an amazing bracelet. This is a stunning design and it is honestly, one the most amazing looking projects, for how incredibly simple it is to design.
Bead World posted their jewelry tutorial to their Instagram page - @BeadWorldInc. Make sure you visit them and give them some kudos if you love this design. Right now is a crucial time to support local bead stores, like Bead World. The economy is going to be struggling to stand once the threat of the coronavirus subsides. If you love beading and handmade jewelry making as much as we do, then you need to support your local bead stores so we still have them around for our children's children to enjoy.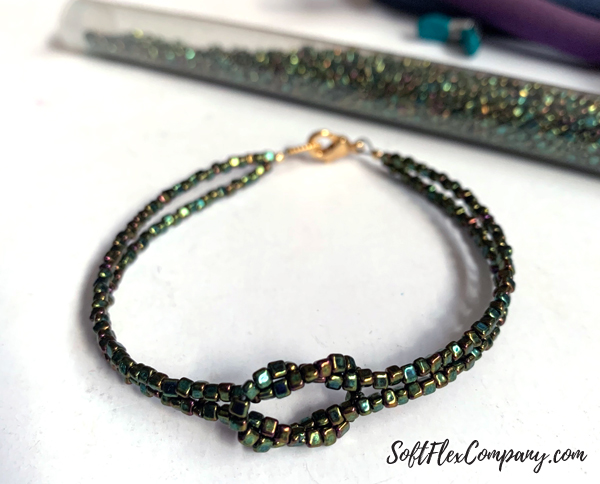 This bracelet can be constructed out of any of our beading wire selections. For the purpose of this video, Kristen opted to use Soft Touch Beading Wire. Our Soft Touch has the same strength and durability as our original Soft Flex wire. However, Soft Touch drapes about fifty percent softer than Soft Flex. This means that Soft Touch feels like thread. It has the strength of steel but the grace of silk. If you want the softest drape possible, make sure you check out our Soft Touch wire.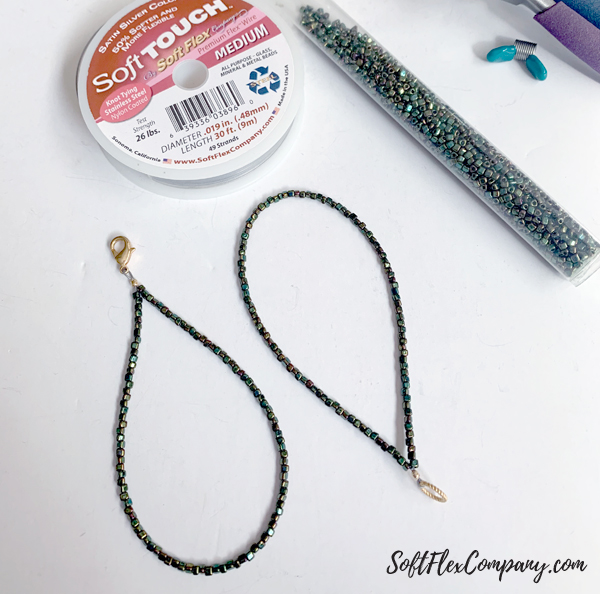 Supplies:
Soft Touch .019/Medium Diameter
Extreme Flex .019/Medium Diameter in Champagne
Size 11/0 Seed Beads or Delica Beads
Size 15/0 Seed Beads or Delica Beads
Lobster Claw Clasp
Split Rings or Closed Jump Rings
2x2mm Crimp Tubes in Gold Filled
Cutters
Crimping Pliers
Explore color with your design. You can mix up the color of the seed beads you use or the color of your beading wire. If you have a beading buddy, this is a great way to show your friendship through your jewelry. You can each design one of these bracelets and trade a link with each other. That way, you are wearing a part of your friend's bracelet and they are wearing a part of yours!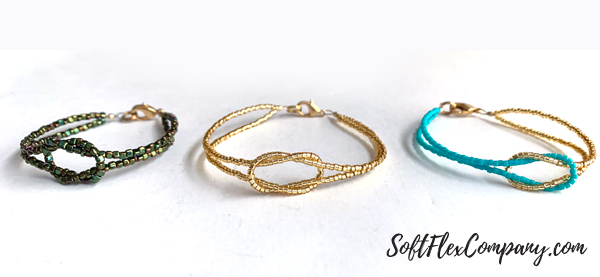 This design was especially popular on the last day of our March Joyful Beading Challenges. That daily challenge was to replicate a design or technique that our community members enjoyed on our YouTube Channel. This one was fresh in everybody's mind and was just such a unique and fun project, we got lots of entries with this design. If you make this design, we would love to see your work, post your photos on our Facebook group – VIB.
Make sure you follow our April road map for our daily Joyful Beading Challenges. We want you to be our next winner! Every entry your post on an applicable daily challenge, with the hashtag #joyfulbeading, is your chance to win a $10 credit towards any purchase on our website. You have lots of chances to win and we would love to see your creations!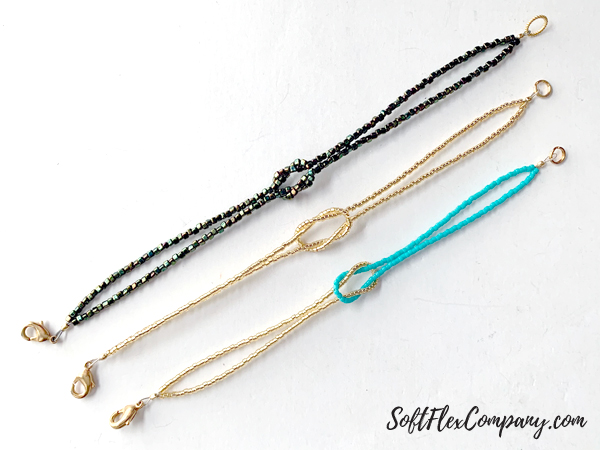 Spark Joy Through Creativity With Our Daily "Joyful Beading" Challenges - April
Sara jumped on to Facebook live. She wanted to announce our latest month of daily Joyful Beading Challenges. Last month was the first time we offered these fun challenges. The reception to our giveaways was so fun and full of neat handmade jewelry creations, that we decided to try another month of fun. She also wanted to kick the festivities off with her own original design. She designed a lovely bracelet. If you end up making a similar bracelet, you can even post it on a Joyful Beading challenge. For instance, if you replicate her design in purple - you can post it on the contest date when we are looking for purple designs. Join us and create!
Joyful Beading is a great way to connect with an active community of beaders and jewelry designers. If you are sheltered in place or quarantined because of the novel coronavirus, this is a great way to keep in touch with a group of peers. It is hard to be lonely when there are so many like minds working on the same projects you are! Stay connected and network with us! Our group is full of all kinds of skill levels. You will not be judged by your talents. If you post a photo, you can ask for gentle critique or just bask in the warm fuzzies from the compliments of appreciative fans.
For more information about our Joyful Beading Challenges, follow our blog.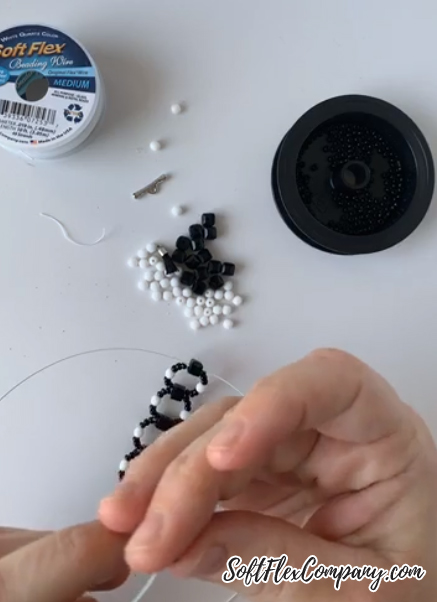 Supplies:
Soft Flex Beading Wire, .019 Diameter in White Quartz
Soft Flex Beading Wire, .019 Diameter in Black Onyx
Beads
2x2mm Crimp Tubes
Hammertone Ellipse Hammered Metal Texture Toggle Clasp
Jump Rings
Magical Crimping Pliers
2x2mm Crimp Tubes
Cutters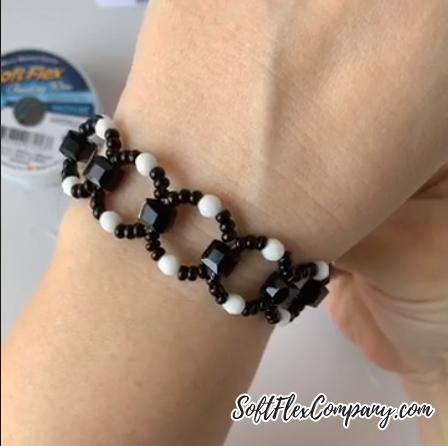 Joyful Beading Challenges are a great way to get some extra spending cash on our website. Every jewelry making project is a chance to win. You can post as many designs you like daily, as long as they fit the theme of the contest that day. Every piece of jewelry you post is an entry into the challenge. You can post multiple photos of single jewelry pieces or a single photo with a lot of jewelry. The jewelry pieces are noted, not the number of photos. Create as much as you like! Just make sure it fits the theme of that day. And make sure you hashtag your work so we know you are participating - #joyfulbeading.
Are you a beginner beader? Are you put off by the thought of posting your jewelry for strangers to look at? Don't be! The community on our VIB Facebook group consists of a spectrum of skill levels. We have gallery level jewelry designers and we have bead stringers that have just finished their first necklace. It is a judgement free zone. We all love jewelry and beads. If you are participating in Joyful Beading, your talent is not going to help you win. Our winners are collected and then drawn with a random number. You have the same chance to win the daily $10 credit as somebody that has been making jewelry for decades. Give it a shot and let's see how you do!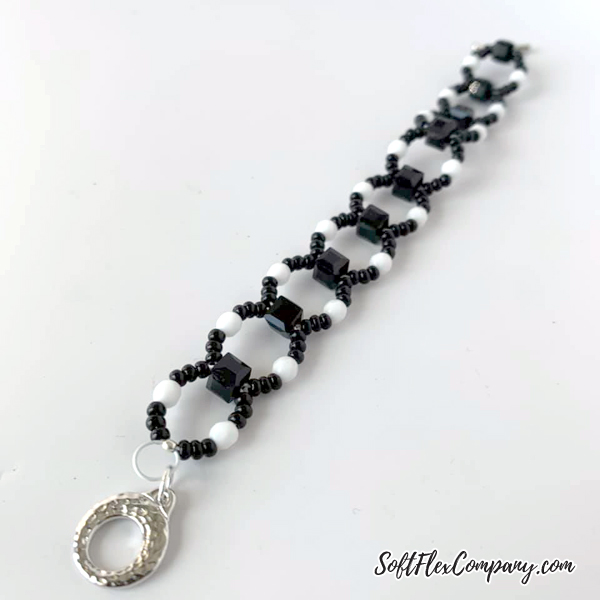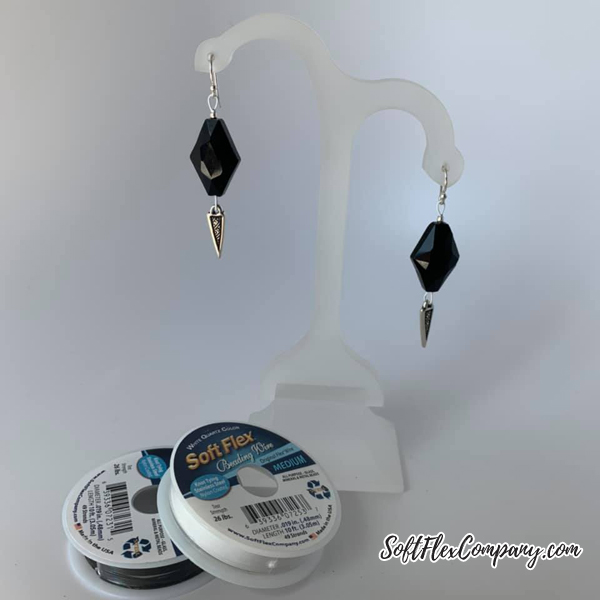 Finished Jewelry From The Soft Flex Company Painted Sunflowers Mystery Design Kit
From Luisa at Misty Moon Designs:
I hope everyone is doing well. I want to share with you the creations I made using beads from the Mystery Design Kit from the Soft Flex Company for the month of March. The name of the March kit was called "Painted Sunflowers" after the artist Van Gogh. If you have not seen the unboxing video, you can view it here.
Enjoy!
Luisa
Follow Misty Moon Designs: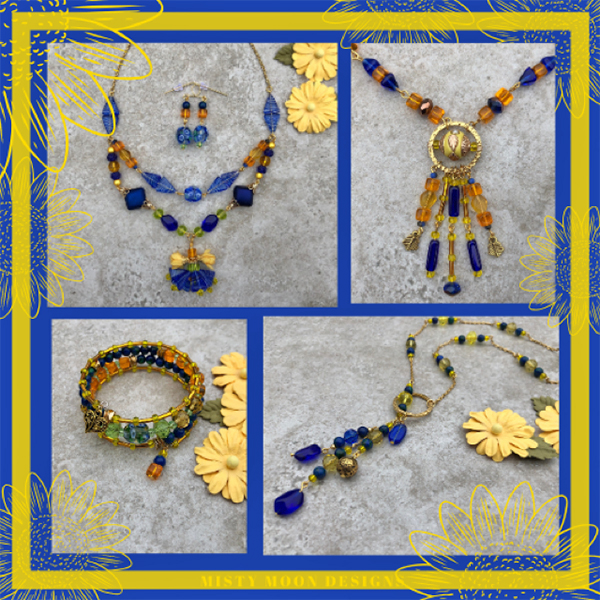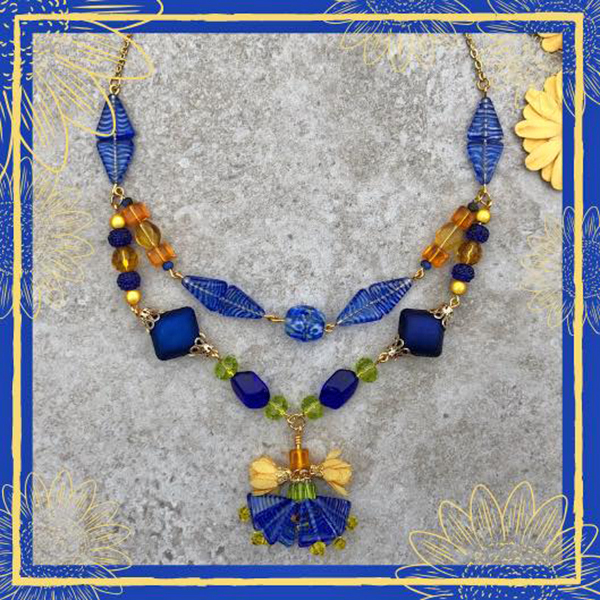 Seed Bead Coil and Capture Chain Necklace
Our friend Nealay Patel made something amazing this week!
If you love colorful jewelry, you are going to love the necklace that Nealay designed this week. He took some beautiful, earthy beads from a Jesse James Beads collection and strung them on Soft Flex. He strung some seed beads on 26 gauge Soft Flex Craft Wire. He then coiled the craft wire around SilverSilk Capture Chain. The end result was stunning and so full of detail.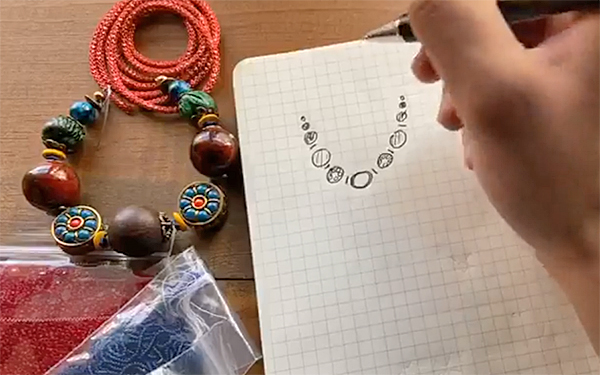 From Nealay:
Finding what inspires you. If you squint your eyes you may see a rainbow. And seed beads are friendly. All this in today's Tuesday Tutorial!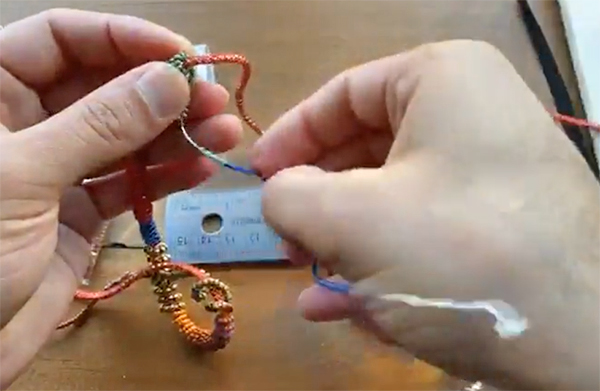 Supplies:
SilverSilk Capture Chain
Soft Flex Craft Wire
Soft Flex Beading Wire
Size 11/0 Seed Beads
Size 8/0 Seed Beads
Beads from Jesse James Beads
Magical Crimping Pliers
2x2mm Crimp Tubes
End Caps
Nylon Jaw Pliers
Bead Nipper (Cutters)
Chain Nose Pliers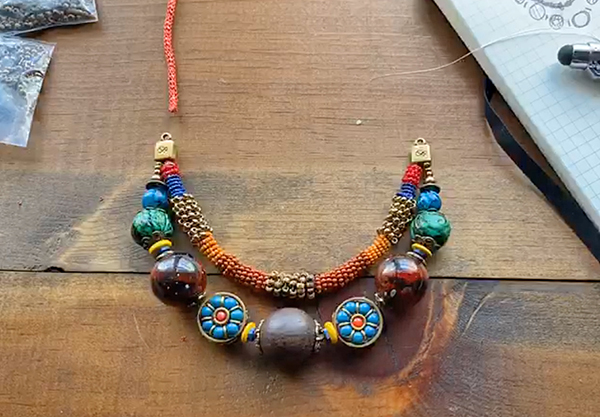 Nealay loves to take time to sketch out his projects before he begins to string them. If you want to put a clear goal in your head before you even string the first bead, drawing out your plans is a great way to keep focused. You can still deviate and make organic designs, but having a goal makes it fun to strive to make the idea plotted. Try it some time. Sketch out your jewelry and try to recreate the sketch. It is a good way to flex your design skills.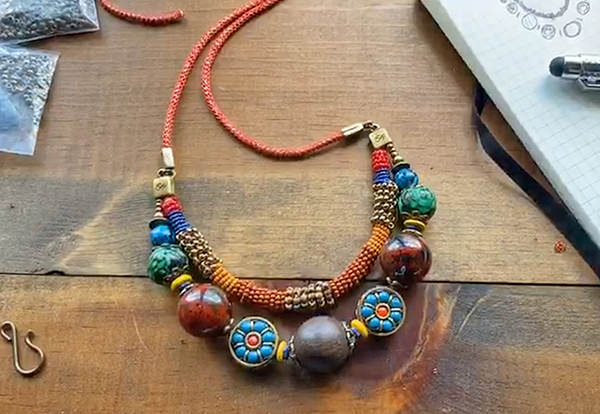 How incredible did this piece turn out? The coiled seed beads are a perfect complement to the larger beads strung below. If you enjoyed this demonstration, give Nealay some love on his social media. You can find him on his YouTube channel and Facebook Page or join his Silkies Facebook group.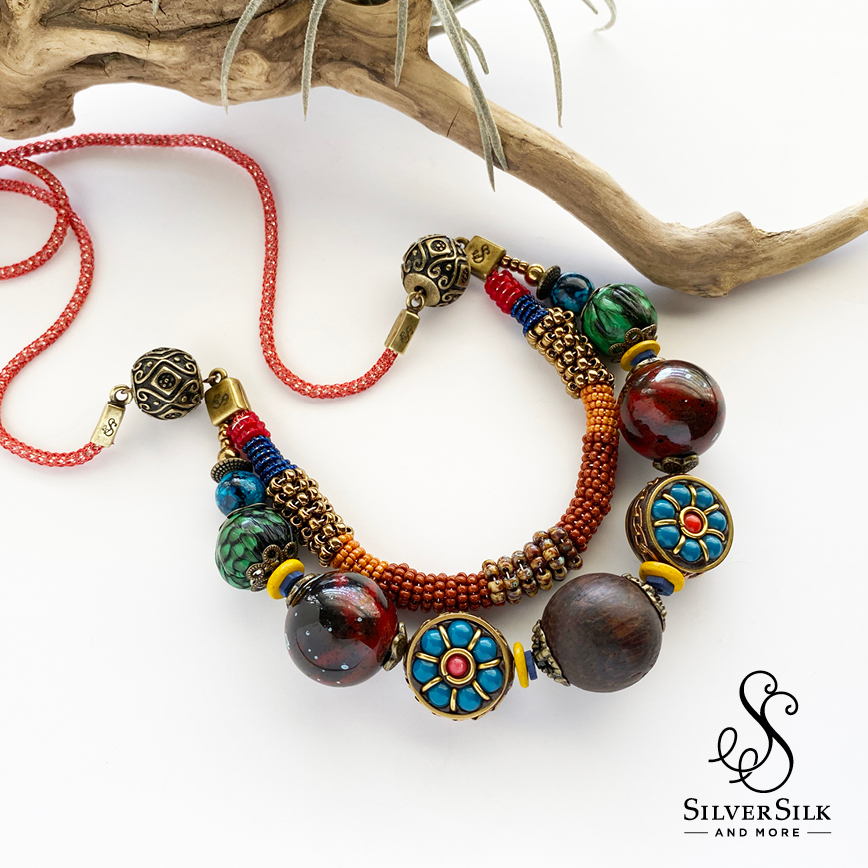 Join our Facebook group – VIB. Stay in the know. Stay up to date. From our bead shows to our video shows and sales, you can stay in touch with us. The community is full of artistic and helpful beaders and crafty people. Inspire and be inspired. Share your pictures and get the beading bug from others!

Visit the Soft Flex Company YouTube Channel!
---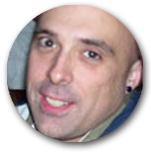 Blog contributor Thomas Soles loves Jazz Age writers and crunchy french fries. His favorite gemstones are Lapis and Pietersite. His favorite hobby is day dreaming. And his favorite mustache is Freddie Mercury's. As you can see, he has a healthy (or possibly unhealthy) sense of humor. You can write to him at Thomas@SoftFlexCompany.com