We have some absolutely gorgeous jewelry for you this Friday. If you are a designer, you won't want to miss this video recap, you are going to get inspired! If you are a beginner, buckle up and settle in, you are about to get a crash course in beading! Consider this a free jewelry making class. We have some exciting techniques and some amazing jewelry designs for you. Let's forget the troubles of the world and learn how to make some divine handmade bracelets and necklaces!

This was an amazing week of jewelry. Kristen celebrated Pride Month and designed a rainbow bracelet. One are going to adore this wrap around knot bracelet. If you do not like a rainbow spectrum of color, you can mix it up with your own favorites. Sara showcased our Hammertone Connectors. She turned her connectors into a delicious pendant. Nealay made a stunning floral focal that really accented his pendant. You are definitely going to want to watch this quick video for wire wrapping tips and tricks. Finally, we sent an Amazon Princess Design Kit (Sold Out) to YouTube designer Sandy Huntress. Sandy unboxed the kit and found a surprise, it was based on Wonder Woman. Unfortunately, the triadic primary colors of red, yellow, and blue were not her favorite. But, she took the challenge and made some stellar jewelry! If you like a challenge, you will adore our design kits. See what Sandy does with hers!
Use Jewelry Making Rings to Make Earrings at Home Easy, premiering on YouTube on Saturday, June 20th.
If you loved Sara's Hammertone Connector Necklace video, you are going to want to check out the follow up video she made. She designs some cute earrings to complement her necklace. Her earring video will premiere tomorrow on YouTube. If you have never made earrings with Soft Flex Beading Wire before, you will see how easy it is to make a set of classy earrings you can wear with every outfit and occasion. The small amount of wire and materials means that you can re-purpose old wire remnants you cut from old projects. Add a color variant - beads and wire - and you can make earrings that fit your style!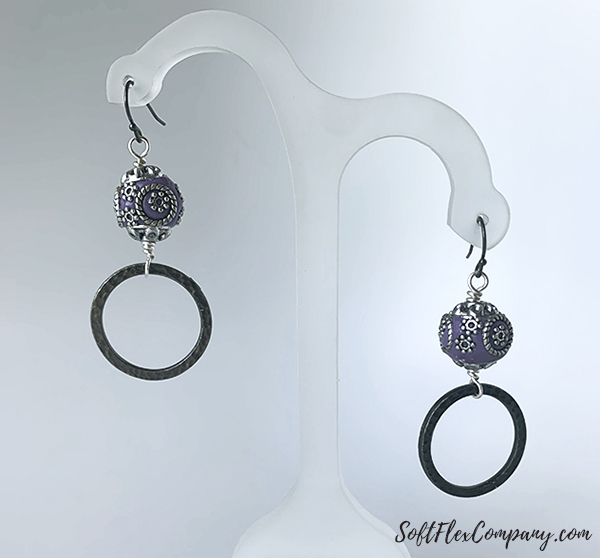 Hammertone Ring, Hammered Metal Texture Connector for Handcrafted Jewelry Making

You are going to love this stunning TierraCast connector. The hammered finish of this ring connector is gorgeous enough to be the star of your jewelry designs, yet subtle enough to let the other elements shine. Great size to embellish with seed beads and wire wrapping. It can also be filled with resin and pictures, beads and found objects to create a story ring. Looks great with other distressed components!
Go big - a 25mm connector is great for large flair and catching the eye. A 13mm connector for a slightly more subtle look or a smaller design. Or go for the quiet beauty of an 8.6mm connector, this stunning connector will not call attention to itself but will enhance any jewelry design. Whatever size you opt for in your next necklace, you will love the textured detail.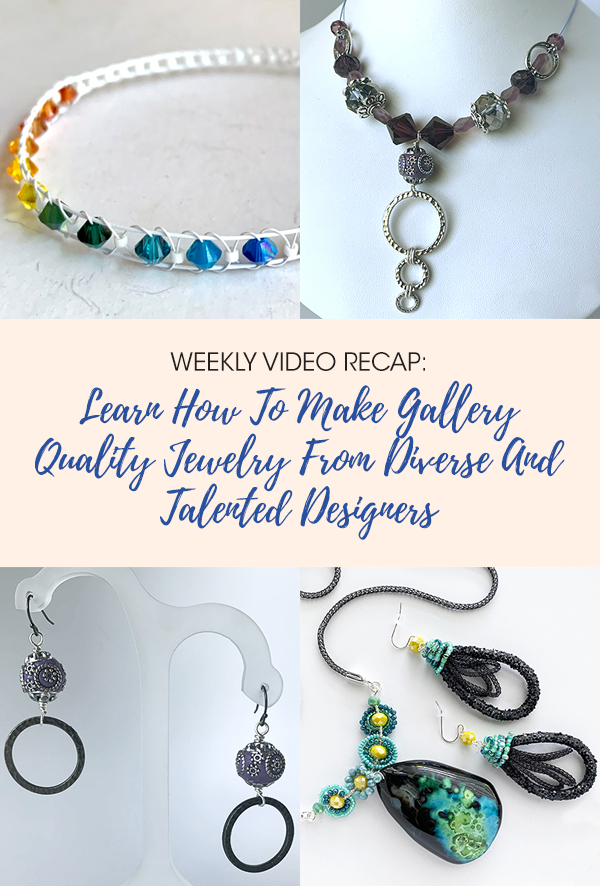 Rainbow Wrap Around Knot Bracelet with Crystals
Free Spirit Beading was an exploration of the rainbow this week. Kristen loves rainbows. The rainbow is such a fun spectrum. She showed us how to use a gradient mix of rainbow colors on a wrap around bracelet. This bracelet is perfect for June, which is Pride Month. It is great for anybody that practices Yoga and explores chakra energy. And really, anybody that just loves the delicious colors of the rainbow. For this design, Kristen uses a Mini Macrame Board. This tool is great for any design you want to secure and hold in place while you work on it - even if your work is not macrame. The board is constructed with a 'self healing' material. If you use a wire or thread that opens the notches on the board too wide, the board will heal and close back up over time. It is a fabulous tool for any project where two arms are just not enough!

From Kristen:
Learn how to make this beaded wrap around knot bracelet with rainbow colored crystal beads, Soft Flex and Soft Touch beading wire and a button clasp closure. During the video, I also talk a bit about the two different wire brands and some recommended uses for Soft Touch beading wire. You don't need much in the way of supplies, just some basic jewelry tools such as a pair of cutters, crimping pliers, beads, beading wire, a clasp and of course a mini macrame board!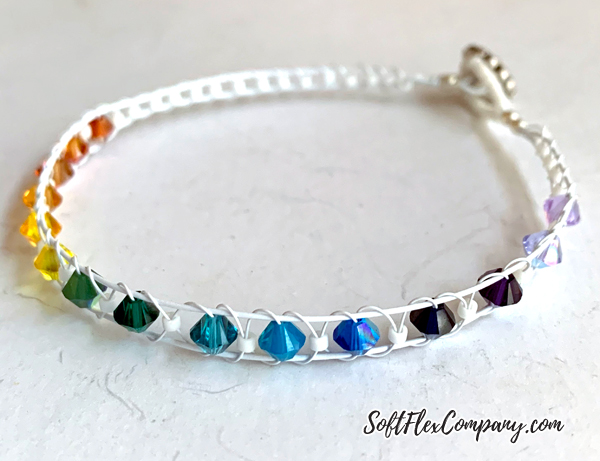 Supplies:
Soft Flex Beading Wire .019/Medium in White
Soft Touch Beading Wire .010/Very Fine in White
4mm Crystal Bicone Beads in Rainbow Colors
Clasp or Button for Closure
Mini Macrame Board
Crimping Pliers
Cutters
If you make your own wrap around knot bracelet using Kristen's techniques and instructions, we would love to see your handmade jewelry creation. Share your work with us on our VIB Facebook group. VIB is a community of artists and crafters. VIB is comprised of beginners, beaders that have mastered a good number of skills, and seasoned pros that design gallery quality jewelry. Everybody there loves jewelry and crafts. If you post an image, you can expect a bunch of appreciative comments. If you need help, you can get tips or gentle critique. It is a great place to network and make new friends. During this terrible pandemic, VIB has been , for us, a fun way to stay active and socialize, without leaving quarantine.
Making Jewelry With TierraCast Components
We love the Hammertone Connectors we are carrying. They are manufactured by TierraCast. They are absolutely lovely. These weathered connectors add so much charm and detail to a jewelry design. You can use the smaller ones as subtle flourishes or use the big rings and make your jewelry really pop. Sara wanted to show off these splendid jewelry components and make some gorgeous jewelry.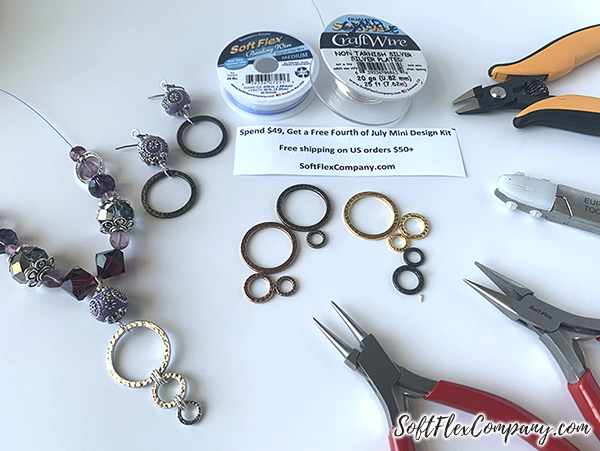 This is a fun video for anybody that would love to learn how to wire wrap or create a pendant with connectors. Sara showed how to wrap the connectors as dangling links and make a focal with them. If you opt to make a focal like this, you are going to need the tools for your project. Sara uses chain nose pliers, round nose pliers, and nylon jaw pliers to wrap the wire around the connectors. To finish string the necklace, she uses crimping pliers and cutters.
Supplies:
Purple Polka Dot Bead Strand (Sold Out)
Tanzanite color Soft Flex Beading Wire - Medium Diameter .019
Hammertone Ring Connectors
20ga Soft Flex Craft Wire
20ga Soft Flex Craft Wire in Non-Tarnish Silver
Chain Nose Pliers
Round Nose Pliers
Nylon Jaw Pliers
Cutters
Magical Crimping Pliers
2x2mm Crimp Tubes
Bead Stoppers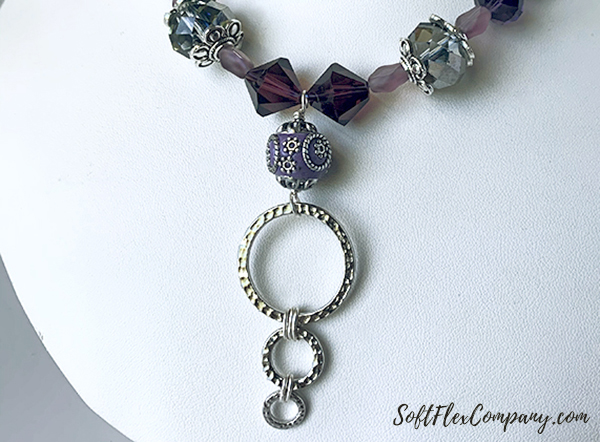 SilverSilk Seed Bead Flower Focal in 10 minutes
Nealay filmed a fun video this week. He showed us how to make a focal in just minutes. His design is lovely. It is a floral band that you can use by itself or hang a pendant from. The focal really adds to his amazing pendant, which you can find in his Tokyo Nights Neon Dragon Kit. If you want to learn how to wire wrap a focal, this is fun and super quick video. Nealay used a 16 gauge craft wire, which we, unfortunately, do not carry. But we do have the 26 gauge Soft Flex Craft Wire he uses to wrap around the 16 gauge. If you want craft wire pointers, this is a good video to watch and pick up some tips.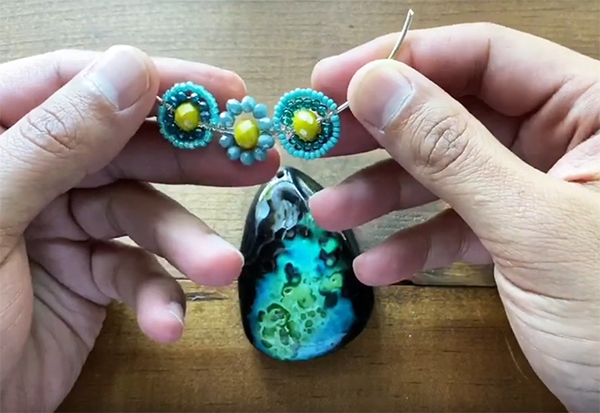 From Nealay:
Seed beads are SO fun to work with. Here, I demonstrate an easy and stylish focal piece that you can hang a pendant from. I use a 3-inch length of 16-gauge wire and wrap 26-gauge wire around it with seed beads to create circles. It's easy, fun and addictive. You can hang this design from SilverSilk Black Capture chain with just a few know-hows from this video. Questions? You're more than welcome to send me an email at orders@silversilkonline.com.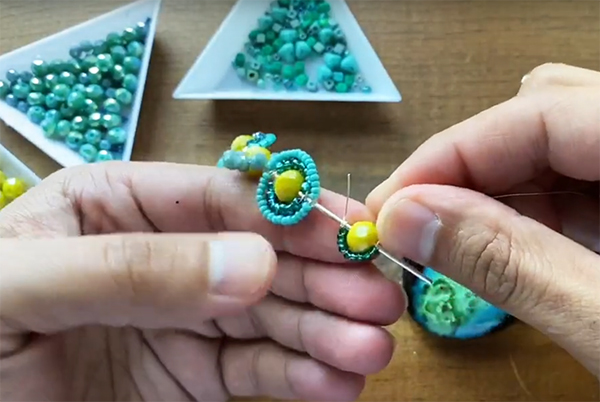 Supplies:
Tokyo Nights Neon Dragon Kit
SilverSilk Hollow Mesh
16 Gauge Craft Wire
26ga Soft Flex Craft Wire
26ga Soft Flex Craft Wire in Non-Tarnish Silver
Nylon Jaw Pliers
Cutters
Chain Nose Pliers
Round Nose Pliers
Flat Nose Pliers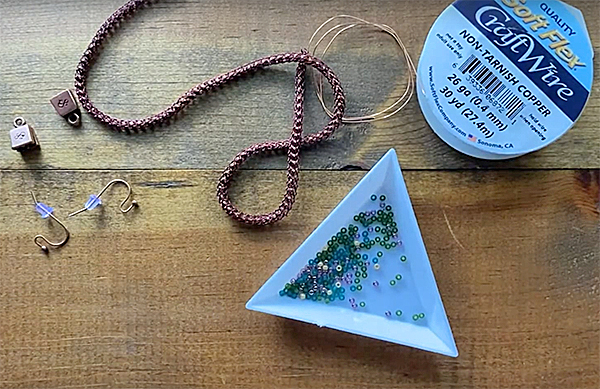 Nealay is a talented teacher. If you enjoyed this video, make sure you follow along on his social media and YouTube. You can find him on his YouTube channel and Facebook Page. Join his Silkies Facebook group.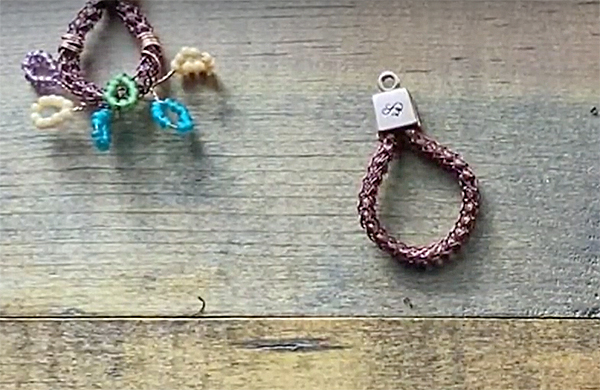 From Nealay:
My channel is dedicated to learning how to make high quality jewelry with SilverSilk with an emphasis on design. You can follow my journey here: www.instagram.com/silversilkandmore, www.facebook.com/silversilkandmore Or join our Silkies group and be a part of the conversation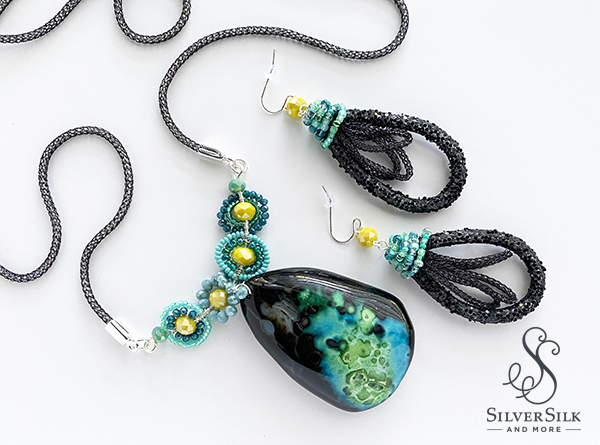 Amazon Princess Unboxing by Sandy Huntress
Sandy Huntress is a talented jewelry designer. She has a fantastic YouTube channel where she explores jewelry making techniques and provides tips and tricks on how to become a better crafter. You can learn how she works with stamps, polymer clay, paints, resin, and more. She has a wonderful collection of jewelry projects. Check out her library if you enjoy watching an artisan at work.
We sent Sandy our Amazon Princess Design Kit (Sold Out). Our mystery themed jewelry design kits are loaded with goodies. We include an exclusive mix of beads from Jesse James Beads, findings, beading wire, and sometimes, we even throw in something unusual. We want our kits to feel challenging. We want it to be accessible for beginners and advanced designers alike, but we love to throw in elements that may seem difficult to test our beaders skills and make them think out of the box. We think jewelry is great when it is easy. But when you really have to engage your mind and process your materials and tools, we think that your jewelry has the potential to be life changing. Do you like a challenge? You will love our monthly kits. Make sure you grab one quick, they sell out fast and when they are gone, they are gone for good.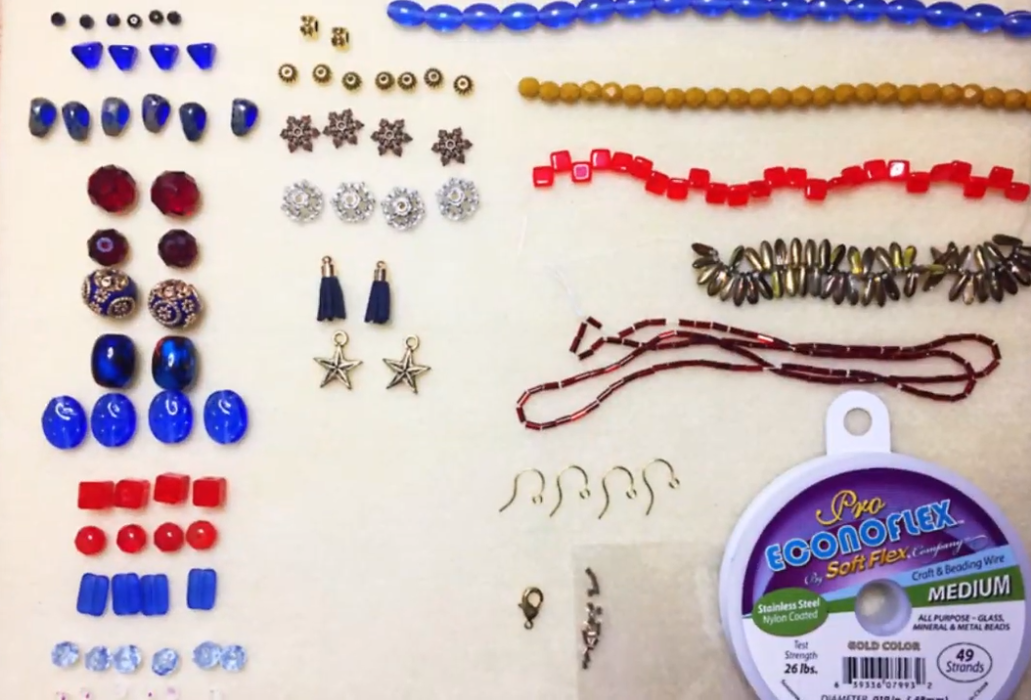 Look at all of the goodies inside! We stuff our kits with so many jewelry making items. We include enough jewelry supplies to make a bunch of necklaces, bracelets, and earrings. All you need are basic beading tools to craft something gorgeous - a pair of crimping pliers and a pair of cutters will typically be all that you need. Occasionally, we will challenge you with Craft Wire, so you may need to pick up some wire wrapping tools.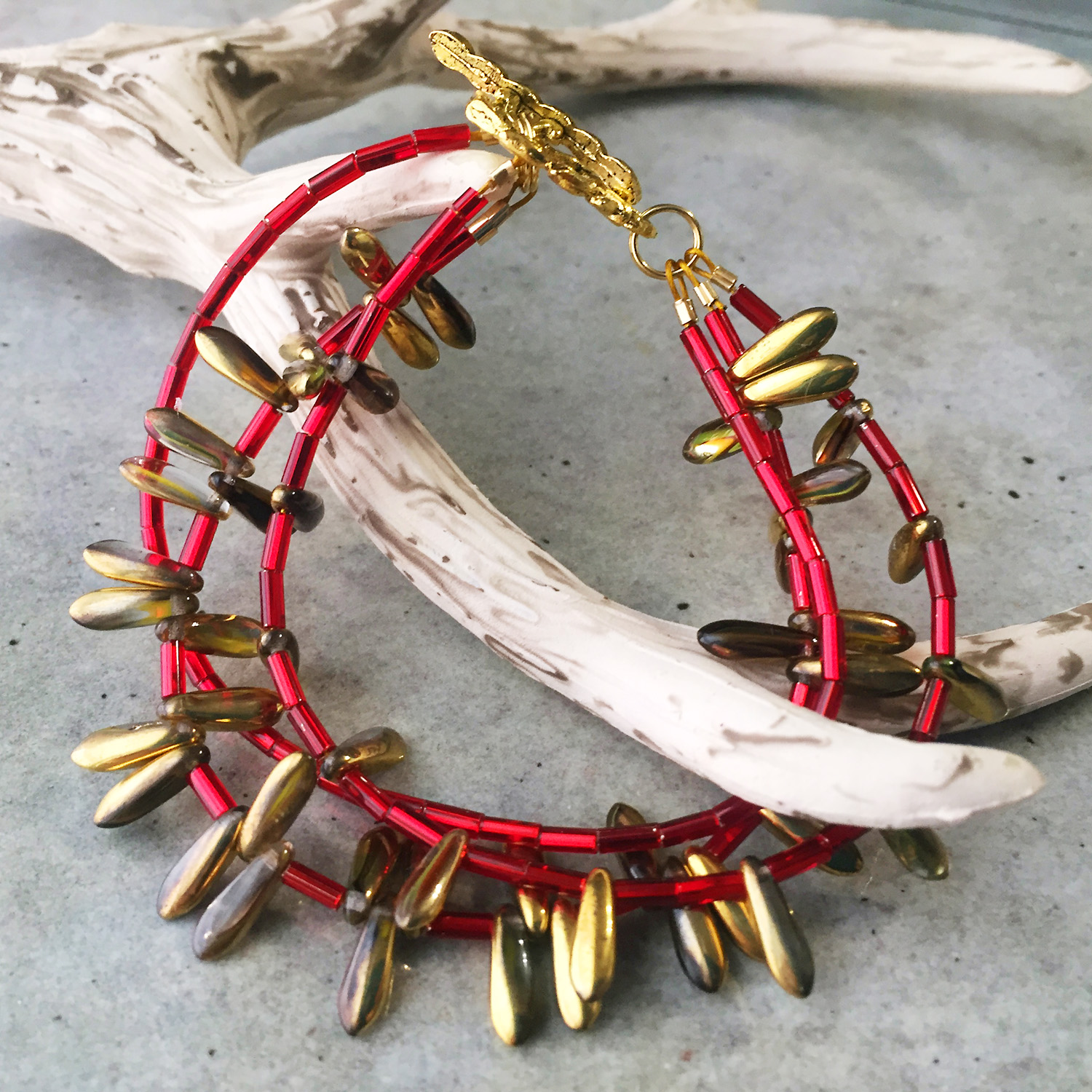 It turns out, we really challenged Sandy with this design kit. Our Amazon Princess kit was a celebration of Wonder Woman. Wonder Woman's colors happen to be Sandy's least favorite color combination - ever. She does not like the primary triadic colors: red, yellow, and blue. She was going to have to work up some designs in her head that would be pleasing before stringing her jewelry. Fortunately, Sandy knows that ratios can make all the difference. If she strings an equal amount of each color, she is going to end up with something she finds unpleasant. But using a ratio, like 80/20, the colors will accent each other and produce something she does find pleasing.
We think Sandy knocked it out of the park. She took a kit with colors she did not enjoy working with and made something amazing. What do you think? Did she hit a home run here? Let us know your thoughts on our VIB group. If you enjoy a challenge, make sure you grab a design kit today! Our latest kit, was the Purple Polka Dot Design Kit (Sold Out). We cannot imagine anybody not like purple. But even then, there was a vocal anti-purple person in one of our live shows. She was pleasant, but she definitely had strong thoughts on purple. We hope she bought this kit and tested her resolve. If she did, we imagine that she made something unique and wonderful!
If you would like to keep up with Sandy, follow her on these links. Check out her YouTube channel, she is so creative!
YouTube
Blog
Facebook
Instagram
Pinterest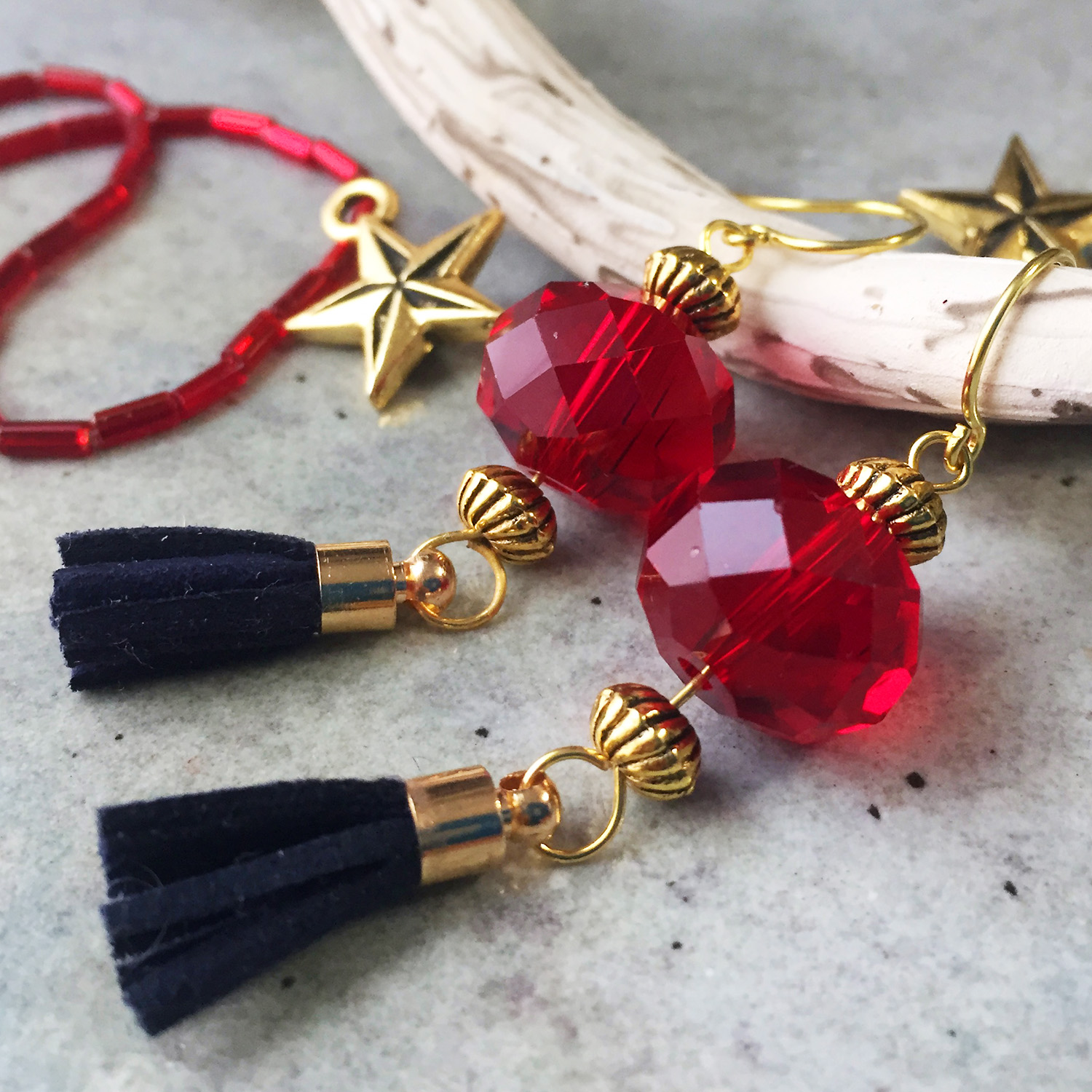 Join our Facebook group – VIB. Stay in the know. Stay up to date. From our bead shows to our video shows and sales, you can stay in touch with us. The community is full of artistic and helpful beaders and crafty people. Inspire and be inspired. Share your pictures and get the beading bug from others!
Visit the Soft Flex Company YouTube Channel!
---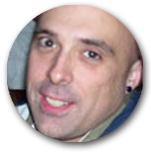 Blog contributor Thomas Soles loves Jazz Age writers and crunchy french fries. His favorite gemstones are Lapis and Pietersite. His favorite hobby is day dreaming. And his favorite mustache is Freddie Mercury's. As you can see, he has a healthy (or possibly unhealthy) sense of humor. You can write to him at Thomas@SoftFlexCompany.com