How is your new decade going? We kicked ours off with some good old fashioned creative fire. This week we explored Memory Wire jewelry. We showed you how to use a knitting spool to make a lovely necklace. We watched our friend design a gorgeous SilverSilk jewelry set. If you love eclectic jewelry and exploring new mediums, you are going to want to check out our latest jewelry video recap!
Kristen launched this exciting week with a video showing how to use a knitting spool. If you like timeless, minimal jewelry designs, you are going to love this classic necklace. Sara showed us how to make a choker using Memory Wire and beads from our Snow Queen Design Kit and Bead Mix. Join us Saturday morning, she is going to be premiering a follow up video showing how to make a matching bracelet. You can watch her on YouTube on Saturday 1/18 at 8am PST. Click the link below for information and check out finished images of her work in the blog. Finally, we watched our good friend Nealay, from SilverSilk, as he crafted an amazing jewelry set. Let's get creative!
Don't miss Sara's Snow Queen Memory Wire Bracelet video premiering Saturday, January 18 at 8am, PST.
Sara is designing a Memory Wire bracelet to match the Memory Wire choker she made this week. If you like Memory Wire, you won't want to miss out! Make a date with us this Saturday and join us for the premiere.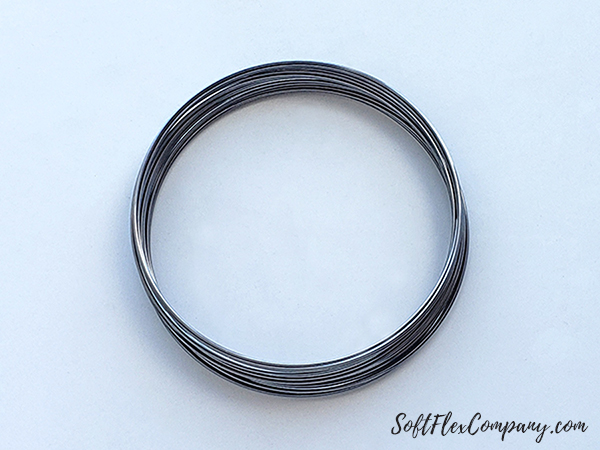 Making jewelry is easy with Memory Wire.
Memory Wire is a hard steel wire. Memory Wire comes packaged in coiled loops. The wire holds this shape. If you want to design a bracelet, simply cut the wire at the selected number of coils. Just remember, adding beads will make the design expand, three coils will look larger with beads added. Once you have added your beads, you can loop the end of the wire and add a dangle to finish. The finished design will slip over your wrist. You do not need a clasp to finish your Memory Wire design. So easy!
Note: Memory Wire is a very hard steel. Using flush cutters or bead nippers on Memory Wire will result in dulled or broken tools. Make sure you use the right tool for the right job. Make sure you use Memory Wire Cutters as they are specifically designed to cut through this wire.
Jewelry Making Videos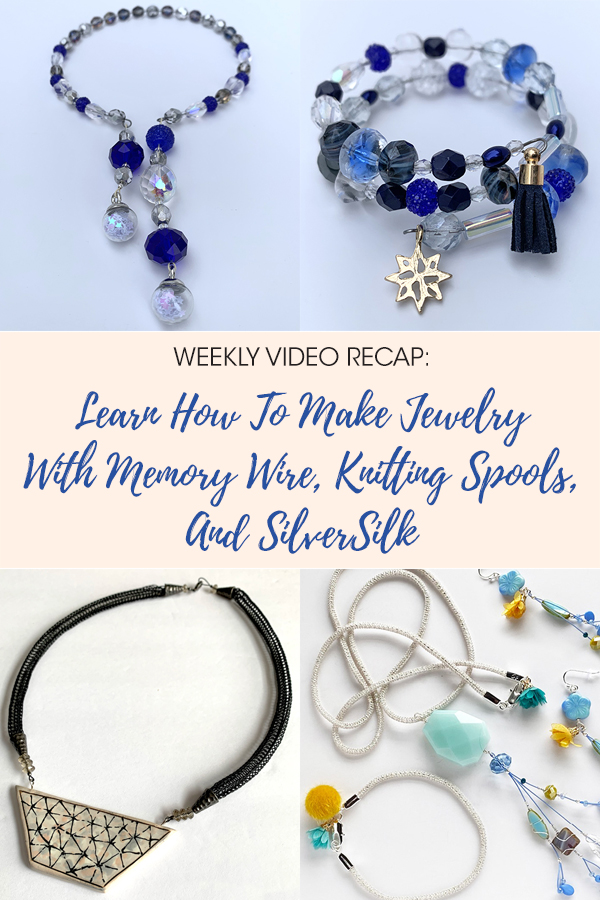 How to Knit a Necklace Chain on a Spool with Soft Flex Beading Wire
Kristen filmed another exciting episode of Free Spirit Beading on Monday. She is live on Mondays at 12pm PST.
Kristen wanted to film a lesson on how to use a knitting spool. She loves how versatile the spools are, you can use any of our wires to make jewelry. Any diameter, any brand - you can even use our Craft Wire. Each wire will have a different look and feel. It is a lot of fun designing with so many choices available. If you use Soft Flex Beading Wire, you have an incredible range of color choices. The finished knitted design will have an almost spongey feel to it. You can finish your designs without a clasp if you use Soft Flex as it has a flexible finish. Craft Wire will be a little more rigid but it has a stunning finish you are going to love. Get playful and try something new!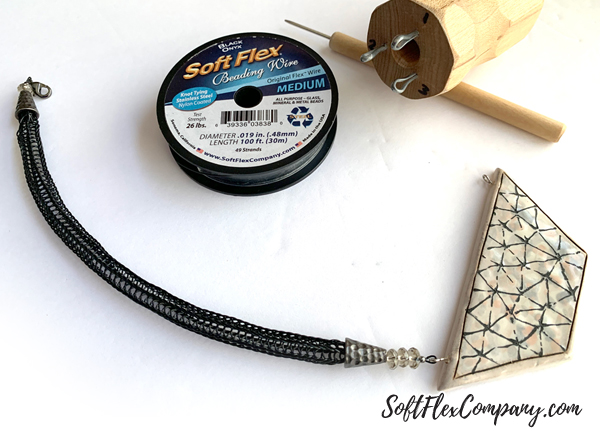 Our knitting spools come in three options - 3-pin, 4-pin, and 5-pin. Each option gives you a more and more wire dense look. You can add beads to your knitted wire as you go or you can let the wire shine. We have three styles we like to use on the knitting spools. Click the links to get an idea of what each looks like. For this demonstration, Kristen used knitting Style 3. If you need more help, you can visit our Tips & Tricks section. You can also check out our YouTube Library.
Check out our how-to pages on the three styles of knit we like to work with:
Knit with Beading Wire - Style 1
Knit with Beading Wire - Style 2
Knit with Beading Wire - Style 3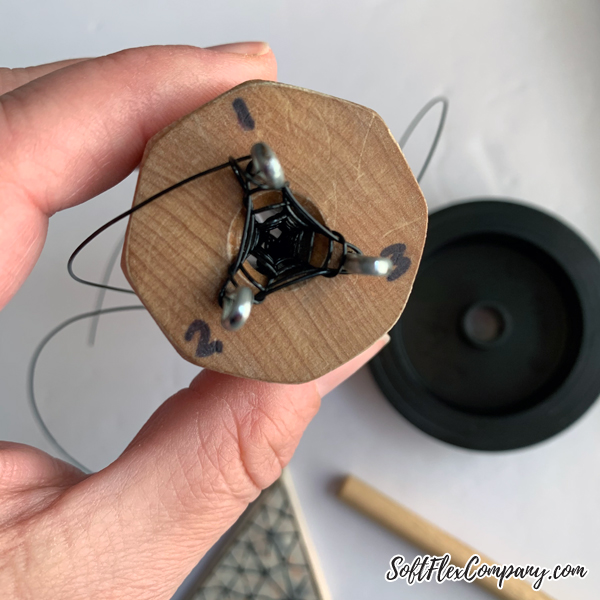 Supplies:
Soft Flex .019/Medium Diameter Wire in Black
2x2mm Crimp Tubes in Sterling Silver Black Oxidized
3-pin Knitting Spool
3-4mm Rondelle Beads
Handmade Artisan Ceramic Pendant by Damyana Dimitrova
Hammered Cones in Black / Gun Metal
Lobster Clasp in Gun Metal
Cutters
Crimping Pliers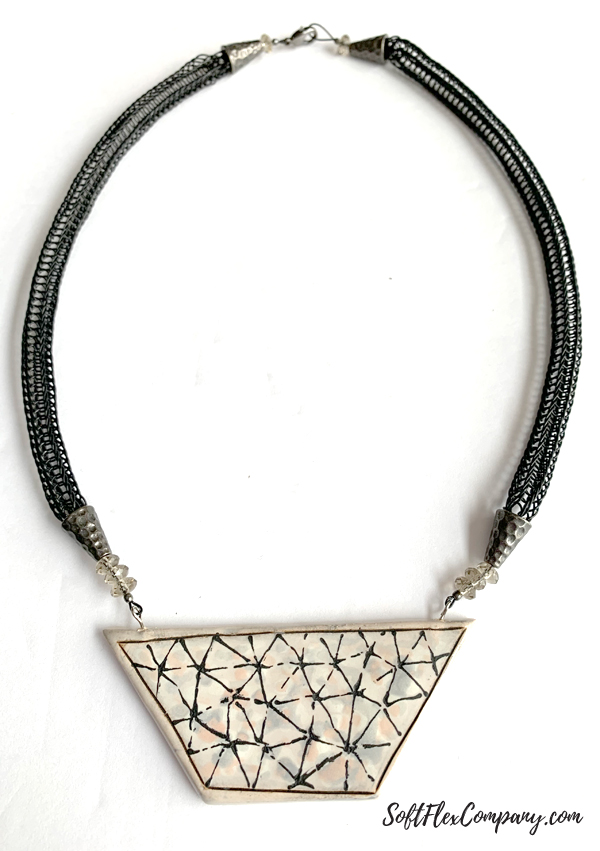 Knitting spools are great for creating bracelets or necklaces. You can add beads or just show the wire and a clasp. You are going to love this tool if you love working with wire or are just getting bored of stringing single strand necklaces. There is a tiny learning curve, but once you figure out how the knitting spools work, you can multitask and use them while you watch TV or even during a flight. Every passing hour is a great time to infuse your world with creative energy!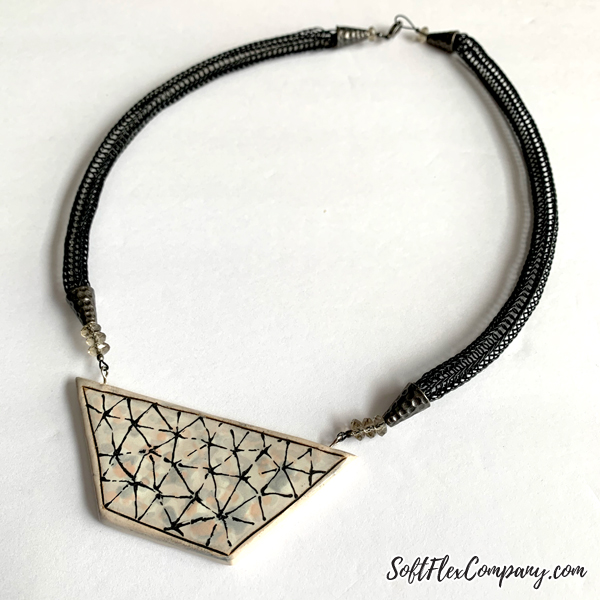 Live Facebook Video with Sara: Learn how to use Memory Wire to make jewelry
We just added Memory Wire to our shelves. Lots of us at Soft Flex Company enjoy the look and ease of creating jewelry with Memory Wire. Sara figured it was a good time to jump on Facebook and show how easy it is to use this fun wire. If you have never used Memory Wire or just love it - you are going to want to spend a little time checking this video out.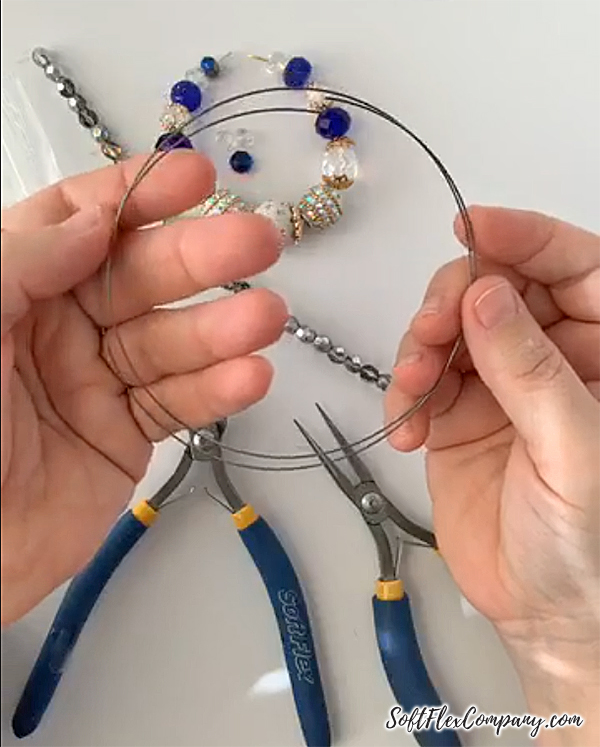 Memory Wire is so simple to use. You are going to want to add some to your jewelry making kit. The only thing you need to consider is how hard it is. Memory Wire is a very tough steel wire. Make sure you have cutters designed specifically to cut it. If you try cutting this wire with bead nippers or flush cutters, you are going to ruin your tools.
Choker Supplies:
Snow Queen Bead Mix
Snow Queen Bead Strand
Memory Wire Necklace
Round Nose Pliers
Hi-Tech Steel Memory Wire Heavy Duty Cutter
Dangle Supplies:
Soft Flex .019/Medium Diameter Wire in White
2x2mm Crimp Tubes
Magical Crimping Pliers
Cutters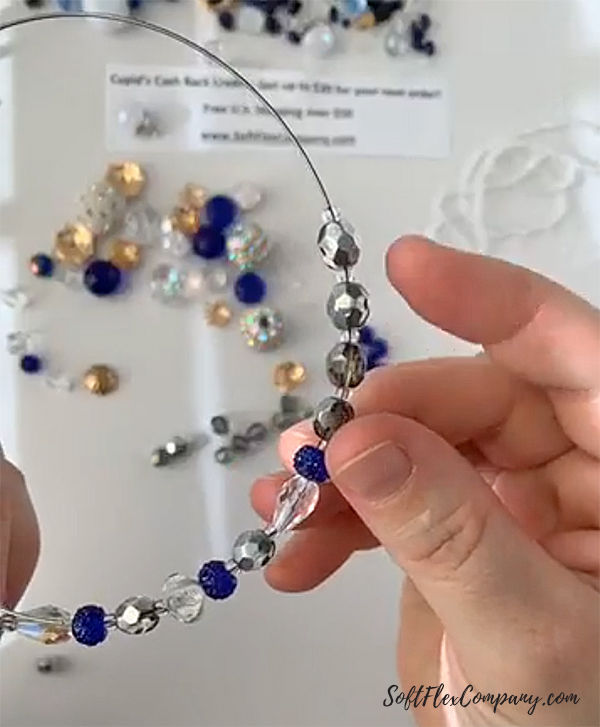 Memory Wire comes in shaped coils. Memory Wire remembers this shape and will not lose it - thus the name. To make a jewelry design, all you have to do is cut the number of coils you want to use. For Sara's necklace, she just uses a single coil. She cuts it just shy of a full coil and adds dangles. You can opt to cut three or four coils and make a fun choker. Just make sure you take into consideration that adding beads will make the necklace larger. So, make sure you are conservative with your coils unless you want a large piece of jewelry.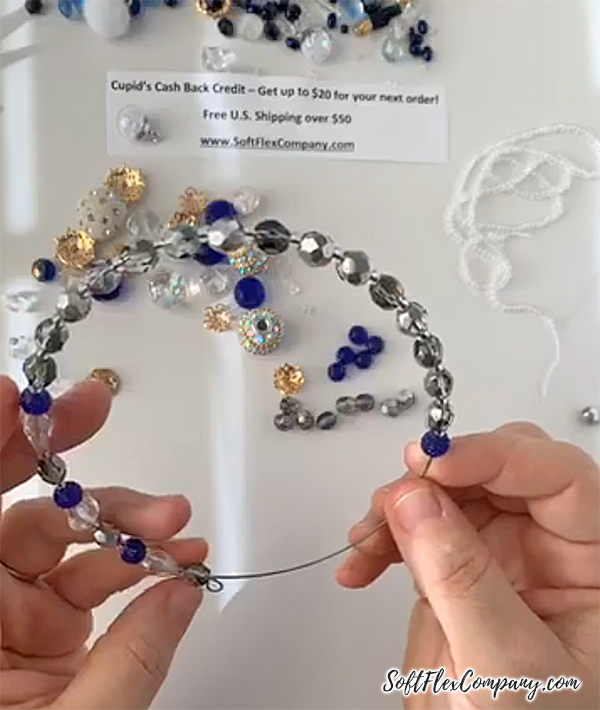 This choker is so easy. Add beads on your wire and add a loop at each end to hold the beads. You can also glue end caps on the ends if you do not like the look of the loops.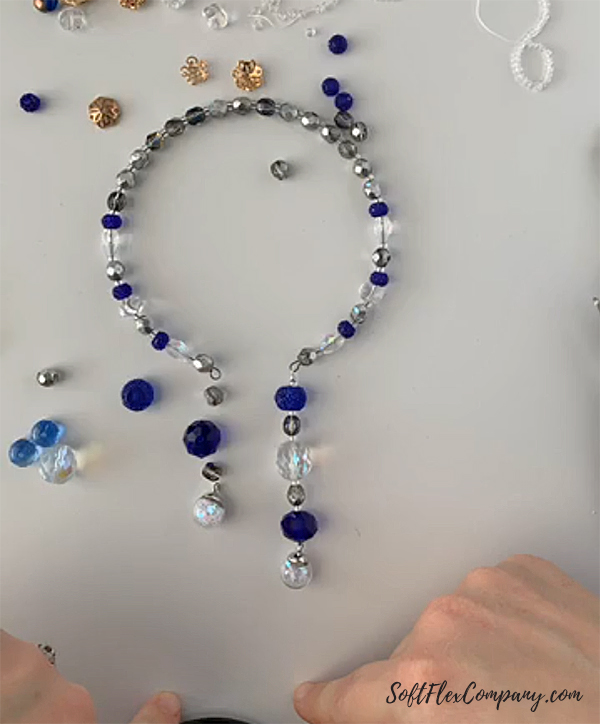 You can add a long dangles or short ones. You can even just leave the loop alone. Sara liked the look of asymmetrical dangles.
Snow Queen Bead Mixes and Bead Strands look amazing on this design. Perfect for the chill of winter!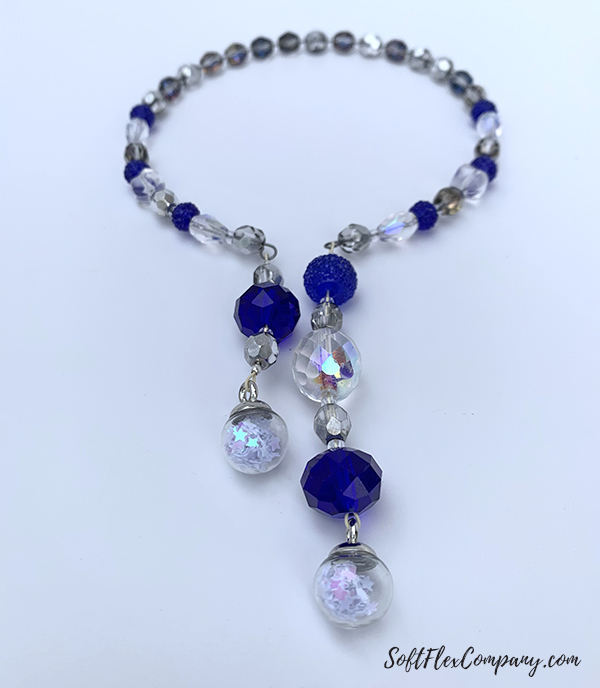 Make sure you join us on YouTube on Saturday to see how Sara designs a bracelet to accompany her choker. This bracelet is just as easy to make and is a more traditional Memory Wire design. She has a couple coils on this one, which makes it a larger piece. The dangles on the wrist are just single beads, but you can add whatever you like to finish the design.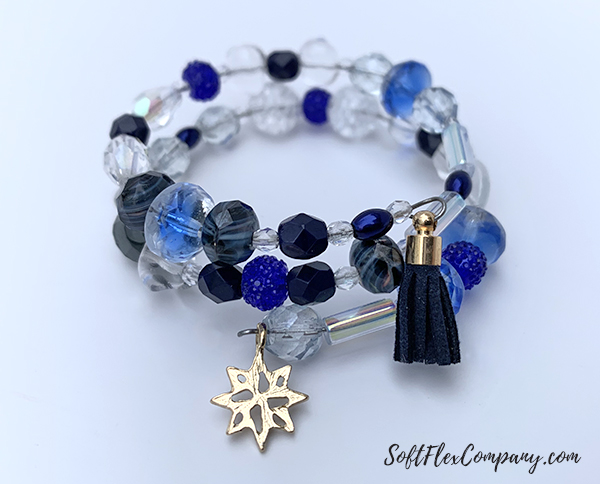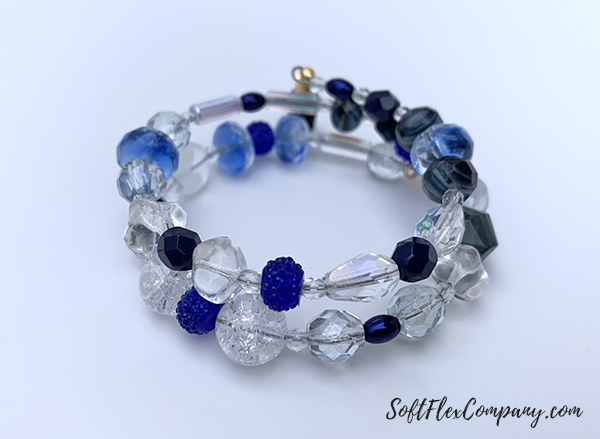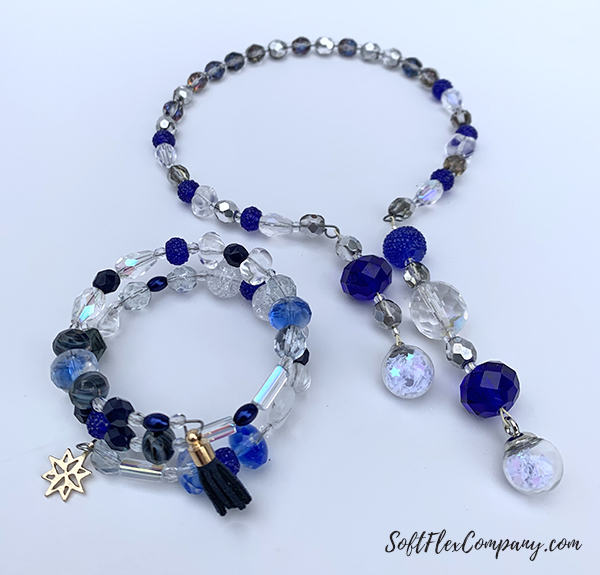 Don't miss Sara's Memory Wire Necklace video premiering Saturday, January 18 at 8am, PST.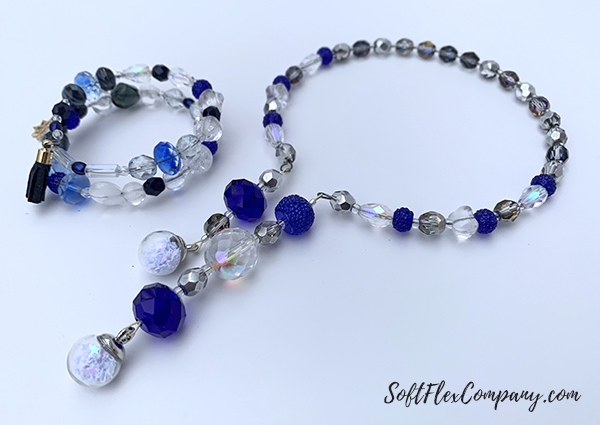 SilverSilk Paris in the Rain Mystery Kit Unveil and Making Jewelry Designs
Our friend Nealay returned this week with his amazing mystery kit, Paris in the Rain. He showed us how it is to make a full jewelry set with SilverSilk, Soft Flex Beading Wire, and Jesse James Beads.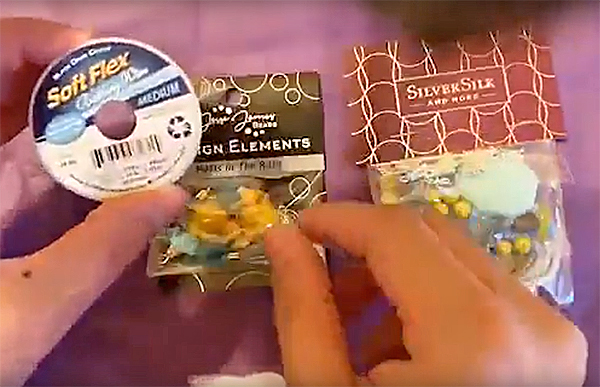 From Nealay:
Watch me open the fantastic new SilverSilk Paris in the Rain Deluxe Mystery Kit and make several jewelry designs using just the kit materials and some Craft Wire.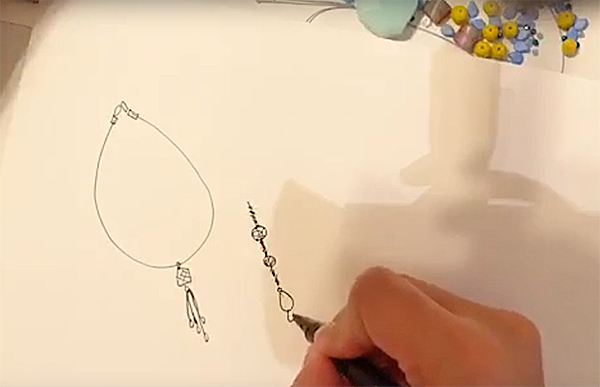 Supplies:
Paris in the Rain Deluxe Mystery Kit
Soft Flex .019/Medium Diameter Wire in Tanzanite
2x2mm Soft Flex Crimp Tubes
SilverSilk Pearlesque Chain
SilverSilk End Caps
SilverSilk Lobster Claw Clasp
Jesse James Beads
Nylon Jaw Pliers
Round Nose Pliers
Magical Crimping Pliers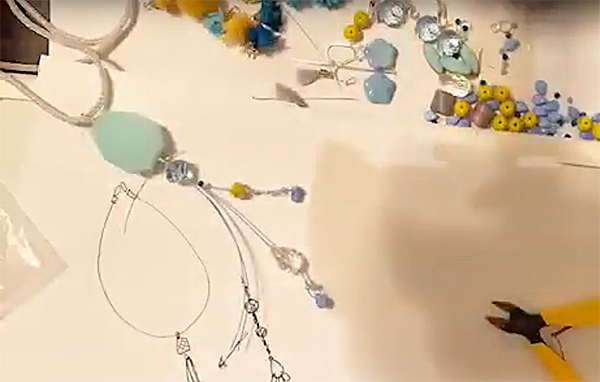 It is so fun to watch Nealay work his jewelry making magic. He sketches his design out before he commits to it. It is such a thoughtful and detailed way to create. It is easy to get a sense of the finished design before he even strings the first beads.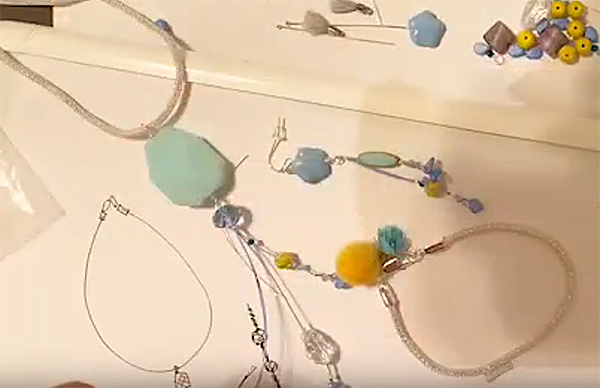 You can find Nealay on Facebook and YouTube. If you are a fan, make sure you join his active group on Facebook - The SilverSilk Silkies. He is very accessible and loves to answer questions. He is a great jewelry teacher and source of inspiration.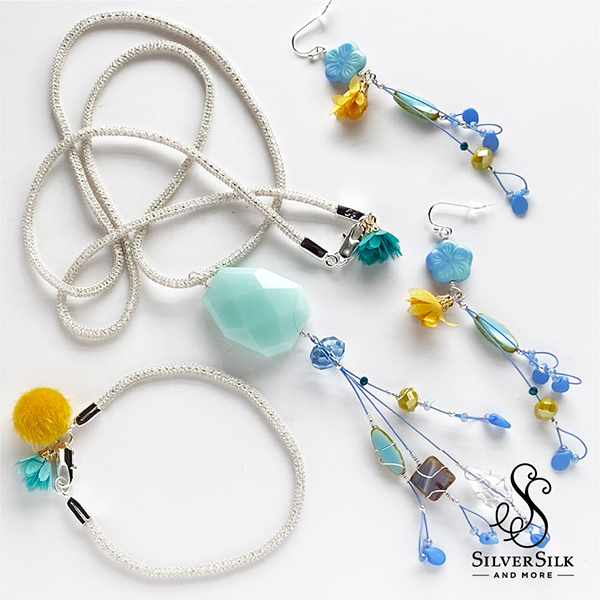 Join our Facebook group – VIB. Stay in the know. Stay up to date. From our bead shows to our video shows and sales, you can stay in touch with us. The community is full of artistic and helpful beaders and crafty people. Inspire and be inspired. Share your pictures and get the beading bug from others!
Visit the Soft Flex Company YouTube Channel!
---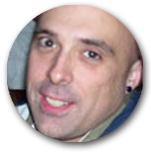 Blog contributor Thomas Soles loves Jazz Age writers and crunchy french fries. His favorite gemstones are Lapis and Pietersite. His favorite hobby is day dreaming. And his favorite mustache is Freddie Mercury's. As you can see, he has a healthy (or possibly unhealthy) sense of humor. You can write to him at Thomas@SoftFlexCompany.com