We have a colorful selection of videos for you to binge today. We added a splash of patina paints to our components this week. We took a look some vivid new Czech Glass on our shelves. We introduced a make-along kit for the Great Bead Extravaganza. Joyful Beading returned to our VIB Facebook group. And finally, we learned an easy way to string beads and make brilliant jewelry with SilverSilk Hollow Mesh. If you want to add some color to your life, you won't want to miss these vibrant jewelry making videos.

Learn a new craft in under a minute! Sara and Kristen have been uploading 30 second Instagram Reels showing easy to follow jewelry making techniques and craft/hobby ideas. This week, learn how to patina a finding in lightspeed. And learn how to string handmade earrings to pair with your new necklace. Patina paints are a great way to add new life to your beading collection or crimps. Add color to your newest design. These paints are super easy to work with and Kristen will show you how to make everything look lively and wonderful. Sara showed off our elegant new Czech Glass collection. We also introduced a kit that you can buy and make jewelry along with us during an upcoming video. If you are a beginner, this make-along will be like an easy to follow beading course online. Learn how to string beads and finish jewelry! Finally, we caught up with Nealay. He showed us how to pair medium .019 Soft Flex Beading Wire and SilverSilk Hollow Mesh. If you want an exotic necklace that looks like it came from a high end gallery - this video is a great watch!
The Great Bead Extravaganza Spring Fling Make-Along Kit

Retail buyers will receive 10% Off The Great Bead Extravaganza Spring Fling Kits at checkout. Other buyers will receive their applicable discounts. Plus, spend $49 or more and get $10 off with Kit. Use Coupon FLING. Offers not valid with any other order discounts and ends March 9th or while supplies last.
Are you a Free Spirit Beader? Would you like to make jewelry with Kristen, using the same materials she is using? The Great Bead Extravaganza Spring Fling Make-Along Kit is your chance to design with Kristen. This lovely kit comes in two colorful options: Purple and Silver with Dagger Beads or Turquoise and Gold with Rondelle Beads. Recreate Kristen's jewelry or make your own unique design.
Join us in The Great Bead Extravaganza Facebook Group on March 20th at 1pm PST for the make-along with this kit!
Supplies are very limited. Don't miss out!
Jewelry Making Videos
Learn How To Make Jewelry In 30 Seconds
Learn a new jewelry making technique in record time!
Check out these 30 second jewelry tutorials on Soft Flex Company's Instagram Reels! Sara shows you how to string an easy pair of earrings and Kristen teaches us how to patina jewelry components for a colorful finish. Follow our page to see all of our fun designs!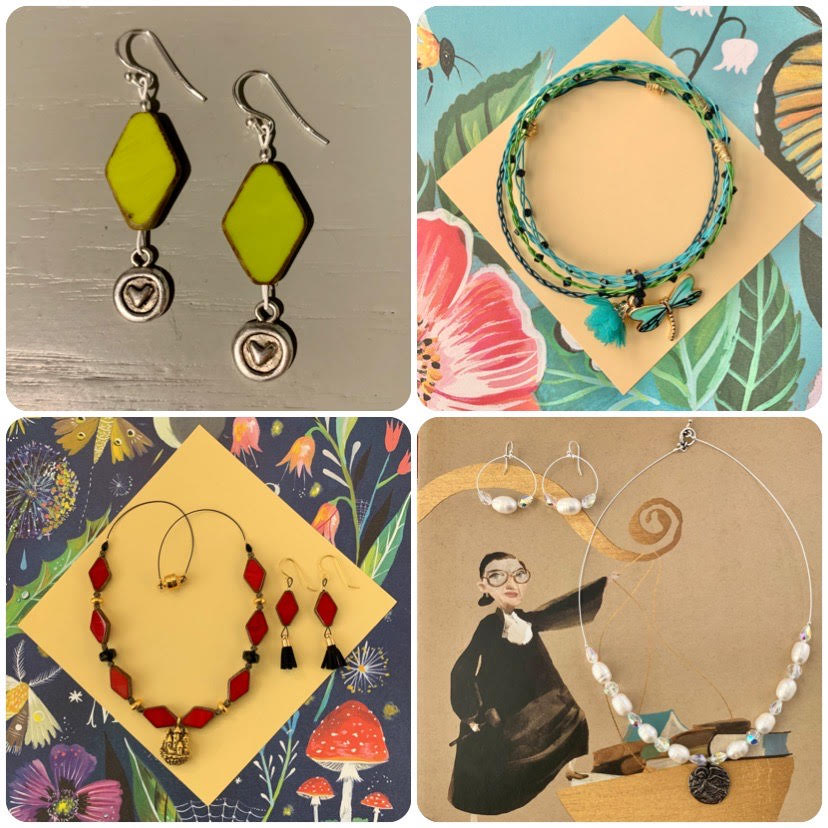 Joyful Beading Returns! Join Us For Joyful Beading On Our VIB Facebook Group
Download the Full Calendar for March - Click HERE.
Join the fun on our VIB Facebook community. Every day of Joyful Beading is a chance to share your finished jewelry designs with artists and peers that cannot wait to see your work. Click the image above to visit our blog about Joyful Beading. Every design you post with the hashtag #joyfulbeading is an entry to win our daily giveaway. You can post a single image with ten designs or ten images with single designs. Make sure they are hashtagged and follow the road map and you are in the contest.
Follow along on our Joyful Beading road map. Each day, we begin a new jewelry project. For instance, March 17th is 'Share a St. Patrick's Day Design'. On that day, every project that is St. Patrick's holiday themed, will be entered to win a $10 credit. Projects must be posted before midnight PST, on that date. If you post a kit project on a different date and it is not applicable to that date's project, you will not be entered to win. Make sure every project you post has this hashtag - #joyfulbeading. If you do not include the hashtag, we may overlook your entry.
There is no skill needed to win. Beginners have the same opportunity to win as professional jewelry designers. We take each name down. If you entered multiple designs, we put your name down multiple times on a spreadsheet. Once all of the names are collected, we randomize the names so the sheet is mixed and there are no clusters of a single name. We then use a random number draw. If your name is on that numbered line, you win! Pure chance - we are not biased by skill. Win a credit for your next purchase.
How To Add Color To Metal Components With Patina Paint
This week on Free Spirit Beading, we learned how to add color to our jewelry collection. If you have metal components that look bland and flat, give them a new lease on life with a fresh coat of Vintaj Patina Paints. You can also add color to your favorite and most interesting findings. In one video, we used a Turquoise patina to turn a plain silver leaf into an iconic part of a American Southwestern styled necklace. Don't be afraid to paint your canvas! Patinas are also wonderful if the color of your crimps in your beading supplies do not complement your latest necklace - give those crimps a splash of color and make your jewelry sing!
Kristen wears many hats: graphic designer, teacher, jewelry maker, and artist. Whenever she gets a chance to play with patina paints, she knocks it out of the park. Learn some helpful tips on how to use paint in your jewelry designs and get inspired. Her patina videos are so much fun. Just watch out, you could find another favorite jewelry making technique and get addicted. One fantastic thing about patinas is that every single necklace you string will absolutely be one of a kind.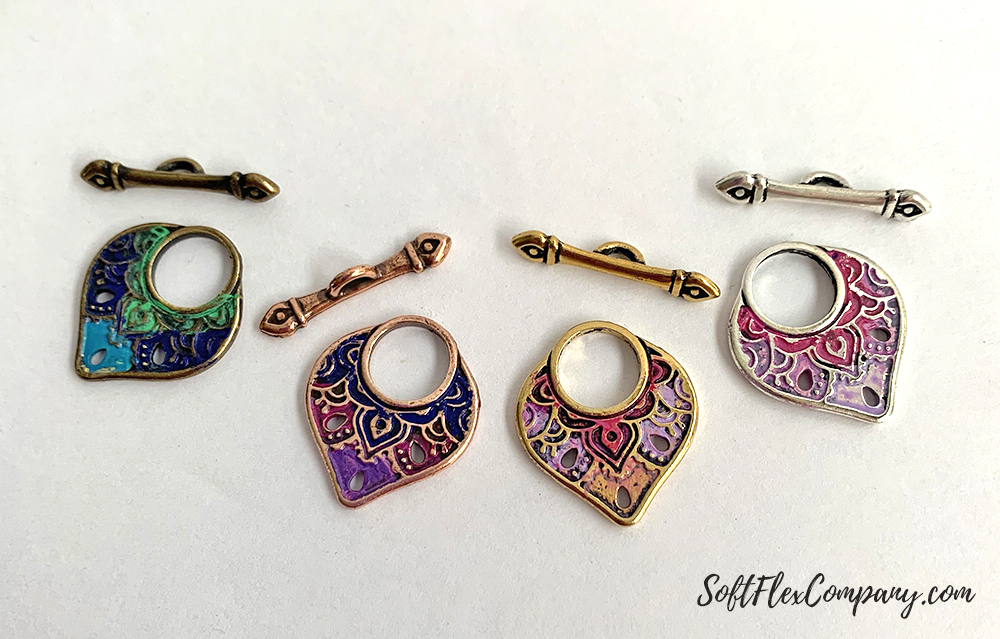 TierraCast Components or findings from your stash
Vintaj Patinas
Small Paintbrush, Water Cup and Paper Towel
Vintaj Metal Reliefing Block (optional)
Learn How To Make Jewelry With Czech Glass Table Cut Flat Diamond Beads
We love adding new products to our online catalog. This week, we shelved some stunning new Czech Glass beads. We also added a kit that will be a make-along for a video that Kristen is going to be filming, LIVE, in The Great Bead Extravaganza Facebook Group on March 20th at 1pm PST. If you grab this kit, you can make jewelry along with Kristen during the show. She can answer any questions you have and help you finish your jewelry design. You can also just create whatever jewelry strikes your fancy with the kit and let Kristen do her thing.
Soft Flex Beading Wire, .019 Diameter in Black Onyx
Czech Glass Table Cut Flat Diamonds
Bead Mixes
Clasp
2x2mm Crimp Tubes
Magical Crimping Pliers
Cutters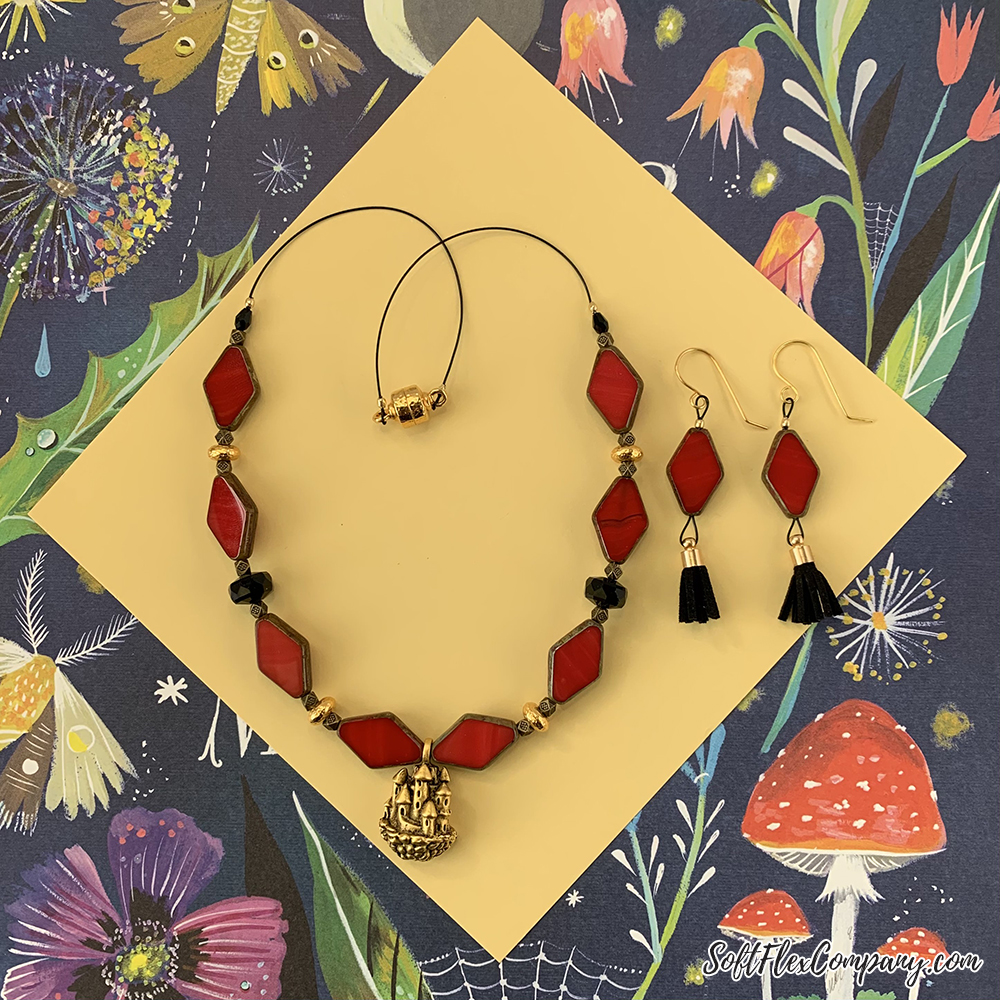 Easy Bead Stringing With SilverSilk Hollow Mesh
From Nealay:
Sometimes I have no idea what I want to make until I see a certain color or bead to start with from my unorganized bead stash. Here, I spilled out an entire bag of leftover beads from other projects onto my dining room table and found a rich palette of textures and colors that were begging to be assembled into a necklace. I also discovered another way to stuff Hollow Mesh so it was a win! I hope you find inspiration with this demo and will look in your stash to make something magical. Hollow Mesh can be found at www.silversilkonline.com. Happy beading and HUGS!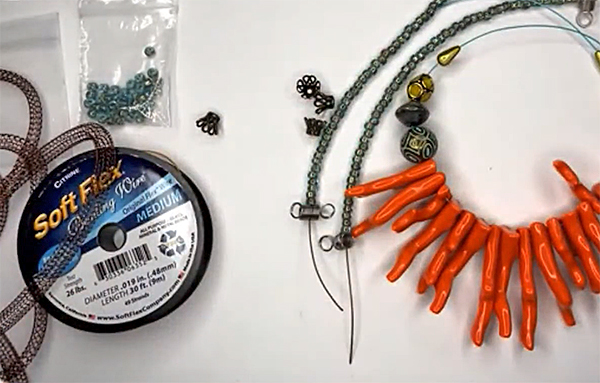 SilverSilk Hollow Mesh
Soft Flex Beading Wire, .019 Diameter in Citrine
Beads
Draw Plate
2x2mm Crimp Tubes
Crimping Pliers
Cutters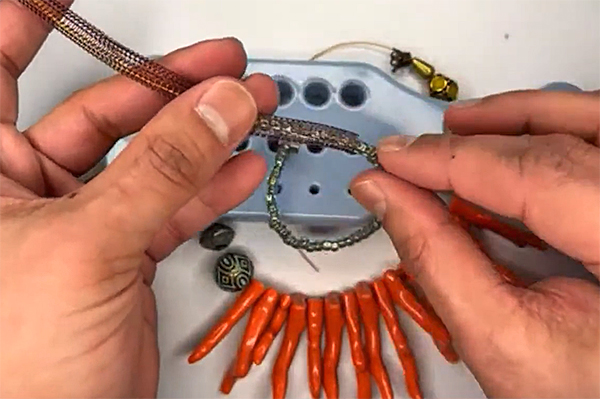 Be sure to mark your calendars for every Tuesday, 5:30pm CST and hop over to facebook.com/groups/silversilk to watch Nealay's videos live and ask questions.
Nealay's channel is dedicated to learning how to make high quality jewelry with SilverSilk with an emphasis on design. You can follow his journey here:
www.instagram.com/silversilkandmore
www.facebook.com/silversilkandmore
Or join his Silkies group and be a part of the conversation www.facebook.com/groups/silversilk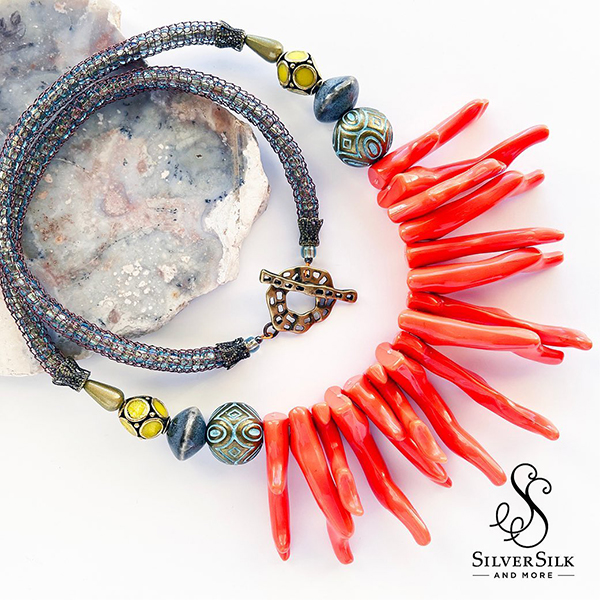 Join our Facebook group – VIB. Stay in the know. Stay up to date. From our bead shows to our video shows and sales, you can stay in touch with us. The community is full of artistic and helpful beaders and crafty people. Inspire and be inspired. Share your pictures and get the beading bug from others!
Visit the Soft Flex Company YouTube Channel!
---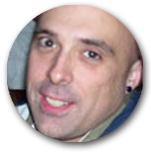 Blog contributor Thomas Soles loves Jazz Age writers and crunchy french fries. His favorite gemstones are Lapis and Pietersite. His favorite hobby is day dreaming. And his favorite mustache is Freddie Mercury's. As you can see, he has a healthy (or possibly unhealthy) sense of humor. You can write to him at Thomas@SoftFlexCompany.com