Another wonderful week for designing jewelry! This time we learned how to make some incredible necklaces, bracelets, earrings, and findings. Hopefully you caught these videos live. Watching us live is a great way to ask questions and pick the designers' brains a bit. If not, then a binge watch is in order! Grab your jewelry making kit and let's get started.


Kristen showed us how to craft decorative findings with the Lazee Daizee Viking Knit Wire Weaving Tool. She created some cones with dowel end of the tool. Nealay demonstrated our Draw Plates with his SilverSilk Galaxy Wire. And Sara opened our Flower Power Design Kit and created an absolutely stunning pair of earrings and a necklace. It was a fun week full of inspirational ideas.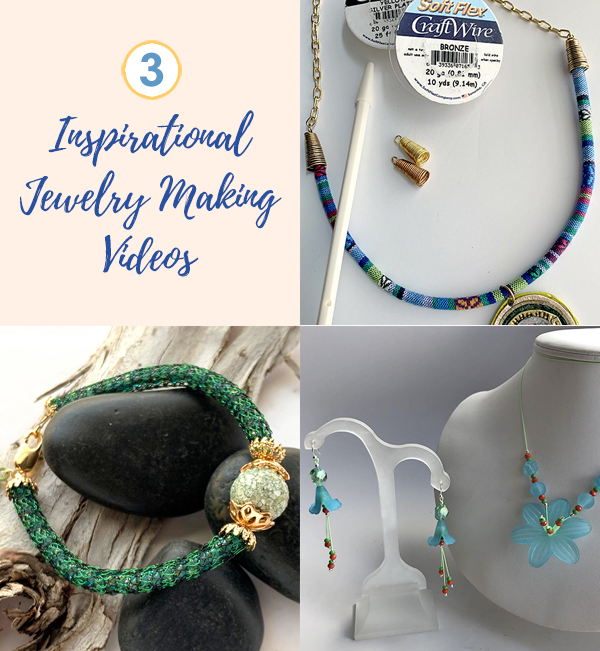 Make Cones With The Lazee Daizee And Soft Flex Craft Wire
Free Spirit Beading airs on Mondays at 12:00pm PST. Free Spirit Beading is a live beaded jewelry making series on YouTube. Kristen is a free spirited designer that loves to create. She does not worry about perfection. She believes that art is a journey and part of that journey is making mistakes and living with them. If you miss an episode, you can find it in our YouTube library.
This week, Kristen played with her first Lazee Daizee Viking Knit Wire Weaving Tool. Sara and James have already created some jewelry with the latest tool on our shelves. Kristen has not had a chance to put much time into it. She has been playing with the tool but she feels like she needs a little more practice before she commits to a show about Viking Knit.
But that doesn't mean she doesn't want to see what she can create with the tool. The Lazee Daizee has instructions that come with the tool on how to create cones. Kristen decided she wanted to try out the dowel side of the tool and see how easy it is to make them. She has made homemade cones in previous videos with Soft Flex Craft Wire. She has also purchased cones from stores and vendors, but she feels those can get expensive.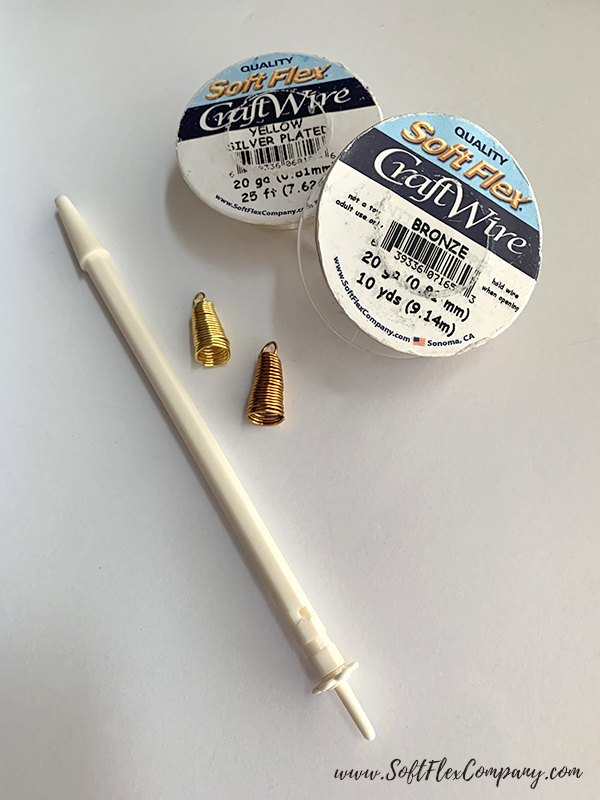 From Kristen:
The Lazee Daizee Wire Weaving Tool creates beautiful viking knit jewelry on one side of the tool and the other side of the tool if for making coiled wire jewelry cones! We are going to explore the cone making ability of the tool today using 20 gauge Soft Flex Craft Wire. After making cones, we'll attach them to fiber cord with Special T Glue and finish off the design with chain for a fun eclectic necklace design.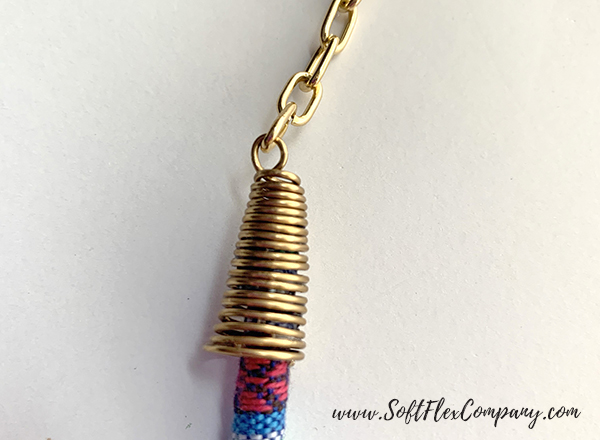 Supplies:
2 - 18" Strands of 20 gauge Soft Flex Craft Wire
2 - 6mm Jump Rings
12" of Fiber Cord
12" Chain
Pendant Approx 1.75"
Lobster Clasp
Lazee Daizee Tool
Special T Glue
Nylon Jaw Pliers
Chain Nose Pliers
Round Nose Pliers
Cutters
Jewelry Made with Wire & Fiber Book by Nealay Patel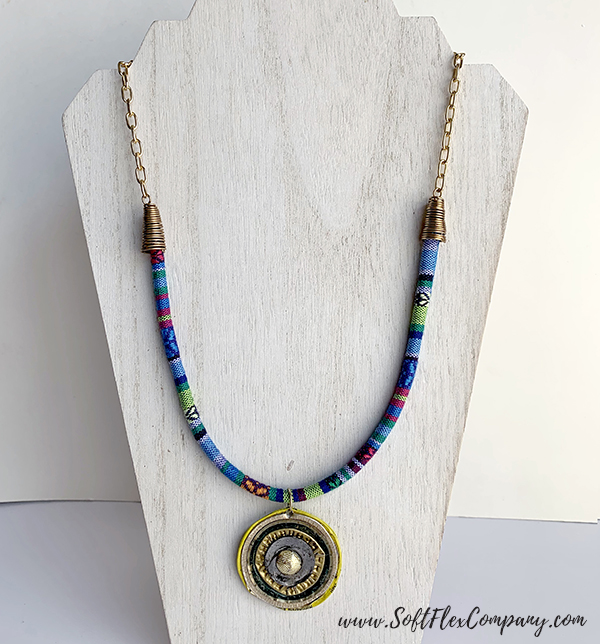 This necklace is so fun. Kristen bought the fiber cord from Nealay Patel. She bought the pendant at an art festival, but you can find the creator on Instagram - named Somniative. She did not need to purchase much more. For a minimal design it looks very sophisticated. The cones look great on this design. Kristen likes adding 'messy' cones to her knitting spool designs. Her messy cones are hand wrapped cones that look organic and do not conform to a spiral or a particular shape. They look fantastic. Messy cones may not fit every design though so, it's nice to have this tool for a more structured coiled cone option.
Making cones is easy with this tool. You can use any color of Soft Flex Craft Wire to personalize the design. You can make the cones with longer or shorter coils as you see fit. You can create a traditional cone without loops by cutting the wire free from the tool as stated in the instructions, but Kristen shows you how to make loops at the top instead to easily attach a chain to the cone. Work slowly and deliberately with Soft Flex Craft Wire, it is very forgiving and easy to manipulate.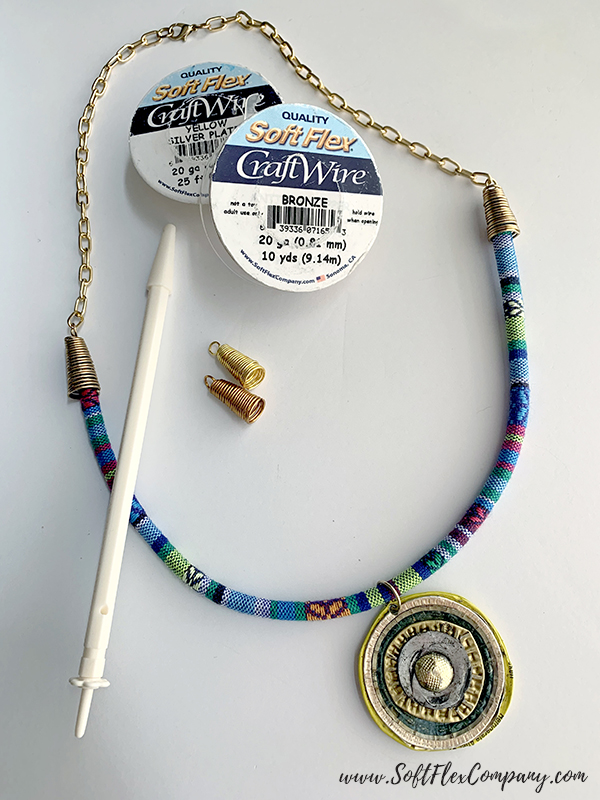 Keep an eye out for Kristen's next episodes. She films live on Mondays at 12:00pm PST. She will be making a Viking Knit design with the Lazee Daizee at some point when she is comfortable. It will be exciting to see what she creates. Kristen has some amazing videos. Make sure to view her previous work if you loved this episode.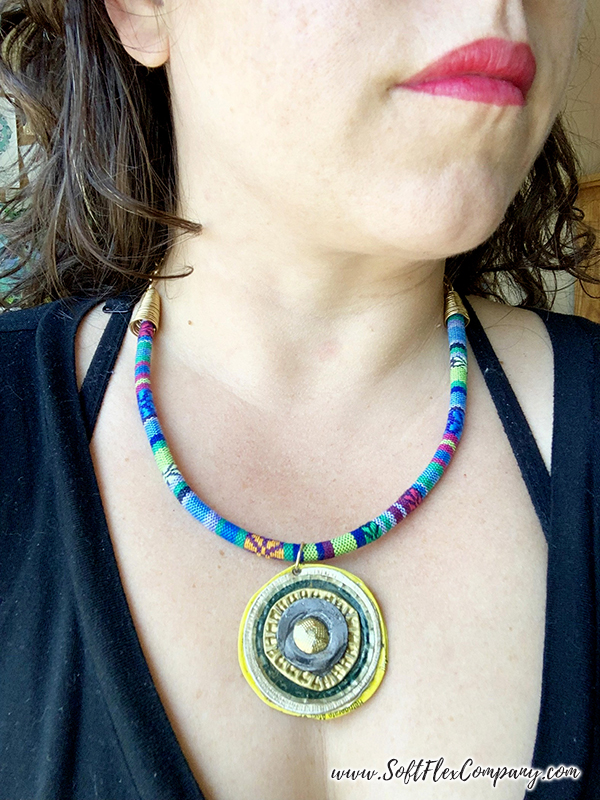 Using a Draw Plate with Galaxy Wire
We love Nealay. He is a creative designer and the owner of SilverSilk and More. His work is always fresh and exciting, he loves incorporating Soft Flex Beading Wire into his SilverSilk mesh and chain designs. He films Tuesday Tuts on Facebook. You get to watch him consider a design idea, sketch the design out, and then follow through. His finished jewelry designs are always decadent and eye catching.
Follow him on Facebook and check out his store here - SilverSilk and More.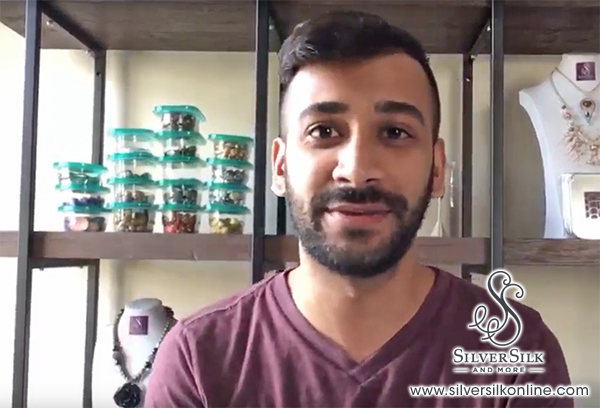 Supplies:
Draw Plate
Galaxy Wire
Bead Cap
Jesse James Pepper Stem Bead Mix
Bead Stoppers
Medium .019 Soft Flex Beading Wire Satin Silver
Beading Awl
2x2mm Crimps
Clasp
Crimping Pliers
Cutters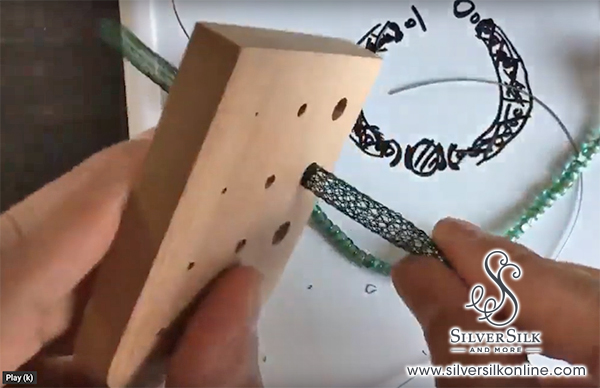 Draw Plates are useful if you have a knitted or stitched design that you want to compress and make smaller. Pulling your design through the holes on the board will shrink the diameter down to the size of that hole. Using a Draw Plate will also make your design longer as it compacts down, that means you will end up using less wire than you would have if you did not use a Draw Plate – a good way to economize your wire. Using a Draw Plate will also ensure that your designs are uniform in size.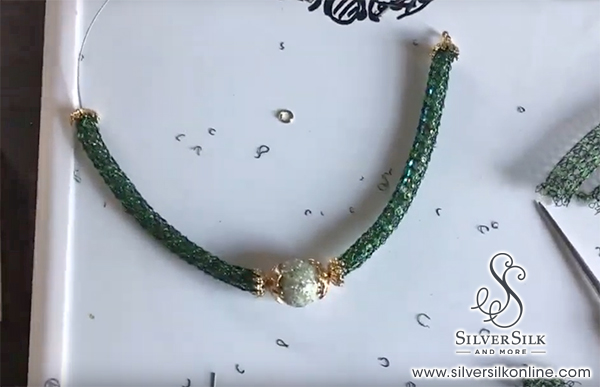 Don't miss Nealay's live videos. He is a lot of fun and has quite the following. You can join the party and become one of his 'SilverSilk Silkies' on his Facebook page. His Silkies post photos of their creations and discuss jewelry. Sounds like a great time!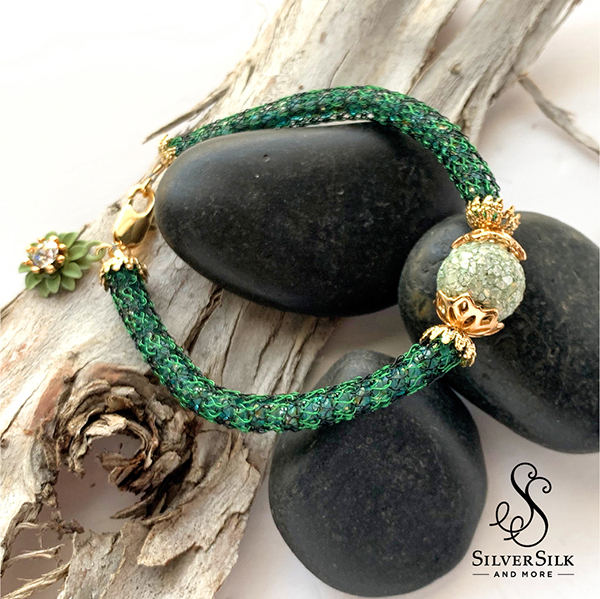 Creating Jewelry With The Flower Power Design Kit
Sara filmed her unboxing of our Flower Power Design Kit this week. Our Design Kits are mystery kits that we sell each month in very limited quantities. The Flower Power Design Kit was similar to our Neon Nights Design Kit, there were colors and beads in these two kits that required some out of the box thinking. These two kits were designed to be a little challenging. When you work with unfamiliar colors, you can really surprise yourself when your design comes together.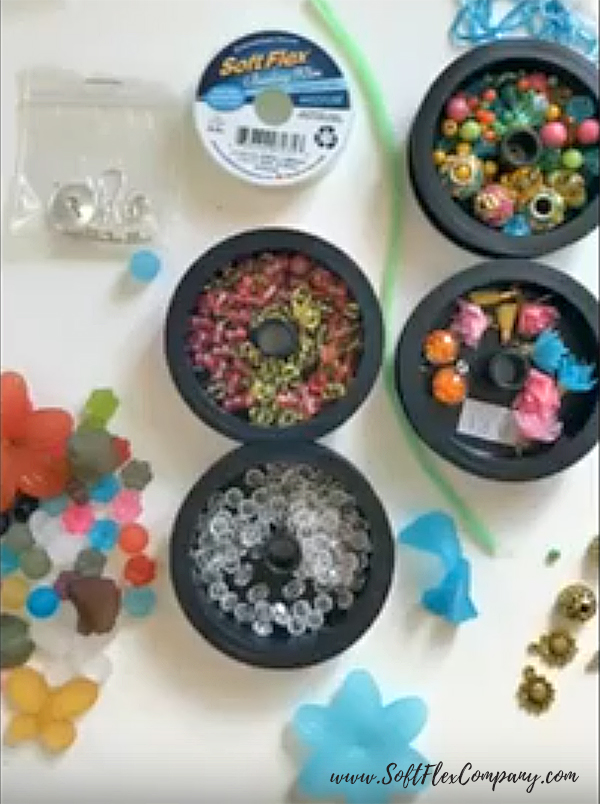 Sara has created some fantastic jewelry using our Design Kits. She films her unboxings live. You never know what she might make – and neither does she. She really blew me away this week. Her design was brilliant. The colors and beads just seemed made for each other. She really made it look easy. If you have followed our blogs featuring Margie Deeb, this is what she would call a concordance of color. This is where you use alike colors to highlight each other, rather than contrasting colors that clash.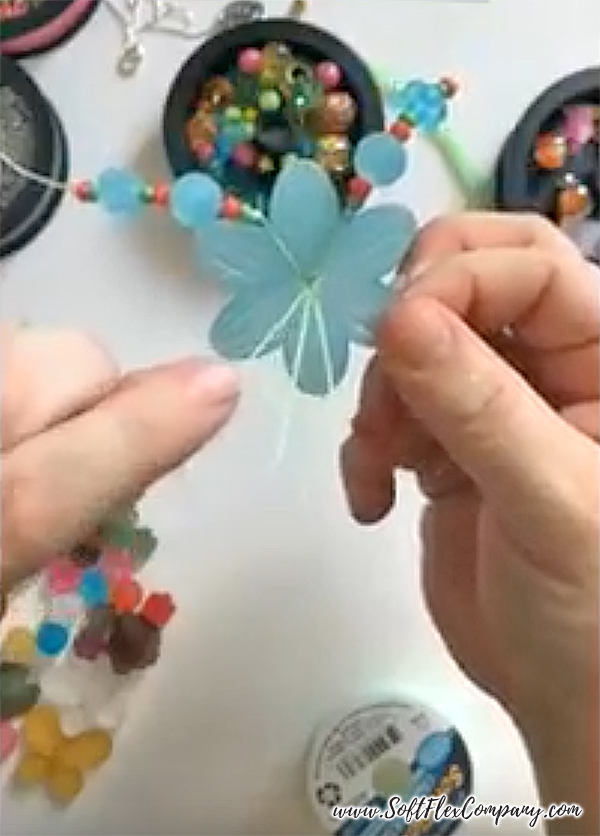 Every kit we carry has an eclectic mix of products and supplies. We create themes with the kits and explore topics like: color, holidays, seasons, and more. We like variety and we like to surprise. Each kit comes with enough wire and components to make a design - or ten - with the contents. As long as you have the tools ( crimping pliers and cutters), you have everything you need to design something very special.
Sara announced our latest kit: the April Showers Design Kit. Sara is very excited about April Showers. This kit has an item that she is really anxious for people to use. She is terrible at keeping secrets and really wants to spoil the surprise. But she won't. April Showers is a much more muted color palette than the Flower Power Design Kit. If working with bright colors does not excite you, April Showers is right up your alley, you will love the rainy day aesthetic. But hurry. Supplies are limited and you need to grab one before they are gone.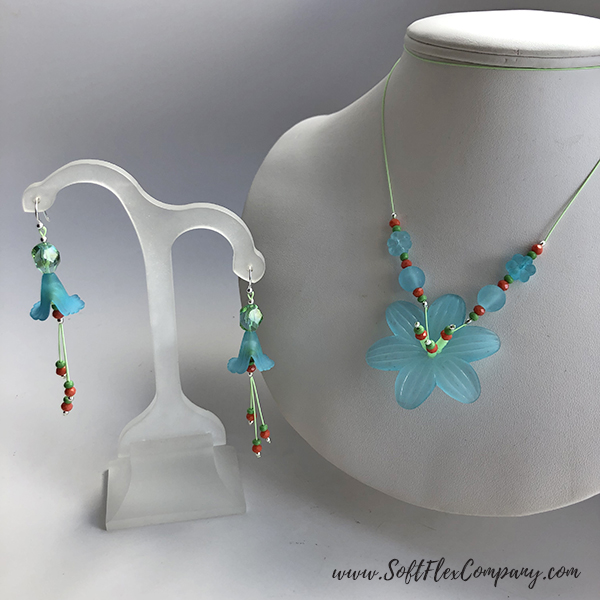 Every kit purchase is a great chance to win an upcoming kit. If you buy a kit and then post photos of your designs on our Facebook group, you are automatically entered into a giveaway for the next kit. Every design you create and post with the kit on our group is an entry. If you make ten designs with elements from your kit and post ten photos - you will have ten entries into our giveaway. If you win the giveaway, we will ship you our next kit for free. Only designs using kit components are considered entries.
This necklace is just stunning. I think the addition of the beaded pistils really made this focal bead otherworldly. If you purchased this kit, make sure your post your work on our VIB Facebook group. I love to see the work of other bead stringing artisans!
Supplies:
Medium .019 Soft Flex Beading Wire Chrysoprase Color
Flower Power Bead Mix
Resin Beads
Magical Crimping Pliers
2x2mm Crimps
Cutters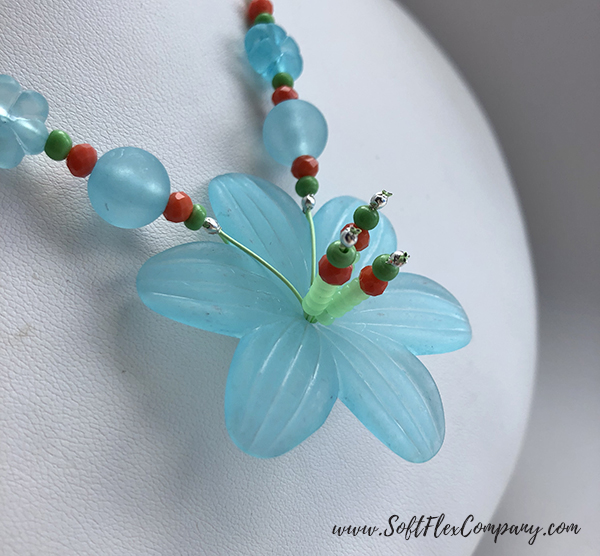 Sara also created some fantastic earrings to complement the necklace. So lovely!

Join our Facebook group – VIB. Stay in the know. Stay up to date. From our bead shows to our video shows and sales, you can stay in touch with us. The community is full of artistic and helpful beaders and crafty people. Inspire and be inspired. Share your pictures and get the beading bug from others!

Visit the Soft Flex Company YouTube Channel!

---
Blog contributor Thomas Soles loves Jazz Age writers and crunchy french fries. His favorite gemstones are Lapis and Pietersite. His favorite hobby is day dreaming. And his favorite mustache is Freddie Mercury's. As you can see, he has a healthy (or possibly unhealthy) sense of humor. You can write to him at Thomas@SoftFlexCompany.com