The cold breath of winter has not slowed our creativity. We had a fiery week of jewelry making inspiration. We just loaded our shelves with some delightful TierraCast metal components and wanted to dig in and make some magic. We also had fun showing everybody how to make a wire wrapped bezel to cage a cabochon. Finally, we made some romantic jewelry to get everybody in the mood for the upcoming holiday of love - Valentine's Day. You are going to adore this jewelry video recap!
Kristen kicked this week off with a gorgeous knitted red bracelet and a pair of earrings. This jewelry set is full of playful passion. You are going to want these for your sweetheart! Sara filmed a jewelry demonstration showing off the new TierraCast items on our shelves. She made a necklace fit for a queen. Join us Saturday morning, she is going to be premiering a follow up video showing how to make a matching bracelet. You can watch her on YouTube on Saturday 1/25 at 8am PST. Click the link below for information and check out finished images of her work in the blog. James showed us how to make a gorgeous handcrafted bezel. And we watched our good friend Nealay, from SilverSilk, as he crafted an amazing necklace. Lets make some lovely jewelry!
Don't miss Sara's Snow Queen Bracelet video premiering Saturday, January 18 at 8am, PST.
Sara is designing a bracelet to match the Snow Queen and TierraCast necklace she made this week. TeirraCast has some wonderful metal components that you will love, you won't want to miss this video if you want some inspiration. Make a date with us this Saturday and join us for the premiere.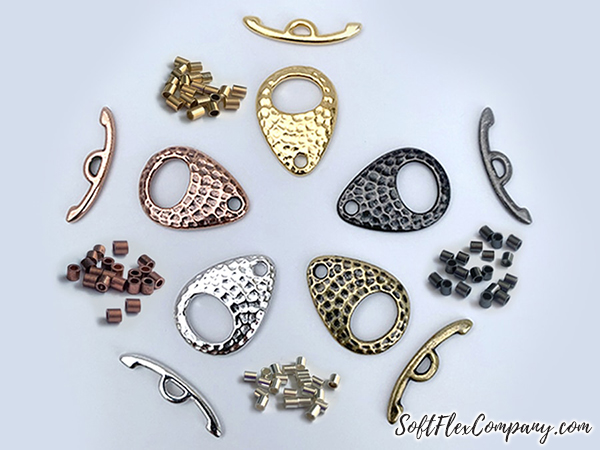 You are going to love the newest TierraCast additions to our inventory!
We have some lovely hammered clasps, some textured connector rings, and multi-strand end bar connectors. All are handcrafted and look amazing. Add some handmade elements to your next jewelry design, these weathered metal components have a timeless look fit for your modern sensibilities.
Jewelry Making Videos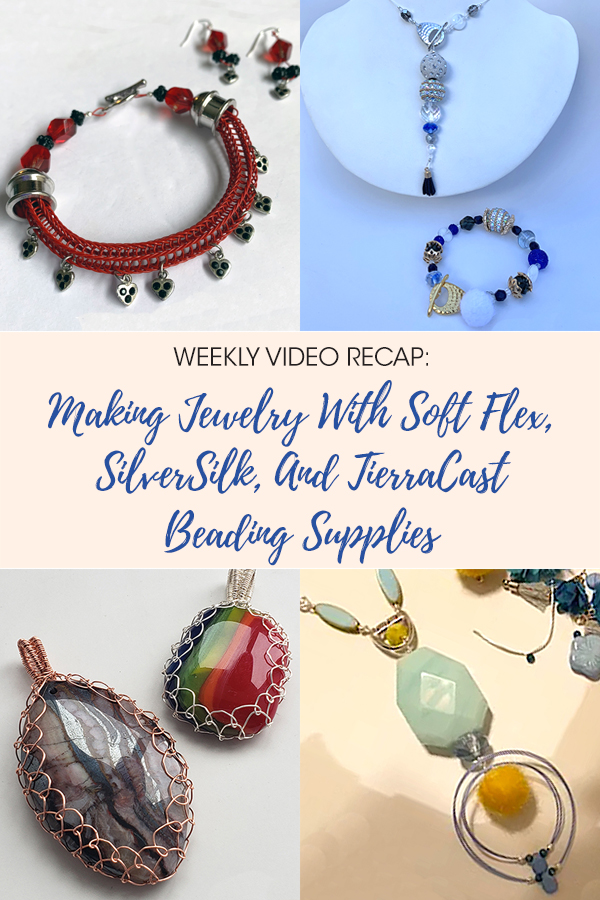 Soft Flex Wire Knitted Charm Bracelet and Earrings for Valentine's Day

Kristen filmed another exciting episode of Free Spirit Beading on Monday. She is live on Mondays at 12pm PST.
Kristen wanted to make some love themed jewelry. She filmed this episode on MLK day and she reflected on the insightful words Dr. Martin Luther King gave us regarding the strength of love over evil. Love is a better option as hate is too great a burden to bear. And love will always drive out hate, just as light drives out the darkness. It was a good day to think about the power and beauty of love.
Valentine's Day is also on the way. It is a great time to plan out some handcrafted jewelry for a date night - or gift something to a loved one.
Let's embrace all things love today!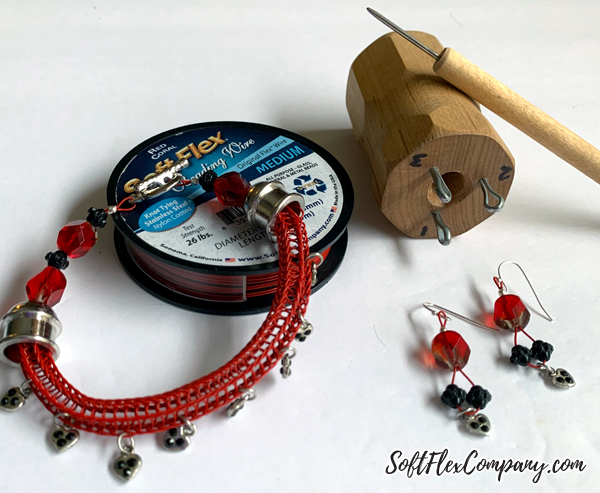 Would you like to learn how to use a knitting spool with Soft Flex Beading Wire? This is a great introduction. Knitting spools are so easy to work with. You can use our beading wire or our Craft Wire. We have three different knitting spool options - a 3-pin, a 4-pin, and a 5-pin.
A 3-pin has an open finish that is great for adding beads. Four and five pin options are more wire dense. If you love the rich look of wire, you might want to grab a 4-pin or 5-pin spool.
Soft Flex Craft Wire will be a little rigid as the wire holds its shape - but it is very malleable on the spool. Beading wire will be a little more soft. It feels sponge-like and you can get away designing without a clasp, if you are making a bracelet, as it will expand and slide over the wrist.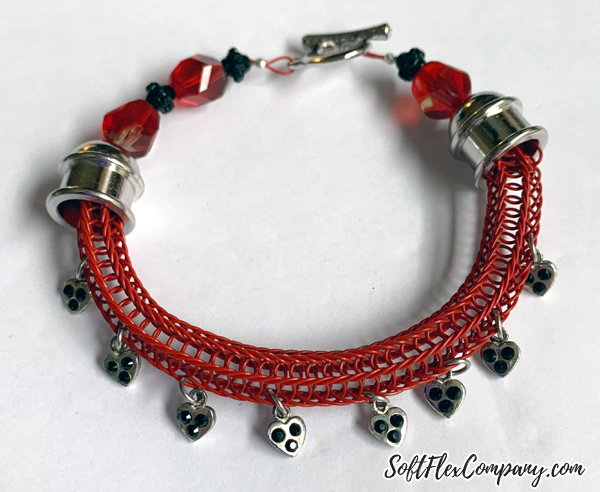 Supplies:
Soft Flex .019/Medium Diameter Wire in Red Coral
2x2mm Crimp Tubes in Sterling Silver
3-pin Knitting Spool
Sterling Silver Heart Charm with Faceted Austrian Crystal
4mm Jump Rings
6mm Black Beads
10mm Red Beads
Capital Cord End Caps in Rhodium Plated
Maker's Clasp in Rhodium Plated
Cutters
Crimping Pliers
Doesn't this bracelet look decadent? It is so detailed and stunning. You just want to stare at it and take in the eye candy. The charms are a fun addition. Classy and fun. This is jewelry for the young at heart. This is a great and playful design for Valentine's Day.
If you need a little help kickstarting your new knitting spool hobby, make sure you visit our Jewelry Making Tips & Tricks section online. Kristen used Knit Style 3 for this design. We have patterns and tips for 3 styles we think are really gorgeous.
Check out our how-to pages on the three styles of knit we like to work with:
Knit with Beading Wire - Style 1
Knit with Beading Wire - Style 2
Knit with Beading Wire - Style 3
If knitting spools look familiar, you may have had one as a child. Lots of use grew up with a creative grandpa or father that loved to make stuff in the garage. You may remember a wooden spool with nails for pins. You may have learned how to use this homemade spool with yarn. If you did not have this fantastic little memory as a child - it is never to late to explore this fun hobby. You can master it easily and make some dynamic jewelry you will adore.
Don't forget to make an easy pair of Soft Flex earrings to complement your new bracelet. Soft Flex wire is perfect for earrings. You can make them with remnant wire (the small pieces you cut from larger designs - make sure you save them!!!). You can also shop our wide array of yummy colors and make the earrings that best suit your mood. You need very few beading supplies on hand to actually create them. An ear wire, crimps, beads, crimping pliers, and a cutter will be pretty much all you need in your tool kit to create easy earrings.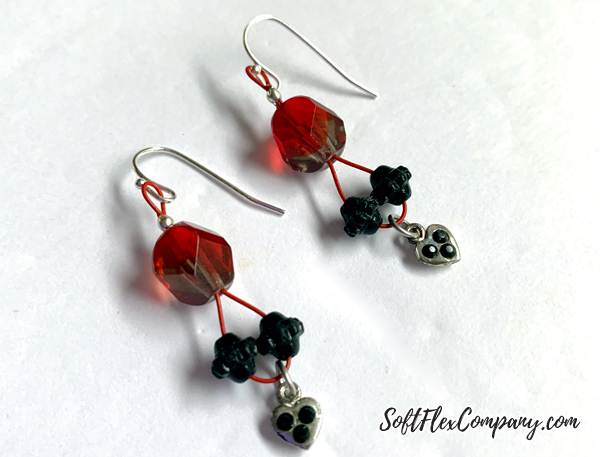 Live Facebook Video with Sara: Jewelry Making Demonstration with Hammered and Distressed Metal TierraCast Components
Sara wanted to show off all of our latest TierraCast components. She figured a quick jewelry demonstration on Facebook would be a fun way to show off some techniques and styles you can create with these lovely weathered metal jewelry elements.
It was also a good time to take a breather and have some 'me time'. Sara had spent the night before at the ER when her infant son had some issues and she had a lot of nervous stress energy bouncing around her. Making jewelry in a quiet studio is a great way to focus and balance yourself. It is a good time to be creative and think about the things that really matter. Even if you have an audience on Facebook watching your wonderful work.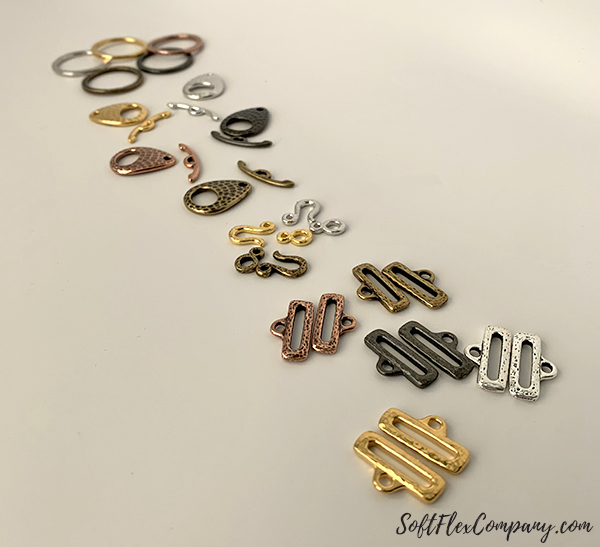 We have so many stunning new items from TierraCast. You are going to love them. We have a multi-strand connector for projects where you need a larger component to gather your beading wire. We have some lovely weathered ring connectors that could potentially be a good focal display. We have some luscious ellipse clasps that just look amazing. And we have a hook and eye clasp that will make the finish of your jewelry design really stand out.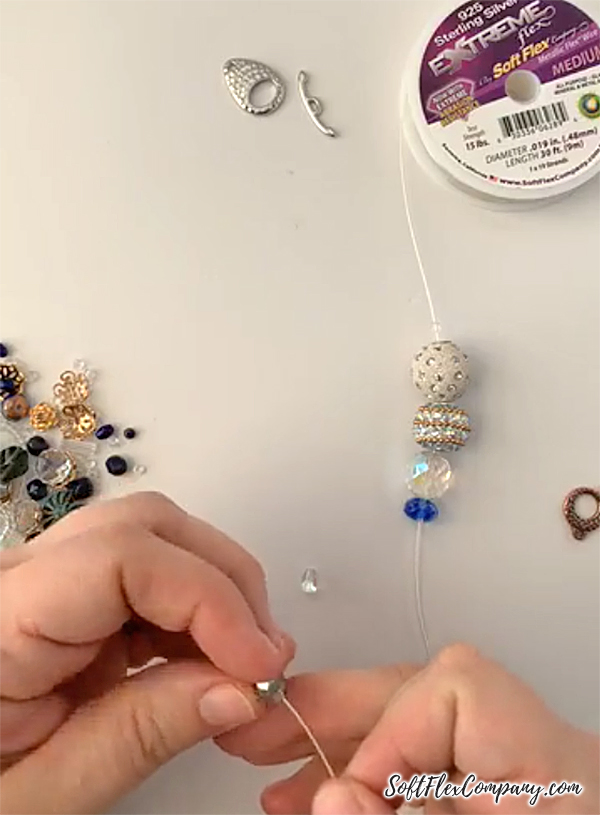 Supplies:
Soft Flex .019/Medium Diameter Wire in Extreme 925 Sterling Silver
2x2mm Crimp Tubes in Sterling Silver
Hammertone Ellipse Clasp
Soft Flex Professional Cutters
Magical Crimping Pliers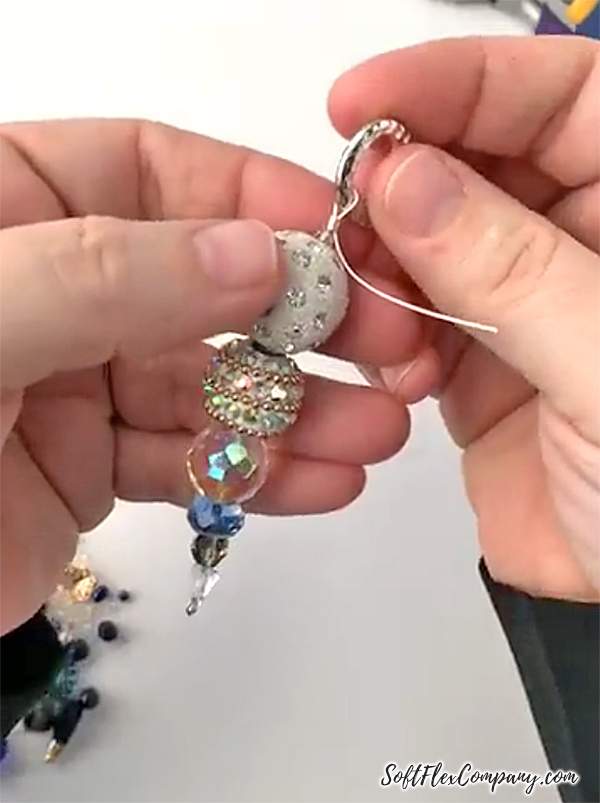 We think TierraCast has an amazing catalog.
If you love the look of handcrafted metal jewelry components, you will love this store. They have so many unique shapes and colors. They also have some fantastic weathered metals. Add a timeless complement to your next jewelry piece!
It is also fun having them so close. TierraCast is located in Santa Rosa. We are both headquartered in lovely Sonoma County. If you have never visited Northern California, it is paradise here. Wine Country and jewelry making supplies are our own personal utopia.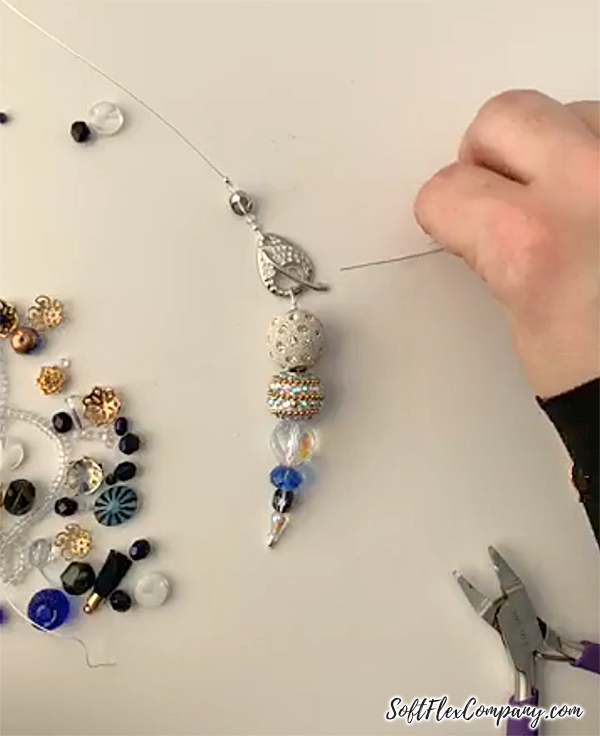 Make sure you grab a Snow Queen Bead Strand if you love the beads Sara uses. Supplies are very limited and most of our inventory has sold out. But there is still time if you hurry! The Snow Queen Bead Strand was inspired by our Snow Queen Design Kit. It was a gorgeous mystery themed jewelry kit that celebrated icy royalty.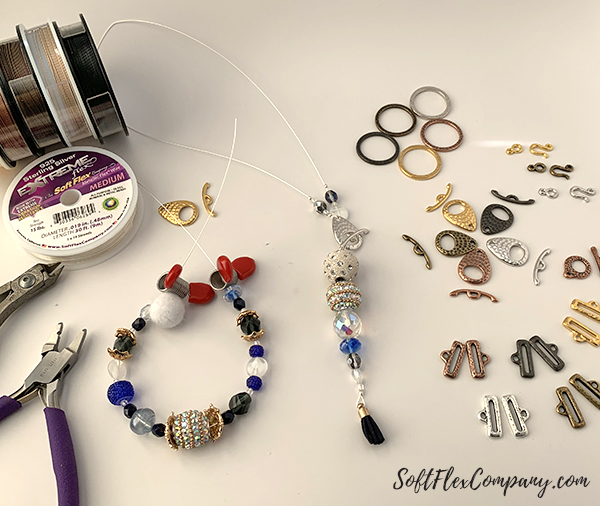 So stunning. Who says you need to hide the clasp behind the neck. You can make this wonderful clasp stand front and center. It really highlights the focal bead. How would you make this necklace?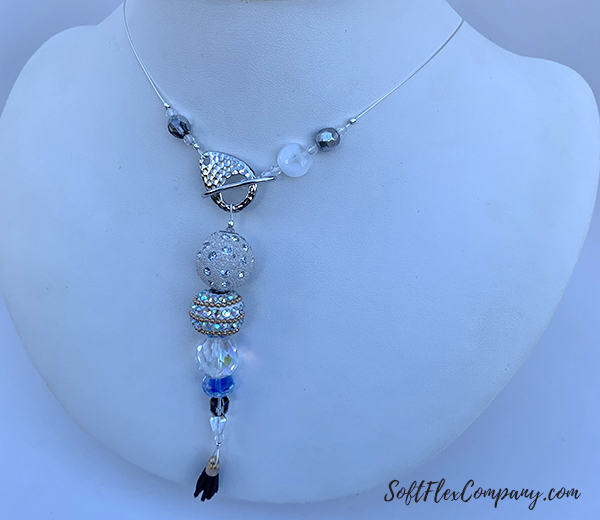 Make sure you join us on YouTube on Saturday to see Sara design a chilly bracelet to accompany her Snow Queen necklace. The bracelet uses similar components and beads and looks amazing paired with the necklace.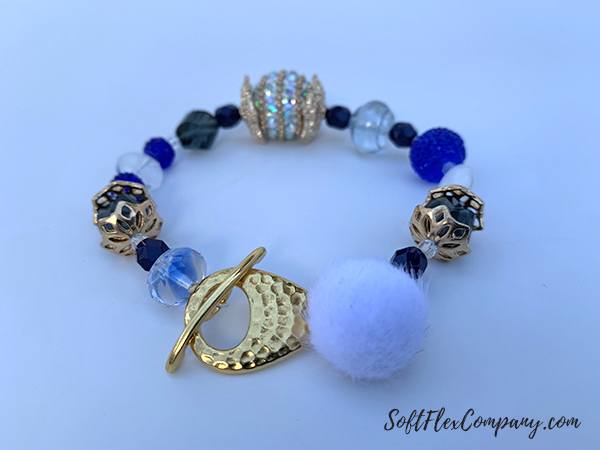 Don't miss Sara's bracelet accent video premiering Saturday, January 25th at 8am, PST.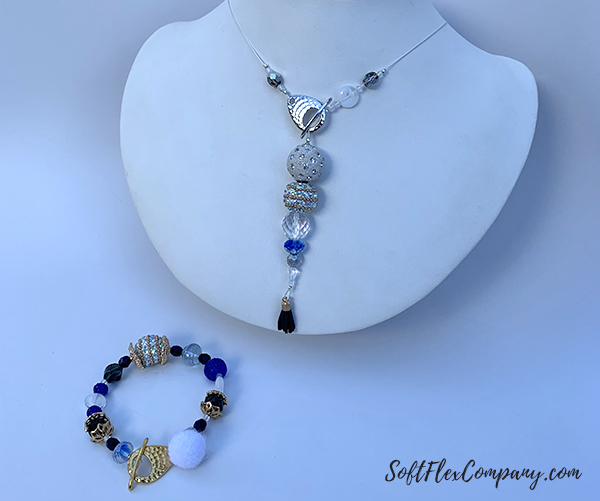 Wire Wrapping A Handcrafted Bezel Setting Using Soft Flex Craft Wire
James Browning is Soft Flex Company's wizardly Craft Wire guru. He is an incredible teacher His videos are easy to follow and clear. Even if you have never used Soft Flex Craft Wire, you can create the designs he makes with ease.
James returned this week for his first video since the holiday break. He has been busy with other projects and work. But is back to his series. You can catch a new Conversations in Wire premiere on YouTube every other Thursday. James does not make live videos but is on hand during the premiere to field any questions you might have about the craft. You can even make suggestions. This week, he got a couple requests to make one of his next videos showing a dream catcher made with Craft Wire. Hopefully, we will be seeing that soon.
James wanted to show a classy way to cage a focal bead with knitted Soft Flex Craft Wire. This handcrafted bezel is a sophisticated way to make your next jewelry design your own signature piece. James suggests getting a little practice with the wire on some beginner projects before undertaking this one. But, James is so patient and his videos are so easy to follow, we wouldn't blame you if you didn't test the waters and jumped right in!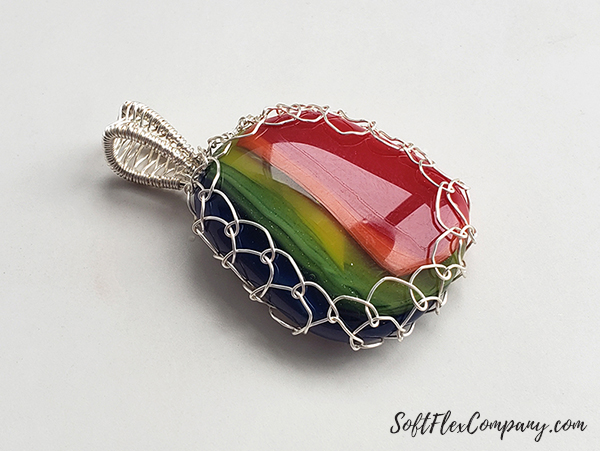 Supplies:
18g Soft Flex Craft Wire
26g Soft Flex Craft Wire
Nylon Jaw Pliers
Bead Nippers (Cutters)
Chain Nose Pliers (or similar pliers)
LoopRite Looping Pliers or Round Nose Pliers
Don't miss Conversations in Wire. James uploads a new episode every other Thursday. During the premiere, you can chat with us, live, as it airs. James loves to answer questions about the videos and we all have fun watching him create something new and lovely. If you would like to start wire wrapping, this is a great way to learn about the tools and techniques James uses. We even have a Craft Wire Starter Kit to launch your favorite new hobby!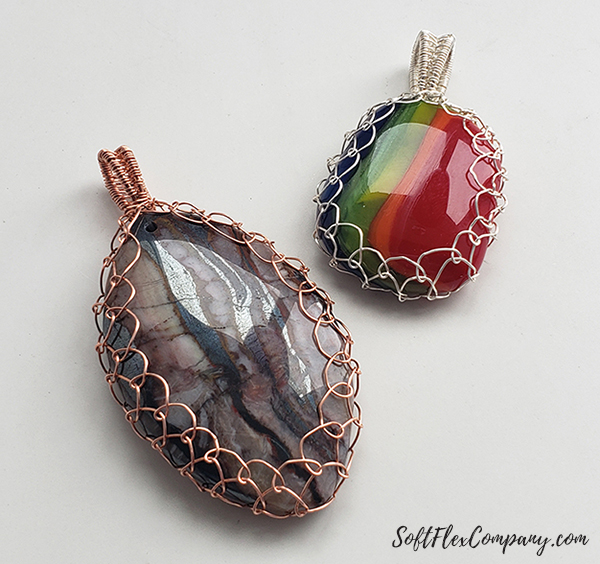 SilverSilk Paris in the Rain Mystery Kit Unveil and Making Jewelry Designs
Our friend Nealay returned this week with his amazing mystery kit, Paris in the Rain. He debuted the kit on the SilverSilk Company Facebook page last week, but swung by the Soft Flex Company Facebook page for a live show this week. We were excited to see what he would make. He always has an enchanting idea that blossoms into a beautiful flower.
If you like SilverSilk, Soft Flex Beading Wire, and Jesse James Beads - you are going to love this mystery kit.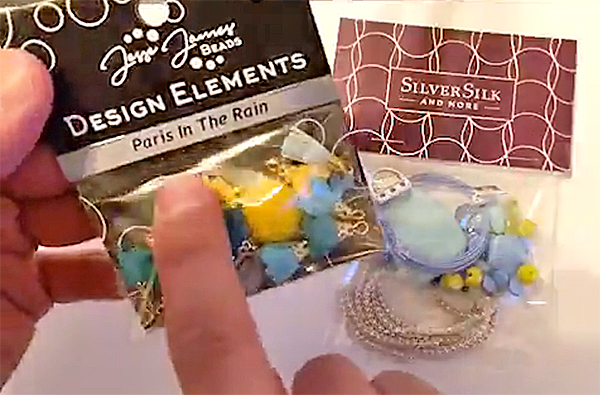 From Nealay:
Unveiling the new SilverSilk mystery kit, Paris in the Rain, and general jewelry and conversations. Come join me and let's giggle and learn together.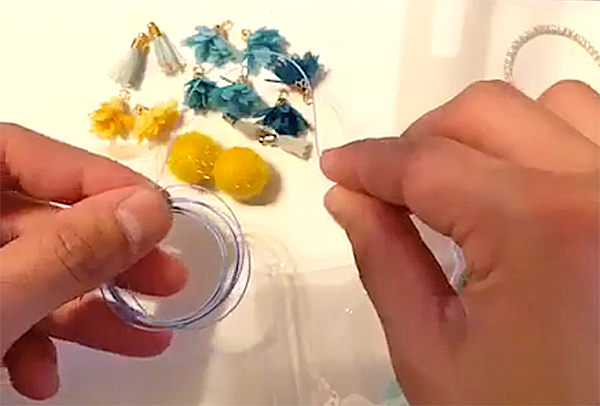 Supplies:
Paris in the Rain Deluxe Mystery Kit
Soft Flex .019/Medium Diameter Wire in Tanzanite
2x2mm Soft Flex Crimp Tubes
SilverSilk Pearlesque Chain
SilverSilk End Caps
SilverSilk Lobster Claw Clasp
Jesse James Beads
Nylon Jaw Pliers
Round Nose Pliers
Magical Crimping Pliers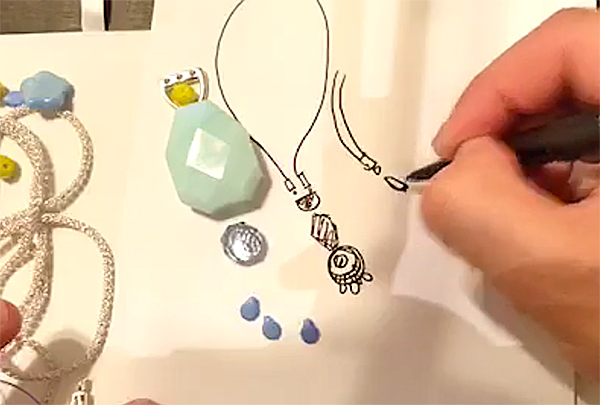 Nealay surprised himself with the necklace he designed. He loves to sketch out his ideas beforehand so he has a sense of where he is going, but sometimes the journey takes unexpected turns. He felt like the piece was so much more vibrant than he had sketched. The design is sleek and airy. It has a classic fashion sense to it. He also loved how the rings at the focal point really grabbed the eyes.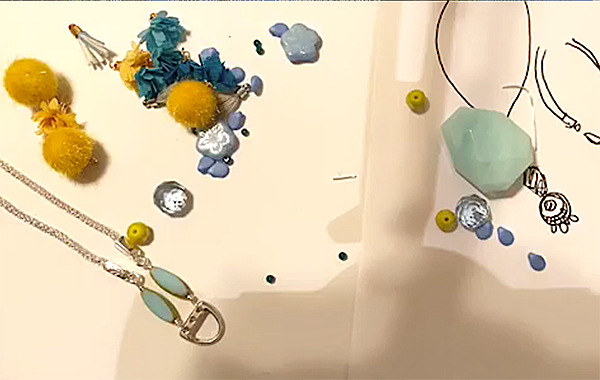 Amazing work!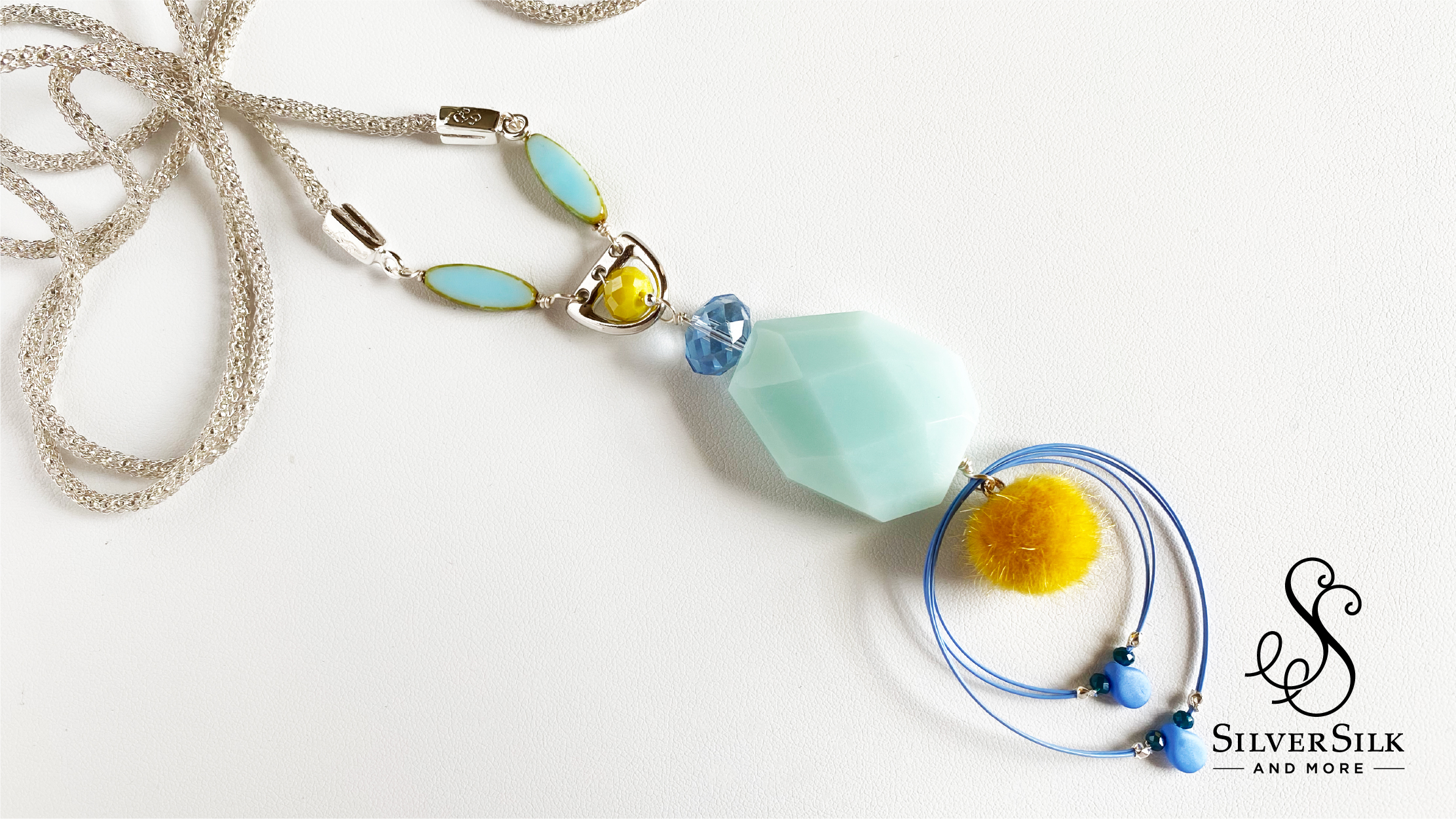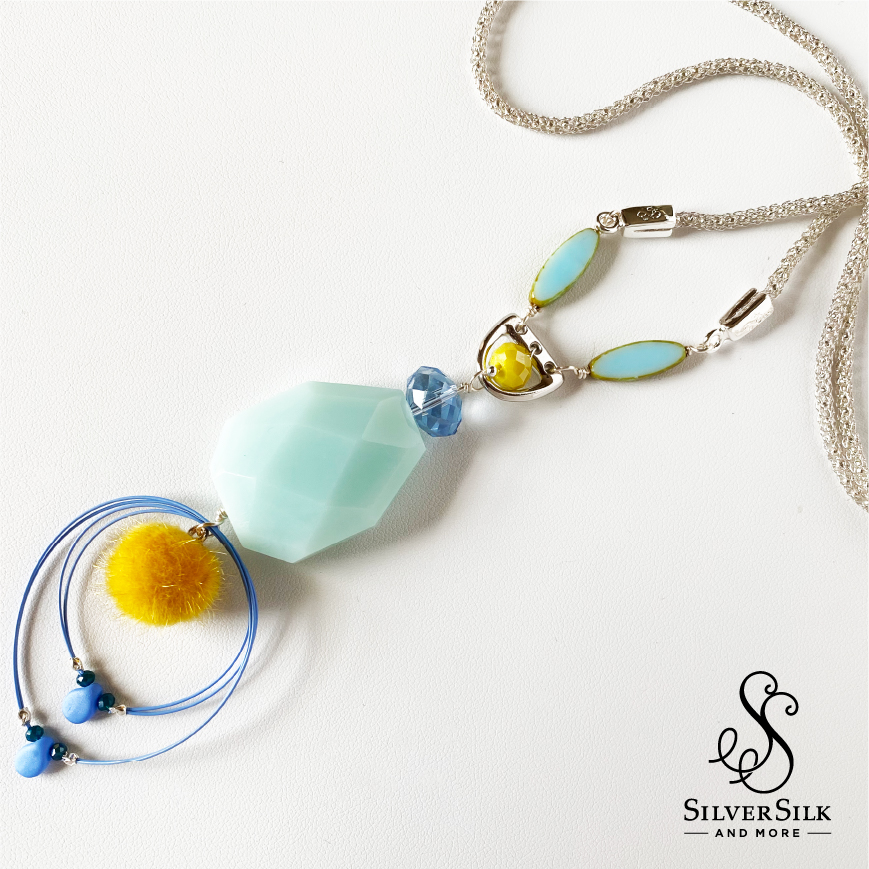 You can find Nealay on Facebook and YouTube. If you are a fan, make sure you join his active group on Facebook - The SilverSilk Silkies. He is very accessible and loves to answer questions. He is a great jewelry teacher and source of inspiration.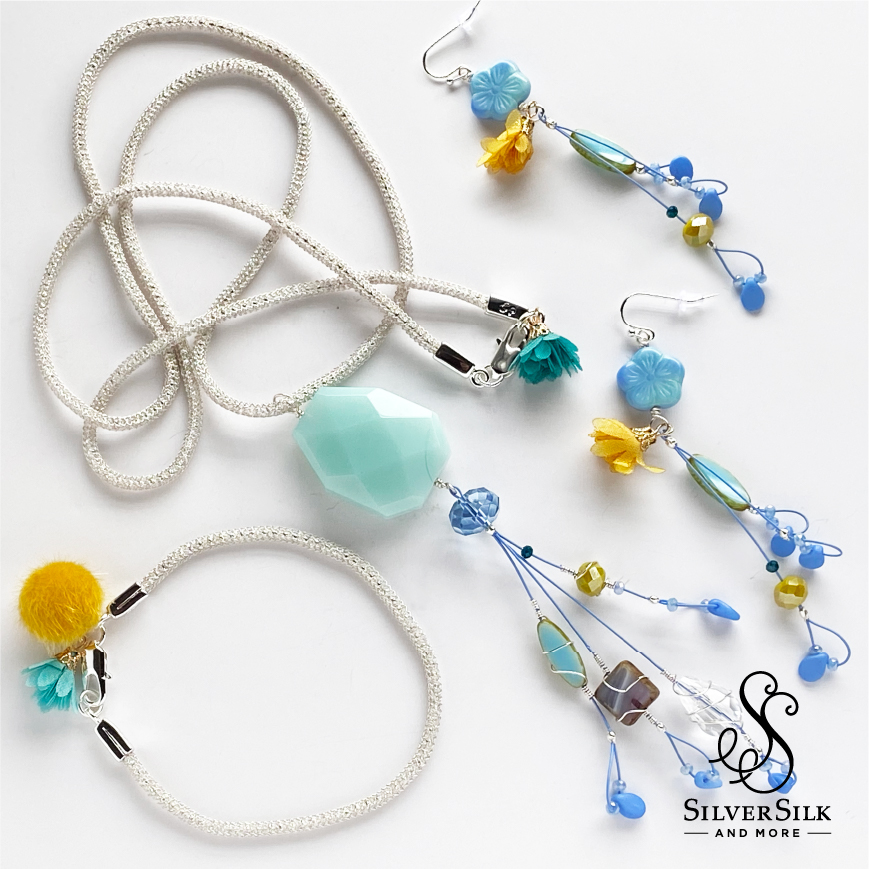 Join our Facebook group – VIB. Stay in the know. Stay up to date. From our bead shows to our video shows and sales, you can stay in touch with us. The community is full of artistic and helpful beaders and crafty people. Inspire and be inspired. Share your pictures and get the beading bug from others!
Visit the Soft Flex Company YouTube Channel!
---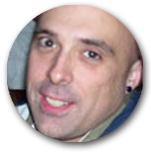 Blog contributor Thomas Soles loves Jazz Age writers and crunchy french fries. His favorite gemstones are Lapis and Pietersite. His favorite hobby is day dreaming. And his favorite mustache is Freddie Mercury's. As you can see, he has a healthy (or possibly unhealthy) sense of humor. You can write to him at [email protected]