Hello June! This is a huge month for beading. The Bead&Button Show is in full swing in downtown Milwaukee. Bead&Button is the largest consumer bead show in the world. We are covering the event with our favorite Free Spirit Beader – Kristen. She will be updating us and doing live videos. We also have a recap of some great free jewelry project ideas – a bracelet for the fellows and some stunning hoop earrings for the ladies. Read on for more information and big sales offers!

What a fun week. Nealay normally doesn't spend much time discussing men's jewelry. He designs for himself, but an instructional video is a rarity. Well, last week he showed us how to make a necklace with an Antler focal bead for the guys. This week, he shows us how to make a bracelet that looks right at home on a male wrist. Kristen is in Milwaukee this week. She is teaching an earring class and doing free demonstrations at the Micro-Tools booth at Bead&Button. She will be doing lots of videos and updating us how the show is going. Finally, we grabbed a Nealay video where he shows how to make some delightful hoop earrings.
Sara filmed a Soft Flex Live Sale on Facebook on Thursday. The sale was live but you can still participate in the sale during the weekend. On Sunday night, we will close the auction off. Make sure you check it out if you would like to bid on deep discounts and rare items. This show included beads, Stretch Magic, Craft Wire, jewelry making findings, and never before seen colors of Soft Flex Beading Wire. To bid, simply comment with item number, sold, and quantity desired. Click here - Soft Flex Live Sale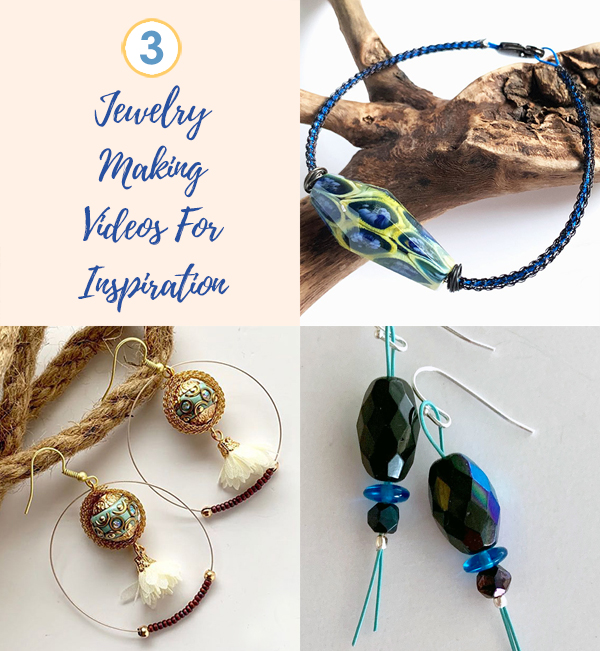 Hollow Mesh And Soft Flex Beading Wire Bracelet For The Guys
Our friend Nealay is back with another design for the gentlemen. This is a bracelet for the discerning and fashion minded male. Perfect for a suit or a smart set of clothes. Definitely not beachwear. It is masculine but can easily adapted into a feminine design. Nealay uses Hollow Mesh from his store - SilverSilk and More, a spool of Soft Flex Beading Wire, and a unique glass focal bead from Tom & Sage Glass.
From Nealay:
I'm excited to use Hollow Mesh, along with Soft Flex colored beading wire, to make a great bracelet using a fantastic glass bead made by Tom & Sage Glass. This gorgeous focal bead is centered and secured onto the bracelet using a special technique that you won't want to miss out on learning. Come join me and we're gonna make something fast and fabulous in minutes!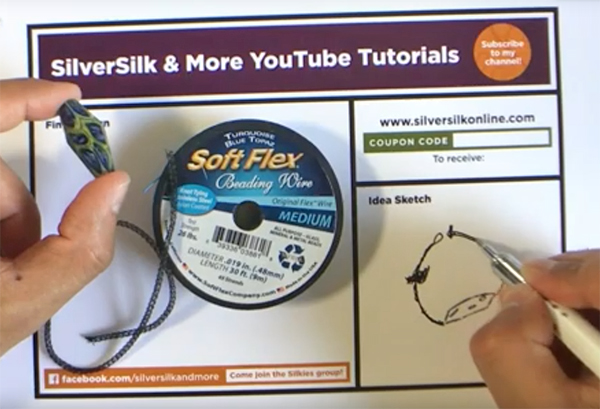 Supplies:
SilverSilk Hollow Mesh
Soft Flex Colored Beading Wire
Glass Bead from Soft Flex Company
28ga Soft Flex Craft Wire
Soft Flex 2x2mm Crimp Tubes
Magical Crimping Pliers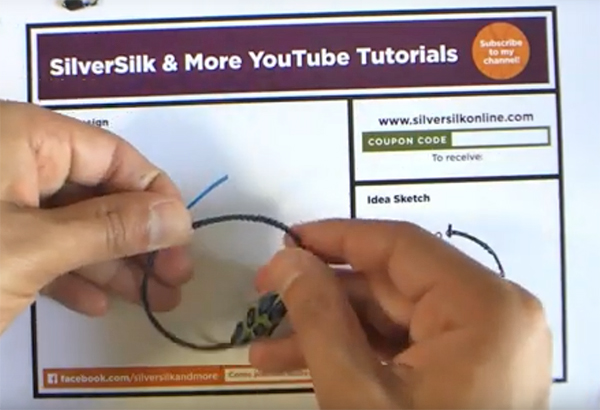 Nealay makes it look easy. In less than fifteen minutes, we have a classy bracelet for a male. You can easily modify this design to fit any glass bead. You can also go for a more feminine look with softer colors. It is a universal design as is. Perfect for any jewelry lover.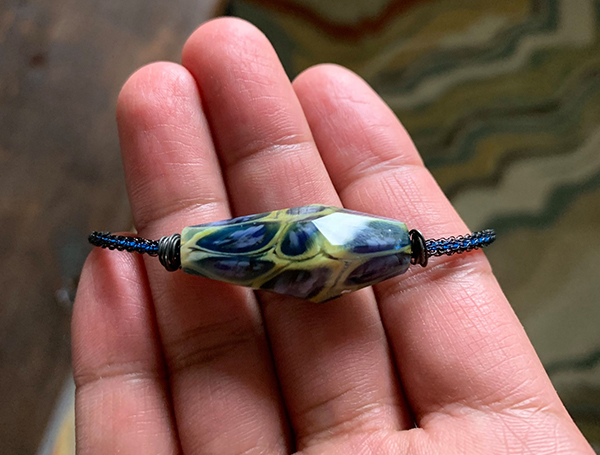 Join Nealay's exclusive Facebook group, The SilverSilk Silkies.
The SilverSilk Silkies are a dedicated group of makers that create and share their beautiful jewelry, made from SilverSilk and More. If you love SilverSilk, this is the hotspot to be and see what the world is creating and inventing with SilverSilk.
Posts and photos by members are encouraged, but only if they are appropriate and inspiring! You are welcome to share tips, ideas and musings but please keep it on topic to our page mission. I can't wait to see your creations!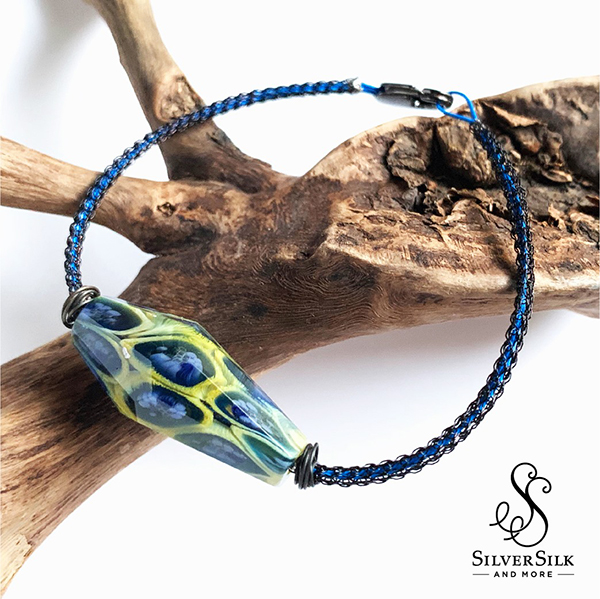 How To Make A Super Quick & Easy Pair Of Soft Flex Earrings
Kristen is live from Milwaukee this week. She is attending The Bead&Button Show as a Soft Flex representative. She is going to be teaching an earring class and doing free demonstrations at the Micro-Tools booth. She is also doing instructional videos before the show and filming the excitement at the show. If you have never visited a bead show, this is a phenomenal opportunity to see what you are missing.
This video is a quick and easy lesson on how to make earrings with Soft Flex Beading Wire. Kristen used .019 diameter Soft Flex Beading Wire in Purple Amethyst color, a bead mix, and crimps. These earrings are so easy to make and are perfect for people that love to wear new jewelry. You can design your own handmade earrings for every day of the month.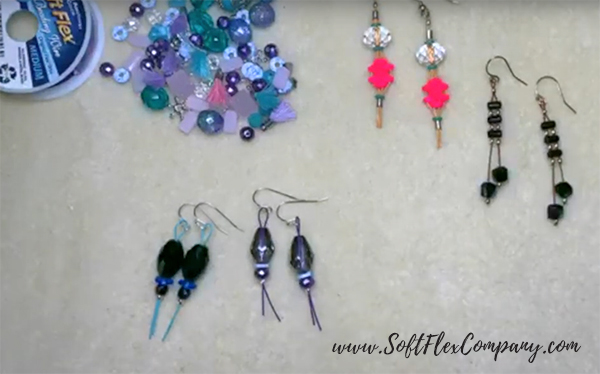 Supplies:
Purple Amethyst Soft Flex Beading Wire - .019 Medium Diameter
A beautiful Bead Mix
2x2mm Sterling Silver Crimp Tubes
Silver Filled Earwires
Soft Flex Professional Flush Cutter
Magical Crimping Pliers
Decorative Hoop Earrings With Soft Flex Extreme Beading Wire
We thought these earrings were amazing. If you like hoop earrings, these are elegant and eye catching. We felt like giving this video some attention. Nealay filmed this video in January but these can be worn year round. They are easy to make and so wonderful!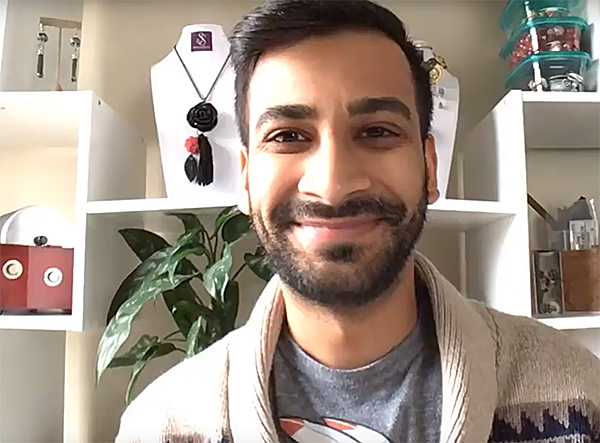 From Nealay
I'm excited to show you how to create a pair of fun earrings, using Soft Flex Wire, Flat Mesh SilverSilk and Jesse James Beads. I'll show you how to wrap a decorative bead with Flat Mesh and how to crimp Soft Flex Beading wire to get the perfect round hoop earring design. We're also going to use some seed beads to add a pop of color to our design…I can't wait!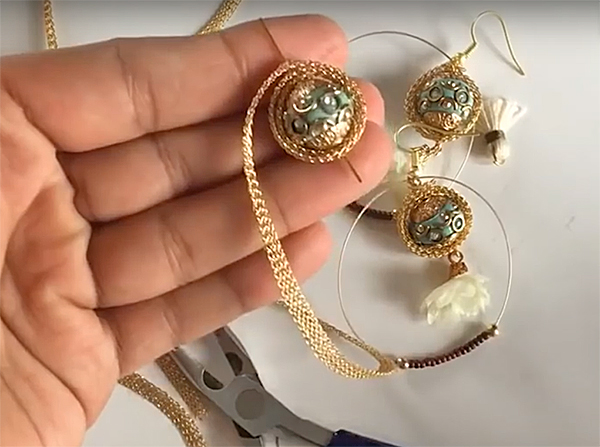 Supplies:
SilverSilk Flat Mesh
Soft Flex Champagne Extreme Flex Beading Wire
Soft Flex 2x2mm Crimp Tubes
Decorative Beads and Tassels from Jesse James Beads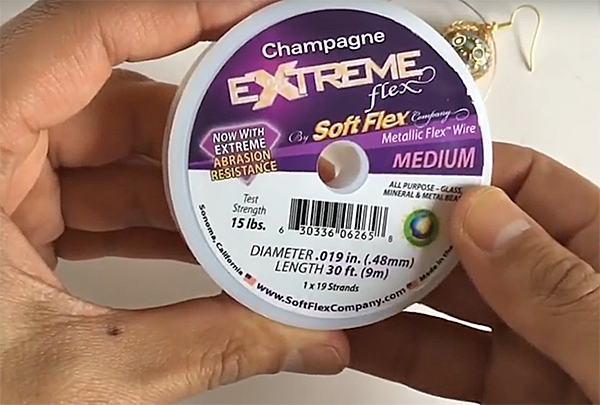 Soft Flex Extreme Flex is our most elegant collection of beading wire. If you are going to expose the wire in your jewelry, illusion necklaces – etc, this wire is going to shine. Extreme Flex Beading Wire comes in 24k Gold, 925 Sterling Silver, and Champagne. This wire is great for high end clients, if you are a designer. Or high end stones, if you love all things glamorous.
Follow Nealay on Facebook on Tuesdays for his Tuesday Tuts live video series. He makes some wonderfully decadent jewelry designs and loves to give tips on how to make stunning jewelry.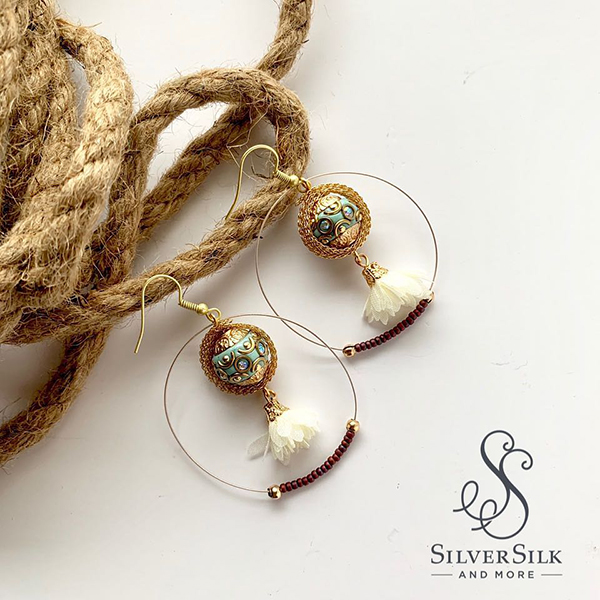 Join our Facebook group – VIB. Stay in the know. Stay up to date. From our bead shows to our video shows and sales, you can stay in touch with us. The community is full of artistic and helpful beaders and crafty people. Inspire and be inspired. Share your pictures and get the beading bug from others!

Visit the Soft Flex Company YouTube Channel!
---
Blog contributor Thomas Soles loves Jazz Age writers and crunchy french fries. His favorite gemstones are Lapis and Pietersite. His favorite hobby is day dreaming. And his favorite mustache is Freddie Mercury's. As you can see, he has a healthy (or possibly unhealthy) sense of humor. You can write to him at Thomas@SoftFlexCompany.com