What did you make this week? We kept very busy. We had fun playing with retro color ways. We beaded and adorned our face masks with lanyards. And we had fun learning how to make seed bead earrings. If you love jewelry making or even if you just want some helpful tips for decorating your face mask, check out our recap. You are going to love these instructive jewelry making videos. Consider this a free beading course online! Let's have fun and explore some fun crafts for all ages.

This week was full of fun. Kristen showed us how to make some jewelry that would appeal to anybody that loves a retro look. Want some nostalgia? She chose a Mid Century Modern colorway that really stirred up great memories. Sara showed us how to make a multi-purpose lanyard for your face mask. This lanyard can be taken on and off in an instant. This means, your lanyard can act as a necklace - just add a pendant. Or eyeglass holders. This is a lanyard that will have functions and life well beyond this terrible epidemic. Give the gift of a face mask lanyard as an heirloom. Our future generations will love our sense of fashion in the face of danger! Finally, Nealay showed us how to make seed bead earrings. These earrings are easy to make and full of character. Let's have some fun!
Czech Glass Ammonite Spiral Beads

These stunning Ammonite Spiral Czech Glass beads are enchanting and mysterious. Modeled after ancient mollusc animals, this shape has intrigued and delighted us for centuries. They take their name from the Egyptian god Ammon, who was often depicted with ram's horns. Add a bit of ancient aesthetics to your next jewelry project with these delightful beads!
Sara's new video premieres on YouTube on Saturday!
Sara's newest jewelry video will be available on YouTube on Saturday. Sara shows you how to make a knitting spool design. If you want to learn how to make a knitted bracelet with a spool, this video shows you how to start your project, how to knit your jewelry, and then how to close it securely. These knitting spools are basically a modern take on the one you owned as a child. You probably made yarn knits. Now you can make stunning jewelry with Soft Flex Craft Wire or Beading Wire. Don't miss out!
Jewelry Making Videos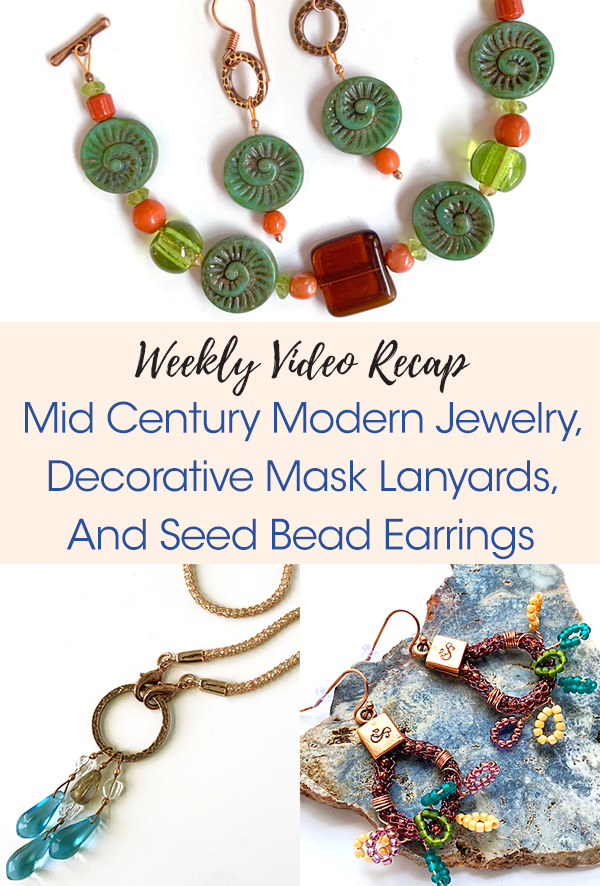 DIY Beaded Bracelet & Earrings Set In A Retro Color Palette
This week on Free Spirit Beading, Kristen showed us how to make a lovely bracelet and pair of earrings. She was excited to use the funky retro palette of our Spice Market Large Czech Glass Bead Mix. You are going to love this Mid Century Modern colorway. This is a great instructional bead stringing video. If you want to learn the techniques you need to make your first jewelry designs, Kristen shows you how to make an elegant and simple jewelry set that anybody can create. If you already have the basics under your belt, you will enjoy Kristen's spirit and design choices. This is a great video for beaders of all ages and skill levels.
Have you purchased Magical Crimping Pliers yet? Magical Crimping Pliers are similar to the common crimping pliers we all use. The only difference is that this tool turns a 2x2mm crimp tube into a rounded bead. This eliminates the need for crimp covers. Rounded crimps look great. They are secure and will hold your necklace in place. They are perfect for spacer beads on a design where you are crimping beads in place. They are amazing for illusion jewelry where you are floating beads on a necklace. If you like the look of a crimp finished with a pair of regular crimping pliers, you can overlook this tool. But if you want a rounded bead that looks stunning, check this tool out!

Kristen does a wonderful job at showing us how to close crimps with Magical Crimping Pliers in this video. If you have ever wanted to master this tool, this video is a good place to find some pointers and tips. If you would like to take a deeper dive, check out the link below for more instructions:
Click for 5 Step Crimping Instructions using the Magical Crimping Pliers.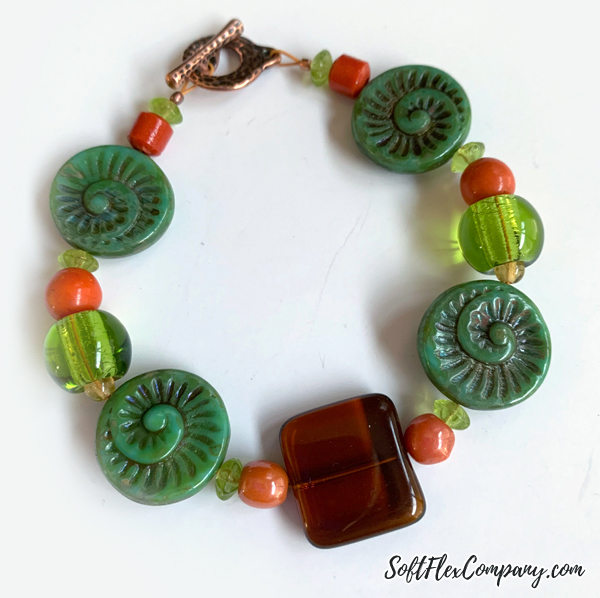 Soft Flex .019/Medium Beading Wire - Citrine
Czech Glass Ammonite Spiral Beads - Jade
Czech Glass Spice Market Bead Mix
TierraCast 13mm Ring Connector - Antique Copper
TierraCast Maker's Clasp - Antique Copper
2x2mm Crimp Tubes - Copper
Crimping Pliers
Cutters

The Spice Market Large Czech Glass Bead Mix is the perfect complement to our Spice Market Design Kit (Sold Out).
This is the one of the biggest bead mixes we have ever offered! We have retained the same low price as our other mixes, but filled this selection with an overflowing abundance of high quality beads from the Czech Republic. This gorgeous mix is stuffed with beads to match our Spice Market Design Kit (Sold Out).This mix is a custom assortment of unique bead shapes and sizes in our warm Spice Market color way. Due to the random selection, there may or may not be exact matches of bead shapes and colors, perfect for "bead soup" and multi strand mixed bead designs!
The Spice Market is a quiet pause at the desert bazaar. The sultry sweet aroma of cinnamon dances in the wind. Tan desert sand dusts your clothes. The heat is invigorating. You gaze at the merchants' tables. Amber jars line vendors offerings. Red paprika is piled in fragrant heaps. Exotic saffron is bagged in small sachets. Don't miss this savory kit of delicious spices!
Supplies are very limited. Don't miss out!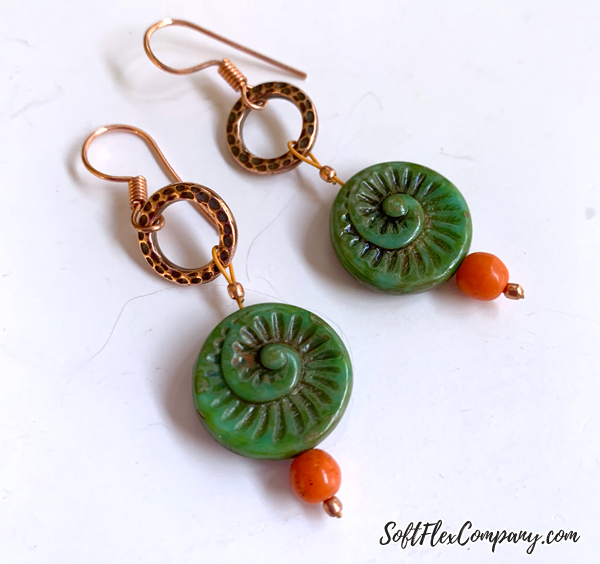 Kristen was really excited to work with these jade green ammonite beads. She loves the soothing memories and nostalgic feelings that green evokes. Trees, leaves, and nature. She is a huge fan of green. This color of green is almost the exact shade of chairs that Kristen had recently purchased. How fun!
Look how easy it is to make a pair of earrings. A couple of beads, a tiny length of wire, crimps, and ear wires and - Voila! You have a new set of earrings. Color mix and match your beads and wire and you can complement any of your existing jewelry.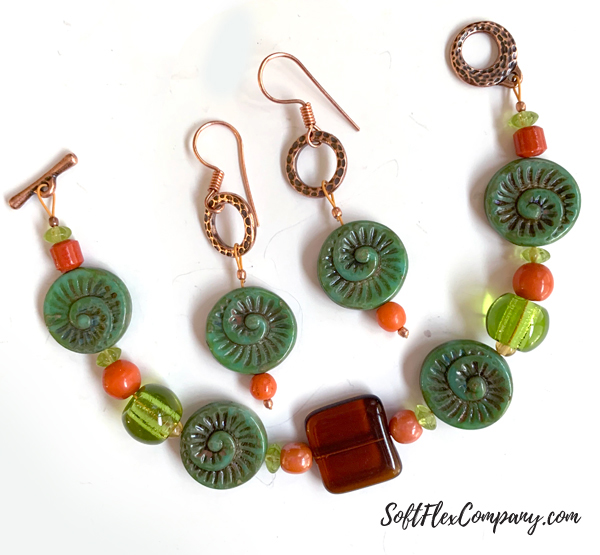 This mid century modern colorway is fabulous. It stirs old memories. It is the canvas of Mad Men. It is the mellow earthy vibe of the Brady Bunch. It is mom is making casserole and listening to Paul Revere and Raiders on the radio. Designs like this are so fun. They evoke so many good feelings. Make jewelry that makes your heart happy!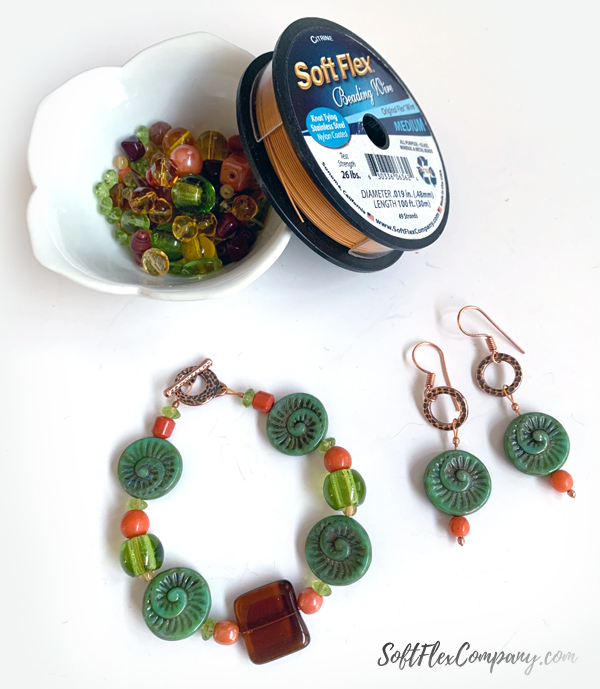 Easy DIY Face Mask Lanyard Tutorial
Boy. Wearing a face mask was a bit of a shock a couple of months ago. It was an odd 'new normal'. But now that we are adjusting to the situation, we are looking to make the best of it. Last week, Sara showed us how a lanyard could make a stylish accessory to an otherwise boring face mask. A mask lanyard is a great addition to your non-medical PPE. It has a bunch of useful functions. Mask lanyards can be used to keep your mask off of contaminated surfaces. You can use your lanyards to fit your mask, rather than dirty fingers touching the mask. Lanyards are great for the kiddos that need to keep track of their masks, especially if they are going back to a physical school setting. Lanyards are handy and stylish and there have even been doctors recommending their use.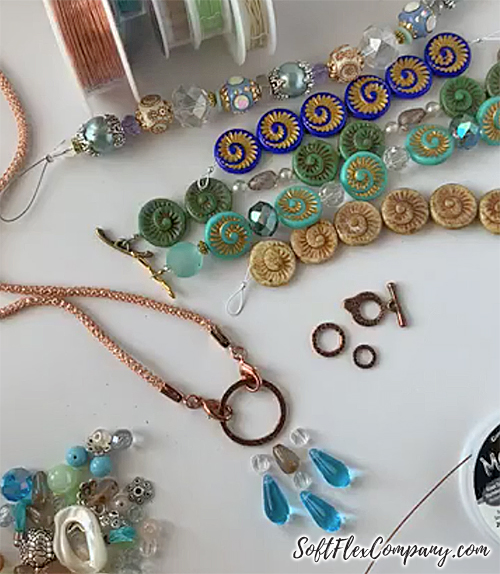 This week, Sara showed us what you could do with a mask lanyard when you are not in a situation where the mask is necessary. She has created a lanyard, using SilverSilk, that attaches to an end with lobster clasps. If she wants to attach her mask, she simply clips it on with the clasps. She can then remove the mask as needed and change the lanyard into something else as useful or a stunning piece of jewelry. When the day comes when we can retire our masks, you can use your lanyard as an eyeglass holder, leash for your workplace badge or a stunning necklace. Don't settle for a boring face mask. Add some fashion with a mask lanyard that catches eyes and has a purpose.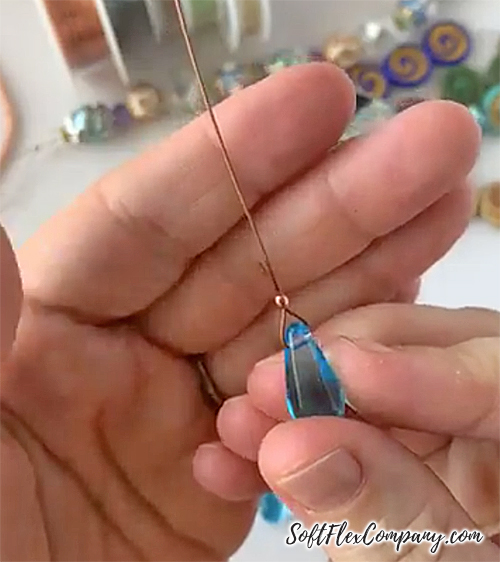 Soft Flex .019/Medium Beading Wire - Copper
Serenity Shore Bead Mix (Sold Out)
SilverSilk Capture Chain with Findings - Shimmering Copper
15mm Lobster Claw
TierraCast Ring Connector - Antique Copper
2x2mm Crimp Tubes - Copper
Magical Crimping Pliers
Cutters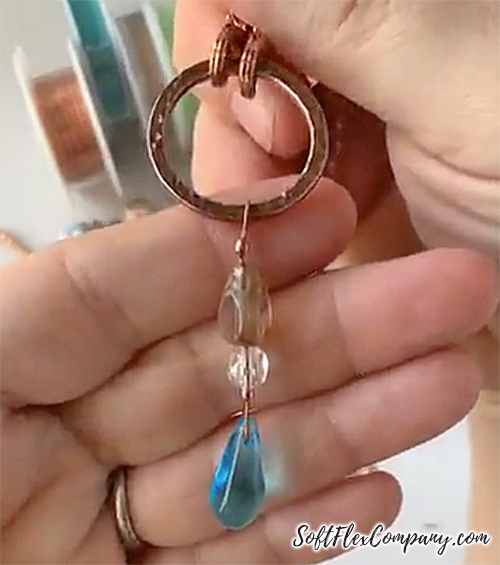 Sara wanted to make a necklace out of her mask lanyard. To do this, all she needed was some Soft Flex Beading Wire., some beads, crimps and a connector. Sara choose to use a TierraCast Hammertone Ring Connector as a focal. She strung some beads to it so it became an elegant pendant. This is an extremely easy design to make and finish. If you know how to crimp, this can be your new mask lanyard! If course, you can make your own stunning pendant your favorite wire and beads.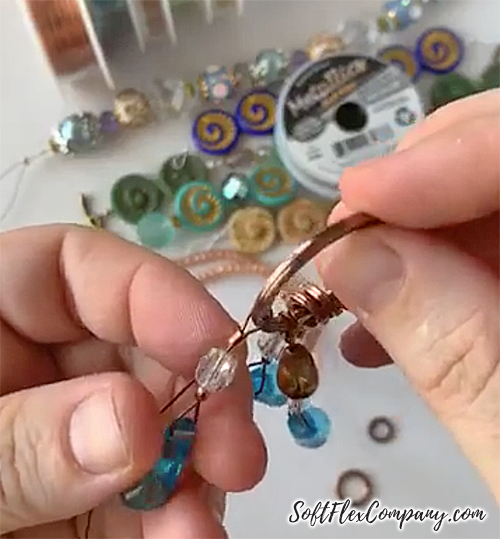 Crimp a small strand of beading wire onto your connector and now you have a dangle. Add as many colorful beads as you please. The are no rules to handmade jewelry. Make a pendant that speaks to you. That is the best part of DIY jewelry, you can make something you think is amazing.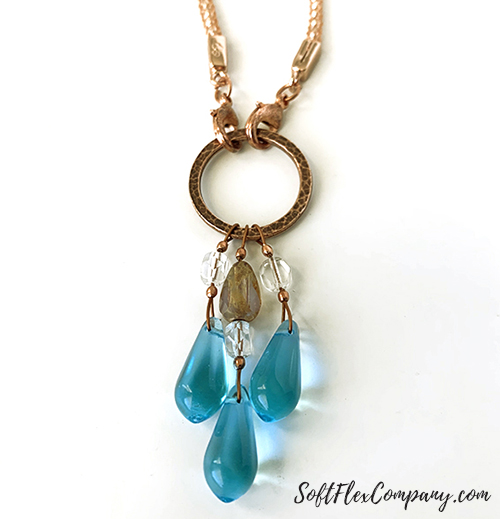 You can use stylish Capture Chain from SilverSilk to create your lanyard lengths. You can also use beading wire. Soft Flex. is a great option. Add some floating beads and make an illusion necklace that won't be too heavy on your face mask. Or, play with the flexibility of our beading wire. You can macrame or braid your wire and then finish with lobster clasps so you can take it on and off your mask.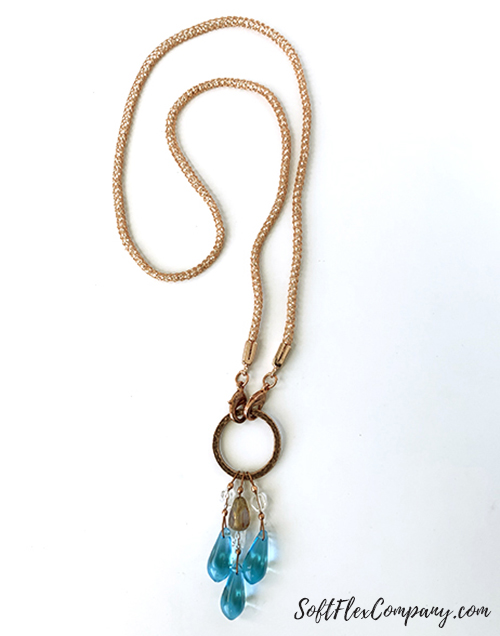 When the dawn arrives and this long terrible pandemic is over. When we are all back to normal. When we are all enjoying movies and eating in establishments without fear of spreading COVID-19. This lanyard will make a great necklace. Pass it on as an heirloom and give your little ones a little piece of personal history. They will cherish your fashion sense and design skill. And they will think you were so brave to face each day when the world was uncertain!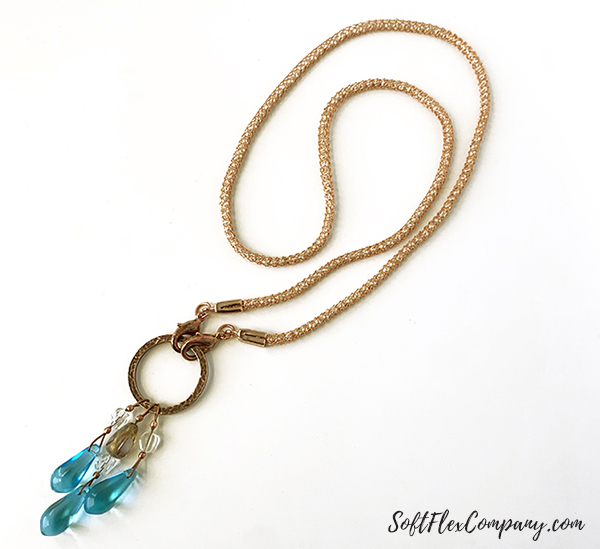 How to Make Seed Bead Earrings with SilverSilk
Nealay unvelied his newest kit this week - The Sahara Sandsea Mystery Kit. This kit is an exotic look at the ancient desert. Every grain of sand hides a story. Unlock the mysteries and tell the tales through your fabulous jewelry designs! Nealay will be doing a full reveal and making jewelry on September 1st and 8th on the SilverSilk Facebook page. Nealay also showed us how to make earrings using Soft Flex Craft Wire and SilverSilk Capture Chain. This set of earrings is captivating, but incredibly quick and easy to make.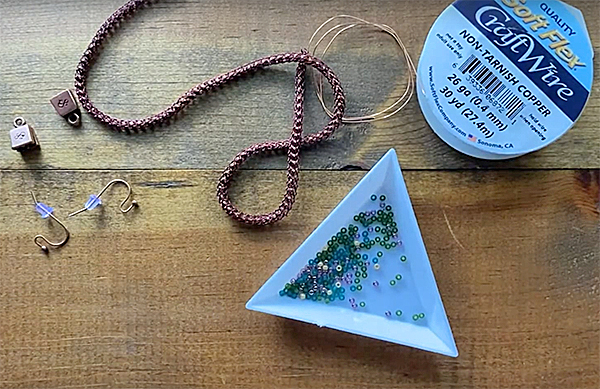 From Nealay:
I love using seed beads when the technique is easy and quick. Here, I show you how to make seed bead petals that are fast and simple to make and adds ton of embellishment to your design in minutes.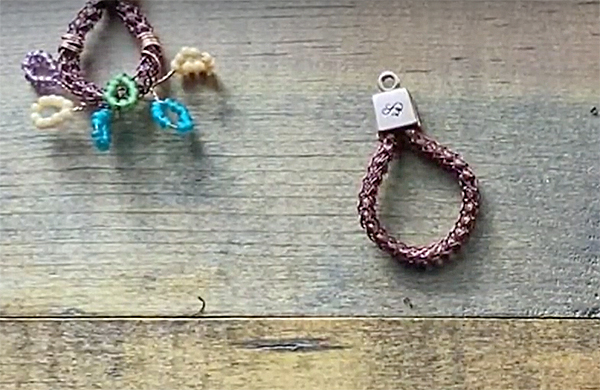 SilverSilk Capture Chain
Soft Flex Craft Wire - 26 Gauge
Soft Flex Craft Wire Silver Plated - 26 Gauge
Toho Bead Mix
SilverSilk End Caps
Nylon Jaw Pliers
Cutters
Chain Nose Pliers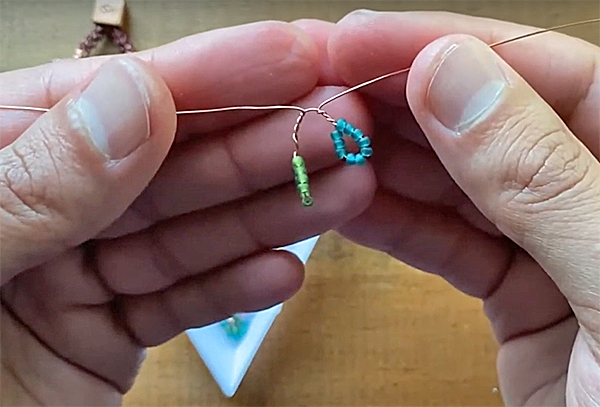 This is such a fun project. String seed beads on a length of Craft Wire. You can shape the wire into dainty ovals, like Nealay does. Or, you can change it up and make different shapes that you think are fun. This playful design gives you so many options. You can change the color and size of your beads and make something completely yours.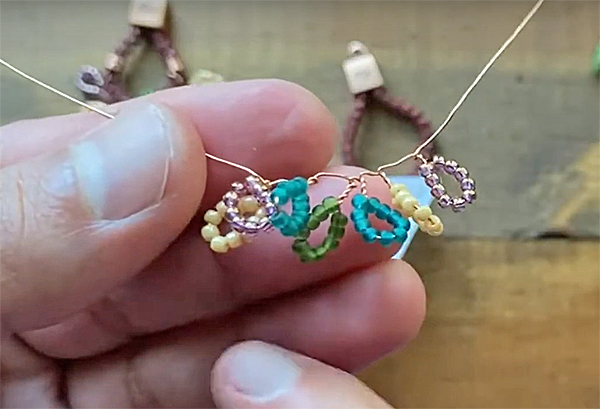 Nealay is an amazing and thoughtful designer. His jewelry pieces are always so clever and interesting. Such wonderful eye candy. Make sure you visit his YouTube library if you want to see how he thinks. He enjoys sketching out his work before he begins. He loves to add embellishments and accents. His jewelry is gorgeous but so easy to make yourself, if you follow his simple instructions.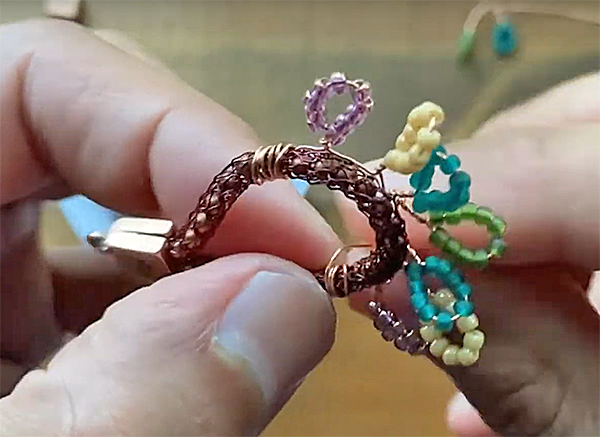 A one of a kind set of earrings. You can be sure that you are the only person wearing the designs you make. Don't just wear your jewelry, be a walking art gallery. These sumptuous earrings will look amazing on you!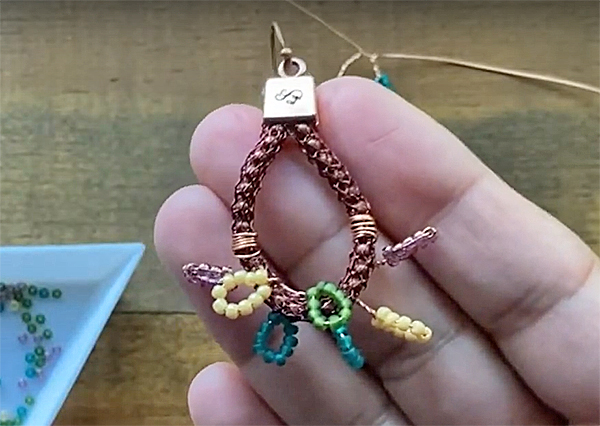 Be sure to mark your calendars for every Tuesday, 5:30pm CST and hop over to facebook.com/groups/silversilk to watch Nealay's videos live and ask questions.
Nealay's channel is dedicated to learning how to make high quality jewelry with SilverSilk with an emphasis on design. You can follow his journey here:
www.instagram.com/silversilkandmore
www.facebook.com/silversilkandmore
Or join our silkies group and be a part of the conversation www.facebook.com/groups/silversilk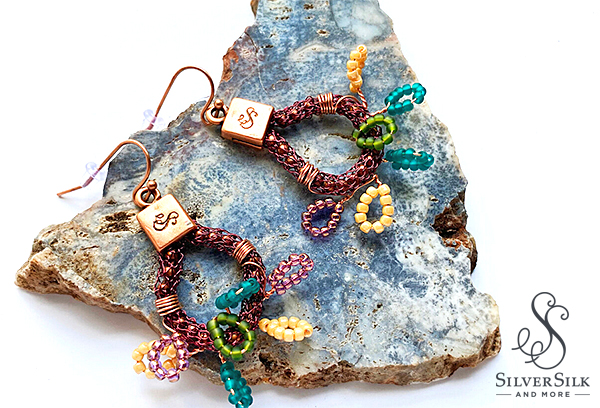 Join our Facebook group – VIB. Stay in the know. Stay up to date. From our bead shows to our video shows and sales, you can stay in touch with us. The community is full of artistic and helpful beaders and crafty people. Inspire and be inspired. Share your pictures and get the beading bug from others!
Visit the Soft Flex Company YouTube Channel!
---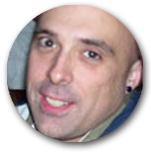 Blog contributor Thomas Soles loves Jazz Age writers and crunchy french fries. His favorite gemstones are Lapis and Pietersite. His favorite hobby is day dreaming. And his favorite mustache is Freddie Mercury's. As you can see, he has a healthy (or possibly unhealthy) sense of humor. You can write to him at Thomas@SoftFlexCompany.com