What a glorious week of creativity! We celebrated Kit Day on Wednesday. Kit Day is a Soft Flex Company holiday. We opened our Egg Hunt Design Kit (Sold Out). This themed jewelry making kit was a real Easter egg - it was loaded with surprises and bouncing colors! Don't be a mad hatter if you missed out, we still have Egg Hunt Bead Mixes and Bead Strands in our warren. We also bunny hopped over to a happy session with Kristen and learned how to make DIY earrings. You are going to love this egg-ceptional basket of goodies. Let's learn how to make jewelry!

Spring is in bloom. We are celebrating with Pantone color matched beads and beading wire. Raspberry Sorbet, Amethyst Orchid, Cerulean, and Illuminating Yellow are colors that should be in your beading supplies if you want to add a vivid bounce to your next spring inspired necklace. These trending colors are timeless and carefree. Make jewelry that is exuberantly happy! Kristen showed us how to make Pantone color matched earrings this week. She used our 2021 Spring/Summer Pantone Quad of Beading Wire to add a festive gloss to her jewelry. These earrings can be made in minutes and look absolutely amazing. Sara unboxed our latest kit and made jewelry that would make the March Hare jealous. Our design kits are delicious and this one was egg-straordinary. We added some 30 second jewelry making videos to our Instagram Reels. Learn how to make jewelry or learn a new technique in lightspeed. Finally, we dropped in on Nealay and watched him design a stunning button clasp necklace. What an inspirational week of fun!
2021 Spring/Summer Pantone Quad of Beading Wire

Explore the 2021 Pantone Colors of Spring and Summer. The 2021 Pantone Spring/Summer Color Quad of Beading Wire is our color matching collection. This Quad selection of colors was built to complement the colorways of Pantone's Spring and Summer seasonal selections: Raspberry Sorbet, Amethyst Orchid, Cerulean, and Illuminating Yellow. We color matched with these wires (using a little artistic liberty): Pink Tourmaline (Raspberry Sorbet) color Soft Flex Beading Wire .019 (Medium), Purple Amethyst (Amethyst Orchid) color Soft Flex Beading Wire .019 (Medium), Tanzanite (Cerulean) color Soft Flex Beading Wire .019 (Medium), and Yellow Lemon Quartz (Illuminating Yellow) color Soft Flex Beading Wire .019 (Medium). We think you will love this color collection as much as we do.
Pantone knows color!
Jewelry Making Videos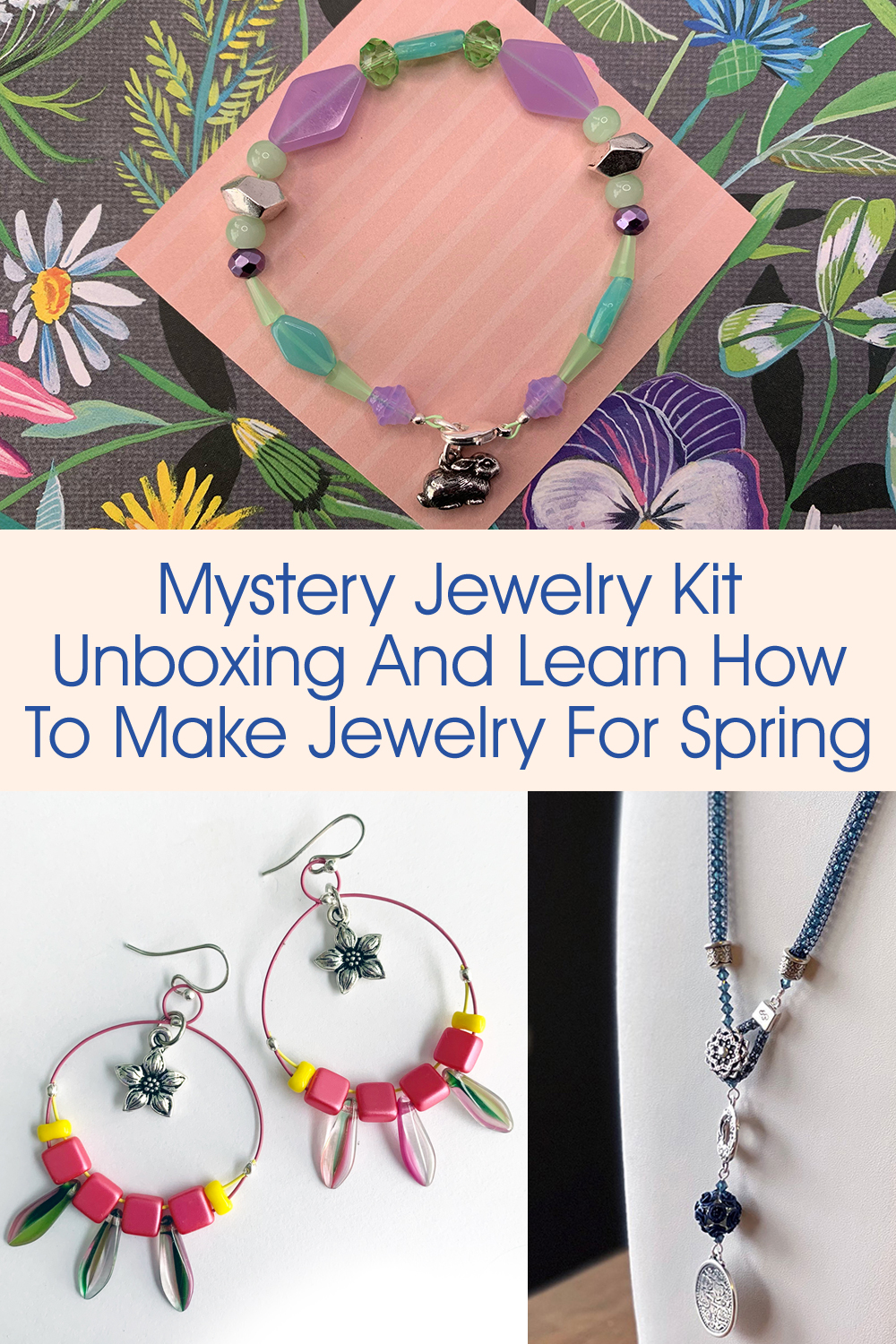 Learn How To Make Jewelry In 30 Seconds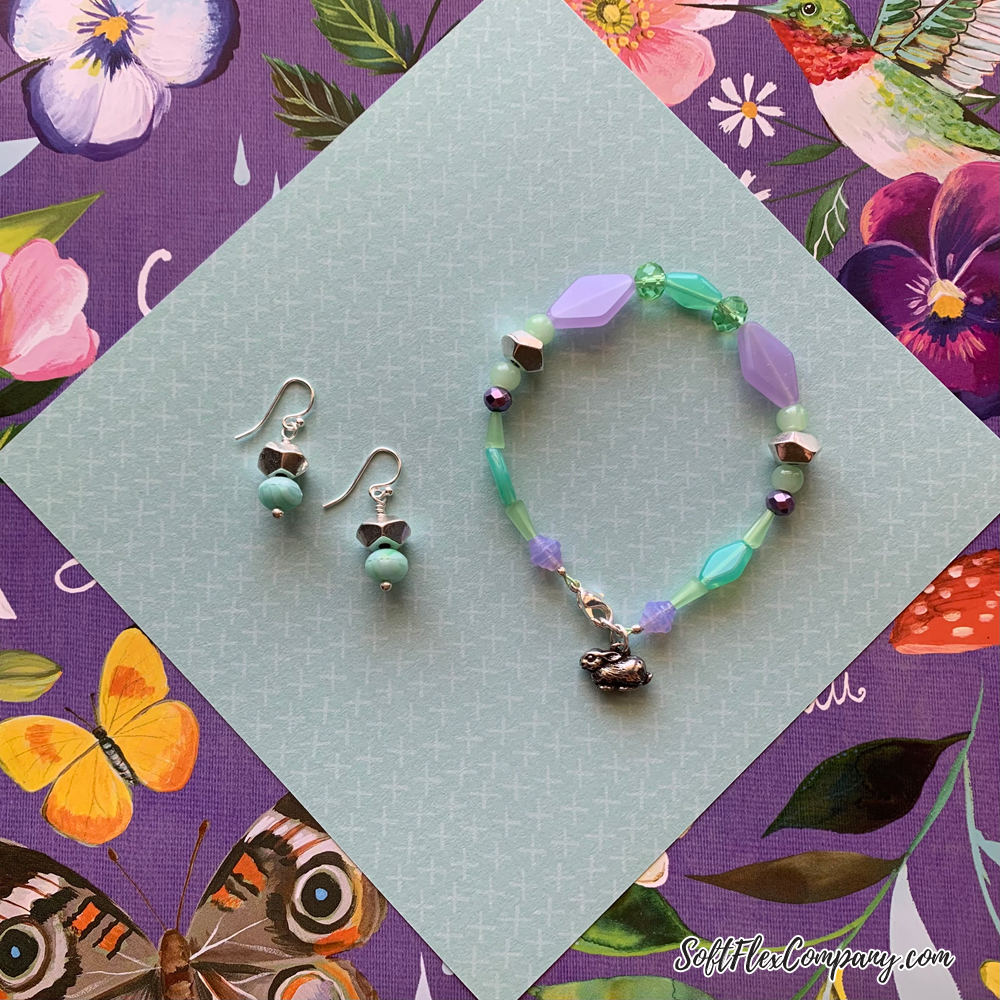 Check out this 30 second jewelry tutorial on Soft Flex Company's Instagram Reels! Sara shows you how to make earrings using beads and components from our Egg Hunt Design Kit (Sold Out). Earrings can be mastered in minutes! You only need a couple of beads, findings, and wire and you are on your way to learning how to make DIY jewelry that you will adore. Follow our Reels to see all of our fun designs!
DIY Spring Earrings With Two Hole Beads, Daggers & Flower Charms
We are loving 2021 Spring/Summer Pantone colors. We color matched Raspberry Sorbet, Amethyst Orchid, Cerulean, and Illuminating Yellow with color selections in our beading wire to create our latest Quad of Beading Wire. This collection is vivid and full of joyful exuberance. If you are done with winter and ready for renewal, you are going to love our color wire.
Kristen opted to use our 2021 Spring/Summer Pantone Quad of Beading Wire to create some fun earrings. Dagger beads and 2 Hole Czech Glass made her designs come together in short order. Earrings are fun and easy to make with Soft Flex wire. A dangle or a hoop with beads can be made in minutes. A few supplies go a long way. Make some new earrings and celebrate the new season!
Join Kristen live for a jewelry making tutorial on Soft Flex Company's YouTube channel on Monday.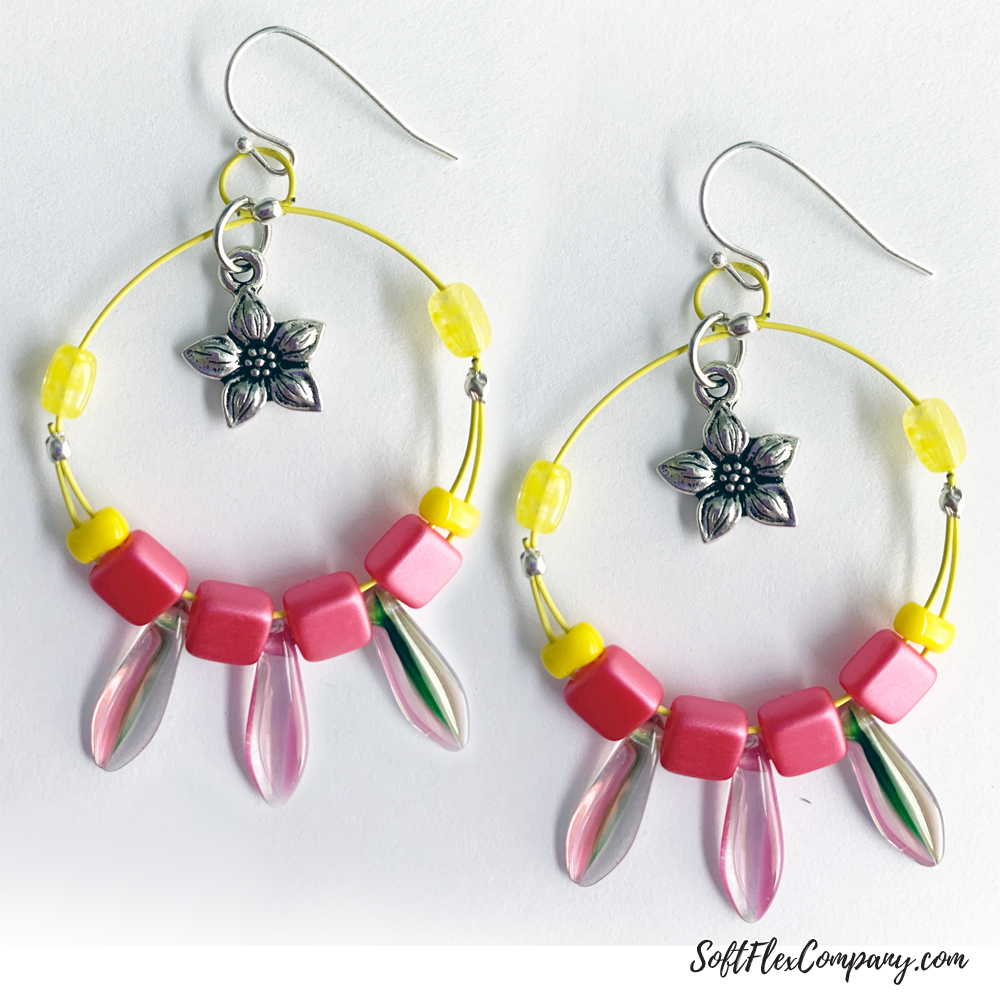 2021 Spring/Summer Pantone Quad of Beading Wire
Spring Fling Extravaganza Mix
Czech Glass 2 Hole Square Beads
Ear Wires
2x2mm Crimp Tubes
Crimping Pliers
Cutters
Bead Stopper
From Kristen:
After the video, I realized I had enough of the raspberry and purple dagger beads in my Spring Fling mix to try another colorway. This time I selected the purple amethyst and pink tourmaline beading wire colors for the focal, crimped them together and cut away the pink leaving just the purple for the top portion of the earrings.
Sara Unboxes Our Egg Hunt Design Kit
It's Kit Day! Peter Rabbit loves our latest kit - Egg Hunt. We think you will want to hippity-hop after seeing it, too. The Egg Hunt Design Kit (Sold Out) was loaded with a parade of spirited beads, wire, and findings. Sara unboxed this design kit on Wednesday and made a beautiful bracelet for spring. She also filmed a 30 second video for our Instagram Reels that showed how to make a pair of earrings that complemented this bracelet. All of our kits are limited in inventory and full of rare and unique items. Don't miss out! You can open your kit when you receive it or you can wait for Sara to unbox the kit at the end of the month and make the design she makes.
Our kits make great gifts. Inspire a youngster or friend to become a jewelry designer with their own kit. Each kit is self-contained, if you have the most basic bead stringing tools. If you have a pair of crimping pliers and cutters, you have everything you need to make a bunch of jewelry with a themed jewelry making kit. Share your favorite hobby/ craft with people you love!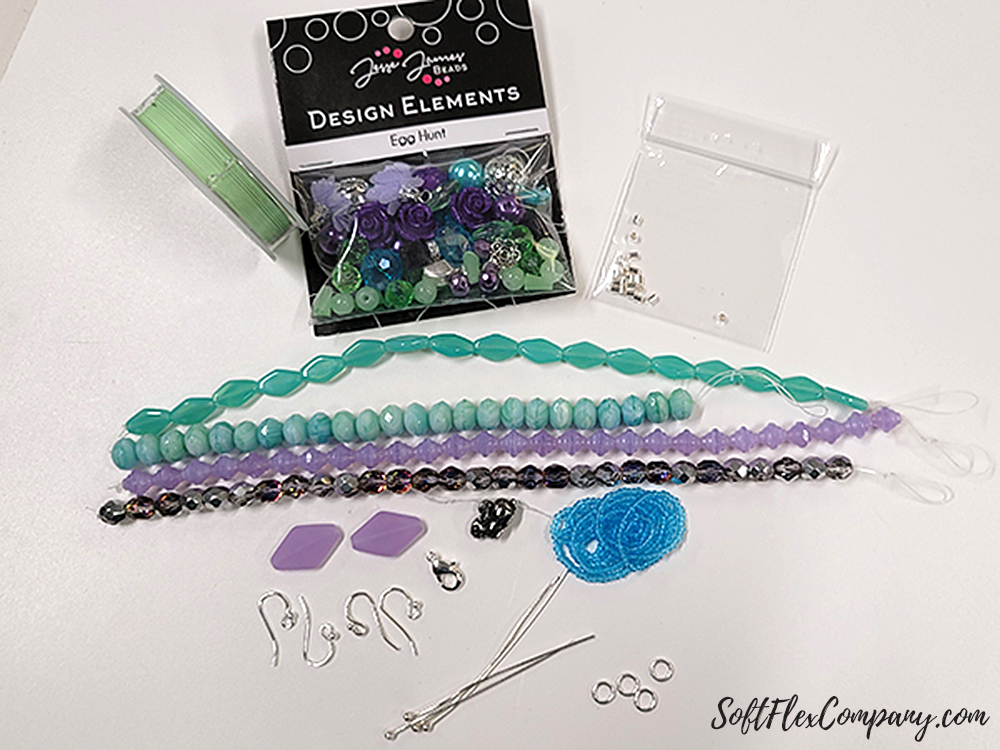 Egg Hunt Design Kit (Sold Out)
Soft Flex Beading Wire, .019 Diameter in Chrysoprase
2x2mm Crimp Tubes
Magical Crimping Pliers
Cutters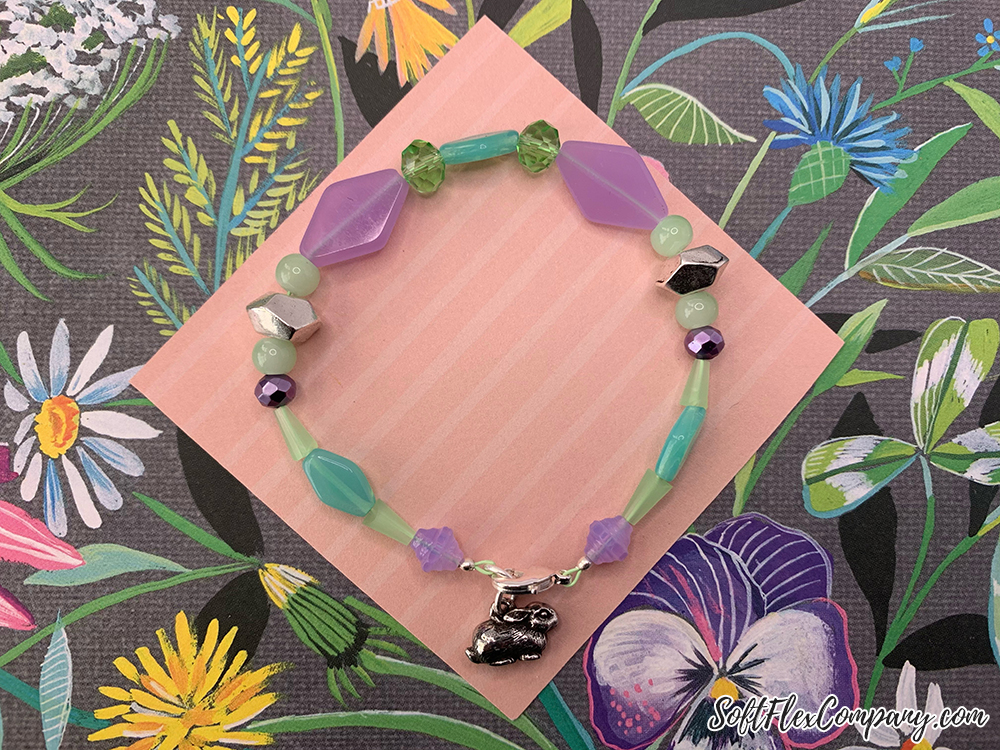 Don't miss Sara's latest Instagram Reel. She makes a pair of earrings that is the perfect complement to this bracelet. Making earrings is easy with Soft Flex Beading Wire. You need only a limited amount of beading supplies and beads and you can create earrings for every occasion.
DIY SilverSilk Button Clasp Necklace
Buttons make stunning clasps! Don't let a beautiful button go to waste. Repurpose that antique button as a finding on a necklace. These fun clasps can be shown front and center as part of the design instead of concealing them behind the neck. Be adventurous and show off your favorite buttons and findings!
From Nealay:
In my abundant, yet disorganized, stash of metal components, I found the most amazing set of Tierra Cast buttons, connectors and pendants. All it needs is a fabulous design. So, I'm using River Capture Chain to make a clever loop for a Tierra Cast button to clasp. Next, I found coordinating Hollow Mesh and Swarovski bicone crystals to assemble a simple, but elegant necklace rope. The process for this will be easy. I can simply string beads onto Soft Flex beading wire and crimp the ends, so my beads don't fall off the beading wire. Next, pull the Hollow Mesh over the beads and string on Tierra Cast cord ends for the most professional finish.
SilverSilk Hollow Mesh
Soft Flex Craft Wire - 20 Gauge
Soft Flex Craft Wire Silver Plated - 20 Gauge
Extreme 925 Sterling Silver Plated Beading Wire, .019 Diameter
SilverSilk End Caps
Beads
Tierra Cast Cord Ends
Tierra Cast Decorative Link
Tierra Cast Pendant
2x2mm Crimp Tubes
Cutters
Nylon Jaw Pliers
Round Nose Pliers
Chain Nose Pliers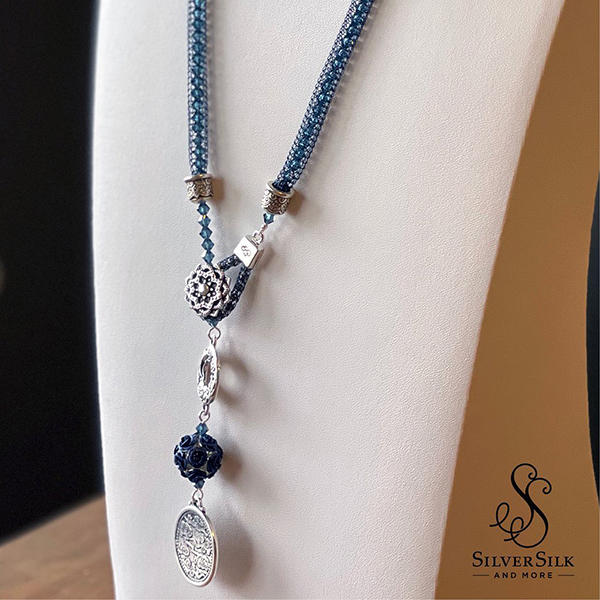 Be sure to mark your calendars for every Tuesday, 5:30pm CST and hop over to facebook.com/groups/silversilk to watch Nealay's videos live and ask questions.
Nealay's channel is dedicated to learning how to make high quality jewelry with SilverSilk with an emphasis on design. You can follow his journey here:
www.instagram.com/silversilkandmore
www.facebook.com/silversilkandmore
Or join his Silkies group and be a part of the conversation www.facebook.com/groups/silversilk
Join our Facebook group – VIB. Stay in the know. Stay up to date. From our bead shows to our video shows and sales, you can stay in touch with us. The community is full of artistic and helpful beaders and crafty people. Inspire and be inspired. Share your pictures and get the beading bug from others!
Visit the Soft Flex Company YouTube Channel!
---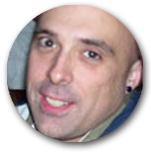 Blog contributor Thomas Soles loves Jazz Age writers and crunchy french fries. His favorite gemstones are Lapis and Pietersite. His favorite hobby is day dreaming. And his favorite mustache is Freddie Mercury's. As you can see, he has a healthy (or possibly unhealthy) sense of humor. You can write to him at Thomas@SoftFlexCompany.com