The Great Bead Extravaganza is here! We don't blame you if you gloss over this week's video recap. We have an amazing collection of jewelry making videos for you, but nothing can match the fun of watching an eclectic collection of artisan jewelry designers crafting live and answering your questions. It has been a creative week, but this weekend promises to be full of inspiration and excitement. Make sure you join us on Facebook for the Great Bead Extravaganza!
First up, we added a video Sara filmed last Friday. It was too late to hit last week's recap, but her stretch bracelet was too good not to add. This gorgeous design is fun and easy to make. This week, Kristen showed us how to use stretchy string to make a Chakra Healing Bracelet. Sara showed us how to make bangle bracelets. This stacked collection of braided bangles looks amazing. Nealay showed us how to make an heirloom necklace. And finally, we joined Kay from Star's Beads and watched as she showed us how to make a choker. So many amazing videos to choose from. There is just not enough hours in the day!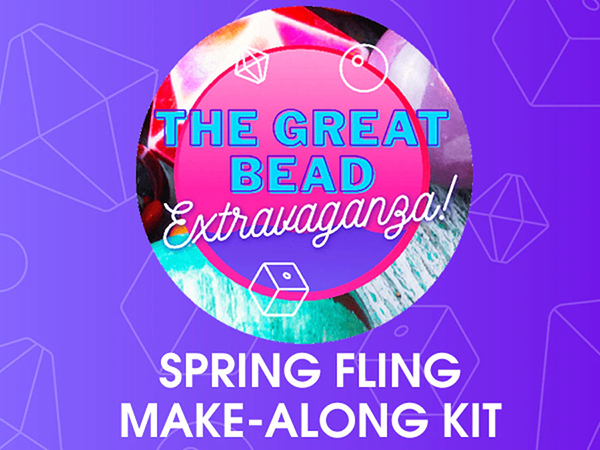 Retail buyers will receive 10% Off The Great Bead Extravaganza Spring Fling Kits at checkout. Other buyers will receive their applicable discounts. Plus, spend $49 or more and get $10 off with Kit. Use Coupon FLING. Offers not valid with any other order discounts and ends March 9th or while supplies last.
Are you a Free Spirit Beader? Would you like to make jewelry with Kristen, using the same materials she is using? The Great Bead Extravaganza Spring Fling Make-Along Kit is your chance to design with Kristen. This lovely kit comes in two colorful options: Purple and Silver with Dagger Beads or Turquoise and Gold with Rondelle Beads. Recreate Kristen's jewelry or make your own unique design.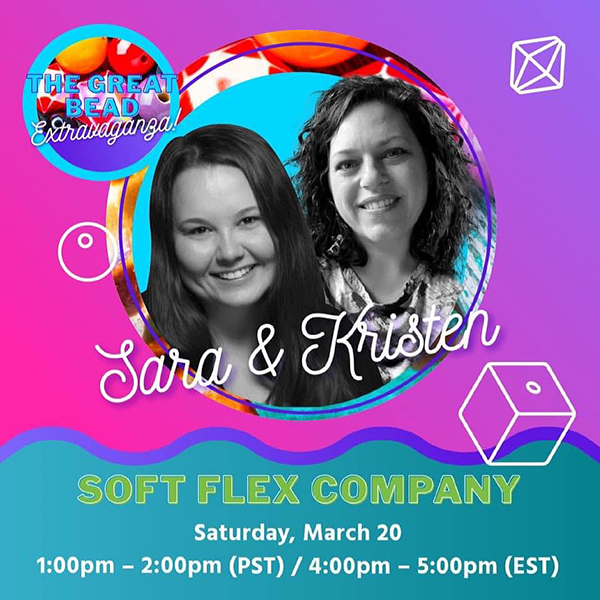 Join us in The Great Bead Extravaganza Facebook Group on March 20th at 1pm PST for the make-along with this kit!
Supplies are very limited. Don't miss out!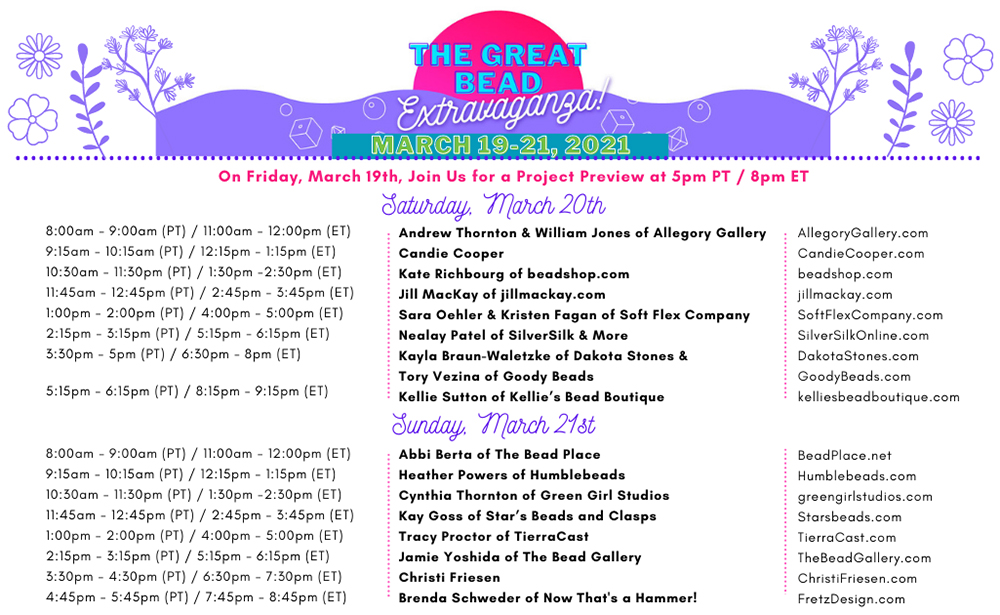 Jewelry Making Videos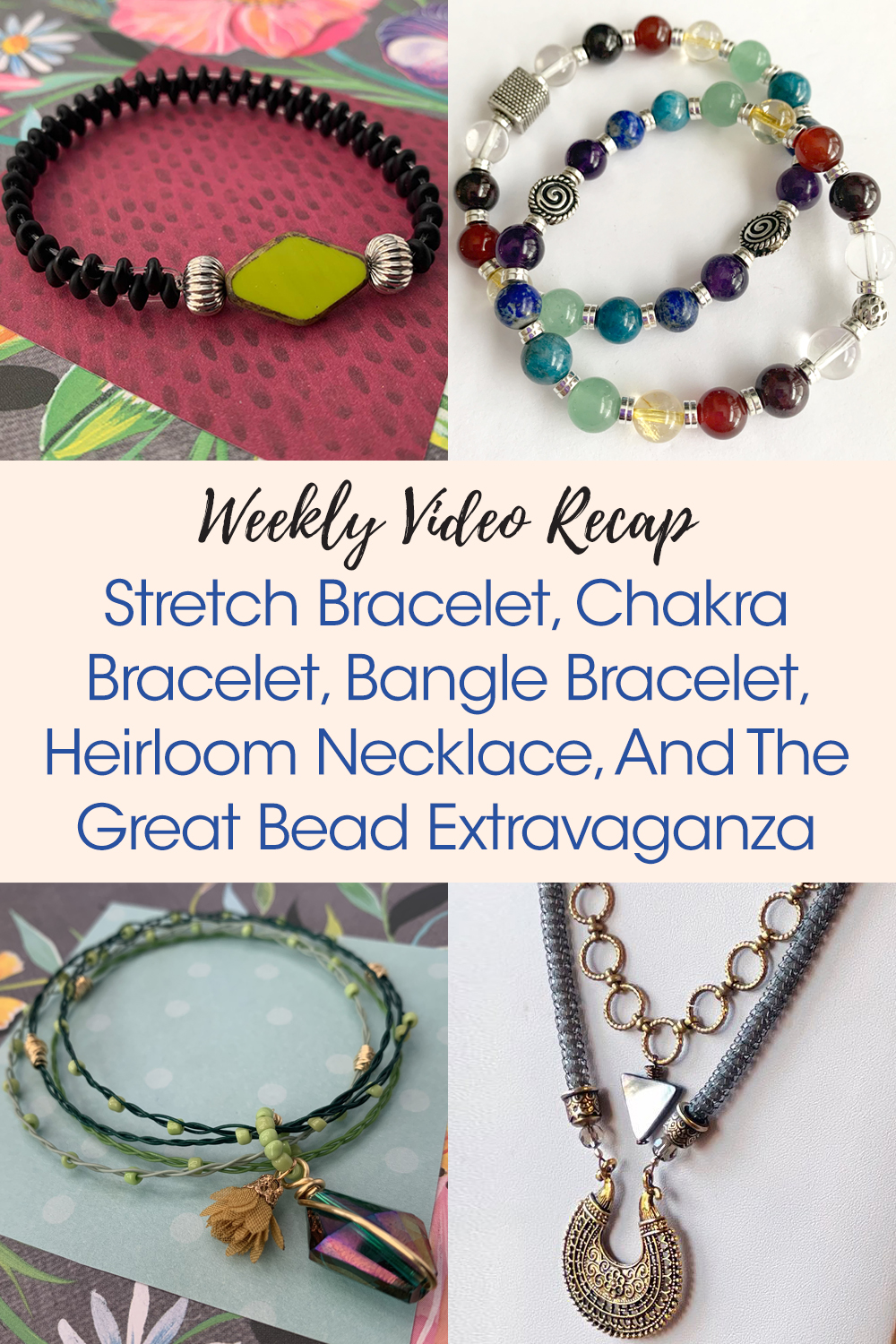 Join Us For Joyful Beading On Our VIB Facebook Group
Download the Full Calendar for March - Click HERE.
Join the fun on our VIB community on Facebook. Every day of Joyful Beading is a chance to share your finished jewelry designs with artists and peers that cannot wait to see your work. Click the image above to visit our blog about Joyful Beading. Every design you post with the hashtag #joyfulbeading is an entry to win our daily giveaway. You can post a single image with ten designs or ten images with single designs. Make sure they are hashtagged and follow the road map and you are in the contest.
Follow along on our Joyful Beading road map. Each day, we begin a new jewelry project. For instance, March 17th is 'Share a St. Patrick's Day Design'. On that day, every project that is St. Patrick's holiday themed, will be entered to win a $10 credit. Projects must be posted before midnight PST, on that date. If you post a kit project on a different date and it is not applicable to that date's project, you will not be entered to win. Make sure every project you post has this hashtag - #joyfulbeading. If you do not include the hashtag, we may overlook your entry.
There is no skill needed to win. Beginners have the same opportunity to win as professional jewelry designers. We take each name down. If you entered multiple designs, we put your name down multiple times on a spreadsheet. Once all of the names are collected, we randomize the names so the sheet is mixed and there are no clusters of a single name. We then use a random number draw. If your name is on that numbered line, you win! Pure chance - we are not biased by skill. Win a credit for your next purchase.
Learn How To Make Jewelry In 30 Seconds
Learn a new jewelry making technique in record time!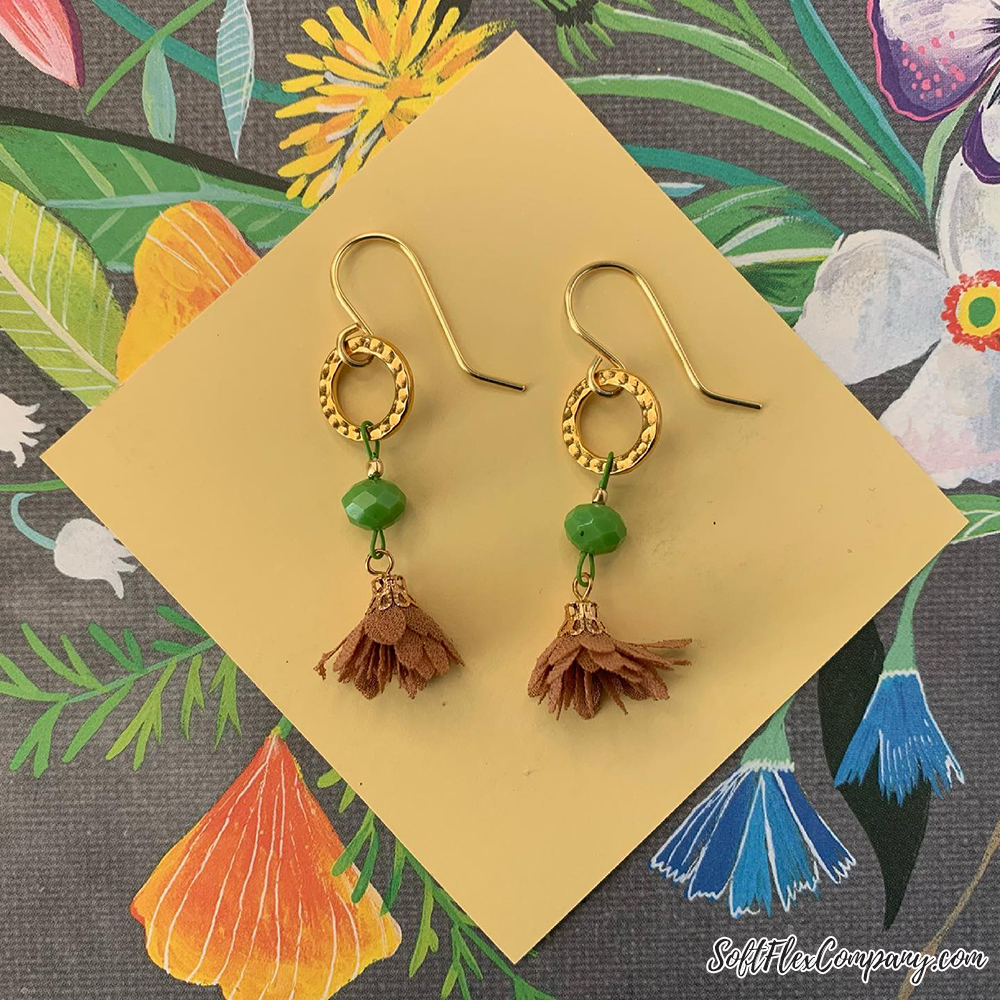 Check out this 30 second jewelry tutorial on Soft Flex Company's Instagram Reels! Sara shows you how to make earrings. This lovely jewelry design can be mastered in minutes! You only need a couple of beads, findings, and wire and you are on your way to learning how to make DIY jewelry that you will adore. Follow our page to see all of our fun designs!
Learn How To Make Stretch Bracelets

Sara showed us how to make a stretch bracelet using Stretch Magic cord. You might imagine stretchy bracelets are something a child would wear. We think otherwise. Stretchy cord can be turned into an elegant jewelry design with the right beads and tools. All you need is a little inspiration and to think out of the box.
One great thing about using a stretchy string to design a bracelet is that you do not need a clasp or any findings to finish your jewelry. Simply knot the cord and then glue it. You can get away with just a knot, but if you use a gap filling glue, like Special T, it will get into the small nooks and crannies of the knot and seal it for good. Your finished bracelet will not slip or fall apart!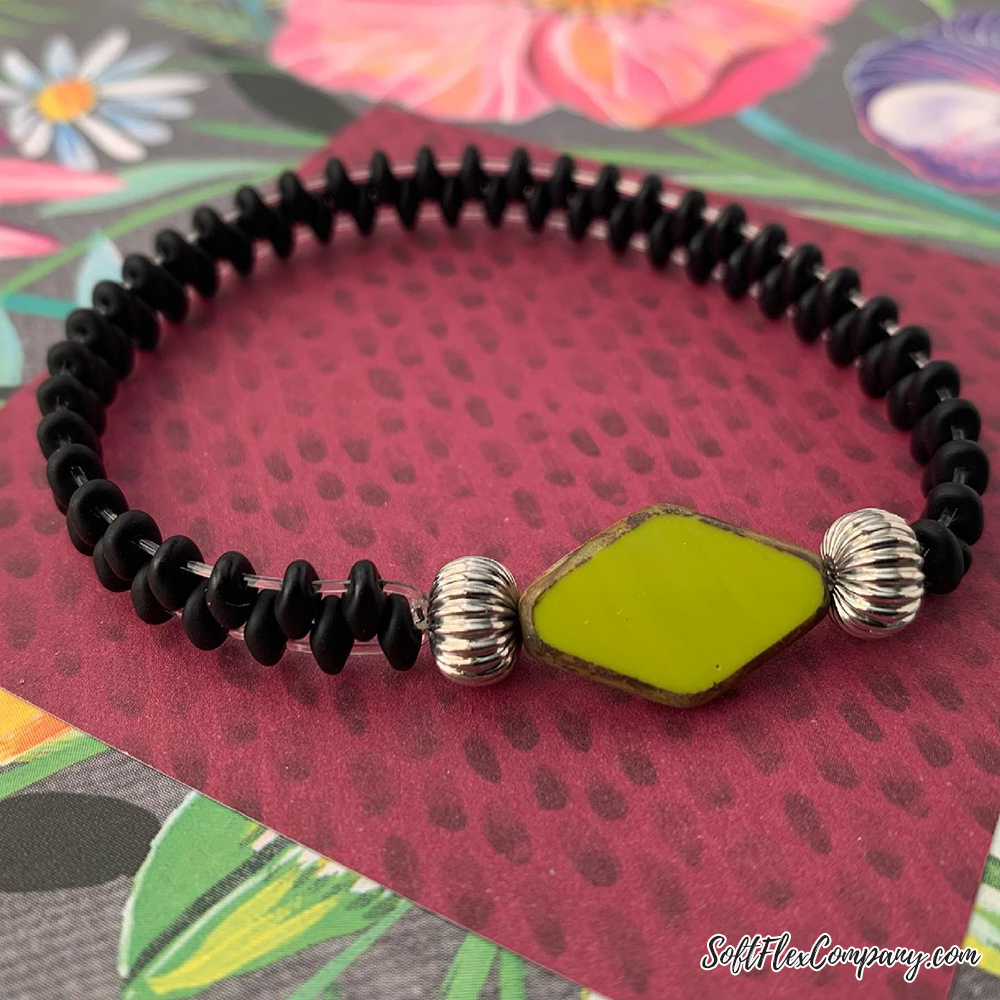 Stretch Magic Elastic Jewelry Cord - 0.7mm Clear
Special T or GS Hypo Cement Glue
Beads
Bead Stoppers
Mini Macrame Board
Cutters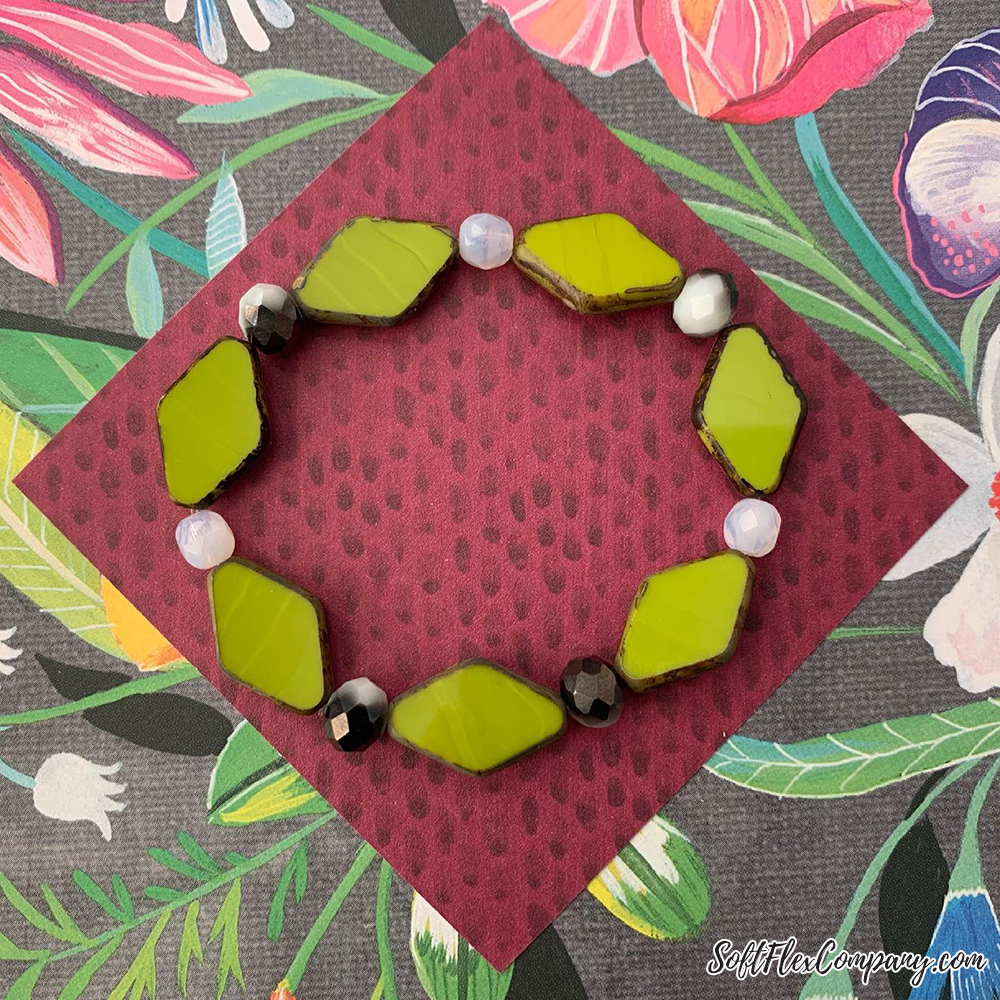 How to Make a Chakra Healing Gemstone Bead Stretch Bracelet

Kristen filmed her episode of Free Spirit Beading as we crossed the ten thousand YouTube subscriber threshold. How fun! We celebrated with a giveaway - you still have time to enter! Watch her video for details. We really appreciate anybody that takes the time to subscribe to our channel and like our videos. It lets us know that you enjoy the content we are putting out there. If you have not subscribed yet, we would really appreciate your time. Subscriptions on YouTube are free. They are just footnotes, more or less, that you enjoy a content creators videos. If you enjoy our videos, we will be inspired to film more and more!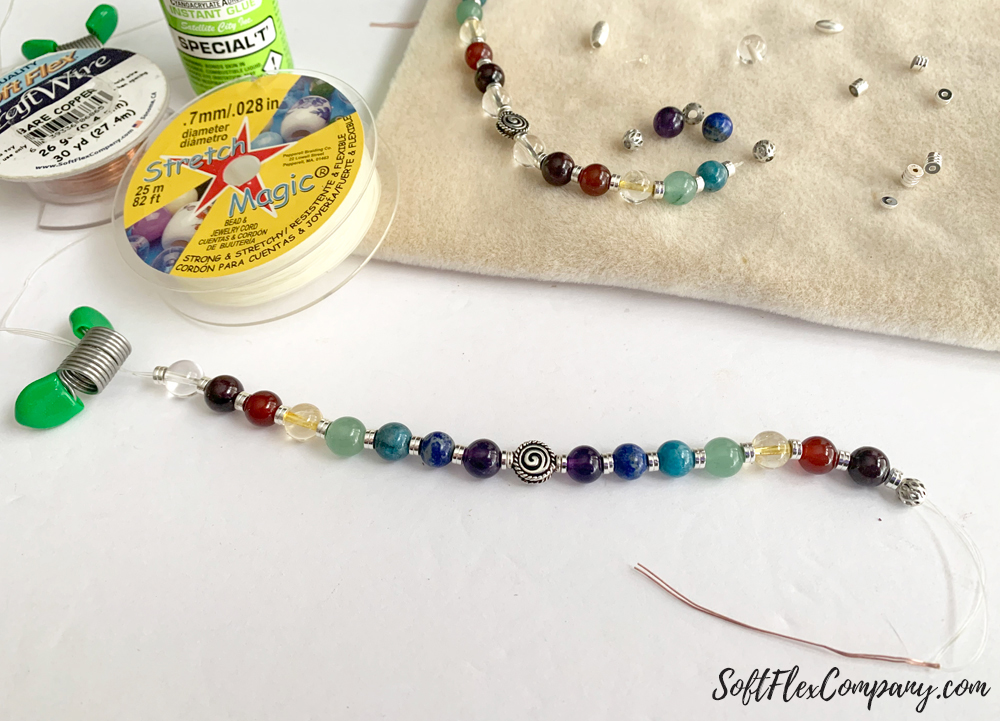 From Kristen:
What does a Chakra healing bracelet do? Chakras are believed to be vortexes of energy within us connected to certain aspects of our physical and emotional being. Gemstones are considered a powerful tool in correcting imbalances within these chakras. It is believed the healing powers of stones would subtly absorb the negative energy blocking the wearer's chakras and balancing their flow of energy.
Stretch Magic Elastic Jewelry Cord - 0.7mm Clear
Special T or GS Hypo Cement Glue
8mm Gemstone Beads, Assorted
Metal Spacer Beads and Focal Bead
Large Hole Bead
Craft Wire - 26 gauge
Cutters
Chain Nose Pliers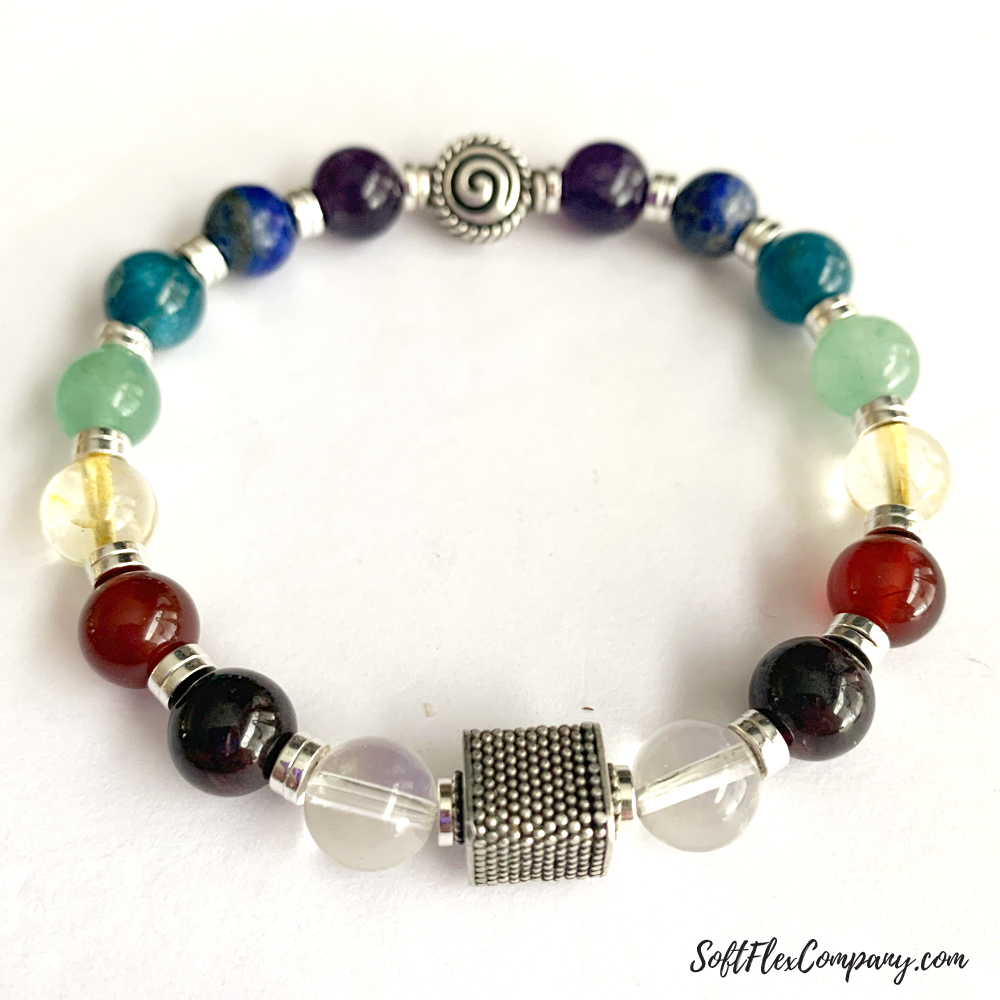 How to Make a Stack of Braided Bangle Bracelets Using Soft Flex Beading Wire
May your blessings outnumber the shamrocks that grow!
Sara celebrated St. Patrick's Day with a short video. She showed us how to make braided bangle bracelets that look great on the greenest of holidays. But are also a wonderful design for spring. Change up the color wire you braid your bracelets with and you have an easy design for every occasion.
If you love St. Patty's we have a Trios beading wire collection, just for you - Kiss me, I'm Irish! This color mix is premade for your easy holiday jewelry. You do not have to hide Soft Flex wire, either. Show your colors! Our wire is flexible enough to braid and even knot for macrame designs. Don't hide your wire underneath your beads, let it shine and use the color as part of your jewelry design!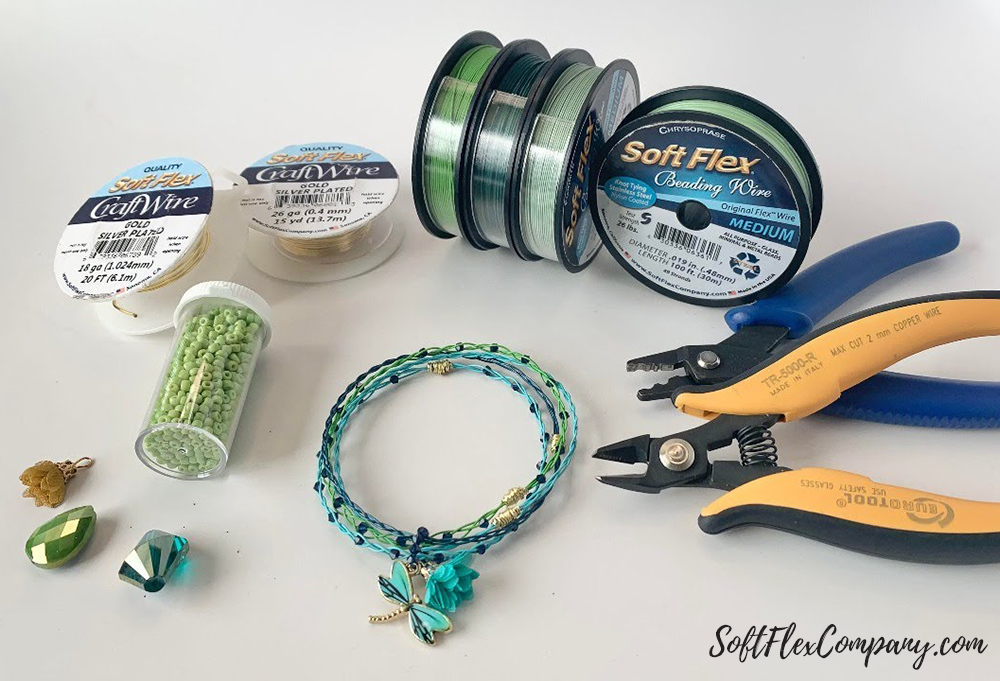 Sara adds a messy wrap to her beaded bangle bracelets. Messy wrap adds an organic and lovely design element. But you do not have to do this to yours. If you have never tried a messy wrap, give it a shot. You will love how unique it looks. It is a fun thought experiment to add this to your jewelry if you are a perfectionist as this style is the antithesis of organization. Don't be afraid to color outside of the lines!
You do not need a Mini Macrame Board to make these braided bracelets, but it really does help to hold your design in place while you work on it. Bead Stoppers are also invaluable if you need to pinch an end of wire or cord. Place a Bead Stopper on one end of your design and you can feel assured that your beads will stay in place as your string your jewelry. If you need to leave a design before you finish it, a Bead Stopper on both ends will lock all of your beads in place - even if you have a playful kitten in the house!
Trios Beading Wire Packs Multi-Color - Kiss Me I'm Irish
Soft Flex Craft Wire - 26 Gauge
Soft Flex Craft Wire Silver Plated - 26 Gauge
Soft Flex Craft Wire - 18 Gauge
Soft Flex Craft Wire Silver Plated - 18 Gauge
2x2mm Crimp Tubes
3mm Crimp Covers
Crimping Pliers
Cutters
Multi-Size Looping Pliers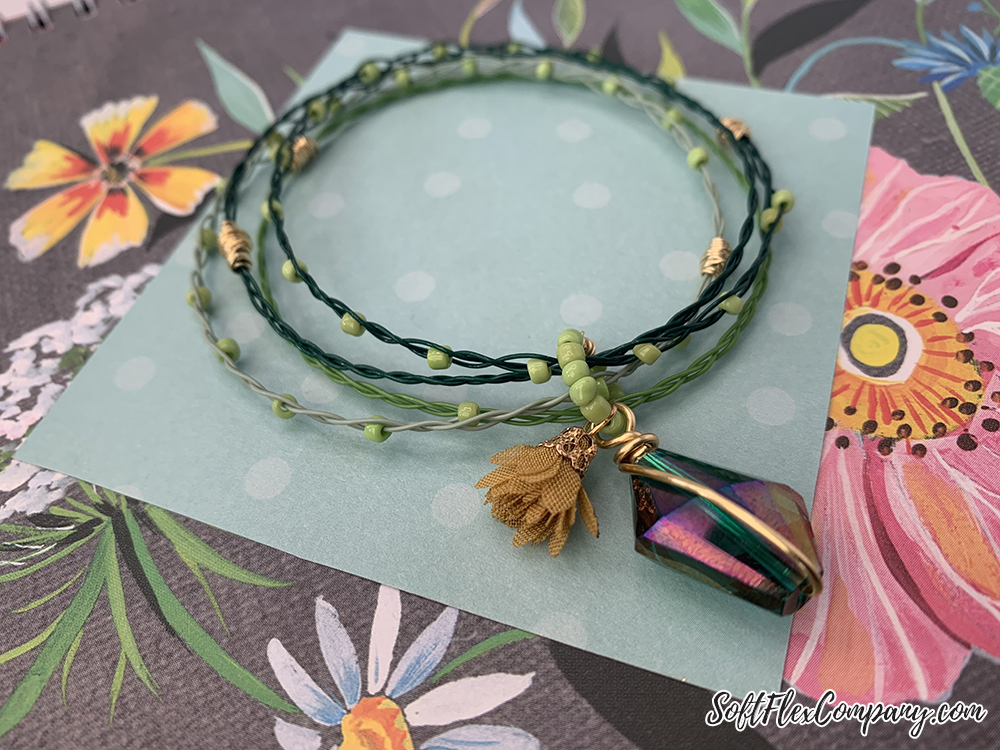 SilverSilk Hollow Mesh Heirloom Necklace Tutorial

SilverSilk Chain and Soft Flex Beading Wire is a marriage made in heaven. These two dissimilar jewelry design tools work so well in tandem that you will want to fill your beading supplies with both mediums. SilverSilk is a dense and lush jewelry chain. Great for using by itself, capturing beads, sheathing other SilverSilk and weaving and braiding with Soft Flex wire. Nealay also uses Soft Flex Craft Wire to hold beads in place or add decorative elements. If you want to learn how to make jewelry that is elegant and sophisticated but easy enough to grasp as a beginner, make sure you follow his YouTube channel!
Make sure you check out Nealay's Great Bead Extravaganza demonstration this weekend!
From Nealay:
I'm using a brand-new color of SilverSilk Hollow Mesh, called Hematite, to put together a very metallic necklace. I decided to go with a sharp contrast between an iron color and a warm antique gold to see what magic will happen. I'll be doing some bead stringing on Soft Flex wire and finishing the ends with Tierra Cast cord ends for a professional look. Join me and learn yet another stunning design you can do in minutes!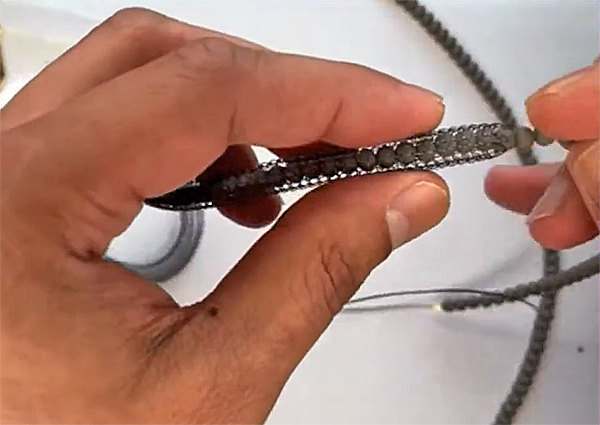 SilverSilk Hollow Mesh
Soft Flex Beading Wire
Decorative Jewelry Chain
Beads
6mm TierraCast Cord Ends
Clasps
Cutters
Magical Crimping Pliers
Round Nose Pliers
Chain Nose Pliers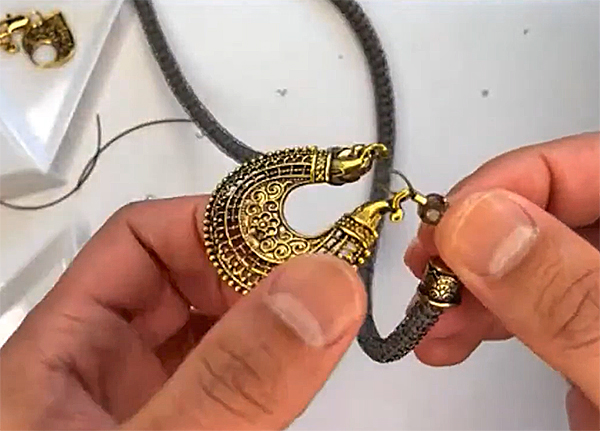 Be sure to mark your calendars for every Tuesday, 5:30pm CST and hop over to facebook.com/groups/silversilk to watch Nealay's videos live and ask questions.
Nealay's channel is dedicated to learning how to make high quality jewelry with SilverSilk with an emphasis on design. You can follow his journey here:
www.instagram.com/silversilkandmore
www.facebook.com/silversilkandmore
Or join his Silkies group and be a part of the conversation www.facebook.com/groups/silversilk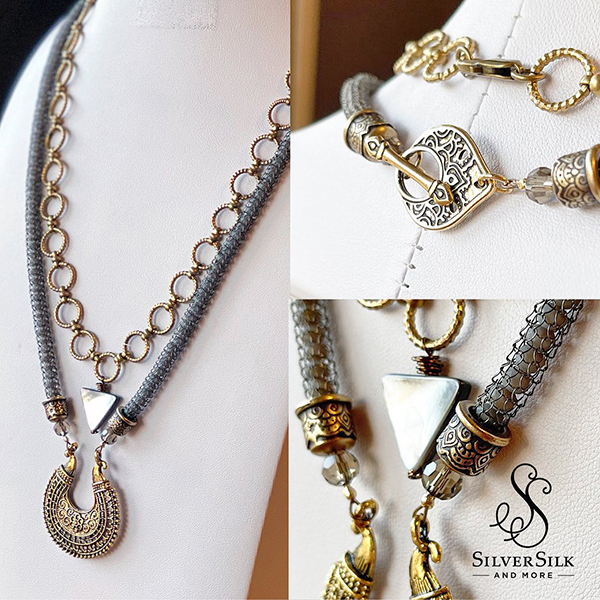 Star's Beads - Bead with Me: Chain and Pearl Choker

Kay Goss is a long time friend of Soft Flex Company. For two decades, we would bump into each other at beading trade shows all across the country. Kay and her husband are based out of Virginia. Soft Flex is headquartered in California. No matter which show we met at, we always felt like neighbors. Kay's inventory was always stunning. Her collection of clasps made every other findings booth at the show pale in comparison. If you want to add some masterful beads and findings to your jewelry making supplies, make sure you visit her website- Star's Beads.
Make sure you check out Kay's Great Bead Extravaganza demonstration this weekend!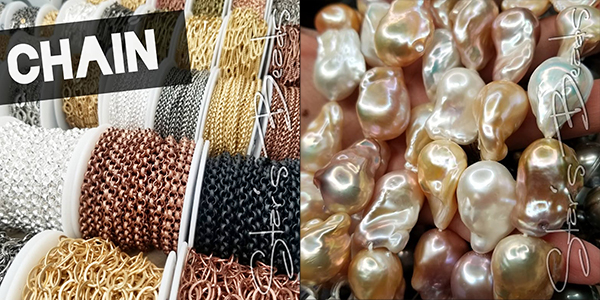 Join Kay for Bead with Me.
Need something to do? Do something creative! Check out Kay's new series Bead with Me to get you inspired. Get free video tutorials, design tips, and product highlights to keep you creating!
Bead with Me is a LIVE broadcast designed to offer inspiration with free video tutorials, guest artists, project tips, product highlights plus custom kits and care packages to make your designs uniquely you!
Airing Monday thru Thursday on FB Live @ 2pm EST
Catch the replays on YouTube!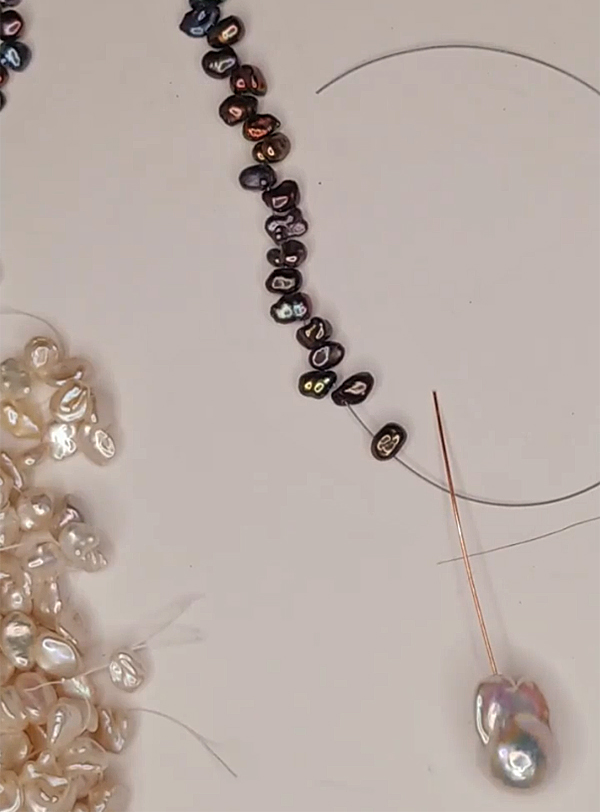 Learn more about Kay and how she adapted to a changing marketplace. The coronavirus swept us all off our standing. We could never have guessed how drastically the world would change within a week. We weathered last year and are hopefully rounding the corner and returning to some sense of normalcy. Read this blog about how Kay managed to keep afloat and not lose everything during the pandemic. Make sure you support small businesses like hers. She sell goods that you will never find at a big box store.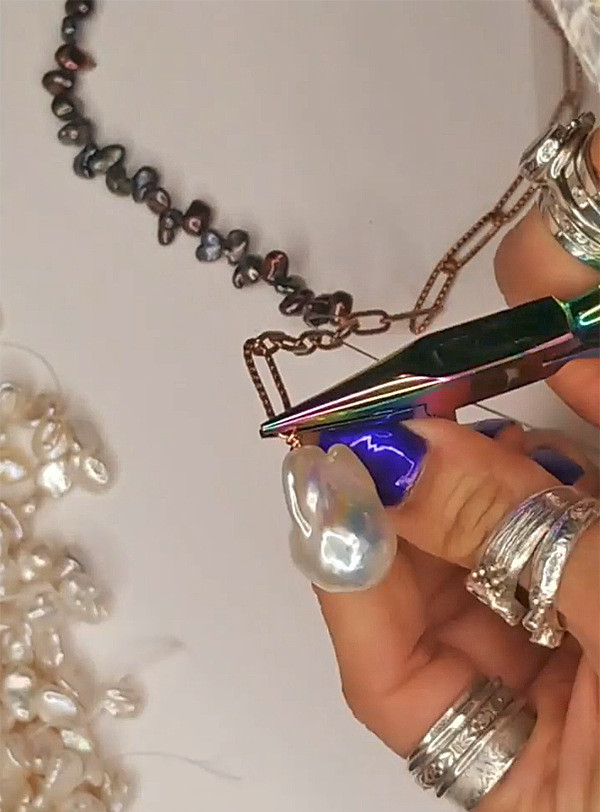 Visit Kay's links:
Join our Facebook group – VIB. Stay in the know. Stay up to date. From our bead shows to our video shows and sales, you can stay in touch with us. The community is full of artistic and helpful beaders and crafty people. Inspire and be inspired. Share your pictures and get the beading bug from others!
Visit the Soft Flex Company YouTube Channel!
---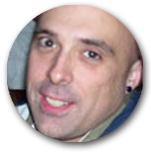 Blog contributor Thomas Soles loves Jazz Age writers and crunchy french fries. His favorite gemstones are Lapis and Pietersite. His favorite hobby is day dreaming. And his favorite mustache is Freddie Mercury's. As you can see, he has a healthy (or possibly unhealthy) sense of humor. You can write to him at [email protected]