Do you love making jewelry? We have some fun videos you need to see! We had a wonderful week of playful creation. We learned how to make earrings that are sure to turn heads. We learned how to patina paint jewelry components. We unboxed our latest design kit. If you love working with mystery themed jewelry kits - this bundle of beading supplies is going to stir your imagination! It's a cruel summer. Let's stay inside and enjoy crafts and thoughtful innovation. Let's make some jewelry!
We had a fantastic week. Kristen showed us how to make earrings that are out of this world. She wire wrapped Craft Wire with the newest tool on our shelves, the Multi-Size Wire Looping Tool. This tool has multiple sized mandrels that allow for varying loop sizes. Sara revealed our latest design kit when she unxboxed it live on Facebook and made jewelry. Serenity Shore Design Kit (Sold Out) was an amazing design kit for anybody that loves a beach vibe. Finally, Nealay taught us how to patina paint jewelry components. He opened his Amazon Rainforest Kit and showed us how to make a necklace that is just stunning. Join us for a free online beading class!
Spice Market Bead Strand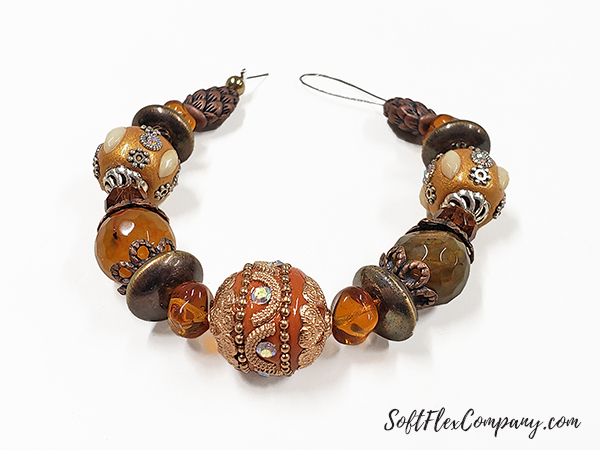 The Spice Market Bead Strand is a great complement to our Spice Market Design Kit.
The Spice Market is a quiet pause at the desert bazaar. The sultry sweet aroma of cinnamon dances in the wind. Tan desert sand dusts your clothes. The heat is invigorating. You gaze at the merchants' tables. Amber jars line vendors offerings. Red paprika is piled in fragrant heaps. Exotic saffron is bagged in small sachets. Don't miss this savory kit of delicious spices!
Supplies are very limited. Don't miss out!
Sara's new video premieres on YouTube on Saturday!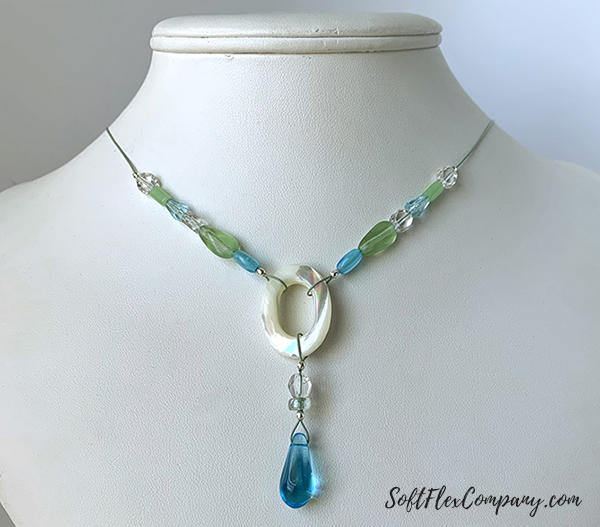 Sara's newest jewelry video will be available on YouTube on Saturday. In this quick video, Sara shows you how to make a necklace with elements from our Serenity Shore Design Kit (Sold Out). This necklace complements the earrings and bracelet she made this week when she unboxed this kit live on Facebook. This simple design can be finished in minutes and looks stunning. This is a wonderfully instructive jewelry making video. You are going to have fun!
Jewelry Making Videos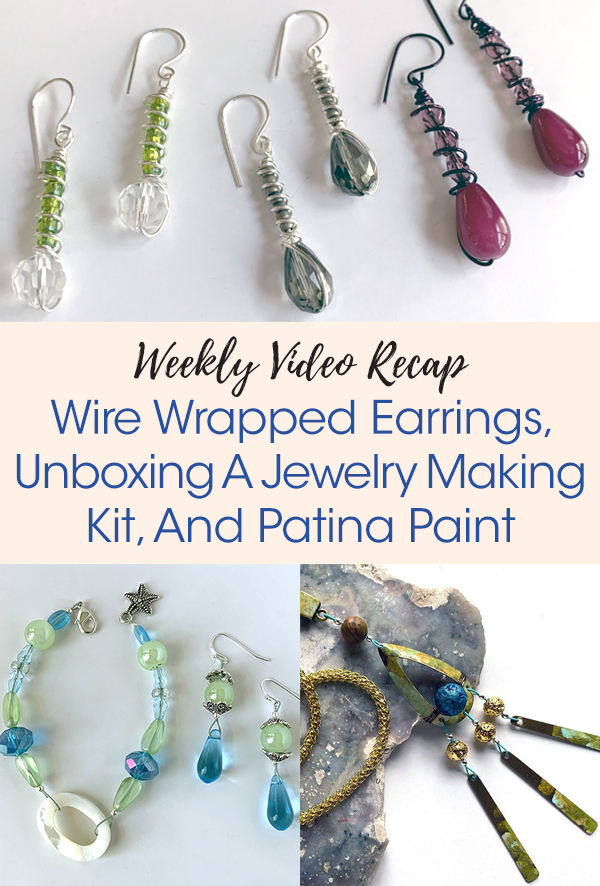 DIY Craft Wire Spiral Drop Earrings with Multi-Size Looping Tool
This week on Free Spirit Beading, Kristen showed us how to make earrings. She showed us how to make hand crafted ear wires to finish earrings. And she showed us how to make spiral coil earrings with a Multi-Size Wire Looping Tool. This video is less than an hour long, but it is an exhaustive guide on how to make homemade earrings that look exceptional and professional. We have showed you how to make earrings with beading wire, this is your chance to learn how to make earrings with Craft Wire. It is so easy! If you have ever wanted to learn how to wire work jewelry, this is a great introduction.
From Kristen:
This week on Free Spirit Beading with Kristen Fagan, I share a DIY spiral coil earring tutorial using Soft Flex Craft Wire and our new Multi-Size Wire Looping Tool. Sara and I had a Beading Party on the Soft Flex Company Facebook Page last week sharing this technique and thought it would be nice to revisit it in a different color way.
Soft Flex Craft Wire - 20ga
Soft Flex Craft Wire Silver Plated - 20ga
Assorted Beads
Multi-Size Wire Looping Tool
Nylon Jaw Pliers
Chain Nose Pliers
Wire Whacker
Burr Cup
Cutters
You can make ear wires at home! If you have ever made a pair of earrings and felt the sting of losing or mismatching a pair of ear wires, you should consider learning how to make your own ear wires. They are super simple to form and shape with Soft Flex Craft Wire. You can use a looping tool if you want to make your own unique shapes or look for a jig board. We love WigJig jig boards. You can create a pattern to shape your ear wire and then recreate that same shape as many times as you want. Every single pair of your ear wires will be uniform and professional. Check out our jig boards - here!
Don't be afraid to work with Craft Wire. This wire is malleable and so easy to use. Wire wrapping just requires patience. If you work slowly, you can fix any mistakes you make. If you use a good set of tools, your loops and shapes will be consist and professional. Don't worry about perfection, handcrafted jewelry is meant to have flaws and character. Try a new craft. Dip your toes, the water is delicious!
Change the color of the wire and the beads and you have a new design. Making homemade earrings is fun and easy. You do not need a lot of supplies or tools and you can create a new pair for every occasion. Make an elegant set for a date with your sweety or make a jazzy set to show off your funky side. We would love to see what you do with Craft Wire, make sure you post your finished designs on our VIB Facebook group.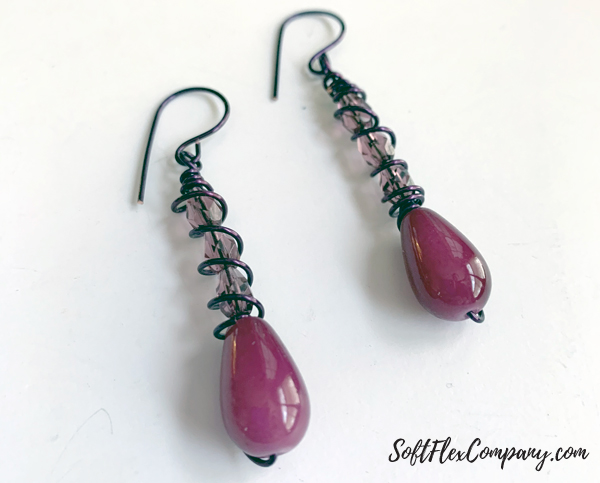 Kit Day! Unboxing Our Serenity Shore Design Kit
Kit Day! We look forward to this day every month. It is our own company holiday. Kit day is when we release our newest kit. We unbox our most recent kit on Facebook and make jewelry. And we post a blog that shows jewelry made from a previous kit. It is such an exciting day for us. We fill our website with new products. We explore jewelry making ideas and we get to share with our community. So much fun!
We fill each our kits with a ton of fun beading supplies. We include wire, findings, beads, and more. Each kit is a themed package. Some months, we explore holidays. We explore empowerment and beauty. We explore exotic locations. You can be sure each kit is unique and full of exciting potential.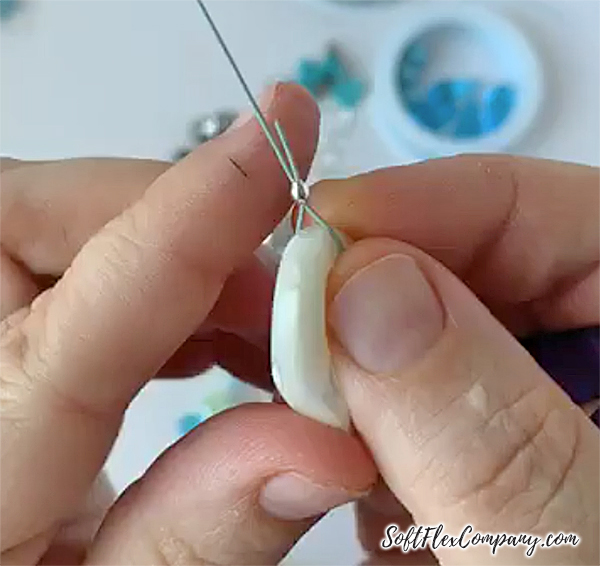 Soft Flex .019/Medium Beading Wire in Fluorite Color (included with kit)
Beads (included with kit)
2x2mm Crimp Tubes (included with kit)
Clasp (included with kit)
Magical Crimping Pliers
Cutters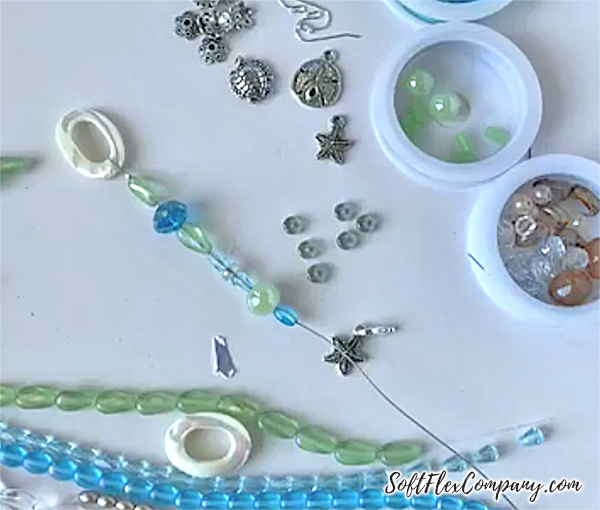 If you purchase one of our kits, you will have everything you need on hand to make some incredible jewelry. All you need are basic tools - crimping pliers and cutters will suffice for the majority of our kits. Every once in a blue moon, we will include Memory Wire or Craft Wire. We want to challenge you. Are you up for it?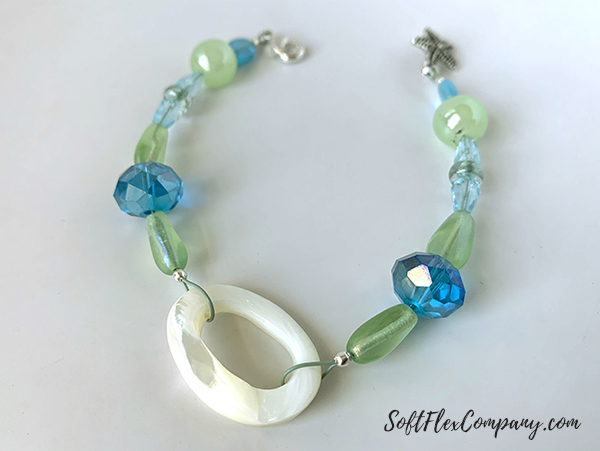 Our kits have enough components and wire that you can make full jewelry sets and still have plenty of supplies left. This kit was perfect for a summer jewelry set. Do you miss the beach? Let this kit take you on a journey!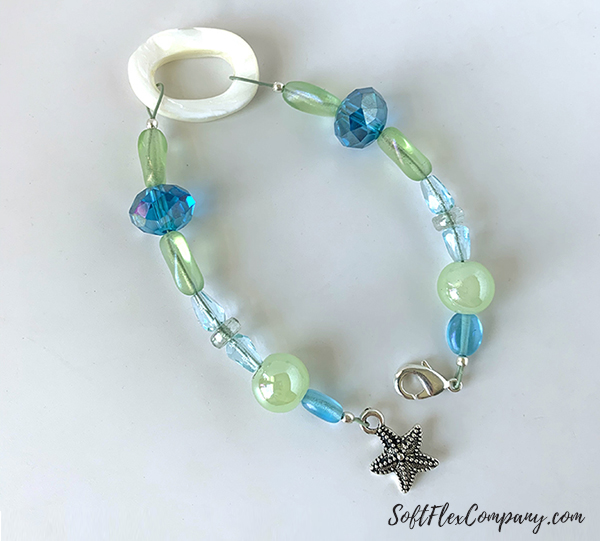 Our kits are designed for every beader in mind. We include jewelry supplies that are easy for everybody. We want the beginner to be able to finish their jewelry. We want the professional to be stimulated and inspired. We want you to make amazing jewelry! Part of the fun of the kits is that we also like to challenge you. We want the kit to be easy to navigate, but sometimes we include colors or components that will challenge your creativity. We want you to have to consider your work and not just string a necklace on cruise control. We think that if you spend your time making thoughtful and considered jewelry pieces, you will be rewarded with creations that you never imagined possible.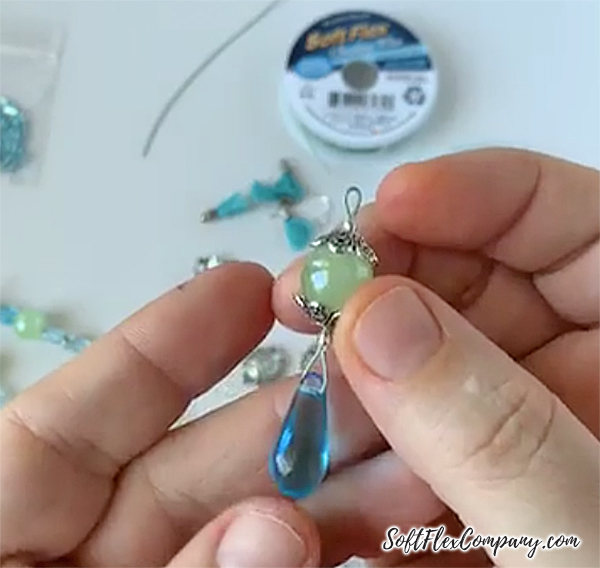 One great thing about our design kits is that they are all the same, for the most part. And when a kit reaches your doorstep, you are presented with the exact materials that another beader has received. From that point, what you do is going to be different than what another designer finishes. You might make a multi-strand bracelet with elements from your kit. Another designer might wire wrap a pendant and make it a focal on a single strand illusion necklace. If you are a member of our VIB group, you can see what others have dreamed up and compare them to your work. It is so much fun. You are sure to be inspired and inspire others if you post your work on the group.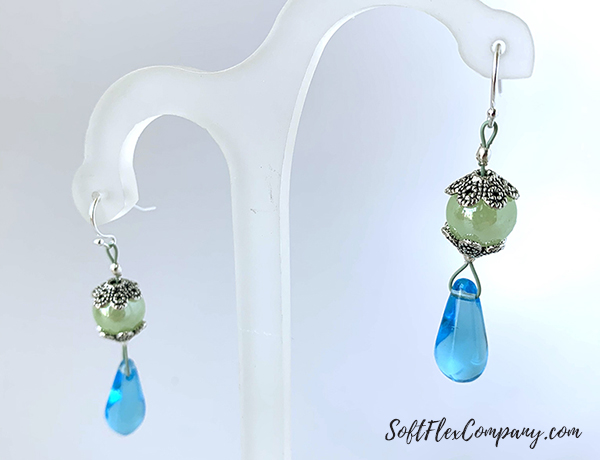 Did you purchase a Serenity Shore Design Kit (Sold Out)? We would love to see your work. If you post your jewelry from this kit on our Facebook group and include the hashtag #serenity, you will be added to our randomized drawing. Every piece of jewelry is an entry to our drawing. At the end of next month, we will collect the names of the people that posted their Serenity pieces. We will then create a numbered list. We then use a random number drawing website to determine the winner. Skill is not a factor. Everybody can win. The winner will receive our next kit for free! Show us your work!
Faux Oxidized Patina Painting with Vintaj Components & SilverSilk
Nealay opened his delightful new jewelry making kit - the Amazon Rainforest Kit. It is a delicious collection of serpentine Capture Chain, animal charms, beads, pendants, findings, and more. There is something for every jewelry lover. He showed us how to patina paint with Vintaj Patinas. And then he made a delicious necklace with SilverSilk goodies and Soft Flex Wire. Don't miss this video if you want to learn a new technique or two!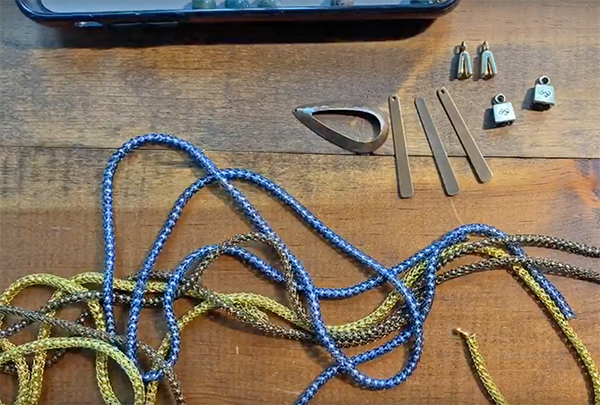 From Nealay:
Jewelry making has a broad range of techniques to choose from. This makes it exciting and challenging at the same time. For this video, I wanted to assemble a fabulous design using natural brass Vintaj components from the latest SilverSilk & More kit, Amazon Rainforest.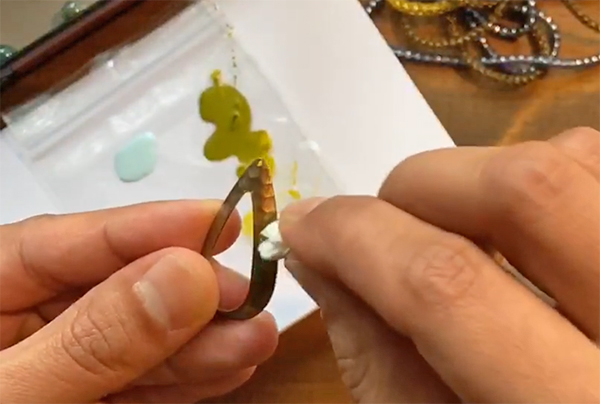 Amazon Rainforest Kit
SilverSilk Capture Chain
Soft Flex .019/Medium Beading Wire in Green Turquoise Color
Soft Flex Craft Wire
Vintaj Patinas
Hole Punch Pliers
Beads
2x2mm Crimp Tubes
Magical Crimping Pliers
Cutters
Round Nose Pliers
Chain Nose Pliers
Make sure you visit Nealay on Tuesdays. He is an incredible designer. His videos are easy to follow and you are sure to learn something new. If you are wanting to expand your jewelry talents, SilverSilk is a great way to design a new necklace or bracelet. SilverSilk is a knitted wire that looks incredible. It is dense and lush and adds so much sophistication to a hand made jewelry design.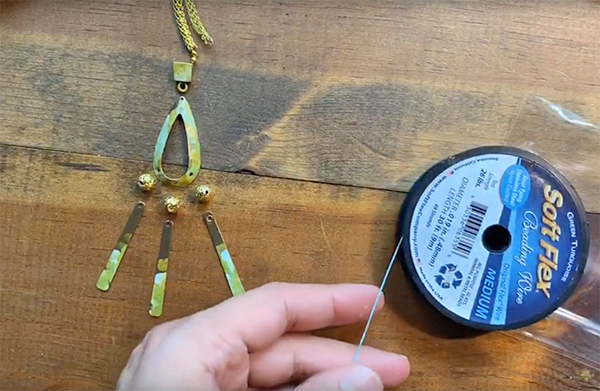 This jewelry design is incredible. It looks like it belongs on the neck of a powerful pharaoh. Make jewelry fit for a queen! Be sure to visit Nealay's social media sites and let him know how much you love his work! And visit his store for some elegant beading supplies.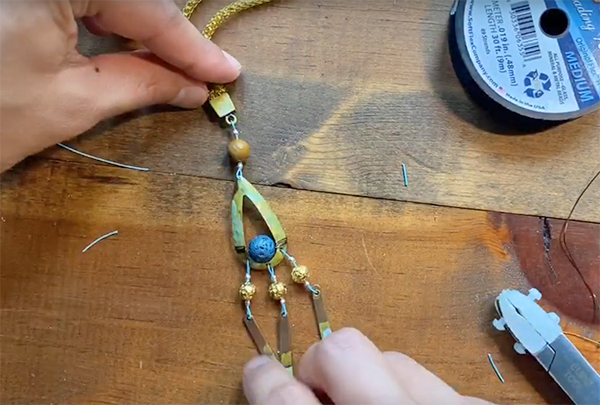 Be sure to mark your calendars for every Tuesday, 5:30pm CST and hop over to facebook.com/groups/silversilk to watch Nealay's videos live and ask questions.
Nealay's channel is dedicated to learning how to make high quality jewelry with SilverSilk with an emphasis on design. You can follow his journey here:
www.instagram.com/silversilkandmore
www.facebook.com/silversilkandmore
Or join our silkies group and be a part of the conversation www.instagram.com/silversilkandmore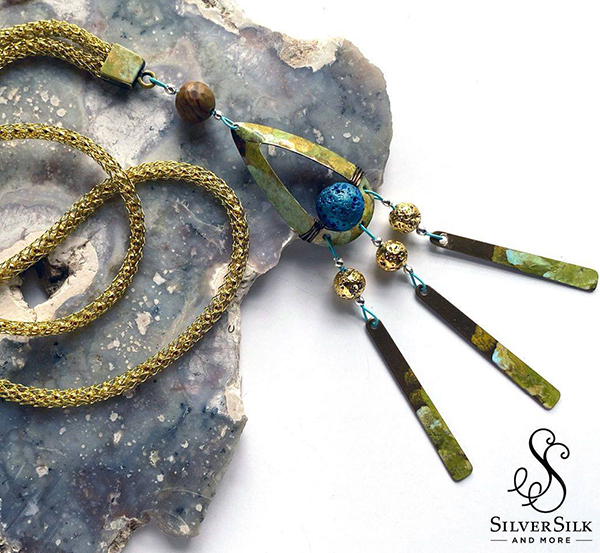 Join our Facebook group – VIB. Stay in the know. Stay up to date. From our bead shows to our video shows and sales, you can stay in touch with us. The community is full of artistic and helpful beaders and crafty people. Inspire and be inspired. Share your pictures and get the beading bug from others!
Visit the Soft Flex Company YouTube Channel!
---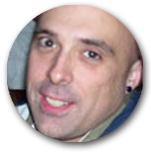 Blog contributor Thomas Soles loves Jazz Age writers and crunchy french fries. His favorite gemstones are Lapis and Pietersite. His favorite hobby is day dreaming. And his favorite mustache is Freddie Mercury's. As you can see, he has a healthy (or possibly unhealthy) sense of humor. You can write to him at Thomas@SoftFlexCompany.com