Spring is almost here! Do you need a boost of creative energy? We have nine fabulous jewelry making videos that are going to give you a blast of inspiration. This is a great weekend to spend some quality time enjoying your favorite craft. Make a multi-strand necklace, create stunning Boho earrings, master a March color palette, and more! You don't want to miss our recap of this week in jewelry design and fun!

Cozy Mountain Retreat was the theme of our Great Bead Extravaganza design kit. The kit and the beads we sold to accompany the theme have all sold out, but you can still find the Cozy Mountain Retreat Bead Strand on our site if you hurry! Kristen used a Cozy Mountain bead mix to create a lovely multi-strand necklace on her new episode of Free Spirit Beading.
Sara showed off the collection of beads and beading supplies she curated while she was shopping in Tucson. This was an adventurous kit, Sara became a personal shopper for the people that purchased the kit. Come see what she found on her travels!
Here are some of the videos we loved this week. Kirk, at Space Pickle Designs, gave us an earring demonstration using beads from our Wonderland Design Kit (Sold Out). We watched Rosanna Brafford make Boho earrings, also with our Wonderland jewelry kit. Cassandra, at Beads To Live By, showed us how to make jewelry with her one of her monthly Curated Collections, SilverSilk, and Soft Flex Beading Wire. Nealay, at SilverSilk, made the cutest bird nest earrings with his chain and our Craft Wire. Kay Goss, of Star's Beads, showed us how to make a bracelet with colorful Czech Glass and Soft Flex Beading Wire. Randee Brown, of Thunderhorse Descendant, made a necklace with a Bargain Bead Box and Soft Flex wire. Marcie Creates showed us how to use a color palette to make lovely spring jewelry. We hope these videos inspire your next spring necklace!
Jewelry Making Videos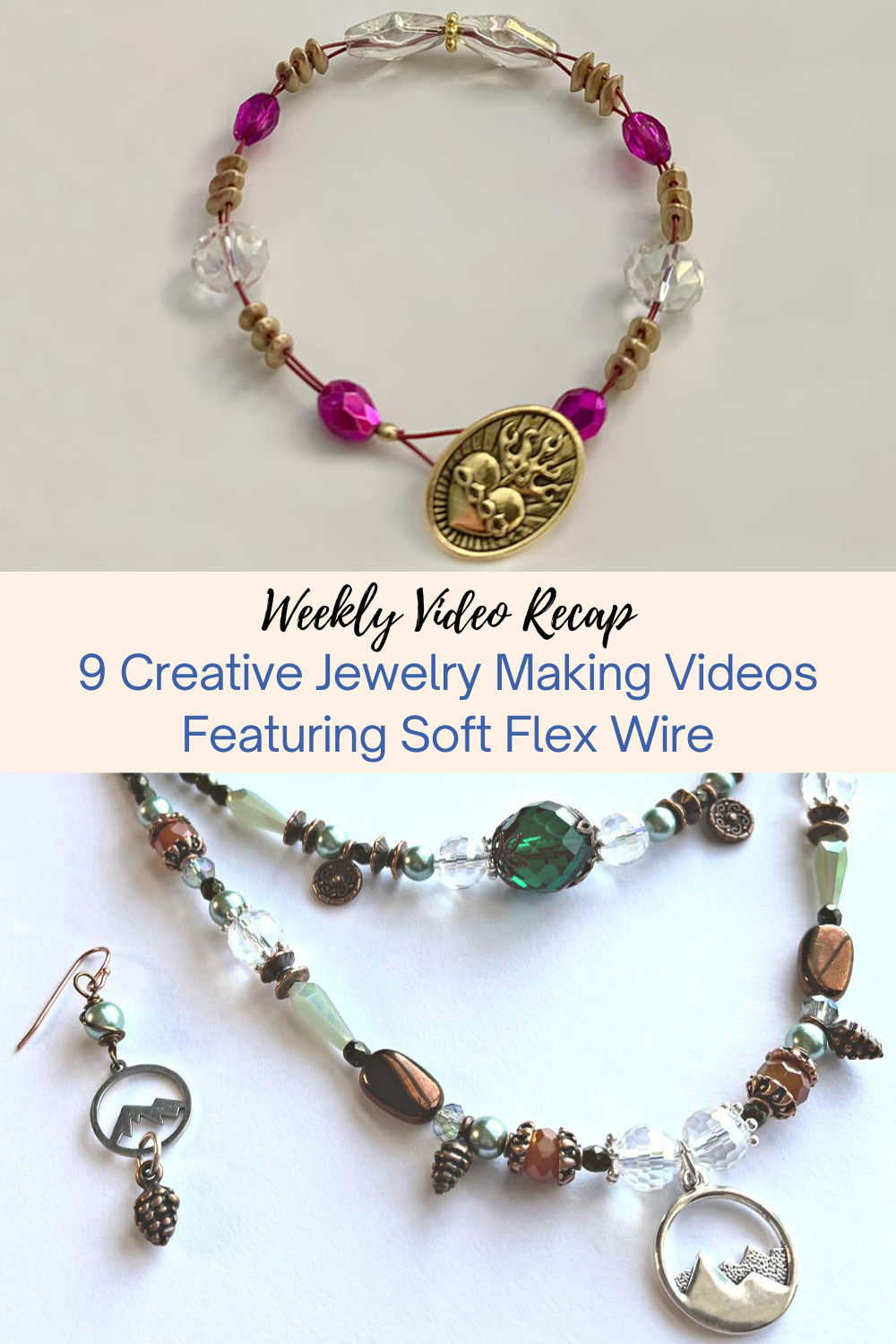 Daily Joyful Beading Challenges - Join Us!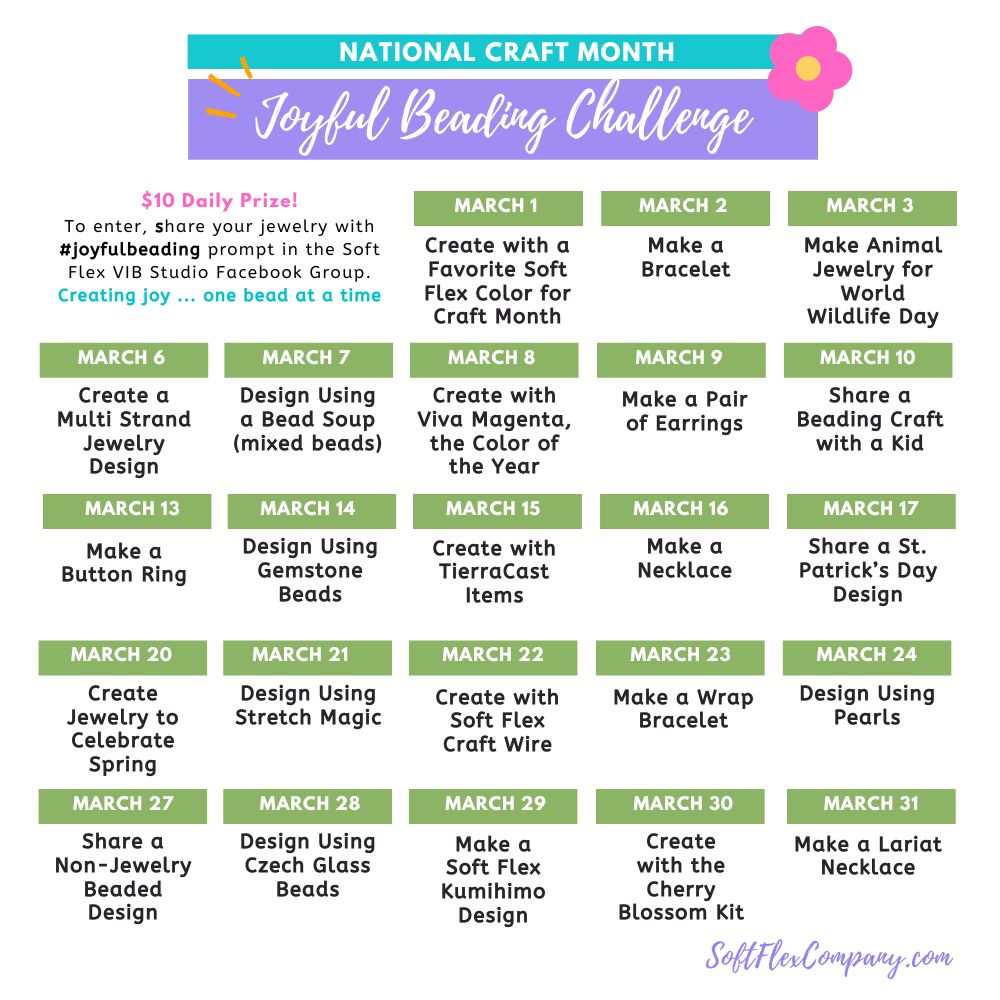 Download the Full Calendar for March - Click HERE
(Log in to Facebook if the link is not working.)
Follow along on our Joyful Beading road map. Each day, we begin a new jewelry project. For instance, March 30th is 'Create with the Cherry Blossom Kit'. On that day, every project that is themed with the floral colorway of our new spring kit will be entered to win a $10 credit. Projects must be posted to our VIB group on that date. If you post a kit project on a different date and it is not applicable to that date's project, you will not be entered to win. Make sure every project you post has this hashtag - #joyfulbeading. If you do not include the hashtag, we may overlook your entry.
Our Social Media Sites Will Show You How To Make Jewelry In Just Minutes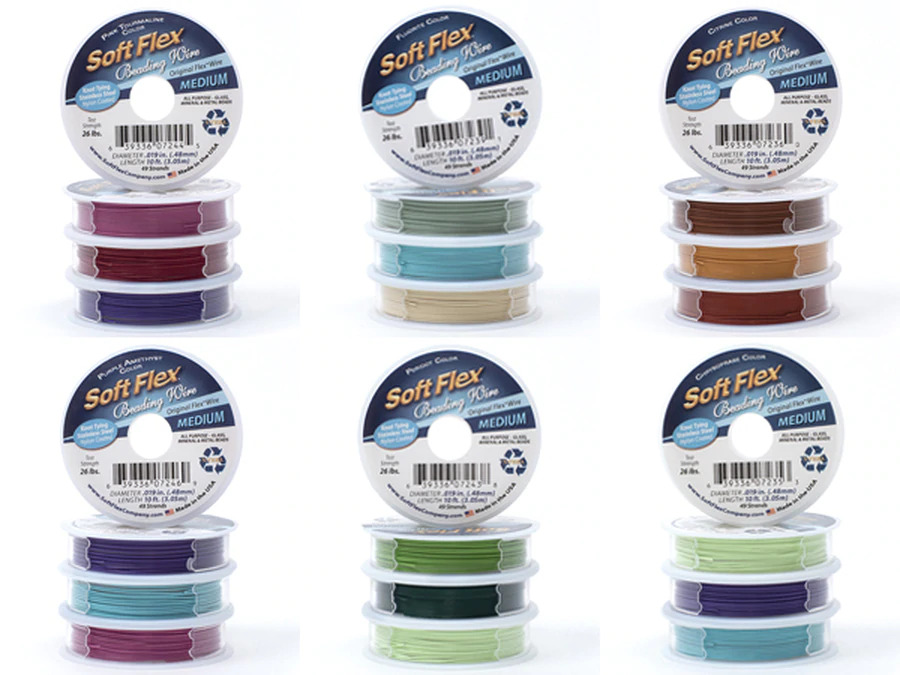 All Beading Wire is 20% OFF! Restock your beading supplies! Not valid with any other order discounts. Ends March 14th or while supplies last. Click the image or click HERE for more information!
Got a minute? Check out our latest reels and TikTok videos. Soft Flex Company's Instagram Reels and our Soft Flex TikTok Page will teach you how to make jewelry in under a minute. These videos move quickly but are easy to follow. If you need more assistance, make sure you check out our YouTube catalog for deeper dives into jewelry making education. You will find in depth discussions on how to use your tools and finish your jewelry on that channel. Instagram Reels and TikTok are great tools for learning something new or finding quick inspiration. Check out our 1 Minute Videos and explore the wonderful pins on our Pinterest page. Learn from Soft Flex Company jewelry designer pros at the pace you choose! If your creativity needs a quick cup of coffee, make sure you visit us for a much needed jolt of crafting caffeine!
Cozy Mountain Necklace Made With Our Exclusive Jesse James Beads Mix
Kristen normally films her weekly installment of Free Spirit Beading on Mondays. She had to postpone a day, this week, to say goodbye to a beloved family member. Her dog, Honey, fell ill on Monday and her family made the decision to send Honey to her rest. Kristen is a trooper and still filmed her episode this week. Beading is good therapy and spending time with her friends and making jewelry was healing. Kristen made a stunning multi-strand necklace that you are definitely going to love!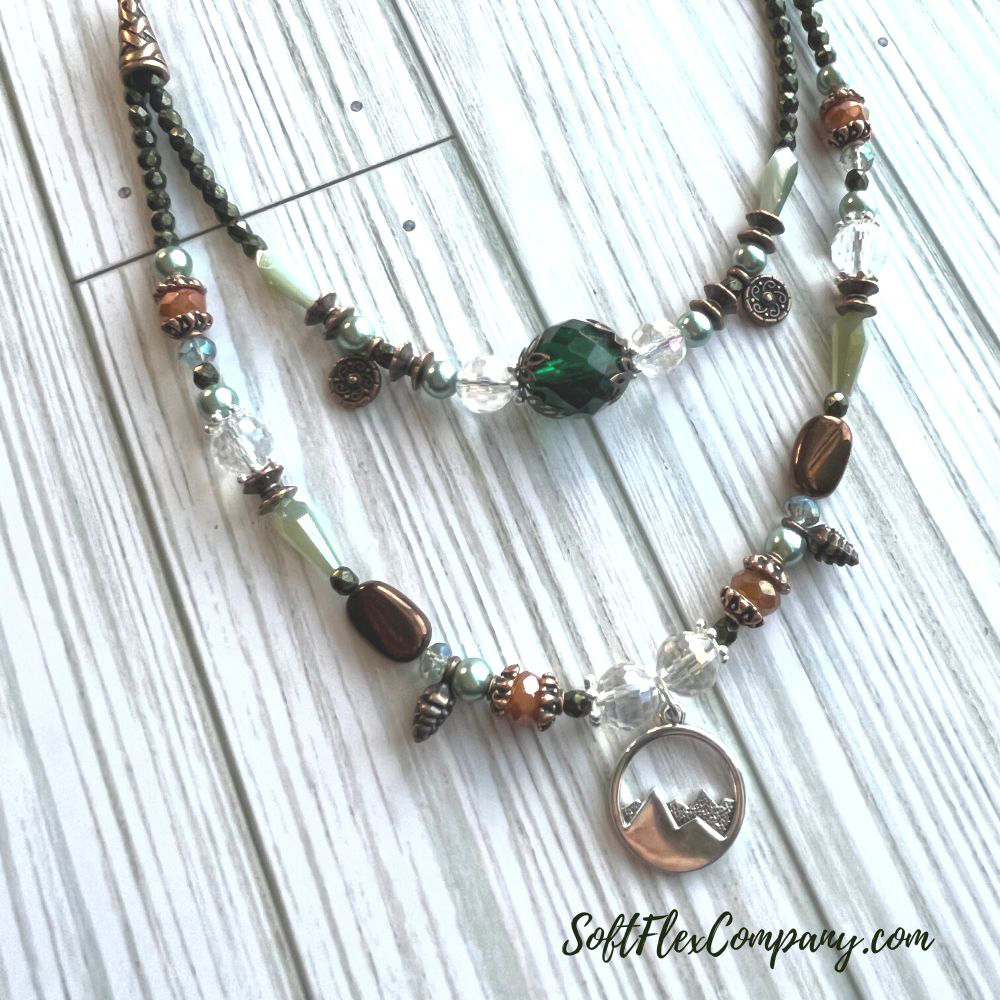 Cozy Mountain Retreat Bead Mix (Sold Out)
Soft Flex Beading Wire, .019 diameter
Hammertone Cones
Bead Stoppers
2x2mm Soft Flex Crimp Tubes
Clasp
Magical Crimping Pliers
Cutters
Tucson Collection Featuring Viva Magenta & Unique Finds Curated By Sara Oehler
Did you grab one of our limited kits from our Tucson visit? The Tucson's Surprise Collection Featuring Viva Magenta (Sold Out) was a pre-order kit that was made after visiting Tucson and grabbing supplies from vendors we loved. This was a fun kit and very daring. We did not know what was going to be in the kit before we left for Tucson. But we knew we wanted to load it up with beads that were amazing and a colorway that supported Pantone's radiant Color of the Year. Sara revealed the contents of this fabulous kit and made a bracelet with the beading supplies inside and a Sacred Heart Button from our TierraCast collection.
From the Pantone Color Institute:
Pantone's Color of The Year, Viva Magenta 18-750, vibrates with vim and vigor. It is a shade rooted in nature descending from the red family and expressive of a new signal of strength. Viva Magenta is brave and fearless, a pulsating color whose exuberance promotes a joyous and optimistic celebration, writing a new narrative.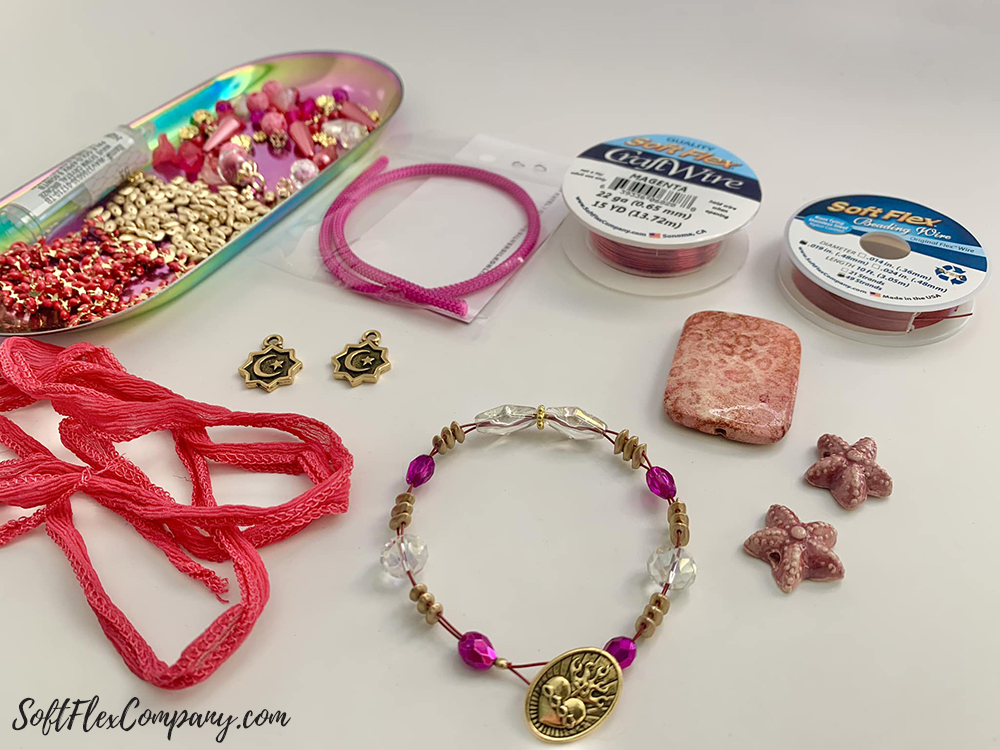 Tucson's Surprise Collection Featuring Viva Magenta (Sold Out)
Sacred Heart Button
Soft Flex Beading Wire
2x2mm Crimp Tubes
Magical Crimping Pliers
Cutters
Space Pickle Designs: Earring Tutorial Using Beads From The Wonderland Kit
Rosanna Brafford: How To Make Boho Earrings With The Wonderland Kit
Beads to Live By: Jewelry Making With A Curated Collection And Soft Flex Wire
SilverSilk: How To Make Wire Wrapped Bird Nest Earrings
Star's Beads: How To Make A Bracelet With Colorful Czech Glass Beads
Thunderhorse Descendant: Bargain Bead Box Jewelry Project With Soft Flex Wire
Marcie Creates: Making Jewelry With A March Color Palette
Join our Facebook group – VIB. Stay in the know. Stay up to date. From our bead shows to our video shows and sales, you can stay in touch with us. The community is full of artistic and helpful beaders and crafty people. Inspire and be inspired. Share your pictures and get the beading bug from others!
Visit the Soft Flex Company YouTube Channel!
---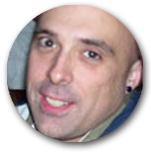 Blog contributor Thomas Soles loves Jazz Age writers and crunchy french fries. His favorite gemstones are Lapis and Pietersite. His favorite hobby is day dreaming. And his favorite mustache is Freddie Mercury's. As you can see, he has a healthy (or possibly unhealthy) sense of humor. You can write to him at Thomas@SoftFlexCompany.com