We have some bewitching Halloween jewelry ideas for you this season. Need an elegant goth necklace for a gathering around the cauldron? How about some skeleton earrings for your favorite zombie? We have charming Halloween earrings that will mesmerize the most somber warlocks. If you just want to celebrate autumn, we have some fall fashion ideas that will raise the dead. Just for fun, we also have a splash of summer for all of the surfing specters out there. Let's make a little magic today!

Let's eat, bead, and be scary! We have a monstrous weekly video recap for you. Binge our boo-tiful Halloween crafts. Sara opened a Magical Mystery Box from Jesse James Beads. You are going to adore the gothic necklace she made during a live video and the Halloween earrings she made on an Instagram reel. Kristen opened our Happy Owl-Leen Design Kit (Sold Out) and showed us how to make earrings that would make Madame Leota jealous. Sara used a leaf pendant and fall themed orange and black beads to make a necklace that is perfect for an autumn wardrobe. Kay, from Star's Beads, showed us how to turn a sea shard into a stunning piece of art. If you long for summer, you will love this gorgeous wire wrapped art. Sparkle by Monica opened her spellbook and summoned a delightful unboxing video, you will have a devil of a time watching her open her Trick or Treat bag. We visited Just Bead It! for a free beading class. Joyce is an enchanting teacher, you will want to brew up one of her designs yourself. Finally, Nealay showed us a new way to macrame. Check out his fun macrame bracelet he created using SilverSilk Capture Chain and Soft Flex Craft Wire. Trick or Treat, give us something good to bead!
Trick or Treat Jewelry Making Party Kit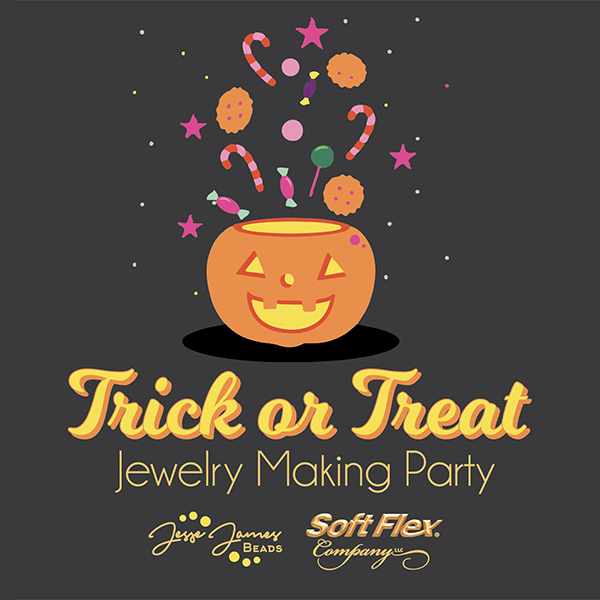 4 projects, 4 designers, 2 nights, 1 fun filled online event! Join us October 21st and 22nd! Grab the supply kit here and get the bead kit from Jesse James Beads.
Before the eve of Halloween is here, Soft Flex Company and Jesse James Beads are teaming up to host a hair-raising Trick-or-Treat Party. Satisfy your sweet tooth and go door to door to meet devilish designers. Knock on Jesse James Bead's portal and discover a delightfully dark kit full of bloodcurdling beads. Ring Soft Flex Company's doorbell and behold a beastly batch of beading supplies (findings and wire). This eerie 2-night event runs October 21st and 22nd with 4 designers offering their best tips, tricks and projects. A cackling collection of jewelry creators invite you to their haunted homes. Design a bone-chilling bracelet or enchanted earrings. If you have purchased a kit from each company, you will be granted exclusive access to an after event full of lively apparitions and more bead talk. Do you dare join us? We welcome all mortals and eager souls. Join a crew of phantasms and poltergeists for a creepy crawly time!
Important Dates:
10/13 - Kit Purchase Deadline
10/14 - Kit Ship Date
10/21 - Trick-or-Treat Party Classes, Night 1
10/22 - Trick-or-Treat Party Classes, Night 2
10/22 - Trick-or-Treat After Party with Wine Tasting!
Note: This is a supply kit for a special event. This kit does not contain beads. Please be sure to purchase the matching bead kit from Jesse James Beads to play along!
Supplies are very limited. Don't miss out!
Jewelry Making Videos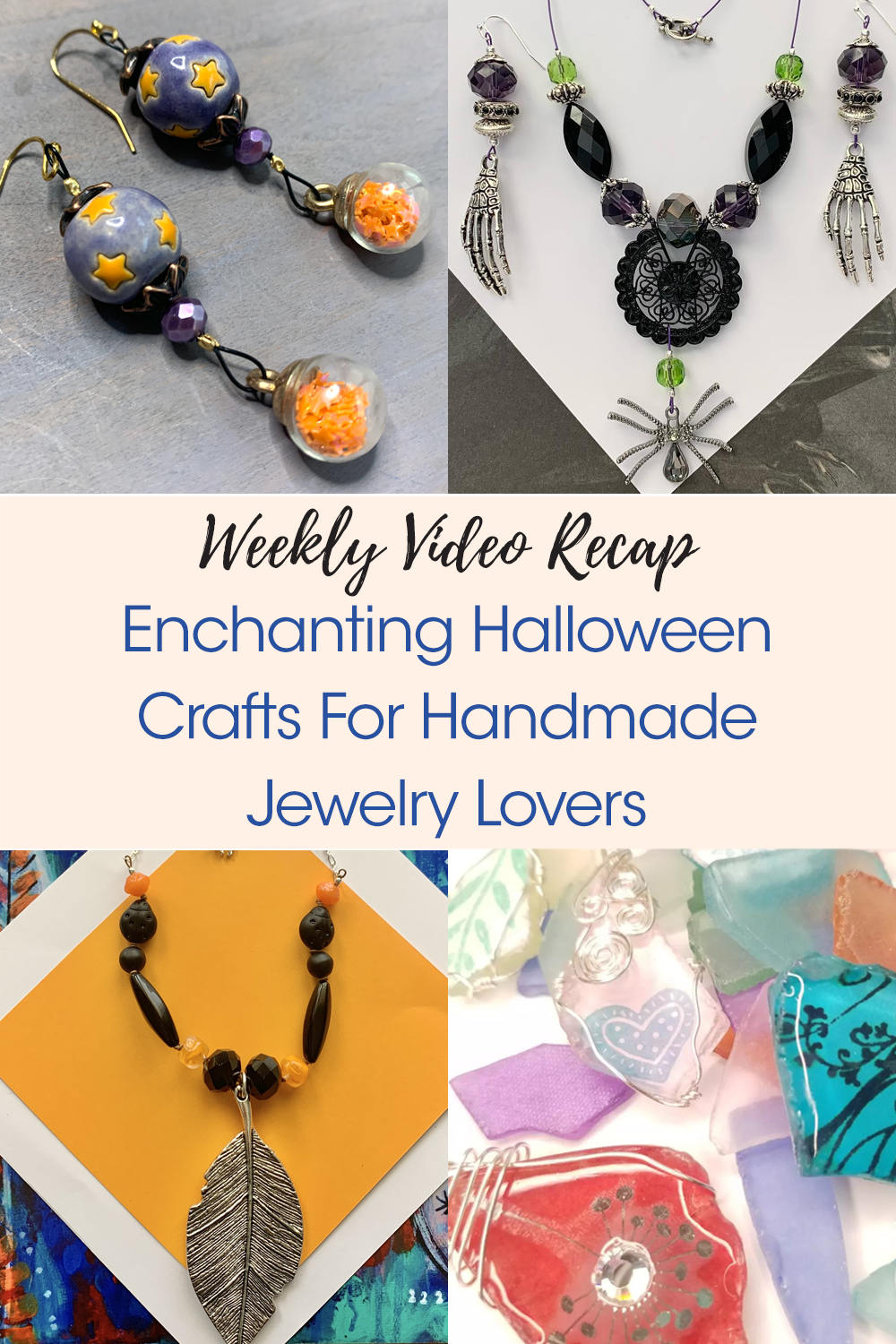 Learn How To Make Jewelry In Less Than A Minute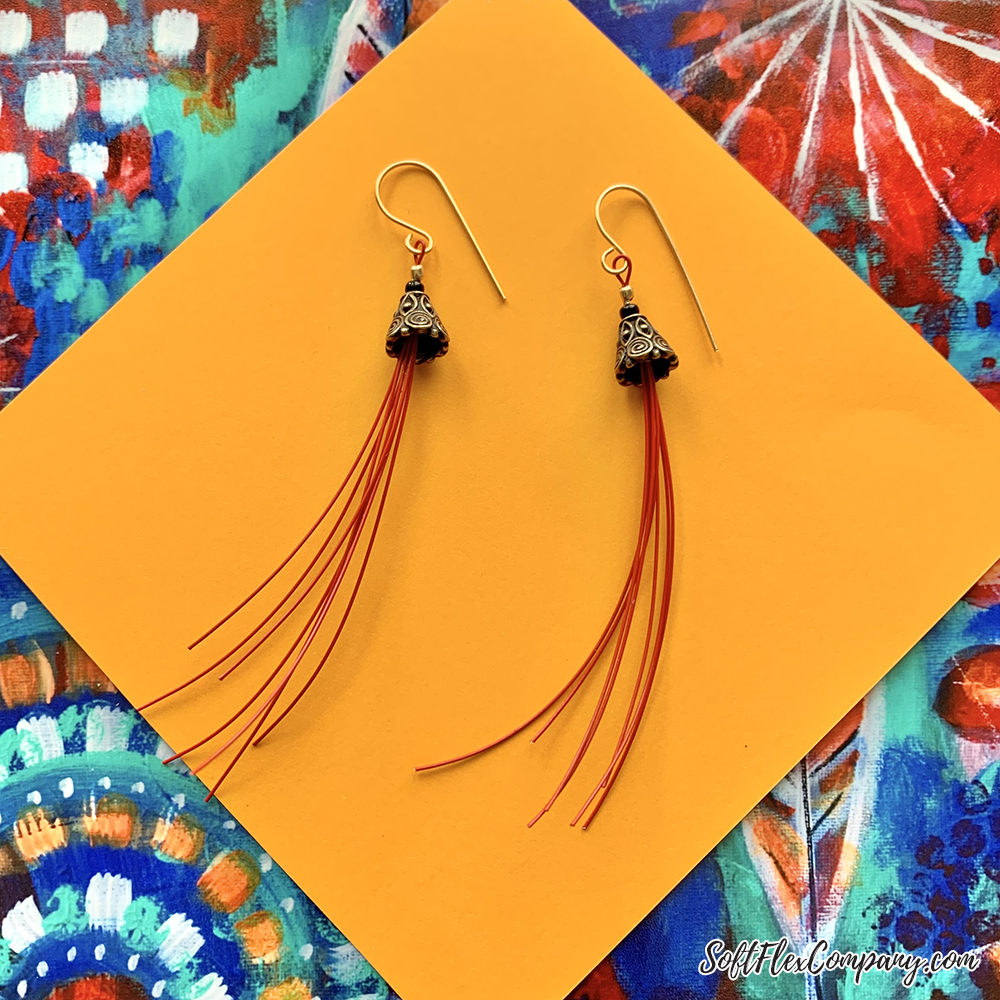 Look at these daring tassel earrings! Check out our 30 second jewelry tutorials on Soft Flex Company's Instagram Reels! Master a new technique in minutes. These videos move quick but are easy to follow. You will get a sense of how to use your tools and finish your crimps securely. If you need more assistance, make sure you check out our YouTube catalog for deeper dives into jewelry making education. Stand on the shoulders of giants and enhance your jewelry making knowledge in a flash!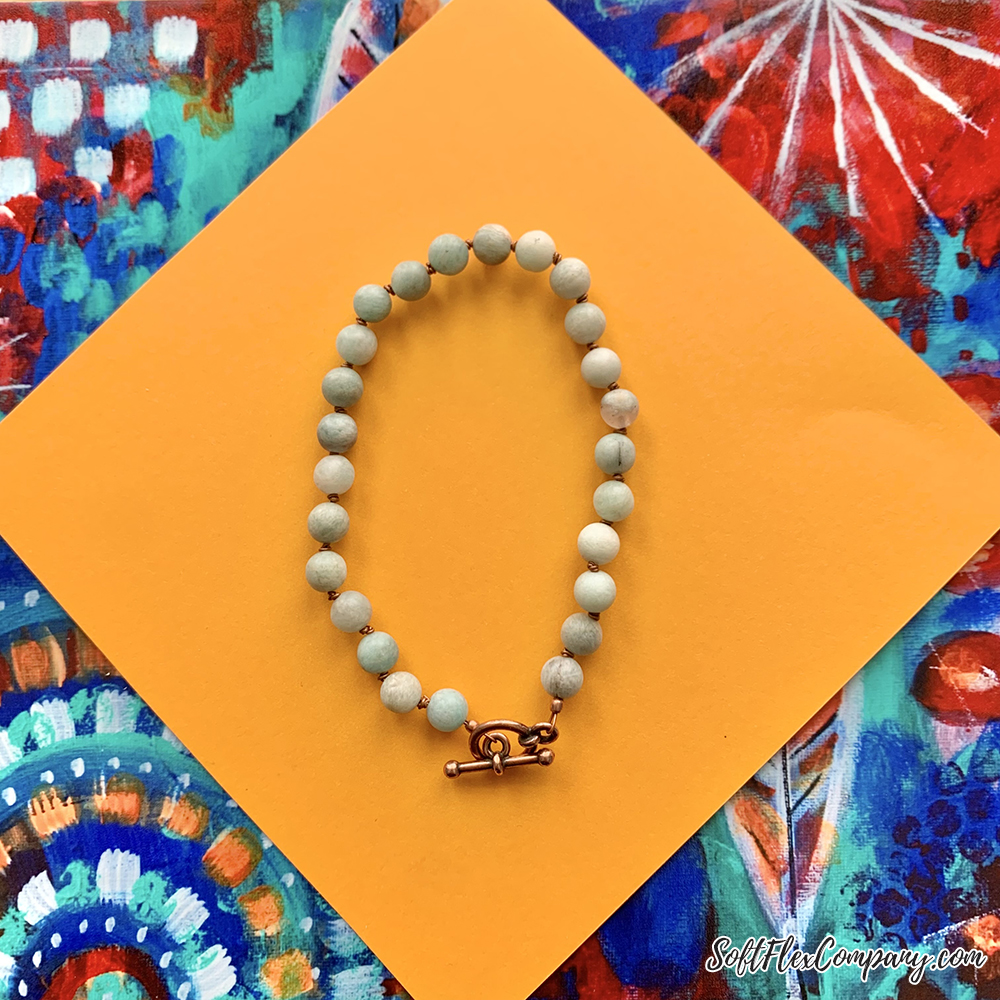 Got a minute? Follow us on the Soft Flex TikTok Page if you want to learn how to make this knotted bracelet. Knotting Soft Flex Beading Wire is easy as mincemeat pie. Even the children of a poor woodcutter can master this technique. You don't need bony fingers to make precise and fun textured knots. Use your favorite white pebbles to make a trail through the dark forest or change things up with your own color beads!
What Is In The Magical Mystery Box From Jesse James Beads?
We think Jesse James Beads offers some of the most wonderful beading products. That is why we carry an exclusive collection of their beads in each of our themed design kits. Sara wanted to see what kind of Halloween fun was in the most recent Magical Mystery Bead Box. She unboxed the kit and found a frightening theme waiting for her - Morticia's Garden. If you love a little dark magic, this kit would have been a real treasure. Unfortunately it has since sold out. But make sure you sign up for a subscription if you enjoy the contents.
Sara showed us how to make a goth necklace that is as glamorous as it is morbid. She added some green beads and Purple Amethyst color Soft Flex to make the dark jewelry come alive. The stunning pendant looks like it came straight from the cemetery. The spider is a haunting talisman. If you want to learn how to make Halloween earrings to accompany the gothic jewelry, make sure you check out the Instagram reel Sara filmed after the video. Reels are great ways to learn a new jewelry technique in 30 seconds! Super power your jewelry making with a quick shot of instructional techniques.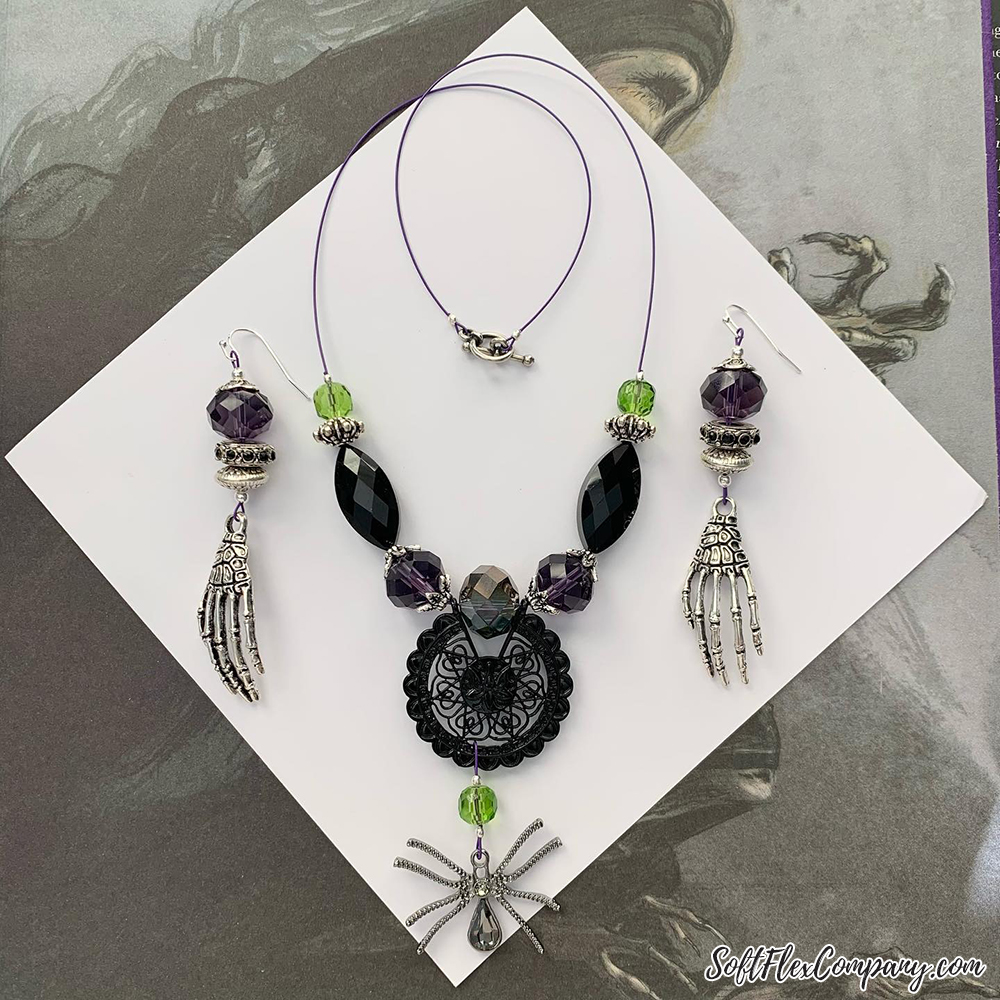 Magical Mystery Bead Box
Soft Flex Beading Wire, .019 Diameter in Purple Amethyst
2x2mm Crimp Tubes
Magical Crimping Pliers
Cutters
Halloween Earrings Are Easy With Our Themed Owl-Leen Jewelry Making Kit
Our favorite Free Spirit beader is back from the undead. Kristen recently took a long and well deserved vacation. We are excited that she is back and ready to share some of her Halloween arts and crafts. See what she thought about our Halloween themed jewelry kit. Stick around and learn about her trip to Hawaii. She had howling good time in the sun and basking in the island vibes. If you are not a vampire and Hawaii is on your bucket list, you are going to want to hear about her trip. She also shared a vacation album on our Facebook VIB group. Make sure you sign up there and see all the fun!
The beads from Golem Studio are to die for! We were eager to share this frightful fortune in our kit. We mummified these stunning star encrusted beads in our kit so they would find a good home, unharmed. These ceramic beauties are perfect for a set of earrings or a focal on a magical necklace. Kristen paired these beads with some cute little crystal balls from Jesse James Beads. What a spook-tacular set of earrings!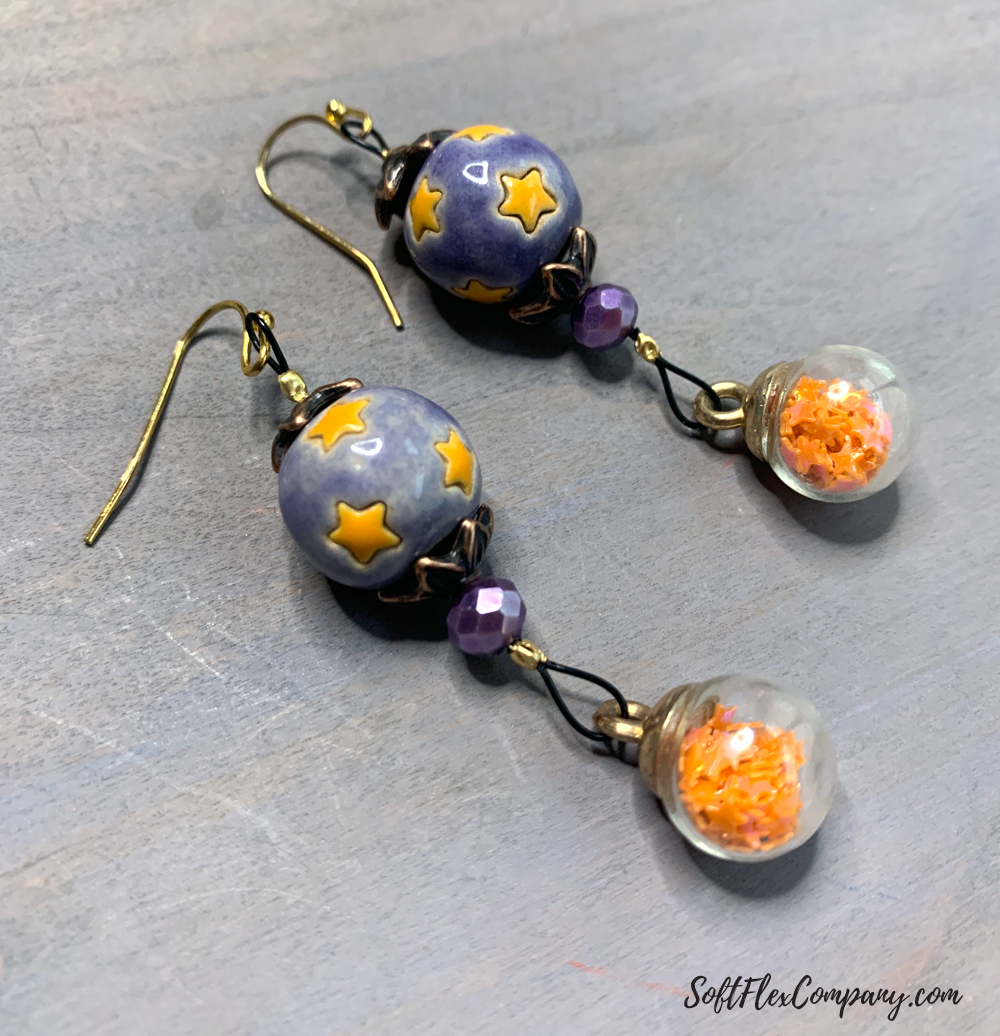 Happy Owl-Leen Design Kit (Sold Out)
Soft Flex Beading Wire, .019 Diameter in Black Onyx
2x2mm Crimp Tubes
Magical Crimping Pliers
Cutters
Spirited Fall Style - This Knotted Necklace Will Enhance Your Fall Outfits
Why knot? Sara showed us how easy it is to knot Soft Flex Beading Wire this week. You can catch her knotted bracelet on TikTok or try this fun knotted focal. She added one part autumn, with a lovely leaf, and two parts pumpkin spice with the warm glow of orange and black beads. The Canterville Ghost and Marley's Ghost had an impeccable sense of style in the afterlife. They loved dragging chains. Sara opted to use a delicate chain that did not bang and clank. Who wants all of that ruckus in the middle of the night? This necklace is perfect for a paranormal party or just a breezy fall afternoon.
Make sure you catch us live. Sara loves to make jewelry on the fly and she rarely pilots a course before she sets sail. If you are part of the live show, you can offer your navigation. Let her know what beads and colors you think would make her jewelry wickedly wonderful. During this live show we had fun talking about Halloween costumes and more. We even threw in a free giveaway. All the viewers had to do was participate in chat. The lucky winner got to choose a Happy Owl-Lean bead strand or bead mix. Trick or Treat!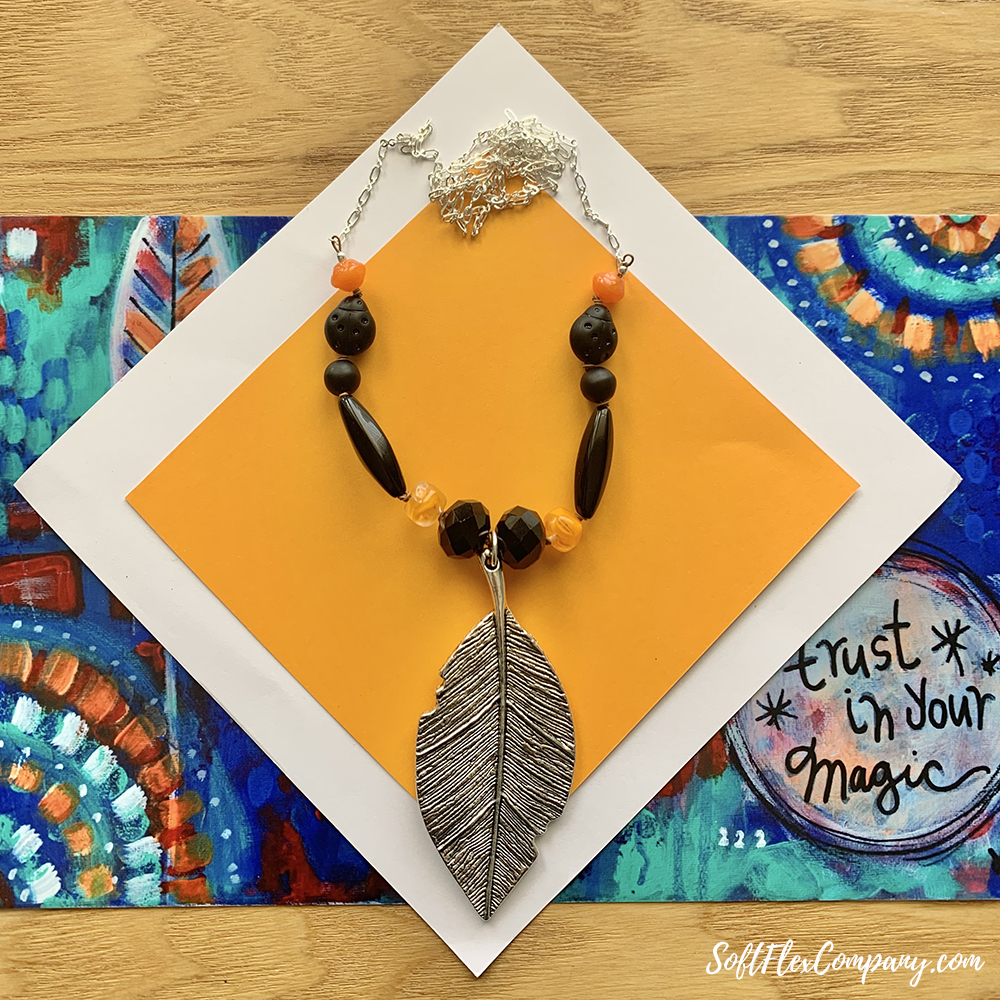 35x80mm Antique Silver Plated Pendant, Large Leaf
Soft Flex Beading Wire, .019 Diameter in Butterscotch
Beads
Chain
2x2mm Crimp Tubes
Knotting Tweezers with Bent Nose
Magical Crimping Pliers
Cutters
How To Wire Wrap A Sea Shard And How To Use Mod Podge
We get it. Not everybody wants to see summer go. Pumpkin season is a blast, but there is nothing like a hot day on a cool beach. We checked out Star's Beads latest video. Kay Goss showed us how to wire wrap and use Mod Podge to turn sea shards into a true work of art. If you like to craft with mixed media or want to get some inspired designs for your next necklace, check out this video. You are sure to get inspired. If you have never used Mod Podge, here is your chance to get so tips from a pro!
Join Kay for Bead with Me.
Need something to do? Do something creative! Check out Kay's new series Bead with Me to get you inspired. Get free video tutorials, design tips, and product highlights to keep you creating!
Bead with Me is a LIVE broadcast designed to offer inspiration with free video tutorials, guest artists, project tips, product highlights plus custom kits and care packages to make your designs uniquely you!
Airing Monday thru Thursday on FB Live
Visit Kay's links: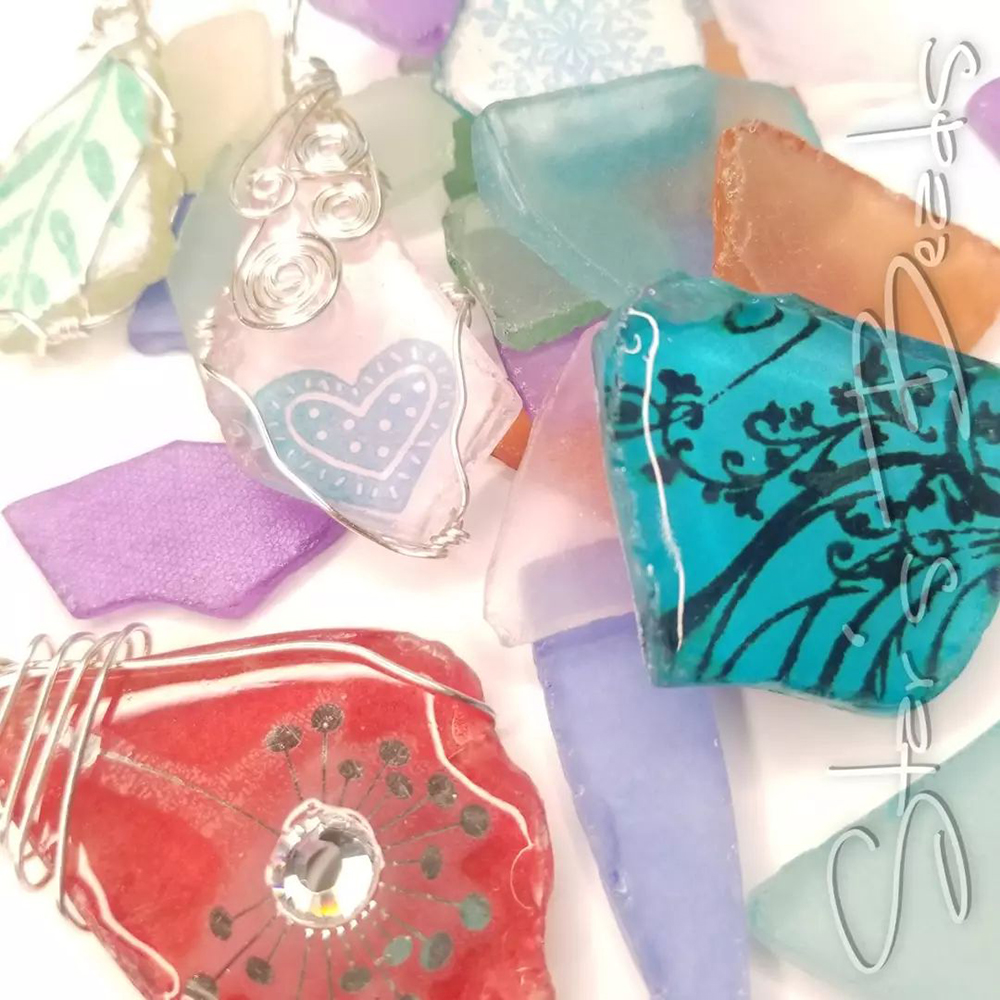 What Kind Of Halloween Magic Can You Find In A Soft Flex Design Kit?
If you want an idea of what you might find in a Soft Flex Company Kit, check out Sparkle by Monica's latest video. Our kits may be a mystery until they are unboxed at the end of each month, but you can get an unbiased opinion about the products inside by watching YouTube designers that are not affiliated with Soft Flex. YouTube creators offer a look at the contents and then give you a commentary about their thoughts. Sometimes they even design jewelry on the fly and let us see how they envision the contents coming together.
This infectious video is a treat. Our approving owls thought it was a real hoot. You will have a howling time watching this cute video but watch our for ear worms! If you are not singing Jolene by the end of this video, you are made of sterner stuff than we are - Owl-Leen, Owl-Leen, Owl-Leen, Owl-Leeeeeeen!
From Sparkle by Monica:
So excited to show you this Halloween themed Soft Flex Company Mystery Design Kit! These beads are spooktacular! I got an additional kick out of the Jesse James Beads Owl-Leen mix and the spooky storytime intro that Soft Flex provided in the kit which I set to some visuals just for y'all using Canva!
Visit Monica's Links:
Website
Facebook
Twitter
Instagram
TikTok
Pinterest
Moon Flower Spirit Necklace - Just Bead It Free Facebook Live Virtual Beading Class
Joyce Trowbridge is the owner of Just Bead It. Just Bead It was a local bead store that operated in Concord, California. Joyce ran her bead store for seventeen wonderful years. Unfortunately, her business was one of millions that failed when hurricane COVID crashed into us. Joyce did not throw in the towel, though. Even if her brick and mortar store was gone, she knew she could maintain an active bead store, online. She is transitioning her catalog of jewelry supplies and beads to her website and Etsy store. She is also taking the classes that she offered in Northern California to a virtual space. You can attend her jewelry making courses on Facebook. You can purchase a kit and make jewelry with her. If you miss a class, you can download the PDF and make the design on your own time.
We love how simple these design is to make and finish. Follow the video and the images below and make one of your own. If you would like to participate in a class, check the Just Bead It event calendar. For this design, she used Medium .019 Soft Flex Beading Wire. Support her business and buy your Soft Flex Beading Wire from her Etsy shop!
Etsy link to purchase this bead kit: Moon Flower Spirit Necklace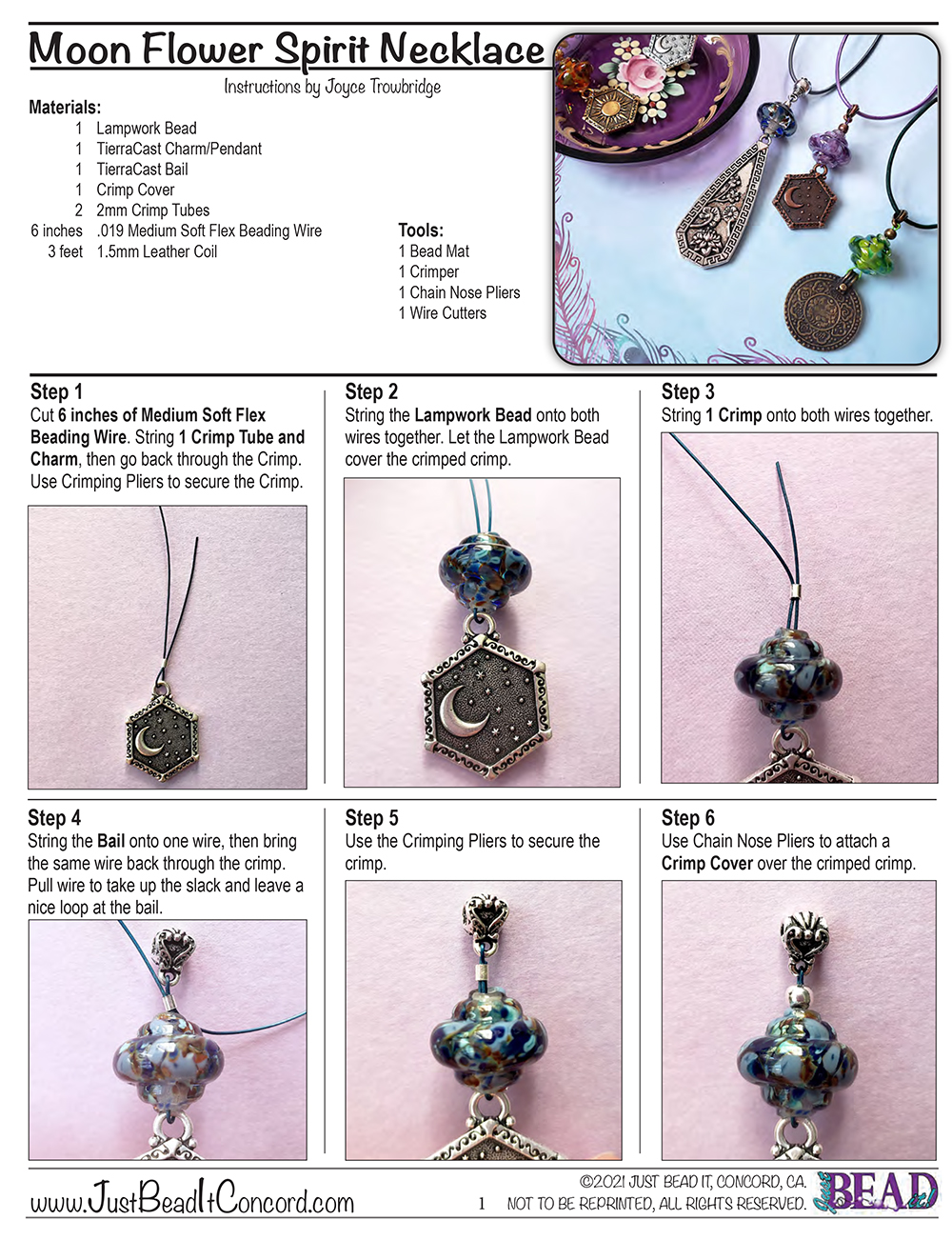 Visit Joyce's Links: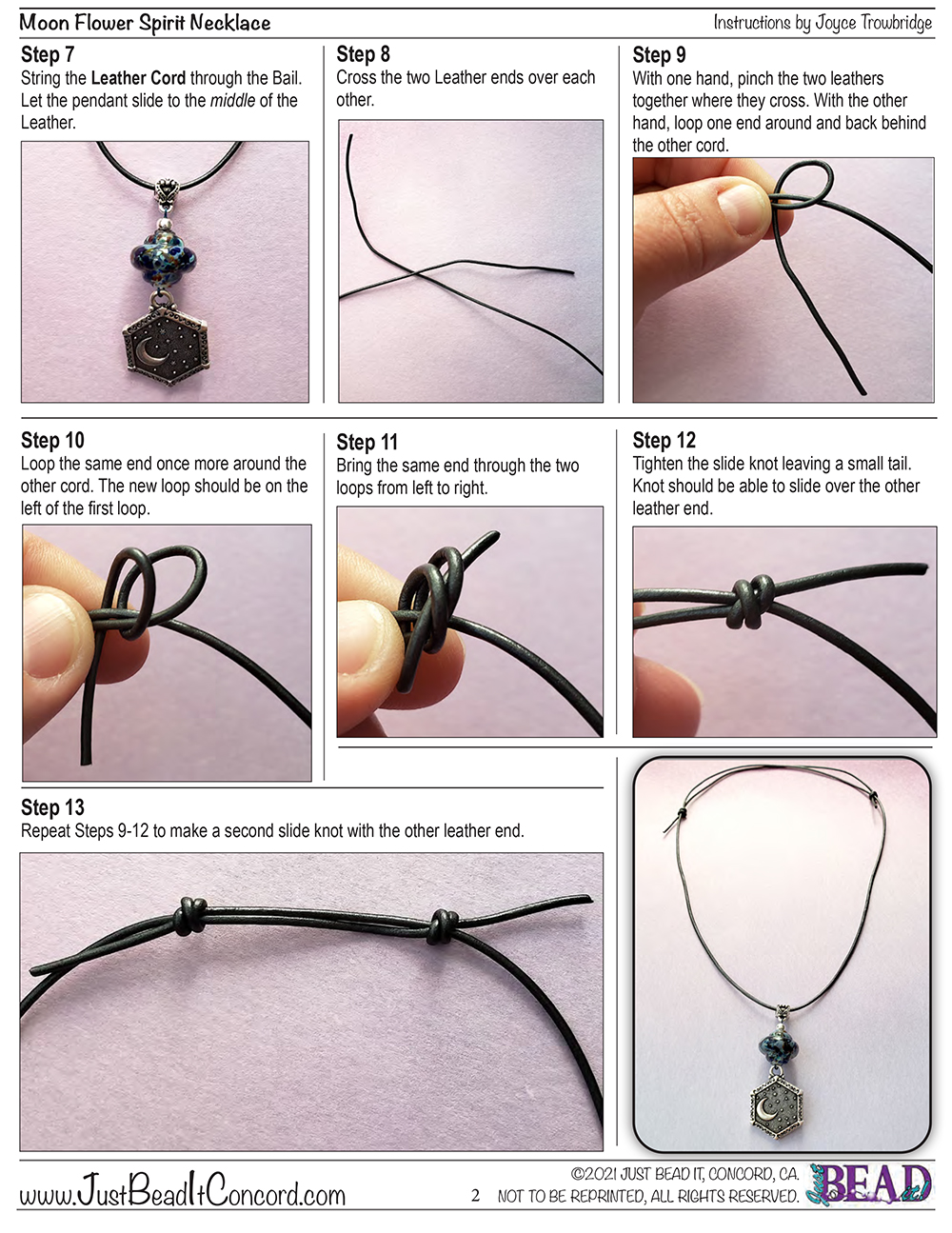 More than beads and supplies, Just Bead It! is known for classes. They currently hold virtual beading classes most Saturdays at 2pm PST. Catch them on Facebook Live.
DIY Bracelet: How To Macramé With Capture Chain And Soft Flex Craft Wire
Nealay Patel is the owner of SilverSilk & More. SilverSilk is a knitted wire jewelry chain. But, it is like no other jewelry chain out in the craft market. SilverSilk is made by many tiny latch-hook needles that spin around with wire, intricately machine-stitching the wire into an elegant yet strong and supple knitted wire chain. This knitted wire stitchwork offers the crafter new and unusual ways to use it. You can string large-hole beads on it, sew through it, wire-wrap it, glue it, put it in resin or just leave it as a draped jewelry chain. We love SilverSilk chain, it is the perfect complement to Soft Flex Craft Wire or beading wire. These beading elements can be interwoven and wire wrapped into exciting new jewelry. Design something elegant and rich today with these two stringing options. Your finished jewelry will look like you bought it from a high end gallery!
From Nealay:
My brass skinny cuffs are brilliant for all kinds of design possibilities. Learn how to macramé Capture Chain right onto the cuff and secure the ends with craft wire. This is a fantastic beginner project that doesn't require many materials to get started!
SilverSilk Capture Chain
Soft Flex Craft Wire - 20 Gauge
Soft Flex Craft Wire Silver Plated - 20 Gauge
Brass Skinny Cuff Blank
Cutters
Round Nose Pliers
Chain Nose Pliers

Be sure to mark your calendars for every Tuesday, 5:30pm CST and hop over to facebook.com/groups/silversilk to watch Nealay's videos live and ask questions.
Nealay's channel is dedicated to learning how to make high quality jewelry with SilverSilk with an emphasis on design. You can follow his journey here:
www.instagram.com/silversilkandmore
www.facebook.com/silversilkandmore
Or join his Silkies group and be a part of the conversation www.facebook.com/groups/silversilk
Join our Facebook group – VIB. Stay in the know. Stay up to date. From our bead shows to our video shows and sales, you can stay in touch with us. The community is full of artistic and helpful beaders and crafty people. Inspire and be inspired. Share your pictures and get the beading bug from others!
Visit the Soft Flex Company YouTube Channel!
---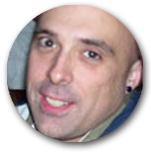 Blog contributor Thomas Soles loves Jazz Age writers and crunchy french fries. His favorite gemstones are Lapis and Pietersite. His favorite hobby is day dreaming. And his favorite mustache is Freddie Mercury's. As you can see, he has a healthy (or possibly unhealthy) sense of humor. You can write to him at [email protected]