We hope you are having a holly jolly week. Today, we have an overstuffed stocking full of goodies. We have a merry collection of jewelry making videos. Learn how to make DIY ornaments and homemade Christmas crafts. Need some Christmas earrings or a festive Christmas bracelet? You are going to be the belle of the Christmas party with these fun videos. Want to brighten the house with a handmade decoration? You are going to love the Christmas ornaments our elves have cooked up. We also have some free project ideas that are not holiday related - if you are feeling a bit of the 'Bah Humbug'! Join us for a festive serving of craft videos!

There is so much to binge this week. We hope you have a nice cup of egg nog handy and are itching to make gallery quality jewelry for your besties and loved ones. Learn how to make gorgeous earrings that are a perfect gift for the fashion forward ladies in your family. Kristen has some festive ideas for punchy earring style. Sara unboxed our merriest gift - the Retro Christmas Design Kit (Sold Out) and made jewelry. Christmas earrings are in style now! Decorate your home with wire wrapped ornaments from Kristen. Danielle Wickes made a stunning bracelet that we wanted to share. Brittany Chavers has a haunting necklace for the Jack Skellington fans. YouTuber Marcie Creates gives us her thoughts on our Retro Christmas Design Kit (Sold Out). Watch Misty Moon Designs unbox our Christmas kit and make a necklace. Learn how to make a bail with Nealay Patel from SilverSilk. Let's savor the crackling of a warm fireplace and learn how to make jewelry!
22 Gauge Assorted Metal Ear Wires With Ball End - 1 Pair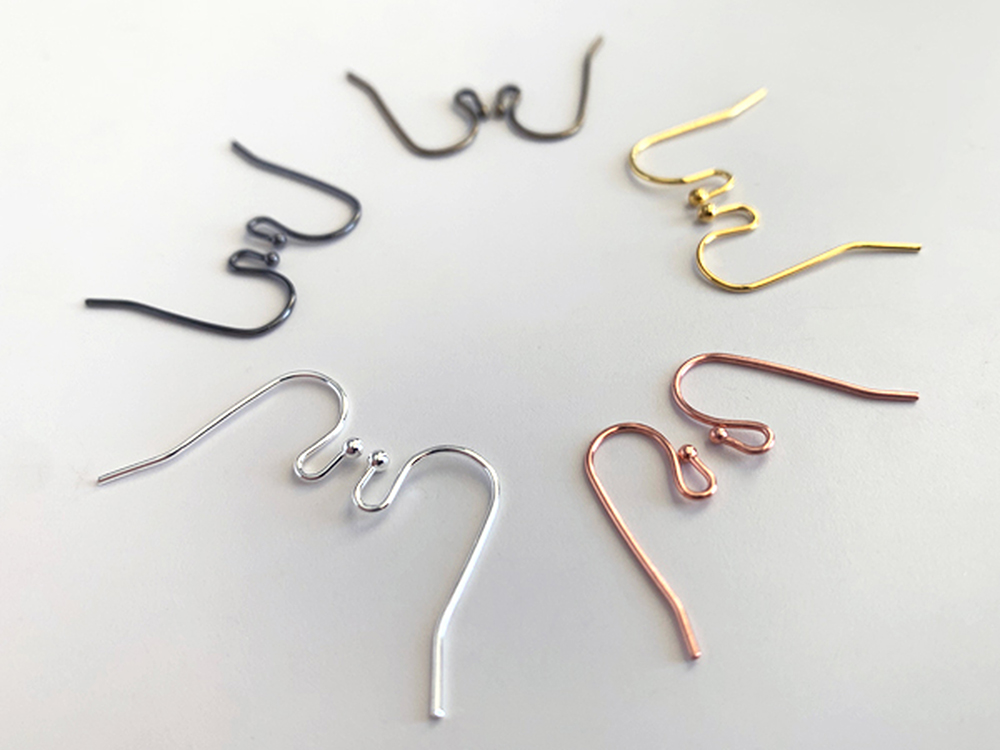 Earrings are Hot, Hot, Hot right now! Make your own fun, dangly earrings with these basic Ear Wires. Simply make a dangle with a head pin and attach to the loop at the bottom of the Ear Wire. Or, if you are feeling daring make a chain by linking components made with eye pins. The possibilities are infinite.
Jewelry Making Videos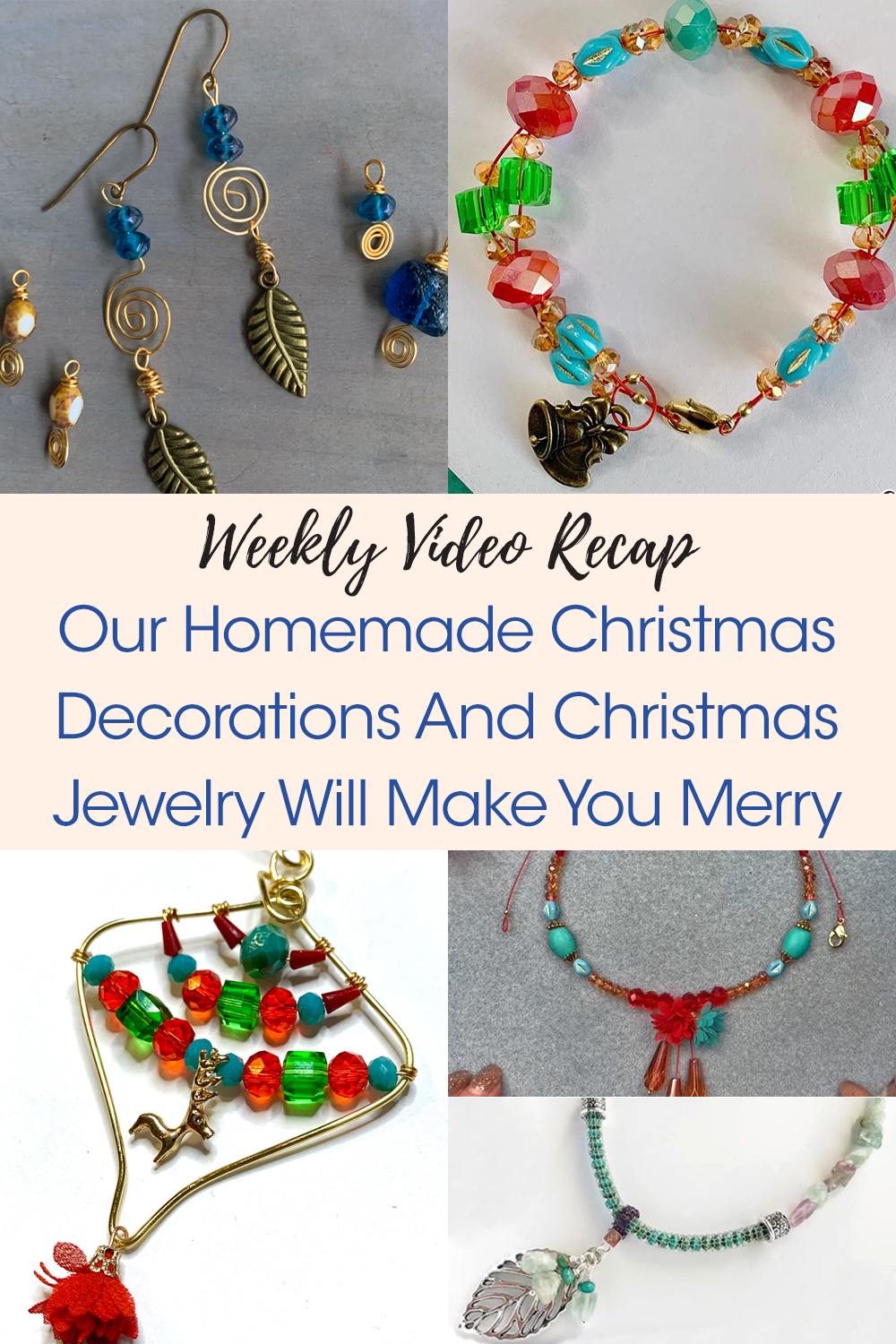 Follow Us On TikTok And Instagram - Learn How To Craft and Make Jewelry In Just Minutes
Follow us on the web! Our social media sites are loaded with instructional jewelry making videos YouTube and Facebook have a ton of long form videos that will teach you how to make jewelry. You will find in depth discussions on how to use your tools and finish your jewelry on those channels. Our Instagram page and [email protected] will teach you how to make jewelry in under a minute. Smash that learning curve and learn a new technique at lightning speed. Instagram Reels and TikTok are great tools for learning something new or finding quick inspiration. If your creativity needs a quick cup of coffee, make sure you visit us for a much needed jolt of crafting caffeine!
Check out our 30 second jewelry tutorials on Soft Flex Company's Instagram Reels! Master a new technique in minutes. These videos move quick but are easy to follow. You will get a sense of how to use your tools and finish your crimps securely. If you need more assistance, make sure you check out our YouTube catalog for deeper dives into jewelry making education. Stand on the shoulders of giants and enhance your jewelry making knowledge in a flash!
Got a minute? Follow us on the Soft Flex TikTok Page! Learn how to make jewelry with a fun soundtrack. Sara is here to show you how to make something amazing in just a minute. This is a great quickie if you need the basics. You can always follow up with more in depth videos on our YouTube channel if you need extra help. Sara has ideas for bead stringing, wire wrapping, and so much more. Learn from a jewelry designer pro at the pace you choose!
Make Geometric Head Pins With Soft Flex Craft Wire for DIY Jewelry
Christmas earrings are a great gift idea! And we don't mean earrings that are only appropriate for December. Make your loved ones and friends handmade jewelry they can wear throughout the year! Kristen has some wonderful earring ideas for you in this video. She shows you how to make earrings that are playful and elegant. A little geometric punch goes a long way. These earrings are sure to be a crowd pleaser. And you do not have to be a wizard with Craft Wire to complete them!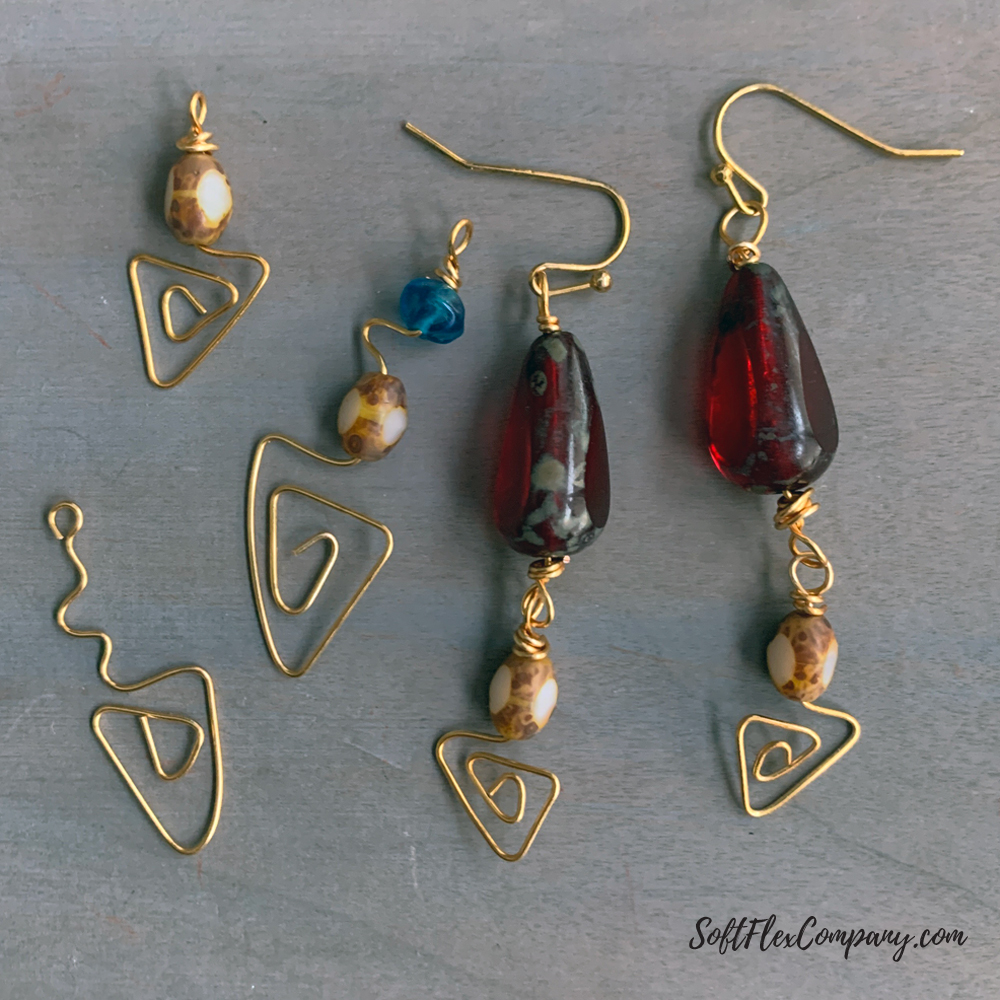 If you enjoyed this instructional video, follow Kristen on our YouTube channel. She films live episodes of Free Spirit Beading each Monday. The holidays might make her skip a week or so, so don't be deflated if she is not live. But her series is a dependable and fun Monday event week throughout the year. Make sure you are there and she will answer you jewelry questions and possibly take your cues on how to finish her design.
Beads
Charms
Craft Wire
Cutters
Round Nose Pliers
Chain Nose Pliers
Nylon Jaw Pliers
Tool Magic
Wire Whacker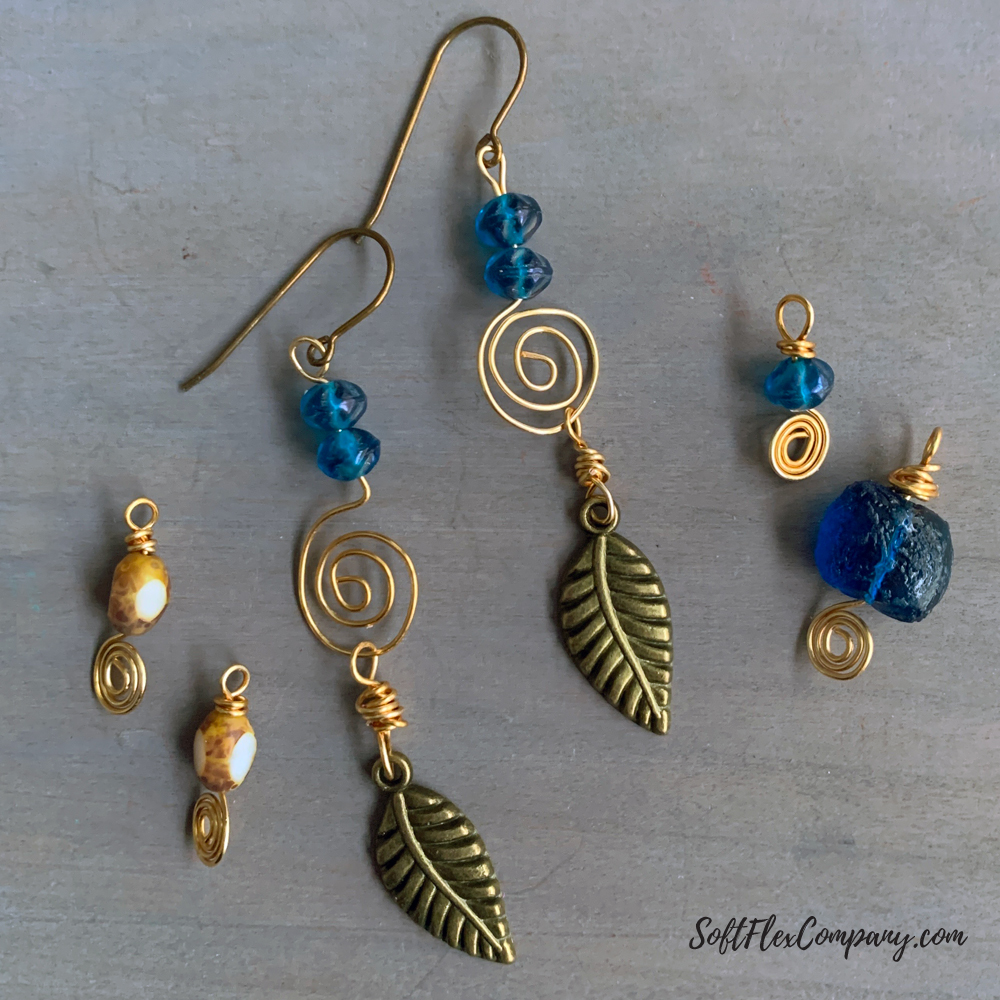 Soft Flex Craft Wire is a high quality, permanently colored copper wire. It is resistant to scratching, peeling and marring. This is due to the special enameling process used to coat the wire to produce the wide spectrum of colors we offer. After the enamel is applied, the wire is then clear coated to prevent tarnishing. Bare Copper is the only wire in the line that is not treated. If antiques and old findings are your medium, Bare Copper will patina - perfect for making that new project look like an heirloom. Add a skeleton key to a bare copper wire for an instant vintage focal with your own signature wire wrap.
Retro Christmas Jewelry Kit Unboxing And Jewelry Making Fun
We celebrated the most festive Kit Day of the year with our Retro Christmas Design Kit (Sold Out) last week. We did not have a recap last Friday as we were all taking the day off and enjoying time with our families. This kit was an amazing collection of retro inspired colors. If you have memories of a television with rabbit ears and driving downtown in a Plymouth, with your folks, this kit will probably ignite a flurry of nostalgia. Make Christmas jewelry that mom might have worn when she took your hand and led you to Santa. Make earrings that nana might have worn when she caught you sneaking candy from the bowl in the living room.
If you have never joined us live for Kit Day, save the date! We unbox our most recent kit on the last Wednesday of each month. Catch us live on Facebook and YouTube. Sara unboxes our latest kit and makes jewelry. If you purchased the kit, you can open it with her and make what she makes. If you already opened the kit, you can compare your jewelry with what she thought up. It is a fun day, full of creativity. Join us for a Kit Day and you will see why we say it is our favorite holiday!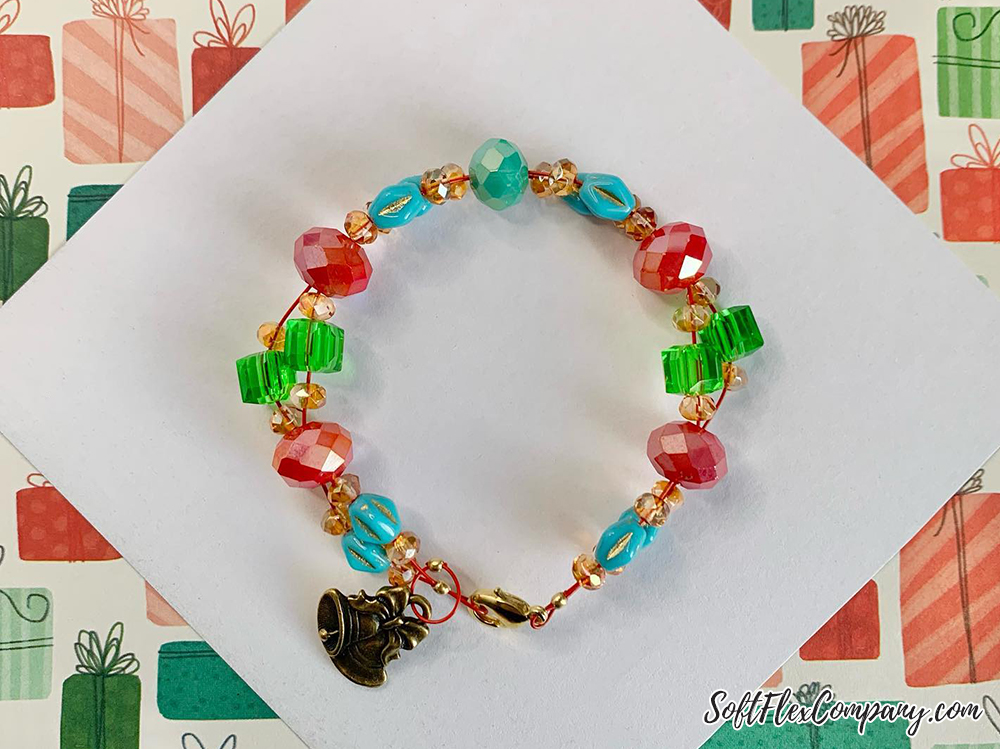 Retro Christmas Design Kit (Sold Out)
Soft Flex Beading Wire, .019 Diameter in Red Coral
2x2mm Crimp Tubes
Magical Crimping Pliers
Cutters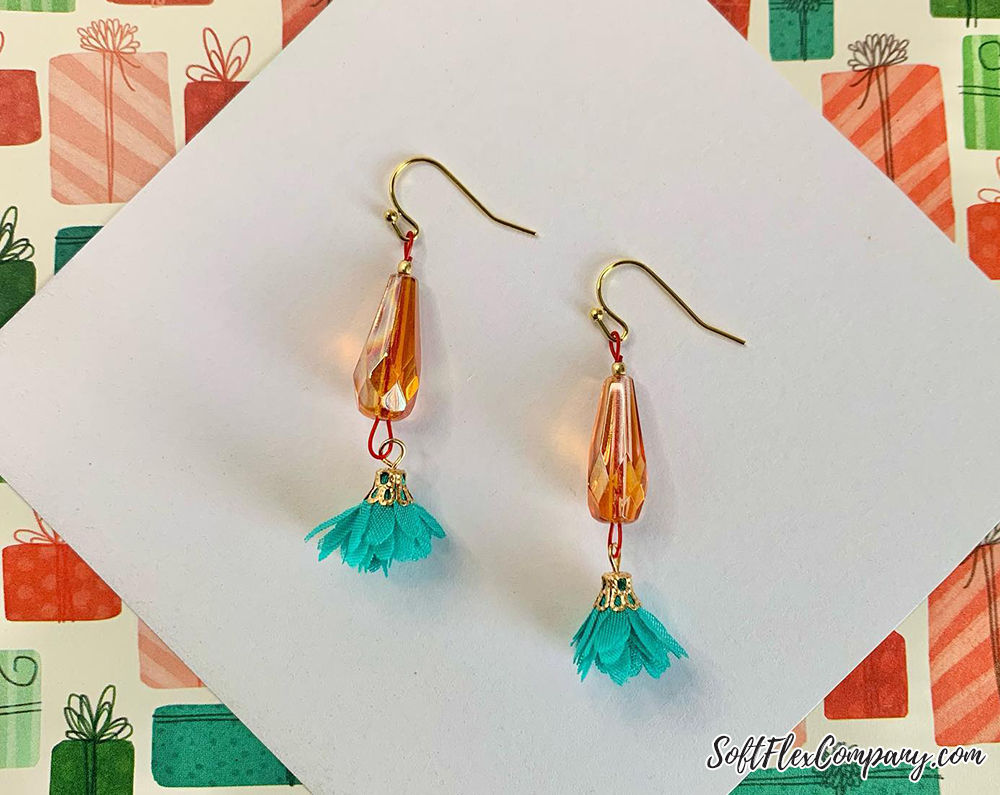 Wire Wrapped Retro Ornaments With Soft Flex Craft Wire
Homemade Christmas decorations are the best! Think about it. You are crafting your tree with ornaments that were made with love. They may not be perfect but they look amazing. They look so organic and wonderful. Every line and curve was written with your hands. If you pass these down to children or grandchildren, they will have a little moment in time that you made special. Turn your handmade ornament into an heirloom that your family can pass down for generations. What a sweet gift - an ornament they will cherish forever. Turn your Christmas crafting into a magical time!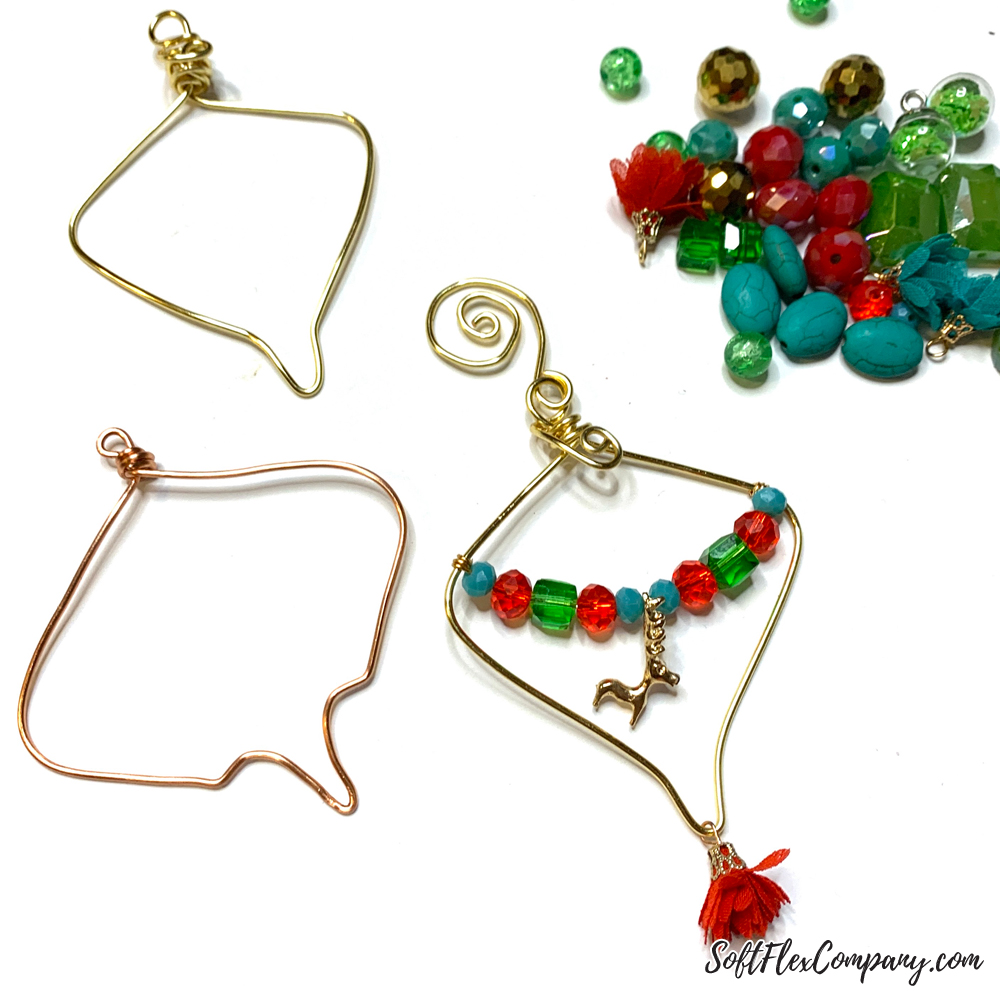 Retro Christmas Bead Mix
WigJig Jig Board
WigJig Super Pegs
Craft Wire
Cutters
Round Nose Pliers
Chain Nose Pliers
Nylon Jaw Pliers
Tool Magic
Wire Whacker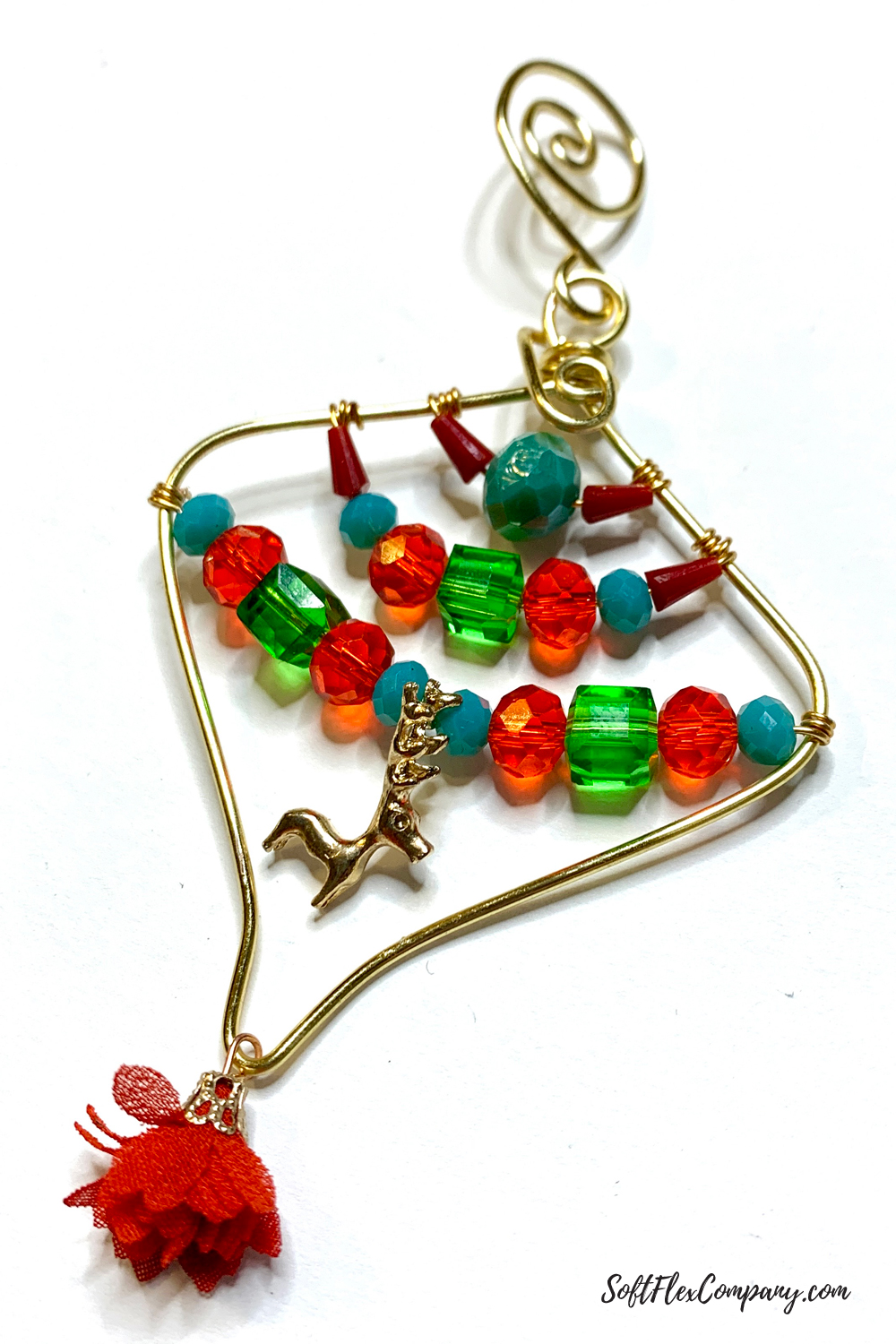 Bracelet Design From Danielle Marie Wickes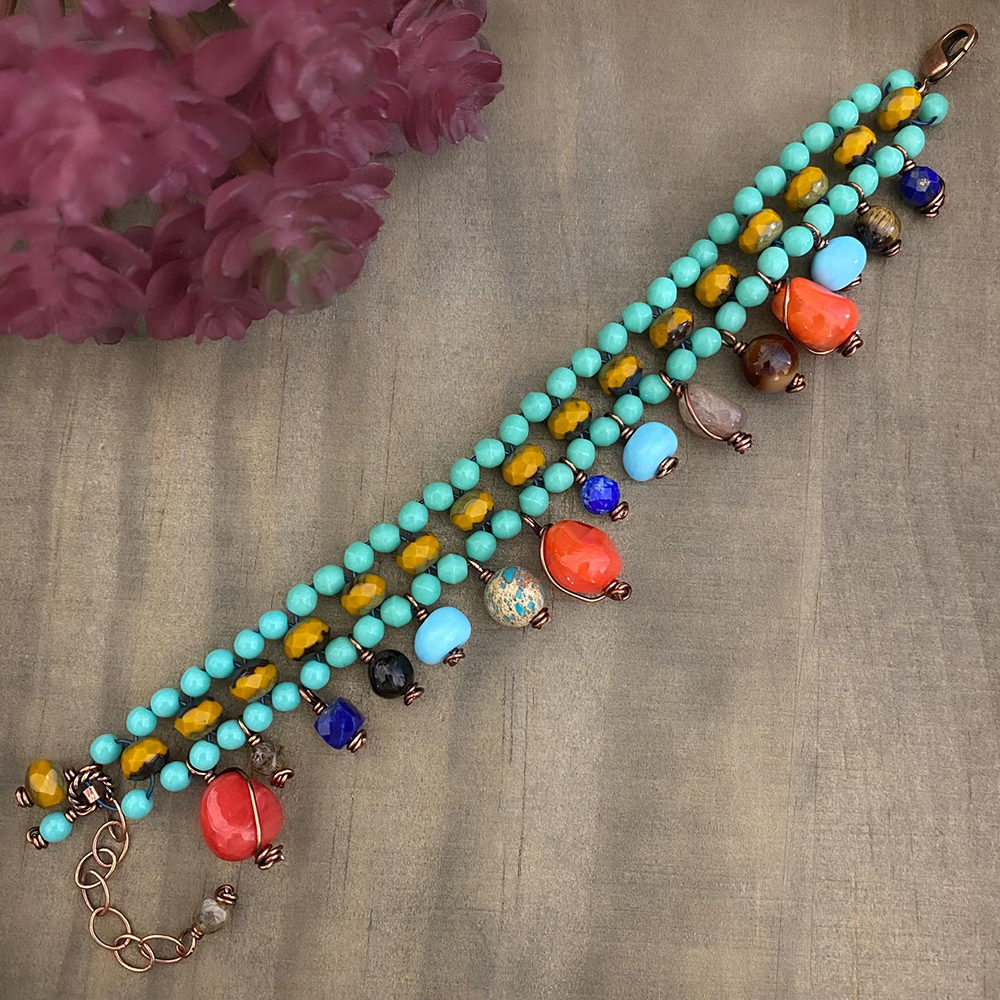 Danielle Wickes is an incredible artisan. Her jewelry is imaginative and wonderful. She is the kind of designer that shows us how to innovate and stretch our imagination. Danielle is a jewelry designer and a content creator for John Bead. She is also a teacher for Michael's, you can find her weekly classes on Michael's website.
We just wanted to share this super fun design made with dark blue lapis medium Soft Flex. Beads are from Sam's Bead Shop November box. If you love this bracelet, make sure you check out our beading party with her!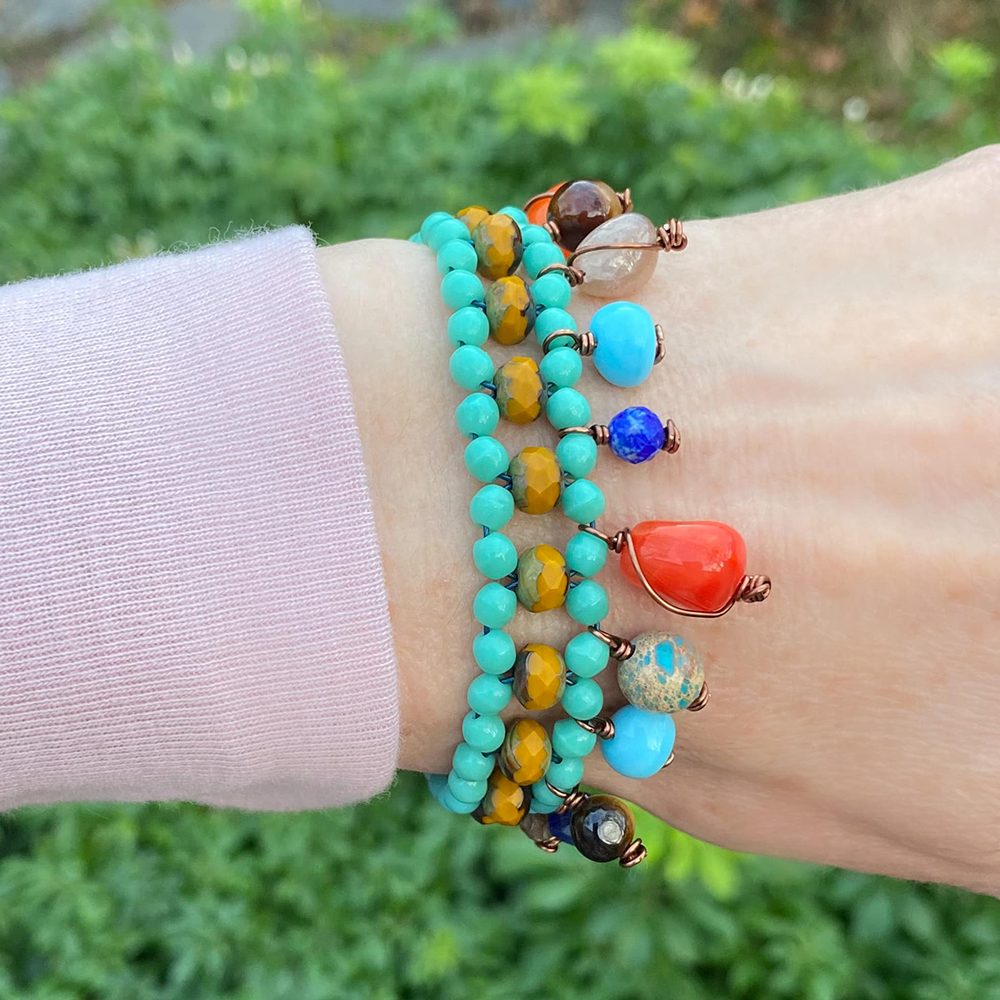 Visit Danielle's links: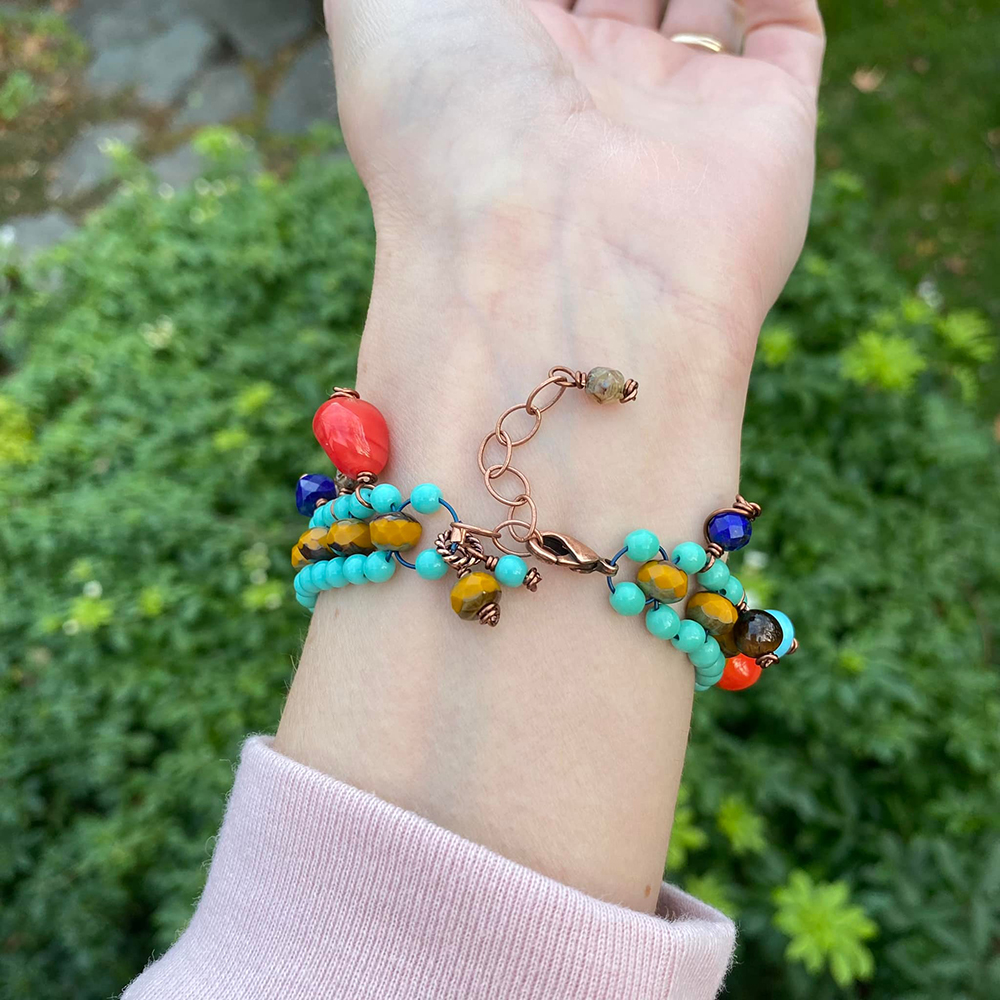 Bracelet Tutorials From Brittany Chavers Featuring Sam's Bead Shop Bead Box
If there is a little Halloween in you, even during the jolliest of holidays, you are going to love this bracelet. This bracelet is wonderfully dark and gothic. If it is too dark for your taste, you can always pepper it with beads that represent your outlook. Brittany Chavers is a talented artist that certainly speaks to the Nightmare Before Christmas in the Soft Flex camp. We loved this somber styled design. Embrace your inner Grinch and go a little goth this Christmas!
Brittany created this fun piece from beads in the October box from Sam's Bead Shop. Sign up for Sam's Monthly Bead Box and use Brittany's code TURQUOISE to receive $5 off your first box! The box is $39/month, plus shipping, and they ship Internationally.

Brittany strung this beautiful nightmare on copper color Soft Flex Beading Wire. Copper is part of our Metallics beading wire. This wire is perfect for an antiqued look. String a skeleton key or vintage bead with this lovely wire. Make a bracelet with an American Southwest flavor. This wire is a perfect pair for copper lovers everywhere. Accent your turquoise with this stunning color! Be a copper queen!
Brittany's links:
Facebook Bead Group
YouTube
Facebook
Instagram
Turquoise.Street Instagram
Etsy
DashingDeStash Etsy
Twitter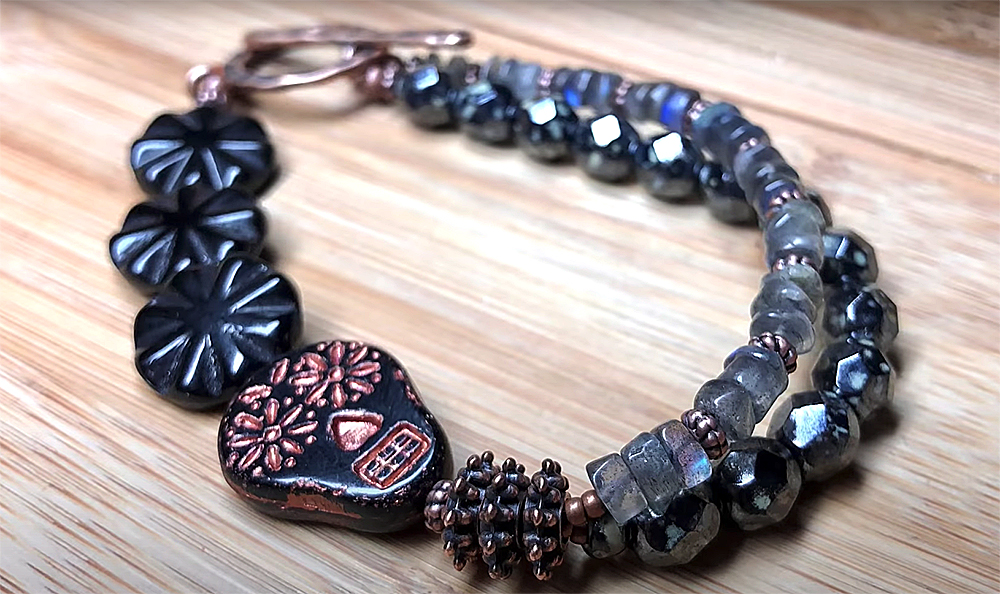 Marcie Creates: Unboxing Soft Flex Retro Christmas Mystery Kit
From Marcie Creates:
My name is Marcie Hall and I live in North Texas. I am a mixed media artist, jewelry maker, recipe creator and an avid Dachshund Lover (I have two rescues- Ginger and Cha Cha). I have been an artist my whole life. In my early art days, I would create prints, sculpture, ink drawings and oil paintings. About 25 years ago, I started making jewelry after a friend invited me to take an intro class at my local bead shop - I was hooked! I loved everything about jewelry making- the colors, textures and shapes really spoke to me. Soon I was making jewelry for family and friends and then everyone said, "you should sell your jewelry" and Marcie Hall Designs was born.
I recently started a YouTube channel called Marcie Creates to share my passion for beads, jewelry making, mixed media art and cooking. YouTube is a new venture - I am really enjoying it and would love for you to join me!
Visit Marcie's links:
Marcie Creates YouTube Channel
Instagram
Facebook
Facebook Marcie Hall Designs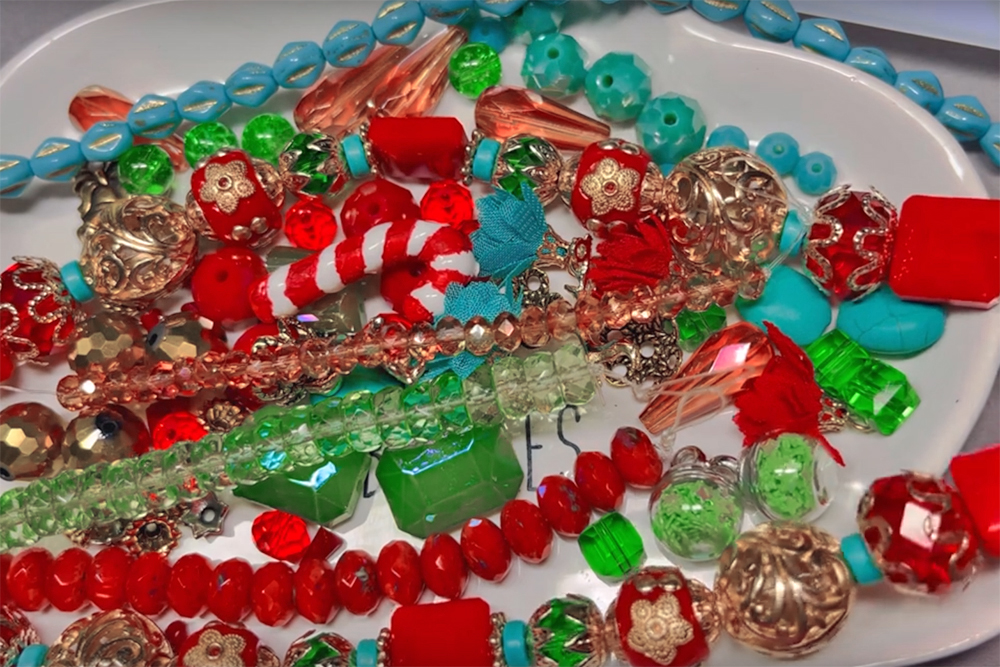 Misty Moon Designs: Retro Christmas Design Kit Unboxing & Necklace Tutorial
From Misty Moon Designs:
Hey everyone. Please join me in the unboxing of the latest Mystery Design Kit from The Soft Flex Company! I know you'll love this kit! Its full of holiday spirit and inspiration. These kits retail for $32.95 and sell quickly. So it may not be available by the time you see this video but you can find other kits and bead mixes on their website: www.softflexcompany.com.
Enjoy! Luisa [email protected]
Please visit me to see my work:
Instagram
Facebook
Etsy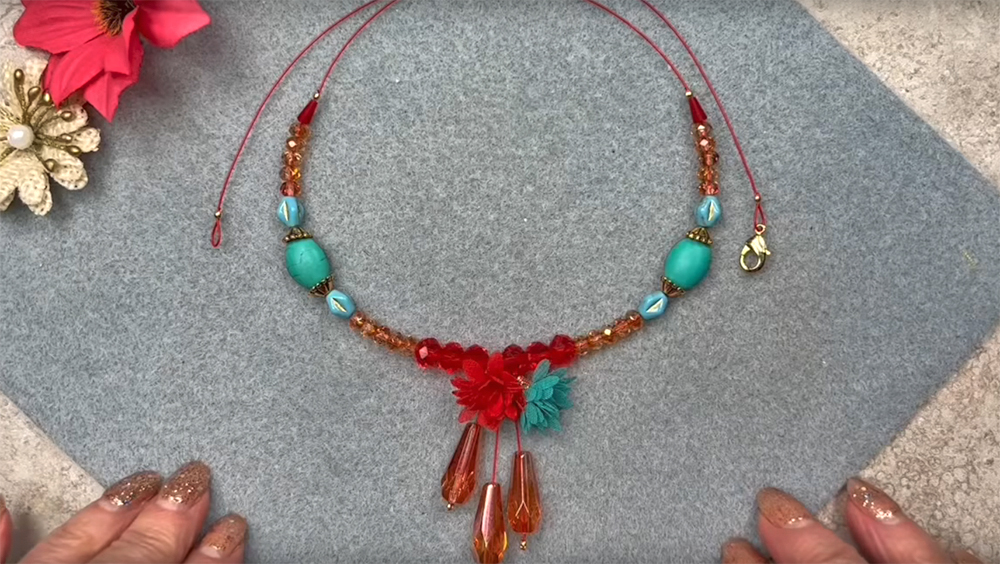 DIY Necklace: Easy Bail For Any Necklace
Nealay Patel is the owner of SilverSilk & More. SilverSilk is a knitted wire jewelry chain. But, it is like no other jewelry chain out in the craft market. SilverSilk is made by many tiny latch-hook needles that spin around with wire, intricately machine-stitching the wire into an elegant yet strong and supple knitted wire chain. This knitted wire stitchwork offers the crafter new and unusual ways to use it. You can string large-hole beads on it, sew through it, wire-wrap it, glue it, put it in resin or just leave it as a draped jewelry chain. We love SilverSilk chain, it is the perfect complement to Soft Flex Craft Wire or beading wire. These beading elements can be interwoven and wire wrapped into exciting new jewelry. Design something elegant and rich today with these two stringing options. Your finished jewelry will look like you bought it from a high end gallery!
From Nealay:
Mixed metals and textures is what I live for. I enjoy finding unusual combinations of materials and I do get to use up quite a few materials in my bead hoard! Join me in this video to learn a special method in using Flat Mesh for making a bail for virtually any type of necklace that you want to hang a pendant on.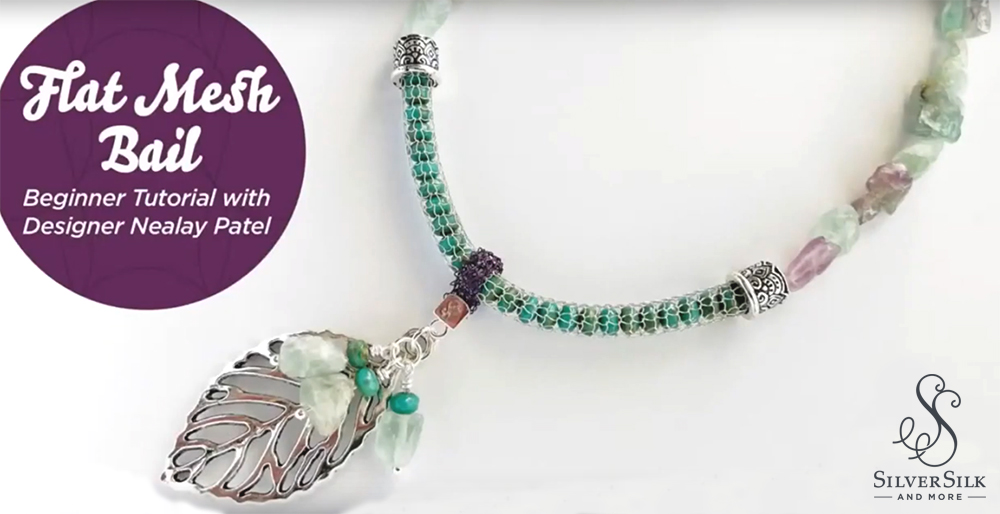 Be sure to mark your calendars for every Tuesday, 5:30pm CST and hop over to facebook.com/groups/silversilk to watch Nealay's videos live and ask questions.
Nealay's channel is dedicated to learning how to make high quality jewelry with SilverSilk with an emphasis on design. You can follow his journey here:
www.instagram.com/silversilkandmore
www.facebook.com/silversilkandmore
Or join his Silkies group and be a part of the conversation www.facebook.com/groups/silversilk
Join our Facebook group – VIB. Stay in the know. Stay up to date. From our bead shows to our video shows and sales, you can stay in touch with us. The community is full of artistic and helpful beaders and crafty people. Inspire and be inspired. Share your pictures and get the beading bug from others!
Visit the Soft Flex Company YouTube Channel!
---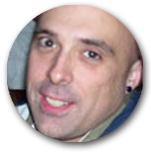 Blog contributor Thomas Soles loves Jazz Age writers and crunchy french fries. His favorite gemstones are Lapis and Pietersite. His favorite hobby is day dreaming. And his favorite mustache is Freddie Mercury's. As you can see, he has a healthy (or possibly unhealthy) sense of humor. You can write to him at [email protected]