We have three lavish jewelry design videos for you today. We love playful jewelry, but this week was all about the alluring and opulent. If you want a stunning necklace idea, look no further. Mother's Day is just around the corner. These videos offer great gift ideas for that Mom, or Glam-Ma, in your life that loves all things luxurious. Treat yourself or gift your mighty matriarch.

This week, Kristen created a stunning jewelry set. She had odd shaped stones that some might consider difficult to use in a design. Watch how she makes these irregular stones look absolutely amazing. Nealay combined SilverSilk Hollow Mesh and Soft Flex Beading Wire to create a gorgeous statement necklace. Sara showed off the new TierraCast products in our store. She showed us how cord ends and cones can finish off a braided kumihimo design.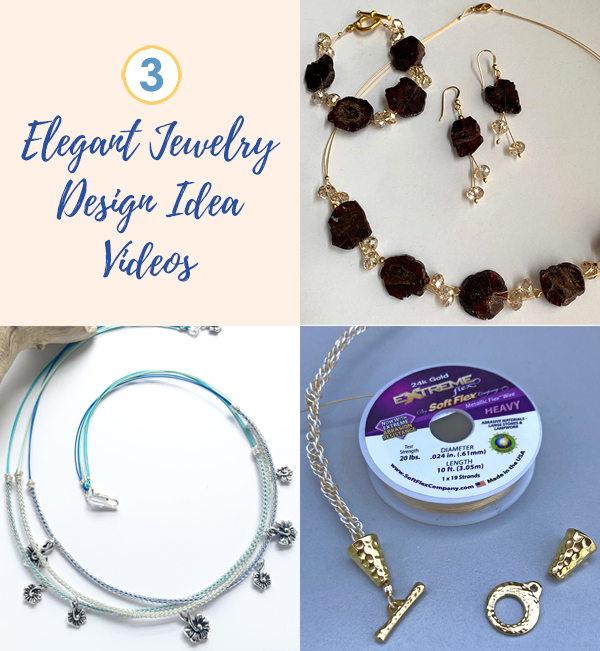 Design Jewelry With Gemstone Slices And Extreme 24k Gold Plated Beading Wire
Join Kristen on Mondays at 12:00pm PST. Her series, Free Spirit Beading, is a joyous look at jewelry design. She shows us how to create jewelry and enjoy the journey. She doesn't linger on mistakes, but considers them part of the experience. Her videos are free spirited and fun and if you watch live, she is always happy to answer your questions.
Kristen designed an amazing set of earrings, bracelet, and a necklace with sliced Garnet gemstones. The stones are unique and unconventional. They look like they would be difficult to add to a jewelry piece. They are not symmetrical and easy. But they are so lovely, they definitely have a place in a jewelry box.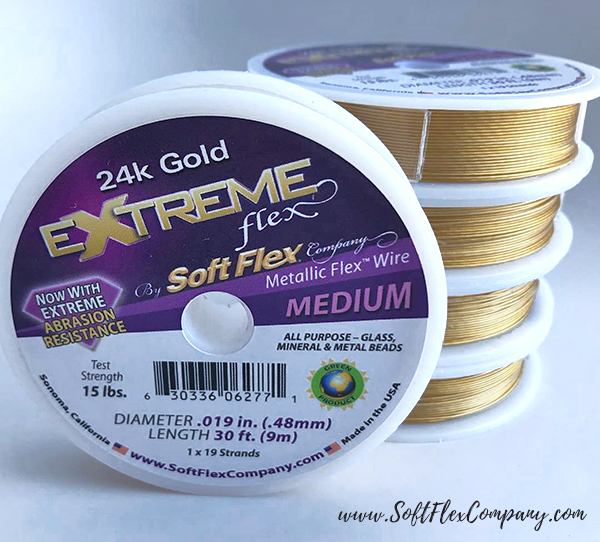 Kristen opted to use Extreme Flex Beading Wire in 24k Gold. These Garnet stones demanded a luscious beading wire. Our Extreme Flex is perfect for higher end jewelry. Whether it is for yourself or an upscale clientele, this wire is scrumptious. The gold plated wire is flexible enough that you can knot it and it has a silken drape. So delicious!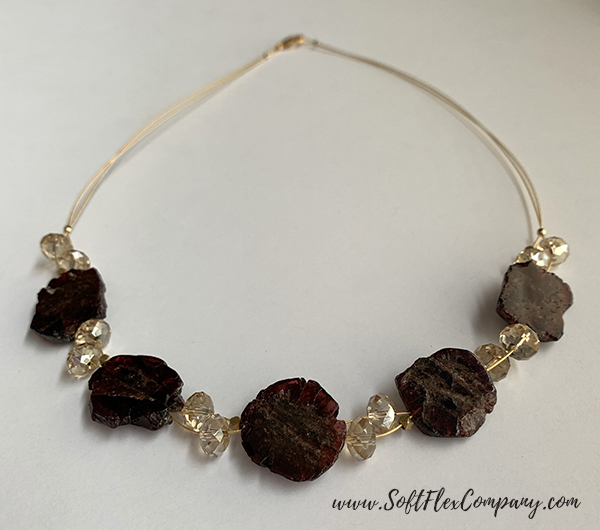 Supplies:
Approx 40" of Extreme Flex Medium Beading Wire in 24K Gold Plated Color
24 - 8mm Golden Shadow Crystal Rondelles
12 - 2mm African Faceted Brass Beads
1 Strand of Garnet Slab Slices (aprrox ¾" each)
8 - 2x2mm Gold Filled Crimp Tubes
1- Gold Plated Lobster Clasp
1 - Gold Plated Toggle
2- Gold Plated Ear Wires
Magical Crimping Pliers
Cutters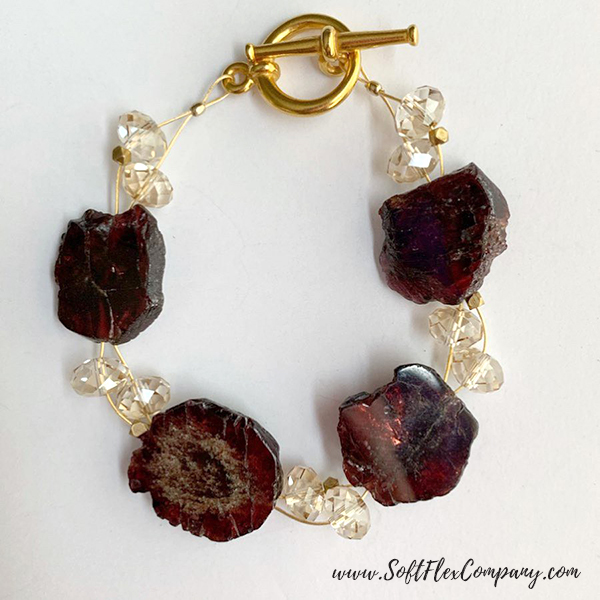 Make sure you select a color beading wire or Extreme Flex Beading Wire when you want to expose the wire. The wire looks wonderful on jewelry that is incorporating the wire into the design and not concealing it under the beads. It looks so stunning here. The gold really gives the Garnet some drama. Extravagance doesn't have to be difficult or expensive.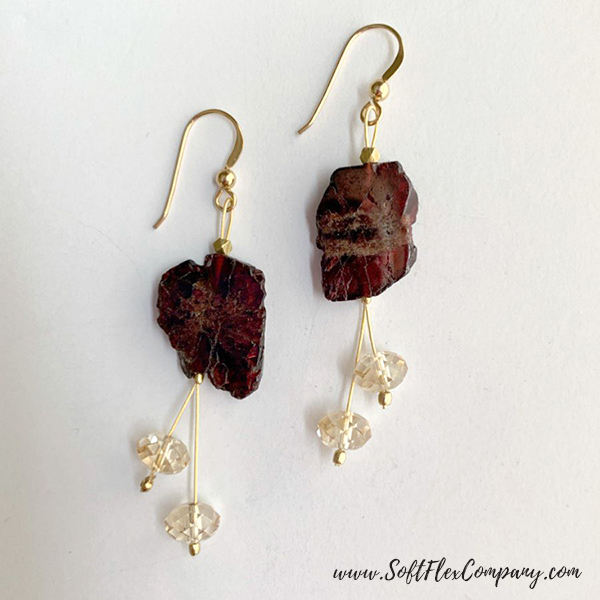 From Kristen:
"The earrings gave me a little bit of a tough time but they turned out cute in the end. Sometimes you have to push through and persevere! (6 gold filled 2mm crimps tubes may have been harmed in the making of this video) - I redid them after the video to have a African brass bead above and a crimp tube below the garnet slab to hold it in place, the rest is as I showed on the video."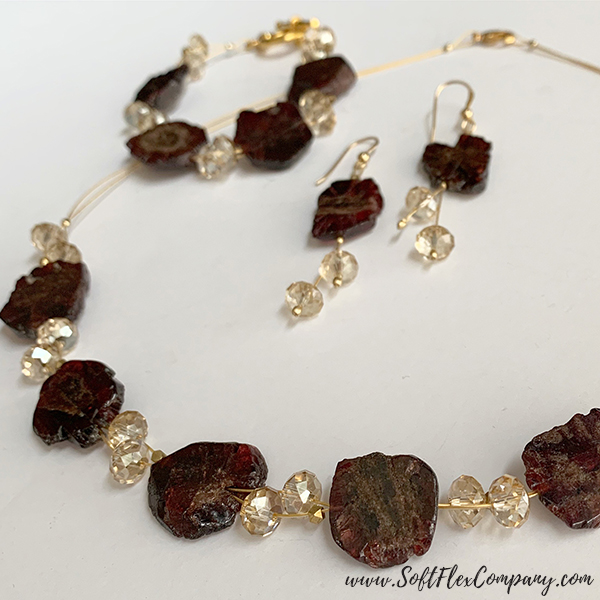 Kristen Fagan hosts Free Spirit Beading on Mondays at 12:00pm PST.
Be sure to tune in during her live segment if you have questions about beading. Kristen loves helping fellow jewelry designers and crafty folk. If you miss an episode, you can find it in our YouTube library.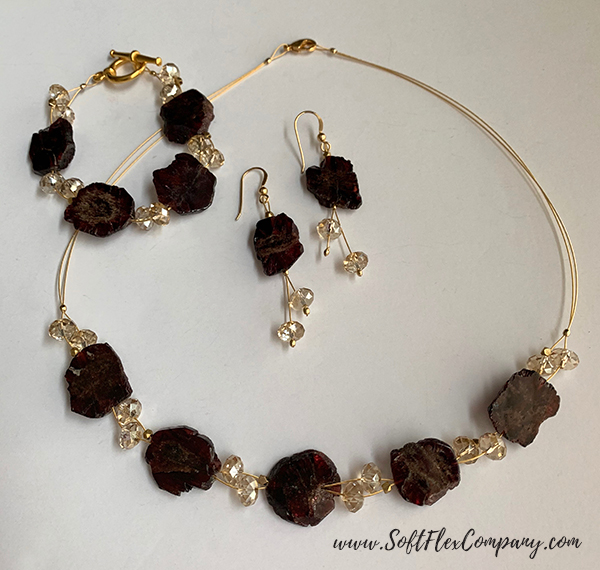 As a bonus, Kristen also mixed things up. You can create a design with wood beads or ceramic focal beads. Get creative and use the beads in your stash. You do not need to follow any jewelry design video to the letter unless you want to create the same piece shown in the video. You can design your own lovely jewelry!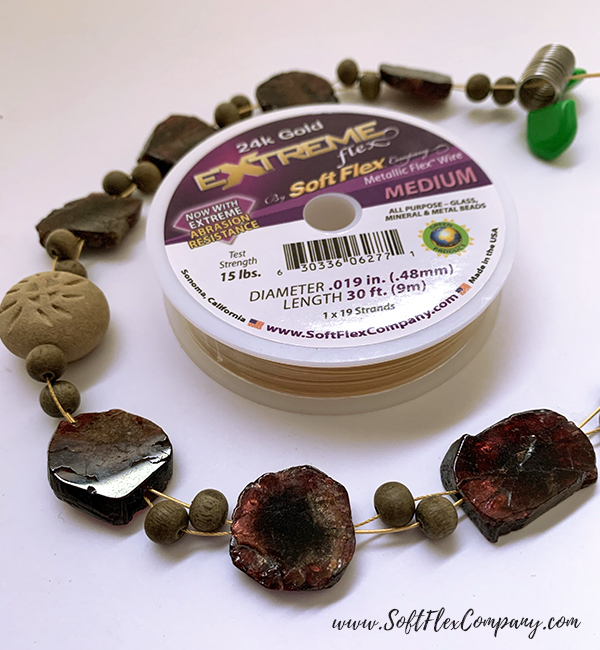 Hollow Mesh Statement Necklace with Soft Flex Wire

Nealay Patel is back with his Tuesday Tuts series. Every Tuesday, Nealay films a live video on Facebook where he sketches a design and then follows through and strings it. You can pick his brain as he goes or enjoy the ride. Nealay is a bit like a jewelry designing version of Bob Ross. He is playful and fun, but his finished work is always a masterpiece. If you miss his live video or just do not like Facebook, you can always view his videos on YouTube.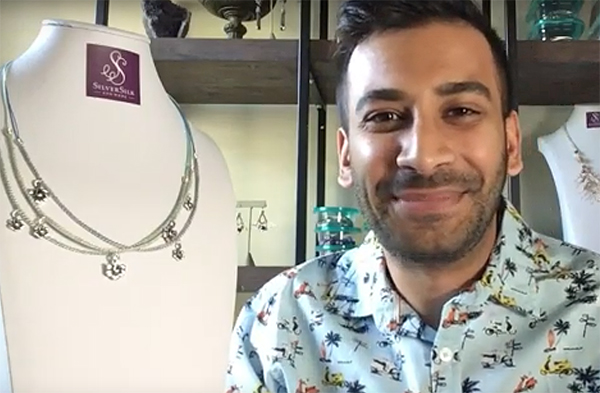 Nealay is a long time friend of the staff at Soft Flex Company. We love his videos and jewelry as much as we love his store. His findings, chain, and mesh are so easy to use but look so complicated. Finished jewelry designs using his products are sure to turn heads and get compliments.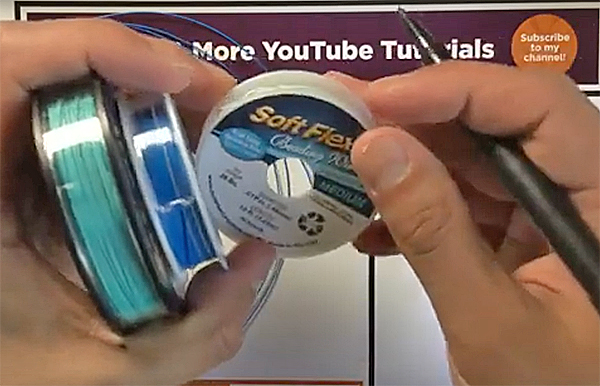 From Nealay:
It's going to be a great show! I'm thrilled about taking a simple idea I had in mind and sketching a quick and easy design using Hollow Mesh with Soft Flex Wire. I'm going to show you how to combine complimentary Soft Flex beading wire colors and use them as lining for silver Hollow Mesh to make a focal center piece. I'll also show you how to attach TierraCast charms onto the hollow mesh as a finishing touch. You won't want to skip this class!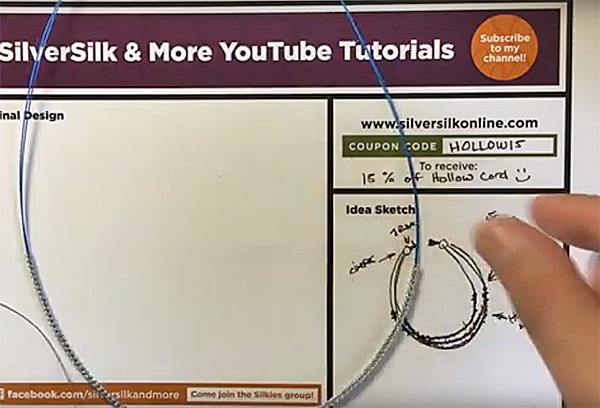 Supplies:
Hollow Mesh
Soft Flex Colored Beading Wire
26-gauge Soft Flex Craft Wire
2x2mm Soft Flex Crimp Tubes
Magical Crimping Pliers
TierraCast Charms
Clasp
4mm Jump Rings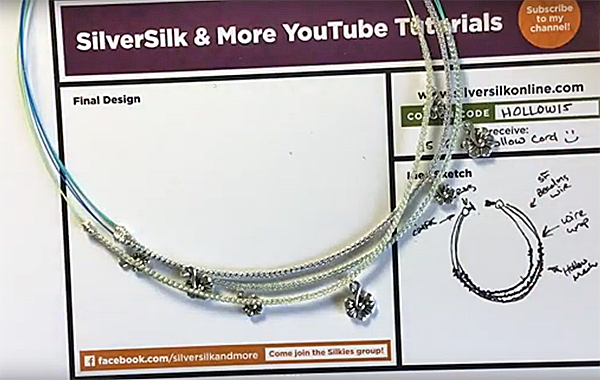 This breezy necklace would look amazing on calm summer night or a chilly Christmas morning. The colors are so versatile and rich. The necklace looks so full of stories and fun. Follow Nealay's video and make your own. You deserve to spoil yourself!
Let's help Nealay get to that magic number of 1,000 subscribers so he can stream live from YouTube! Subscribe to SilverSilk and More's Channel.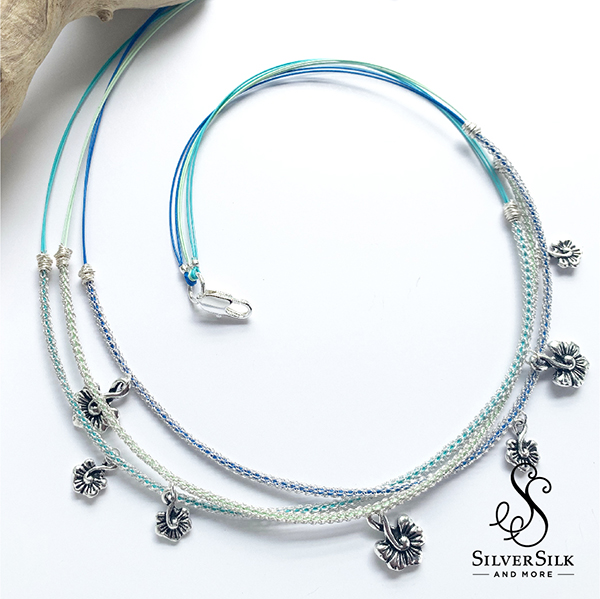 New Products And Closing Off A Kumihimo Braid Made With Soft Flex
Sara is back. She is going to be a third time mommy not too long after Mother's Day. She is about to bring a boy into her family. She has been a real trooper. She is juggling work and her pregnancy but is still super charged to create jewelry and shower us with creative ideas. She wanted to show everybody how to use items that were just added to our store.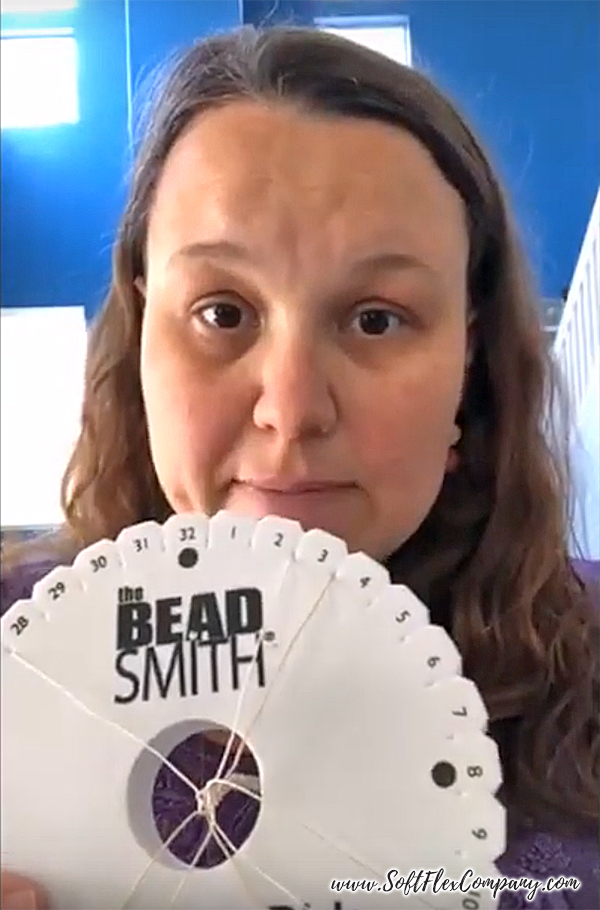 Sara filmed our new inventory of TierraCast clasps, cones, and end caps. We are excited to bring these artisan components onto our shelves. We often overlook our findings, but they can really highlight the beading wire and stones on a jewelry design. Why have boring findings when you can add another focal point on your strung jewelry?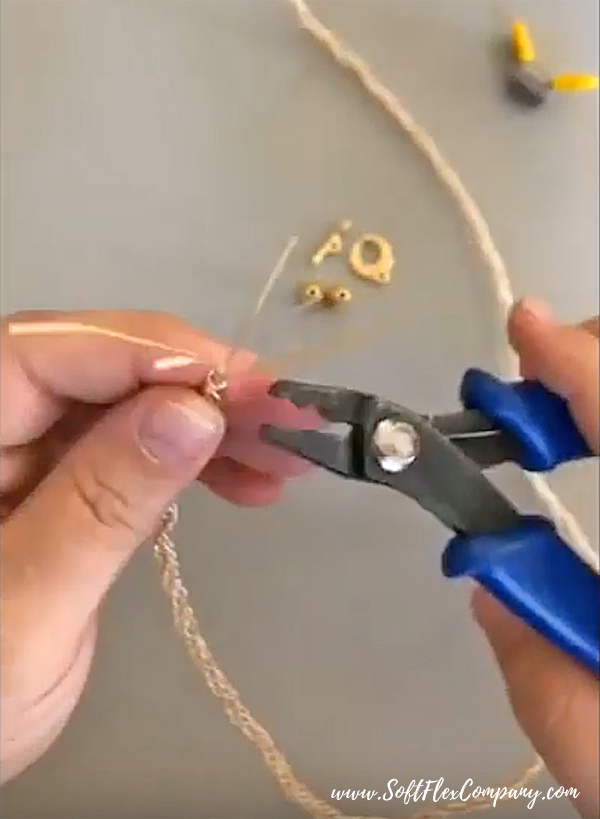 If you have a kumihimo disk or a Lazee Daizee Viking Knit Wire Weaving Tool, our new hammered cones are perfect for a finer wire design. The cones are a wonderful finish before you add a clasp.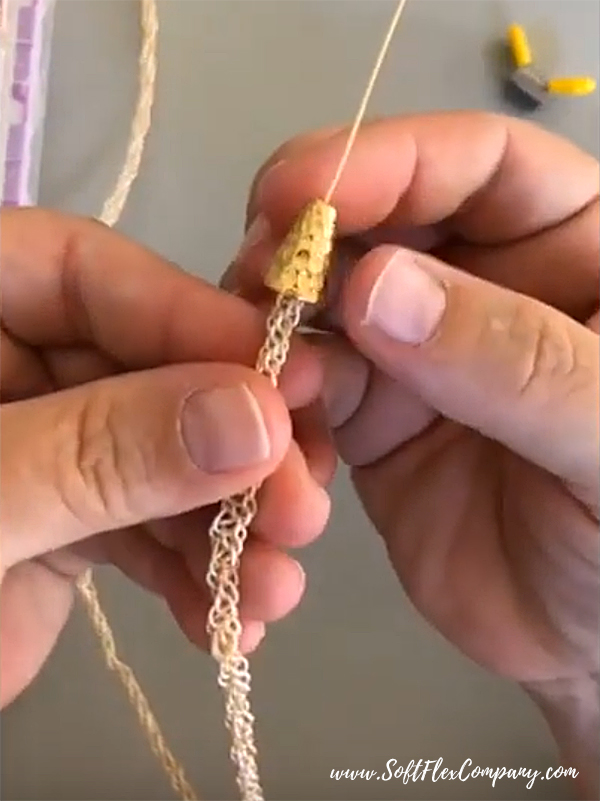 Supplies:
Extreme Flex Beading Wire in 24K Gold Plated Color in any diameter
Extreme Flex Beading Wire in 925 Sterling Silver Color in any diameter
3x3mm Sterling Silver Crimp Tubes
4mm Gold Filled Crimp Cover
Maker's Clasp
Bead Stoppers
Mighty Crimping Pliers
Magical Crimping Pliers
Kumihimo Disk
Cutters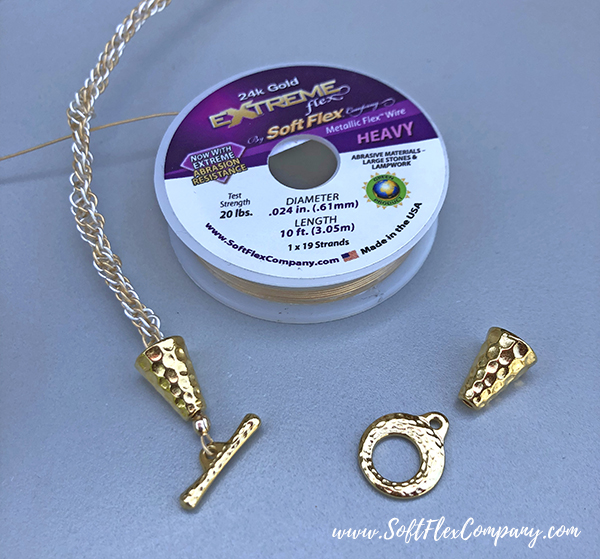 24k Gold and 925 Sterling Silver Extreme Flex Beading Wire make for a glowing, braided design on a kumihimo disk. If you have never used a kumihimo disk, they are incredibly simple to pick up. You can use any number of Soft Flex Beading Wire diameters, cords, and thread. If you use varying colors, your designs will look unique. If you use different sized cords on the same design, your finished braid will have a fun texture.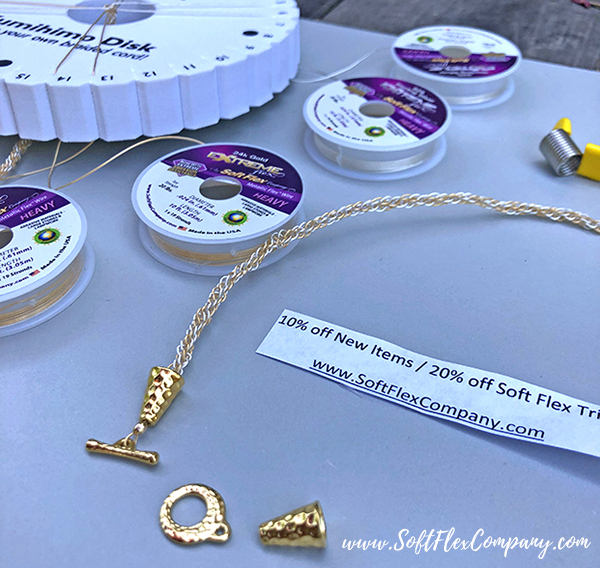 Check the latest inventory in the ' New' category on our website. We love to bring exciting new jewelry tools and findings to our shelves. We are a company that was founded by bead lovers. Our staff is full of avid jewelry designers. Every product that comes to our shelves was hand selected by people that love jewelry. We think you will love our items too.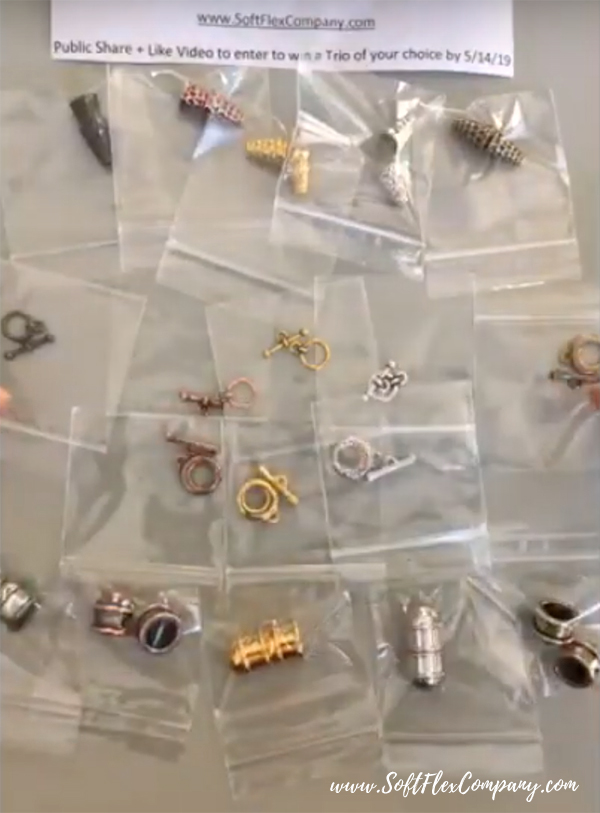 Maker's clasps are a wonderful new addition from Tierracast. An easy design element to overlook when creating jewelry is the clasp. The focus in our craft is often on the beads comprising the piece and not the little details. This handmade style toggle has a light hammered pattern on one side and a smooth modern look on the other for two distinctly different options in one.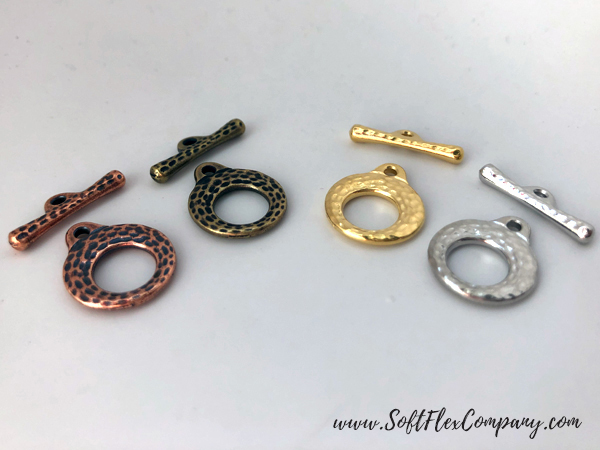 Anna's clasps are a stunning new addition from Tierracast. An easy design element to overlook when creating jewelry is the clasp. The focus in our craft is often on the beads comprising the piece and not the little details. Anna's Clasps are a stunning finish to add to your next project. You will be amazed at the professional look. This elegant toggle set was designed to go with anything but with just enough boldness to make a statement.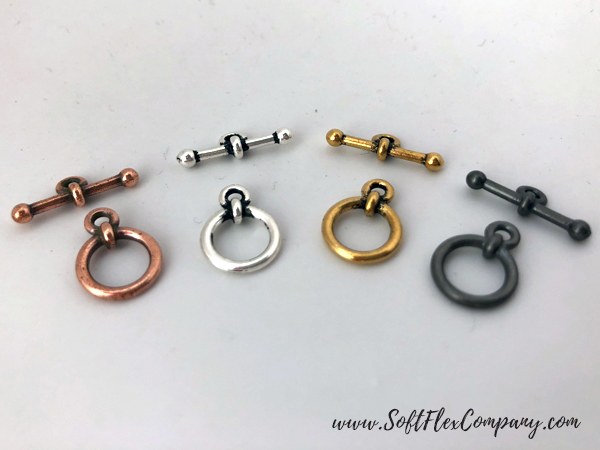 The Capitol style end cap is great for knitted cord, Soft Flex Craft Wire, and Beading Wire designs. These large end caps can accompany a wide array of wire diameters and gauges. This cord end is perfect for larger braided designs made with our kumihimo disks. This cap will fit larger Viking Knit designs made with our Lazee Daizee tool.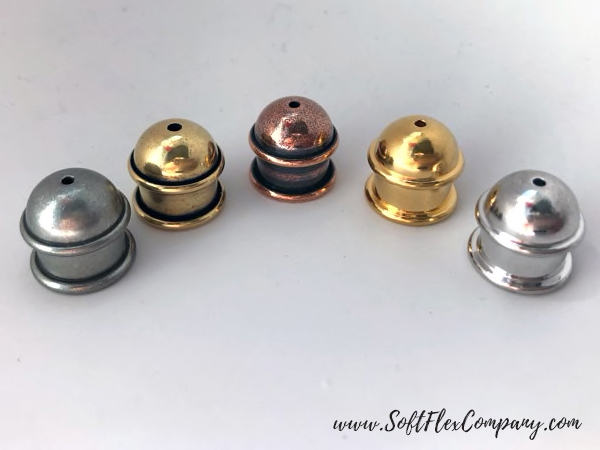 These hammered cones have a wonderful handmade look to them. They look stunning on the end of a braided design created with a kumihimo disk. They are a great way to finish finer knitted wire or a very fine Viking Knit design. These cones are great for smaller more delicate designs like micro macrame made with Soft Flex Beading Wire. Finish your next multi-strand design with these beautiful cones!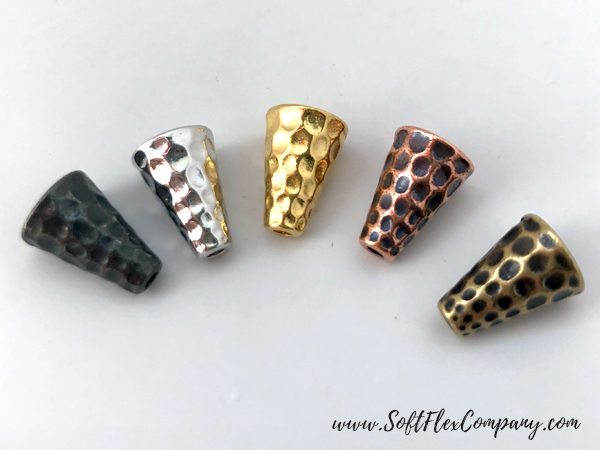 Join our Facebook group – VIB. Stay in the know. Stay up to date. From our bead shows to our video shows and sales, you can stay in touch with us. The community is full of artistic and helpful beaders and crafty people. Inspire and be inspired. Share your pictures and get the beading bug from others!
Visit the Soft Flex Company YouTube Channel!

---
Blog contributor Thomas Soles loves Jazz Age writers and crunchy french fries. His favorite gemstones are Lapis and Pietersite. His favorite hobby is day dreaming. And his favorite mustache is Freddie Mercury's. As you can see, he has a healthy (or possibly unhealthy) sense of humor. You can write to him at Thomas@SoftFlexCompany.com