Happy Friday, beautiful beaders! Did you join us for our live videos this week? If not, this is an easy way to catch up and binge watch. We love to explore jewelry making and share techniques and tips. We think it is like getting a free online beading class. Check out our week in videos. You are going to have a lot of fun. It is a great way to connect with a beading community, even if you are sheltering at home. Don't let curfew keep your creativity down! Let's make some jewelry!

We had an exciting look at mystery kits this week. Jewelry making kits are a great way to refill your jewelry supplies or just create with a theme. Each design kit we sell includes everything you need to make a bunch of exciting jewelry. All you need are the most basic tools - Crimping Pliers and Cutters. Kristen started the week with a look at our Purple Polka Dot Bead Strand. This bead strand was sold as an accompaniment to our Purple Polka Dot Design Kit (Sold Out). Kristen made a lovely necklace with the help of her friends on the video. Sara filmed a video featuring our Amazon Princess Design Kit (Sold Out). She made a lovely necklace. If you would like to catch her live, this wonder woman will be premeiring a video tomorrow on YouTube, see below for details. Finally, Nealay treated us to a look at his Tokyo Nights Neon Dragon Kit. This exotic kit is glossy, green , and sophisticated. Do you love kits? This is you chance to see some of the fabulous ones that we have featured recently!
Amazon Princess Earrings, premiering on YouTube on Saturday, June 6th.
If you loved Sara's Amazon Princess necklace, you are going to want to check out the earrings she paired with it. This video will premiere tomorrow on YouTube. If you have never made earrings with Soft Flex Beading Wire before, you will see how easy it is to make a set of classy earrings you can wear with every outfit and occasion. The small amount of wire and materials means that you can re-purpose old wire remnants you cut from old projects. Add a color variant - beads and wire - and you can make earrings that fit your style!
Soft Flex Bead Stringing Starter Kit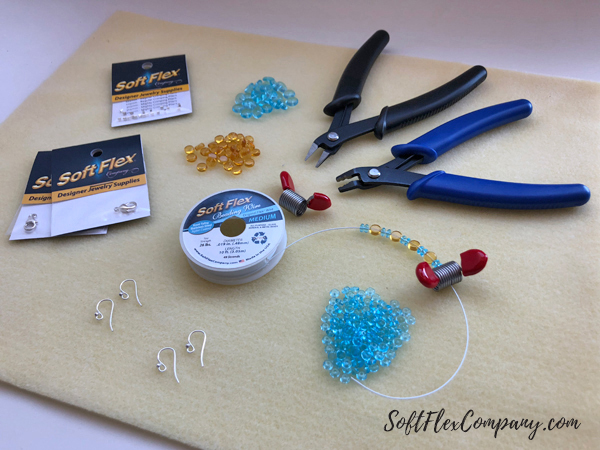 A perfect kit for anyone to get started in beading and jewelry-making. This kit is exactly what you need to make your own DIY necklaces and bracelets.
This Bead Stringing Starter Kit includes a Bead Mat, 2 red tip Bead Stoppers, Regular Crimping Pliers, Bead Nippers, 20 count package of 2x2mm Crimp Tubes, Ear Wires, Lobster Clasps, a 10ft spool of Soft Flex .019 Medium Beading Wire in your choice of color and a FREE package of Beads. (Bead colors vary and will be based on your wire color choice).
A starter kit is the perfect way to get all of the tools and wire you need in a single package. If you are just looking for the fundamentals of bead stringing, you will need to make sure you have a pair of regular crimping pliers and a pair of bead nippers. Those two tools are going to tackle a wide variety of jewelry making projects and if you cannot afford to get anything else - those are the must haves.
Jewelry Making Videos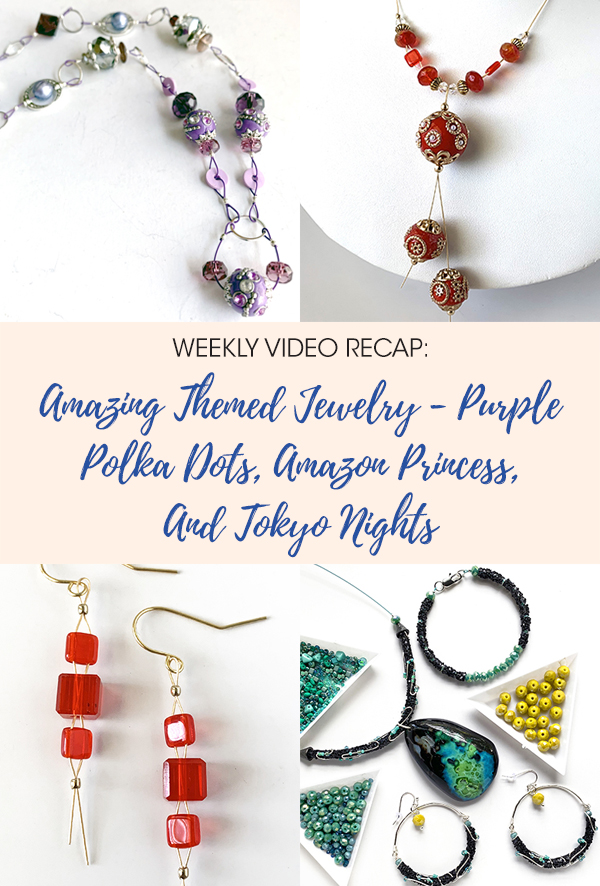 How To Make A Beaded Chain Necklace With The Purple Polka Dot Bead Strand

Free Spirit Beading was amazing this week. Kristen designed a necklace with our Purple Polka Dot Bead Strand (Sold Out). The necklace used very little tools and supplies, but turned out so regal and stately. To add to the fun, Kristen took cues from her live viewing audience and followed their directions. Between the audience suggestions and Kristen brainstorming, an absolutely stunning piece was designed!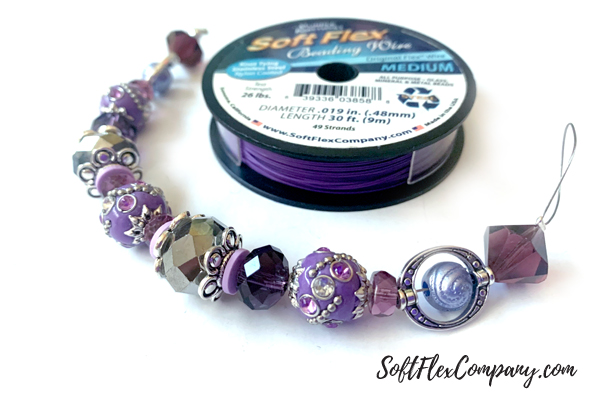 From Kristen:
This was a fun chose your adventure style live! I started the video with half of the necklace done and asked the audience for help finishing it. It's always fun to include you in the process. It results in me doing something I probably wouldn't have - like making this "horseshoe" style pedant dangle.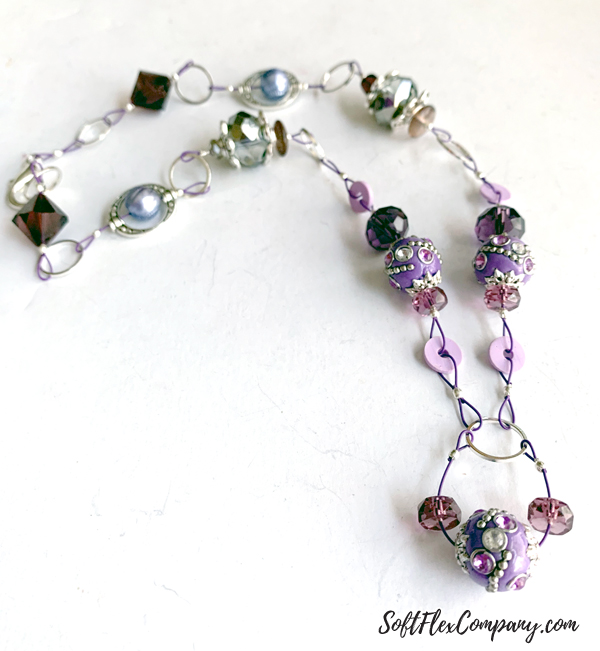 Supplies:
Soft Flex Beading Wire .019/Medium in Purple
Purple Polka Dot Bead Strand
2x2mm Crimp Tubes
Jump Rings
Clasp
Chain Nose Pliers
Crimping Pliers
Cutters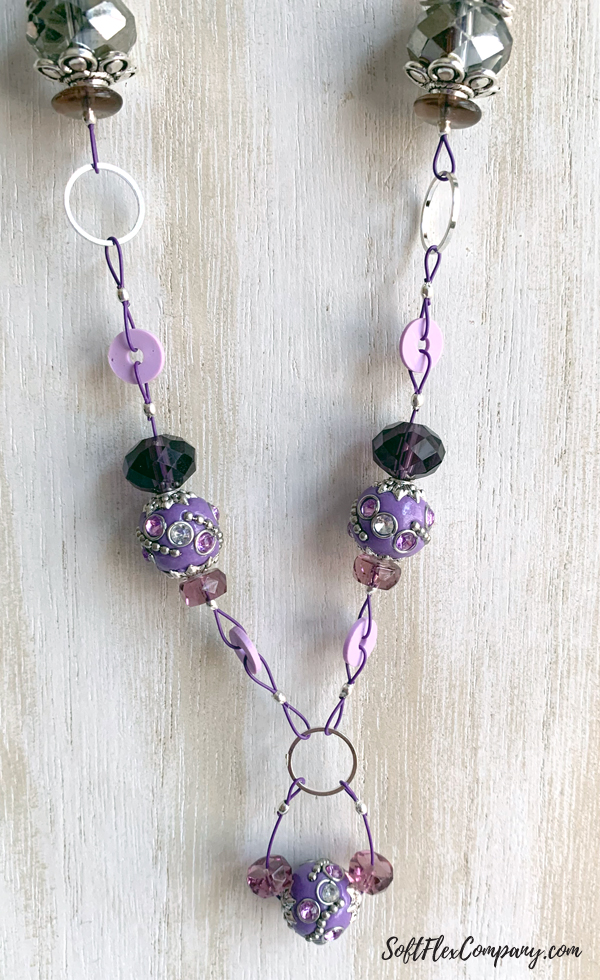 Isn't purple wonderful? It is such a striking color. It is no wonder that we think of royalty when we think of purple. It is truly the color of kings. Purple sparks something deep inside us. It has a mystical energy. It has an otherworldly presence. It awakens awe and excites our creativity. These radiant purple beads were an homage to our Purple Polka Dot Design Kit (Sold Out). Our kits and bead strands are always a limited inventory offer. We want to create something special and unique to our store. Make sure you follow our website for the newest kits and bead mixes.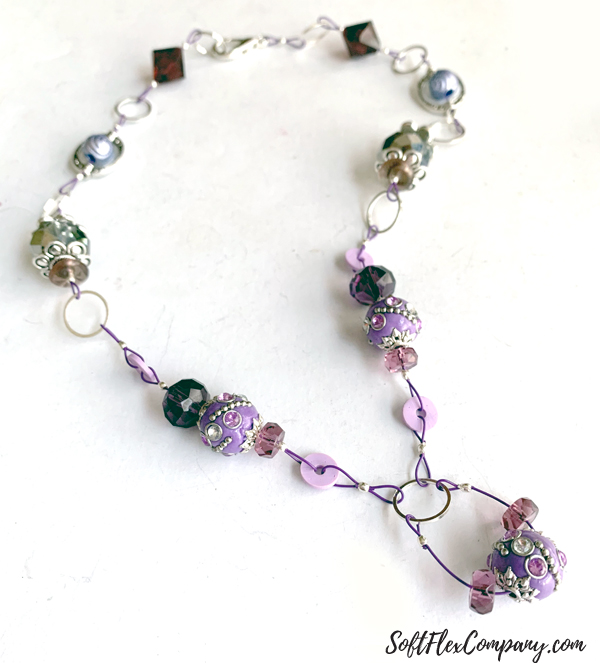 As complicated as Kristen's jewelry design looks, it is really simple if you know how to crimp. Just follow her gentle instructions on the video and you can make one just like her's. You can even change it up and make your own style. Kristen was inspired by the purple disks you see. They were used as spacers in the strand, as sold. But she liked the idea of using them as connectors. Think outside of the box and see where it takes you. It turned Kristen's jewelry into something fabulous when she changed things up!
Make sure you join her audience, Free Spirit Beading is live on Mondays at 12pm PST. Your input and chat might inspire her to make something wonderful!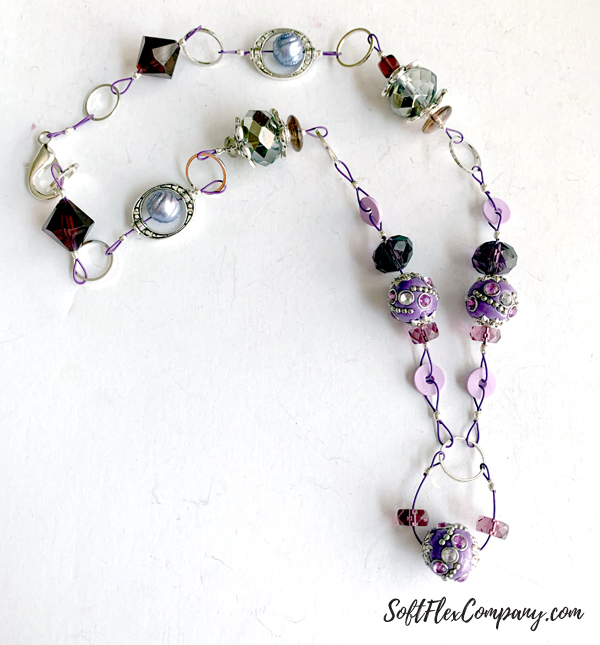 Each month we collaborate with Jesse James Beads to provide us with Soft Flex exclusive bead strands and mixes. These are limited quantity beads that can only be found at SoftFlexCompany.com. These purple beads are from one of those bead strand and they are sure to sell fast!
Jewelry Making Techniques Using The Amazon Princess Design Kit
We love Wonder Woman! The Amazon Princess, Diana Prince, is an inspiration and icon for so many of us - male and female. She represents strength, integrity, and grace under pressure. We wanted to pay our respects to such a force for good with a design kit. Our monthly kits are full of great themes - holidays, fantasy, empowering ideas, and so much more. Amazon Princess was our tribute to the DC comic heroine. This design kit enabled the user to make their own Golden Lasso and bracelets. Sara wanted to make a necklace this week. Her necklace is fit for a superhero, but is perfect of every woman. Check out her video and see what she makes!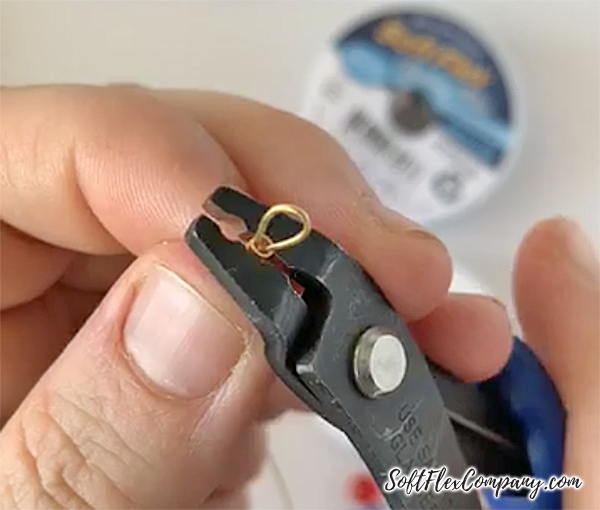 If you have ever wanted to get some tips on how to crimp with regular crimping pliers and Magical Crimping Pliers, Sara uses both on this video. She gives easy to follow instructions and you will become a better crimper in no time. Also, Sara does a lot of work with crimp covers in this video. This is a great time to learn how to use crimp covers, too. Crimp covers are perfect for designers that do not like the look of a finished crimp. Simply place the cover over the finished crimp and clamp is down like a little clamshell. The finished look is similar to a spacer bead.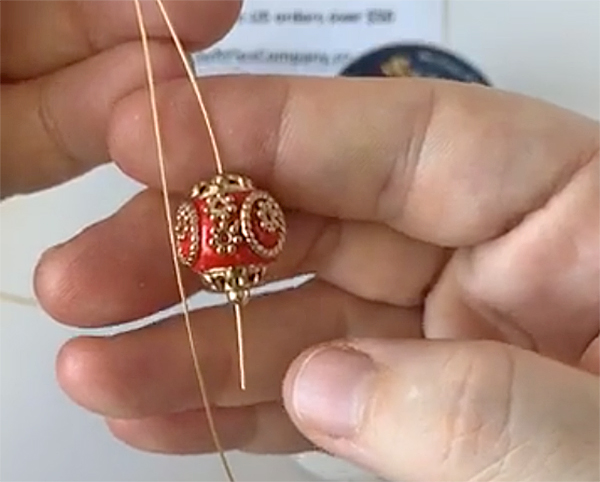 Supplies:
Extreme Flex Beading Wire .019/Medium in 24k Gold
Amazon Princess Design Kit (or Bead Mix)
Amazon Princess Bead Strand
2x2mm Crimp Tubes
3mm Crimp Covers
Crimping Pliers
Magical Crimping Pliers
Bead Stoppers
Clasp
Cutters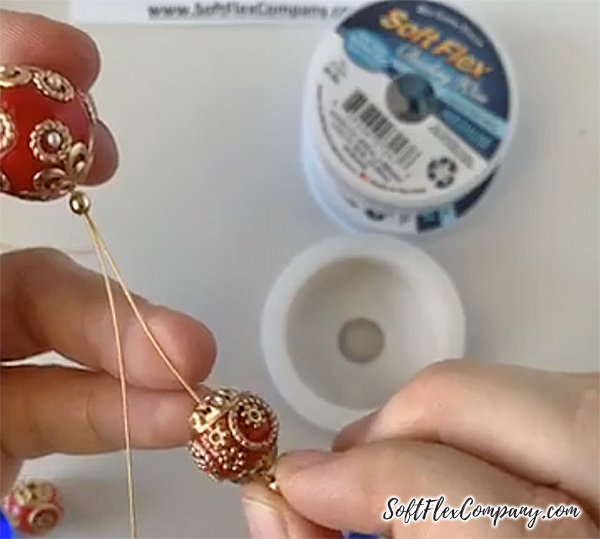 If you love our Extreme Flex 24k Gold Wire, make sure you grab some today. Gold prices have skyrocketed lately. The stock we have on hand is going to be what we carry until the price drops. We can still manufacture gold wire, but we do not think people are going to pay sky high prices for something that used to be reasonable. So, until gold returns to an affordable level, we are going to hold off. Grab some soon! Make sure you have enough in your jewelry making supplies. If you love gold wire, you will always be able to purchase our Pro Econoflex in gold color. It is not gold plated, but has a lovely sheen.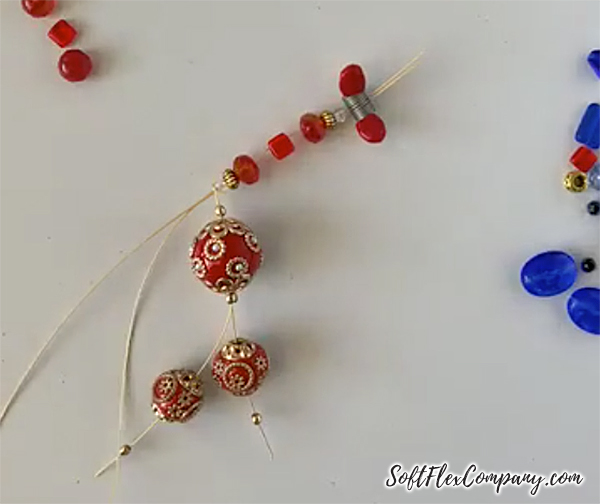 Look at this stunning focal. It is so playful. But also elegant. This would be a great necklace for a holiday occasion. Make a gorgeous necklace for your distant Christmas get together today!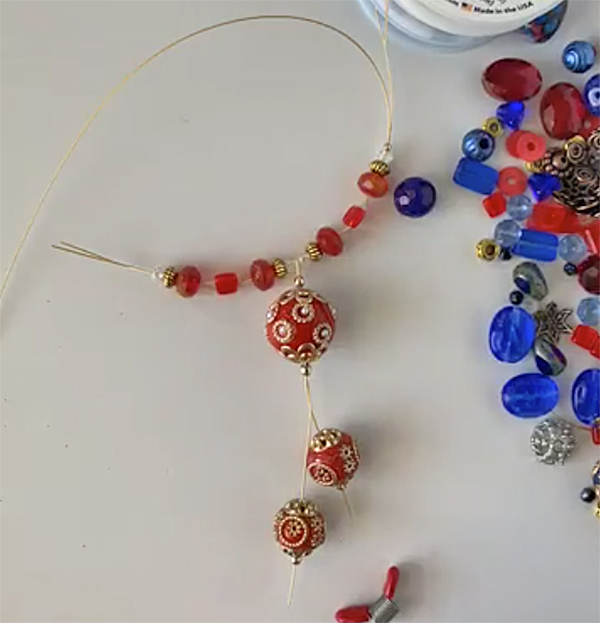 Don't miss out on our design kits. Kits are great for color themes. You can design with a motif in mind. If you just want to add some beads to your collection, you can break the kit down and add everything to your toolkit. Each kit comes with beading wire - sometimes craft wire, too. You can find an eclectic mix of artisan beads. We include all of the findings and components you will need to finish a bunch of jewelry. You just need cutters and crimping pliers. It is an incredible bargain and makes a great gift!
Don't miss Sara's follow up video on Saturday. The earrings she designs make for a wonderful enhancement to this necklace. What did you do with your Amazon Princess Design Kit (Sold Out)? Did you make a golden lasso or tiara? Or did you go with a classy bracelet that grabs everybody's attention?
Wire Wrapping Techniques Using The Tokyo Nights Neon Dragon Jewelry Kit
Nealay filmed an unboxing video this week. This time, he opened his Tokyo Nights Neon Dragon Kit. This kit looks so mysterious and lovely. Nealay included black Hollow Mesh from SilverSilk, a bead soup comprised of rainy neon colors, findings, and an absolutely stunning centerpiece, a vibrant pendant that commands attention. Nealay draws up some ideas before he begins to create his jewelry. Using Soft Flex Craft Wire, he shows us how to make wire wrapped jewelry. If you want craft wire pointers, this is a good video to watch and pick up some tips.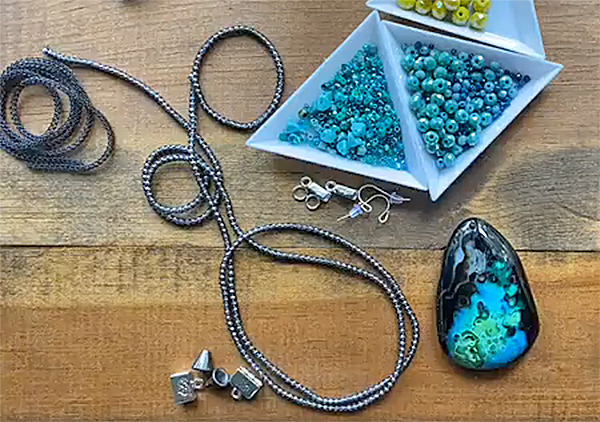 From Nealay:
Tonight episode includes a ton of glitter and some wire wrapping techniques that don't get old. Join me for a fabulous happy beading hour(ish) and you'll leave inspired. Extra kits from tonight found here.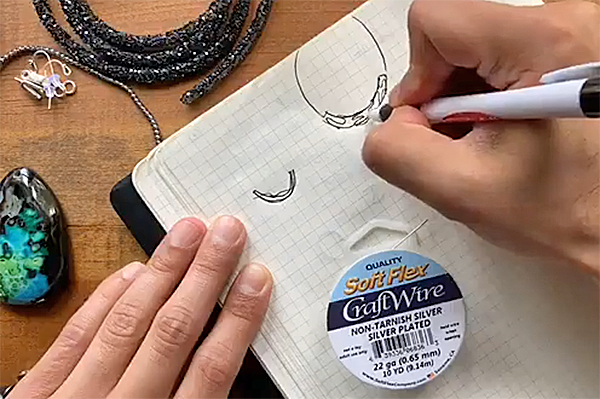 Supplies:
Tokyo Nights Neon Dragon Kit
SilverSilk Hollow Mesh
22ga Soft Flex Craft Wire
22ga Soft Flex Craft Wire in Non-Tarnish Silver
Nylon Jaw Pliers
Cutters
Chain Nose Pliers
Round Nose Pliers
Flat Nose Pliers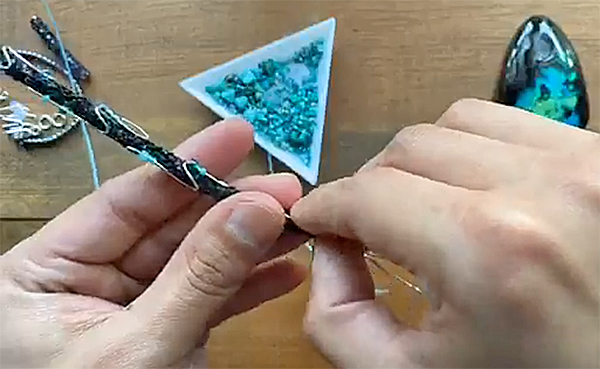 This was a great long form video. Watching Nealay tackle his designs is insightful and fun. You can learn a lot watching him work. His Facebook video clocks in around an hour. He also uploaded an abbreviated YouTube video if you would like to watch an edited version. Personally, I think you gain more knowledge from watching an artist move in real time and make decisions and accidents and see how they move forward. But I love to watch short versions too. If you would like to give Nealay some traffic on his YouTube video, click this link: Tokyo Night Neon Dragon Mystery Kit Unveil & Make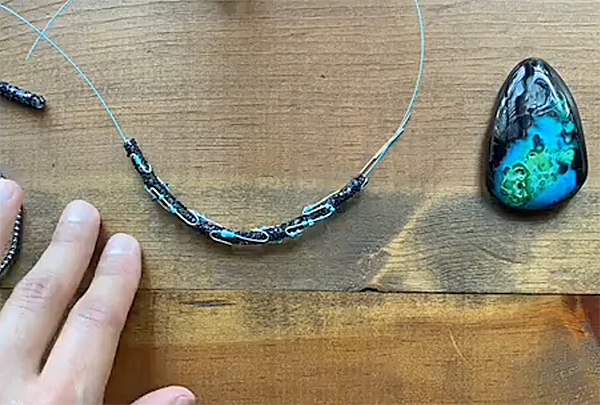 This video features the glowing Tokyo Nights Neon Dragon Kit. Nealay also has a vibrant twin kit on his site with a pinker, cherry tone - Tokyo Nights Cherry Blossom Design Kit. The contents of each kit are just gorgeous. I cannot take my eye off of the stunning focal beads and the black Hollow Mesh. What an elegant combination. So cinematic. It is like a Ridley Scott movie in a box!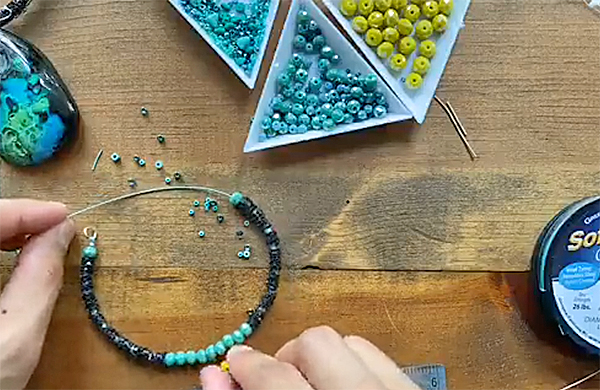 Nealay is a talented jewelry designer. His jewelry creations are delicate but the elements are great for a men's design. His mystery kit would be a great gift for Father's Day. Any dad that designs jewelry would love this kit. You can make some rugged designs with the included components. If your favorite dad does not make jewelry, but loves to wear a bracelet or necklace - give him the gift of jewelry!
Go grab a Tokyo Nights Kit before they sell out. The pendant, alone, is worth the money, I think. Holy smokes does it look amazing. I found myself staring at it during his show. It triggered nostalgia and mystery and I got lost in the swirling colors.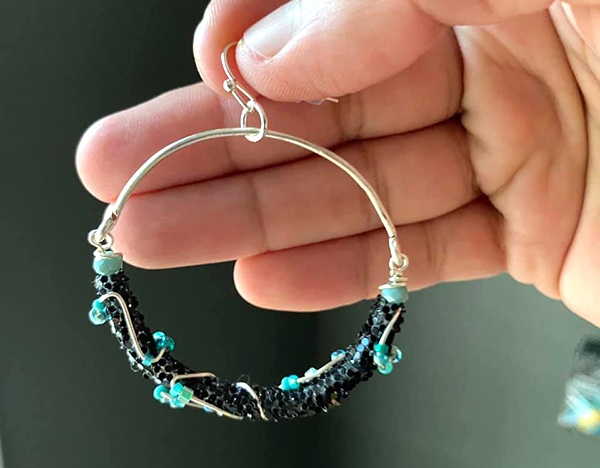 Nealay is a talented teacher. If you enjoyed this video, make sure you follow along on his social media and YouTube. You can find him on his YouTube channel and Facebook Page. Join his Silkies Facebook group.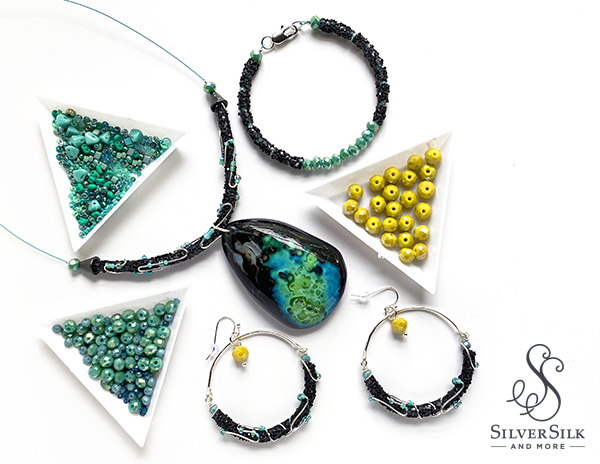 Join our Facebook group – VIB. Stay in the know. Stay up to date. From our bead shows to our video shows and sales, you can stay in touch with us. The community is full of artistic and helpful beaders and crafty people. Inspire and be inspired. Share your pictures and get the beading bug from others!
Visit the Soft Flex Company YouTube Channel!
---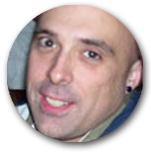 Blog contributor Thomas Soles loves Jazz Age writers and crunchy french fries. His favorite gemstones are Lapis and Pietersite. His favorite hobby is day dreaming. And his favorite mustache is Freddie Mercury's. As you can see, he has a healthy (or possibly unhealthy) sense of humor. You can write to him at [email protected]