Hurry! You still have time to make your sweetheart a handmade Valentine's gift! You still have a couple of weeks to string a necklace for your bestie and celebrate Galentine's Day! This week, we revealed our latest themed jewelry making set, our Valentine Passion Design Kit (Sold Out). This kit was a sultry mix of romantic reds, passionate purples, and glittering golds. Check out this recap if you want to give the gift of love. A handmade bracelet for your soulmate or a DIY necklace for your sisters. Let's make Valentine's jewelry!
Kristen started the week off with a Triple Goddess Necklace. This beautiful Moonstone design is perfect for your best gal pal! Sara unboxed our latest kit for another exciting edition of Kit Day! Kit Day is a Soft Flex holiday. It is a day of new products, fun blogs, searing creativity, and a community full of great design ideas. We love Kit Day! We learned how to make Hollow Mesh Bangles with SilverSilk. Nealay's design is perfect for a friend or your fashionable daughter. Finally, we are looking at a Just Bead It bracelet. Joyce taught us how to make a Slanted Ladder Bracelet. This design is so cool! Change up the colors or beads and make it a signature piece. Let's watch some jewelry making videos and learn a new tip or technique!
Valentine Passion Bead Mix

Embrace the most fiery holiday of the year. Valentine's Day is a day of explosive passion and vivid tones. You are going to adore this bouquet of romantic colors! You will be wild about the mystic purples. Watch them dance with rosy reds. You will be smitten with the sweet brass accents and the brilliant gold pops! This bead mix is for the lovesick, the infatuated, and the head over heels in love. Flirt with your loved one this year, make them a handcrafted forget-me-not!
Supplies are very limited. Don't miss out!
Note: This bead mix was included in our Valentine Passion Design Kit
Jewelry Making Videos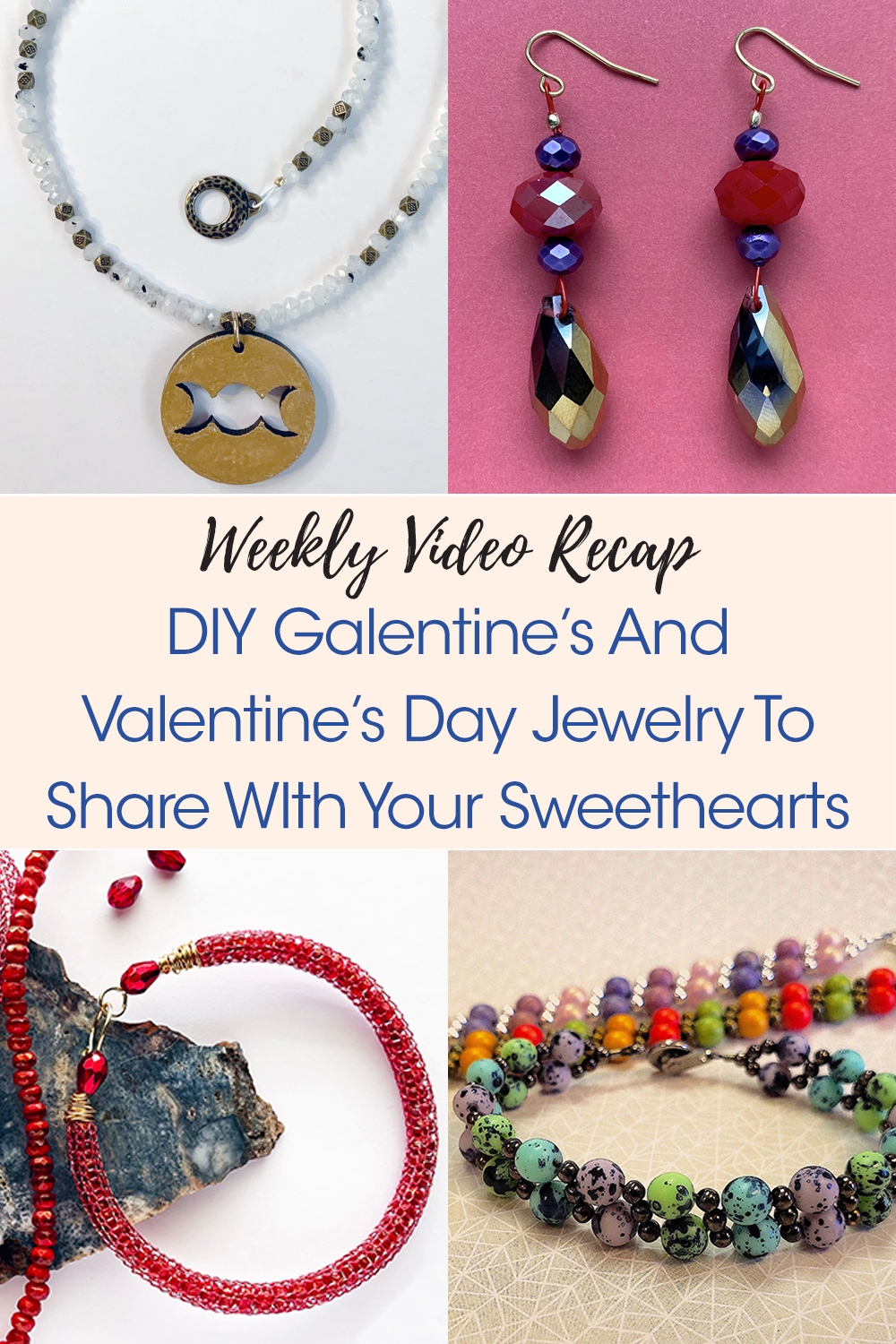 Make A Triple Goddess Necklace With Moonstone Beads & Symbolism In Mind
Please note: sound was not working until 2 minutes into video (just skip those two minutes, we don't blame you).
This week on Free Spirit Beading, Kristen showed us how to make a Moonstone necklace that celebrates women. This is a great gift for the favorite ladies in your life - friends, sisters, and children. This lovely piece of jewelry is a powerful symbol of femininity. The lovely focal on this design is a triple goddess wood cut pendant that you can find at Allegory Gallery. Kristen enjoys adding symbols and a bit of spirit to her designs. Feel free to include your own cultural or spiritually significant symbols in your next necklace.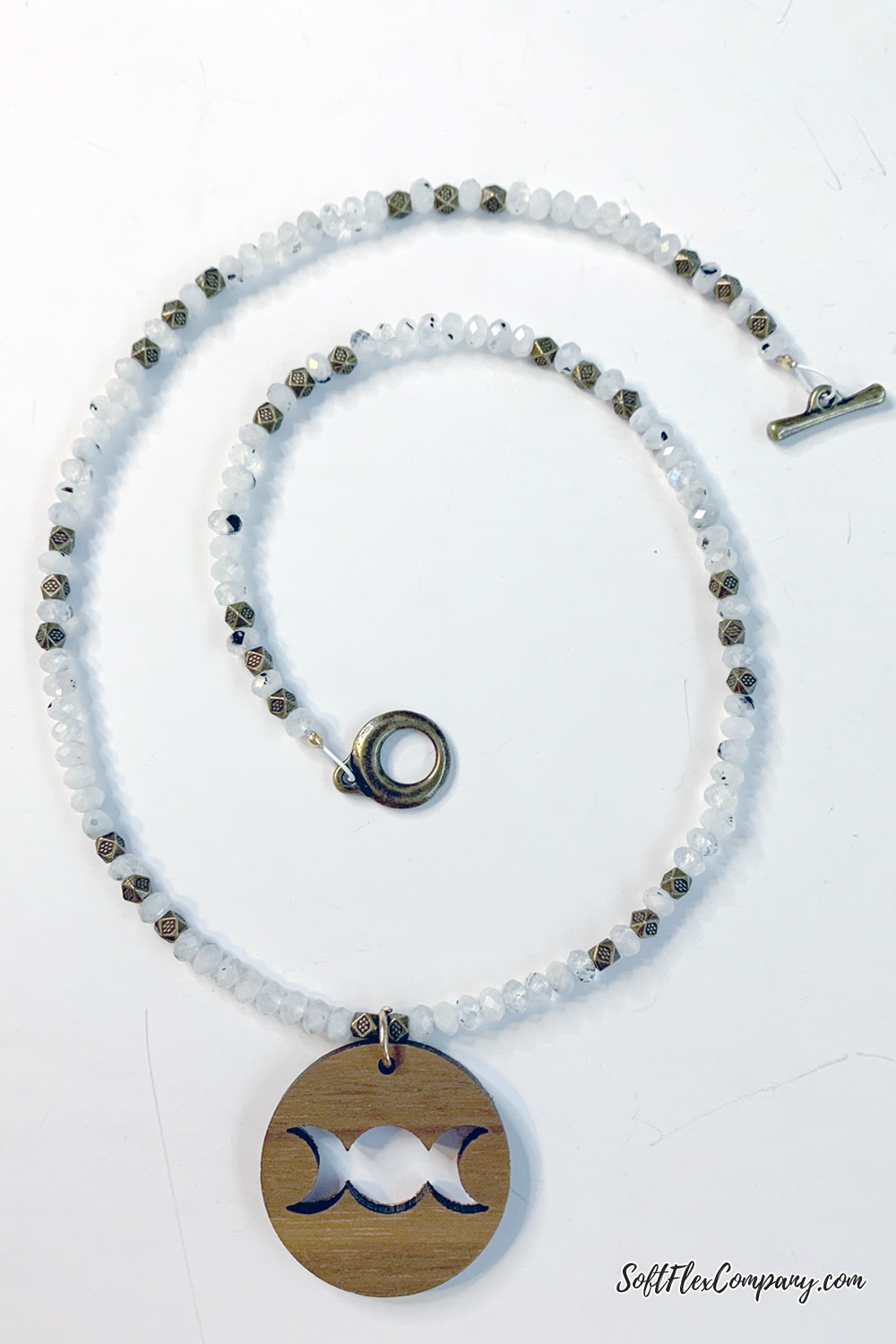 The pendant Kristen used for this video is a lovely symbol of the divine feminine. The triple goddess is a symbol of the three eras of womanhood. The waxing crescent is the maiden. The maiden is creative, somewhat naive, and full of unrealized potential. The mother is the full moon. The woman has transformed into a protector and provider. The mother is full of wisdom and guidance. The waxing crescent is the crone. The crone is a powerful matriarch. The crone imparts her knowledge and passes on her secrets. She is an overwatch and is full of love for the family she has nourished, fostered, and raised into maturity.
Kristen continued the symbolism as she strung her beads. The Moonstone beads on her necklace are in eight beaded sequences. The number eight represents the eight phases of the moon. The moon, itself, represents the divine woman. The three metal spacers that break the sequence of Moonstone beads are a correlation to the three phases of the moon on the pendant.
Soft Flex .019/Medium Beading Wire - White
Gemstone Beads
Metal Beads
Jump Ring
Clasp
2x2mm Crimp Tubes - Gold Filled
Crimping Pliers
Cutters
Wood Cut Pendant from Allegory Gallery
Acrylic Paint (optional)
Mod Podge Sealer (optional)
Posca Paint Pen (optional)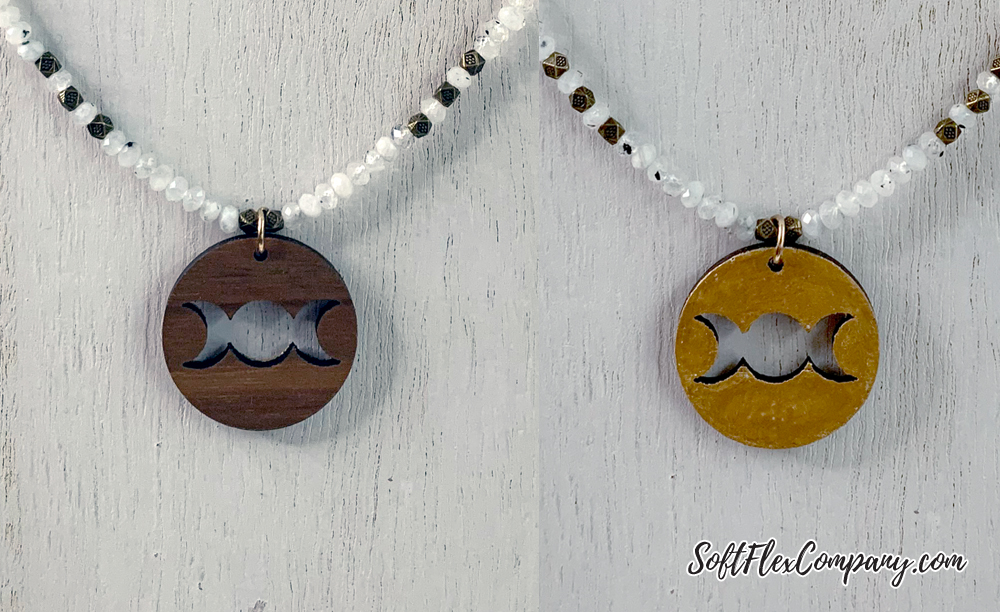 The wire you string your beads with is an important creative choice. Kristen began her first design with an Antique Brass color Soft Flex Beading Wire. The Moonstone strung on this earthy and darker wire turned the tone of her beads into a muted white, almost bone color. To brighten the beads, Kristen opted to string with White Quartz color beading wire. The white color, shining throw the translucent Moonstone, really made the beads come alive. Make color an important part of your next jewelry design. If you have translucent beads, use a color that will make those beads vibrant. If you are floating the beads and showing the wire - make sure the wire suits the design. Don't overlook color. Paint your metal or wood beads. Use color to make your jewelry magical. Make it as essential as the findings you use to finish your next necklace.
If you enjoy this video, make sure you catch Kristen live for a jewelry making tutorial on Soft Flex Company's YouTube channel on Monday's at 3pm PST / 6pm EST.
Sara Unboxes Our Valentine Passion Design Kit And Makes Jewelry
It's Kit Day! Sara unboxed our latest kit this week, the Valentine Passion Design Kit (Sold Out). This kit was our ode to love. This kit is flutter of a happy heart. Embrace the most fiery holiday of the year. Valentine's Day is a day of explosive passion and vivid tones. You are going to adore this bouquet of romantic colors! You will be wild about the mystic purples. Watch them dance with rosy reds. You will be smitten with the sweet brass accents and the brilliant gold pops! This design kit is for the lovesick, the infatuated, and the head over heels in love. Flirt with your loved one this year, make them a handcrafted forget-me-not!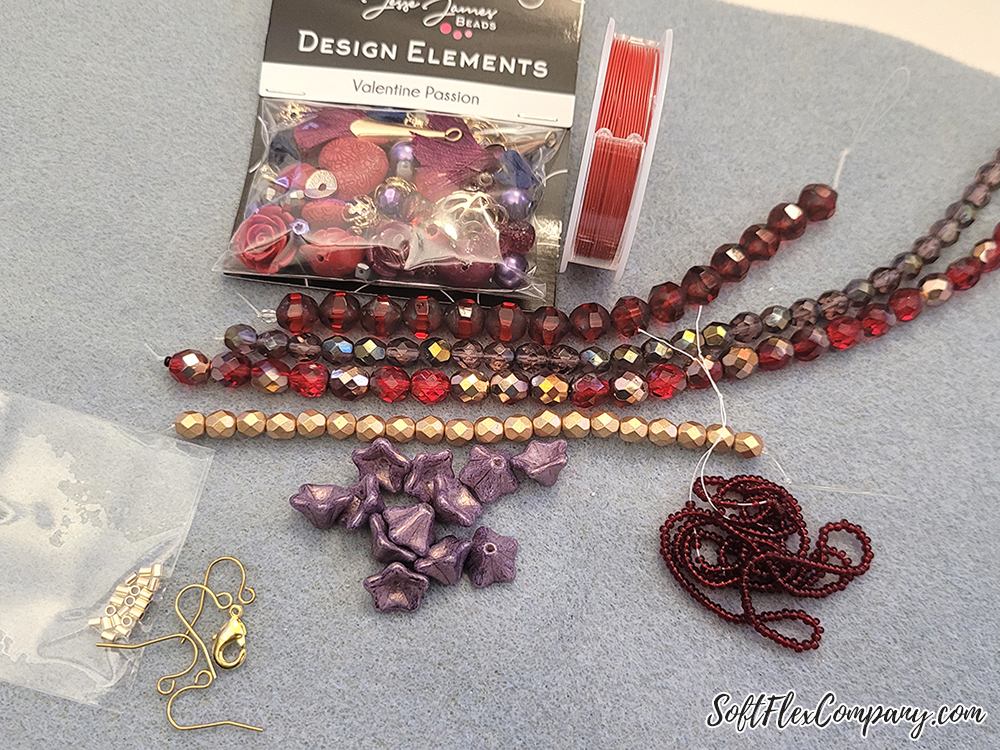 Thank goodness it's Kit Day! We all look forward to this day at Soft Flex Company. We get to show off our latest kit and announce our newest kit. We have a new design kit each month. Each kit is a themed mystery kit full of goodies - beads, components, and more! If you have basic beading tools - Crimping Pliers and Cutters - you are going to be able to create a bunch of jewelry with your new kit. Every kit theme is unique and exciting.
Valentine Passion Design Kit (Sold Out)
Soft Flex Beading Wire, .019 Diameter in Red Coral
2x2mm Crimp Tubes
Magical Crimping Pliers
Cutters
Our design kits are accessible to all skill levels. Each kit is loaded with beads, wire, and components. If you are a beginner, there is nothing in each kit that will be too difficult to tackle. Especially if you watch a video or two and learn how we finish our jewelry. But we do like to challenge our community. Each kit is well planned and we will often add an element that designers and beginners have never considered. Sometimes that is a color choice. Sometimes is an odd finding or bead. This is a fun way to expand your jewelry knowledge. If you are comfortable just stringing beads, that is fine. But we want you to be a better designer. Join us on this journey. We always have your ear and can help solve even the hardest jewelry questions. Our Facebook group - VIB - is also an invaluable resource for jewelry designing hints and tips. Get real time help from crafty minded folks. Or, impart some of your own knowledge and help somebody else.
If you grab a kit, get creative and make some jewelry. After Sara unboxes the kit you purchased, at the end of the month, you can post your jewelry designs on our Facebook group. Each design you post with a given kit will give you an entry into our kit design challenge. You can post ten designs on a single photo or ten separate images of different jewelry designs. Each piece will be counted as an entry. At the end of next month, we will collect the names of the people that posted their kit pieces. We will then create a numbered list. We then use a random number drawing website to determine the winner. Skill is not a factor. Everybody can win. The winner will receive our next kit for free! Show us your work!
How To Make Hollow Mesh Bangles
Nealay showed us how to make bracelets with his SilverSilk Hollow Mesh this week. Hollow Mesh is a hollow knitted mesh wire. This lovely jewelry medium is perfect for filling with your choice of beading elements. You can fill the mesh with larger beads for a lovely bangle that holds a shape. You can adorn the Hollow Mesh with Soft Flex Craft Wire and seed beads. You can fill the wire with leather, beading wire, or silk. The possibilities are endless. Get creative and have fun!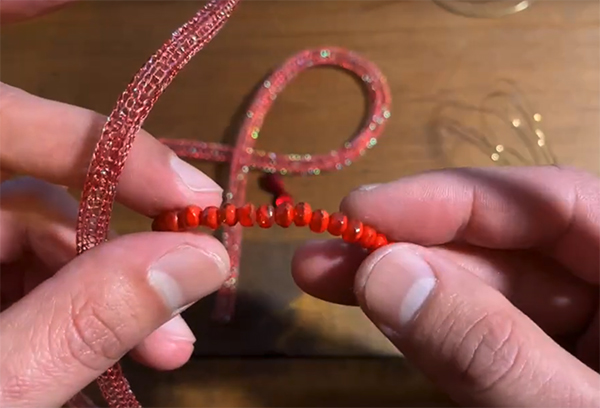 From Nealay:
Learn the fast way on stuffing Hollow Mesh with 4mm donut beads to make colorful bangles. We'll cover some very basic wirework to make an attached closure too.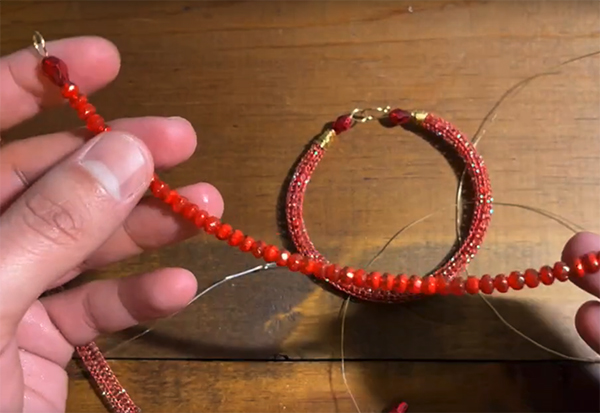 SilverSilk Pearlesque Hollow Mesh
Soft Flex Craft Wire - 26 Gauge
Soft Flex Craft Wire Silver Plated - 26 Gauge
Soft Flex Craft Wire - 20 Gauge
Soft Flex Craft Wire Silver Plated - 20 Gauge
Beads
Cutters
Round Nose Pliers
Chain Nose Pliers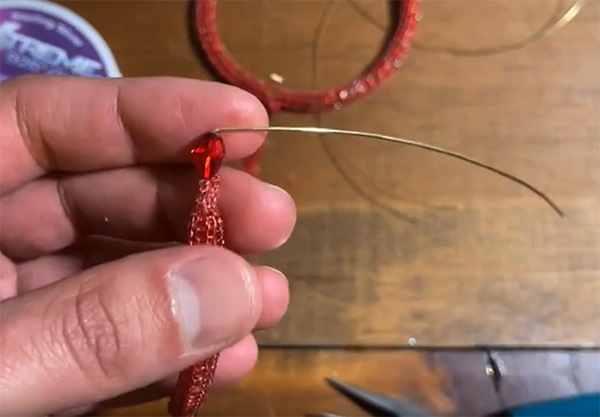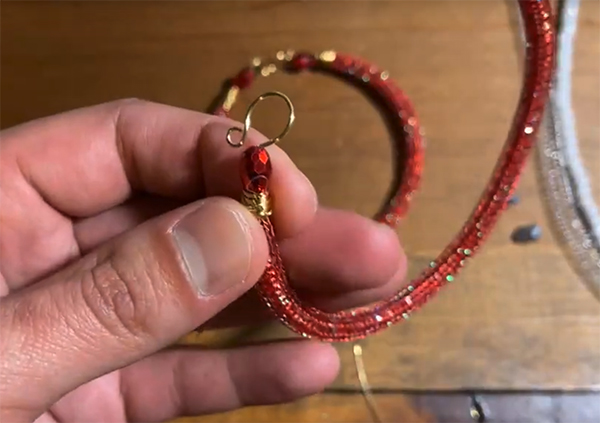 If you want to learn a new wire wrapping technique or trick, make sure you watch Nealay's videos. He likes to wire work Craft Wire into handmade clasps and ear wires. He also like to wire wrap beads onto his SilverSilk designs. SilverSilk and Soft Flex are perfect partners. Our jewelry wire complements his jewelry chain so exquisitely. Learn a new way to make jewelry with Nealay!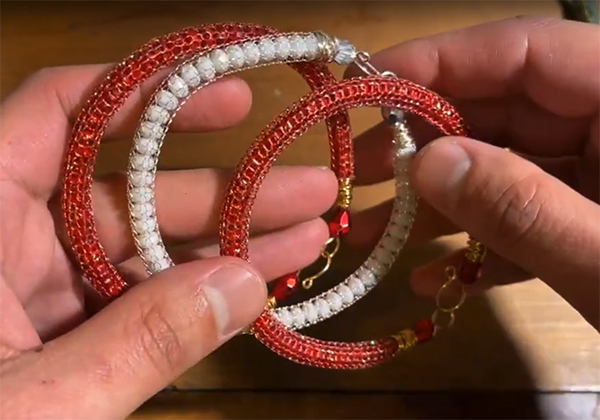 Be sure to mark your calendars for every Tuesday, 5:30pm CST and hop over to facebook.com/groups/silversilk to watch Nealay's videos live and ask questions.
Nealay's channel is dedicated to learning how to make high quality jewelry with SilverSilk with an emphasis on design. You can follow his journey here:
www.instagram.com/silversilkandmore
www.facebook.com/silversilkandmore
Or join his Silkies group and be a part of the conversation www.facebook.com/groups/silversilk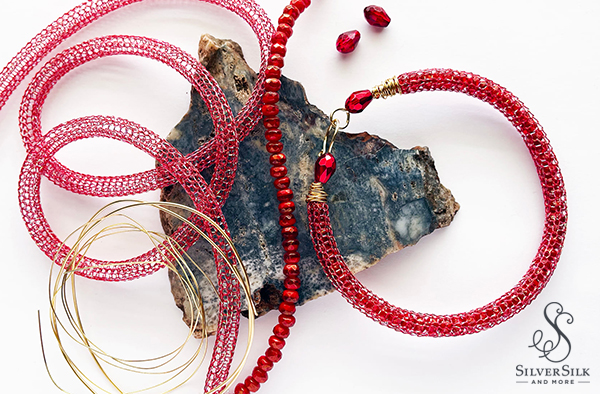 Just Bead It - Just Bead It Free Facebook Live Virtual Beading Class
Joyce Trowbridge is the owner of Just Bead It. Just Bead It was a local bead store that operated in Concord, California. Joyce ran her bead store for seventeen wonderful years. Unfortunately, her business was one of millions that failed when hurricane COVID crashed into us. Joyce did not throw in the towel, though. Even if her brick and mortar store was gone, she knew she could maintain an active bead store, online. She is transitioning her catalog of jewelry supplies and beads to her website and Etsy store. She is also taking the classes that she offered in Northern California to a virtual space. You can attend her jewelry making courses on Facebook. You can purchase a kit and make jewelry with her. If you miss a class, you can download the PDF and make the design on your own time.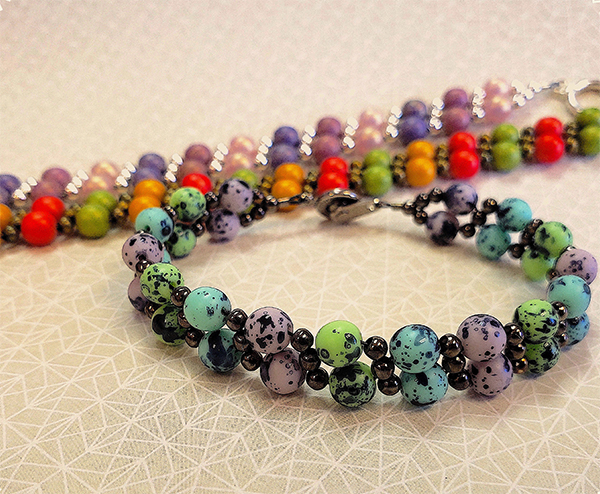 We thought this design was stunning. Follow the video and the images below and make one of your own. If you would like to participate in a class, check the Just Bead It event calendar. For this design, she used Fine .014 Soft Flex Beading Wire. Support her business and buy your Soft Flex Beading Wire from her Etsy shop!
Etsy link to purchase this bead kit: Slanted Ladder Bracelet Bracelet
Visit Joyce's Links:
More than beads and supplies, Just Bead It is known for classes. They currently hold virtual beading classes most Saturdays at 2pm PST. Catch them on Facebook Live.
Join our Facebook group – VIB. Stay in the know. Stay up to date. From our bead shows to our video shows and sales, you can stay in touch with us. The community is full of artistic and helpful beaders and crafty people. Inspire and be inspired. Share your pictures and get the beading bug from others!
Visit the Soft Flex Company YouTube Channel!
---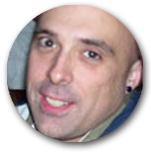 Blog contributor Thomas Soles loves Jazz Age writers and crunchy french fries. His favorite gemstones are Lapis and Pietersite. His favorite hobby is day dreaming. And his favorite mustache is Freddie Mercury's. As you can see, he has a healthy (or possibly unhealthy) sense of humor. You can write to him at [email protected]