What an amazing week! The world's largest online bead show - The Great Bead Extravaganza - was last weekend. We filmed a jewelry making video for the event that was full of helpful tips for beginner beaders. Even if you have been making jewelry for years, you will still find some inspiration from our presentation. This week, we learned how to make earrings using beading wire. And we learned a fun way to fill hollow mesh for a stunning textured effect. Join us for a video recap and learn how to make jewelry!
Did you join us for the Great Bead Extravaganza? Last weekend was an amazing collection of jewelry designers and bead store owners doing jewelry demonstrations and sharing information about their beading supplies. There were sales and giveaways and a ton of fun. In an upcoming blog, we will provide a handy reference to the event with links to all of the demos and exhibitors.
This week, we are looking at the video we filmed for the show. Kristen showed us how to make a multi-strand bracelet and showed off our design kits. Sara showed how to make earrings using a connector and strands or beaded Soft Flex wire. You are going to love the Pantone 2021 Colors of the Year and Valentine's Day colors we choose for the jewelry we made. We also show you how to knot beading wire, how to make ear wires using Craft Wire, and how to use Magical Crimping Pliers. On Wednesday, Sara showed us how to make Valentine's Day jewelry. You are going to love these DIY earrings. Finally, we are looking at a stunning jewelry design from Nealay, at SilverSilk. This is a great time to add some jewelry skills to your collection. Let's learn something new!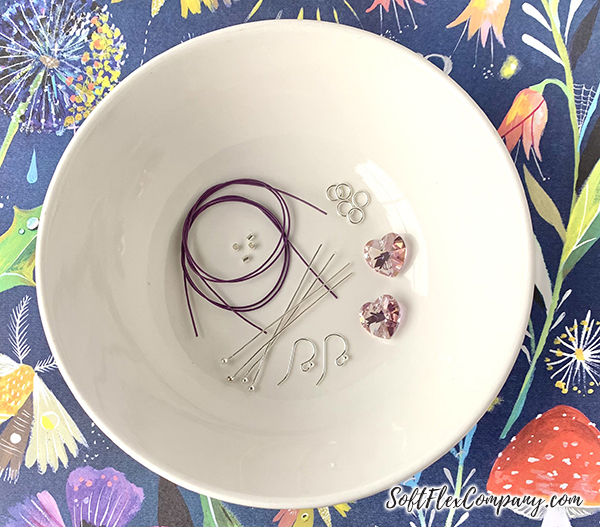 Earrings are so easy and fun to make! Make your own set of DIY heart earrings with these gorgeous Swarovski light amethyst crystal hearts. These beads were discontinued and are now hard to find. Celebrate a special day with a sweet handmade set of earrings. And you can make them in just minutes. DIY earrings are amazing!
Supplies are very limited. Don't miss out!
Jewelry Making Videos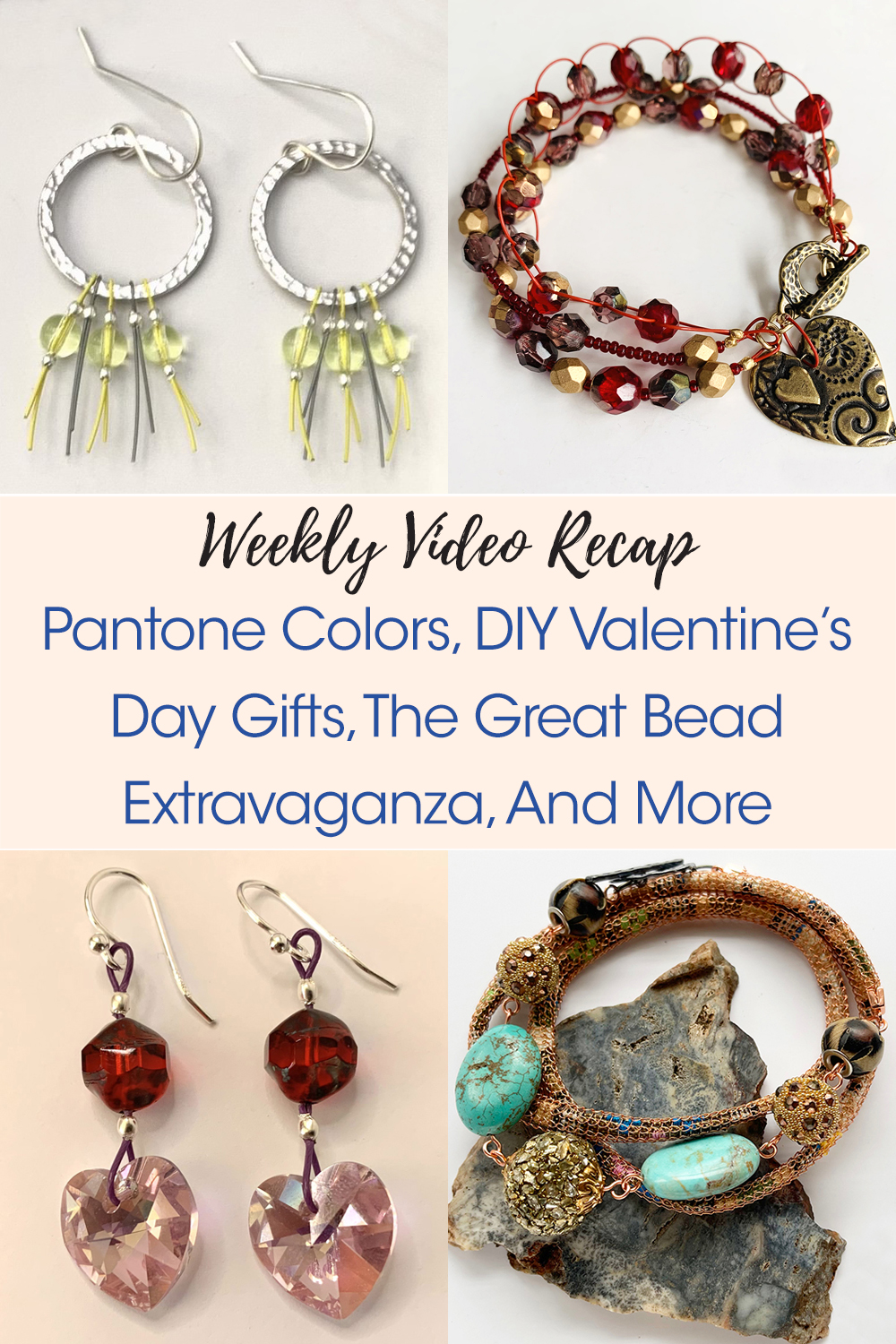 The Great Bead Extravaganza - Soft Flex Presentation
The Great Bead Extravaganza 2.0 is here! The second big bead show was an amazing success. We saw two days of exciting jewelry demos. We got to learn about new beading tools and supplies. We got to visit Tucson (virtually) and take in the beauty of a quiet desert. It was an incredible time.
Have you ever been to a bead show? The Great Bead Extravaganza was an effort to make a virtual bead show as close to the real thing as possible. The excitement and energy of a real live bead show certainly came through. The sales, the demos, the buzz of a vibrant community - it was all here. It was just like being at a big beading event, but from the comfort of your couch.
In the world before COVID, January and February were the months that bead stores and designers from all over the world would come together and sell their wares in Tucson. The city turned into one big bead store. The Tucson Gem and Minerals show were so full of life and big sales. Exhibitors would sell in arenas, ballrooms, and some even sold goods out of the hotel rooms they reserved. With the world still reeling from the pandemic, many, if not all, of these shows in Tucson have been cancelled or postponed. We wanted to preserve some of the spirit of this big show. We have spent decades selling in Tucson. We wanted to bring that beading passion to our viewers.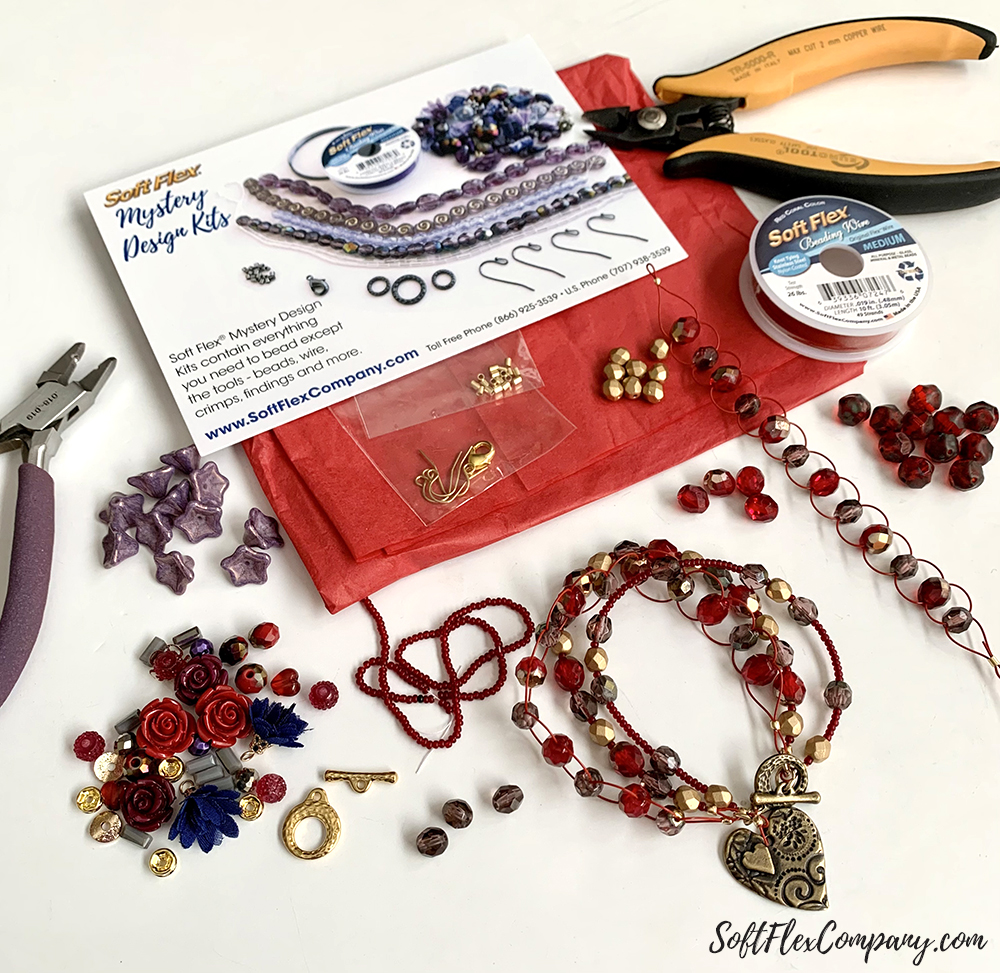 Kristen showed off our Valentine Passion Design Kit (Sold Out). If you have never purchased any of our themed mystery jewelry kits, this is your chance to see the love that goes into creating each kit. We stuff these kits full of unique findings and beads. We include beading wire and sometimes Craft Wire. Every kit is designed so it is accessible to a beginner but thought provoking enough that a designer might need to consider their options before stringing their jewelry. Kits are meant to be a challenge that anybody can tackle. Each kit has everything you need to make jewelry. The only tools you need are crimping pliers and cutters. You can finished a bunch of fun themed jewelry with a single kit - or you can break the kit down and add the individual components to your beading supplies.
Kristen showed us how to string a multi-strand bracelet. This design is easy to finish if you follow the video. She simply strung two strands of wire with beads and looped the third way to give the bracelet some interesting texture and visual appeal. We sell color wire so it can be shown as part of the design. Kristen chose Red Coral Soft Flex Beading Wire. She recently curated a Red Coral Category. This category features beads and wire Kristen loves with that scrumptious color.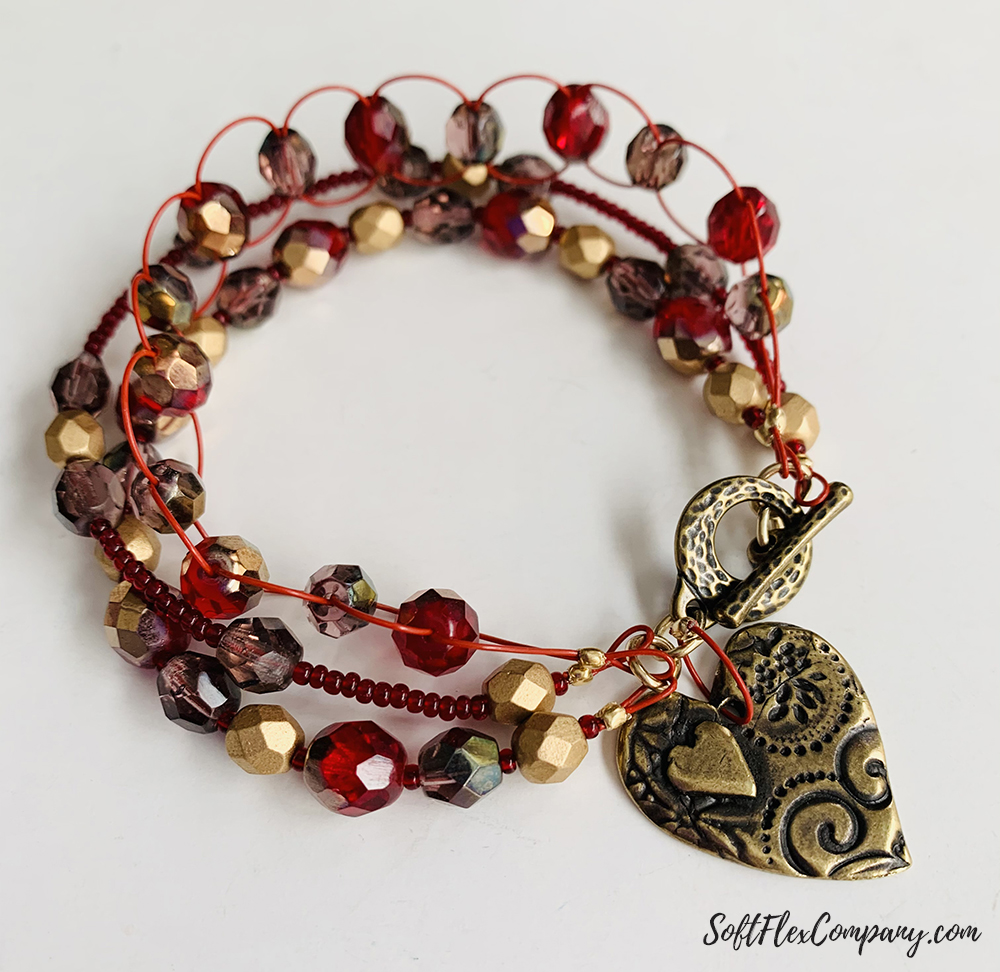 Valentine Passion Design Kit (Sold Out)
2021 Pantone Color of the Year Czech Glass Bead Mix
2021 Pantone Color of the Year Duo of Beading Wire - Ultimate Gray and Illuminating Yellow
TierraCast Hammertone Ring
2x2mm Crimp Tubes
Crimping Pliers
Burr Cup
Nylon Jaw Pliers
Multi-Size Wire Looping Pliers
Cutters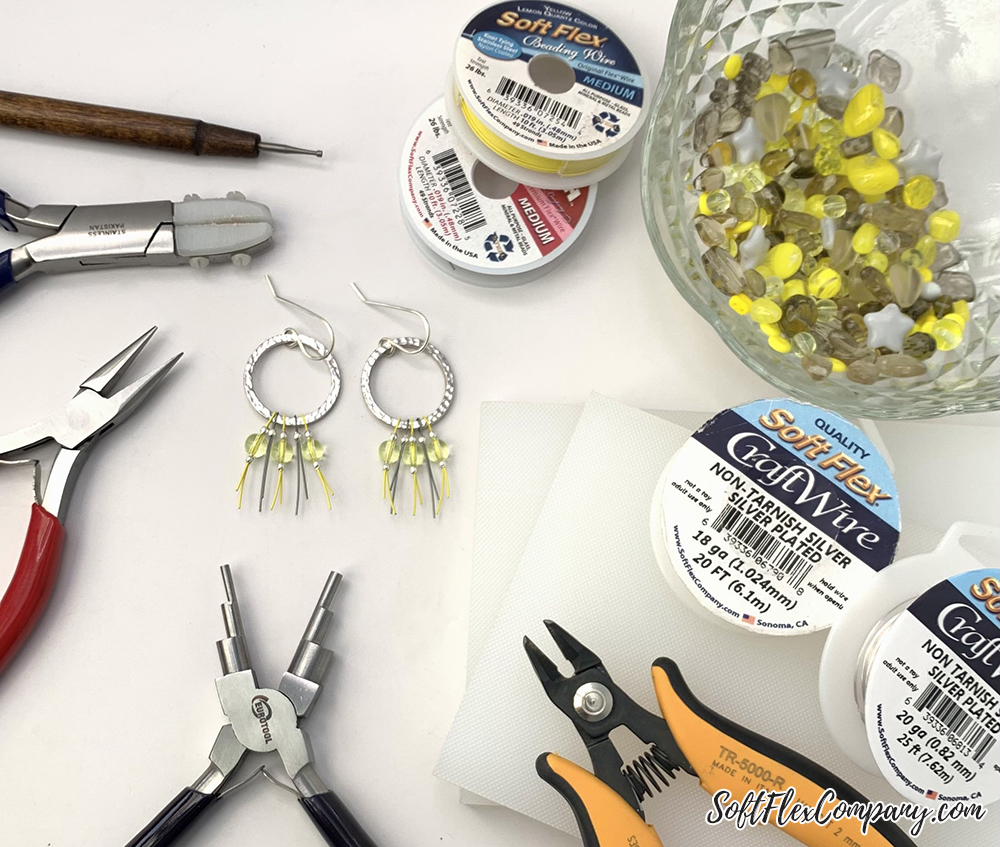 Sara showed off our latest color matched Pantone collection. We color matched beads and beading wire to match the Pantone 2021 Colors of the Year - Illuminating and Ultimate Gray. We love how the brilliant and bouncy yellow plays off the serious and solemn gray. It is truly a color selection for a year of social distancing and quarantine. But these colors are optimistic - there is a light at the end of the tunnel, even if things feel like they are stuck in place.
Sara showed off a lot of tricks and techniques in her video. If you are looking to hone your crimping talent, this video is worth your time. She shows you how to use Magical Crimping Pliers to finish a crimp with a pleasant rounded bead shape. You will not need crimp covers. Sara also demonstrates how to knot Soft Flex wire. Soft Flex wire can be knotted. But since it is a stainless steel, instead of a beading thread or cord, we suggest knotting the wire using a technique she shows. This will make your knots look amazing. Sara also show how to make earrings with Soft Flex and findings. Make a fun pair of earrings with items you already have in your toolkit! Finally, Sara shows how to make an ear wire with Craft Wire. Homemade ear wires are so fun. You can pattern your ear wire to the design you are making. Or, you can just make a common ear wire and save yourself some money and time - you will never need to buy ear wire again if you follow her tips!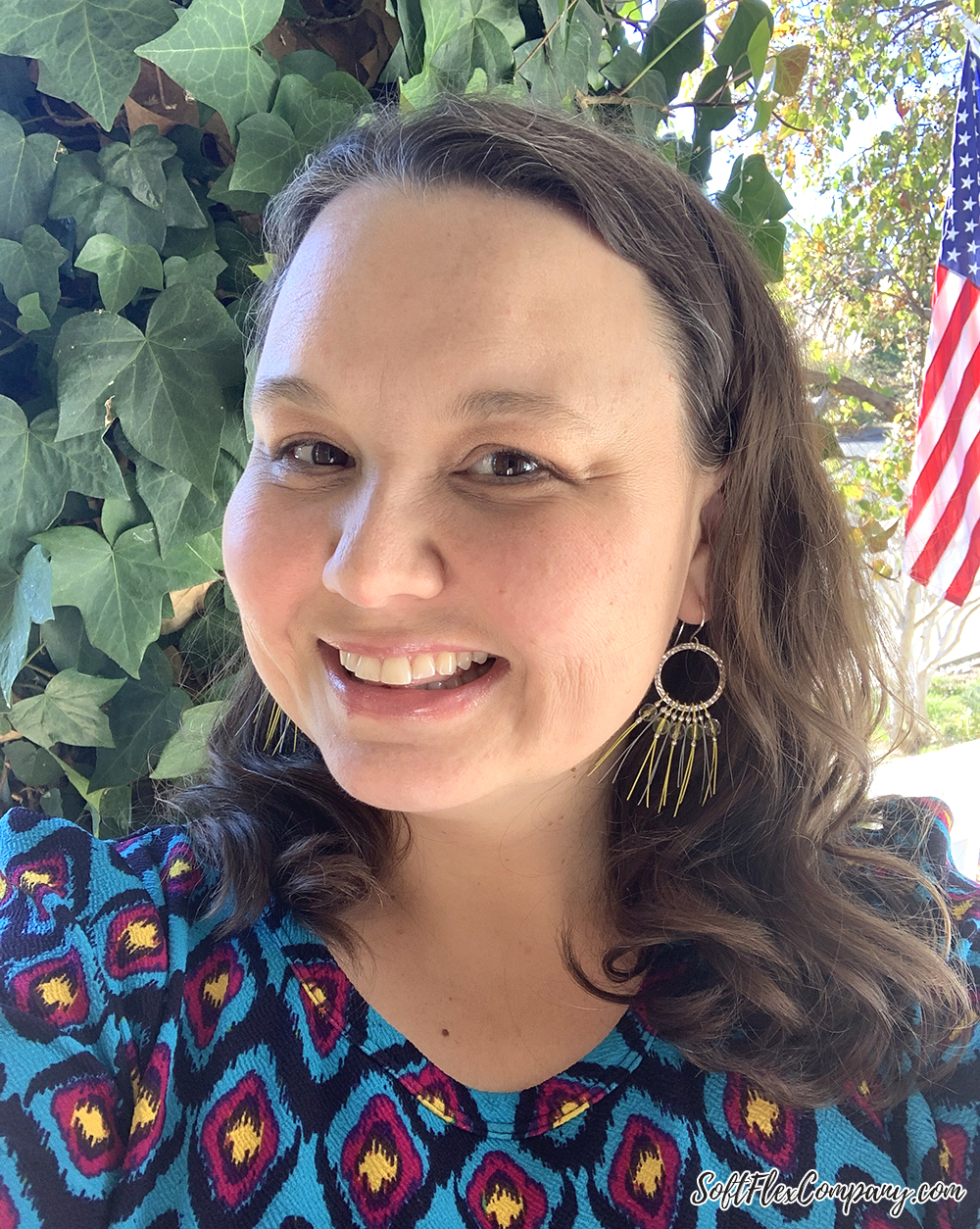 New Heart DIY Earring Kits - We Love You!
Last chance for DIY Valentine's gifts! Learn how to make gifts for your best friends and loved ones. Handmade Valentine's Day gifts speak volumes about the gift giver. When you make something special for the ones you love, they will cherish your gift. It is so much more fun to receive a gift that came from the heart, rather than Walmart. Earrings, made with Soft Flex, are a creative and quick way to make something fashionable and fun. Sara shows how our latest earring kit can turn you into an earring creator in minutes. This kit is super affordable and you can learn how to make your own jewelry with it. You can even give the kit to a child or friend and turn them into a jewelry designer. Pass on your favorite craft!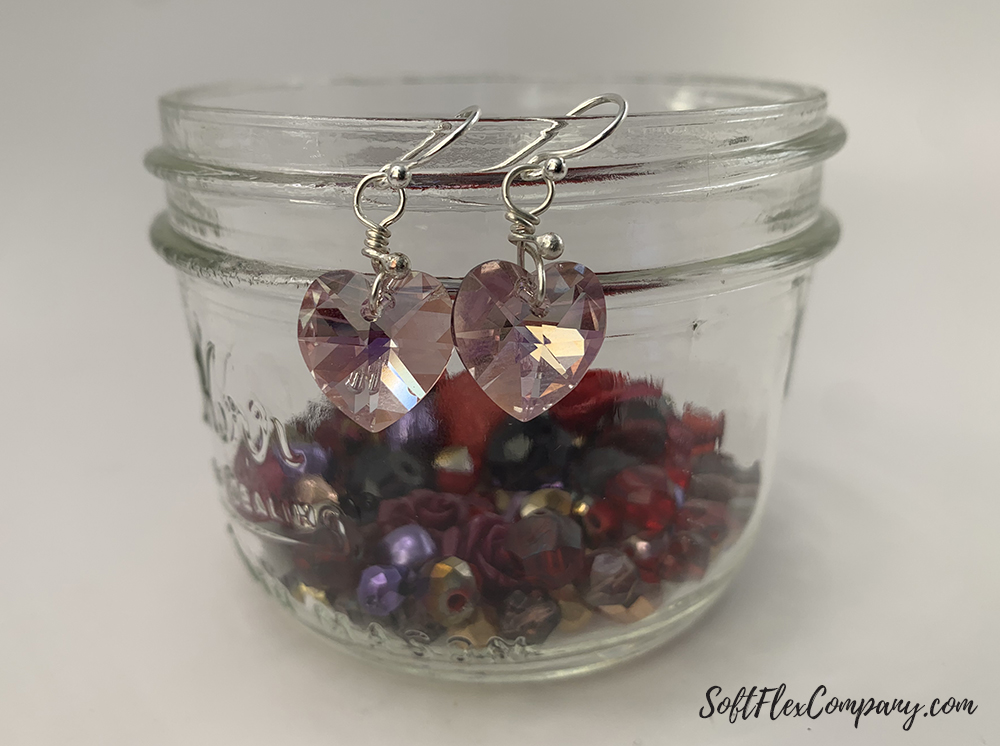 If you want to learn how to make earrings, this video has some simple ideas for you. Sara shows how to use head pins to finish an earring. She shows how to turn a head pin into an elegant ear wire. She shows you how to make varied earrings with beads and wire. You are going to have plenty of inspired ideas if you want to make earrings that turn heads! Make your own unique earrings at home by changing up the colors and shapes of your beads.
Sara's Heart Earring Kit
Burr Cup
Nylon Jaw Pliers
Multi-Size Wire Looping Pliers
2x2mm Crimp Tubes
Crimping Pliers
Cutters
Learn How To Fill Hollow Mesh With Fiber Cord To Make Multi-Textured Jewelry
SilverSilk Hollow Mesh wire offers so many fun ways to adorn and decorate your jewelry. You can put beads inside the Hollow Mesh. You can interweave Soft Flex Craft Wire or beading wire throughout the Hollow Mesh. Or you can feed a cord down the center of the Hollow Mesh for a stunning caged look. The cord inside can be a vibrant color that bounces off the SilverSilk tones or they can be complementary tones that create a mood.
From Nealay:
We continue our exploration in filling Hollow Mesh with various materials to see what unusual color and style combinations we can come up with. In this tutorial, I choose to use fiber cord, which you can purchase from Abbi Berta over at The Bead Place (www.beadplace.net) Just search for Serape cotton cord 3. Join in and see what I come up with in this video.
SilverSilk Hollow Mesh
Soft Flex Craft Wire - 20 Gauge
Soft Flex Craft Wire Silver Plated - 20 Gauge
Beads
Nylon Jaw Pliers
Cutters
Round Nose Pliers
Chain Nose Pliers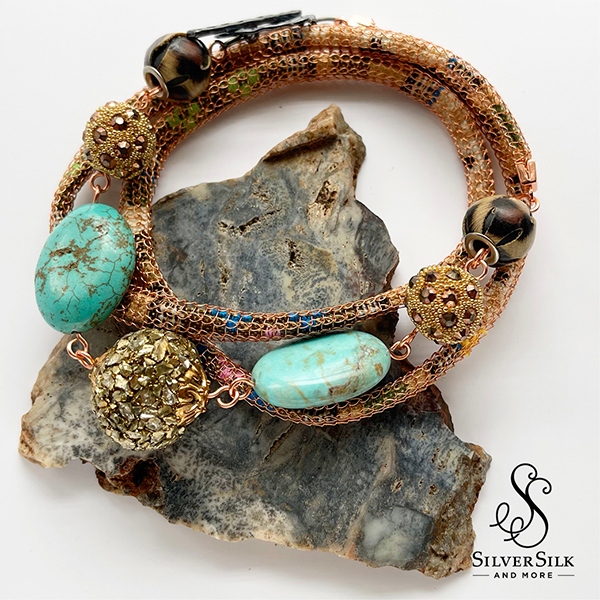 Be sure to mark your calendars for every Tuesday, 5:30pm CST and hop over to facebook.com/groups/silversilk to watch Nealay's videos live and ask questions.
Nealay's channel is dedicated to learning how to make high quality jewelry with SilverSilk with an emphasis on design. You can follow his journey here:
www.instagram.com/silversilkandmore
www.facebook.com/silversilkandmore
Or join his Silkies group and be a part of the conversation www.facebook.com/groups/silversilk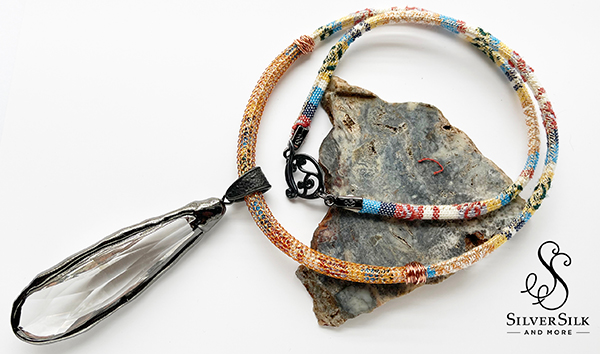 Join our Facebook group – VIB. Stay in the know. Stay up to date. From our bead shows to our video shows and sales, you can stay in touch with us. The community is full of artistic and helpful beaders and crafty people. Inspire and be inspired. Share your pictures and get the beading bug from others!
Visit the Soft Flex Company YouTube Channel!
---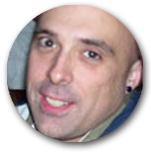 Blog contributor Thomas Soles loves Jazz Age writers and crunchy french fries. His favorite gemstones are Lapis and Pietersite. His favorite hobby is day dreaming. And his favorite mustache is Freddie Mercury's. As you can see, he has a healthy (or possibly unhealthy) sense of humor. You can write to him at [email protected]