Another wonderful week of making jewelry! Happy Friday to you and yours! We had a phenomenal week. We had a big Facebook sale. We filmed some fun jewelry making videos. We introduced some new items to our shelves. We announced an April Showers winner on our Facebook group – VIB. It was a lovely week for beading.
Kristen kicked off this week with another episode of Free Spirit Beading. She designed a Mala style necklace and earrings. If you like soulful and spiritual jewelry - you will love this meditative set! We fell back in love with a design Nealay created last year and thought it would be nice to highlight - it is a stunning illusion necklace with SilverSilk Capture Chain and Soft Flex Beading Wire. You will love this gorgeous necklace. Sara wrapped the week up with a Live Sale that runs through the weekend and ends late on Monday, May 27th. Make sure you watch the show if you would like to bid on an item - you have all weekend to do so!
Sara also filmed a quick video about ten tools that make jewelry making easier, you can that find video here.

Don't miss our Outlet Shop sales. Our Outlet Shop contains items that we love and that have lots of character, but just don't fit on our store shelves. All Outlet items are sold 'as-is'. There is a limited quantity of Outlet inventory. When this special sale item is gone, it is gone for good. Outlet items are perfectly usable items that did not make the cut into our everyday inventory. Outlet items are reduced in price due to tiny flaws in color, length, size, diameter, etc.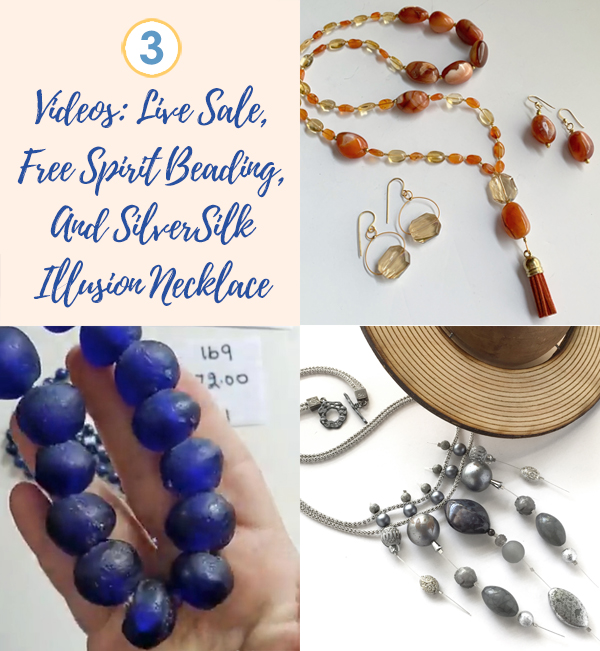 Mala Style Necklace With Carnelian, Citrine And Crystal Beads
Kristen started the week with another episode of Free Spirit Beading. This week, she designed a lovely Mala style necklace and earrings to match. A Mala is a string of meditation beads. 'Mala' is a Sanskrit word for 'meditation garland.' Malas were first created in India, 3000 years ago. They can be used for prayer or reflection. You can wear your Mala as a reminder of a goal or intention that you want to make manifest or you can use them to meditate. If you use your Mala to meditate, that is called Japa meditation.
Free Spirit Beading airs on Mondays at 12:00pm PST. Free Spirit Beading is a live beaded jewelry making series on YouTube. Kristen is a free spirited designer, author, artist – she loves to create. She does not worry about perfection. She believes that art is a journey and part of that journey is making mistakes and living with them. If you miss an episode, you can find it in our YouTube library.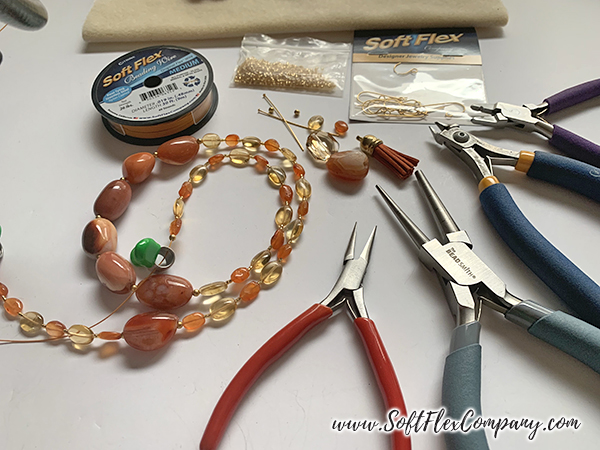 Supplies:
40" - Soft Flex Medium .019 in Citrine for Necklace
12" - Soft Flex Medium .019 in Citrine for Earrings
80 - Gold Lined Delica Beads Size 15/0
18 - 8x10mm Citrine Smooth Oval Beads
24 - 6x8mm Carnelian Smooth Oval Beads
11 - 25mm Carnelian Nugget Beads
3 - 16x20mm Rectangle Swarovski Crystal Beads in Golden Shadow
17 - 3mm Gold Plated Round Spacer Beads
1 - Gold and Orange 1.5" Tassel
4 - 2x2mm Gold Filled Crimp Tubes
4 - Gold Plated Ear Wires
2 - 2" Gold Filled Head Pins
Magical Crimping Pliers
Cutters
Bead Stoppers
LoopRite Looping Pliers
Chain Nose Pliers
Flat Nose Pliers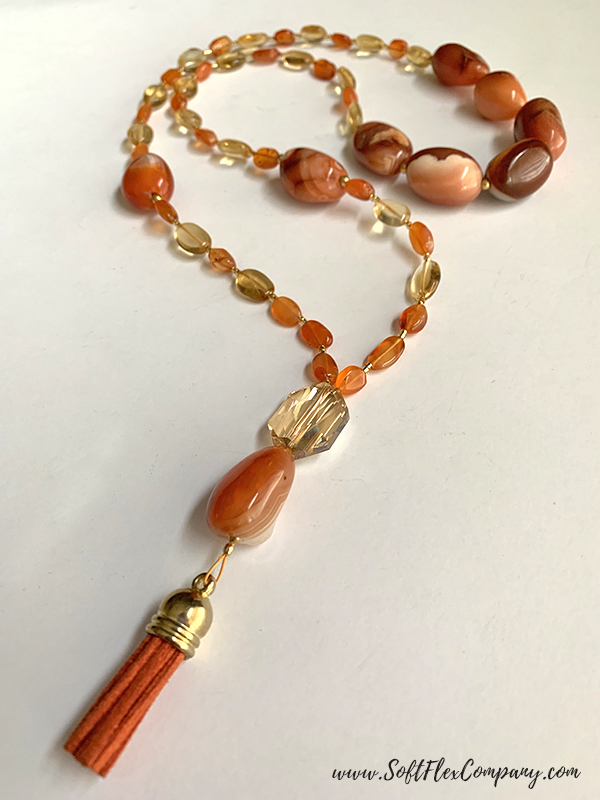 From Kristen:
I went off the "Zen Style Mala": The Zen style of Mala features 108 beads divided into the the following format from one side of the guru bead to the next: 7 beads-14 beads-66 beads-14 bead-7 beads. Marker beads are placed in between each section. Note: Instead of the 66 beads sections, I strung 6 large carnelian beads.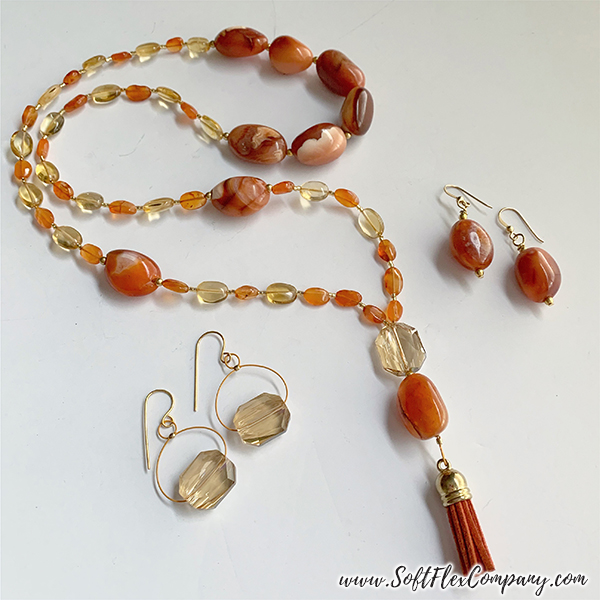 The mala consists of 108 beads. Why 108? This is a powerful number in yoga and astrology. On seasonal equinoxes the practice of 108 Sun Salutations is common in yoga communities to shed the old and welcome the new. It is said that there are 108 energy lines that make up the heart chakra. The diameter of the sun is 108 times the diameter of the earth.
The Guru Bead is the bead that the tassel attaches directly to. The Guru Bead is said to symbolize the Guru from who the student has received a mantra being used or recited, and pay homage to the student-guru relationship.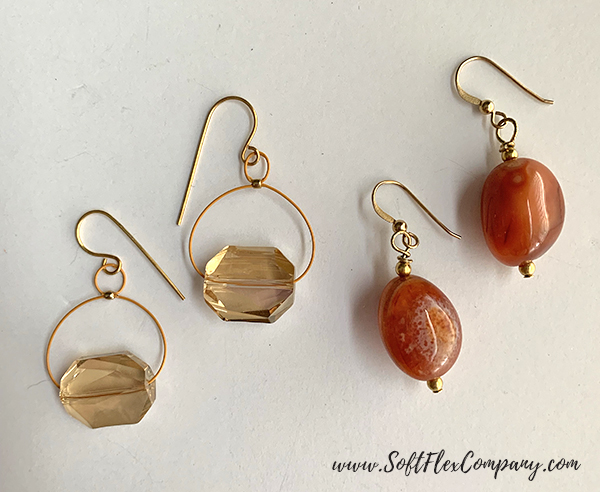 Kristen choose a warm and inviting color for her Mala necklace and earrings. They look very soothing and earthy. You can design your Mala with any color. Below is a Mala design with Chalcedony stones.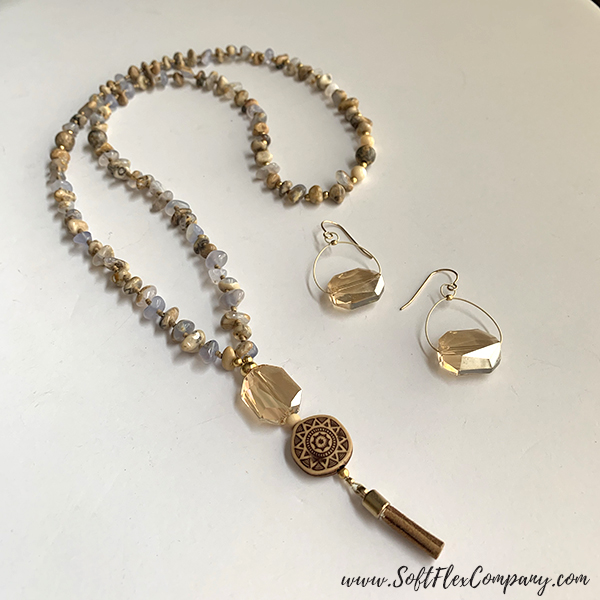 Kristen discusses the metaphysical properties of the stones she works with and later, she looks at other designs made with Citrine color Soft Flex Beading Wire.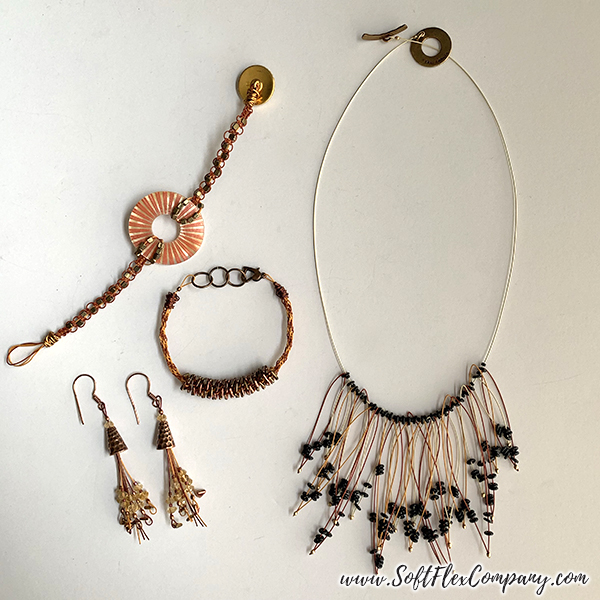 Throwback Video: Illusion Necklace With Soft Flex Beading Wire And Capture Chain

We love this necklace. Nealay filmed this quick demonstration last year and we wanted to share it. He was having a sale on his Capture Chain and discussed ways to use it to make jewelry. He designed a quick illusion style necklace using Soft Flex Beading Wire, Jesse James beads, and SilverSilk Capture Chain.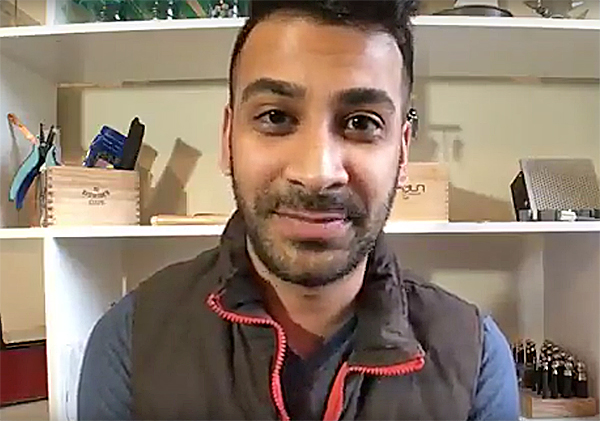 Nealay is a talented jewelry designer. He is also the owner of the SilverSilk and More jewelry company. This was a fun video, he normally sketches his designs out and plans them. This was just an quick and organic necklace with very little prep. It turned out beautiful!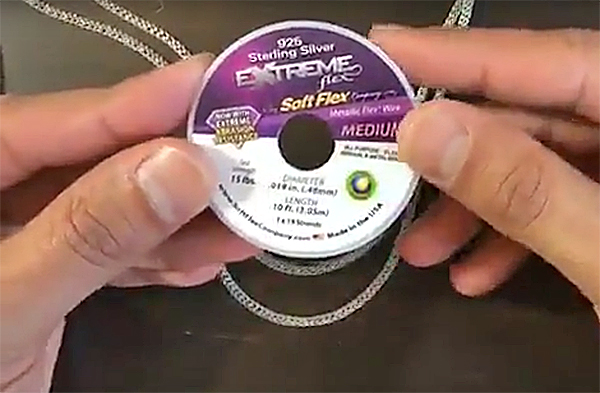 Materials:
Capture Chain
Beads from Jesse James Beads
Soft Flex Extreme Beading Wire, .019 Diameter, 925 Sterling Silver Plated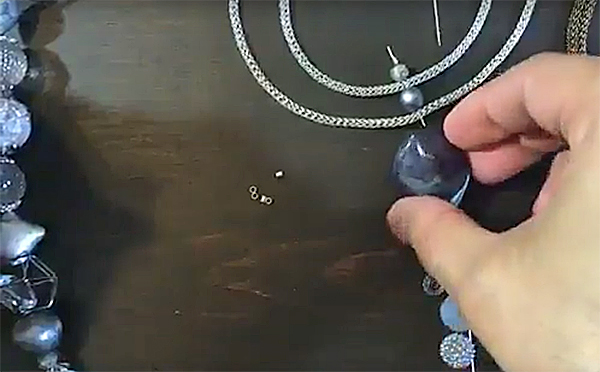 Don't miss Nealay's Tuesday Tuts on his Facebook page. Tuesday Tuts is a live segment where Nealay creates jewelry and answers questions. Watch out, though, he is prone to giving great advice and having awesome sales on his store. You might fall in love with SilverSilk.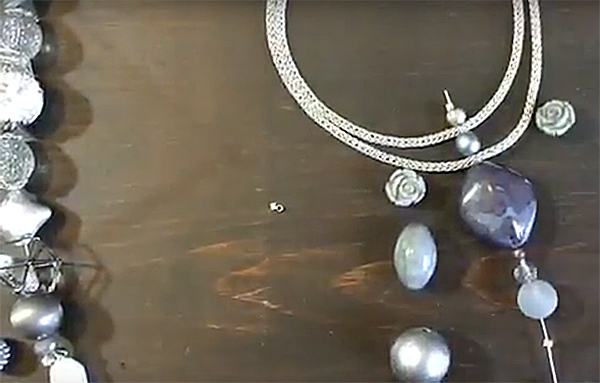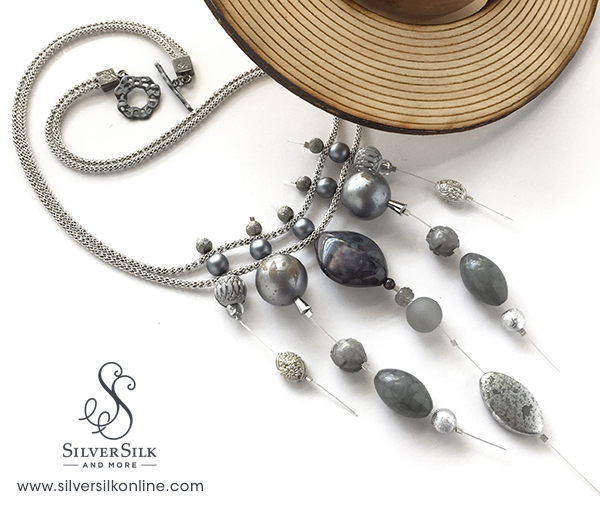 Let's Help our Friend Nealay of SilverSilk and More Live Stream on YouTube Again!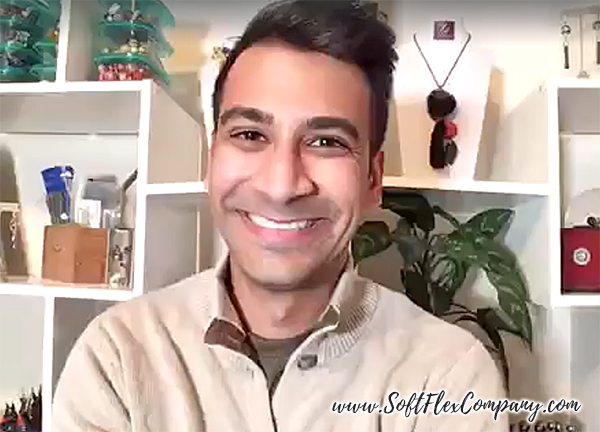 YouTube created a new rule for live streaming and our friend Nealay Patel needs our help! Let's help him get to that magic 1,000 subscribers so he can once again stream live from YouTube and offer us his amazing Tuesday Tuts! Click here to subscribe to the SilverSilk and More YouTube Channel.
Soft Flex Live Sale Featuring Items From Mike Sherman's Private Collection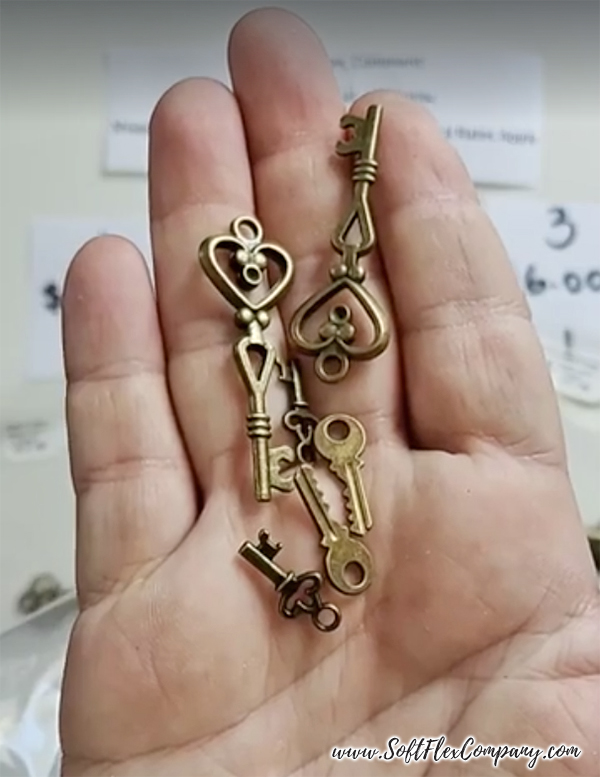 Click the image above to view the recording of the Soft Flex Live Sale. The sale runs until midnight, Monday, May 27th. If you are viewing before that date and time, feel free to participate in the sale. Keep in mind, the sale was recorded on Wednesday, you can still bid, but Sara will not respond to you on the video, obviously, if you had not caught it live.
Also - we record bids chronologically. Please do not edit your comments or comment on another person's bid. This will shift the bid to the last place. If you need to make a change to your bid, post a new comment and we will fix your bid. Have fun!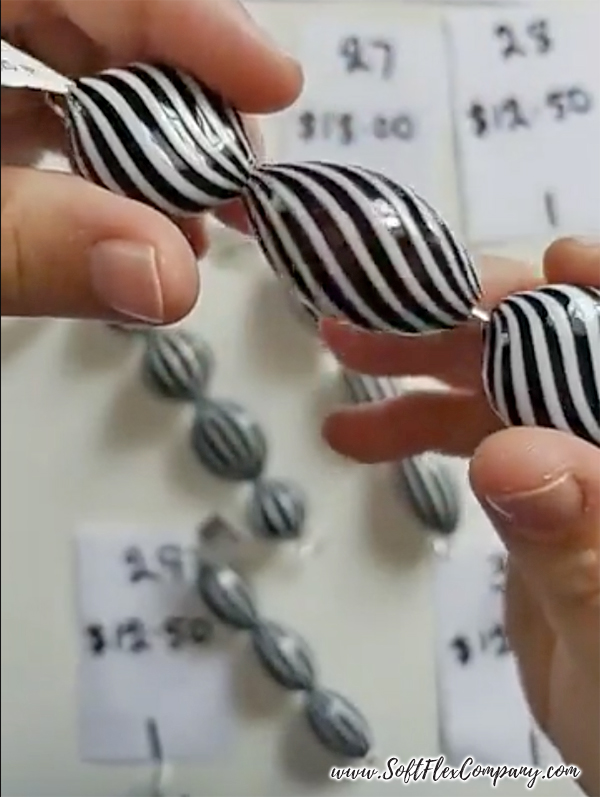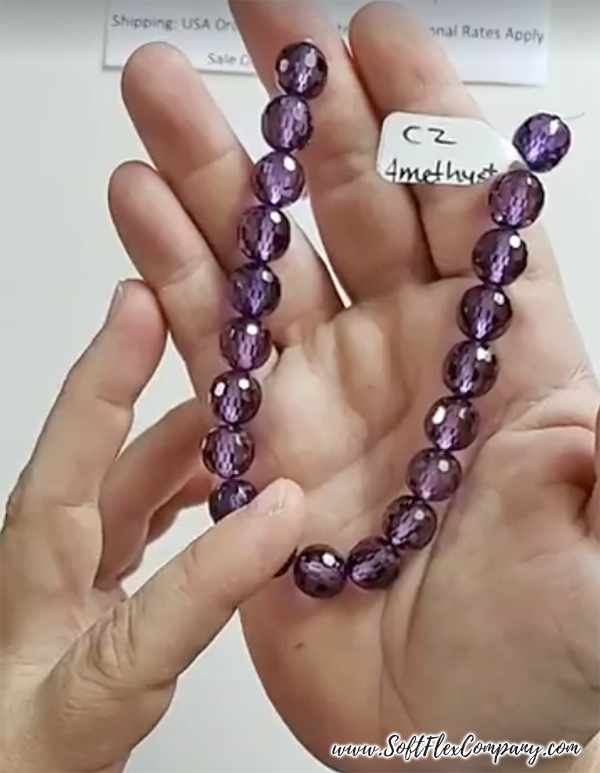 We sold some amazing beads. This sale featured beads and supplies from Mike Sherman's special collection. These are treasures that you will not find on our website. Mike is a co-founder and owner of Soft Flex Company. Mike has traveled to all parts of the world to find beads and stones. Everything in this sale was hand picked. He is a discriminating buyer, he only selects beads that he thinks are unique or magical. If you ever visit our gallery in Sonoma, California, you can see how incredible his collection is. If you visit on the right day, you might even meet Mike. If you loves beads and jewelry – Mike is a kindred spirit.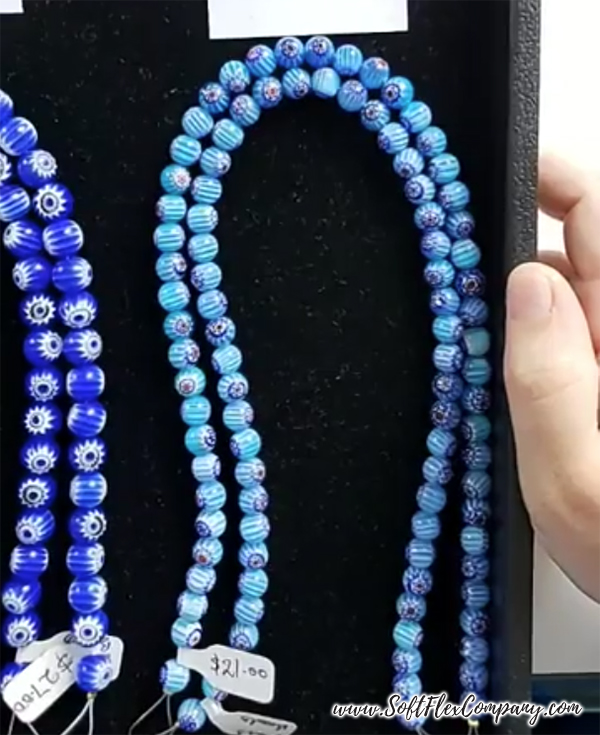 Our live sales are lots of fun. We offer rare stones and beads and we give deep discounts. Most of the items on our live shows, especially sales that feature Mike's collection, are not available on our website. This is the only way to purchase them. If you are watching before midnight on Monday, May 27th, make sure you check out the sale and fill your jewelry making kit.
To make a bid, simply post the item number – sold – quantity. For instance, if you wanted 3 bundles of leather and the item she was holding that you are interested in is #2, post 2 Sold 3. It is that easy. Shipping is a flat five if you are in the States. If you are international, international shipping rates will apply, but we WILL ship anywhere.
Don't miss out!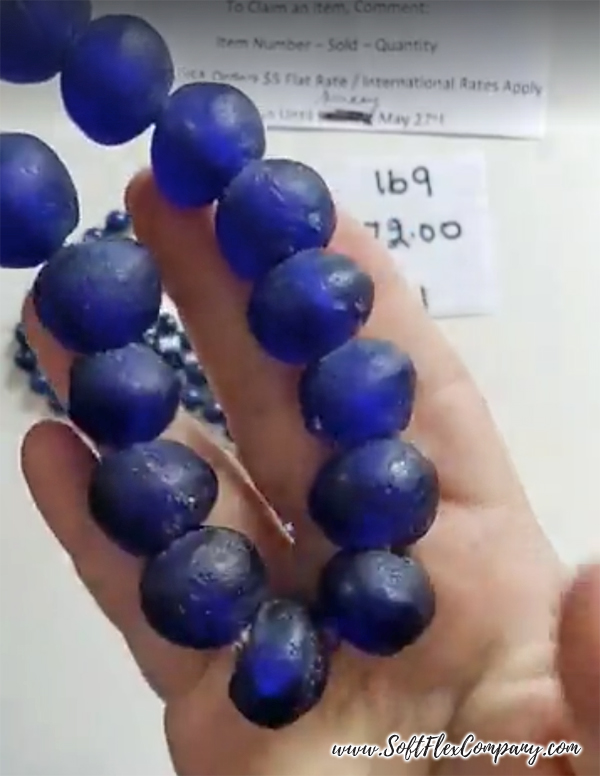 Must Have Beading Tools To Make Jewelry Making Easier!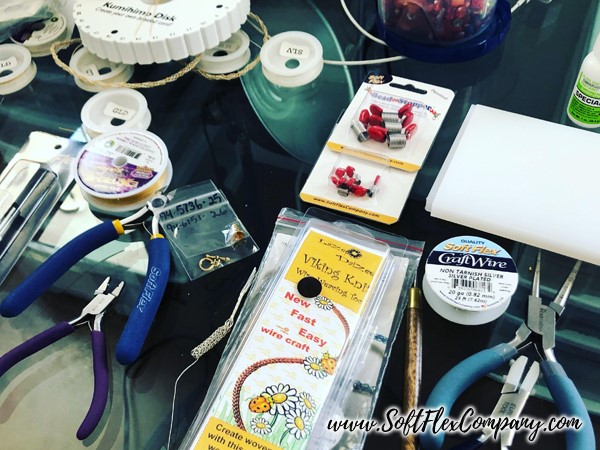 Sara also filmed a quick video about ten tools that make jewelry making easier, you can that find video here or you can click on the image above.
If you have ever wondered what Bead Stoppers do or what a reamer is - this video is for you. Sara discusses the use of tools, why we love them, and more. You do not want to miss this video if you are not a master of your tool set. Lots of helpful hints.
Join our Facebook group – VIB. Stay in the know. Stay up to date. From our bead shows to our video shows and sales, you can stay in touch with us. The community is full of artistic and helpful beaders and crafty people. Inspire and be inspired. Share your pictures and get the beading bug from others!
Visit the Soft Flex Company YouTube Channel!

---
Blog contributor Thomas Soles loves Jazz Age writers and crunchy french fries. His favorite gemstones are Lapis and Pietersite. His favorite hobby is day dreaming. And his favorite mustache is Freddie Mercury's. As you can see, he has a healthy (or possibly unhealthy) sense of humor. You can write to him at Thomas@SoftFlexCompany.com