It is too hot outside! Leaving the house is like walking into a blast furnace. We hope you are staying safe and cool and away from that arrogant and mean old sun. Let's keep our mind off the sweltering weather and do something fun! This week we learned how to make an exotic finger ring bracelet. We checked out some offerings for the upcoming Customer Appreciation Week. We learned how to make jewelry with Craft Wire and SilverSilk mesh. We had a great week staying away from our harsh light of our nearest star. Watch these exciting jewelry making demonstrations and learn something new!

Crank up the air conditioner and grab your beading supplies. We have a week of jewelry project videos for you to catch up on. Check out Kristen's newest project, she made a unique finger ring bracelet that is full of charm and mystery. We checked in with Just Bead It! to see what they have planned for Customer Appreciation Week. They have a fun new mini kit that is easy on the wallet and super cute! Sara showed off all of the new TierraCast products we have on our shelves. These components are perfect for summer themed jewelry. Cassandra, from Beads to Live By, showed us an awesome herringbone wire wrapped charm bracelet. If you want to learn how to wire wrap, this is a great video to check out and pick up some tips. Kay, from Star's Beads, showed us how to make a wrap bracelet with a stacked look. This design would make a great gift for a man or woman that loves beach jewelry! Finally, we caught up with Nealay from SilverSilk. We learned how to work with his wonderful SilverSilk Flat Mesh. Grab a nice cold glass of lemonade and join us for the fun!
TierraCast Components for Handcrafted Jewelry Making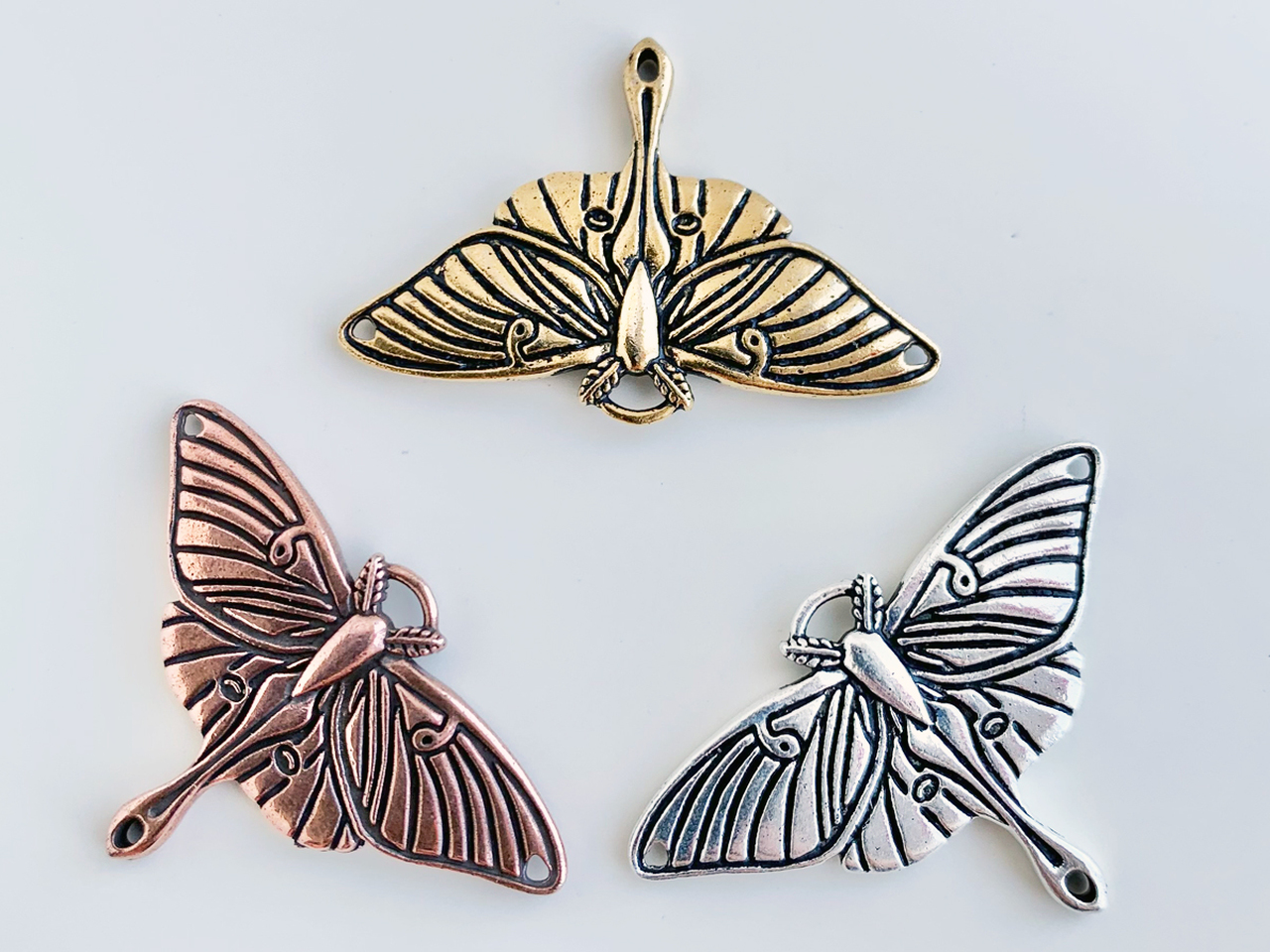 You are going to love our TierraCast collection. We have just added summer themed charms, buttons, and pendants. These metal components are loaded with character and are gorgeous additions to your beading supplies. Add a unique weathered metal spacer to your next necklace. Add an exotic Temple Ring Link Connector to your next bracelet. Use an artisan clasp to finish your jewelry with style.
Since 1978, TierraCast has been making high-quality, lead-free cast beads, findings and components in Santa Rosa, California, USA.
Note: Not for children under the age of 12.
Jewelry Making Videos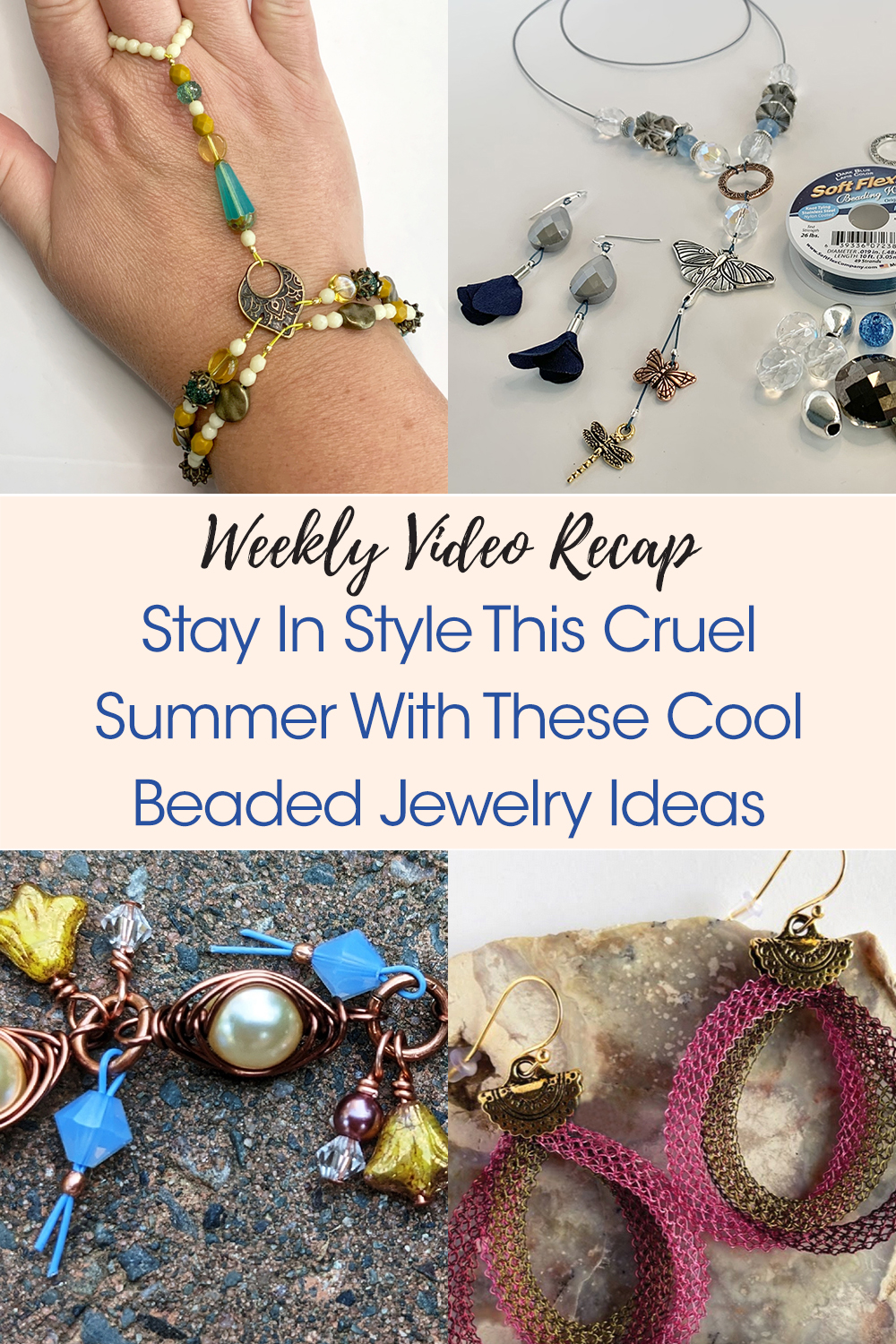 Learn How To Make Jewelry In 30 Seconds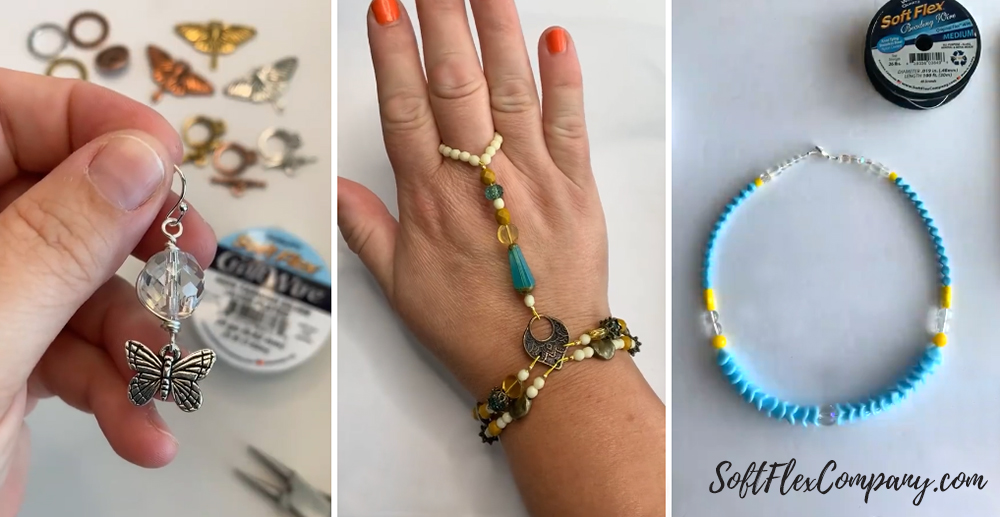 Check out our 30 second jewelry tutorials on Soft Flex Company's Instagram Reels! Master a new technique in minutes. These videos move quick but are easy to follow. You will get a sense of how to use your tools and finish your crimps securely. If you need more assistance, make sure you check out our YouTube catalog for deeper dives into jewelry making education. Become a better beader today!
Soft Flex Company Customer Appreciation Week: July 26 - 30
Check out this video for more information about our upcoming Customer Appreciation Week, July 26 - 30, 2021!
This special event will have 15 virtual beading events and classes throughout the week in the Soft Flex VIB Studio Facebook Group. There will be FREE live jewelry making classes all week, but you can buy the make-along kits from each presenter! We teamed up with local bead stores across the country to bring you multiple fun and unique classes each day. We curated this event as a way to say THANK YOU to you, our amazing customers and beading community as well as 9 of our loyal bead store customers, who work hard to sell our products. Guests will include Allegory Gallery, The Bead Place, Star's Beads, Just Bead It!, Mirrix Looms, Design & Adorn, Kellie's Bead Boutique, The Bead Gallery and SilverSilk & More.
Magical Sparkle Maker Bead Kit for DIY Suncatcher - Soft Flex Customer Appreciation Week Project from Just Bead It!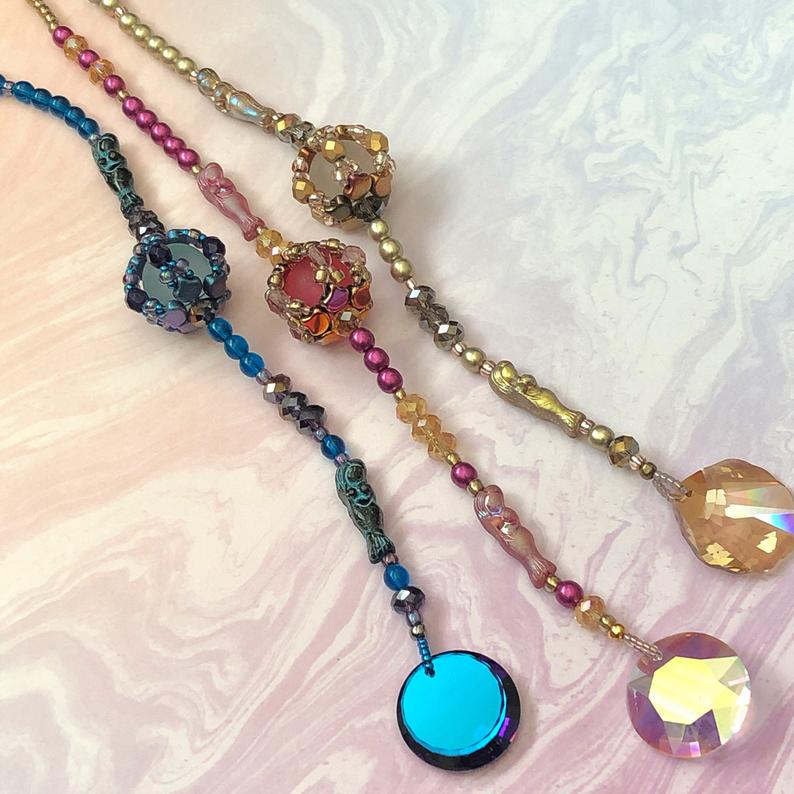 Check out this fun stuff! Just Bead It! is going to demonstrate this kit for the big show. You can also find the cutest beaded bead mini kit on their store. Visit them and grab one before the show. You can make-along, just like a jewelry class!
New Mini Beaded Bead Kits from Just Bead It!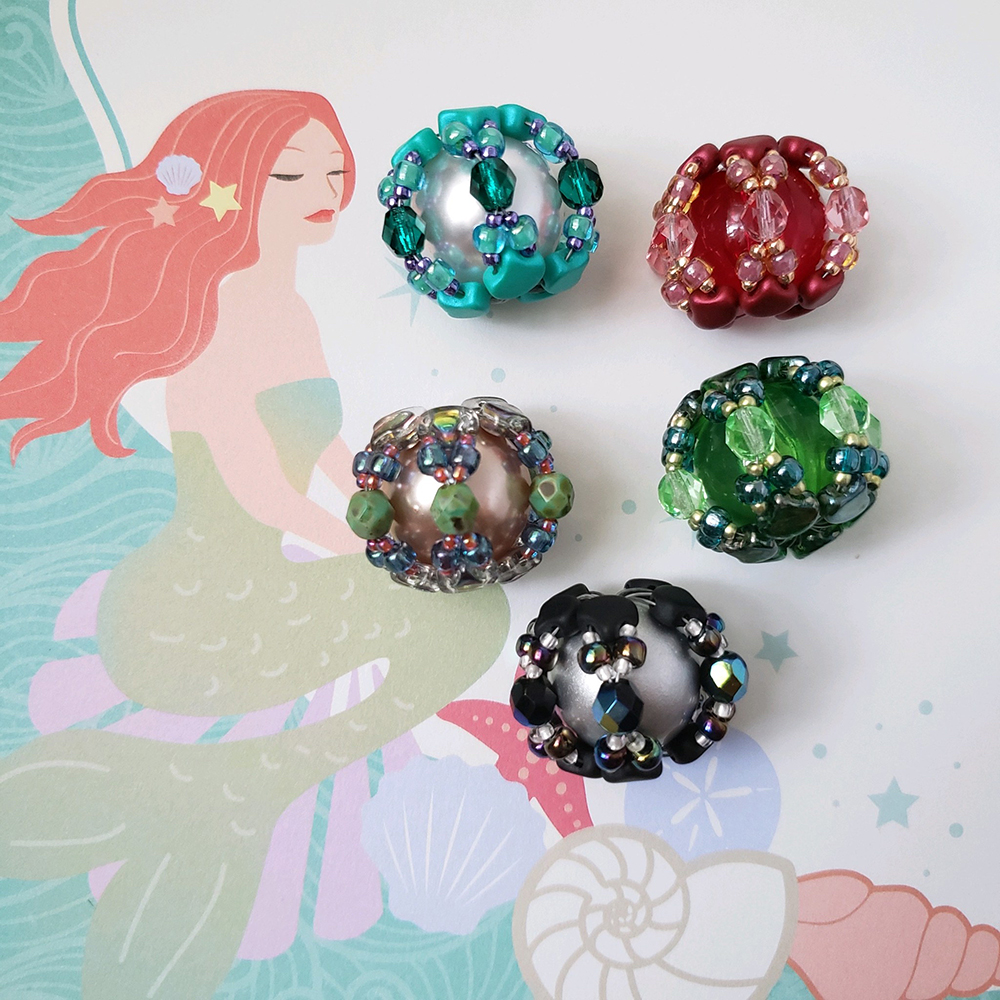 DIY Finger Ring Bracelet Beaded Hand Chain
Kristen showed us how to make a bracelet that you are going to love! Her episode of Free Spirit Beading taught us how to make a finger ringer bracelet. This exotic design links a bracelet to ring using a Temple Link Connector. This was the first time Kristen had tackled this unique piece of jewelry. She did it with a live audience watching - talk about grace under pressure! This bracelet turned out amazing!
From Kristen:
This is my first rendition of the design. Full disclosure, I did have to work on the bracelet measurements after the video as I made it a tad too big at first. And since I was restringing the bracelet end, I decided to I wanted to include that teardrop Czech glass bead on the connection strand so, I re did that too! That's what happens when I design on the fly!
Soft Flex .019 Medium Beading Wire - Yellow
Assorted Beads
Temple Link Connector
2x2mm Crimp Tubes
Lobster Claw Clasp
Bead Stoppers
Crimping Pliers
Cutters
Butterfly Garden Jewelry Making Components for Summer Crafts
Henry Wadsworth Longfellow said, "Into each life some rain must fall". Well, Sara has had some flux in her life this summer. Rather than let stress get to her, she decided to turn lemons into lemonade. She kicked off this video with a nice big glass of the tart beverage. When life gets you down, you can do what she does, enjoy some crafts and make some jewelry.
This week, Sara showed off the new TierraCast items we have on our shelves. These stunning components have a great summer vibe. You can see all of the new products we are carrying - here. We also have a new curated color category - Peridot - if you love the lush green of glowing Peridot, you will want to check out the items we have for sale. After showing off our new collections, Sara made some jewelry. Follow along and learn how to make a necklace. You can also check out our Instagram Reels and learn how to make a pair of earrings that complement her gorgeous necklace.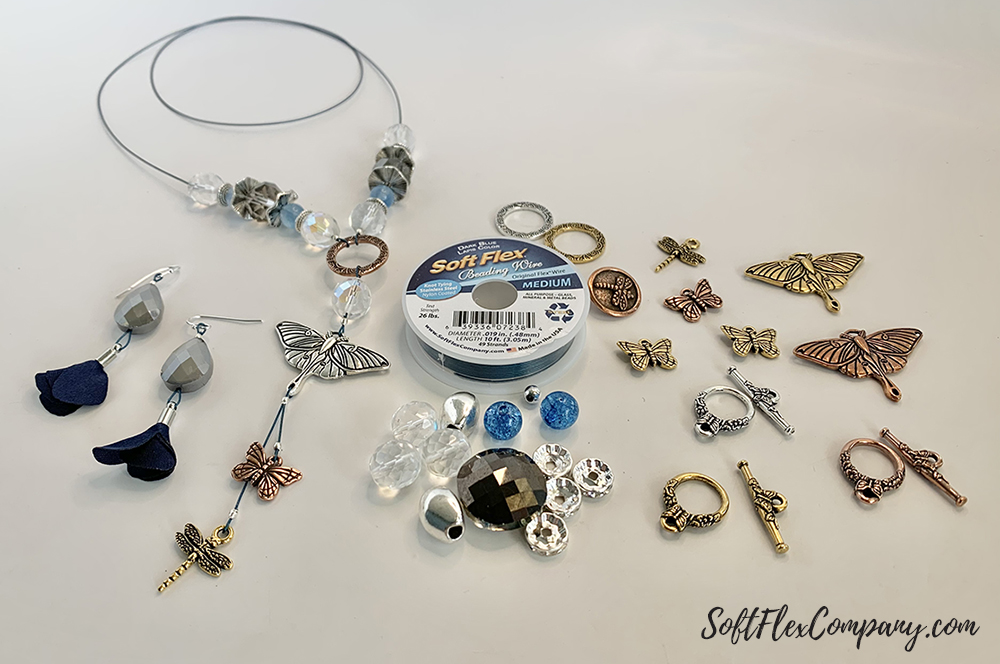 Summer Rain Bead Strand
TierraCast Components
Tassel Assortment
Soft Flex Beading Wire, .019 Diameter in Dark Blue Lapis
2x2mm Crimp Tubes
Magical Crimping Pliers
Cutters
Learn How To Make A Herringbone Wire Wrap Charm Bracelet
From Cassandra:
Hi! I'm Cassandra Spicer and I have been working with beads professionally for almost 20 years now. It started as a very part-time job in college, and grew into a full-time career, with my husband and I opening our own store about 8 and 1/2 years ago. We live in a rather small community in Southern Michigan, but are generously supported by so many local beaders, as well as a growing online community. The Soft Flex products are a newer addition to our shop, and while we have really been enjoying working with all of them, the most recently inspiring things include the Craft Wire, colorful options of beading wire, and Magical Crimper / crimp beads. I truly enjoyed creating these herringbone weave charm bracelets, and the possibilities feel endless!
https://www.Facebook.com/beadstoliveby
https://www.instagram.com/beadstoliveby
https://www.etsy.com/shop/BeadsToLiveBy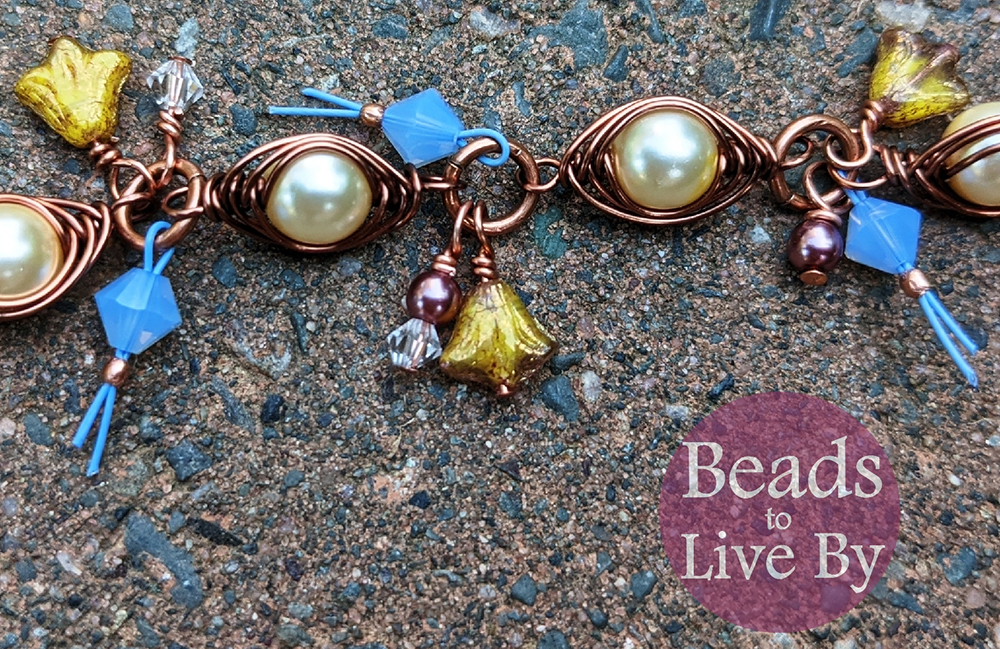 Bead with Me: Learn How To Make A Wrap Bracelet With A Fun Stacked Look
Join Kay for Bead with Me.
Need something to do? Do something creative! Check out Kay's new series Bead with Me to get you inspired. Get free video tutorials, design tips, and product highlights to keep you creating!
Bead with Me is a LIVE broadcast designed to offer inspiration with free video tutorials, guest artists, project tips, product highlights plus custom kits and care packages to make your designs uniquely you!
Airing Monday thru Thursday on FB Live
From Kay:
I just love the stacked look and this was a fun bracelet wrap using Soft Flex wire and showing off the beautiful Indonesian glass beads that just arrived! What are you sporting this summer? Share your wear!
Visit Kay's links:
DIY Earrings: How To Make Flat Mesh Earrings
Nealay Patel is the owner of SilverSilk & More. SilverSilk is a knitted wire jewelry chain. But, it is like no other jewelry chain out in the craft market. SilverSilk is made by many tiny latch-hook needles that spin around with wire, intricately machine-stitching the wire into an elegant yet strong and supple knitted wire chain. This knitted wire stitchwork offers the crafter new and unusual ways to use it. You can string large-hole beads on it, sew through it, wire-wrap it, glue it, put it in resin or just leave it as a draped jewelry chain. We love SilverSilk chain, it is the perfect complement to Soft Flex Craft Wire or beading wire. These beading elements can be interwoven and wire wrapped into exciting new jewelry. Design something elegant and rich today with these two stringing options. Your finished jewelry will look like you bought it from a high end gallery!
From Nealay:
I love combining various colors of Flat Mesh together and discovering new techniques to make it happen. In this video, I'll show you how to quickly pair three colors of Flat Mesh into a sleek pair of earrings on the go. This design is fast and easy to make and requires very little materials.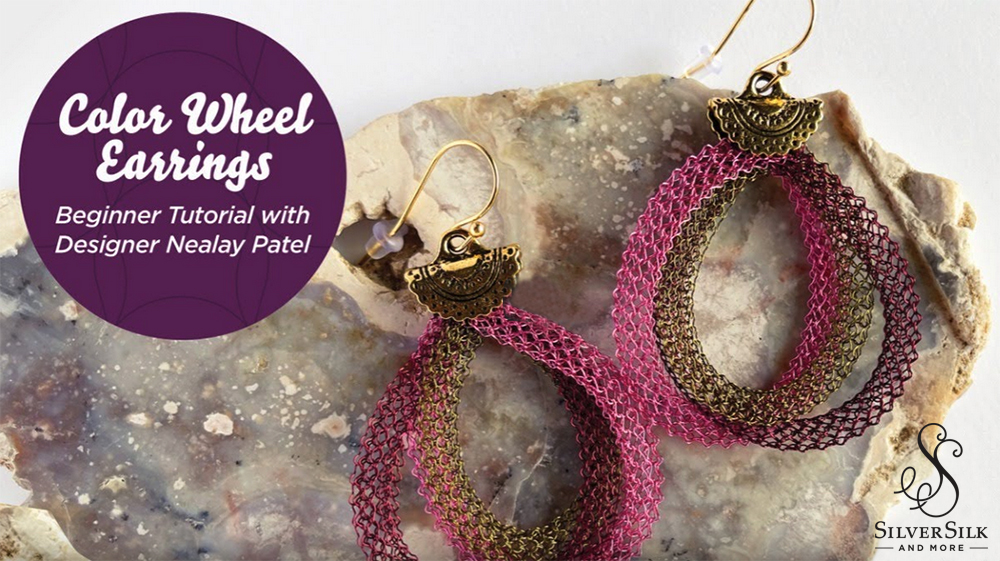 SilverSilk Flat Mesh
Soft Flex Craft Wire - 26 Gauge
Soft Flex Craft Wire Silver Plated - 26 Gauge
Crescent Crimp Ends from BeadShop.com
Cutters
Flat Nose Pliers
Tool Magic
DIY Necklace: How To Make Flat Mesh Flowers In An Asymmetrical Necklace Design
From Nealay:
Making these little flowers out of Flat Mesh is one of my favorite techniques to teach. They assemble so quickly and if you make multiple components, they can attach together to form a chain. In this tutorial, I will walk you through making the Flat Mesh flowers and how to assemble an asymmetrical necklace design.
SilverSilk Flat Mesh
Soft Flex Craft Wire - 20 Gauge
Soft Flex Craft Wire Silver Plated - 20 Gauge
Beads
Head Pins
Jump Rings
Clasp
3x7mm Links Jewelry Chain
1.5x1.5mm Jewelry Chain
Cutters
Round Nose Pliers
Chain Nose Pliers

Be sure to mark your calendars for every Tuesday, 5:30pm CST and hop over to facebook.com/groups/silversilk to watch Nealay's videos live and ask questions.
Nealay's channel is dedicated to learning how to make high quality jewelry with SilverSilk with an emphasis on design. You can follow his journey here:
www.instagram.com/silversilkandmore
www.facebook.com/silversilkandmore
Or join his Silkies group and be a part of the conversation www.facebook.com/groups/silversilk
Join our Facebook group – VIB. Stay in the know. Stay up to date. From our bead shows to our video shows and sales, you can stay in touch with us. The community is full of artistic and helpful beaders and crafty people. Inspire and be inspired. Share your pictures and get the beading bug from others!
Visit the Soft Flex Company YouTube Channel!
---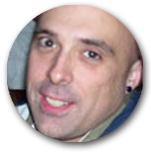 Blog contributor Thomas Soles loves Jazz Age writers and crunchy french fries. His favorite gemstones are Lapis and Pietersite. His favorite hobby is day dreaming. And his favorite mustache is Freddie Mercury's. As you can see, he has a healthy (or possibly unhealthy) sense of humor. You can write to him at Thomas@SoftFlexCompany.com